Ready to give your meals a bold and bright Mediterranean twist? This roundup of top Mediterranean recipes will give you all the inspiration you need! Wholesome recipes with big Mediterranean flavors from Greece and Italy, to Morocco, the Middle East and more.
This selection includes the top 25 recipes as voted by readers of The Mediterranean Dish! Also be sure to see our collection of top Mediterranean Diet Recipes.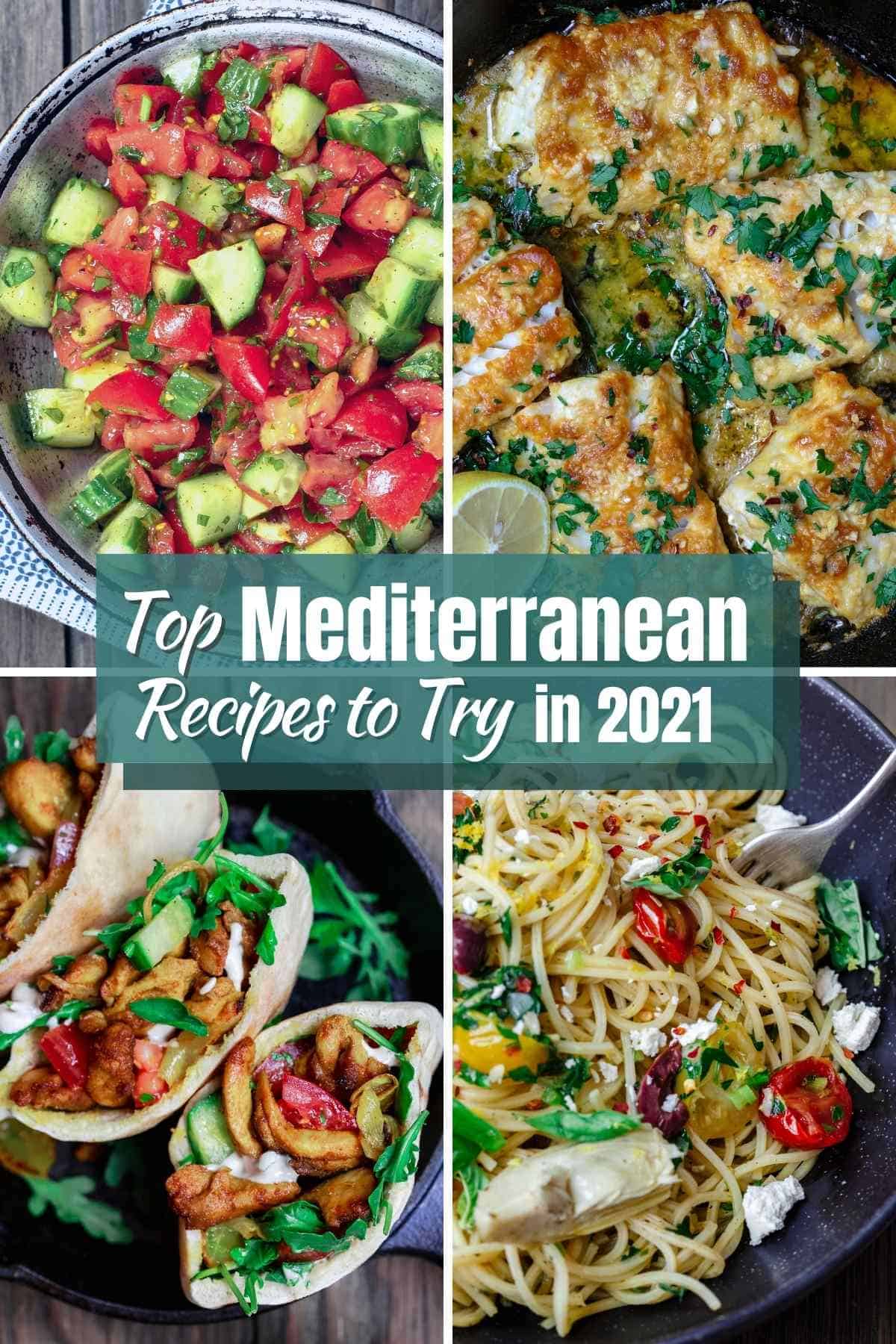 You may have stumbled here because you've heard about the Mediterranean diet and its many health benefits. Or, maybe, you're looking to work in a few more bright and flavorful Mediterranean-inspired meals into your weekly meal plan. Either way, you've come to the right place!
Below are the top 25 recipes of this year as voted by YOU, lovely readers of The Mediterranean Dish. These are the most visited, cooked, tried-n-true Mediterranean recipes on the blog currently. You can also see our top Mediterranean diet recipes and hundreds more here.
What does eating the Mediterranean way (or the Mediterranean Diet) Look Like?
I should point out that this post is not necessarily about the Mediterranean diet. You should review this post: what is the Mediterranean diet and how to follow it for more infomration. But, the majority of the recipes in this roundup do follow the Mediterranean way of eating.
And the good news is, you can easily cook colorful Mediterranean recipes you can feel good about, and the list of recipes below is a great start! So if you're wondering what eating the Mediterranean way (or the Mediterranean diet) looks like, here is my super quick-n-dirty summary...
What to eat on the Mediterranean diet
Use quality Extra virgin olive oil regularly. I use these two: Greek Early Harvest extra virgin olive oil and Greek Private Reserve extra virgin olive oil
Eat MORE: fruits, veggies, whole grains, beans, nuts, and legumes.
Eat MODERATELY: Lean proteins from fish and some poultry.
Eat LESS: Red Meats and Sweets (sweets are often eliminated if you're following a stricter Mediterranean diet.)
For Flavor: Reduce salt and use more fresh herbs, garlic, citrus, and spices.
This shopping list should help you grab what you need to start cooking the Mediterranean way. And be sure to join our FREE e-mail list to receive weekly dinner plans and more.
And now, let's get to our top Mediterranean recipes of this year as decided by lovely readers and followers of this blog! For your convenience, I've divided the list of recipes into two sections: Mediterranean dinner recipes and entrees (main dishes), and Mediterranean salads, sides and sauces. Here we go...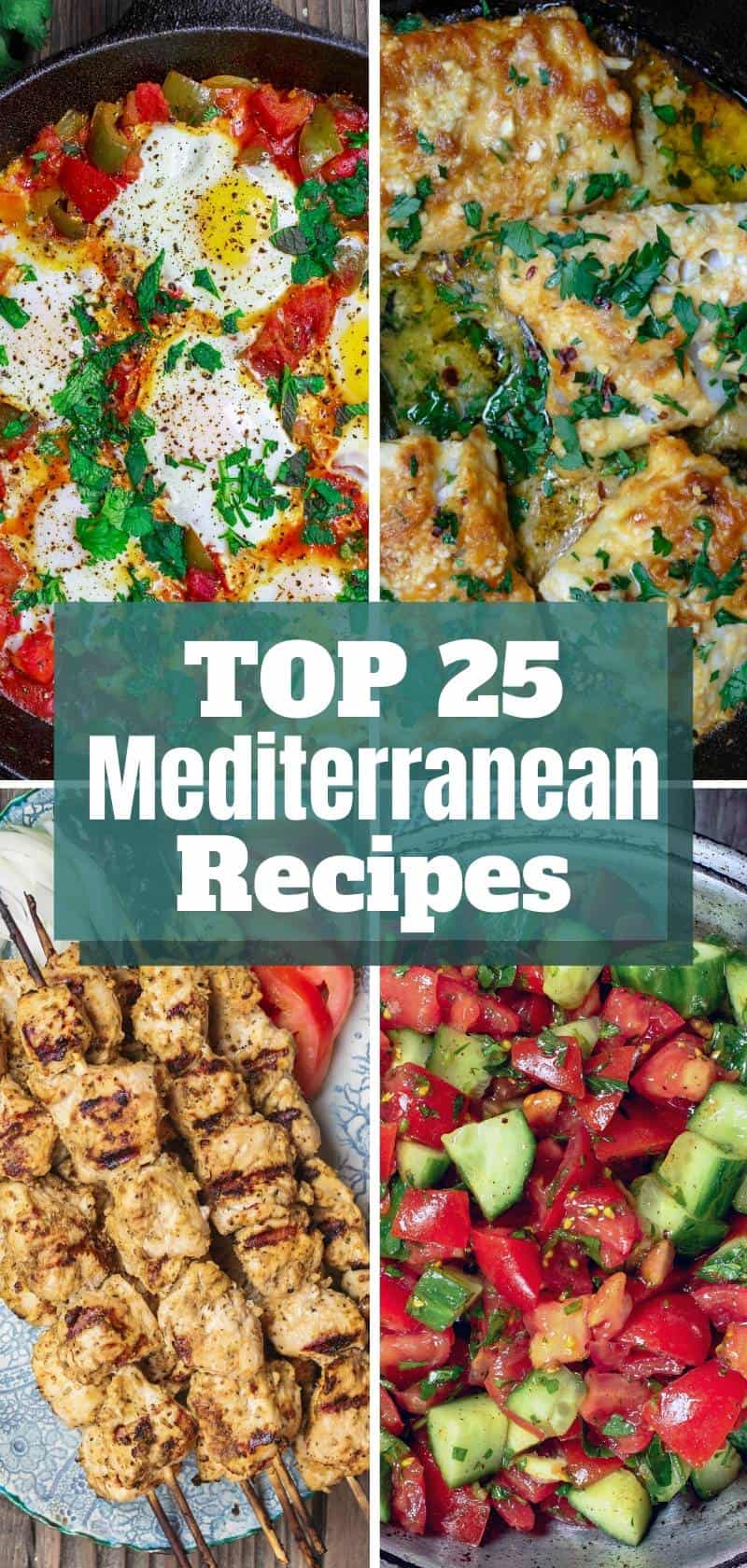 Top Mediterranean Recipes to Try in 2021
To see each recipe, simply click on the recipe name in red above each image
Top Mediterranean Dinner Recipes & Entrees
Perfectly tender, flaky baked salmon with a homemade lemon and garlic sauce. This recipe takes very little prep and less than 20 minutes to cook.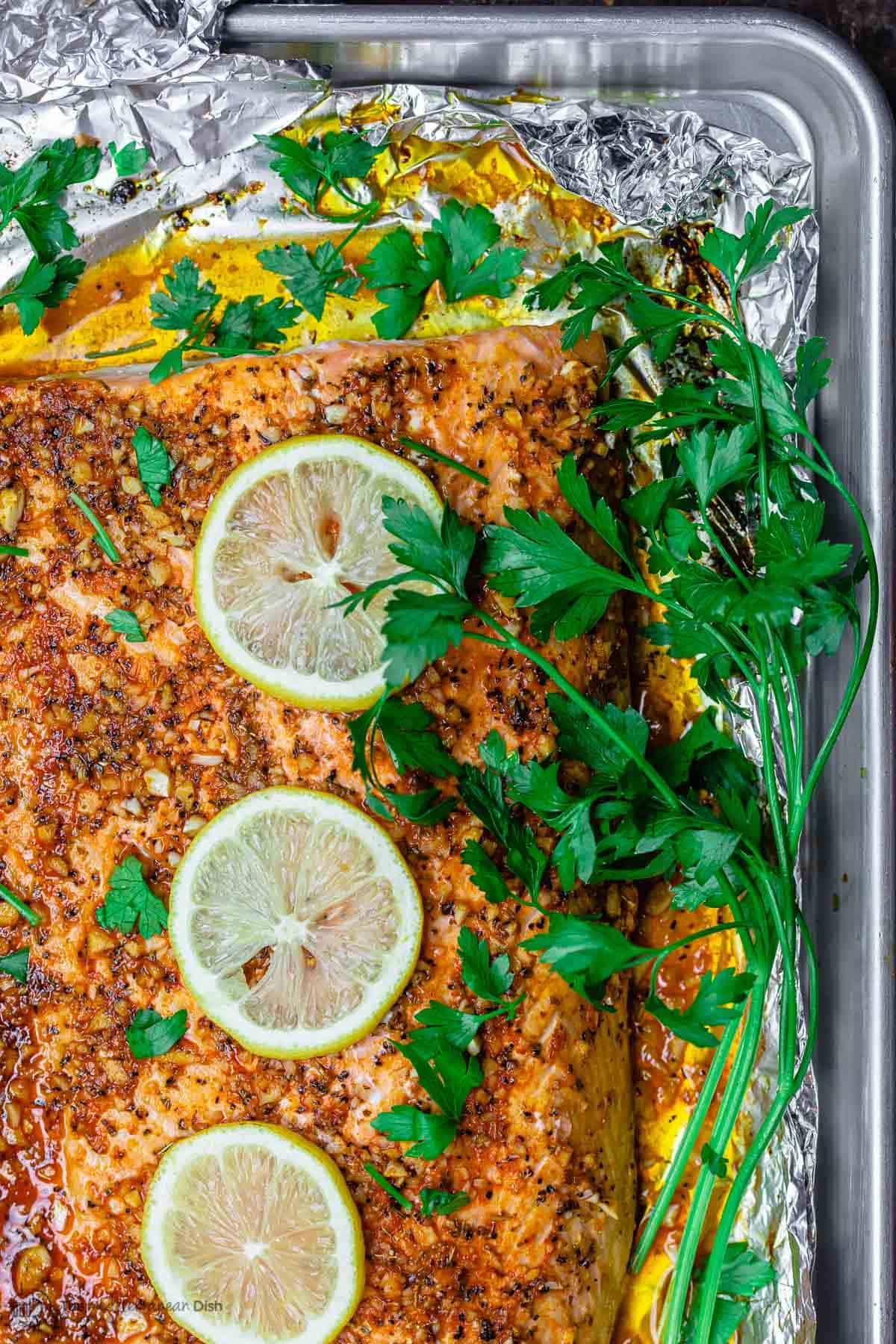 This simple vegan eggplant stew with chickpeas and tomatoes is all the comfort. And you'll love the Greek flavors thanks to a little extra virgin olive oil and a combination of warm spices including oregano, paprika, and a pinch of cinnamon.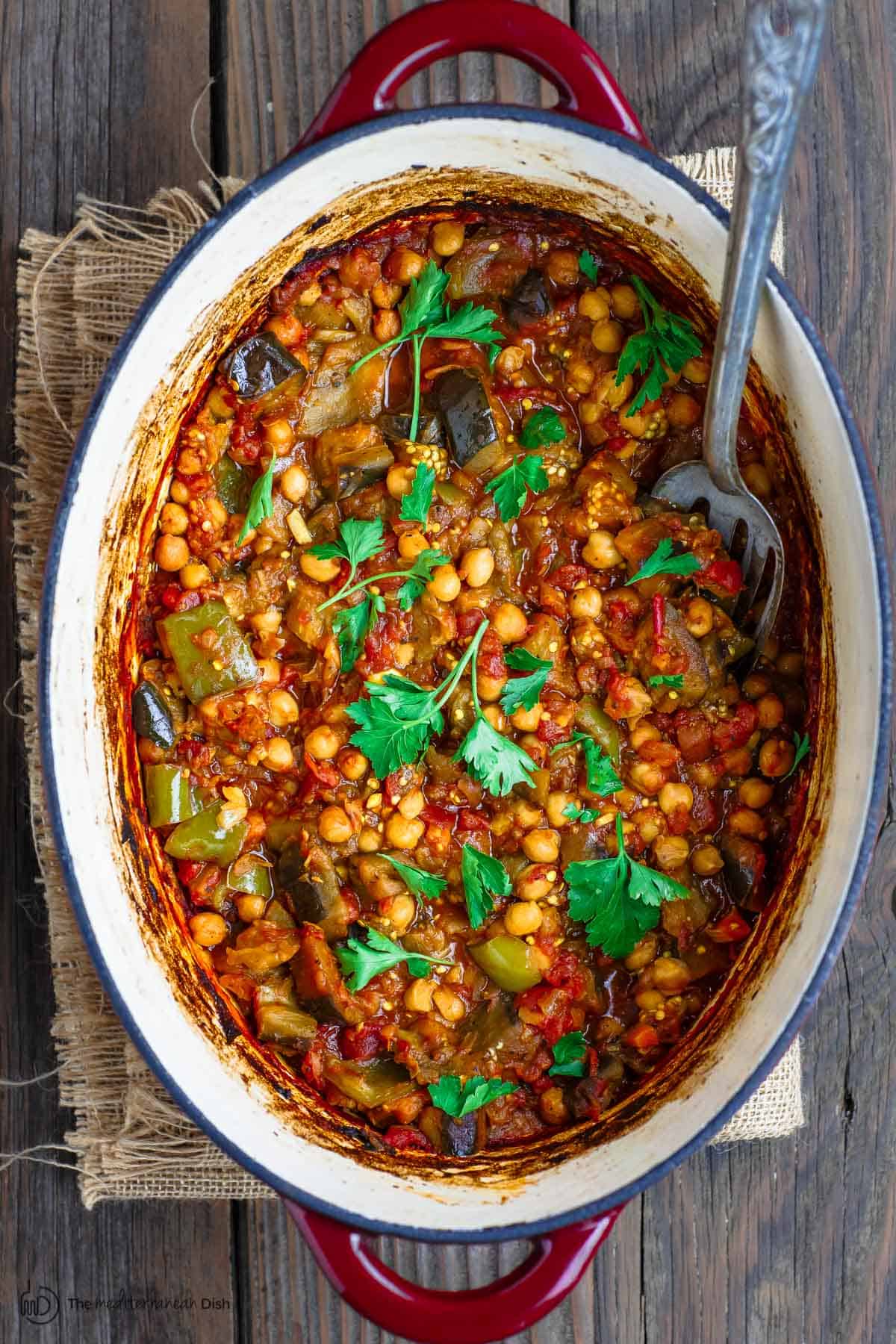 This easy baked chicken shawrama will transport you to the streets of the Middle East! Loads of flavor. The secret is in the simple homemade shawarma spice mixture. Recipe comes with a step-by-step tutorial and video show you exactly how to make this delicious chicken.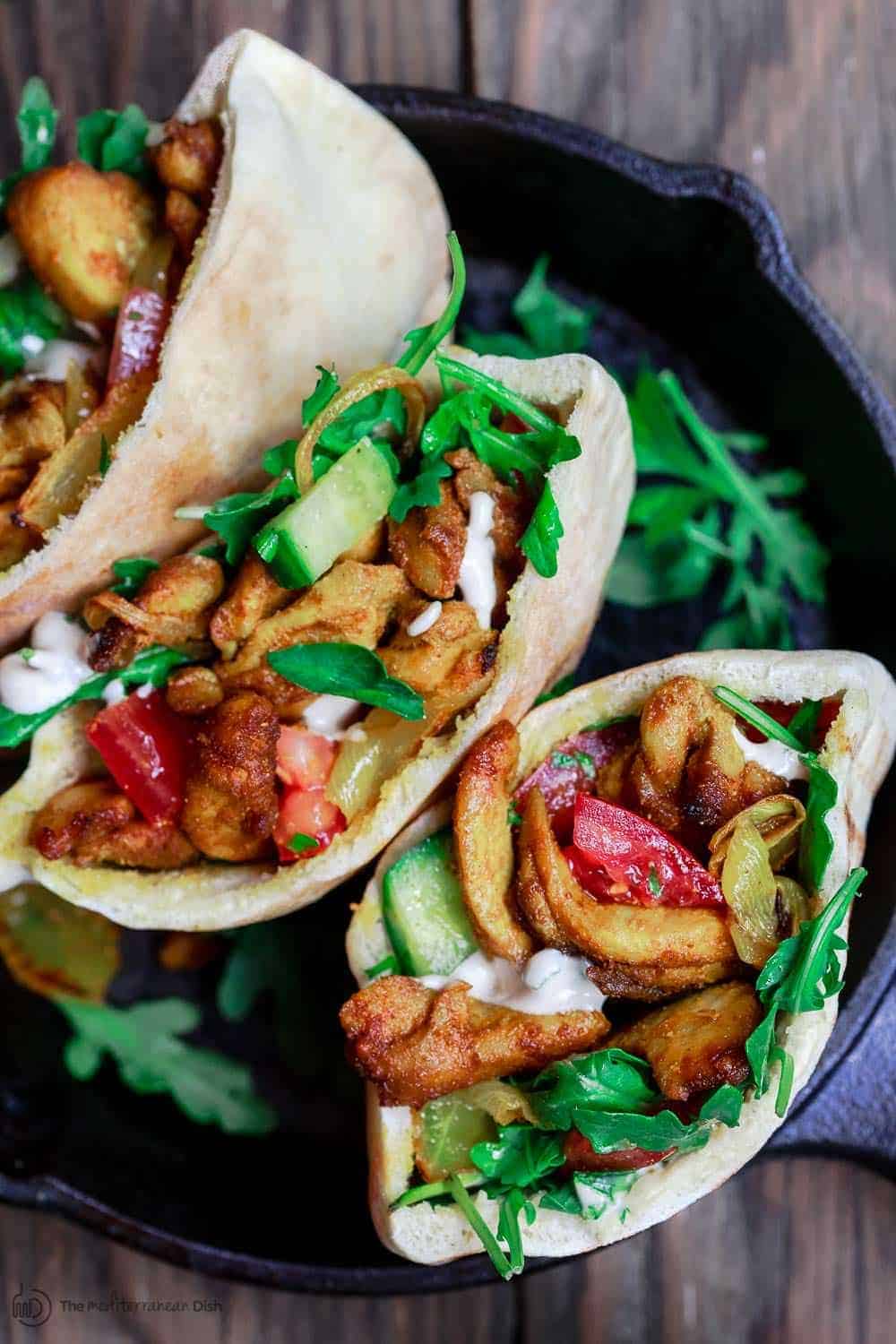 Easy Baked Fish with Garlic and Basil
The secret to this juicy fish is in the quick fish marinade with a few spices, garlic, fresh basil, a little citrus and extra virgin olive oil. A few tips make all the difference, so be sure to read on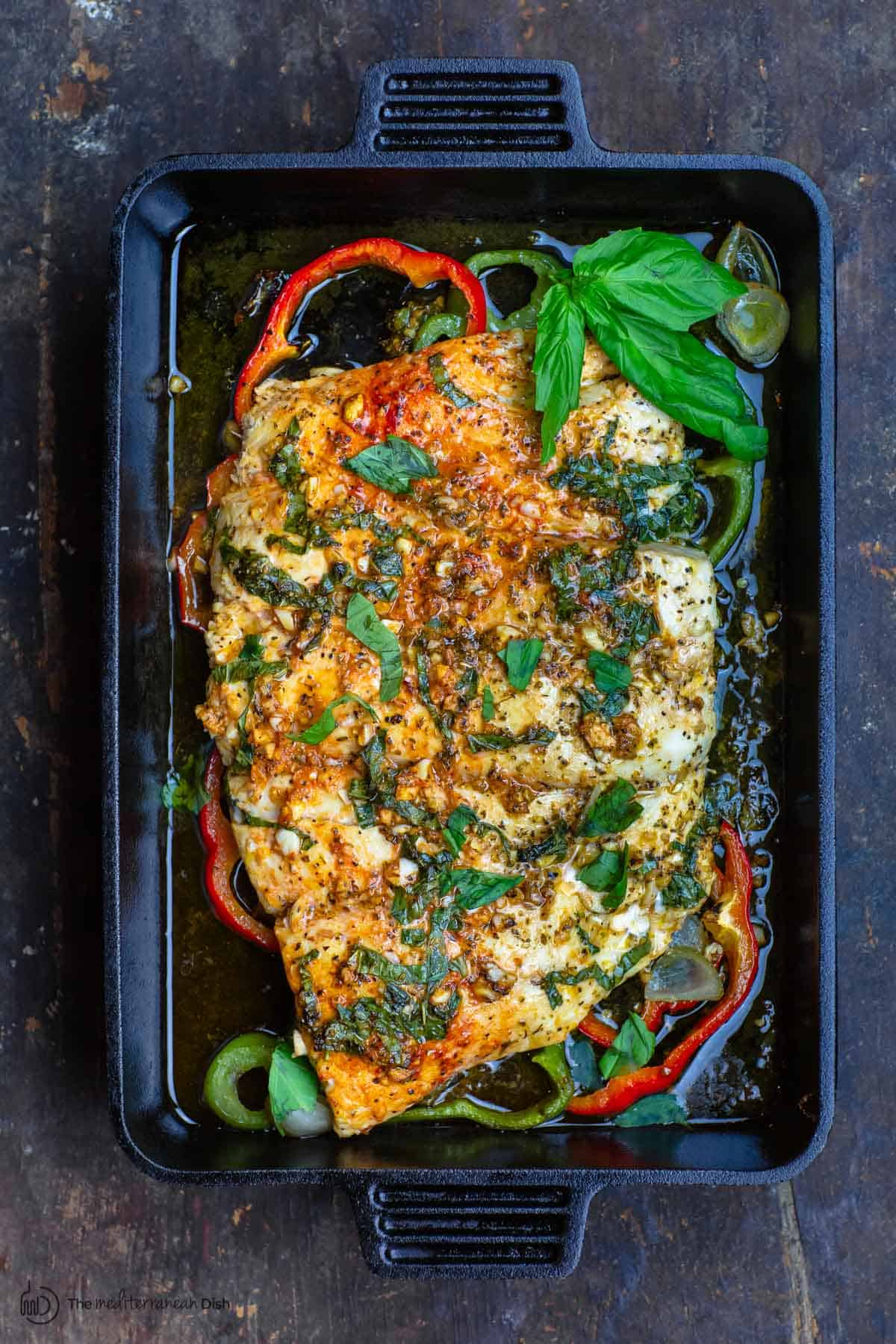 If you've ever wanted to try homemade falafel from scratch, my tutorial is all you need! Hearty and healthy vegan patties made of ground chickpeas, garlic, and fresh herbs. An authentic falafel recipe just as they serve on the streets of the Middle East. And I show you how to fix the BEST falafel sandwiches.
Turn a few eggs into the perfect meal with this simple shakshuka recipe! Eggs poached in a perfectly-spiced vegetarian stew of tomatoes and green peppers. Perfect for breakfast, lunch, or dinner. Green Shakshuka is another version you may like to try.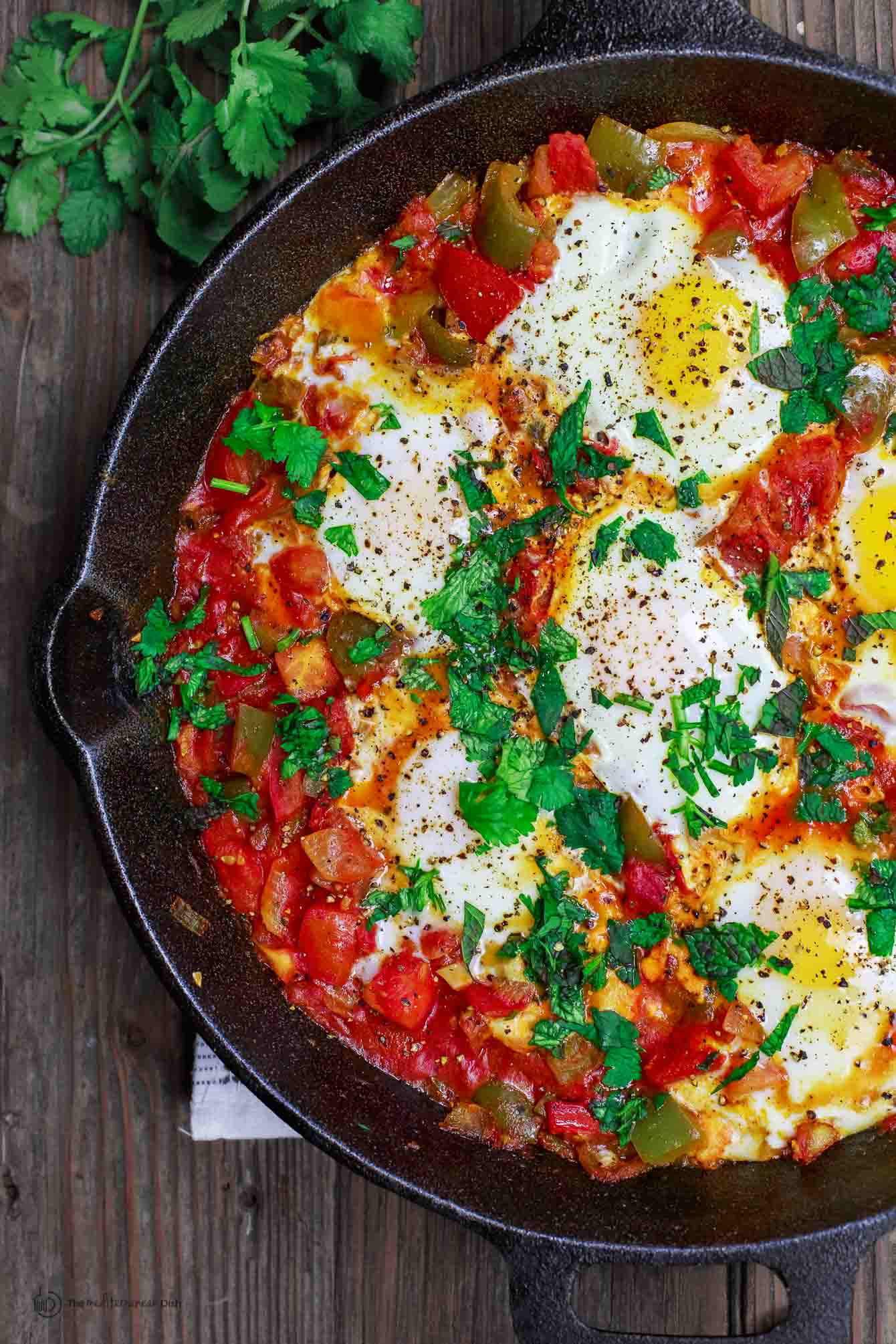 Greek-Style Baked Cod with Lemon and Garlic
There is a reason this baked cod recipe has been the #1 most cooked and enjoyed recipe on the blog for some time! A handful of Mediterranean spices, plus a mixture of lemon juice, olive oil, and garlic, give it glorious flavors! Comes together in just over 20 mins.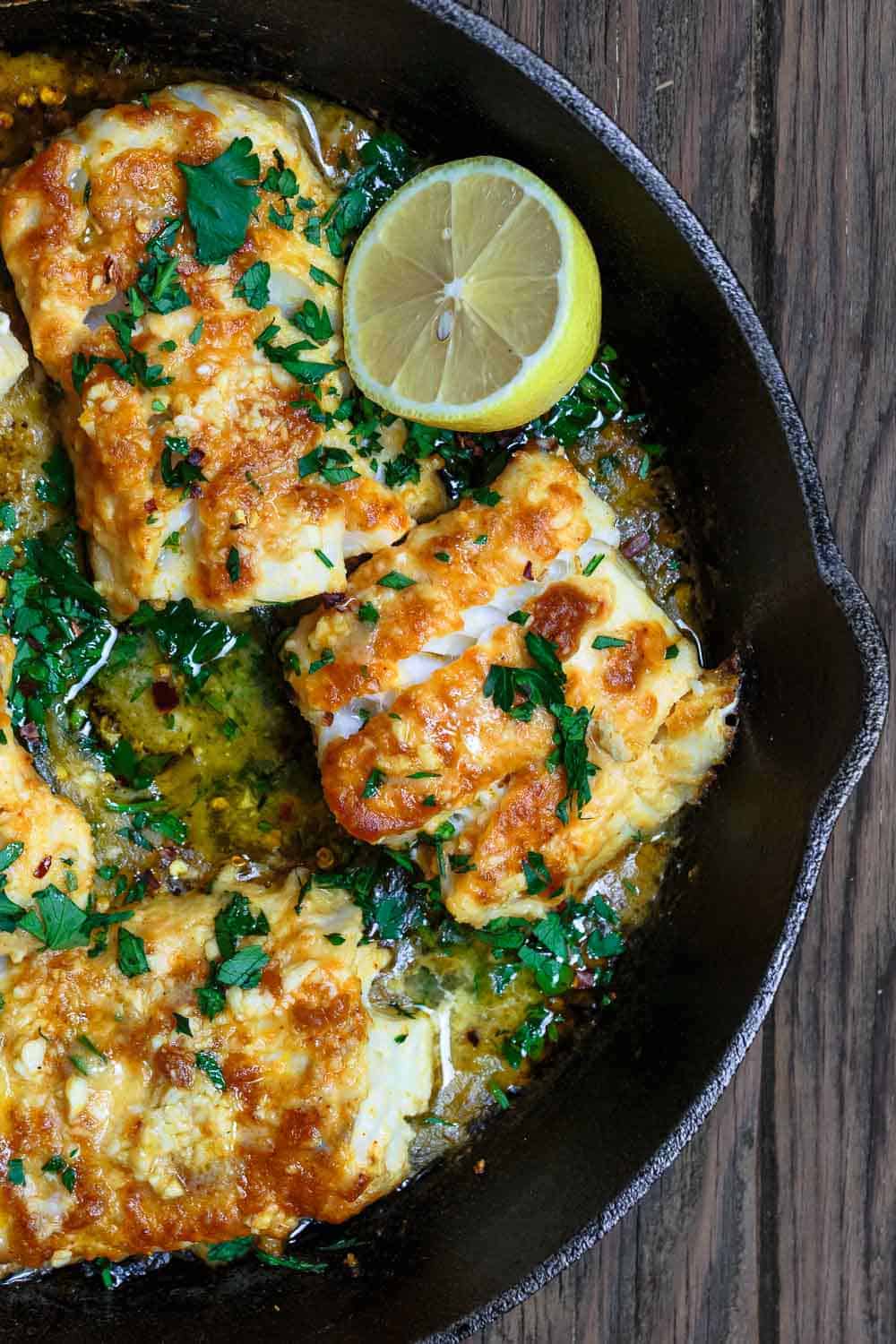 The secret to these juicy, flavor-packed baked chicken drumsticks is in the marinade! Loaded with Mediterranean flavors including lemon, garlic, oregano, and extra virgin olive oil. This easy chicken dinner is perfect for any night of the week. Add a side of tangy tzatziki sauce, Greek salad, or roasted veggies.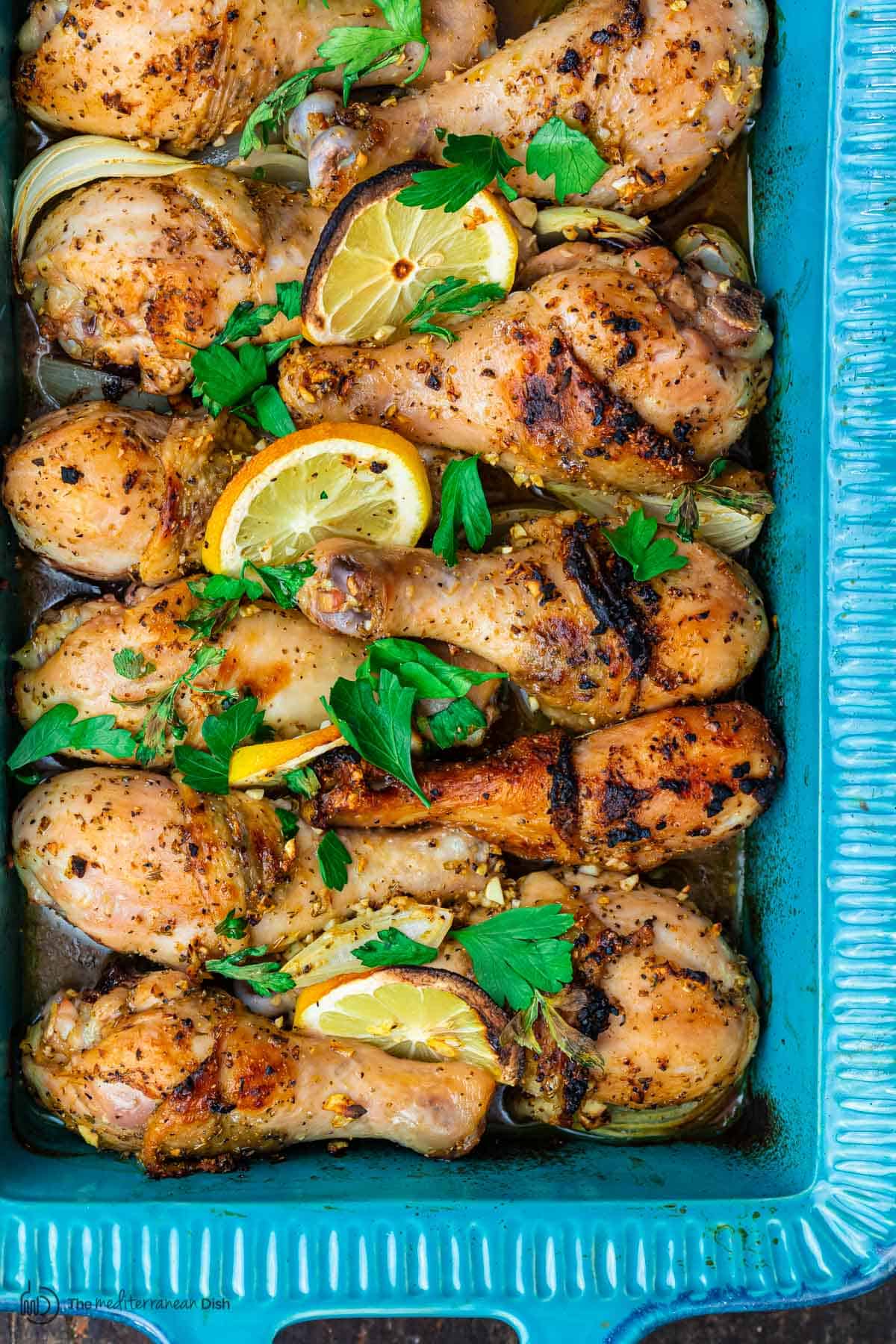 20 minutes or less is all it takes to make this bright garlic shrimp pasta recipe! Prepared Mediterranean-style and tossed in a light sauce with garlic, onions, white wine, and lemon juice.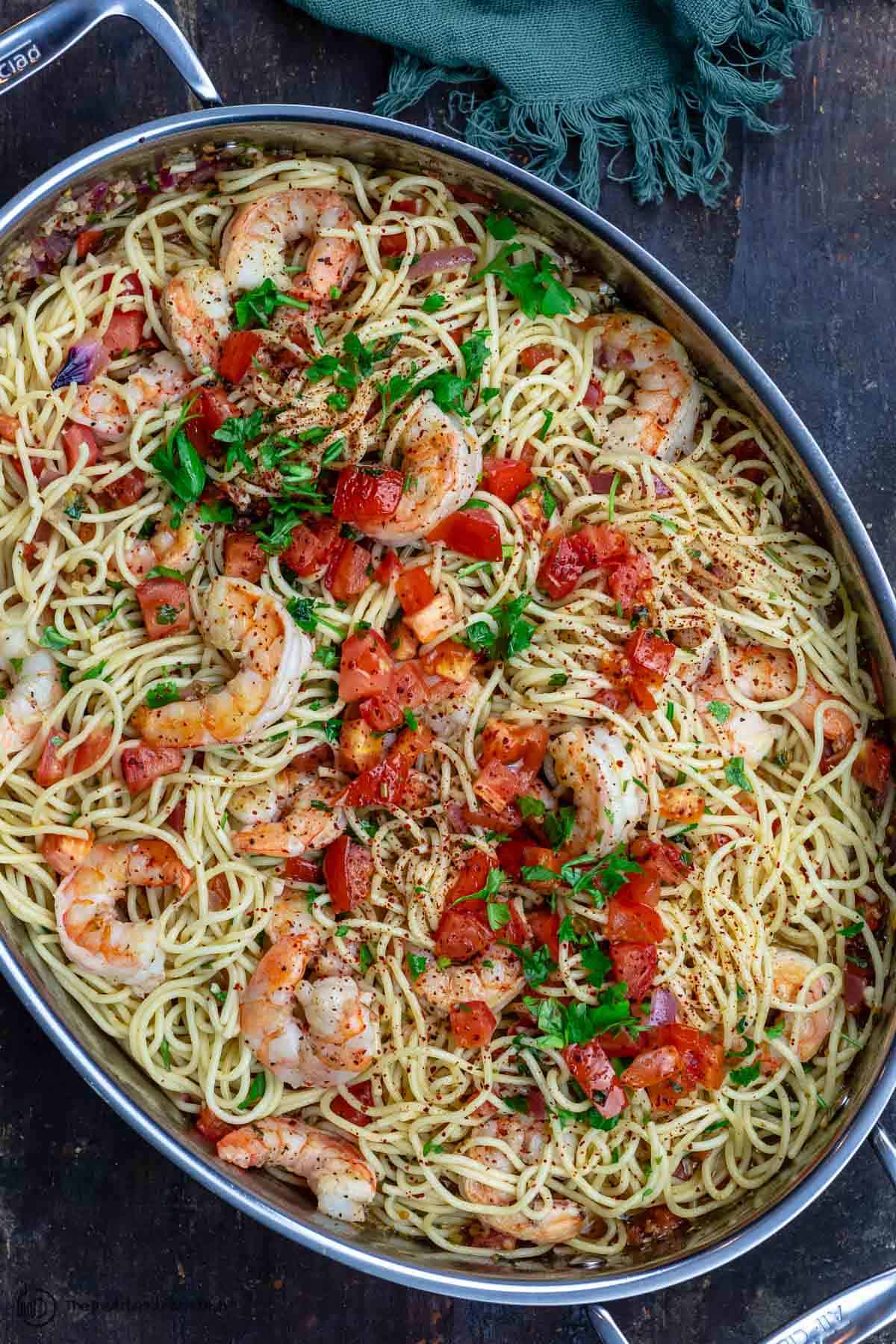 A simple homemade vegetable stew loaded with warm Moroccan flavors. Vegan and gluten free!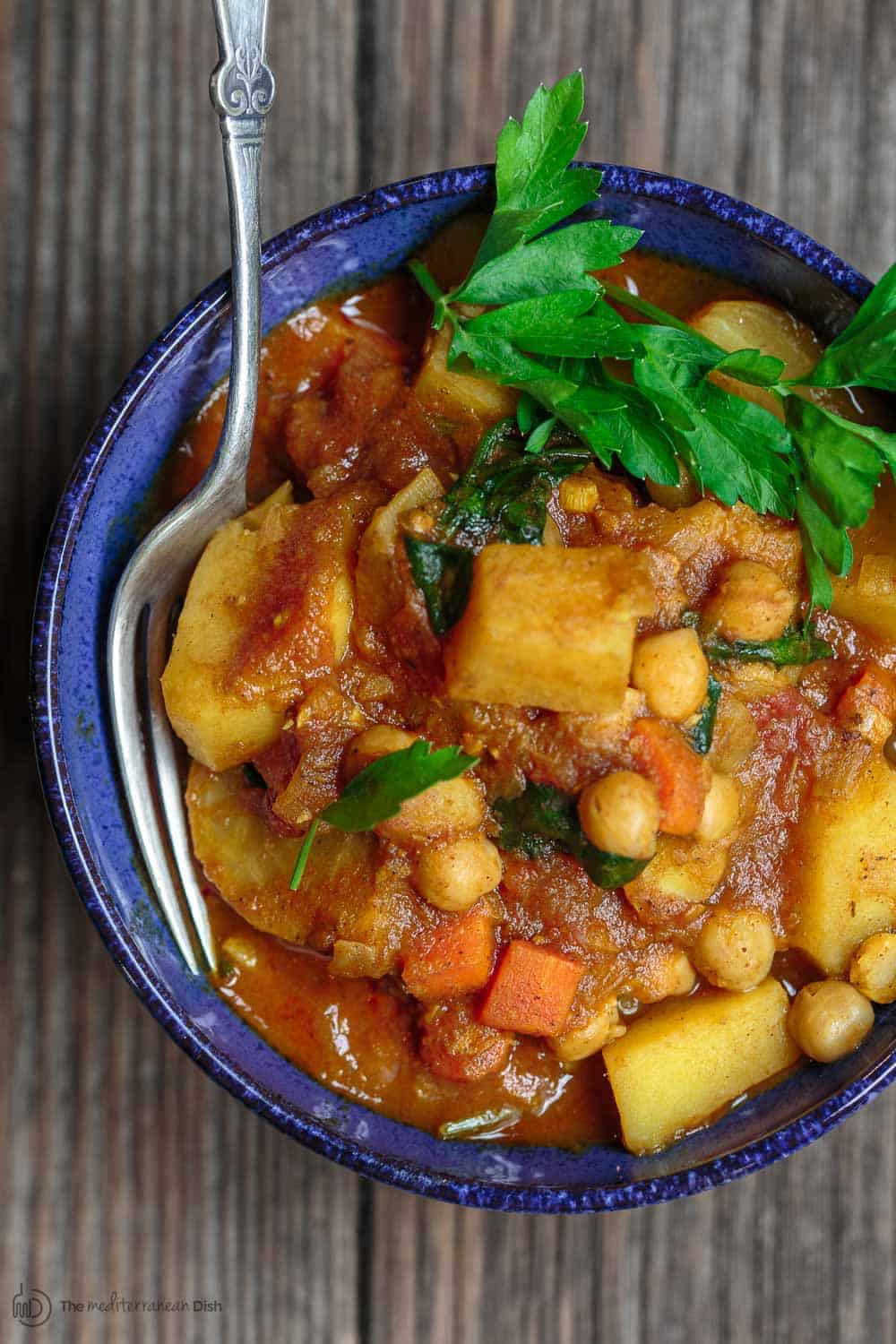 Savory Greek pie made of perfectly flaky phyllo dough with a warm spinach and feta cheese filling. It's easier to make than most people think. Check out the recipe and tutorial.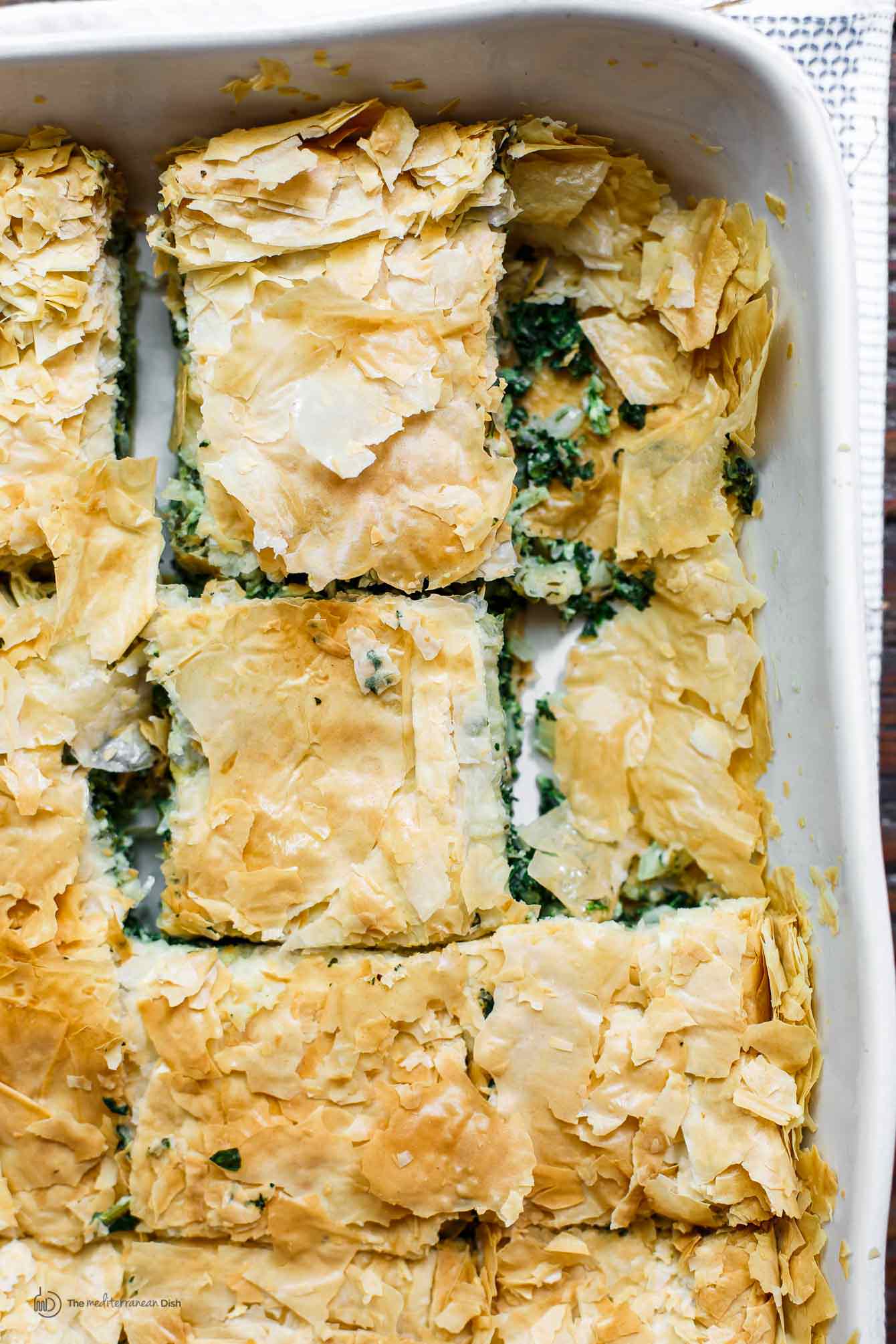 The secret to homemade chicken souvlaki is in the marinade! It's so simple to make, but the perfect balance of flavors.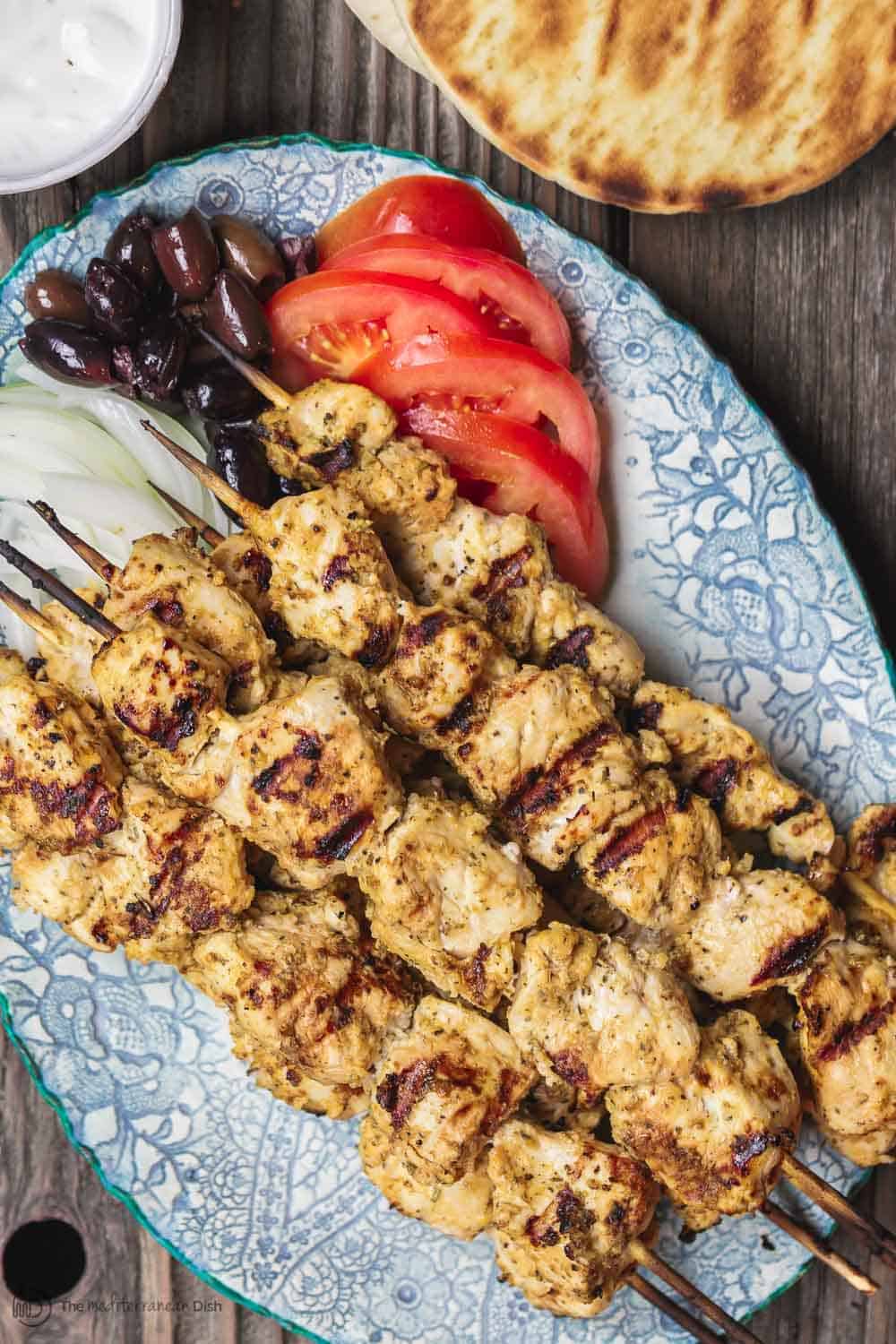 The secret to the best pasta dinner! This sauce takes just few staple ingredients you may already have on hand! Perfectly thick and packed with flavor, you'll be ditching that store bought pasta sauce.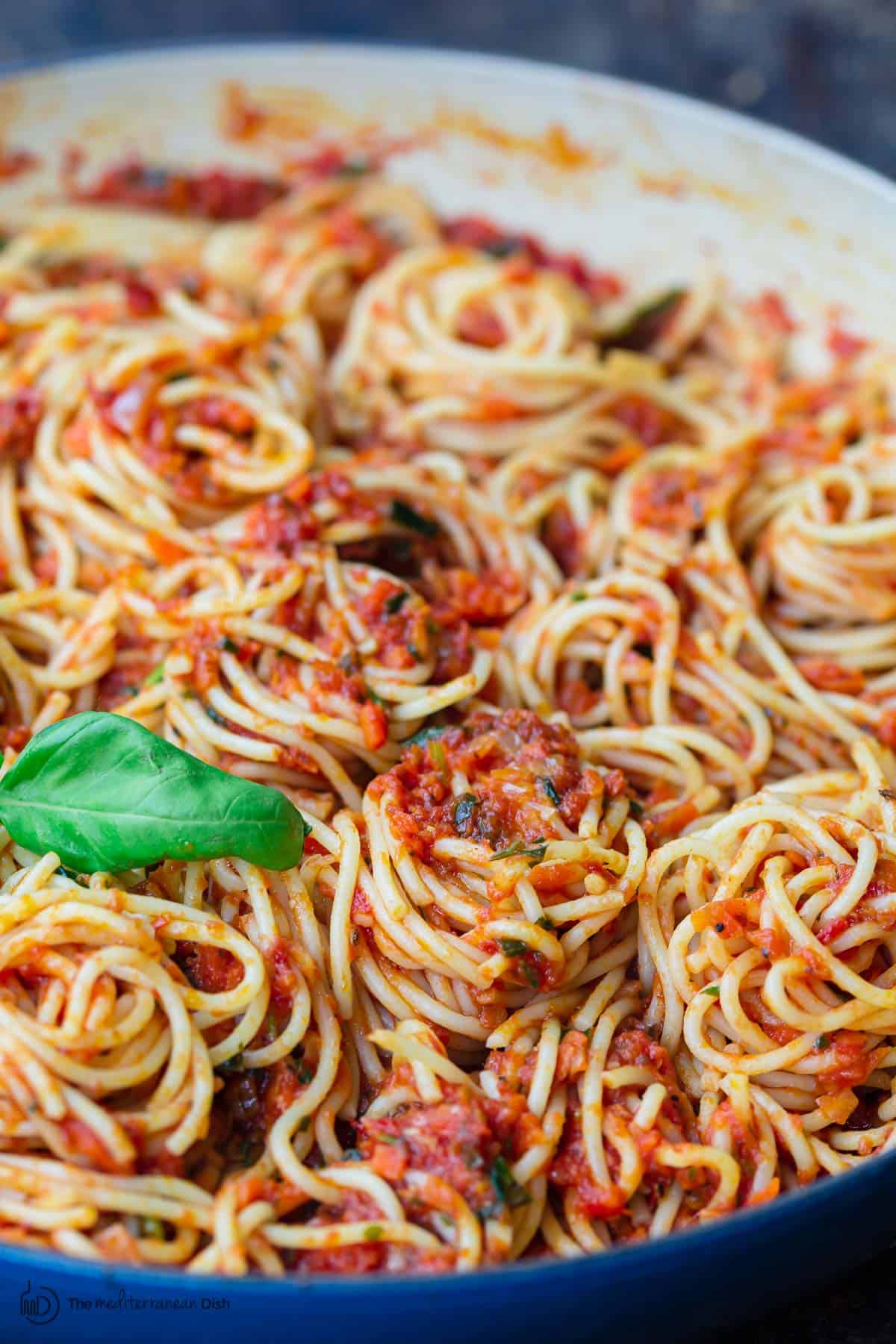 Halibut and veggies, tossed in a bright Mediterranean sauce with lots of citrus, olive oil, fresh garlic and spices, then baked for 15 minutes or so. Dinner is served!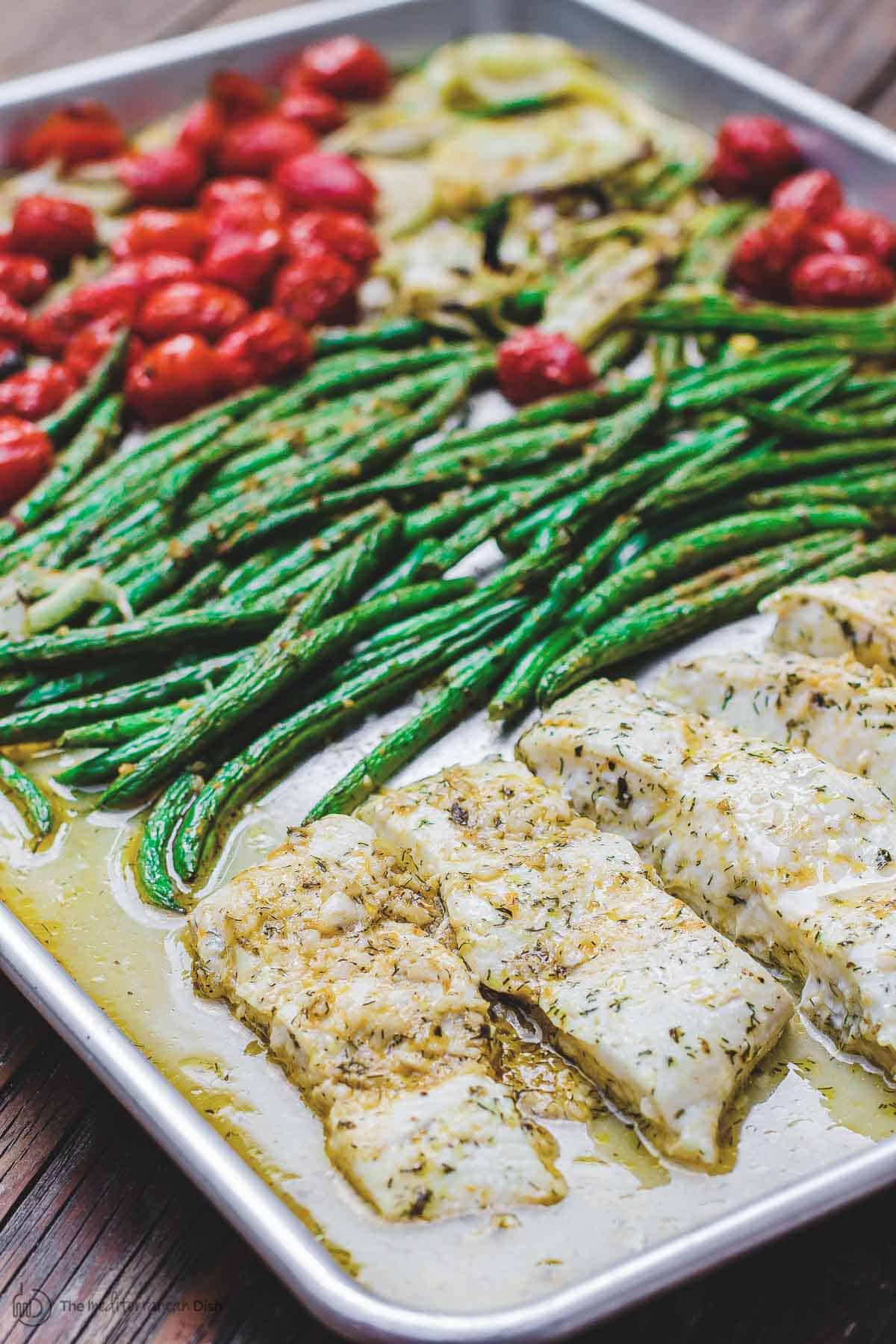 Silky, rich, fragrant chicken lemon soup, prepared Greek-style. If you've had it at your local Greek restaurant, you know how comforting this chicken rice soup is. And this homemade version is super easy to prepare.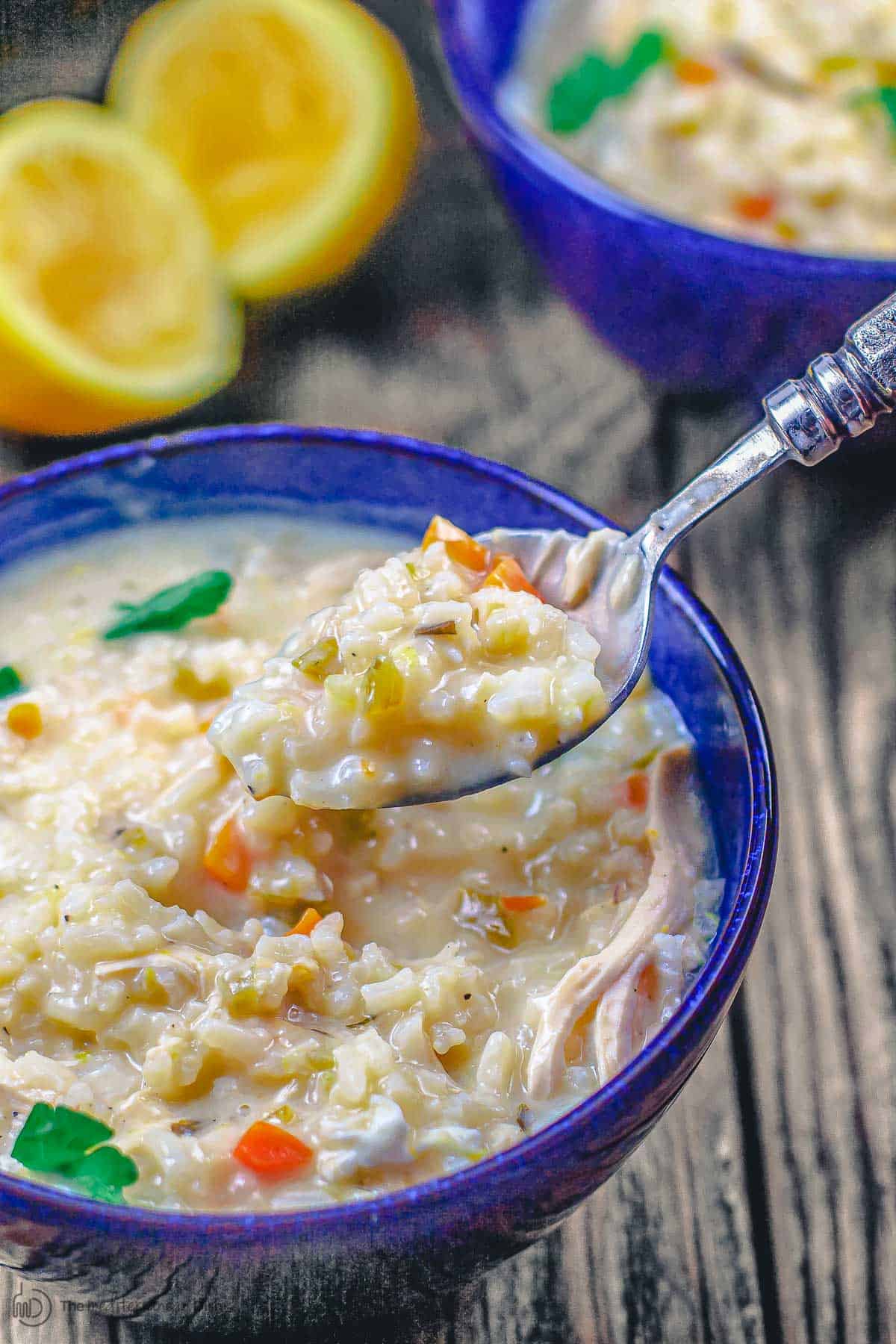 Boneless skinless chicken breasts prepared with a simple spice mixture, garlic and extra virgin olive oil, and finished with fresh parsley and basil!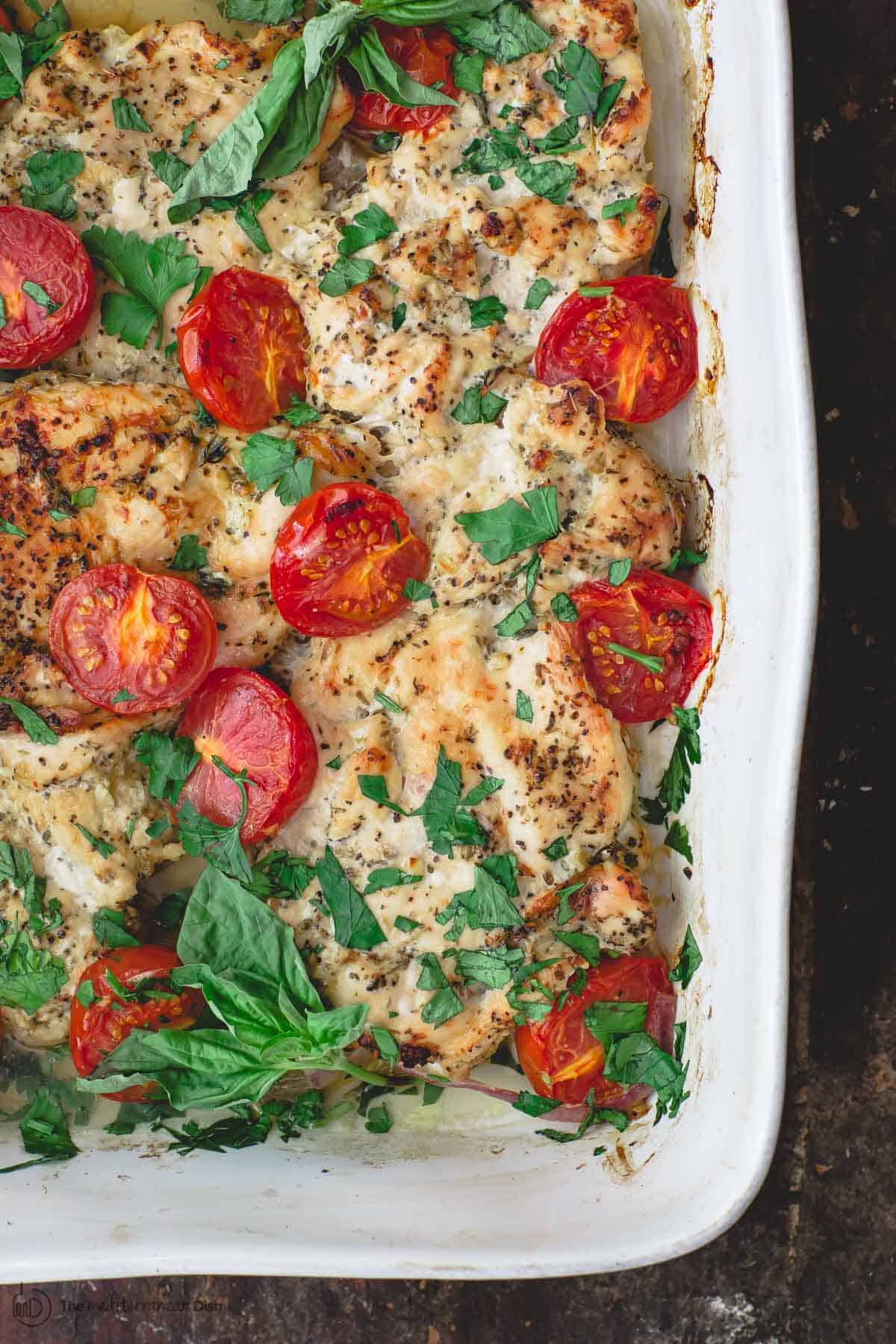 Top Mediterranean Sides, Salads, and Sauces
Easy pasta, tossed in extra virgin olive oil and Mediterranean favorites like tomatoes, feta, olives, artichoke hearts and fresh herbs.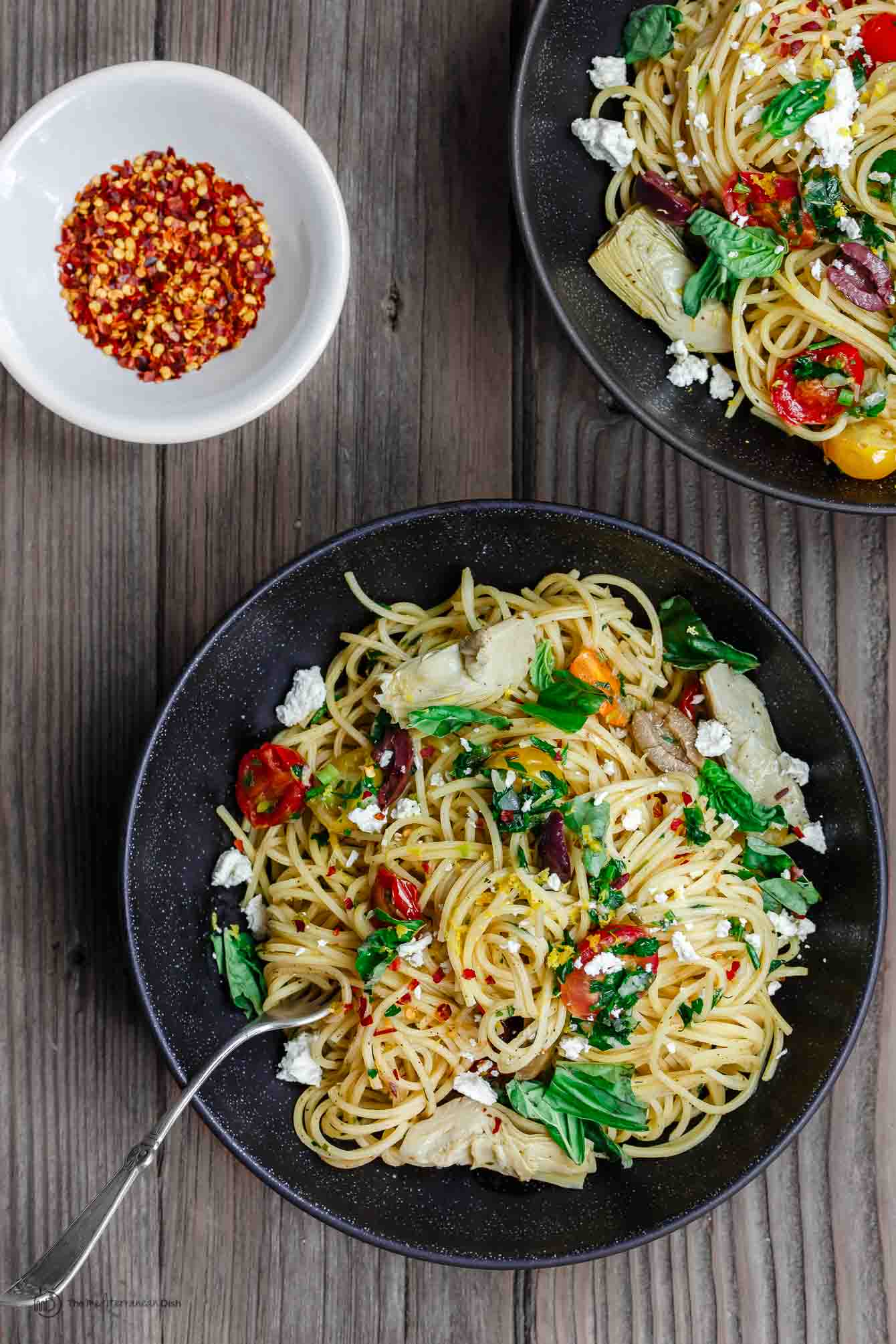 Beautiful veggies roasted to tender perfection, and bold with Italian flavors from fresh garlic, oregano, thyme and extra virgin olive oil!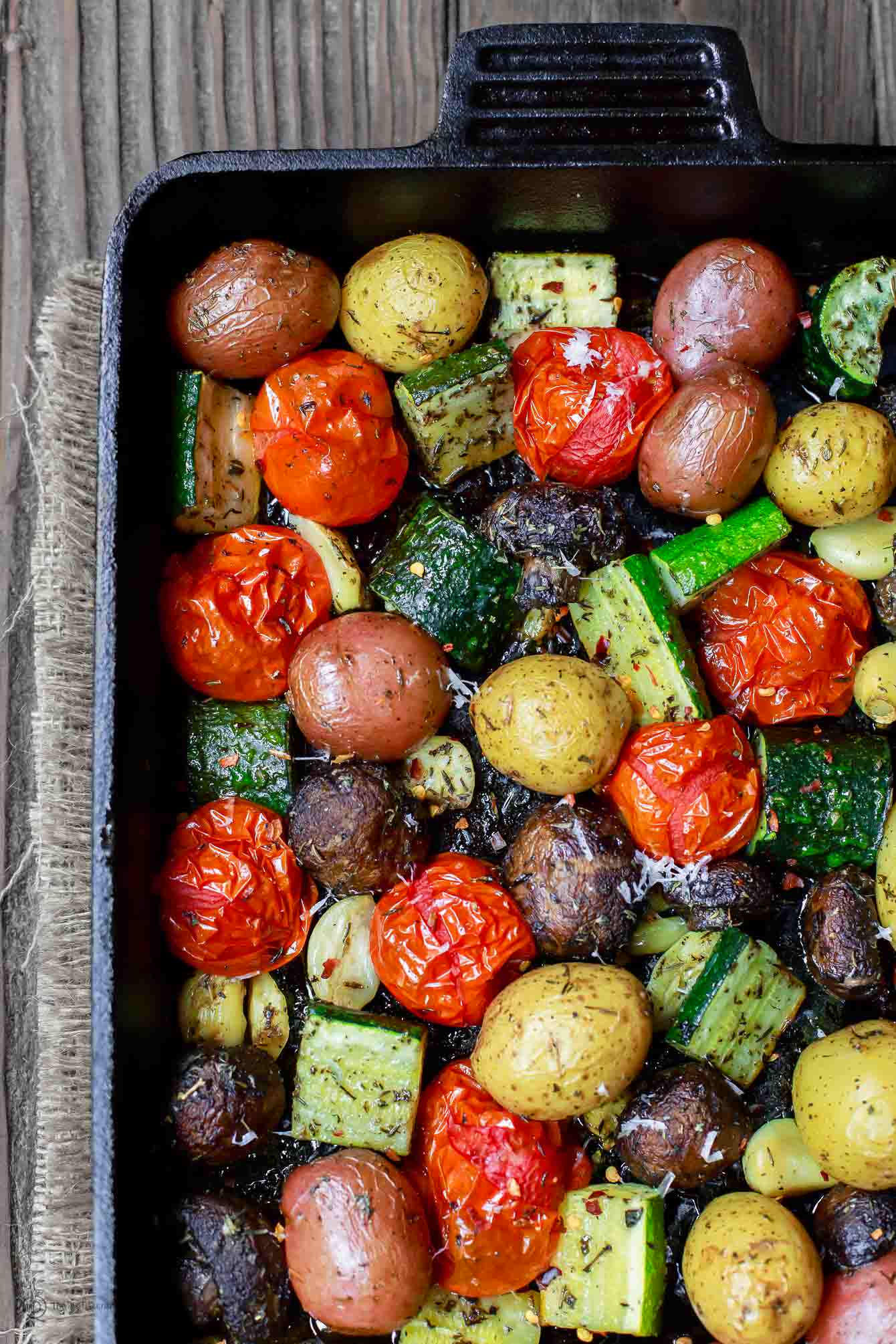 You'll love this bright, flavor-packed Greek lemon rice made with onions, garlic, fresh lemon juice and herbs!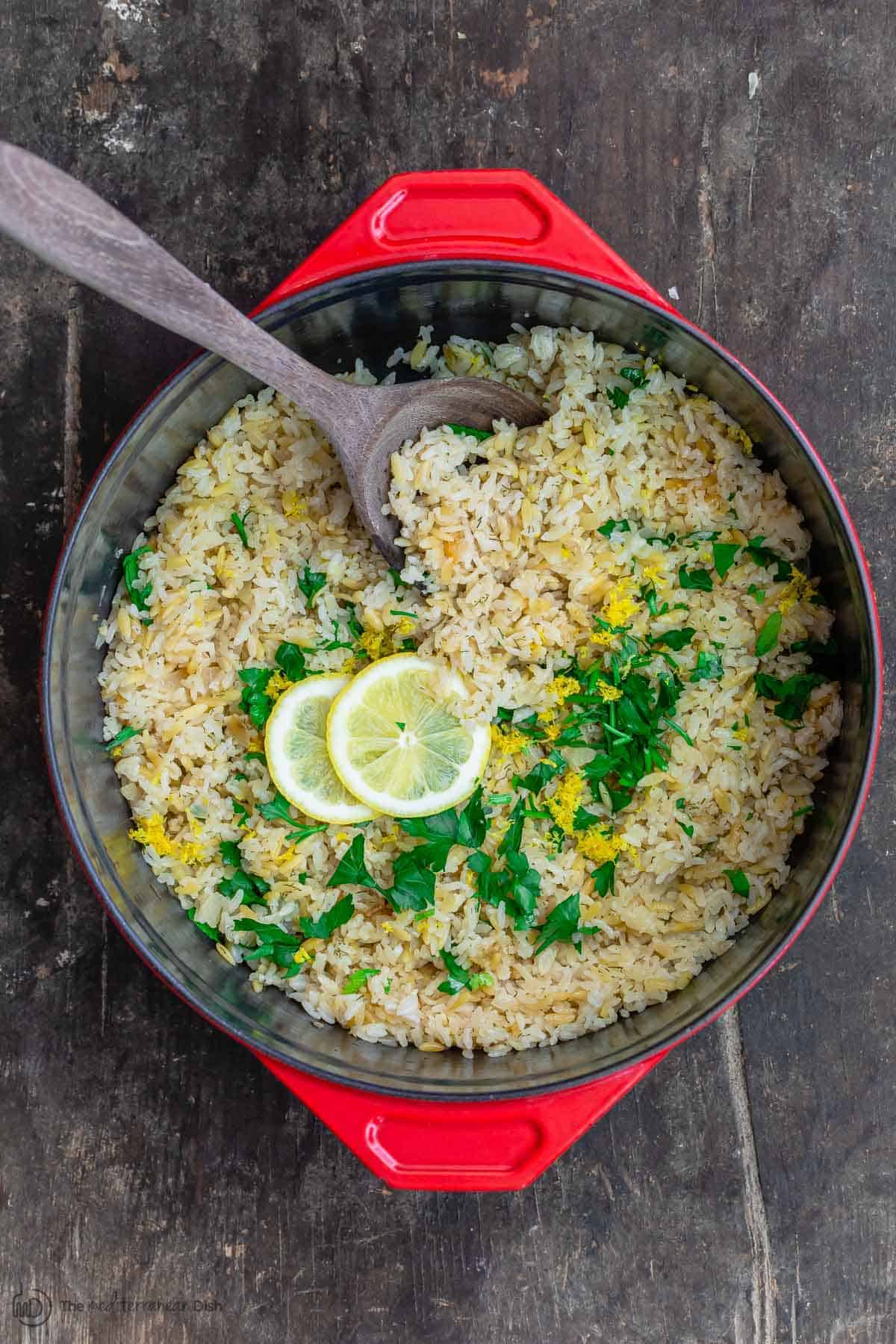 If there is ever a classic Mediterranean salad, it is hands-down tabouli (or tabbouleh). Made of finely chopped vegetables, lots of fresh parsley and bulgur wheat, then tossed with lime juice and extra virgin olive oil. For me, I like adding cucumbers to my tabouli for extra crunch!
Mediterranean Watermelon Salad
An easy, fresh and super light Mediterranean watermelon salad with cucumbers, creamy feta, loads of fresh herbs, and a zesty honey-lime dressing!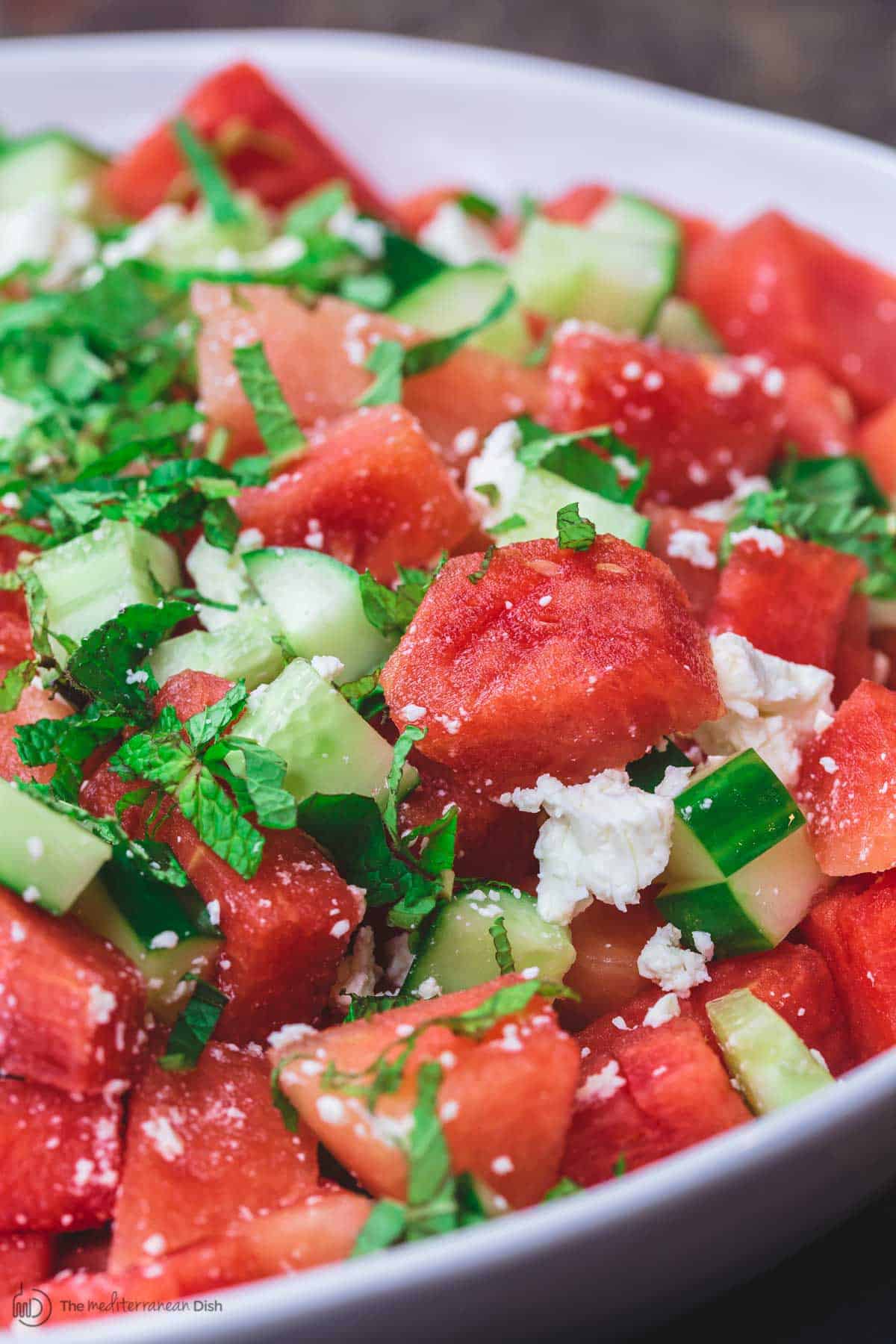 Exactly as served on the Greek islands and villages with ripe tomatoes, cucumbers, bell peppers, onions, and creamy feta cheese. The perfect finish is a good splash of quality Greek extra virgin olive oil and a little red wine vinegar.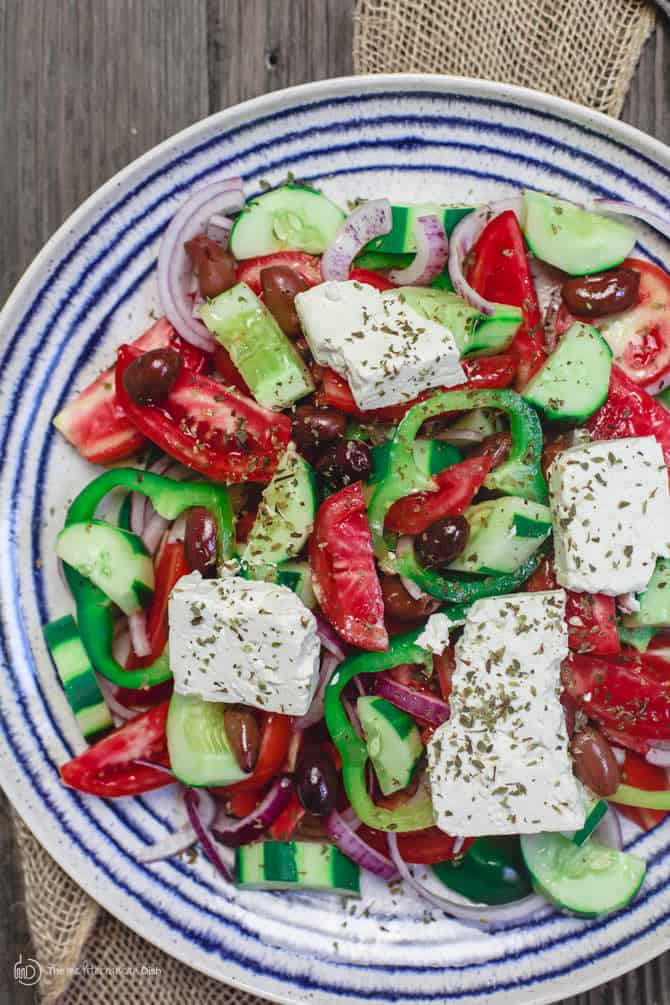 Lazy 3-Ingredient Mediterranean Salad
This lazy salad is on repeat often at my house. Three simple ingredients--cucumbers, tomatoes, and parsley--dressed with a little bit of sumac, citrus and extra virgin olive oil. So good!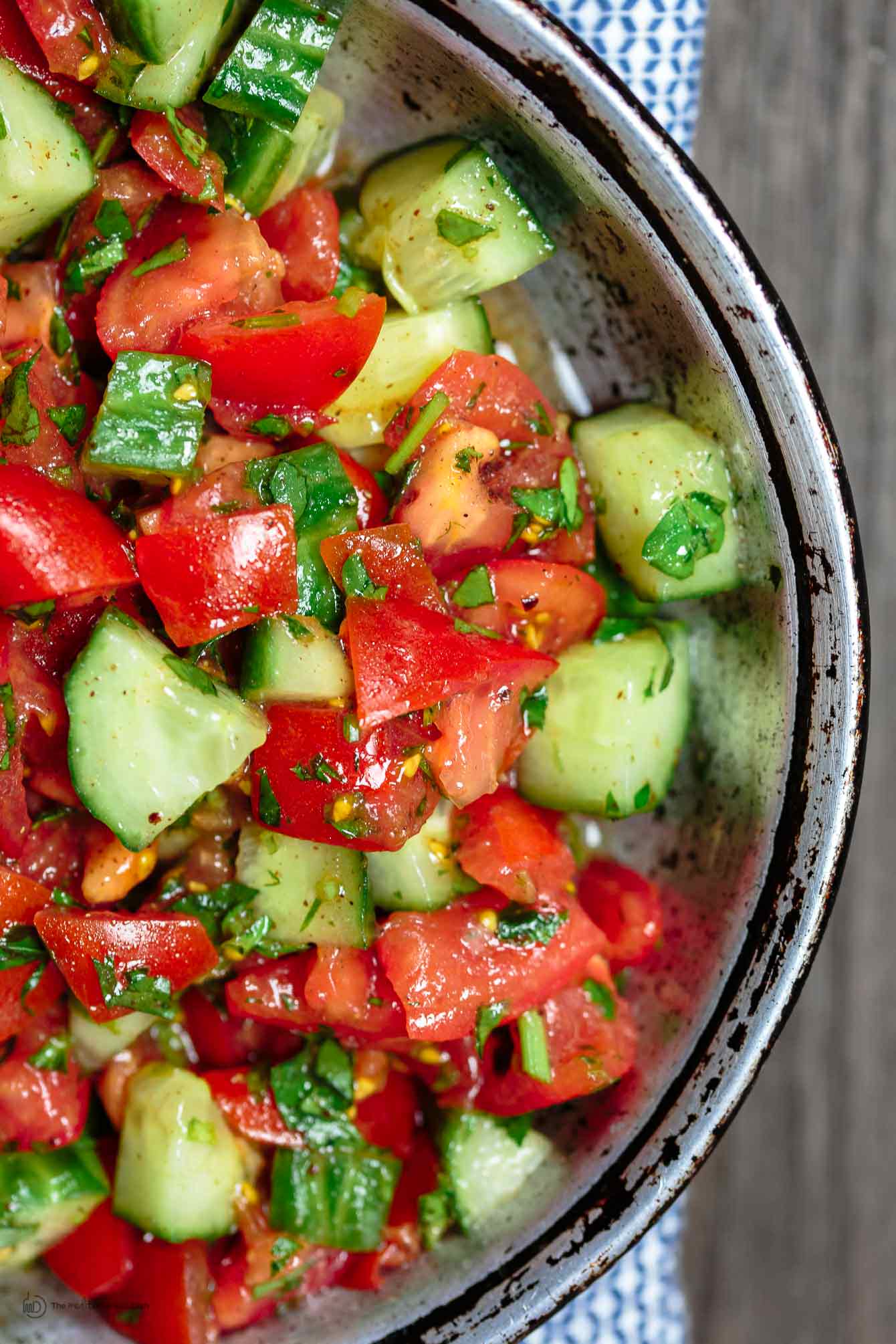 If you want to make the BEST authentic creamy hummus, definitely check out this recipe/tutorial. It's my go-to!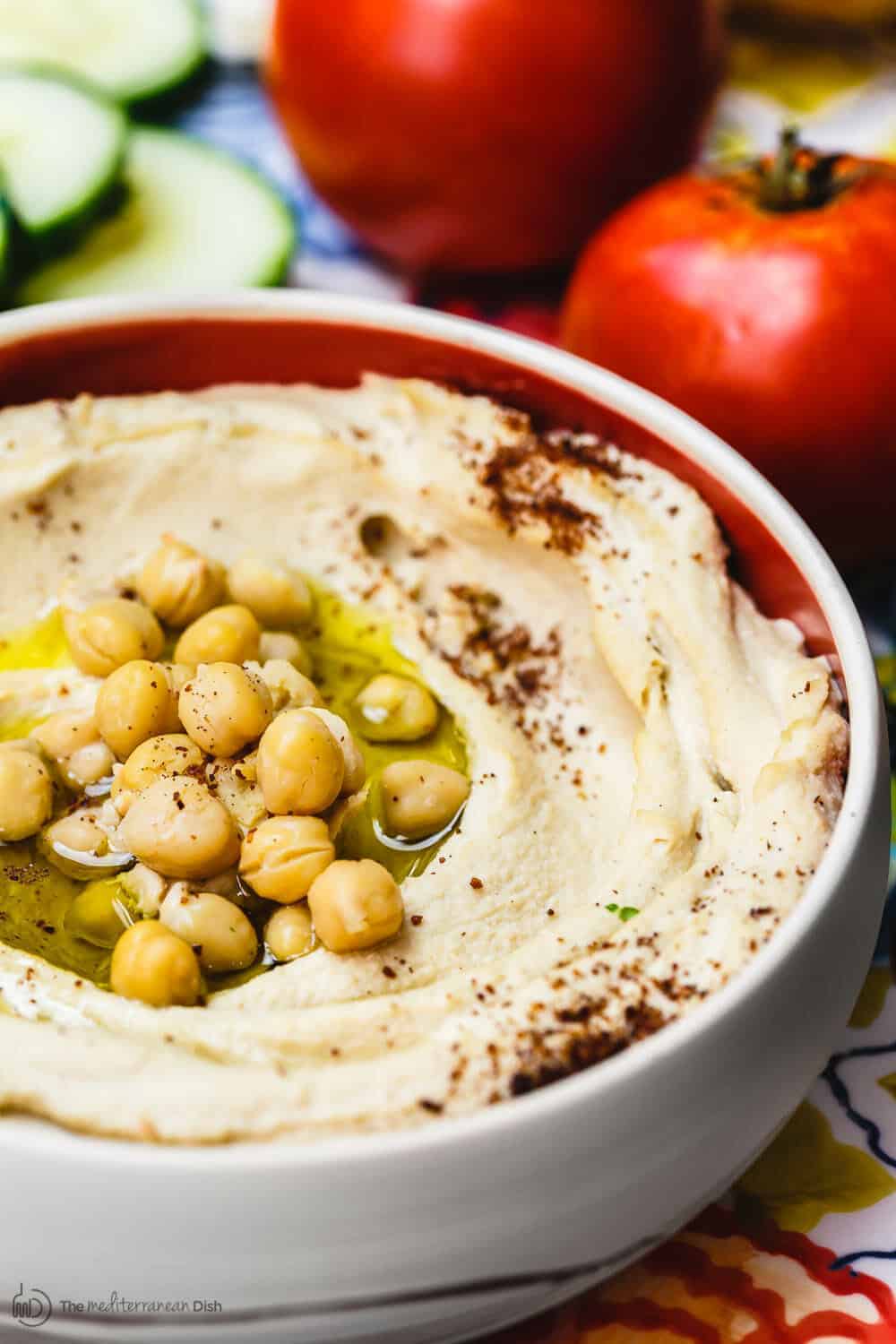 Greek yogurt sauce with cucumbers and fresh garlic. This is a versatile sauce that is the perfect accompaniment to many Mediterranean dishes. I love it with souvlaki or even salmon kabobs.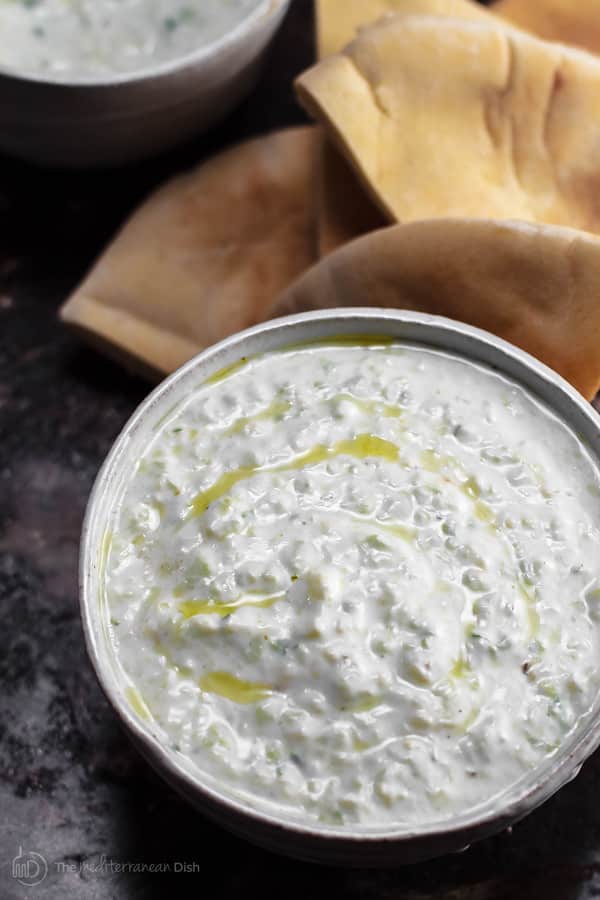 This rich, flavor-packed vegan sauce made of sesame tahini paste, lime juice and a little garlic. This is popular sauce can elevate any meal from kabobs to falafel sandwiches and everything in between.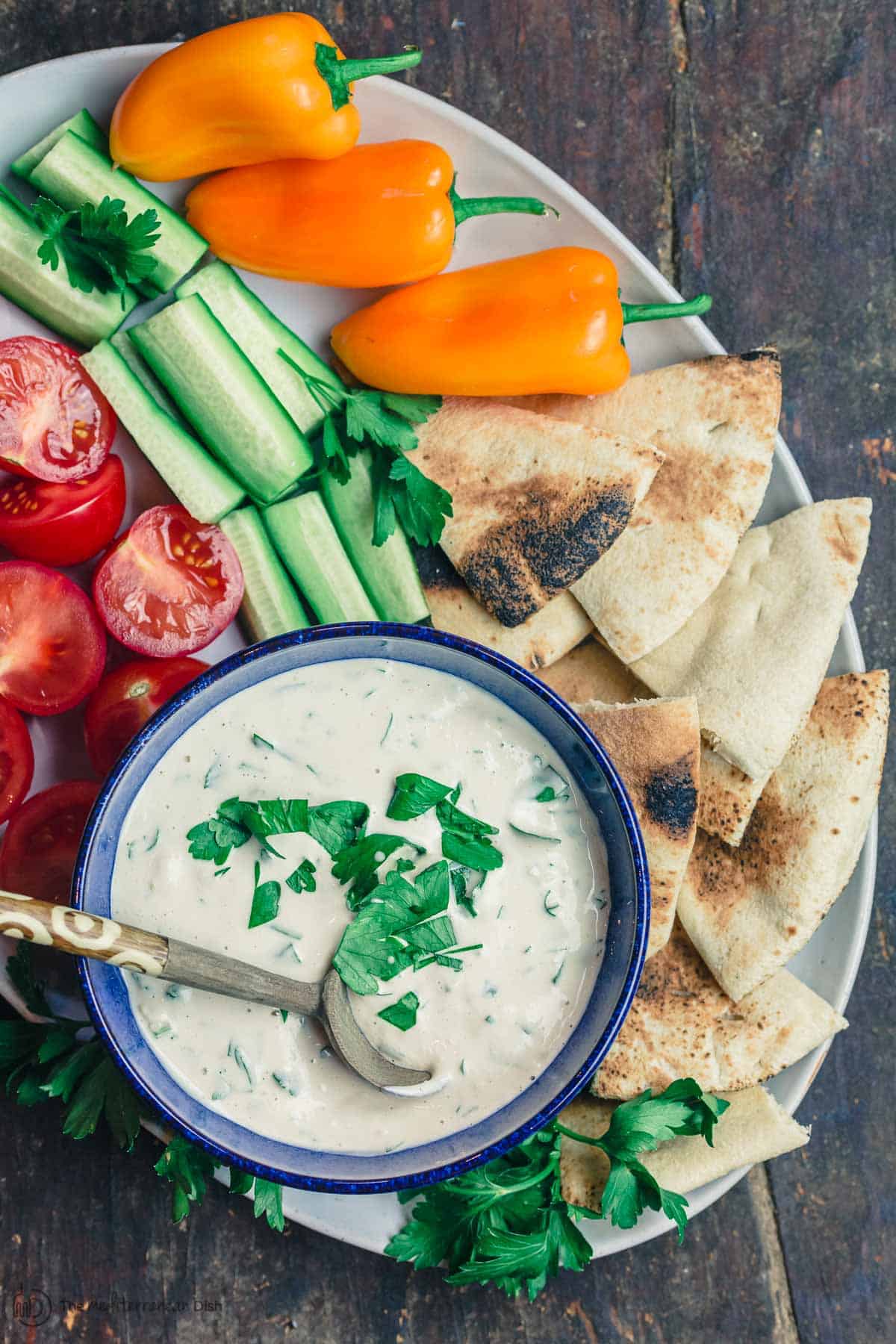 And if you're wondering about the top dessert for the year, it was non other than baklava!
*This post is updated every year to reflect readers' choices and top Mediterranean recipes for the year.
Hungry for More? Join my e-mail list HERE to receive new recipes and my weekly dinner plan!
VISIT OUR ONLINE SHOP FOR QUALITY OLIVE OILS, ALL-NATURAL SPICES AND MORE