Once you learn how to boil potatoes perfectly, you'll find many delicious ways to use them! I am sharing my go-to tender boiled potatoes recipe with garlic, rosemary, fresh parsley, and a generous extra virgin olive oil. Whether you need a quick side dish to your fish or chicken, or the perfect addition to a vegetarian dinner, these simple and flavorful potatoes will not disappoint.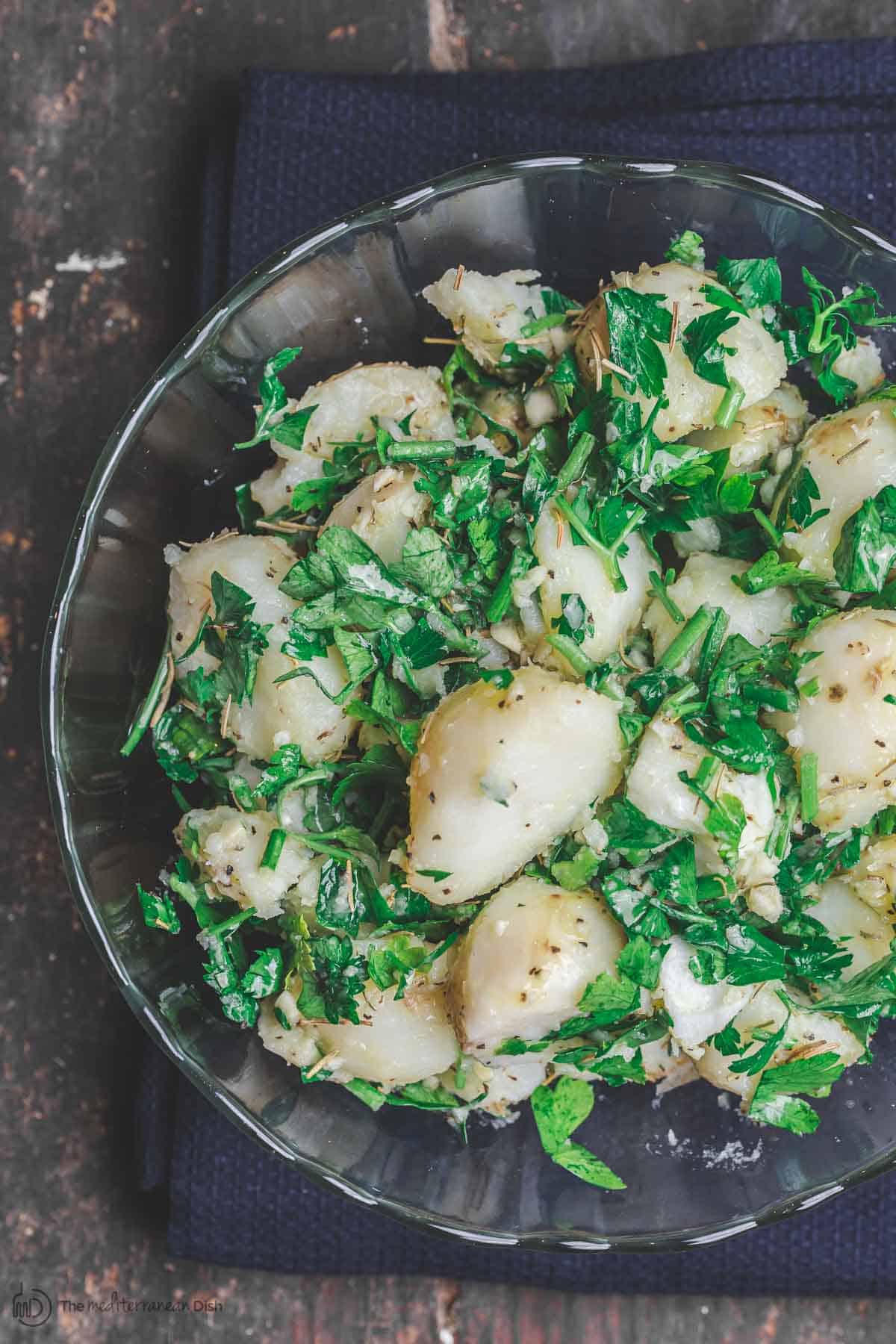 Potatoes are a staple food in many homes. They're relatively inexpensive, versatile, and you can easily turn them into many delicious options. Some of my all-time favorites include these Greek roasted potatoes, crispy smashed potatoes, and mustard potato salad!
But why boil potatoes? Boiled potatoes are quick to make, they usually take somewhere between 10 and 20 minutes. And once you learn how to boil potatoes, the possibilities are endless!
Sure, you boil them if you plan to plan to mash them up, but that is not the only use for boiled potatoes! You can give your potatoes a spicy twist like these Batata Harra, or turn them into a delicious herby side dish to go with anything from baked salmon, rack of lamb, or za'atar roast chicken! And I've often used boiled potatoes next to my bean salad or eggplant pizza for a tasty vegetarian dinner.
About this Boiled Potatoes Recipe
This potato recipe begins with boiling some Yukon Gold potatoes until perfectly tender. Then, while they are still nice and hot, the potatoes are seasoned and tossed with some fresh minced garlic, rosemary, parsley, and a generous splash of quality extra virgin olive oil.
You can use any combination of herbs you like, but I like to keep the potatoes pretty simple so that they go with most anything I serve along.
These garlic potatoes are great served warm or at room temperature. And I would highly recommend, once you season them, set the potatoes aside for a little while to allow the flavors to meld. They're delicious on their own, or you can serve them with Garlic Aioli for dipping.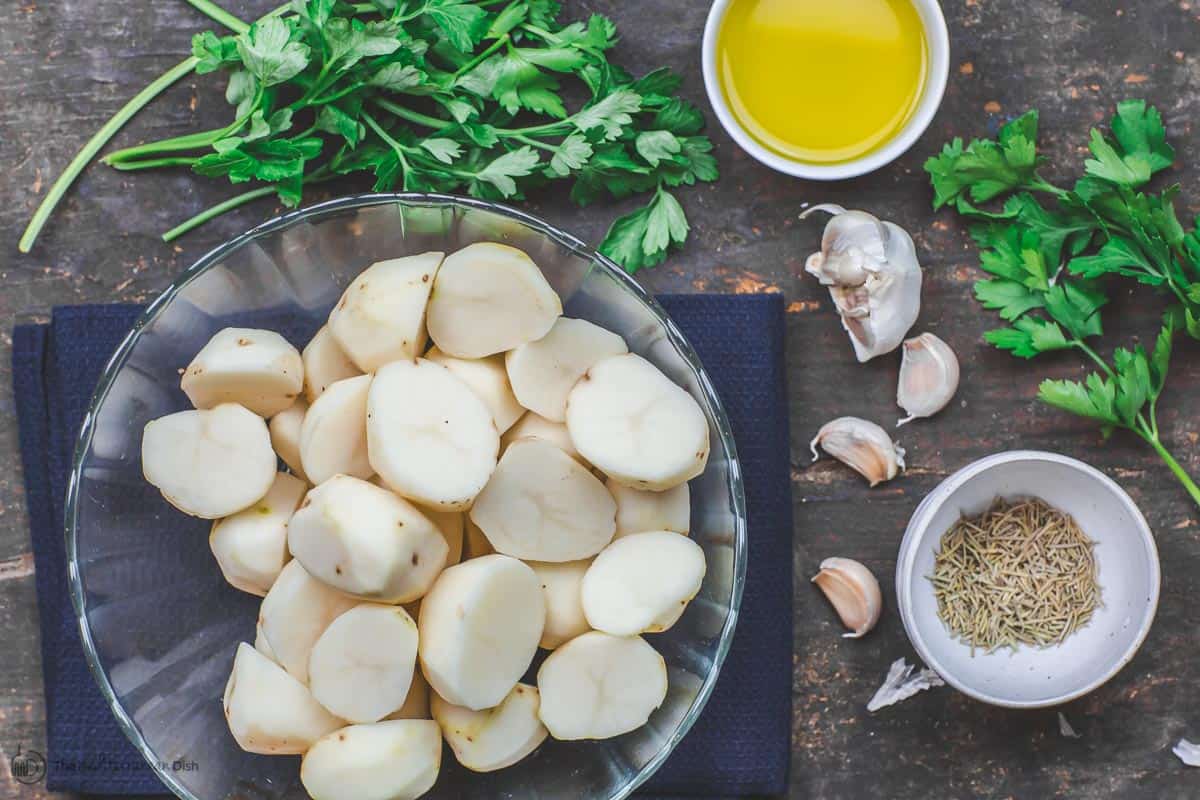 What potatoes are best for boiling?
There are basically three categories of potatoes: super starchy like Russets, waxy potatoes like Red Bliss, and somewhere in the middle like Yukon Golds.
In general, I like Yukon Gold potatoes for boiling. They are medium-starch potatoes that contain more moisture so they can handle boiling well without completely falling apart. Plus, they have a nice buttery texture, and because they are a bit vegetal and slightly sweet, which means they taste delicious even with very little seasoning.
If you are going for mashed potatoes, then russet potatoes also work and will give you a nice creamy mash. The problem with russets is that they absorb a lot of water, so it is a good idea to keep them whole while boiling. They will take longer to cook, however.
How long does it take to boil potatoes?
I like to peel and cut the potatoes into similar size pieces, which helps them cook quickly and evenly. Boiling potatoes will take anywhere from 10 to 20 minutes. The boiled potatoes are done when they are tender all the way through. Use your fork or a pairing knife, if it goes through to the center of the potato easily without resistance, your potatoes are ready.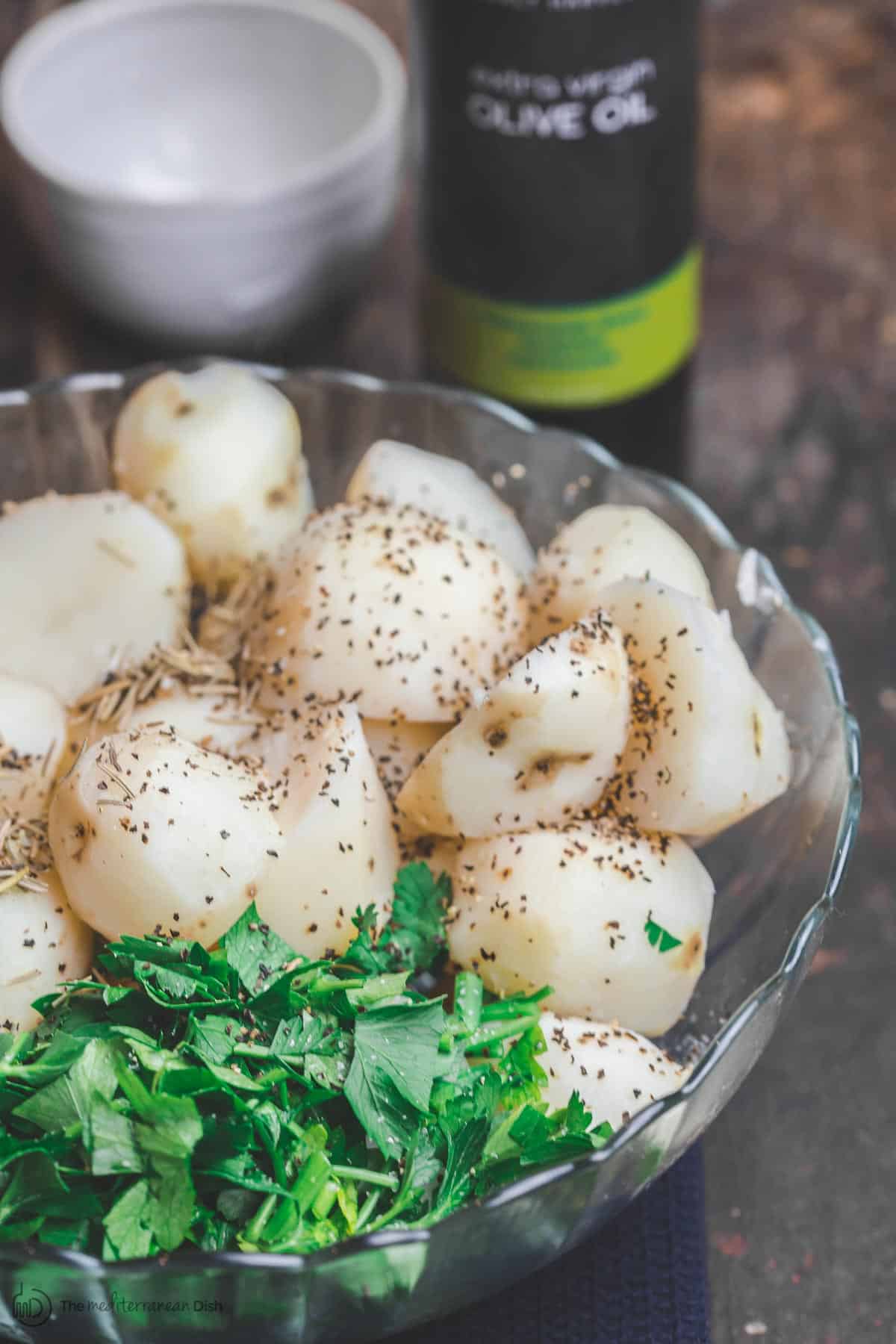 What to add when boiling potatoes?
Generally, when boiling potatoes, you really do not need to add much more than a good pinch of kosher salt. I prefer to add seasonings and herbs once the potatoes are cooked. But, if you do feel you want to add flavor right away, you can throw in a bay leaf or some herbs to the potatoes while they boil.
How to Boil Potatoes
Boiling potatoes is not complicated. It takes three basic steps:
Prepare the potatoes
Peel and cut the Yukon gold potatoes in halves. Or, if you're working with large potatoes, then cut them into similar size chunks or cubes.
Peeling your gold potatoes are optional, their skin is thin enough and you can simply scrub them well before cutting.



Boil the potatoes
Place the potatoes in a cooking pot that large enough so the potatoes are not crowded. Add plenty of water to cover the potatoes by about 1 inch. Season with a dash of kosher salt.
Bring the water to a boil, then lower heat to medium-low and cover. cook the potatoes in gently boiling water until nice and tender (mine took about 20 minutes).
Test with a fork or knife, it should go through the potatoes without resistance



Drain and season
Using a large colander, drain the potatoes then transfer them to a bowl.
While they are nice and hot, toss the potatoes with a bit of kosher salt and black pepper and your herbs of choice. In this recipe, I use some fresh minced garlic, rosemary, parsley, and a good lug for extra virgin olive oil.
Toss to combine, making sure the potates are well-coated. Let rest for a bit before serving
Important Tips
Early prep tip: You can peel and cut the potatoes in advance. Be sure to immediately place the cut potatoes in a bowl and add plenty of water to cover by about 1 inch. Refrigerate for up to 24 hours. Do not leave peeled, cut potatoes at room temperature, they will brown.

Leftovers: If you have any of these boiled garlic potatoes left, you can refrigerate in a tight-lid container for 2 nights or so. Just remember, these are garlicky, and the longer they're stored the more pungent.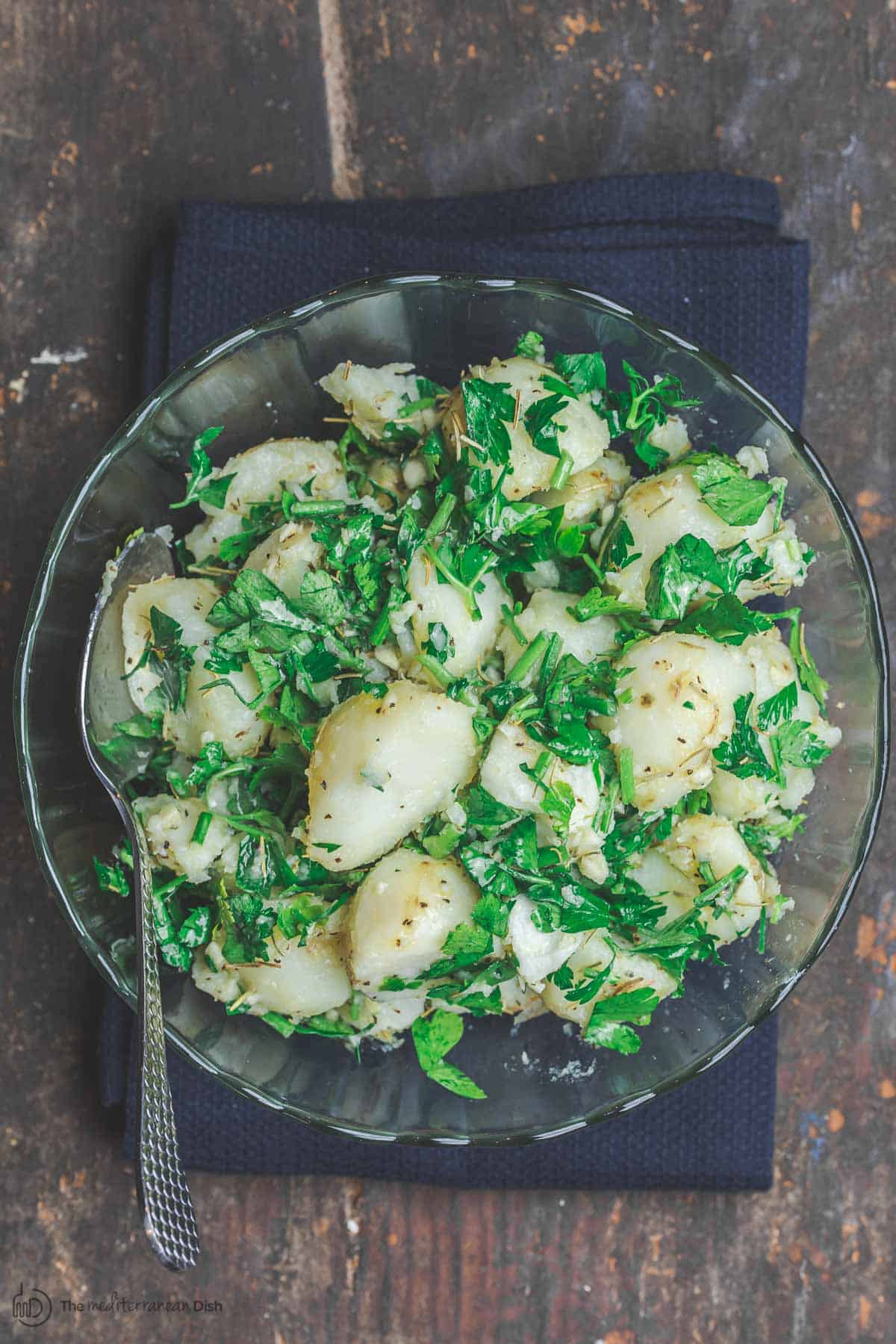 You may also like:
Browse all Mediterranean Recipes
Visit our Online Shop for quality Mediterranean ingredients including olive oils and all-natural spices.
Simple Boiled Potatoes with Garlic and Fresh Herbs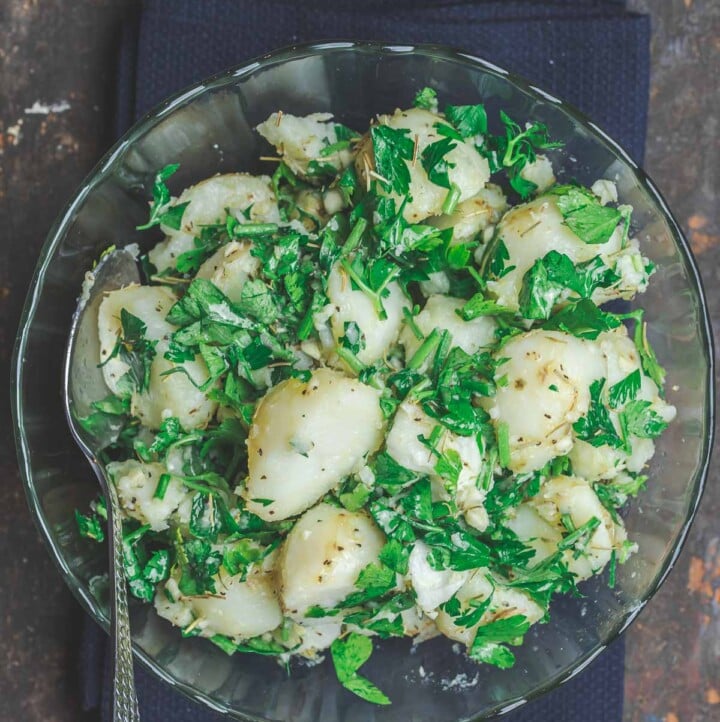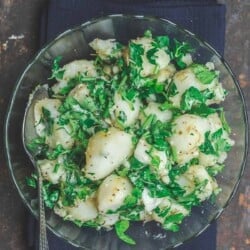 Simple and delicious boiled potatoes, tossed in extra virgin olive oil with garlic and fresh herbs. Serve this side dish warm or at room temperature. Vegan and Gluten Free.
Ingredients
2

pounds

Yukon Gold potatoes,

peeled and halved (other waxy, all-purpose potatoes will work)

Water

Kosher salt

Black pepper

2 to 4

garlic cloves,

minced

2

teaspoon

rosemary

¼

cup

chopped fresh parsley

¼

cup

extra virgin olive oil, more if needed
Instructions
Place potatoes in a large cooking pot. Add water to cover potatoes by 1 inch. Add a dash of kosher salt.

Cook over high heat to bring water to a rolling boil, then reduce heat to medium-low or low. Cover and let cook in gently boiling water for 20 minutes or so until potatoes are tender (cooking time will depend on how large the potato pieces are.) Test using a fork; fork should easily go through a potato.

Drain in a colander and transfer hot potatoes to a large bowl.

Season potatoes with a dash of kosher salt and black pepper. Add garlic, rosemary, parsley and a generous drizzle of quality extra virgin olive oil, about ¼ cup or so. Toss to make sure the potatoes are well-coated. Set aside briefly before serving.

Serve warm or at room temperature.
Notes
Cook's Tip #1: if you choose not to peel the potatoes, be sure to scrub them well and remove any sprouts. If potatoes are too large, you may quarter them or cut them in smaller pieces, if you like. I only halved mine and liked the size and shape they were.
Cook's Tip #2: If you're prepping ahead and not planning to boil the potatoes right away, place peeled cut potatoes in a bowl, cover with water and refrigerate for up to 24 hours. If you leave peeled potatoes at room temperature, they will brown.
Leftovers: Leftovers of these boiled potatoes with garlic and herbs can be stored in a tight-lid glass container in the fridge for 2 nights or so. Remember, this is a garlicky dish, and the longer you store it, the more prominent the garlic will be.
Serving: This is a great dish to serve warm or at room temperature. For dinner, this is side dish can feed up to 6 people. This is also a great potluck dish next to other buffet items.
Nutrition
Calories:
198.5
kcal
Carbohydrates:
26.9
g
Protein:
3.2
g
Saturated Fat:
1.3
g
Sodium:
10.8
mg
Potassium:
654.8
mg
Fiber:
3.4
g
Sugar:
1.2
g
Vitamin A:
214.8
IU
Vitamin C:
33.4
mg
Calcium:
23.9
mg
Iron:
1.4
mg