If you're looking for the perfect Christmas brunch menu, I have updated my Christmas Brunch Recipes list with lots od ideas for bright appetizers, to egg dishes, easy desserts and more! Plus, I'm sharing three different Christmas brunch menus: Greek, Italian, and Middle Eastern to help you put together a winning spread! Prepare-ahead tips included.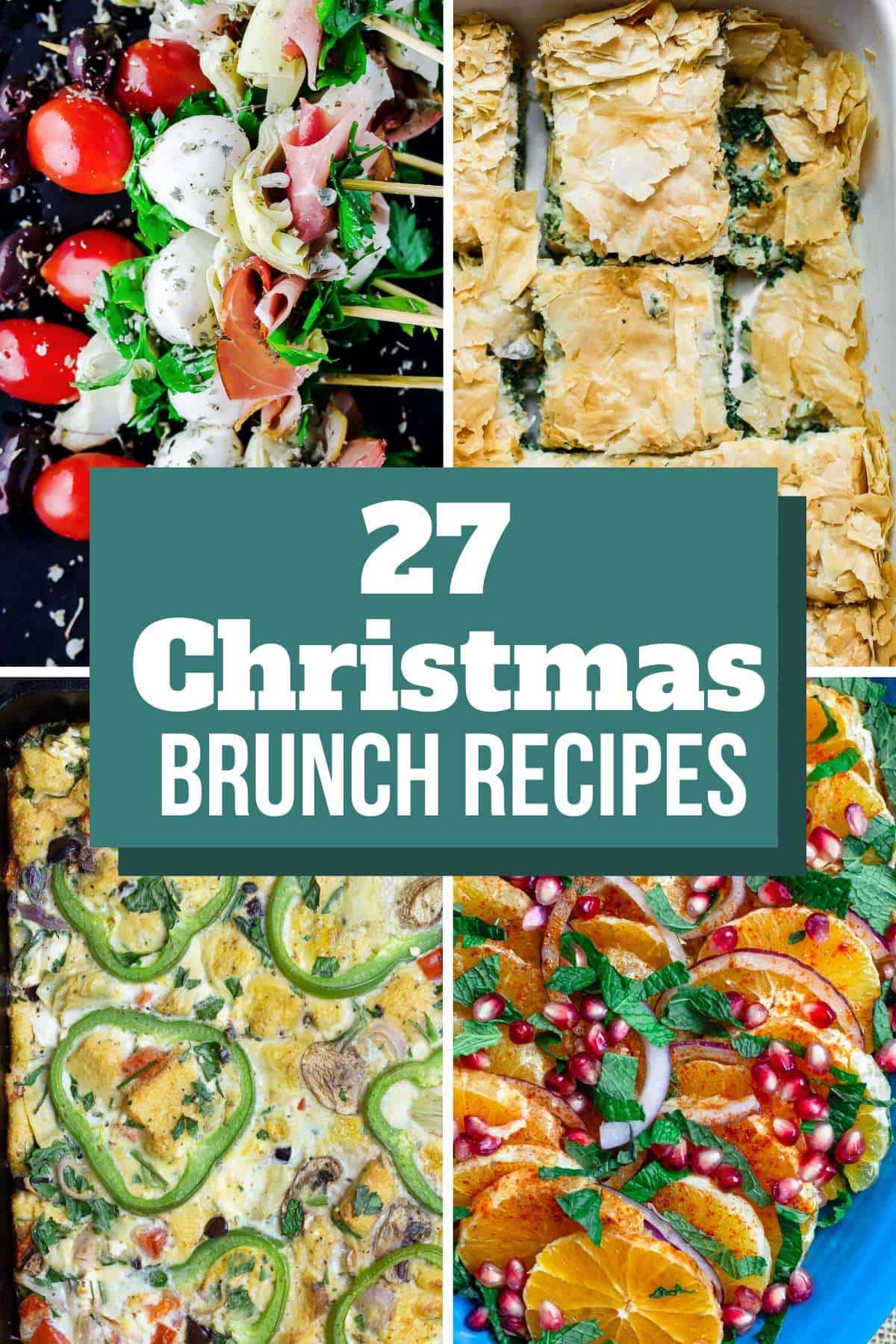 Christmas morning comes with all sorts of traditions. For some, it can include an early morning church service with everyone dressed up in festive garb; a quiet hike in the nearby park; a pajama party by the Christmas tree; or a large gathering of family and friends (in a normal year, that is).
Christmas brunch is one of the traditions I will hold on to wheter we have a dozen people or just the four of us around the table.
So, I've put together a list featuring some of my favorite Mediterranean Christmas brunch ideas-- winning spread with something for everyone! Plus Greek, Italian and Middle Eastern menu ideas.
I hope you'll find something delcious to try this Christmas! And before we get to the list of recipes, a few tips for a stress-free Christmas get together (even if it's a smaller affair, you may find something useful in these tips).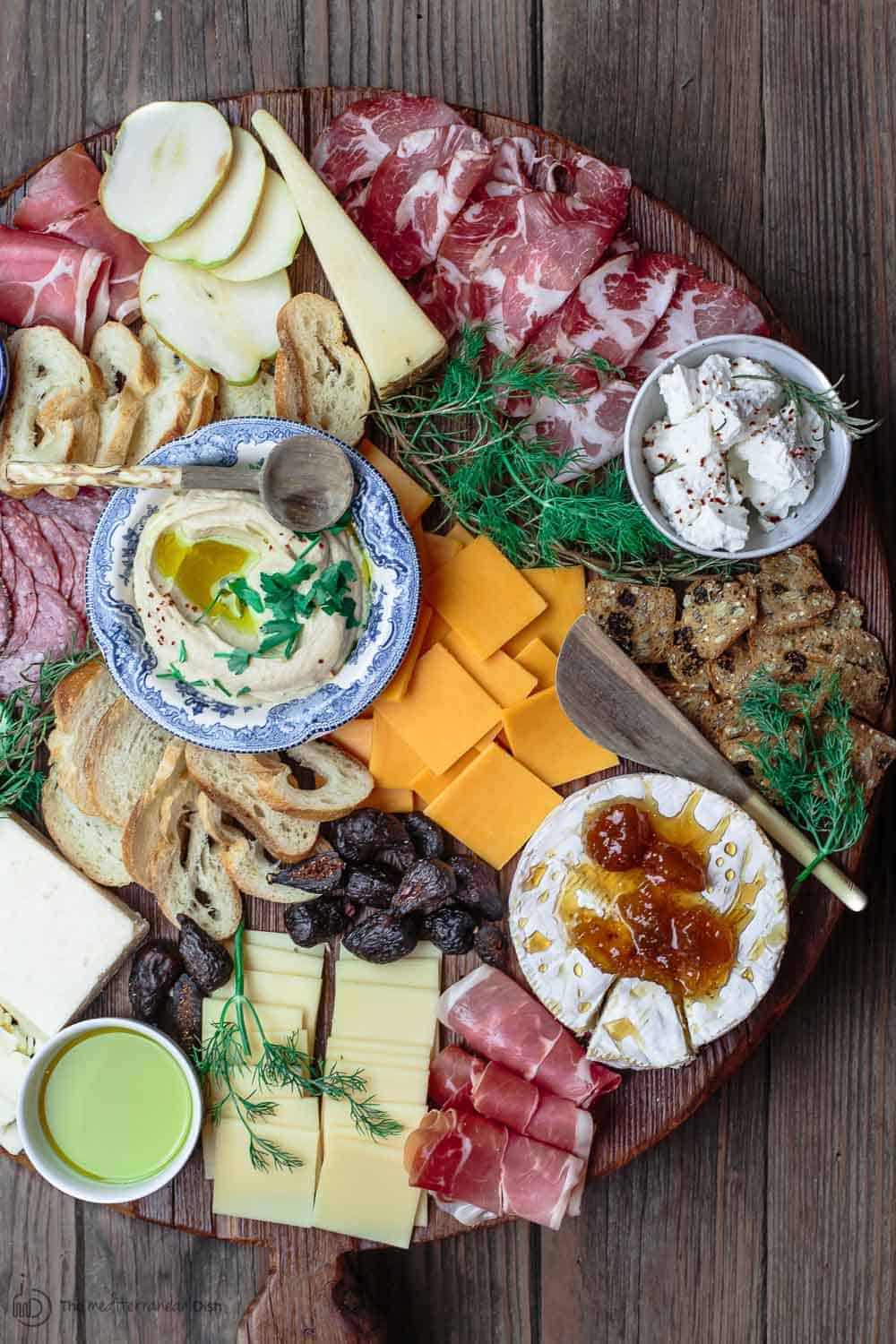 Christmas Brunch Tips: The Stress-Free Edition
I prefer a festive but laid-back Christmas brunch where there are no hard rules--except for one. My only rule is that I get to enjoy the brunch just as much as my guests. That means easy recipes, prep ahead, and the freedom to relax and enjoy. Here are a few tips:1. Make ahead as much as you can! Many of the recipes below can be made a day or two ahead of time. Not only will it make your Christmas brunch menu so much less stressful, but recipes like baklava taste even better the next day or two (after they've had time to sit in the honeyed syrup.)
2. Avoid made-to-order options like omelettes that need to be made immediately before eating. Eggs are expected at almost every brunch, but aim for an egg casserole you can assemble earlier and pop in the oven while guests are enjoying appetizers. Or better yet, make a baked frittata that can be made ahead and reheated a few short minutes before guests are seated.
3. For a festive spread, aim for a variety of colors and flavors. Try and have a mix of salty, sweet, savory, spicy, hot, and cold plates to mix up the flavors for a fabulous Christmas brunch menu. Below, I have a variety of different Christmas brunch ideas! Naturally, because mine is typically a Mediterranean-themed brunch, lots of veggies, fruits and herbs add the color element. I like to use bunches of fresh herbs (mini rosemary bushes are a great addition), and slices of oranges and other fruit as plating elements to add color.
4. Have some Party Platters Ready when Guests Arrive. I love to put out a large Mezze tray with dips, olives and warm pita; or a cheese and charcuterie board, adding in my favorite loaded baked brie, for guests to enjoy while I finish things up.
5. Set-up a simple drinks station. I keep drinks simple. No fussy cocktails, just a couple pitchers of mimosas (champagne and orange juice). A few wine bottles with glasses set out for people to serve themselves. And a hot coffee pot. If it's a big party, it does help a lot to keep drinks on a separate table to manage traffic 🙂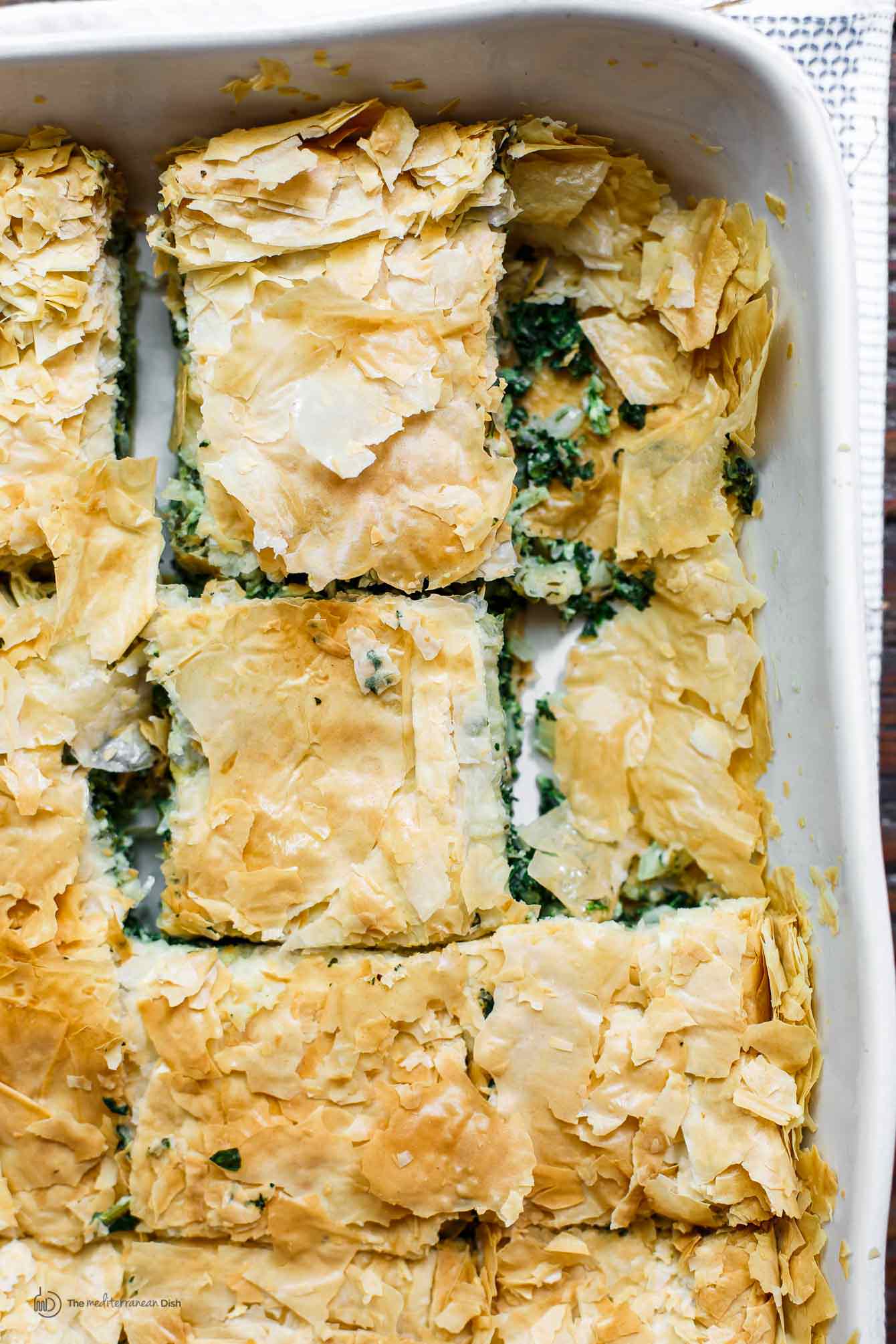 Christmas Brunch Menus: Greek, Italian, or Middle Eastern
Planning a Mediterranean themed menu will vary by region, but will typically include a variety of vegetarian and small bites of meat or fish, making it perfect for guests of all diets. What makes a Christmas brunch menu particularly Mediterranean are the choices of fruits and veggies used.
I've listed 27 Christmas Brunch recipes below, but you might be wondering, "how do I plan my Christmas menu and which dishes go well together?"
Here are a few ideas, but you should absolutely feel free to mix and match from the following brunch menus:
Greek Christmas Brunch Menu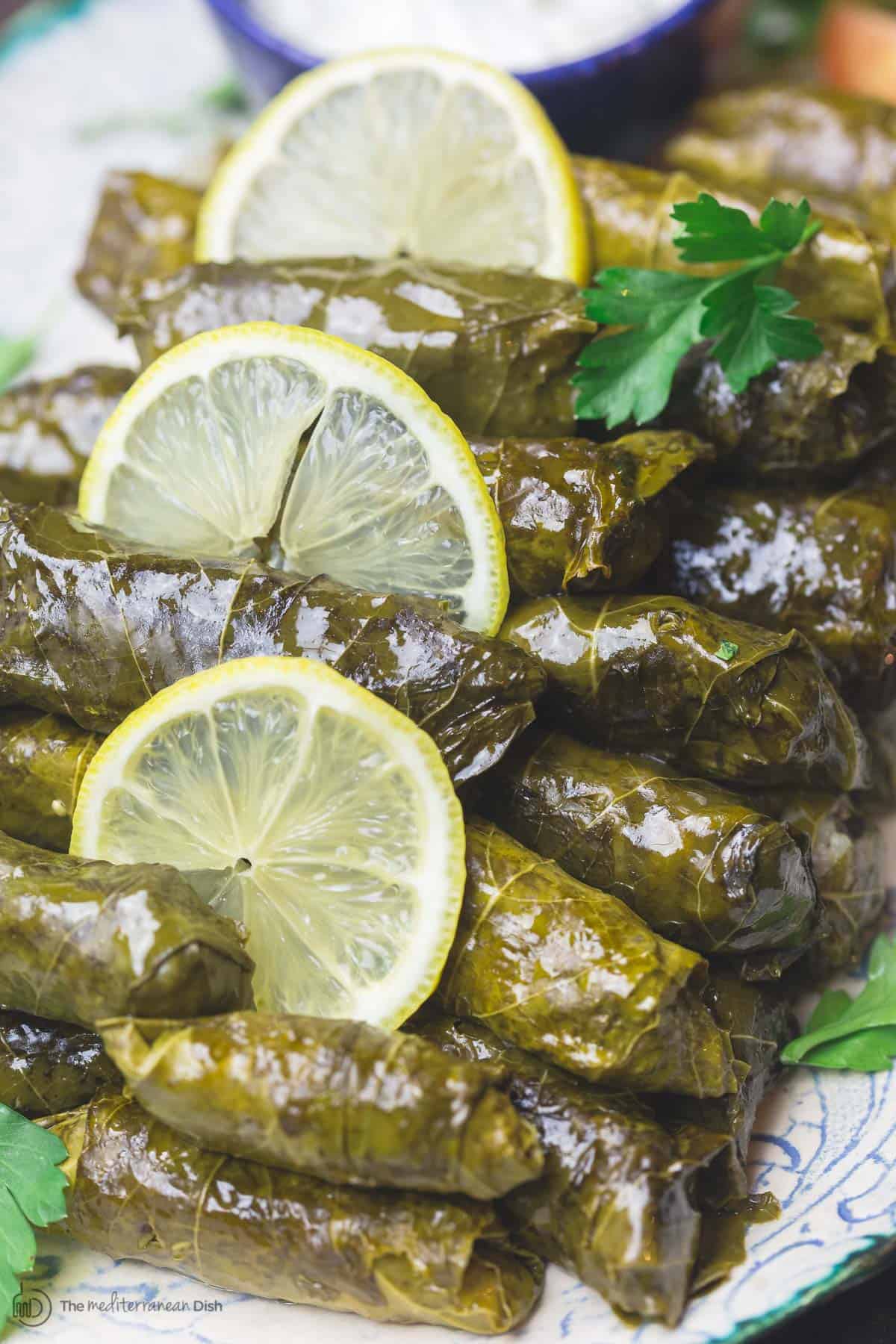 Italian Christmas Brunch Menu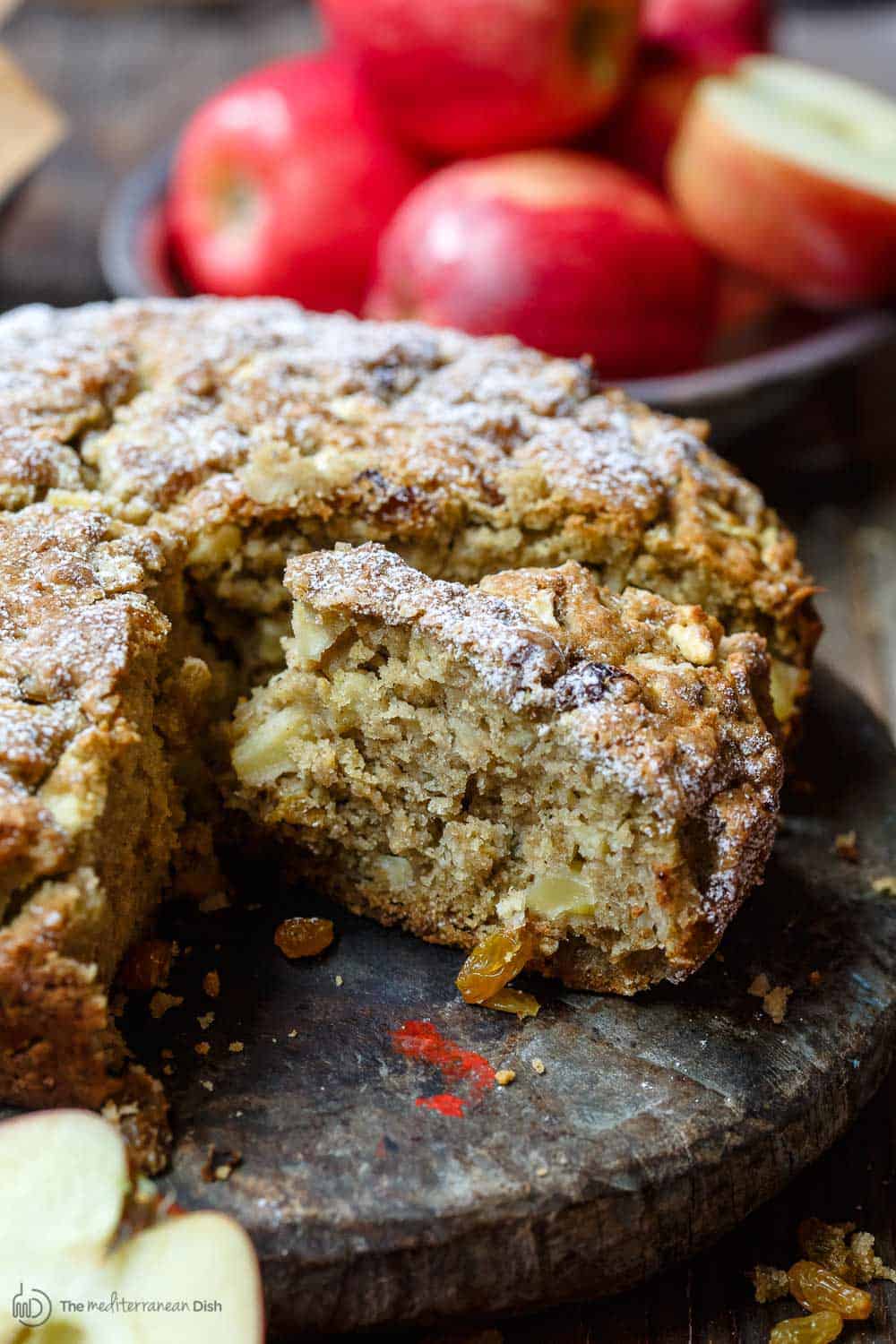 Middle Eastern Christmas Brunch Menu
But again, you can mix and match from the following list however you like. Here we go...
27 Mediterranean Christmas Brunch Recipes
(click the recipe name to see the full recipe)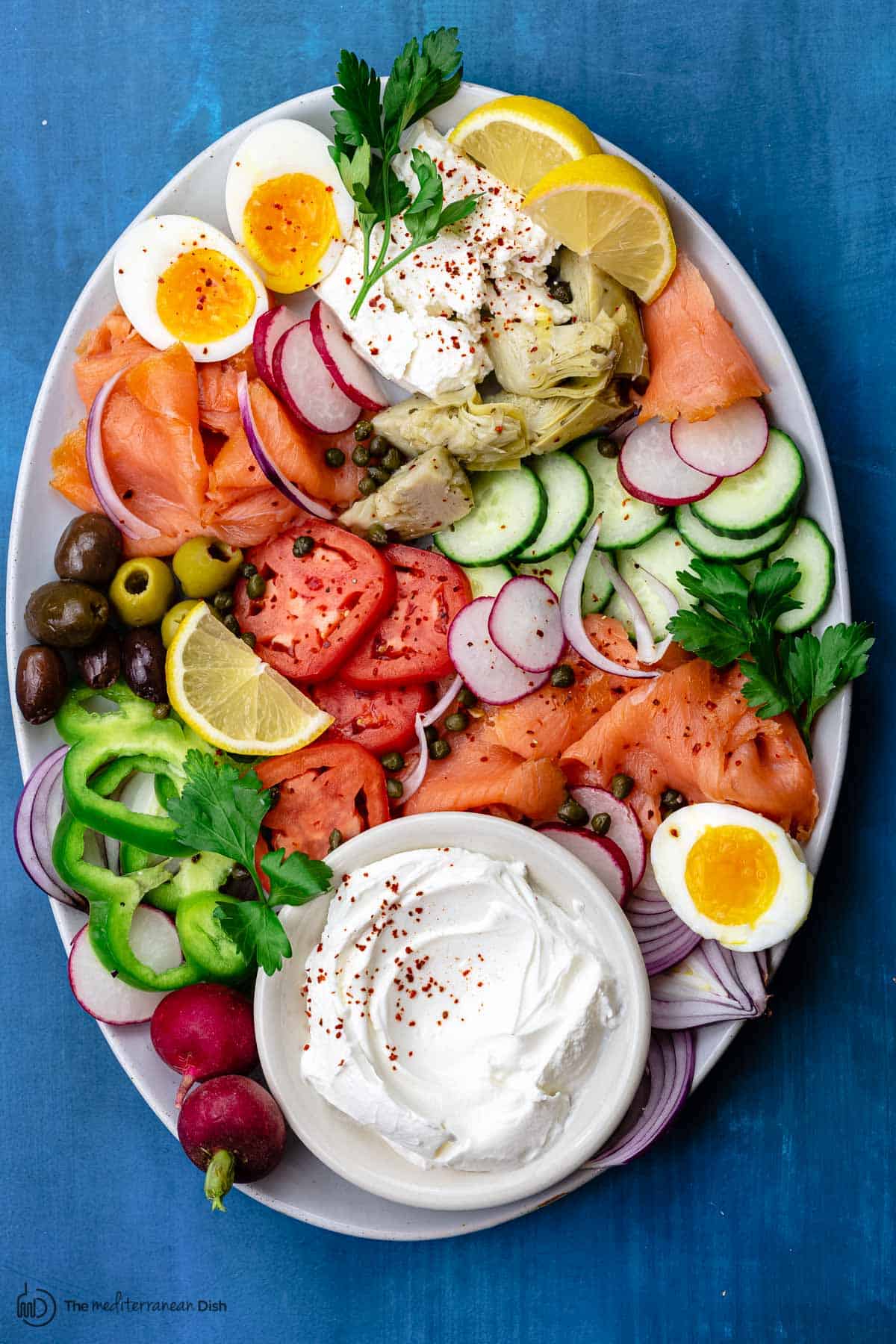 1. Party Platters
More than just a bowl of snacks, platters are an easy and elegant way to serve guests a variety of small bites. Mix and match with your favorite flavors! There's no wrong way to make a platter!
A classic in any festive Middle Eastern gathering! Features a blend of sweet, savory, salty, and creamy bites to excite the senses. Better yet, you can customize it with your favorite snacks!
This platter is a spin off everyone's favorite bagel and lox! I like loading it up with veggies, Labneh (you can use cream cheese if you need to) and Mediterranean favorites like capers, olives, and marinated artichokes.
Unlike mezze platters that have roasted vegetables and cured meats, a Mediterranean brunch platter has all the typical bites of a Mediterranean breakfast. Fresh cucumbers and tomatoes, chunks of feta cheese, and falafel patties (which you can make ahead of time and reheat in the oven or serve at room temperature.)
A cheese board is way more elegant than a plate of cheese and crackers, but still just as easy. I'll teach you exactly what kinds of cheeses and meats to pick to make that perfect combination guests will rave over.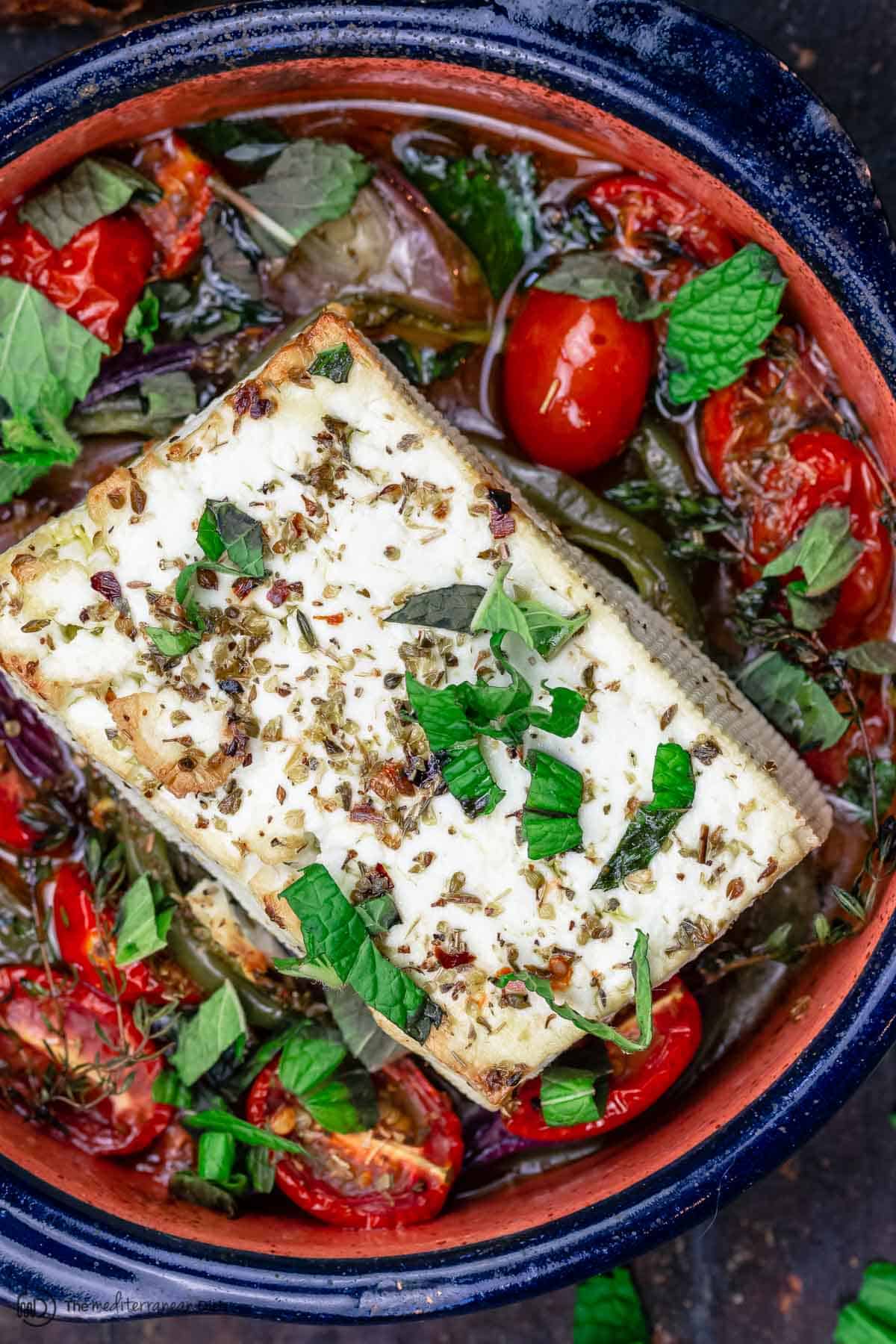 2. Appetizers and Small Bites
From antipasti skewers, to baked brie, shrimp, and even meatballs. Some hearty and festive options to share!
All an antipasti's greatest hits served on a skewer. A great make-ahead option for snacking while mingling with guests!
Hummus is amazing on its own... but take it to the next level with layers of spiced meat, tomatoes, onions, pine nuts, and a generous drizzle of Extra Virgin Olive Oil.
Warm, creamy, and luscious baked feta recipe with bell peppers, tomatoes, herbs, and a good drizzle of extra virgin olive oil.
A warm, creamy brie topped with sweet and salty layers of fruit and nuts is a must for any Christmas brunch menu! Warm it just before guests arrive and serve straight from the oven for an impressive appetizer!
Gambas Al Ajilllo (Spanish Garlic Shrimp)
Big juicy shrimp, swimming in tasty olive oil and garlic sauce. It is bright, garlicy, spicy and rich in the best way possible. Perfect with some crusty bread!
Roast Rack of Lamb (Lamb Chops)
You'll love this lamb rack covered in a simple Mediterranean garlic and herb marinade and cooked for a quick 15 to 20 minutes in a high-heated oven. (Marinate the rack overnight in the fridge and then put them in the oven 30 minutes before serving brunch)
Soutzoukakia: Greek Baked Meatballs
Not to be outdone, this Greek meatball version packs a ton of flavor that will have your guests begging for more! These football-shaped meatballs are baked with a rich tomato sauce for an incredibly moist and delicious bite (bake ahead and reheat).
Roasted Cauliflower with Lemon and Cumin
A healthy option of cauliflower roasted in olive oil and spices is anything but boring! Excellent on its own, or serve it with creamy tahini sauce for a twist on crudité.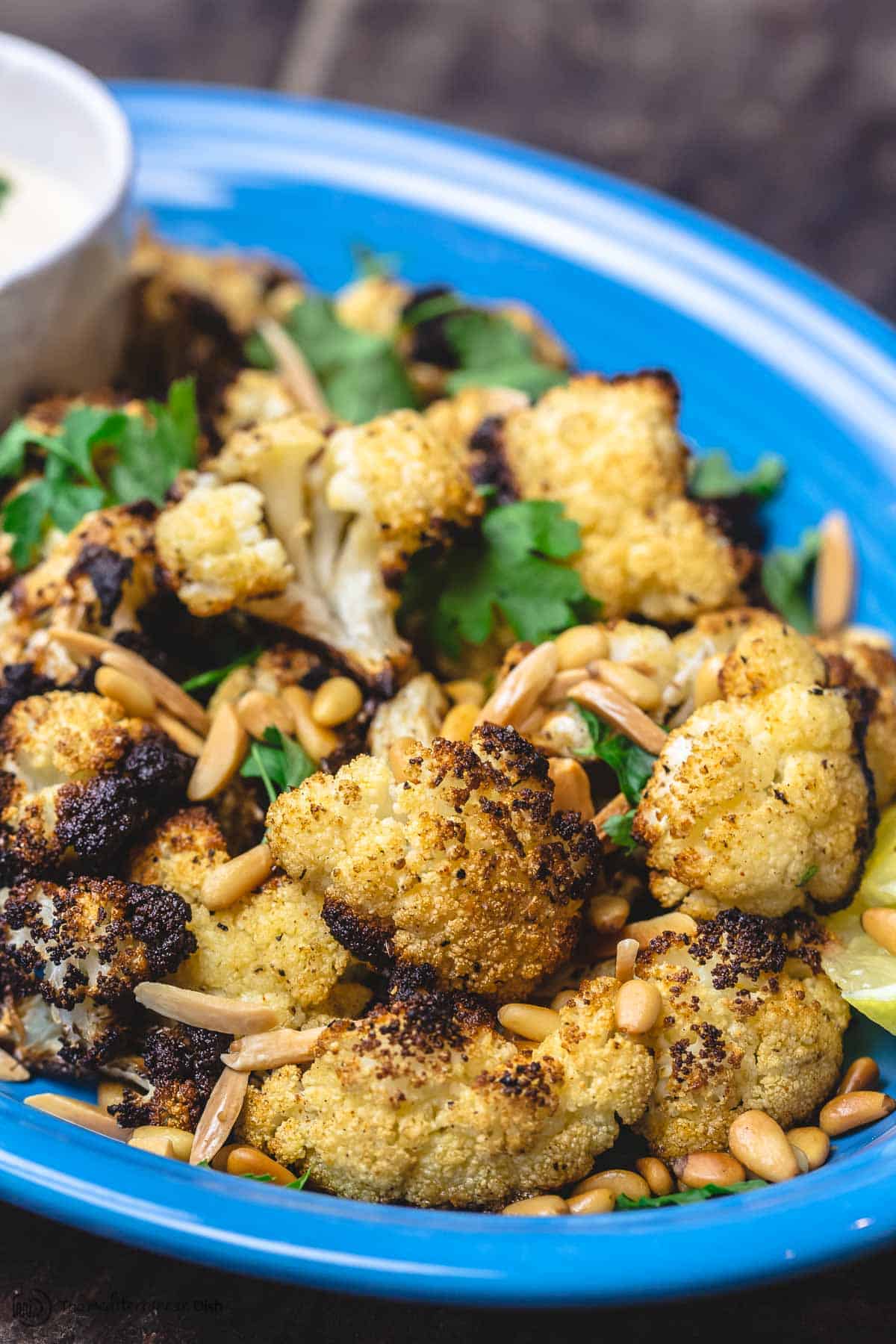 3. Salad
Salads are a must on my brunch menu, I typically offer at least two options. And no lettuce needed! As a bonus, some of them are make-ahead!
Make orzo pasta ahead of time then toss it with crunchy veggies, olives and a light lemony dressing!
A flavorful salad made of bulgar wheat, finely chopped vegetables, and lots of fresh herbs make this bright and festive dish a must for any party. Make it ahead of time and serve cold or at room temp. Perfect on its own or with your Mediterranean breakfast platter!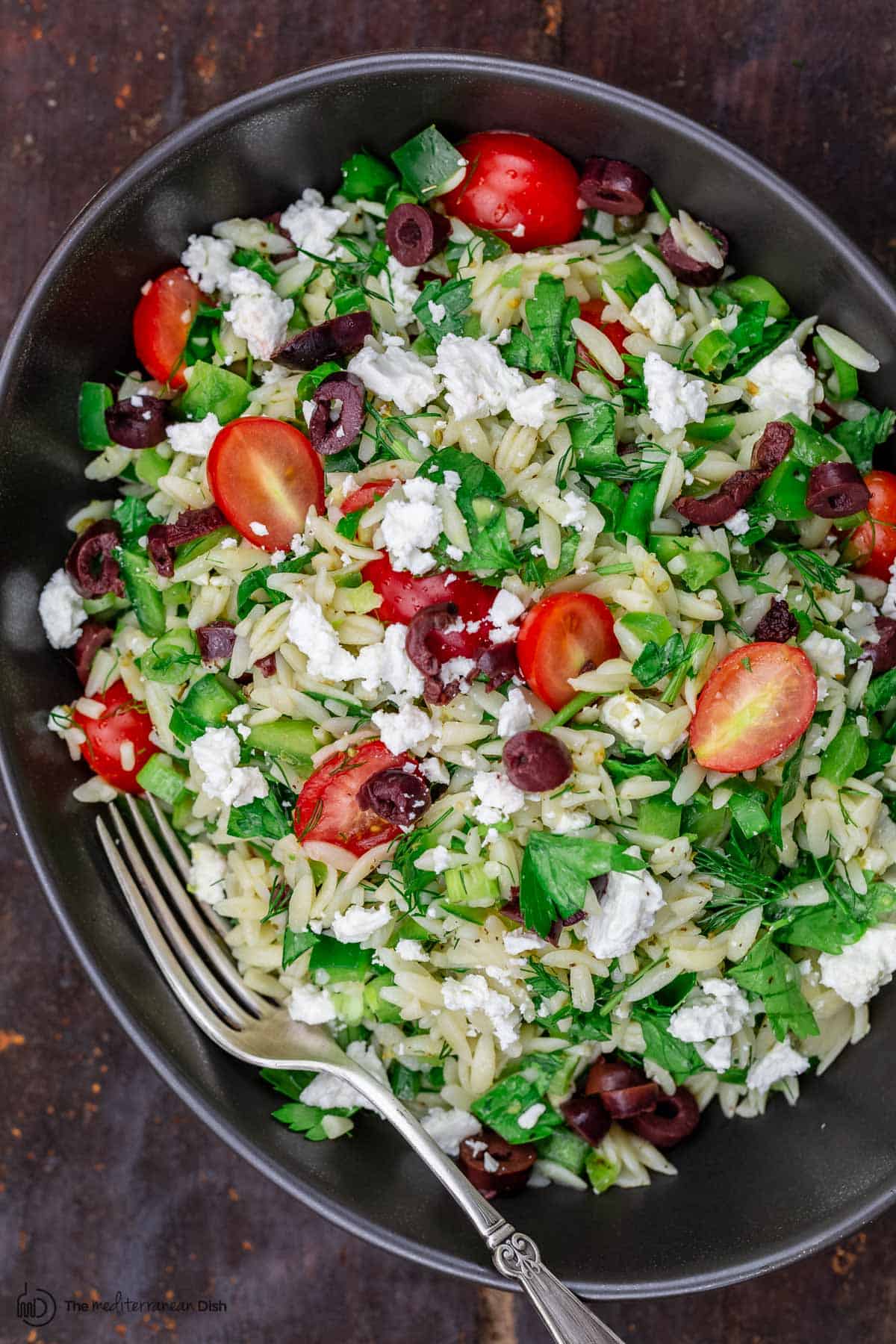 Chunky chopped fresh vegetables, hunks of feta cheese, and a generous dash of dried oregano make this salad a perfect addition to any Christmas brunch spread. It's quick and easy preparation (done in 10 minutes or less!) make it a tasty and hassle free option.
Fruit salad with a twist! Made with sliced sweet oranges and red onion topped with crunchy pomegranate seeds and handfuls of fresh mint make for a refreshing palate cleanser.
Served cold, this lentil salad is a hearty and healthy option packed with flavor and texture.
4. Eggs
Everyone expects some sort of a tasty omelet or an egg casserole of sorts at a Christmas brunch, and I have a few options with a bright Mediterranean twist...
Mediterranean-Style Egg Casserole
Easily one of the best options for Christmas brunch, this egg casserole is loaded with veggies and Mediterranean flavors. Assemble it the night before and bake it in the morning while you leisurely sip your coffee and open presents.
A beautiful spinach frittata is just the right "green" to add to the Christmas brunch table! Make it the day before and reheat in the oven for an omelette-like option with a fraction of the work.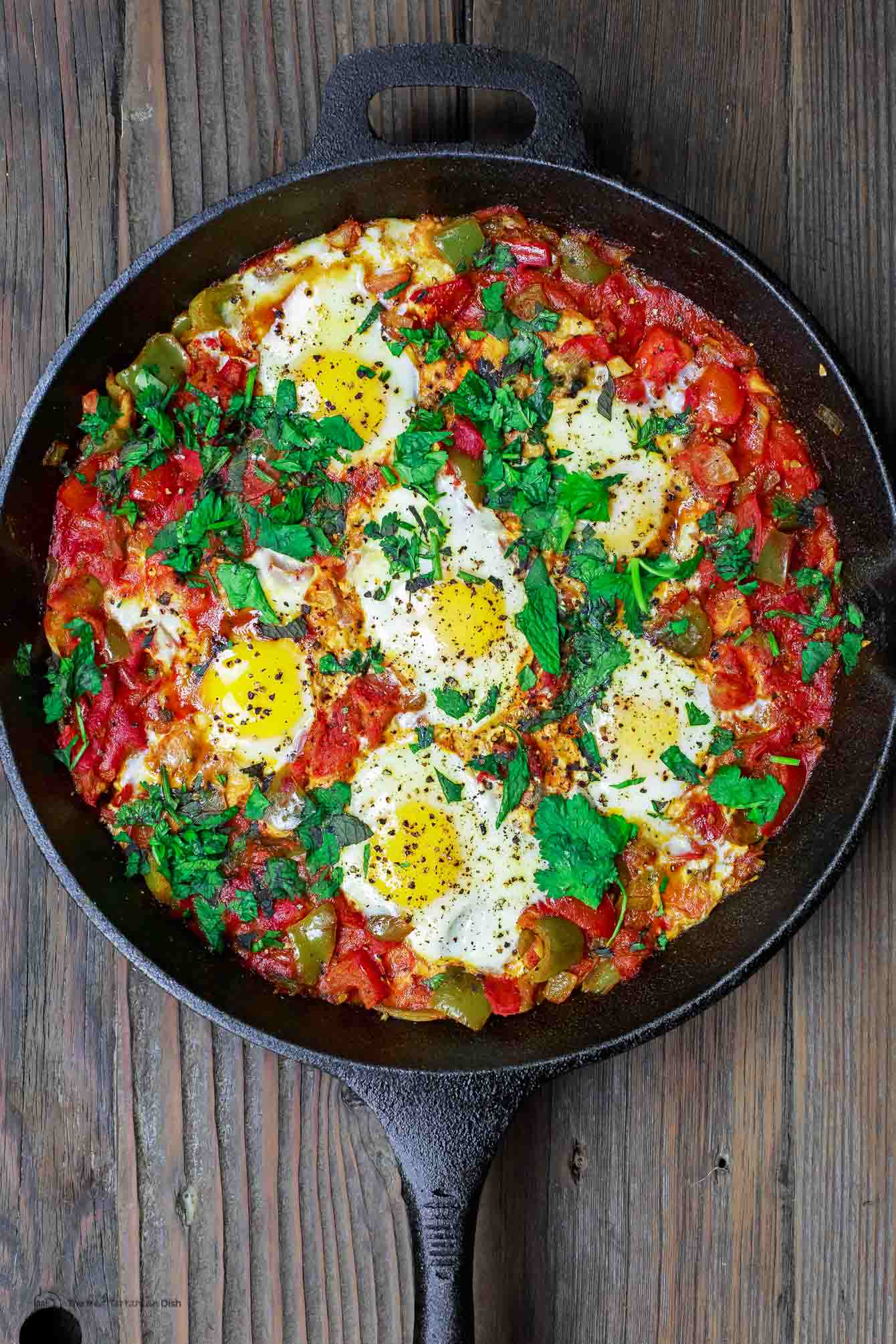 Small bites of egg muffins make an easier and brunch-friendly version of quiche. Make them all the same flavors, or switch up the mix-ins for a tasty variety your guests will love!
Eggs poached in a beautiful, chunky tomato sauce with bell peppers and onions. Make the sauce ahead of time, then heat it up stove-top and add the eggs to cook a few minutes before serving.
5. Sides
From flaky spanakopita to bright roasted veggies, any of the options listed below would make a great addition to the brunch table
A rich and flaky Greek spinach and cheese pie is by far one of the best options for a Christmas brunch. Make ahead of time and warm in the oven before serving. For a larger crowd, cut the spanakopita into smaller and more manageable bites!
Bite-sized stuffed grape leaves with a tantalizing mixture of rice, ground beef, and loads of fresh herbs. Make these a day or two ahead and reheat or serve at room temperature.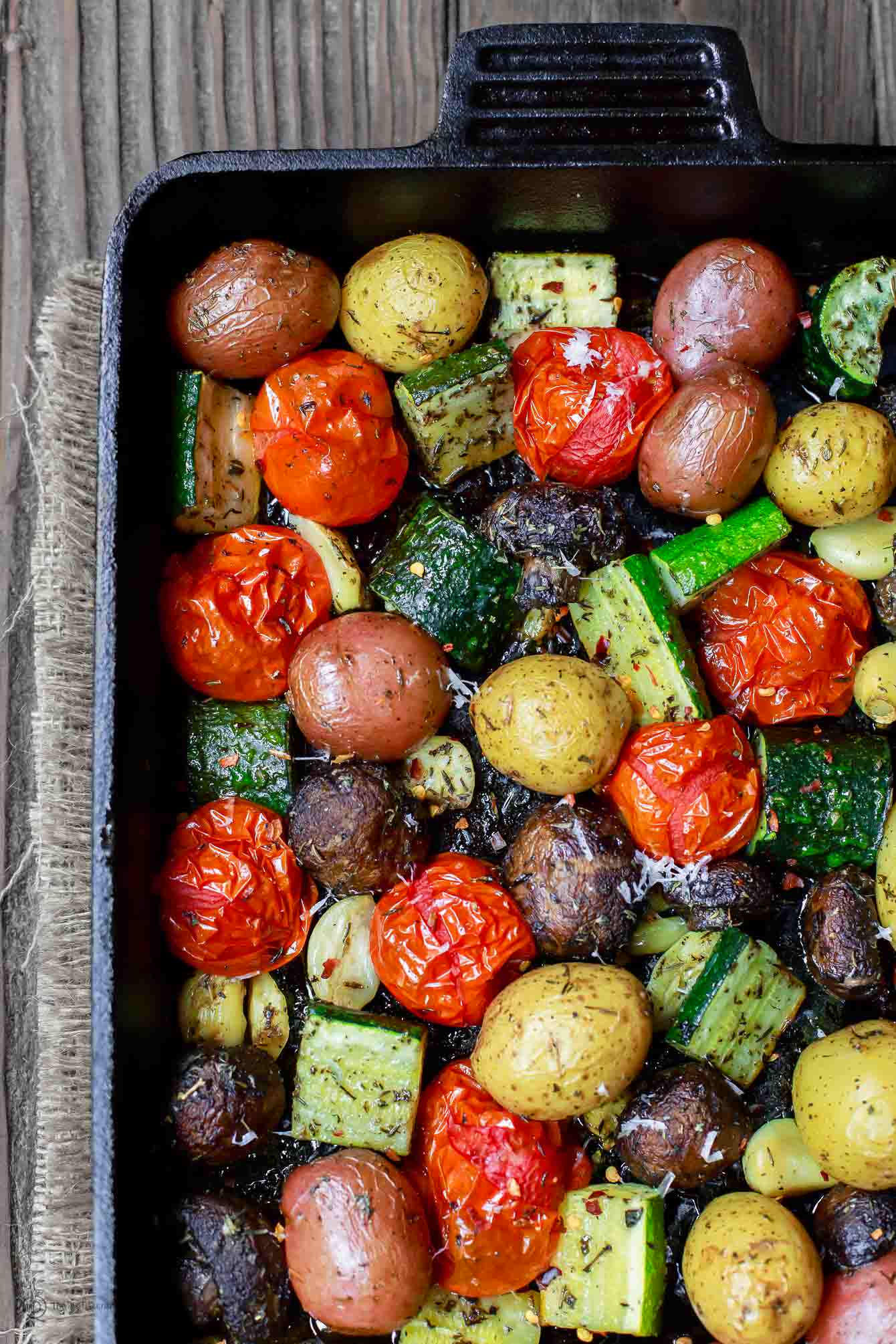 The perfect accompaniment to heartier dishes, these roasted vegetables can be served hot or cold. Even better, serve them skewered so guests can enjoy a bite of everything!
Roasted Eggplant with Pomegranate and Tahini
Something about the colors of roasted purple eggplants, deep Burgundy pomegranate seeds, and vibrant green herbs make this side dish just as visually appealing as it is delicious! And did I mention it's super easy to make? Because it's super easy to make.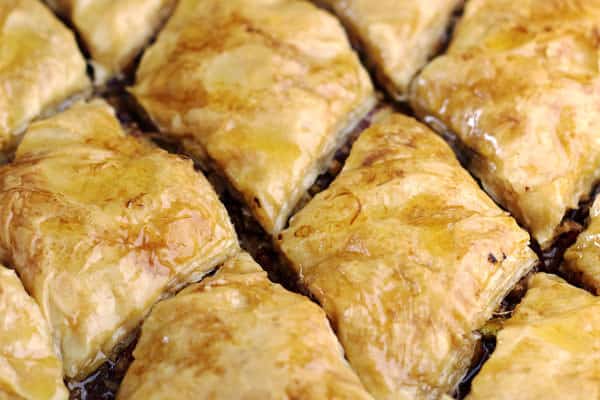 6. Breads and Desserts
It's not Christmas without a little baking!
Traditionally served at Jewish holidays, but I absolutely love this bread! Fluffy and pillowy, this egg-based bread is fabulous with a bit of honey. Making bread at home is much, much easier than you think! Make it a day or two ahead of time, let cool completely then wrap in plastic and add a layer of aluminum foil on top. This will trap in the bread's natural moist to keep it from drying out.
Flaky pastry filled with spiced nut crumb that's been soaked in honey syrup truly is the food straight out of heaven. Ideally, make baklava ahead of time so all the flavors can marry before serving!
Melomakarona are soft, oval-shaped Greek cookies scented with orange and cinnamon, drenched in honey syrup and covered with crushed walnuts. Yes, they are irressitable!
Crumbly, melt-in-your-mouth Egyptian butter cookies have only three ingredients and whip up in a snap. Just a word of caution, you might want to double the recipe because these will be gone before you know it!
Now it's your turn! Which of these Christmas brunch ideas are you going to try? I'd love to hear in the comments below!
*This post originally appeared on The Mediterranean Dish in 2018 and has recently been revised with new media and information for readers' benefit. Enjoy!