As summer nears its end, many are looking to use up their home garden bounty including delicious tomatoes. I already had some beautiful grape tomatoes and organic heirlooms, when my hubby came home with some more tomatoes that were freshly gathered from his coworker's garden. Thank you, btw, Angela! I thought to myself, yay, let's do bruschetta!
In my book, the definition of bruschetta is:  yummy stuff that is definitely worth sharing with friends. I have always loved bruschetta in any form it came in, and have sought after this yummy goodness for years. I have made different bruschetta dishes more times than I can count; and have incessantly ordered bruschetta appetizers at restaurants near and far; even as far as Paris.
This little dish from Central Italy has made it around the world taking on delicious variations. And I am so excited to share with you a version of it that is actually Middle Eastern. I am not sure if this version may have existed before the familiar bruschetta, but in any case.
I was first introduced to this warm tomato brushcetta dish from Jordan in my in-laws kitchen some years ago. Galayah Bandura, the Jordanians call it, is a popular dish usually shared as part of a large brunch or as mezza (appetizer). And although I opted for slices of French baguette in this recipe, true Galayah Bandura would typically be served with pita bread.
Mine is a simple recipe where the "star of the show" is ripe tomatoes. In fact, I combined all sorts of tomatoes in this recipe. So,  if you have a few, say, on-the-vine and some heirloom tomatoes, go right ahead and use them both; they will "marry" just fine in this recipe.  Combine that with fresh garlic, hatch green chile, and extra virgin olive oil. If you happen to have fresh mint leaves, or even dried crushed mint, and some toasted pine nuts, you will take warm bruschetta to a new level
Here is how I made it.

First, I washed my vegetables and dried them well. Then I chopped the heirloom tomatoes to small cubes; halved the grape tomatoes. In total, I ended up with five cups of prepped tomatoes.
Then on to the garlic and hatch green chile (btw, you can go hotter and use jalapenos, or you can also simply use green bell peppers. I chose to use one hatch green chile and mine was mild enough yet added a bit of a kick). I chopped those somewhat finely. And then I chopped my mint leaves after removing the stems.
In a large ceramic skillet, I heated my olive oil. When that was ready, I added the chopped garlic and chile and let saute briefly. You really only want the chile and garlic to "sweat"  but you don't want the garlic to get brown.
To that, I added my tomatoes, seasoned salt, pepper and crushed pepper and brought to a high-simmer. After five minutes or so, I turned the heat to medium and let cook/simmer for another 25 minutes. I watched it carefully and tossed things around once in a while; you want to avoid the tomato mixture sticking to your skillet or reducing/drying up too much.
When the tomato mixture reduced and became quite tender, I added the mint leaves and gave them a quick stir into the mixture. Removed from heat and dished into serving bowl.  And for the final touch, I topped the tomato mixture with my toasted pine nuts which added a hearty earthiness to the dish. Since I typically use raw unsalted pine nuts, I ended up quickly toasting them stove-top in a little bit of heated oil while the tomatoes were still cooking.
Slices of French baguette were the perfect compliment! But of course, feel free to use Italian, pita or your choice of bread (or gluten free replacement). You can certainly serve this warm, or I really like it at room temperature.
If you have a party coming up, try this bruschetta! You can even prepare it the night before and just take it out of the fridge and bring to room temperature before you serve. If you're looking for other small plates to serve  next to the bruschetta, you can double up on the use of your bread by adding this super easy hummus.
Here is the recipe; try it and let me know!
Print
Easy Bruschetta, Middle Eastern Style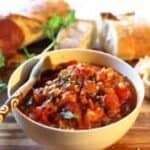 Tomato bruschetta made Middle Easter style. This super easy bruschetta recipe brings out the sweet flavor of cooked tomatoes with a great earthy kick from fresh garlic and hatch green chile. Take this dish to another level with a garnish of fresh mint leaves and pine nuts. Healthy and so delicious!
Author:
Yield:

6

Category:

Appetizer

Cuisine:

Mediterranean
Ingredients
5 cups ripe tomatoes, washed, dried and chopped
10 garlic cloves, finely chopped
1 hatch green pepper, washed, dried and finely chopped
1/3 cup mint leaves, washed, dried, stems removed, and finely chopped
1/4 cup toasted pine nuts to garnish
1 tsp seasoned salt
1/2 tsp freshly ground black pepper
pinch of crushed red pepper, optional
1 French baguette or your choice of bread
olive oil
Instructions
Wash vegetables, dry and prepare as indicated in the ingredients section above.
In a large ceramic skillet, heat three tbsp olive oil; turn heat to medium-high and add garlic and hatch green chile.
Saute briefly (about 2 minutes). Avoid browning the garlic.
Add tomatoes and sprinkle with seasoned salt, pepper and crushed red pepper (if using). Toss briefly and bring to a high simmer.
After five minutes or so, turn heat to medium and let cook/simmer for another 25 minutes to 30 minutes, stirring occasionally, until the tomatoes are quite tender and the tomato mixture is reduced.
Stir in fresh mint leaves and remove from heat.
Place in a serving bowl and garnish with toasted pine nuts.
Serve warm or at room temperature with slices of French baguette, Italian or pita bread.