Easy, power Mango Salad where Mediterranean flavors meet the All-American South! A satisfying entree salad that packs flavor from a zesty lemon-ginger vinaigrette and pulled chicken BBQ by Farm Rich Smokehouse! 
Many of you will agree on this: successful dinners are often the ones that come together on a whim. Quickly, and with as little hassle as possible. After all, they are more about the people. The food kinda comes next to boost the experience.
Today's mango salad with spinach, quinoa, and BBQ chicken fits the bill for a fuss-free dinner that's all about the people. It's one I served on the first day of school when all I wanted to do was gather my littles so that I can hear how this important day went for them.  And as you can imagine, my wide-eyed first grader beat everyone to the table, while talking at the speed of light!
So this mango salad situation…It is basically a supper salad with a balanced fusion of bright Mediterranean flavors and authentically Southern American BBQ. The Farm Rich Smokehouse pulled chicken had been smoked in an apple-wood BBQ sauce for something like 10 hours! In this salad, it's sweetness is enhanced with the diced mangoes, while power ingredients like spinach, peppery arugula, and bitter radicchio add freshness and balance. The hero bringing this mango salad together is my zesty lemon-ginger vinaigrette with a hint of honey!
With ingredients rich in vitamins and antioxidants, I would put this mango salad right up there as a power salad. Plus the quinoa and Farm Rich Smokehouse BBQ pulled chicken make it more filling by adding needed protein!
Quality, all natural, ready-made products like Farm Rich Smokehouse can be a lifesaver in the kitchen! And they're gluten-free too! I found the pulled chicken in the freezer section at my local Publix store; you can look here to see where you can find it in your area.
Print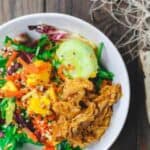 Spinach Quinoa Mango Salad Recipe with Chicken
---
Author:

Prep Time:

20 mins

Cook Time:

5 mins

Total Time:

25 minutes

Yield:

4-6

Category:

Salad
Ingredients
1 16 oz package Farm Rich Smokehouse Pulled Chicken BBQ, heated according to package
2 mangoes, peeled, pits removed, cubed or sliced
3 carrots, grated
4 oz radicchio lettuce, chopped
1 small Vidalia onion, sliced into half moons (about 3/4 cup sliced sweet onions)
1 cucumber, peeled, sliced into rounds
5 oz baby arugula
4 oz baby spinach
1 cup cooked quinoa
For the Lemon-Ginger Vinaigrette
2 lemons, juice of
1/3 cup extra virgin olive oil
1 tbsp fresh grated ginger root
1-2 tbsp honey
1/2 tsp ground turmeric
3/4 tsp ground coriander
Salt and pepper
---
Instructions
Begin by making the lemon-ginger vinaigrette. In a small mixing bowl, add the lemon juice, olive oil, freshly grated ginger, honey, and spices. Whisk together to combine.
Add about 1/2 tbsp of the vinaigrette to the heated Farm Rich Smokehouse pulled chicken. Set aside briefly.
In a very large salad bowl, add all the salad ingredients EXCEPT the chicken. Toss gently to combine.
Now pour the remaining vinaigrette on the salad and mix well to combine. Transfer to serving bowls and top each bowl with a portion of the Farm Rich Smokehouse pulled chicken. Add your favorite crusty bread. Enjoy!
Check out more recipe inspirations from Farm Rich Smokehouse here!
And…from now until September 5, 2016, as part of the Farm Rich Smokehouse Summer Send Off event, you can enter your own BBQ hack on social media using #99DaysofBBQ. 10 lucky winners will be selected to receive one whole year's worth of BBQ and BBQ Party Pack!
*This post is sponsored by Farm Rich Smokehouse. All opinions are my own.