These loaded quinoa bowls with chicken, arugula, and dried figs make a perfectly satisfying supper salad. A quick and delicious weeknight meal with a California/Mediterranean twist! 
Whenever we have rotisserie chicken for dinner, I find myself on a mission to disguise the leftovers in some concoction—hoping to turn it into something exciting enough that it passes for an entirely new meal the next day. My Greek avgolemono soup began with this mission in mind, and so did today's quinoa bowls.
With just a few ingredients, these quinoa bowls manage to hit all the notes for a satisfying supper salad that so happens to have dual inspirations from sunny California and the Mediterranean!
We're talking, chopped vegetables and leafy greens; grains in the form of quinoa; and legumes in the form of chickpeas.
The Cali-Mediterranean theme, if you will, continues with the addition of a bright honey vinaigrette, a good dose of walnuts, and my favorite California Figs from Valley Fig Growers.
Looking at the list of nutrition-filled ingredients in this quinoa salad, it's easy to mistake the dried figs for a sweet garnish. Dried figs are, in fact, an excellent source of dietary fiber, and minerals such as potassium, iron and calcium, and they are rich in health-promoting antioxidants and complex carbohydrates.
And, obviously, between the quinoa and chickpeas, these quinoa bowls pack enough protein. So if you don't have my dilemma of needing to use up leftover chicken, you can simply skip it in favor of vegan quinoa bowls.
Print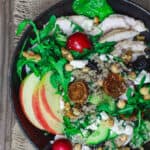 Chicken Arugula Quinoa Bowls with California Figs
---
Author:

Prep Time:

15 mins

Cook Time:

15 mins

Total Time:

30 minutes

Yield:

4
Ingredients
For the Honey Vinaigrette
1/3 cup extra virgin olive oil
2 tbsp white wine vinegar
1 lime, juice of
4 tbsp quality honey
1 tsp dried oregano
Salt and pepper
For Quinoa Bowls
1/2 apple (any kind), thinly sliced
1 cup uncooked quinoa of your choice
6 radish, trimmed, halved or sliced
1 cucumber sliced into rounds (or 1/2 English cucumbers)
1 small red onion, thinly sliced into half moons (or 2 shallots, thinly sliced)
4 oz baby arugula
3 oz baby spinach
1 15-oz can chickpeas, rinsed and drained
1/2 cup sliced dried golden figs (Blue Ribbon Orchard Choice or Sun-Maid California Golden Figs)
1/2 cup whole dried Mission figs (Blue Ribbon Orchard Choice or Sun-Maid California Mission Figs)
1 cup walnut halves
2 cooked boneless chicken breasts, shredded
1/2 cup crumbled creamy feta cheese, more if you like
---
Instructions
First make the honey vinaigrette. Add the vinaigrette ingredients to a large mixing bowl, then whisk to combine.
Add the sliced apples to the vinaigrette and toss (this will help coat the apples so that they don't brown).
Make the quinoa according to the package instruction. Set aside to cool briefly.
Now add the cooked quinoa and the rest of the ingredients except the feta cheese and chicken. Toss to combine.
Transfer to serving bowls, and top each bowl with a portion of the cooked chicken and feta cheese. Enjoy!
Notes
This recipe makes four large quinoa bowls for supper, but you make it as a starter salad or side dish, you can potentially serve 6 or more.
*This post is sponsored by Valley Fig Growers, Home of Blue Ribbon® Orchard Choice® and Sun-Maid®California Dried Figs! And makers of quality, delicious, and nutrition-packed dried figs. Learn how they grow and process their figs here. Valley Fig Growers products are available nationwide, click here to find a store near you. All opinions are my own. Thank you for supporting brands that make this site possible. 
More Recipes To Try: 
Whipped Feta Cheese Dip with California Fig Marsala Sauce
Israeli Couscous Salad with Chopped Vegetables, Artichokes and Chickpeas
Mediterranean Chickpea Salad with Eggplant and Za'atar