I will begin this recipe with a tiny confession: I never loved coleslaw. I ate it, mainly so my children don't see me rejecting food. But I never really enjoy it. That is until last week. I had bought a small cabbage and wanted to make some sort of salad next to my grilled chicken drumsticks. My mind took me to the coleslaw, and of course, I didn't love the idea. So, to get around the typically o-so-mayonnaise-e dish, I created this delicious and healthy version. Meet my roasted cabbage slaw that had me at first bite. We're talking the sweet taste of roasted cabbage combined with the usual suspect of carrots. O, but wait, add to that the not-so-typical slaw ingredients of green onions and fresh mint leaves; and dress it all up in a fine orange-garlic vinaigrette. Brilliant! Way to put a Mediterranean twist on things, right? Yummy, healthy and, not to mention, super easy. Give it a try. Leave a comment and let me know how you like it.
Print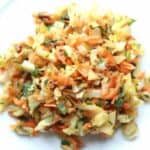 Roasted Cabbage Slaw with Orange-Garlic Vinaigrette
---
Author:

Yield:

6-8
Ingredients
1 small cabbage, top layers removed and discarded, shredded (or sliced finely to shreds)
2 cups carrots, washed, dried, shredded
1 cup green onion, washed, dried, finely chopped
1/2 cup mint leaves, stems removed, washed, dried, finely chopped
Olive oil
Salt and pepper
Vinaigrette
3-4 garlic cloves
3 tbsp orange juice
1 lime, juice of
1 tsp honey
1/3 cup olive oil
Salt and pepper
---
Instructions
Preheat oven to 400F.
Spread shredded cabbage on a large oiled baking sheet. Season with salt and pepper and drizzle generously with olive oil.
When oven is ready, insert cabbage and let roast for 25 minutes. Toss occasionally with a pair of tongs. When cabbage is roasted and has gained some good color, remove from heat and set aside to cool briefly.

[url href="http://www.themediterraneandish.com/wp-content/uploads/2014/08/Roasted-Cabbage-Slaw-e1409265278777.jpg"][/url]

Meanwhile, prepare the vinaigrette. Start by roughly chopping garlic in a food processor. Add the remaining vinaigrette ingredients and pulse a few times until well combined.
In a large salad bowl, combine shredded carrots with chopped onions. Season with salt.
Add cabbage and chopped mint.
Top with vinaigrette and toss together.
For best results, let slaw sit for 30 minutes before serving. Enjoy!
 [nutrition-label id=959]