You've been waiting for this…Our Thanksgiving giveaway is here (USA residents enter at the end of this post!) Plus, don't miss our BIG SALE: 20% off your purchase at The Mediterranean Dish store.  Perfect time to stock your pantry for holiday cooking, or grab awesome Christmas gifts for the foodies in your life (use code Thanksgiving-20 for store discount through 11/26/2018.) All details in this post!
Are you new here? Welcome! Here's a bit about us. And be sure to check out the collection of Mediterranean recipes here. Please join our community via our weekly Newsletter., Facebook, Instagram, YouTube, and Pinterest.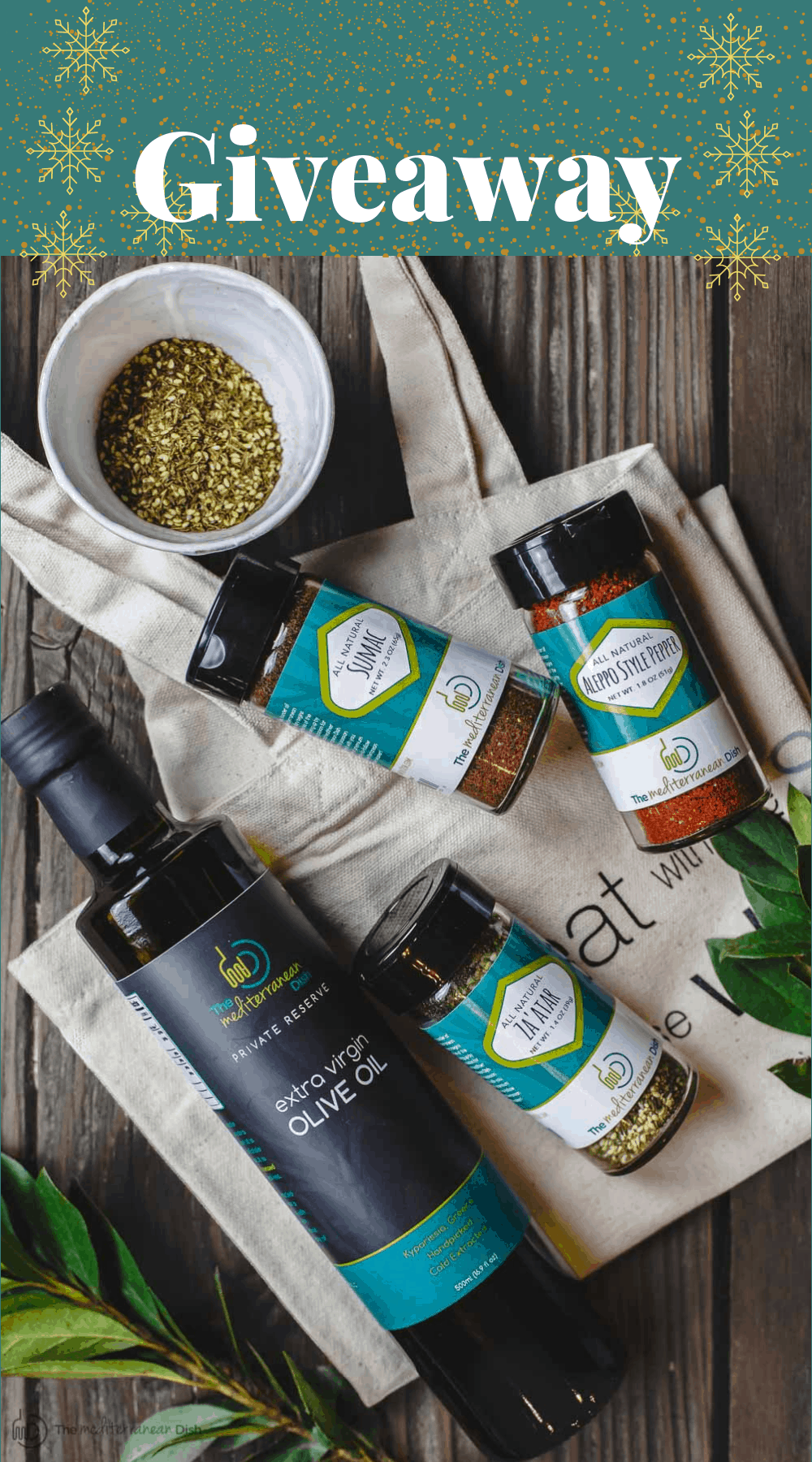 Gratitude
This has been an incredible year of growth for The Mediterranean Dish, and for me personally. Lots to be grateful for, and top of the list is YOU!
I am so glad you're here! That you read my posts and make my recipes is such an honor. And whether you regularly visit me here on the blog, or stay in touch via my newsletter or social media, I so appreciate you. Thank you for being an incredible community!
Together, we will continue our journey, eating our way through flavors of the Mediterranean.  I promise you lots more new recipes and resources!
And to thank you today, I'm launching a big Thanksgiving sale at our online store and a giveaway with some of my favorite products (be sure to enter at end of this post)
SALE
If you live in the U.S.A., and have yet to try our products, this sale is the perfect opportunity for you. And if you have, then I'm sure you're ready to stock your pantry with cooking essentials for the holidays
Visit our store here, and don't forget to use code: Thanksgiving-20 at checkout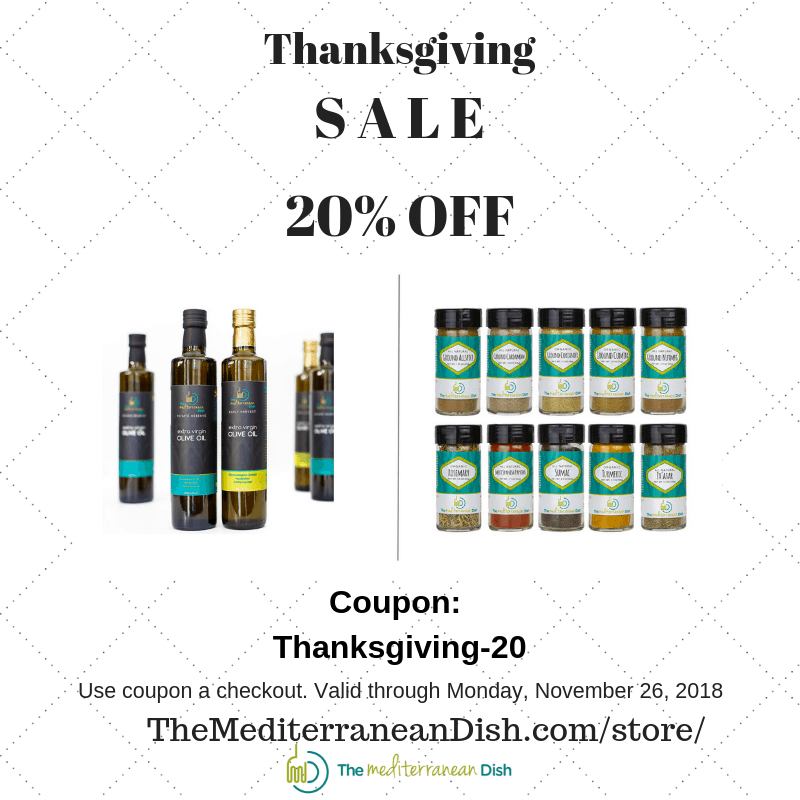 Customer Favorites from The Mediterranean Dish store
Not sure what products to try first? Here is a quick list of most popular bundles:
1- Greek Extra Virgin Olive Oil Bundle
Both our Private Reserve and Early Harvest extra virgin olive oils come from small family-owned groves in Greece. These are single-estate olive oils from organically grown and processed Koroneiki olives. Hand-picked; cold-pressed; low-acidity; and high polyphenol levels. If you haven't yet tried these oils, you need to!
2- Ultimate Mediterranean Spice Bundle 
If you're ready to stock your pantry for regular Mediterranean cooking, this bundle is a great place to start. 10 of our most used all-natural and organic spices.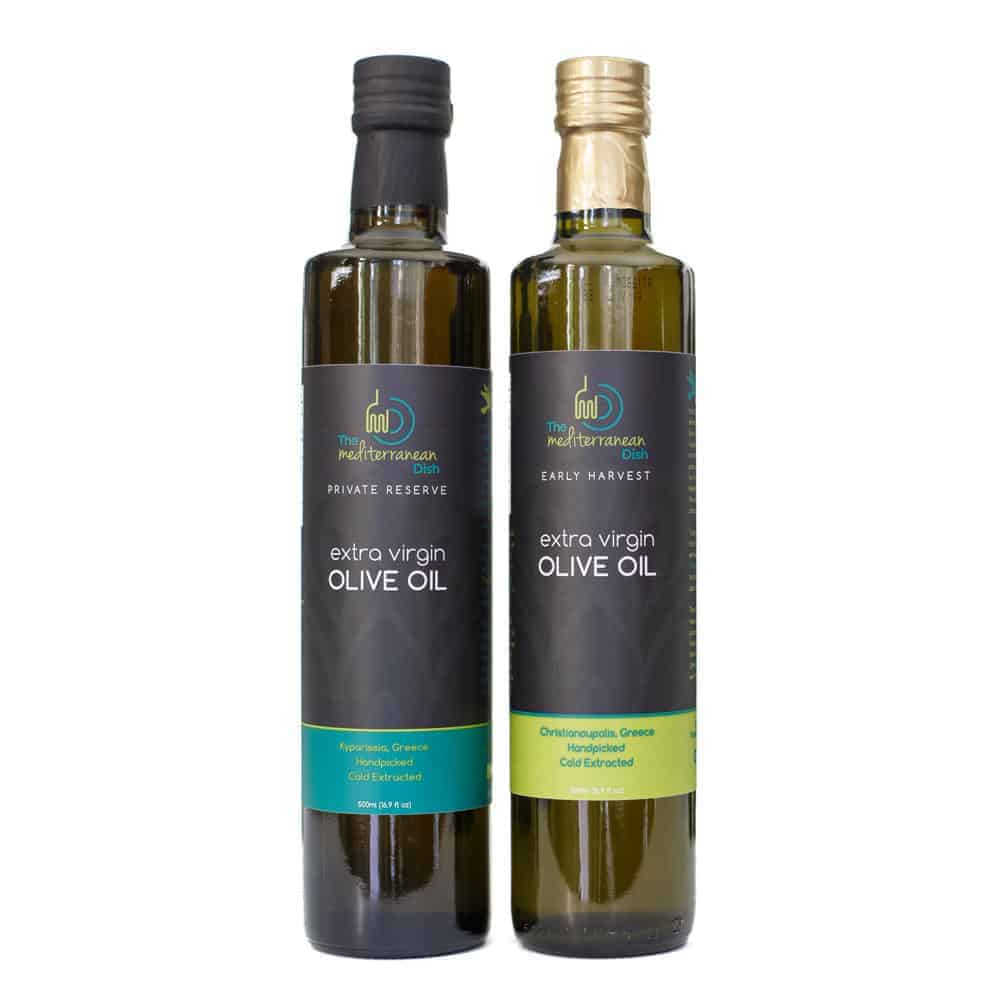 Our most popular exotic spices from North Africa and the Middle East: Sumac, Za'atar, Harissa, and Aleppo-Style Pepper
Create your own 6-pack of spices from our premium collection of all-natural or organic spices!
5- Mediterranean Eating (a special magazine issue in collaboration with Mother Earth News. Recipes and articles on Mediterranean living)
Visit The Mediterranean Dish Store
What's in this Thanksgiving Giveaway?
Okay, let's get to the fun giveaway! It includes our one-of-a-kind Greek extra virgin olive oil, all-natural spices, and my go-to giant tote bag. Two lucky winners
A 500 ML bottle of Private Reserve Greek extra virgin olive. This is the olive oil I use every single day! It comes from the Hinaris family groves in Kyparissia, Greece. Organically grown and processed from native Koroneiki olives. Truly an exquisite, cold-extracted and unfiltered oil with a delicate intensity—fruity with a lingering peppery finish. Our oil features rich flavor, vivid color and low acidity. Read more on it here.
3 of our most in-demand spices (one of each): Za'atar; Sumac; and Aleppo Pepper. Our Za'atar is a star spice blend with earthy and subtle citrus undertones, and just a hint of nuttiness from toasted sesame seeds. From ground sumac berries, our sumac is a prized spice that is stringent, sour, smokey, and earthy all at the same time! And Aleppo pepper, also known as Halaby pepper, is a mild spice of fruity, tangy chili flakes so unlike other chili peppers you'll find.  Read more about our all-natural and organic spices here.
Our GIANT every-day tote bag! I carry this over-sided canvas tote on the daily, no joke! For shopping, gym, daily errands, travel… It's huge, sturdy with a generous bottom and 22 inch-long handles for comfortable carry. And I love that my little brother Danny designed it with this simple reminder: eat with the seasons; use whole foods; and above all, share. Get the details on this awesome tote here.
How to ENTER THIS GIVEAWAY… 
2 Lucky winners will be randomly selected. USA residents. 18 years or older. Enter through the widget below, and be sure to UNLOCK BONUS ENTRIES to increase your chances for winning! Please read full terms & conditions before entering. Giveaway closes on November 18, 2018 at 11:59 PM. Winners will be announced within 1 week after the selection. Good luck!