Hi! I'm Suzy, a true daughter of the Mediterranean and author of the New York Times Bestselling book The Mediterranean Dish Cookbook: 120 Bold and Healthy Recipes You'll Make on Repeat. From a very early age, I was a part of mother's vibrant kitchen in the Mediterranean city of Port Said, Egypt. I remember sitting at the small kitchen table, rolling grape leaves, forming falafel patties, or shelling nuts for baklava.
Now in my own home, miles across the ocean in North America, I have been cooking the Mediterranean way for decades! And I'm all about easy wholesome recipes with big Mediterranean flavors.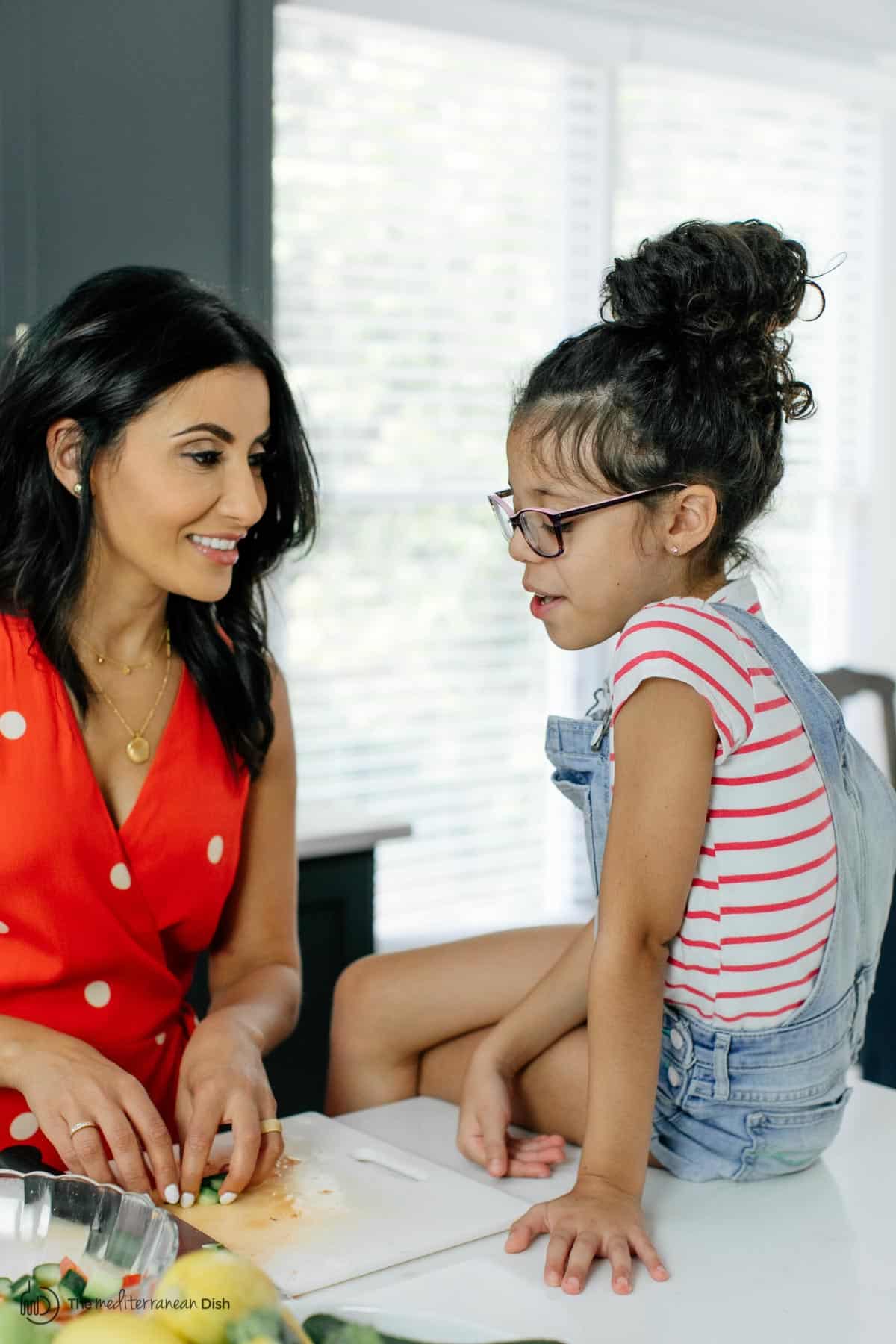 I am forever grateful for my home in Egypt that taught me about the hospitality and love that accompanies the bright, bold flavors of the Mediterranean.
My husband is from Jordanian roots, so we both share a deep love of community built around the table and we strive to raise our two daughters that way.
How The Mediterranean Dish started
After pursuing a career in the corporate world, I made the decision to leave my job and be home to care for my daughters.
Through a series of events, I created The Mediterranean Dish food blog as a way to share my expertise and love for Mediterranean cuisine with others. If I can't have you all around my table, I can at least share recipes to help you enjoy Mediterranean flavors right in your own kitchen!
Over the past few years, The Mediterranean Dish has grown to a bustling community where I can share recipes, cooking tips and grocery lists to help millions of blog readers and many more social media followers pursue the Mediterranean lifestyle (by the way, you can follow me on Instagram, Facebook, YouTube, and Pinterest; I love to hear from you!)
A few years in, I began working on sourcing top-quality Mediterranean ingredients--things like olive oils, spices, and more--so I could make it easier for you to cook the Mediterranean way!
Our olive oils come from two family-owned olive groves in Greece. The Kotsovolos family in the beautiful mountain village of Christianoupolis provide our Early Harvest EVOO. And their cousins, the Hinaris family in the coastal town of Kyprissia supply our Private Reserve EVOO. Both families have been in this business for more than 100 years and continue to follow the same old methods of handpicking and pressing the olives for best quality.
And I've been equally blessed to work with reputable suppliers of all-natural and organic spices, sourced from around the world; couscous; lentils; the best tahini paste and more! (You can see all the products at our online shop.)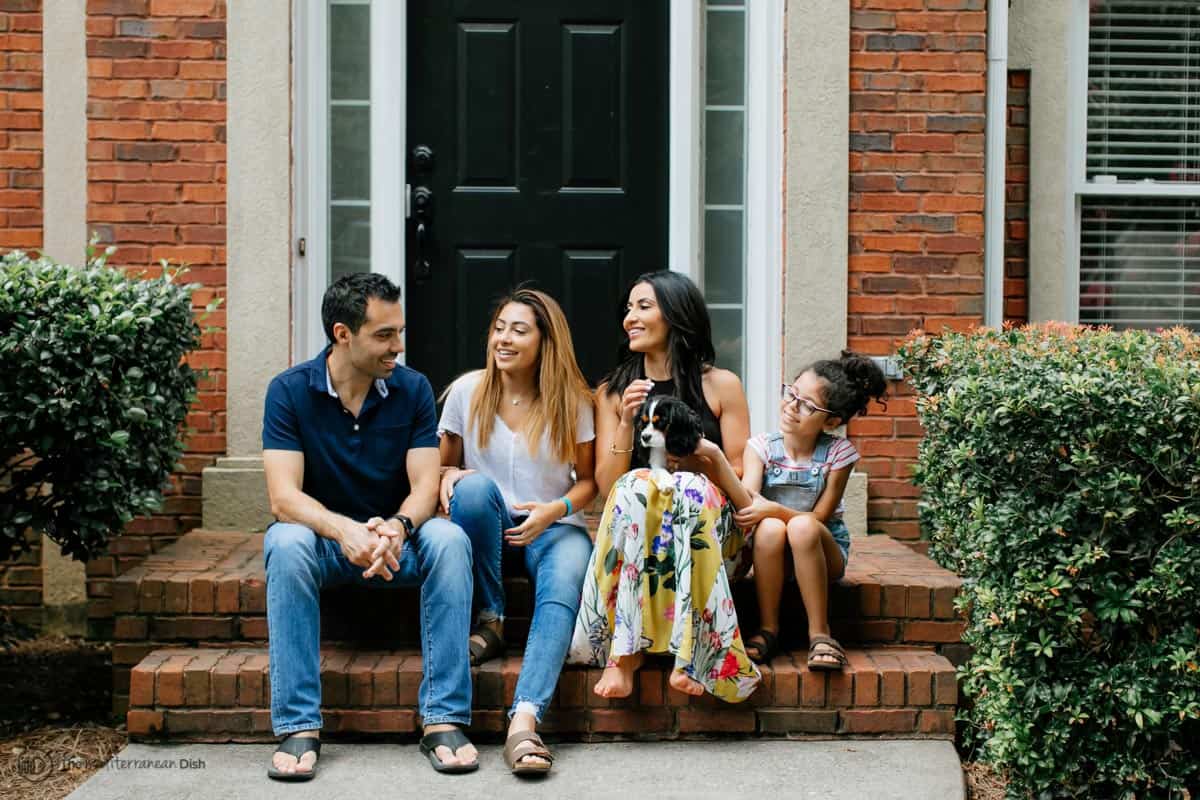 Fun Facts!
I'm bilingual, speaking English and Arabic.
I was born in Port Said, Egypt. The city stretches 19 miles across the Mediterranean Sea. It serves as Egypt's main gateway to the Red Sea and the Middle East.
I consider myself blessed to have grown up in a vibrant part of the world; it's where I developed my culinary passions that are influenced by many countries in North Africa, Southern Europe and the Holy Land, all tied together with the thread of gracious Mediterranean hospitality.
For enneagram lovers, I'm a 3w4.
My husband and I have two daughters who have big Mediterranean personalities and curly hair to match!
I love to travel, some of my favorite places outside of my beloved Egypt include: Jordan, Greece, Turkey, France, Switzerland, and Germany.
Do I have a cookbook in the works? Yes! We are expecting a cookbook to release in the Fall of 2022!
Currently my family and I live just outside of Atlanta in the state of Georgia. I truly feel more at home living here in the South. I'm all about warm weather and sunny skies. Hospitality is one of the principal Mediterranean values I grew up with, a value people in the South share as well.
Whenever I feel homesick, I run to the farmers market. I guess you could say the sites and smells of beautiful tomatoes and fresh herbs are home to me.
I've been able to share my healthy, approachable Mediterranean recipes on Today, Buzzfeed, health.com, Woman's Day, Good Housekeeping and others.
Please check out the About The Mediterranean Dish page, you'll find more information about the recipes and more resources to guide you on your cooking journey.
Thanks for being here. You can find all my recipes here, I can't wait to hear what you end up making!
From the heart,
Suzy
Never Miss a Post!
Join my FREE e-mail list here for weekly recipes and meal plans!