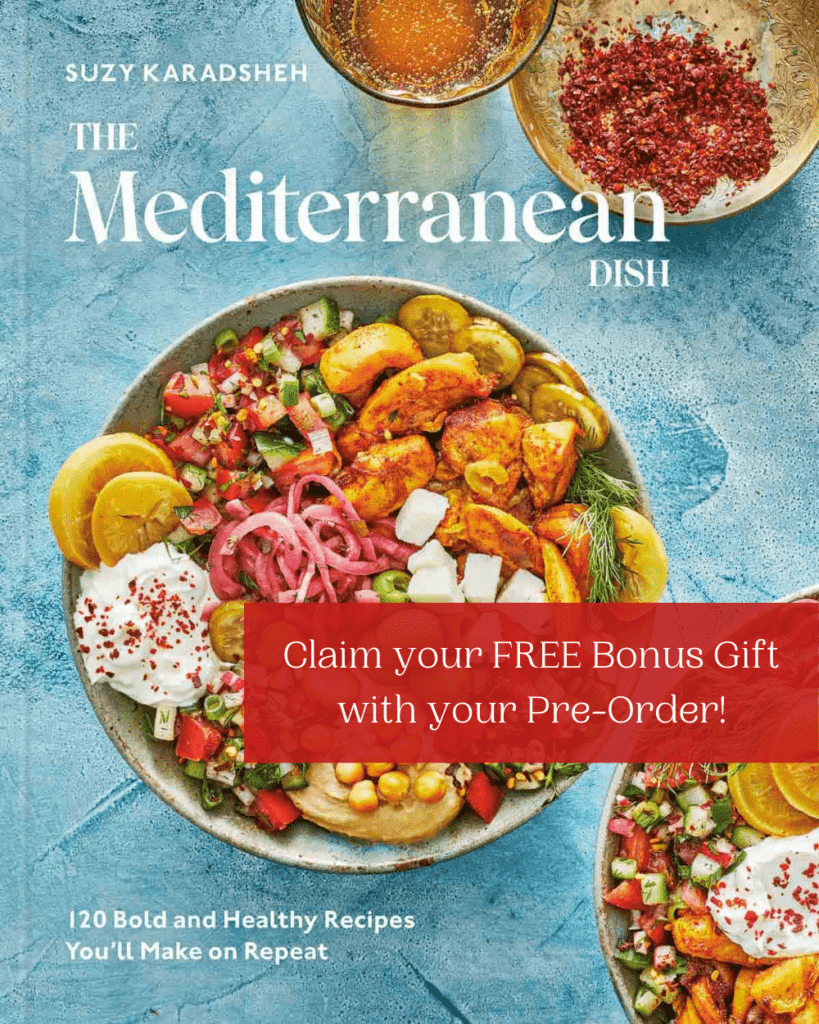 The Mediterranean Dish Cookbook: 120 Bold and Healthy Recipes You'll Make on Repeat
The highly anticipated debut cookbook from Suzy Karadsheh, the creator of The Mediterranean Dish website, with more than 120 recipes for bright and flavorful Mediterranean diet-inspired meals.
(Hardcover-September 13, 2022)
Pre-order your copy below! And claim your free gift!
FREE Gift with Pre-order!
As a thank-you to everyone who pre-ordered The Mediterranean Dish Cookbook, I put together a special e-book with 5 new bonus recipes for the perfect Mediterranean cookout!
If you've already ordered your copy, please claim your gift and download my Mediterranean cookout menu today via this link. By the way, the new bonus summer recipes are not included in the cookbook, they are new! And I can't wait for you to give them a try.
This special bonus gift will be available to anyone who orders the book early (before the publish date of September 13, 2022).
Here is to each person who's ever asked, "when will you publish a cookbook?" It is first because of you that this book is now a reality. And I know I can count on you to bring it to life through cooking and sharing the recipes with your loved ones. Thank you for your tremendous support!
What began as one of the first online Mediterranean food blogs has blossomed into the leading site for modern Mediterranean cooking and lifestyle with millions of readers--and now it is the inspiration for the long-awaited first cookbook from Suzy Karadsheh. In her cookbook, Suzy brings cross-culturally inspired dishes from throughout the Mediterranean into American home kitchens, using easy-to-find ingredients and easy-to-follow, tested-to-perfection recipes to make your meals more vibrant, delicious, and yes--even a little healthier, too!
Born and raised by the sea in Port Said, Egypt, Suzy lived in Michigan and Des Moines with her family before moving to Atlanta, where she now lives. Her modern cooking reflects the rich and complex traditions of the Mediterranean and Middle East, from Greece and southern Spain to Jordan and Tunisia, as well as inspiration from her new Southern roots. Practical and weeknight-easy recipes include: Spanakopita Egg Muffins, Chicken Shawarma Bowls, Garlicky Spinach and Chickpea Soup with Lemon and Pecorino Romano, Roasted Asparagus Salad with Cherry Tomatoes and Basil, Middle Eastern Rice Pilaf with Toasted Vermicelli and Pine Nuts, Orange-Cardamom Olive Oil Cake, and of course Homemade Pita Bread to serve with just about everything.
Suzy's winning combination of approachable instructions, reliable recipes, stunning photography, charming authentic stories, and simple assemblies is sure to thrill anyone hungry to eat healthier food that bursts with flavor and spice.