Made with pie crust and a handful of fresh ingredients, this Savory Mushroom Galette with Leeks is a delicious vegetarian dish that's perfect served for dinner (with your favorite salad) or as an appetizer for a small crowd. This easy recipe comes from The Weekday Vegetarians, a new cookbook I love by Jenny Rosenstrach.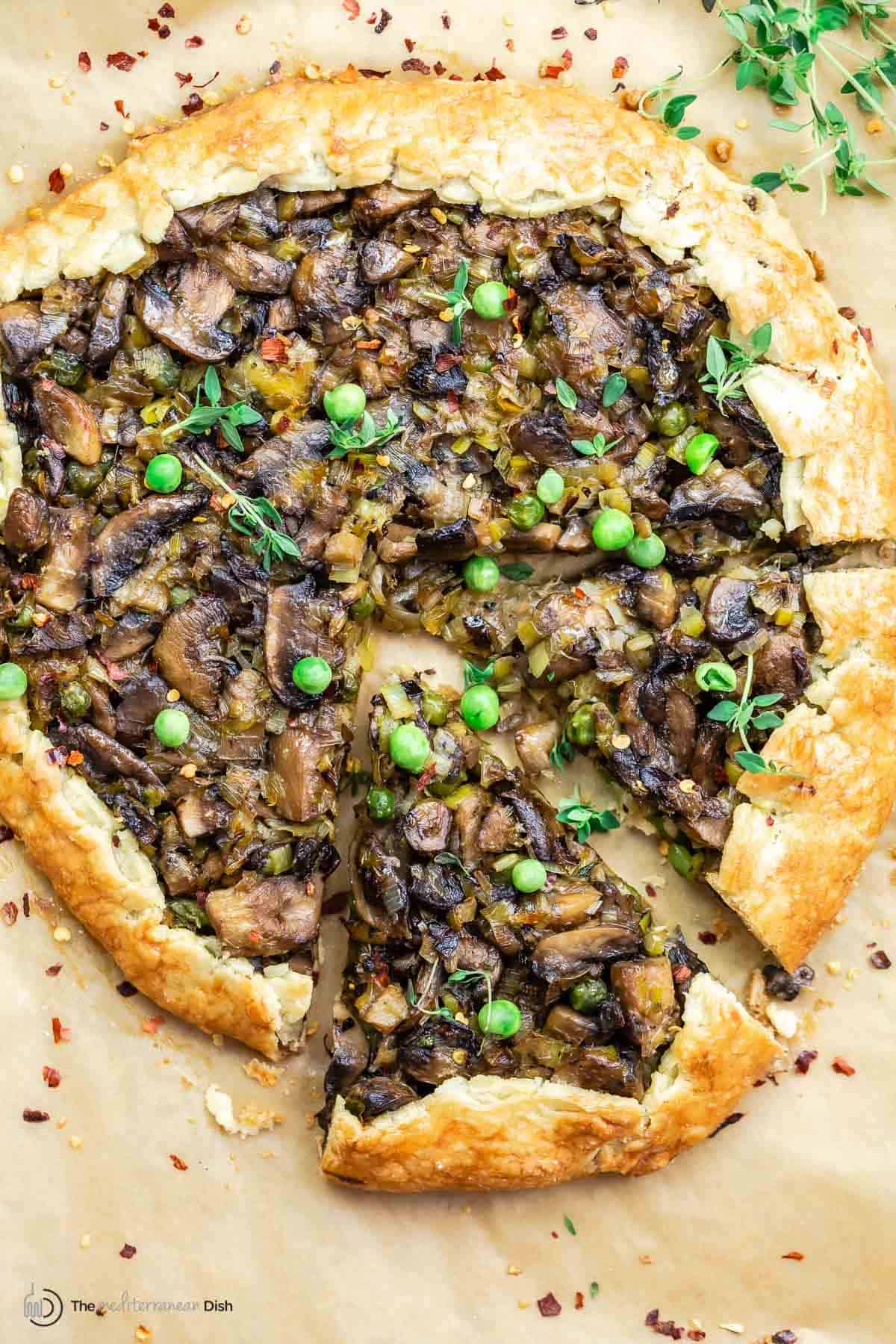 Every so often, I get a chance to share a recipe from a new book in my library. Today's recipe is from Jenny Rosenstrach's cookbook The Weekday Vegetarians with 100 recipes and a real-life plan for eating less meat. While I do eat and enjoy meat, I incorporate several vegetarian meals each week as part of my Mediterranean lifestyle, so this book is right up my alley!
It was hard to select just one recipe to share with you today, but this rustic, savory galette recipe (or tart) ultimately won. I mean, who doesn't love to eat pie for dinner!
No-Fuss Savory Galette
First off, you can use store-bought pie crust for this recipe--bonus points for ease! The golden, crispy pie shell is filled with a combination of comforting sautéed toppings: mushrooms, leeks, and peas. Jenny's secret ingredient here is a dash of nutritional yeast sprinkled all over the pie crust, adding a nutty, savory, cheesy flavor to the tart without the use of cheese!
It took about 20 minutes to bake in a high-heated oven. I served it for dinner with a side of fresh shirazi salad. Thumbs up all around!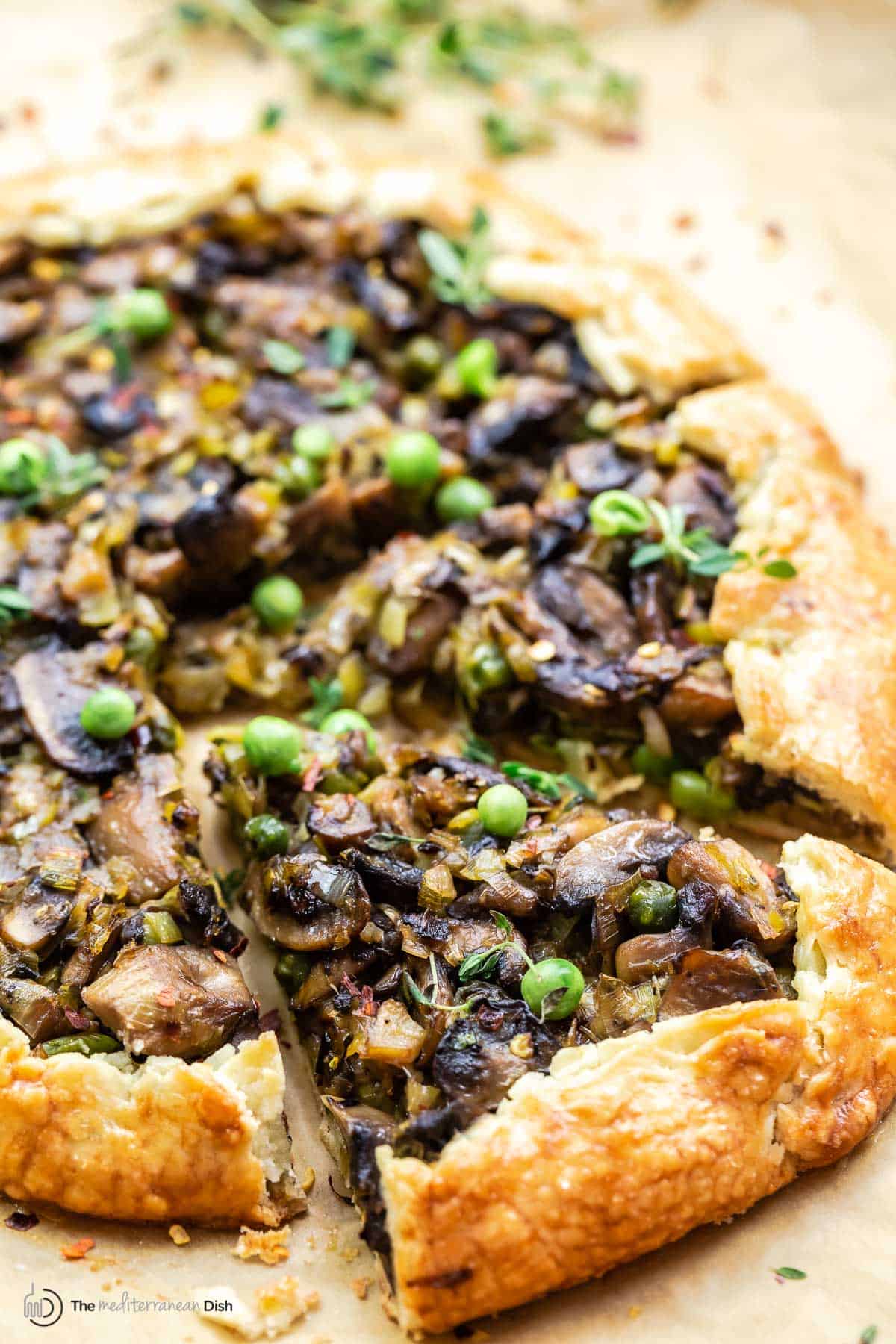 What you'll need to make this galette recipe
You need just a handful of ingredients and spices to make this mushroom-leek galette.
Leeks - You'll need one large or two medium leeks for this recipe.
Salt and pepper
Dried red pepper flakes
Mushrooms - Any variety of mushroom will work as they'll be roughly chopped before cooking.
Frozen peas
Pie dough - Frozen (thawed) pie dough is fine (if you need a homemade dough, try the one used in my apple galette recipe)
Fresh thyme - You'll need just the leaves from a few sprigs of thyme.
Nutritional yeast - Creates a cheesy texture and flavor on the crust.
Egg - Whisked for an egg wash to make the crust crisp and brown.
Flaky sea salt
How to make this savory galette with mushrooms and leeks
Making this savory galette is super simple and requires no pie pan or any special equipment. Here is the step-by-step for how to make it (the print-friendly recipe with measurements follows below):
Cook the vegetables and mushrooms. Heat up some olive oil in a large skillet. Add the leeks, salt, pepper and red pepper flakes and cook over medium heat, tossing around, until the leeks are soft. Push them aside and add the mushrooms and a bit more olive oil and cook until they shrivel, then add in fresh thyme and peas and fold everything together and cook for another minute or so (taste and adjust seasoning of course to your liking).



Prepare the dough. Roll out the thawed pie crust on a sheet pan lined with parchment paper. Sprinkle the nutrition yeast all over. Be sure to press the flakes into the dough to give the dough a delicious savory flavor.



Assemble the galette. Spoon the mushroom and leek filling onto the pie crust and spread it in an even layer, leaving a 1-inch border. Fold the edges over the filling. Brush with the whisked egg and sprinkle with sea salt.

Bake. Bake until the crust is golden, 20 to 25 minutes or until the pie crust turns nice and golden brown.
A few tips
If you're making a galette for the first time, here are some things to keep in mind
Use a mix of mushrooms. While you can use any type of mushrooms for this mushroom galette, baby portobelo and cremini are two of my favorites. If you can, add more than one type of mushroom for a depth in flavor.
Change up the toppings. Feel free to switch up the filling by adding some caramelized onions, spinach, kale, or even small broccoli florets.
Leave some filling visible. When folding the crust over, remember that you're just creating a little edge and the center filling should be visible.
Do not overfill the crust. When layering the filling on the pie dough, be sure to leave an edge of 1" or so without any filling, to later fold the dough over. Be sure to spread the filling evenly as well for better baking.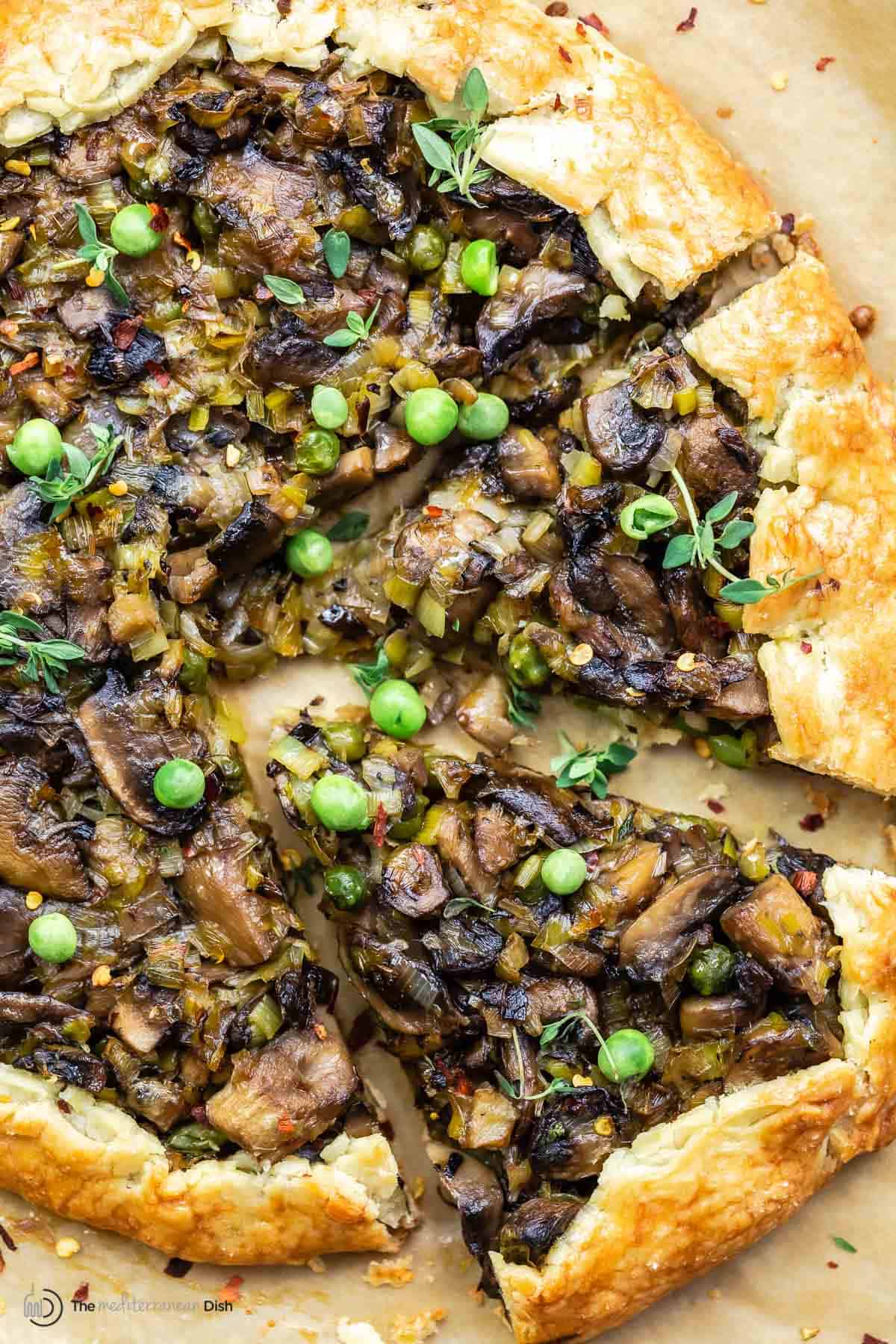 Storage and reheating tips
This mushroom-leek galette is best when enjoyed the same day. However, if you have leftovers, they can be stored in the fridge for up to 3 days.
Reheat your galette in an oven preheated to 350 F, until just warmed through. If necessary, wrap in aluminum foil to prevent burning on the crust. If you try to reheat in the microwave the crust may become soggy so I definitely recommend reheating in the oven.
More mushroom recipes:
Browse all Mediterranean recipes
Savory Mushroom and Leeks Galette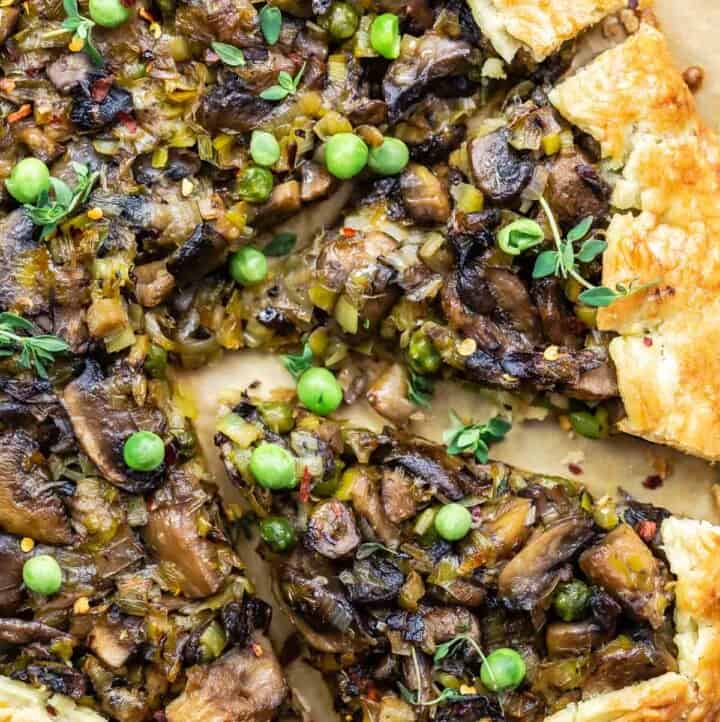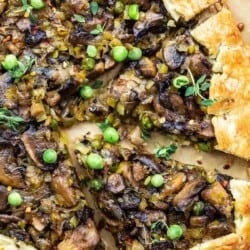 Made with pie crust and a handful of fresh ingredients, this Savory Mushroom Galette with Leeks is a delicious vegetarian dish that's perfect served for dinner (with your favorite salad) or as an appetizer for a small crowd.
Ingredients
4

tablespoons

extra virgin olive oil

1

large leek

(or two medium leeks, white parts only, finely chopped, about 3 cups)

Kosher salt and black pepper

½

teaspoon

dried red pepper flakes

1

pound

mushrooms

(any kind, stemmed, cleaned, and roughly chopped, about 7 cups)

3

fresh thyme sprigs, leaves only

⅓

cup

frozen peas

9-inch

pie dough round

(store bought is fine)

1

tablespoon

nutritional yeast

1

large egg

(whisked)

flaky sea salt for sprinkling
Instructions
Preheat the oven to 425 degrees F. Line a sheet pan with parchment paper

In a large skillet over medium heat, combine 3 tablespoon of olive oil, the leeks, salt, pepper, and red pepper flakes. Cook, stirring occasionally, until the leeks are soft, about 4 minutes.

Push the leeks to the perimeter of the pan, then add the remaining 1 tablespoon olive oil and the mushrooms. Cook until the mushrooms have given off their juices and then shriveled, about 10 minutes, leaving the leeks on the perimeter.

Stir in the thyme and peas and cook another minute, folding in the leeks.

Place the pie dough on the prepared sheet pan and sprinkle the nutritional yeast all over it, pressing the flakes into the dough with your fingers or a rolling pin

Spoon the mushroom-leek filling into the center, spreading it in an even layer and leaving a 1-inch border, then folding the edges over the filling, overlapping aa sou work your way around the perimeter.

Brush the dough with the whisked egg and sprinkle with the sea salt.

Bake in the heated oven until the crust is golden, 20 to 25 minutes,
Notes
This recipe is from The Weekend Vegetarians by Jenny Rosenstarch with permission from the author.
The recipe makes 8 large slices to serve 4 people for dinner. As an appetizer, it can serve 8.
Leftovers: store leftovers in the fridge in a tightly-closed container for up to 3 days. To reheat, use the oven at 350 F until warmed through.
Visit Our Shop to browse quality Mediterranean ingredients including olive oils and spices.
Nutrition
Calories:
188.5
kcal
Carbohydrates:
13.6
g
Protein:
4.6
g
Fat:
13.3
g
Saturated Fat:
2.9
g
Monounsaturated Fat:
7.9
g
Cholesterol:
20.5
mg
Sodium:
245.4
mg
Fiber:
1.7
g
Sugar:
1.5
g
Vitamin A:
131
IU
Vitamin C:
4.2
mg
Calcium:
12.4
mg
Iron:
1.2
mg