Turn eggplant into pizza crusts with this delicious eggplant pizza recipe! Tender roasted eggplant rounds are a low-carb, gluten-free vehicle for a variety of toppings. Enjoy eggplant pizza as a snack or a light meal!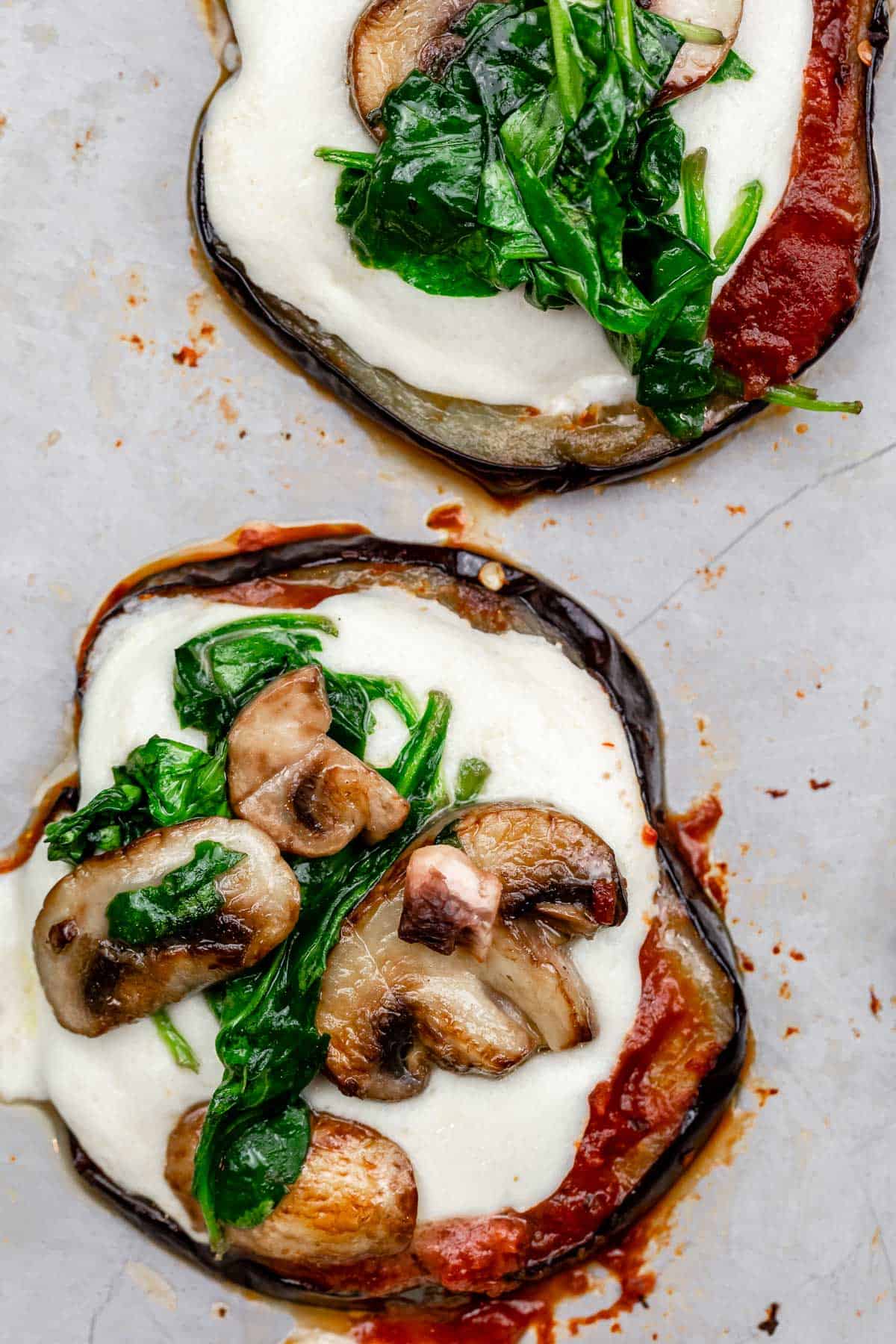 I like classic pizza as much as the next person, but when I wanted a gluten-free alternative to serve some friends, eggplant came to the rescue.

When roasted, the eggplant becomes tender but is still sturdy enough to support pizza toppings, which makes it the perfect gluten-free, low carb pizza option to serve my veggie-loving friends.
I am all about using eggplant in unusual ways – heck, I've turned the deep purple fruit into vegan meatballs, delicious dips, and even fries, so eggplant pizza makes perfect sense to me!
This time, I went with vegetarian toppings: spinach, mushrooms, mozzarella cheese, and marinara sauce. But, like any pizza, the topping possibilities are endless.

So go ahead and grab an eggplant, slice it up, and top it with your favorite ingredients. Get the kids or your friends involved and dinner will be on the table in about 35 minutes!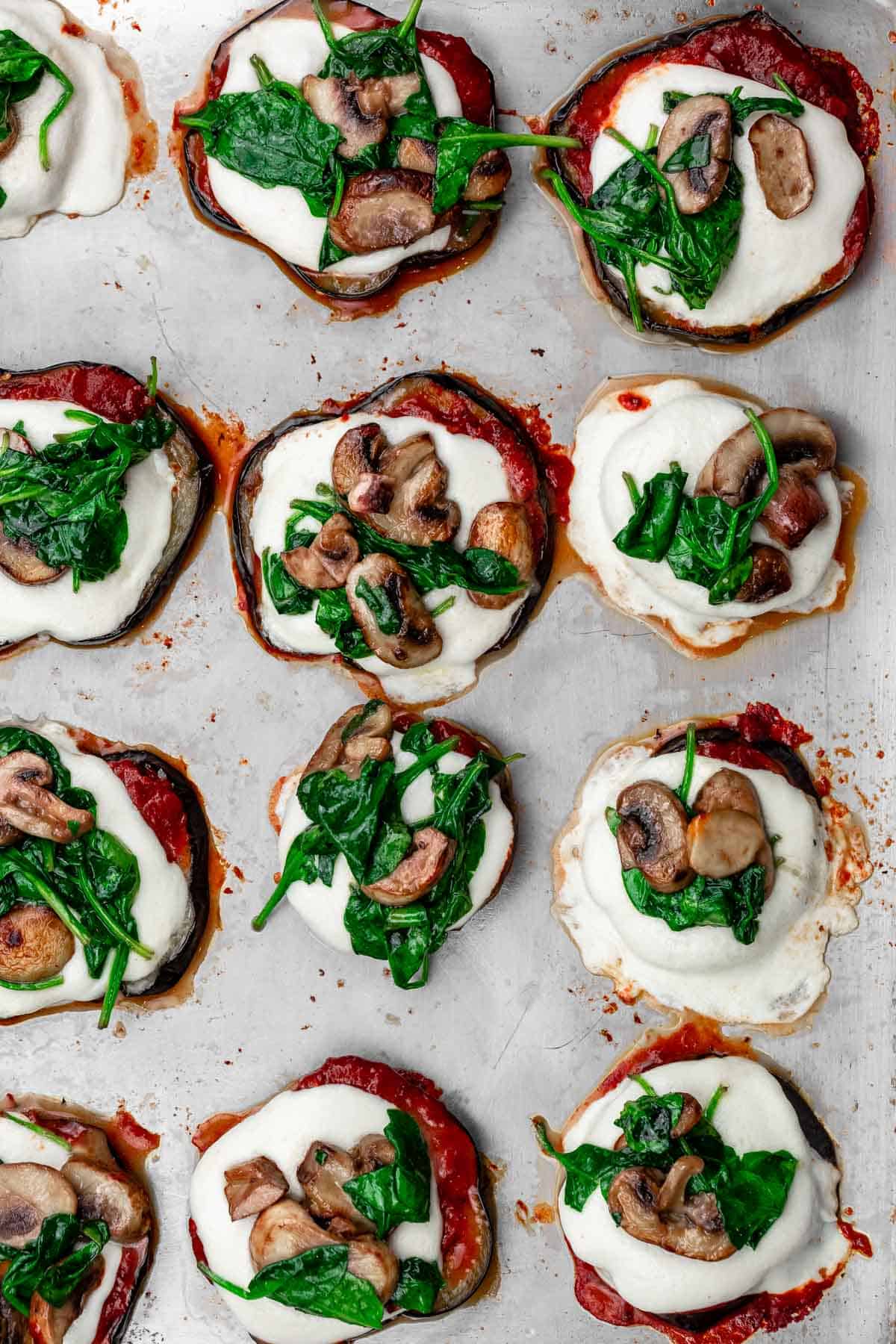 Eggplant pizza toppings
It's never a bad idea to raid your fridge for things to use as toppings for your eggplant pizza recipe. Here is what I ended up using:
Marinara sauce: Store-bought sauce is great here, unless you have a cup of homemade spaghetti sauce to use up. I prefer a smooth marinara to a chunky one for this particular recipe because it's easier to layer the cheese and chunky toppings on a smooth surface.
Cheese: I like fresh mozzarella here, which has a delicate, clean flavor with a soft, milky texture that melts perfectly on these small bites!
Vegetables: A handful of baby spinach and any sliced mushrooms you have on hand (white mushrooms or baby bella mushrooms) will work well here.
Pizza topping variations
The wonderful thing about pizza is when it comes to toppings your imagination is the only limit! This is such a great recipe to have fun and get friends and family in on the process. To make this a group event:
Slice as much eggplant as you need. I would plan on 3 slices per person.
Spread the eggplant slices onto a baking sheet.
Add the marinara.
Put toppings in individual bowls and let people make their own pizza combos. Kids love this!
I used spinach and mushrooms, but if they aren't your thing, here are some ideas for other eggplant pizza toppings to try:
Pesto - Instead of a red sauce, use a dollop of basil pesto as your eggplant pizza sauce.
Halved cherry tomatoes or sliced on-the-vine tomatoes
Olives
Artichokes
Bell peppers or marinated bell peppers
Zucchini
Onions
Fresh basil
Arugula
Cooked ground beef
Prosciutto
Shredded chicken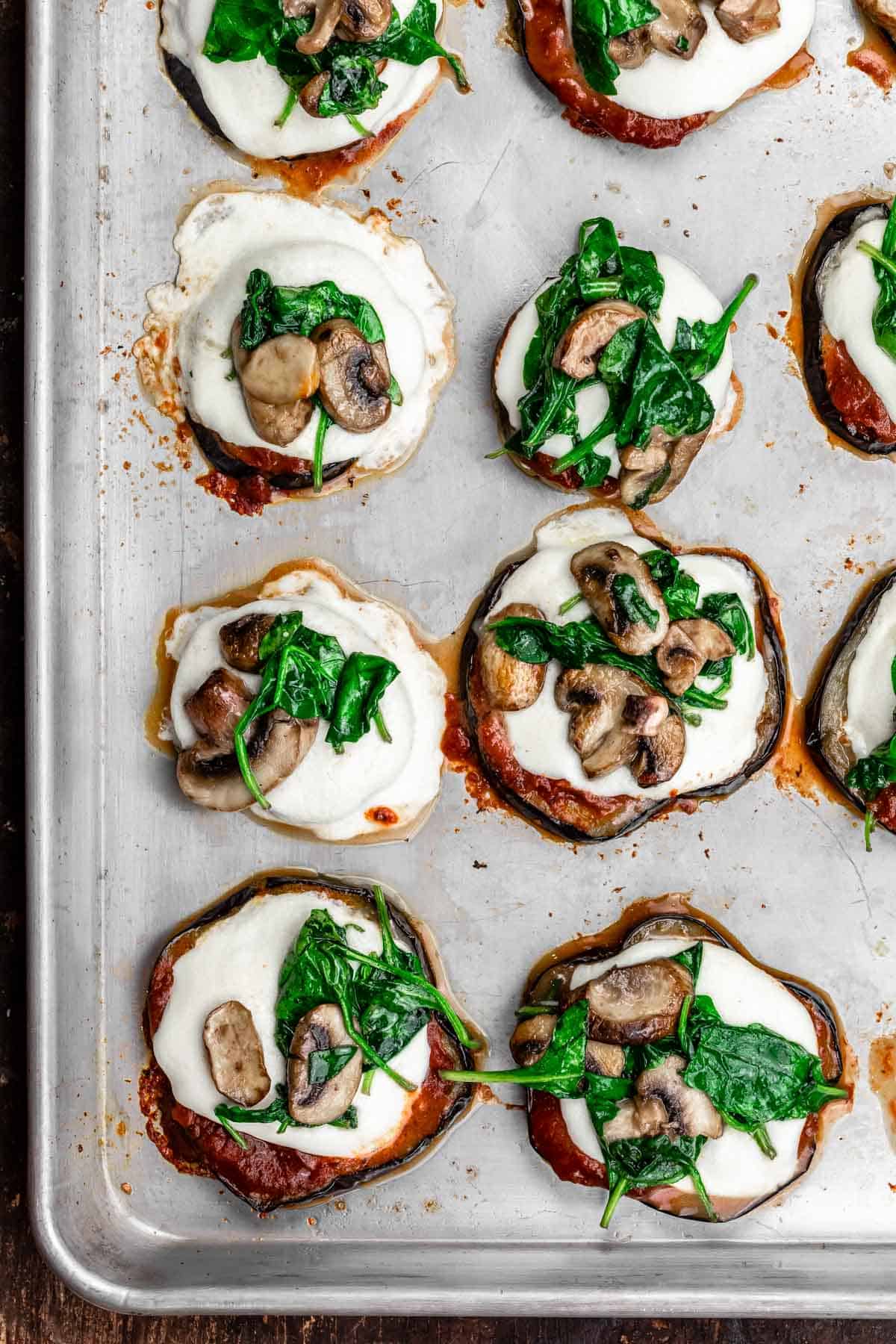 How to choose eggplant for pizza
The best kind of eggplant for eggplant pizza is called a globe eggplant, which is the deep purple oblong eggplant you see at most grocery stores. It is also larger and will give you decent-sized rounds to work with.
Many people think eggplant is a vegetable, but botanically speaking it's actually a fruit (the same is true for tomatoes), and it's part of the nightshade family. People with sensitivity to nightshades should keep that in mind when making this recipe.
When selecting the best eggplant, give it a good onceover. Here are some things to look for:
It should be heavy for its size.
Smaller globe eggplants are known to have fewer seeds and taste less bitter than larger ones.
The skin should be shiny, tight, and unblemished.
It should be firm. I like to give the eggplant a gentle squeeze to feel for any dents or soft spots.
The stem should be green. If it's browning or developing mold, look for a different eggplant.
Once you get home, cut into the eggplant to confirm that it's good. The flesh should be white with tan to brown spots around the seeds. If there is more brown than white flesh, it is spoiling and needs to be thrown out.
Remember, if you don't plan to use the eggplant within 2 days of purchasing, place it whole into the refrigerator, and use it within 7 days.
Should you peel eggplant before roasting?
Eggplant skin is incredibly nutritious, loaded with antioxidants, vitamins, and minerals.

I prefer to keep the skin on when I roast eggplant for this reason — not to mention it's a gorgeous color to boot! But in the end, it's really a matter of preference.

Sometimes the skin can be a little tough, especially in larger eggplant. If you buy one on the smaller side, you'll find the young skin will likely be tender.
Should you salt eggplant before roasting?
This is a hotly debated topic, and it is really an optional step. But I do try to salt my eggplant first and allow it some time to "sweat."

I recommend salting the eggplant slices as the result is a more flavorful dish. The salt also helps break down eggplant's spongy texture a bit, giving the eggplant pizza a tender, meatier bite.

Here's how to salt eggplant: Slice the eggplant into rounds. Sprinkle with kosher salt and arrange on paper towels. This allows the eggplant to sweat out its moisture for a few minutes. Make sure to dab the slices dry before roasting.
How to make eggplant pizza
Slice the eggplant. Make sure you cut the eggplant rounds ½ -inch thick so you get a creamy interior with a charred exterior. If they're too thin, they'll just burn.

Salt the eggplant: Salting the eggplant before roasting is an optional step, but one that I highly recommend if you have the time. Sprinkle the eggplant with a good pinch of kosher salt (about 1 to 1 ½ teaspoons or so) and let it sit for about 20 minutes while you work on the rest of the ingredients. Beads of water will appear on the surface. When ready, wipe the eggplant to remove excess salt and liquid.

Bake the eggplant. Grab a large, sturdy sheet pan or two (you want to have enough room to spread the eggplant rounds in one single layer). Brush the sheet pan/s with olive oil and arrange the eggplant slices on top. Brush the top of the eggplant with a generous amount of olive oil. Bake in a 425°F oven for about 20 minutes, turning the eggplant slices over once midway through. (The eggplant should soften and turn a beautiful golden brown.)



Prepare the pizza topping. While the eggplant is roasting, sauté the mushrooms in a little extra virgin olive oil for a good 5 minutes, tossing regularly. The mushrooms should release excess water and gain some color. Stir in the baby spinach and toss until it wilts. Season with a pinch of kosher salt.



Add sauce and cheese. Remove the eggplant from the oven when it's ready. Keep it on the sheet pan, and top each eggplant slice with a tablespoon of marinara sauce. Add a slice of fresh mozzarella on top. Turn the broiler on and return the pan to the top rack of the oven (about 6 inches or so away from the broiler). Cook for about 1 to 2 minutes, watching carefully (you're just looking for the cheese to melt).



Assemble the eggplant pizza bites. Remove the eggplant from the oven and divide the mushroom and spinach mixture over the eggplant slices. Voilà!


What to serve with eggplant pizza
I like serving these low-carb gluten-free pizza as a snack with other small bites. Here are some of my favorites:
Eggplant pizza also makes a tasty light lunch with nothing more than a crunchy lettuce or cucumber salad on the side.
If you like, you can turn the eggplant pizzasinto a side next to something meaty, like green goddess chicken, turkey meatballs, or even something fancy like beef tenderloin.
Leftovers and storage
Typically, my family will snack on these eggplant pizzas throughout the day until they're gone, but they keep quite well in the fridge! Store them in an airtight container in the fridge for up to 4 days.
To reheat, pop them onto a sheet pan and into the oven at around 350°F until warmed through.
More low-carb recipes
Browse all Mediterranean recipes.

Visit Our Shop.
Eggplant Pizza Recipe with Spinach and Mushrooms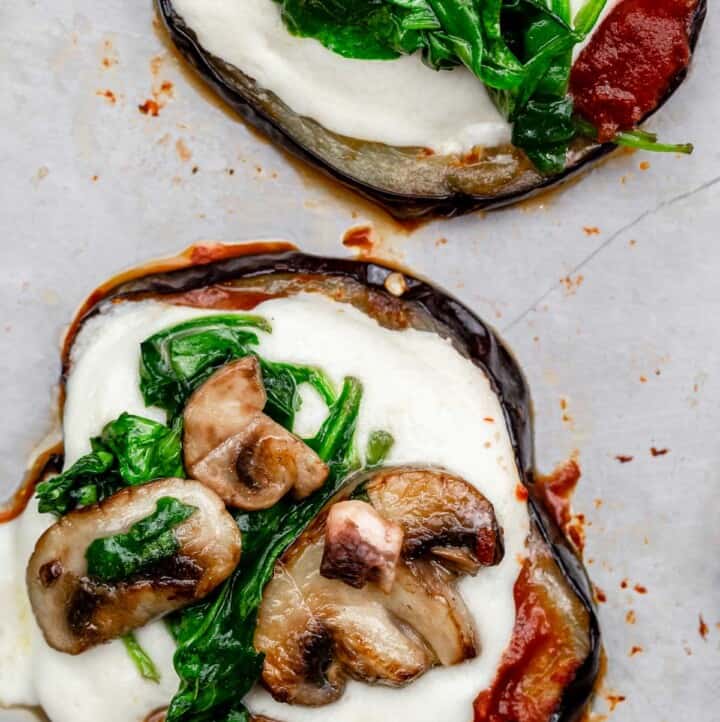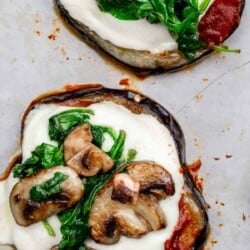 Roasted eggplant rounds act as pizza crust, topped with fresh mozzarella, mushrooms, and spinach. These easy-to-make, gluten-free, low-carb eggplant pizza rounds are ideal as a vegetarian side, for lunch, or as a snack! The great thing about pizza is that you can switch up the toppings. I went with vegetarian options this time, but you could use different sauces like pesto, different veggies (like bell peppers or zucchini), and add meats like prosciutto or shredded chicken!
Ingredients
1

eggplant,

sliced into ½-inch rounds

Kosher salt

6

ounces

sliced white mushrooms

2

cups

fresh baby spinach

1

cup

marinara sauce,

store-bought (or homemade spaghetti sauce)

10

oz

fresh mozzarella
Instructions
Heat the oven to 425°F.

Season the eggplant with kosher salt on both sides (I used about 1 teaspoon). If you have the time, set the eggplant aside and let it "sweat" for about 20 to 30 minutes then wipe off the beads of water and any excess salt. If you don't have the time, you can season the eggplant lightly with kosher salt and move on to the next step.

Prepare a large sheet pan and brush it with extra virgin olive oil. Arrange the eggplant slices in one single layer. Brush the top of each eggplant slice generously with extra virgin olive oil.

Bake on the middle rack of your heated oven for about 15 to 20 minutes or until the eggplant has softened, turning over halfway through.

Meanwhile, in a skillet, heat about 1 tablespoon extra virgin olive oil. Cook the mushrooms over medium-high heat for about 5 minutes, tossing regularly until they gain some color. Stir in the spinach briefly until it wilts. Season with a little bit of kosher salt.

When the eggplant is ready, take it out of the oven and top each eggplant slice with 1 tablespoon of marinara sauce and 1 slice of fresh mozzarella.

Turn the oven to broil and return the sheet pan to the oven. Broil very briefly watching for the cheese to melt (about 1 to 2 minutes).

Remove the eggplant from the oven. Arrange the mushroom and spinach mixture over the eggplant slices. Enjoy!
Notes
It's important to slice the eggplant into thicker rounds (about ½-inch slices) so that they do not burn in the oven and also so that they provide a sturdy base for your toppings.
Salt the eggplant for about 20 minutes to "sweat out" some of its bitterness and improve its texture.
Change up the toppings! Add a handful of cherry tomatoes or olives. Or go for a margherita pizza with mozzarella cheese, sliced tomatoes, and basil. Try a different combination of veggies like bell peppers, zucchini and onions.
Serving ideas: Serve eggplant pizza for a snack or light meal. I like serving it alongside other small bites like buttered radish and Greek salad skewers.
Leftovers will keep in the fridge in an airtight container for up to 4 days. Reheat in the oven at 350°F until warmed through.
Visit our Shop to browse quality Mediterranean ingredients including extra virgin olive oils, spices and more.
Nutrition
Calories:
179.2
kcal
Carbohydrates:
9
g
Protein:
12.9
g
Fat:
10.9
g
Saturated Fat:
6.3
g
Cholesterol:
37.3
mg
Sodium:
521.1
mg
Potassium:
491.8
mg
Fiber:
3.4
g
Sugar:
5.5
g
Vitamin A:
1451.5
IU
Vitamin C:
7.9
mg
Calcium:
260.7
mg
Iron:
1.2
mg
*This post was recently updated with new information for readers' benefit.