No more boring or soggy cucumber sandwiches! This recipe and tips will walk you through how to make cucumber sandwiches perfectly. With a creamy, extra herby Mediterranean spread (without cream cheese or mayo), you'll be serving these on repeat--for parties, picnics, or even a light lunch.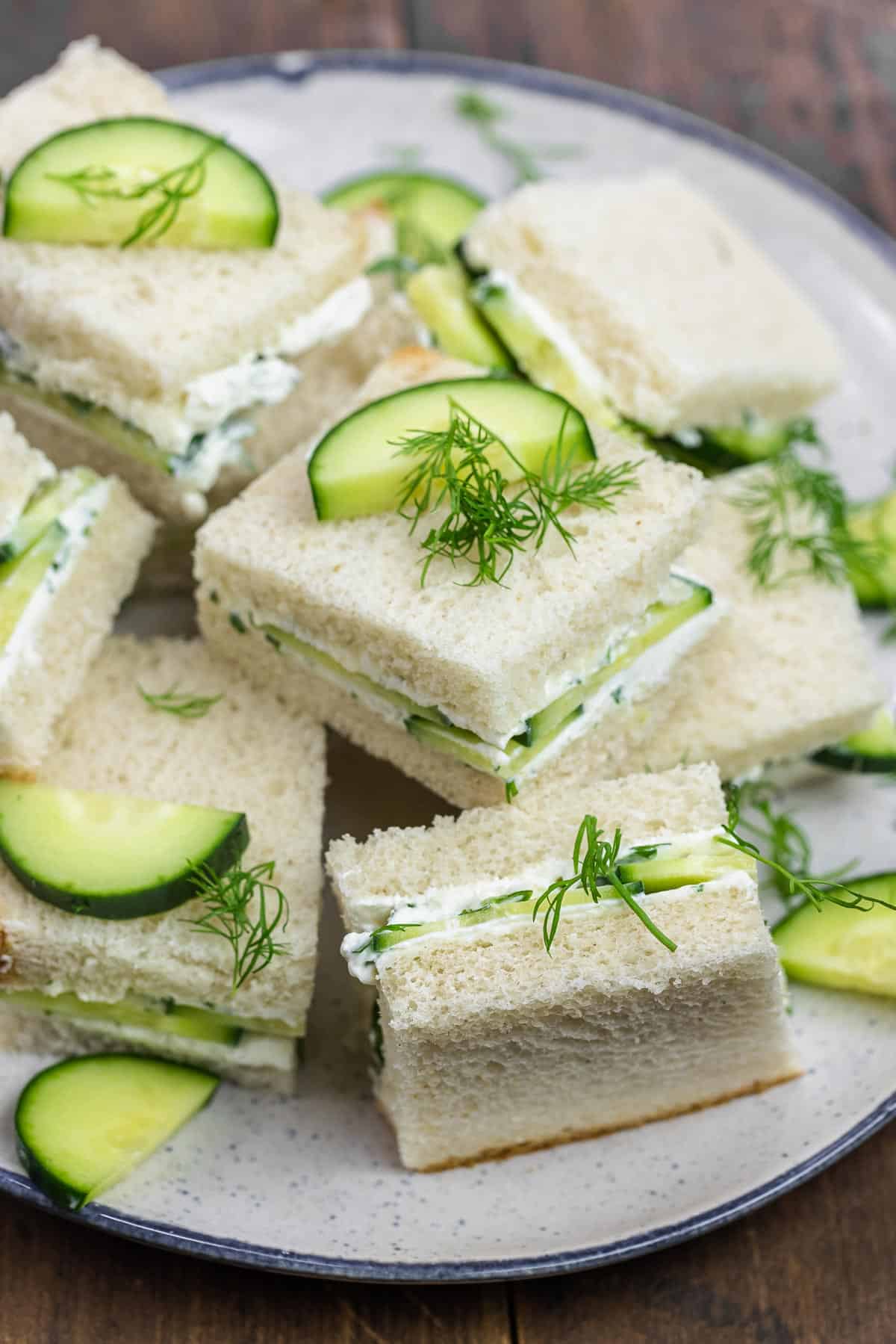 Crisp slices of cucumber, a creamy herbed labneh spread, and soft bread make these cool, airy cucumber sandwiches.
The ultimate elegant finger food, most versions of the simple cucumber sandwich usually have mayonnaise or cream cheese. But in this recipe with a bit of a Mediterranean twist, I mix labneh (soft and slightly tangy yogurt cheese) with dill, parsley, and basil for a spread that takes these sandwiches to the next level!
Cucumber tea sandwiches have been around since the 1800s in England, when the idea of afternoon tea became popular. Back then, they made the cucumber sandwich without cream cheese or mayonnaise – just buttered bread with thinly sliced cucumber in between. See, you don't need the mayo or the cream cheese! I don't feel bad about changing things a tad to make these little tea sandwiches lighter and more flavorful.
If you ask me, labneh is the best cream cheese out there (and it's even better whipped with a little extra virgin olive oil). You can find it in the refrigerator section of your grocery store or make it at home from Greek yogurt and salt, it takes less than 5 minutes of work (my recipe walks you through step-by-step).

This cucumber sandwich recipe will yield 16 small cucumber sandwich squares or triangles, perfect for a small crowd when served alongside other appetizers and fresh party bites like a colorful crudites platter, prosciutto e melone, or even Greek salad skewers. (plenty more ideas below!). And of course, you can also serve them for lunch on a hot summer day with a small cup of tomato gazpacho, when you don't want to turn the heat on.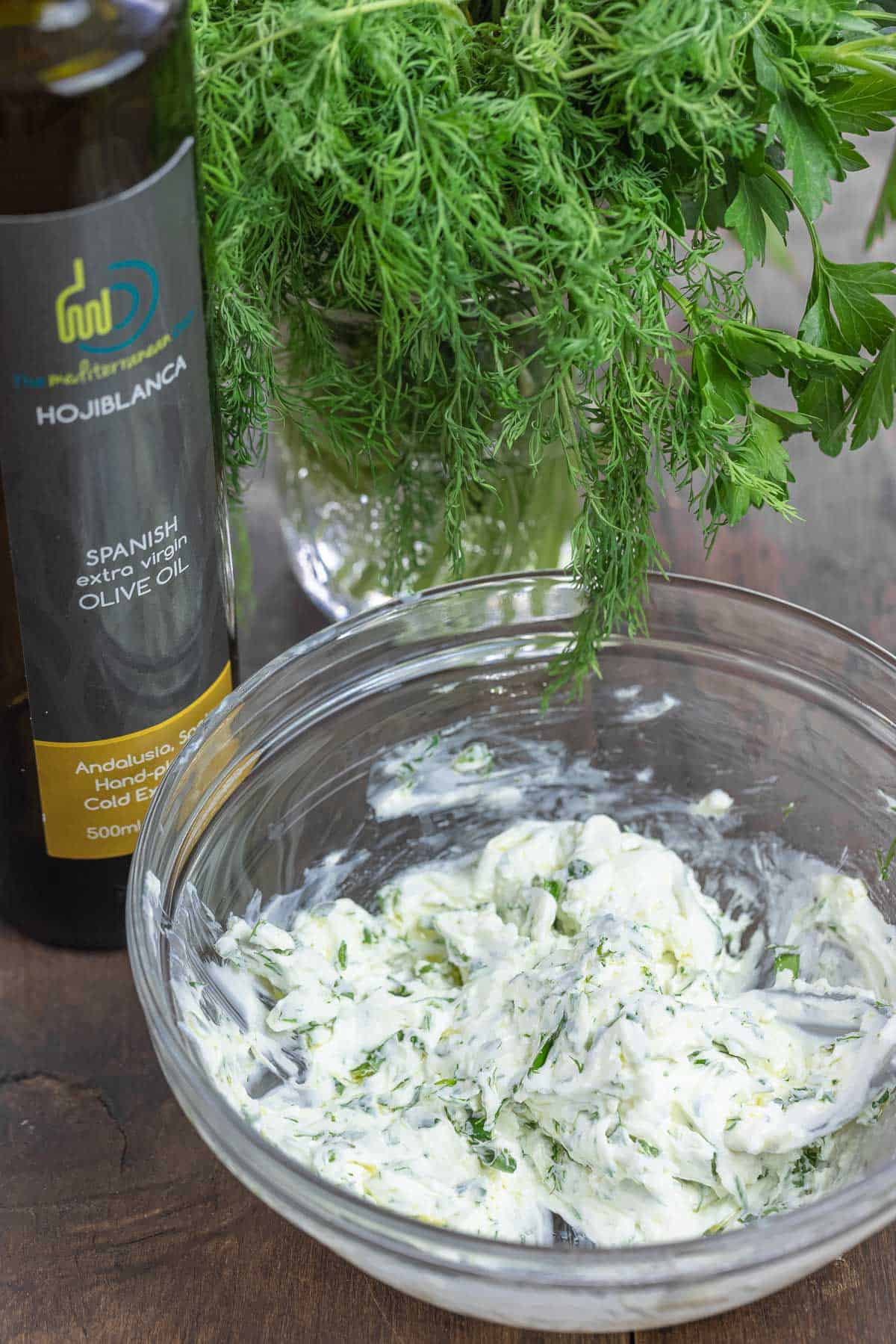 Cucumber sandwich ingredients
Cucumber tea sandwiches are made of three main things: the spread, sliced cucumber, and bread. Here's what you'll need to make cucumber sandwiches with dill and other herbs:
The spread
Instead of mayonnaise and cream cheese, try labneh, a creamy yogurt cheese that is also tangy and lighter. (You can make labneh from Greek yogurt and salt like in this simple recipe, but it is also available in many grocery stores). Mix it with a generous amount of fresh dill, basil, and parsley to smear onto the bread. A drizzle of peppery Spanish extra virgin olive oil adds richness and makes the labneh even more silky.
Cucumber
English cucumbers (also known as hot house cucumbers) are ideal in these sandwiches because you don't need to peel them, and they are less watery than other types of cucumber.
If you are only able to find garden cucumbers, definitely peel them to remove the waxy skin. And salt them to get rid of excess moisture (more info below). The seeds in garden cucumbers shouldn't be much of an issue, so you can leave them in.
Once your cucumber is washed and peeled (if using garden cucumbers), start by slicing it in half vertically, and then use a mandolin to carefully cut the cucumber into thin half moons. You could just use a knife instead, but I like that the mandoline gives me even slices.
The bread
Plain white sandwich bread is best for these tea sandwiches. You can use your favorite sandwich bread, but avoid crusty bread or bread that is too textured or has holes in it. And don't forget to remove the crusts! This makes the sandwiches more special, as they will all look uniform.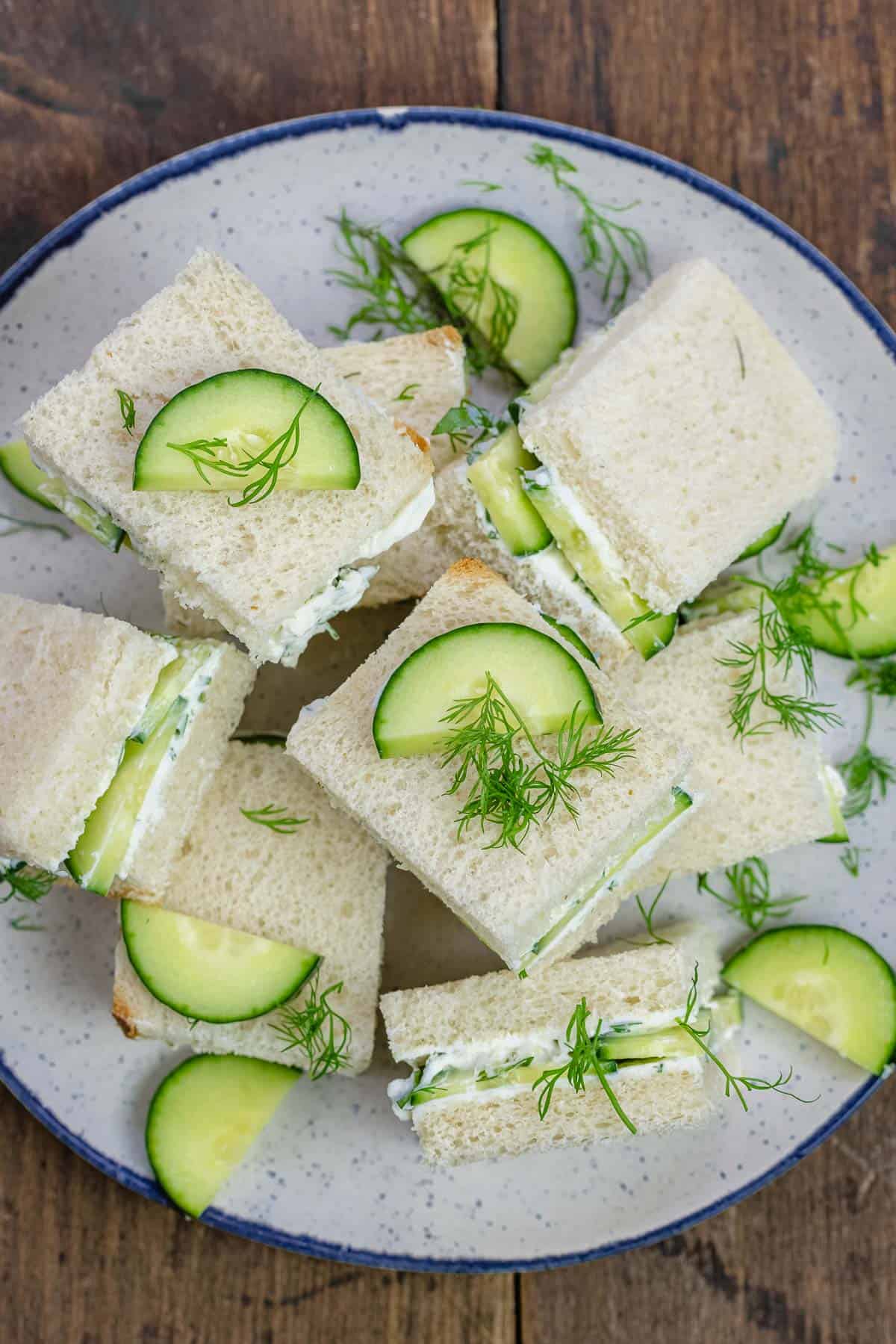 How to make cucumber sandwiches
Nothing complicated about this cucumber sandwich recipe. In mere minutes, you can have elegant tea sandwiches for a small crowd!
Make the labneh spread. Mix together 1 cup labneh (homemade or store-bought), 3 tablespoons each finely chopped Italian parsley, dill, and basil, and a dash of kosher salt in a small bowl. Drizzle some extra virgin olive oil and mix well. Set the spread aside for now.
Assemble the cucumber sandwiches. Remove the crusts from 8 slices of soft sandwich bread, and place the bread on a large cutting board. Generously smear one side of each slice with the labneh. Arrange thin slices of half an English cucumber on 4 of the bread slices, overlapping the cucumbers so they will fit well. (To ensure all the slices are even, use a mandoline slicer.) Top with the other slice of bread, labneh-side down, to make 4 cucumber sandwiches.
Cut and serve. Press the sandwiches down gently so the sliced cucumber sticks to the labneh. Then, carefully cut each cucumber sandwich into quarters (squares or triangles) using a sharp knife. Arrange the sandwiches on a serving platter and garnish with some fresh dill. Enjoy at a bridal shower, tea party, or as a tasty snack!
How to keep cucumber sandwiches from getting soggy
Cucumber sandwiches are best made just 1 to 3 hours ahead of time, but they can be made up to a day in advance. But if you decide to make them ahead, you run the risk of them turning mushy. Be sure to follow these tips to ensure crunchy cucumber sandwiches that are not soggy:
Salt the cucumber ahead of time. After you slice the cucumber, lay the slices in a single layer on a tray lined with paper towels. Salt the cucumber and allow them to sit for around 20 minutes to draw out excess moisture. Pat the slices dry before using them in the sandwiches. I use a similar method in my cucumber salad recipe to help keep the cucumber from becoming soft.
Use enough of the creamy spread to protect the bread. Your cream cheese or labneh will act as a "barrier", keeping the cucumber liquid away from the soft bread, so it's important to use enough to cover the bread well.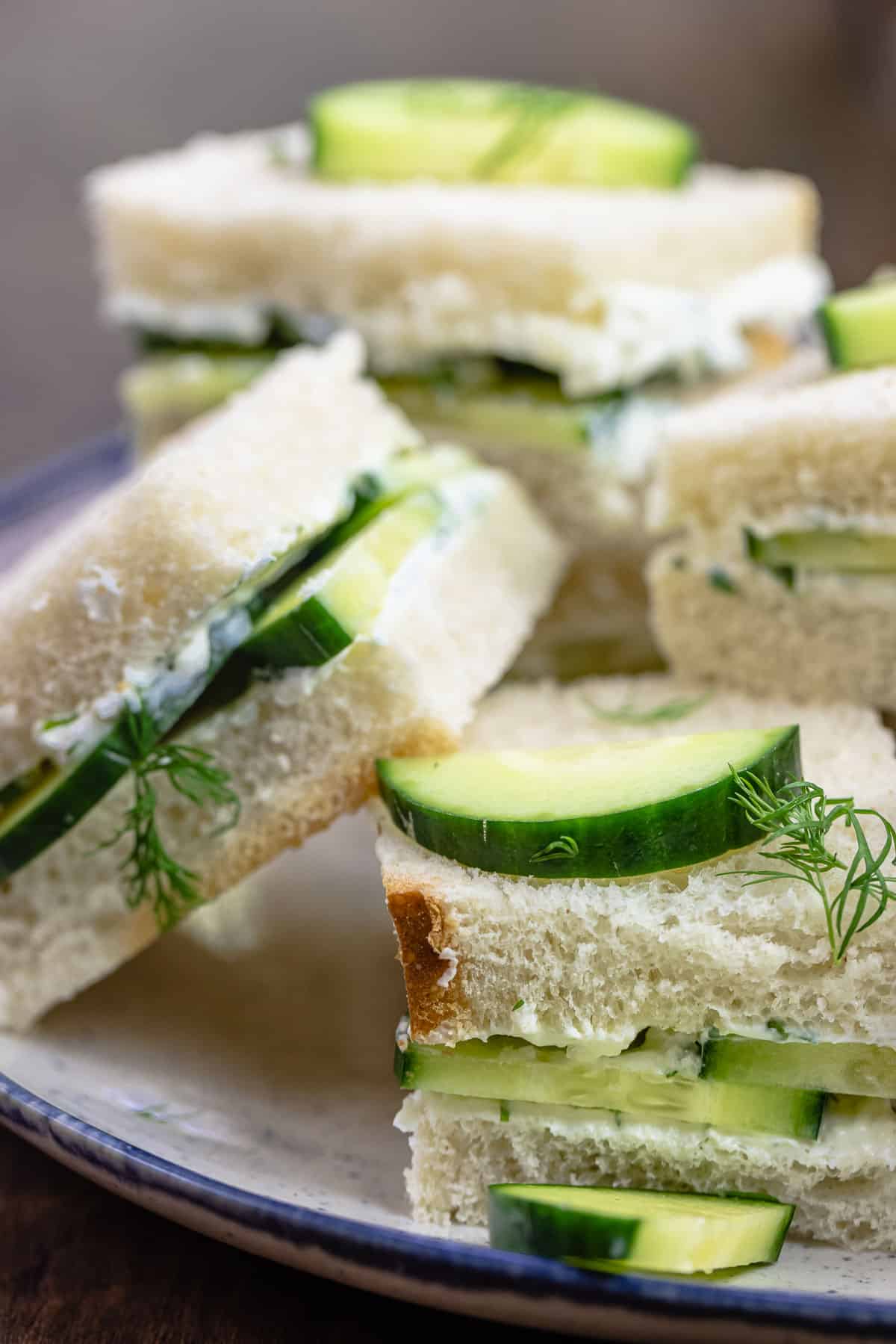 Serve cucumber tea sandwiches with
Cucumber finger sandwiches are effortlessly elegant, but you can play that up even more if you serve them on pretty platters with a few cucumber slices laid artfully on top, and a sprinkle of fresh dill for more verdant green color. Here are some ideas for other appetizers, finger foods, and little desserts to serve with your cucumber finger sandwiches:
Leftovers and storage
Cucumber finger sandwiches do not keep very long. Wrap leftovers tightly in plastic wrap and store in an airtight container in the fridge for no more than a day. If you have leftovers of the herby labneh spread, this can be kept in an airtight jar or container for up to 4 days in the refrigerator.
More cucumber recipes
Browse all Mediterranean recipes.

Visit Our Shop.
Must-Try Cucumber Sandwich Recipe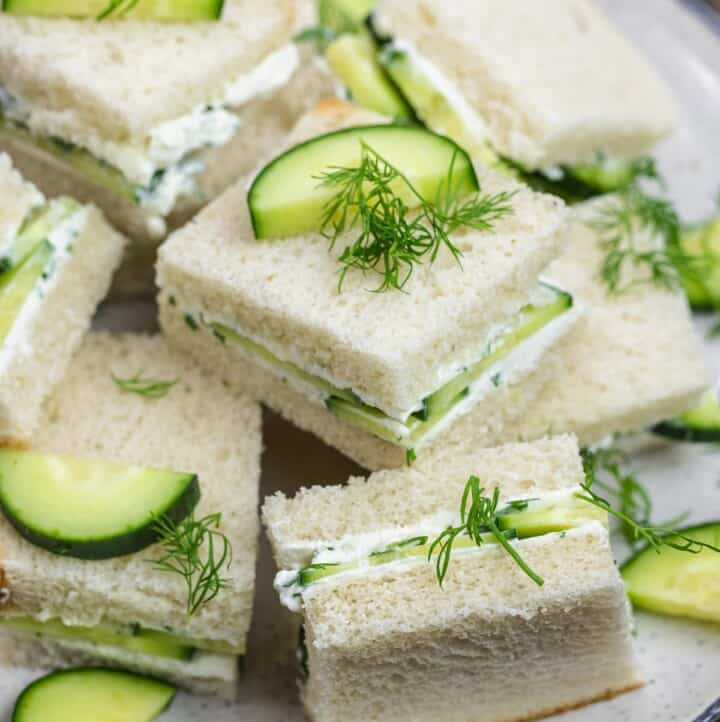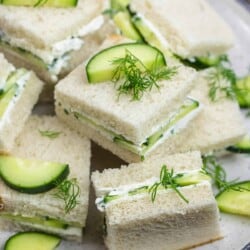 Easy cucumber sandwich recipe without cream cheese perfect for parties, picnics, or light lunches! You'll love the creamy labneh spread with olive oil and plenty of fresh herbs! Use soft white sandwich bread (as fresh as possible!) and English cucumbers for best results. If using garden cucumbers, be sure to peel off the waxy skin first. Serve cucumber sandwiches with other finger foods and little desserts like tomato and feta bites, antipasto skewers, biscotti, and butter cookies.
Ingredients
1

cup

labneh,

homemade or store-bought

3

tablespoons

finely chopped parsley

3

tablespoons

finely chopped dill

3

tablespoons

chopped basil

Kosher salt

½

English cucumber,

thinly sliced

8

slices

soft bread,

crust removed
Instructions
In a small mixing bowl, combine the labneh, chopped fresh herbs, and a dash of kosher salt. Add a drizzle of extra virgin olive oil. Mix well.

Arrange the bread slices on a large cutting board and spread one side of each slice with a generous spoonful of labneh.

Arrange the cucumber slices on half of the bread slices, overlapping the cucumbers so they will fit well. Top with the other slice of bread (you should have 4 cucumber sandwiches at this point).

Pressing down gently, cut each cucumber sandwich into quarters (triangles or rectangles will work as well).

Arrange the sandwiches on a plate and serve with a garnish of dill. (If you have any cucumber slices left, you can arrange them on the plate as well). Enjoy!
Notes
Best cucumber to use: I like using English cucumbers here, which are seedless and are not as watery. And since their skin is very thin, it does not have to be peeled. If using regular garden cucumber (the kind with the thick waxy skin), you do have to peel them.
Tip to avoid soggy cucumber tea sandwiches: Lay the cucumber slices on a tray lined with paper towel and sprinkle them with some kosher salt. Allow them to sit for 20 minutes or so to release their juices, and pat dry before using.
This recipe will serve up to 8 people for a snack or appetizer (4 small square sandwiches per person).
Serving a larger crowd? Feel free to double or triple the recipe.
Leftovers and storage: Leftovers will keep in the fridge, tightly wrapped in plastic wrap and then placed in an airtight container, for no more than a day. The labneh spread will keep in an airtight jar or container for up to 4 days in the refrigerator.
Visit our Shop to browse quality Mediterranean ingredients including extra virgin olive oils, all-natural and organic spices, and more.
Nutrition
Calories:
73
kcal
Carbohydrates:
7
g
Protein:
2.6
g
Fat:
3.9
g
Saturated Fat:
0.6
g
Monounsaturated Fat:
2.6
g
Trans Fat:
0.004
g
Cholesterol:
0.6
mg
Sodium:
64.9
mg
Potassium:
51.9
mg
Fiber:
0.4
g
Vitamin A:
99.2
IU
Vitamin C:
1.4
mg
Calcium:
43.6
mg
Iron:
0.5
mg