Homemade labneh: AKA tangy, thick, creamy yogurt cheese. Serve it Middle Eastern-style as a dip with lots of olive oil and a sprinkle of good Za'atar. Or simply use it in place of cream cheese.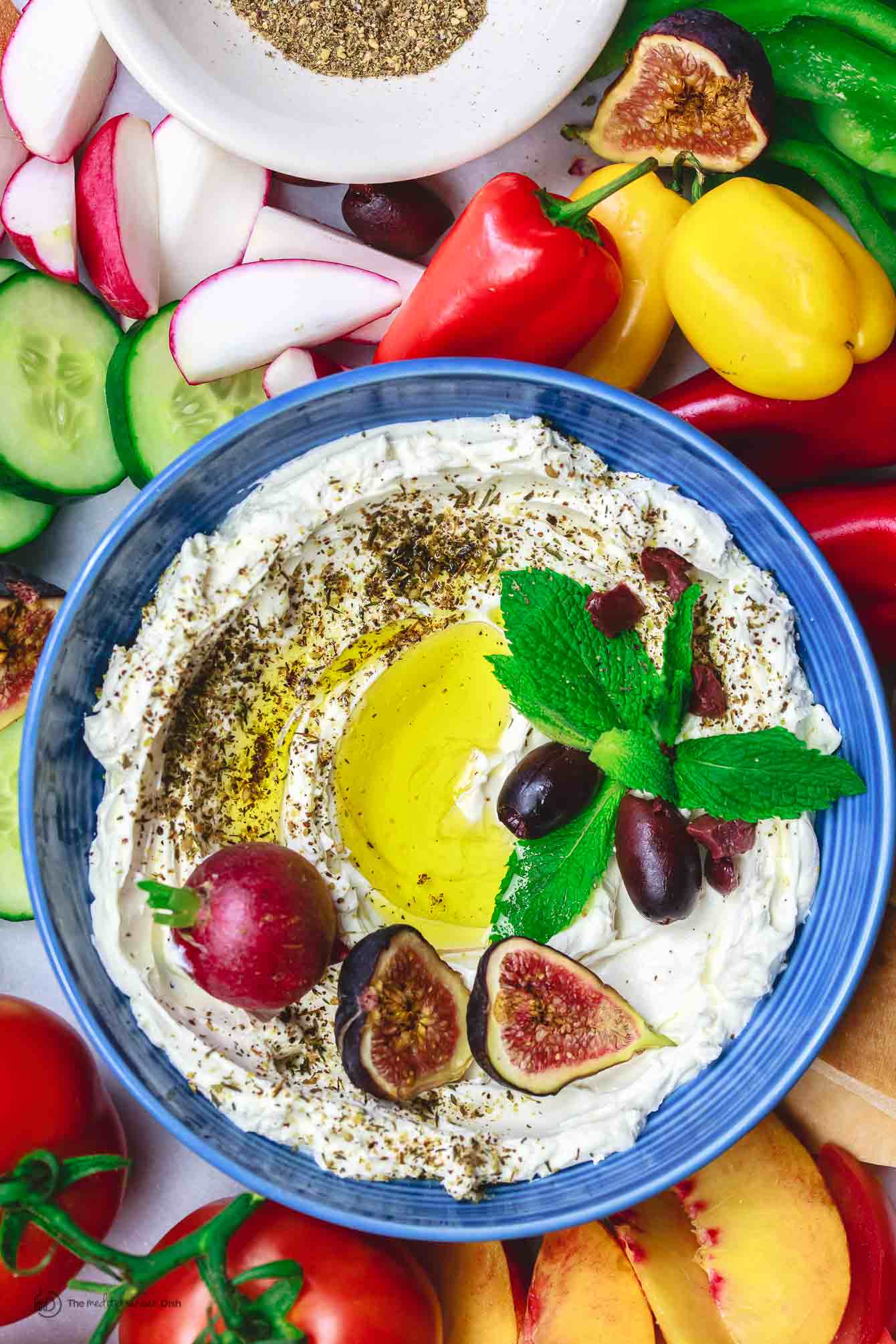 If Greek Yiayias (grandmothers) perfected the making of yogurt, Middle Eastern Tatas can absolutely claim labneh expertise.
In Middle Eastern homes, and particularly those in the Levant, good labneh is as non-negotiable as good hummus.
What exactly is Labneh?
Tangy, thick, and creamy, labneh (also known as labnah or labne) is basically yogurt cheese. Just like Greek yogurt, labneh is made by straining yogurt until it loses most of its liquid. If you think of Greek yogurt as strained yogurt, labneh is extra strained  yogurt.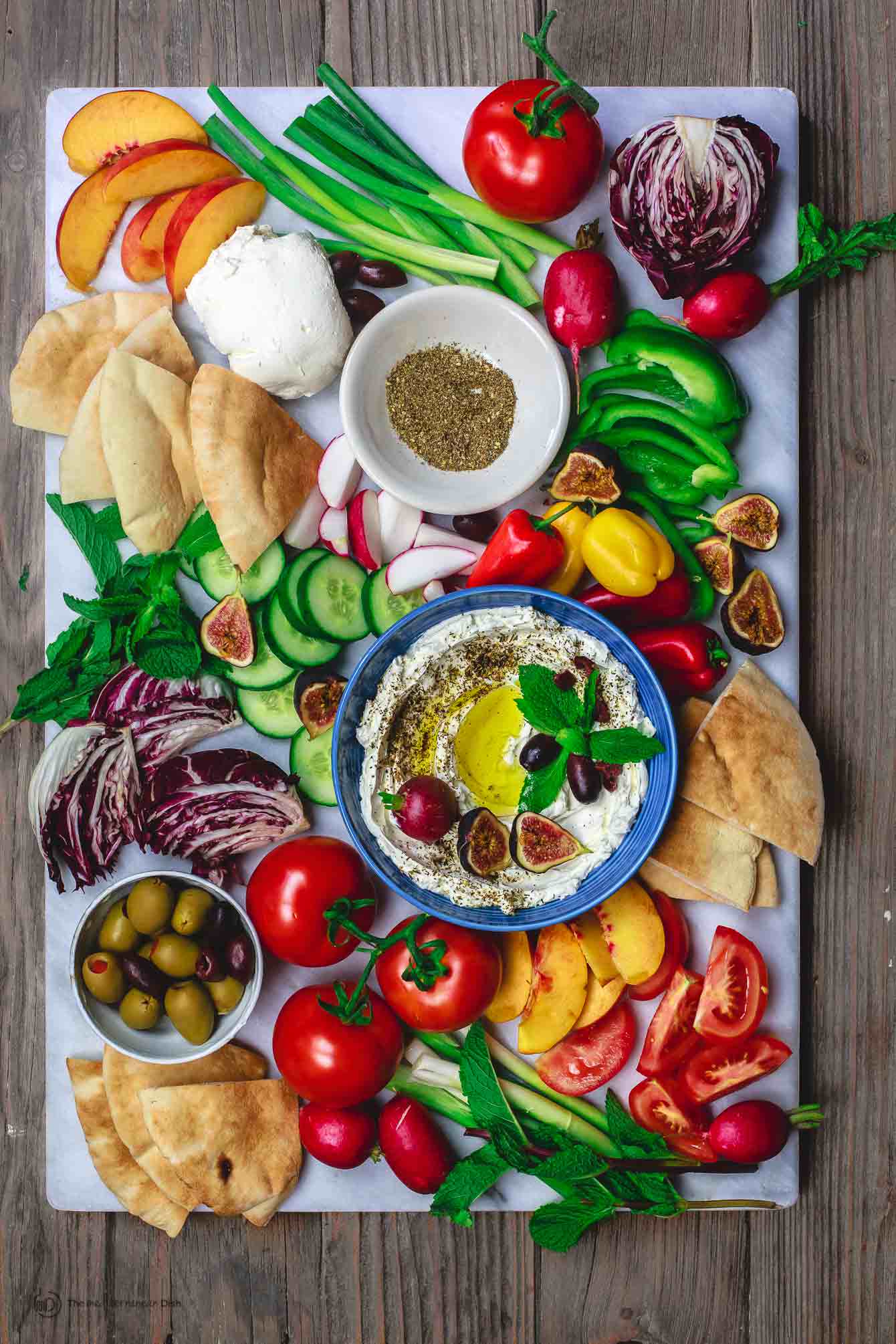 Labneh making is simple. You need natural goat's milk yogurt, or quality full-fat cow's milk yogurt, and a little salt. Stir the salt into the yogurt, place it into a muslin or linen cloth and hang from the kitchen faucet. Let time do the hard work.
After several hours, the whey strains out, leaving you with a delightfully thick spreadable labneh cheese.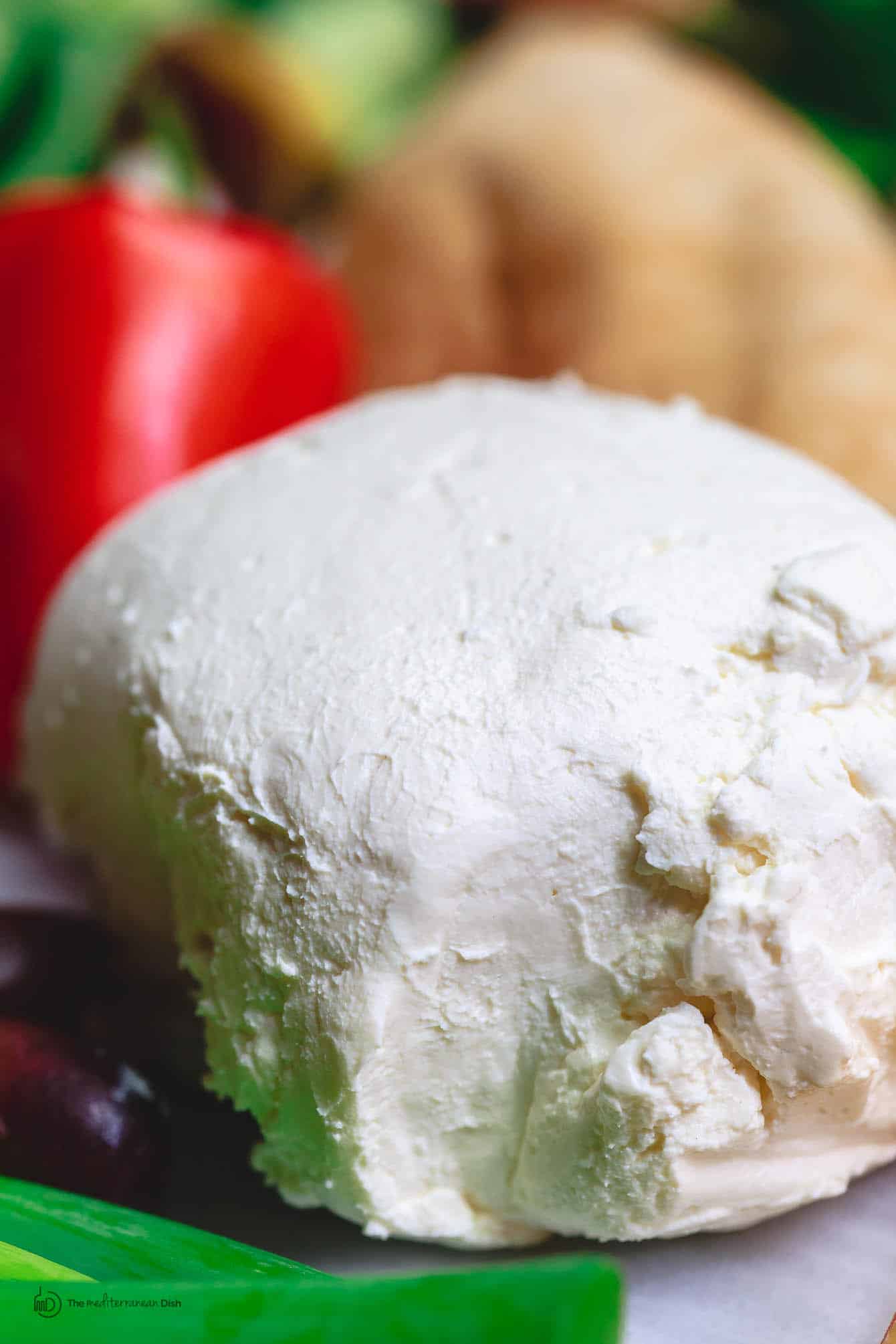 How to serve homemade labneh?
Homemade labneh is a lighter alternative to cream cheese. You can certainly spread it on sandwiches or use it as you would cream cheese. But, it is absolutely best served the Middle Eastern way—spread in a bowl with a pool of excellent olive oil–I highly recommend this Early Harvest EVOO— in the middle, topped with a generous sprinkle of Za'atar spice or chopped fresh herbs like parsley or mint. Warm pita on the side.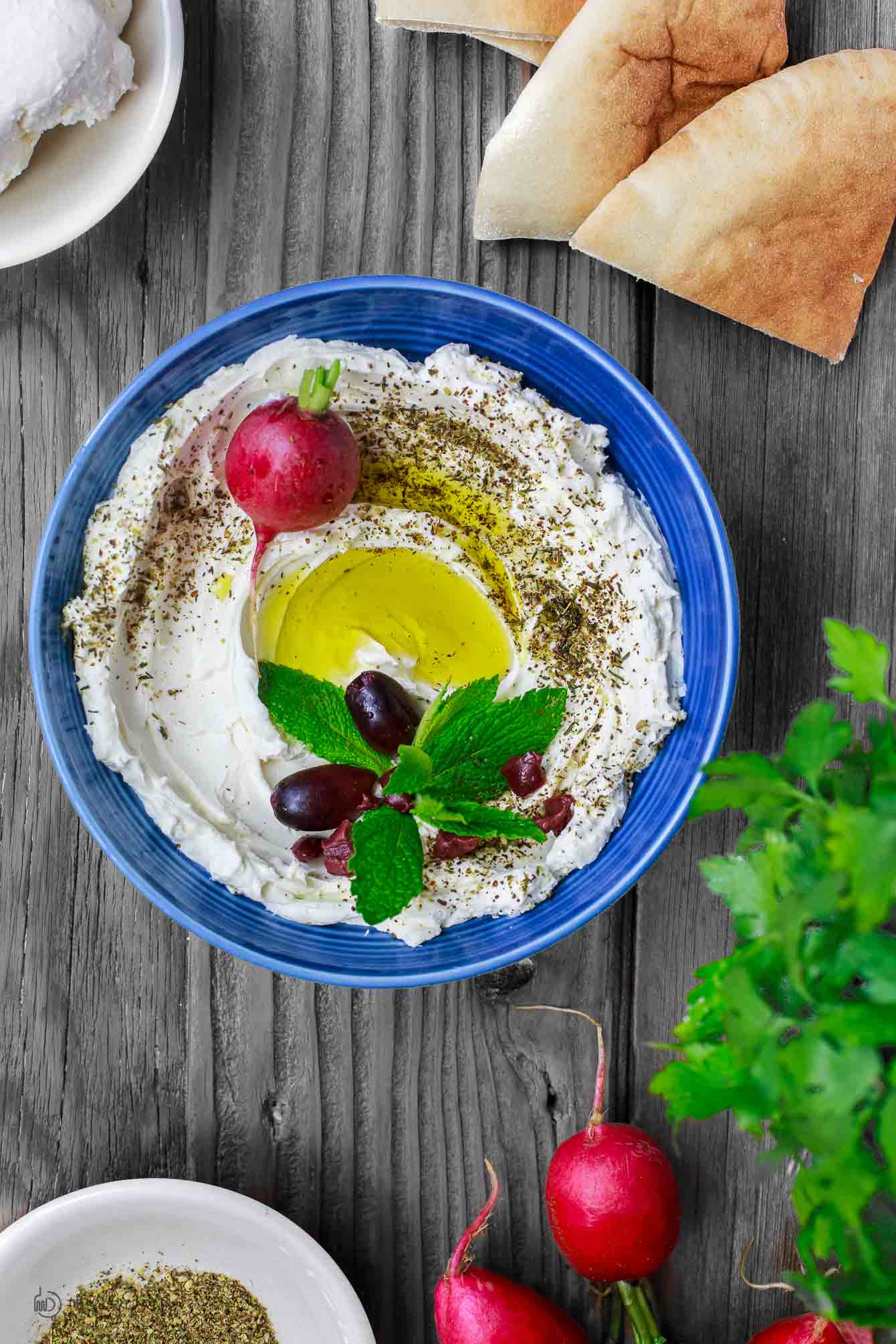 If you feel like jazzing things up more, serve homemade labneh as part of a mezze platter like this one I shared earlier. Or use it as a centerpiece on a veggie board like we have today. Enjoy!
Print
Homemade Labneh Recipe (How to Make Labneh)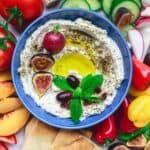 Author:

The Mediterranean Dish

Prep Time:

24 hours

Total Time:

24 hours

Yield:

6
Ingredients
32 oz whole milk yogurt
3/4 tsp salt
To Serve
Za'atar spice or chopped fresh herbs
Warm pita bread
Sliced vegetables of choice
Instructions
Pour the yogurt into a large bowl. Stir in salt.
Line another large bowl with a linen or muslin towel (or several layers of cheesecloth.) Pour the yogurt mixture into the towel. Pick up the edges of the towel and tie at the top. Hang from a kitchen sink faucet to drain for 24 to 48 hours. (Alternatively, set a large sieve, lined with linen towel over a deep bowl. Add the yogurt mixture. Cover gently with the overhang of the linen towel, or another linen towel. Set aside on the counter, or in the fridge, to drain for 24-48 hours)
To serve, spread labneh in a bowl and top with extra virgin olive oil, za'atar spice (or chopped fresh herbs like mint or parsley). Add warm pita and fresh veggies for dipping. Enjoy!
Notes
How to Store Labneh Store labneh in a tight-lid container in the fridge and use as a spread, like any cream cheese. Labneh will keep this way up to 2 weeks. Or, preserve in olive oil for longer. This more labor intensive option works only if the yogurt has been strained for 48 hours forming thicker labneh. At this point, roll the labneh into small 3/4-inch balls. Place on a large tray lined with paper towel, cover with another paper towel and refrigerate overnight. When ready, place the labneh balls in a clean jar and pour excellent quality olive oil, making sure the labneh balls are completely submerged. Cover and refrigerate until needed; it'll be good for months this way. Or leave the jar at room temperature for some weeks (2-4 weeks is safe).
Recommended for this Recipe: Early Harvest Extra Virgin Olive Oil; All-Natural Za'atar Spice.
SAVE! Try our Ultimate Mediterranean Spice Bundle! Or create your own 3-pack or 6-pack of premium all-natural and organic spices!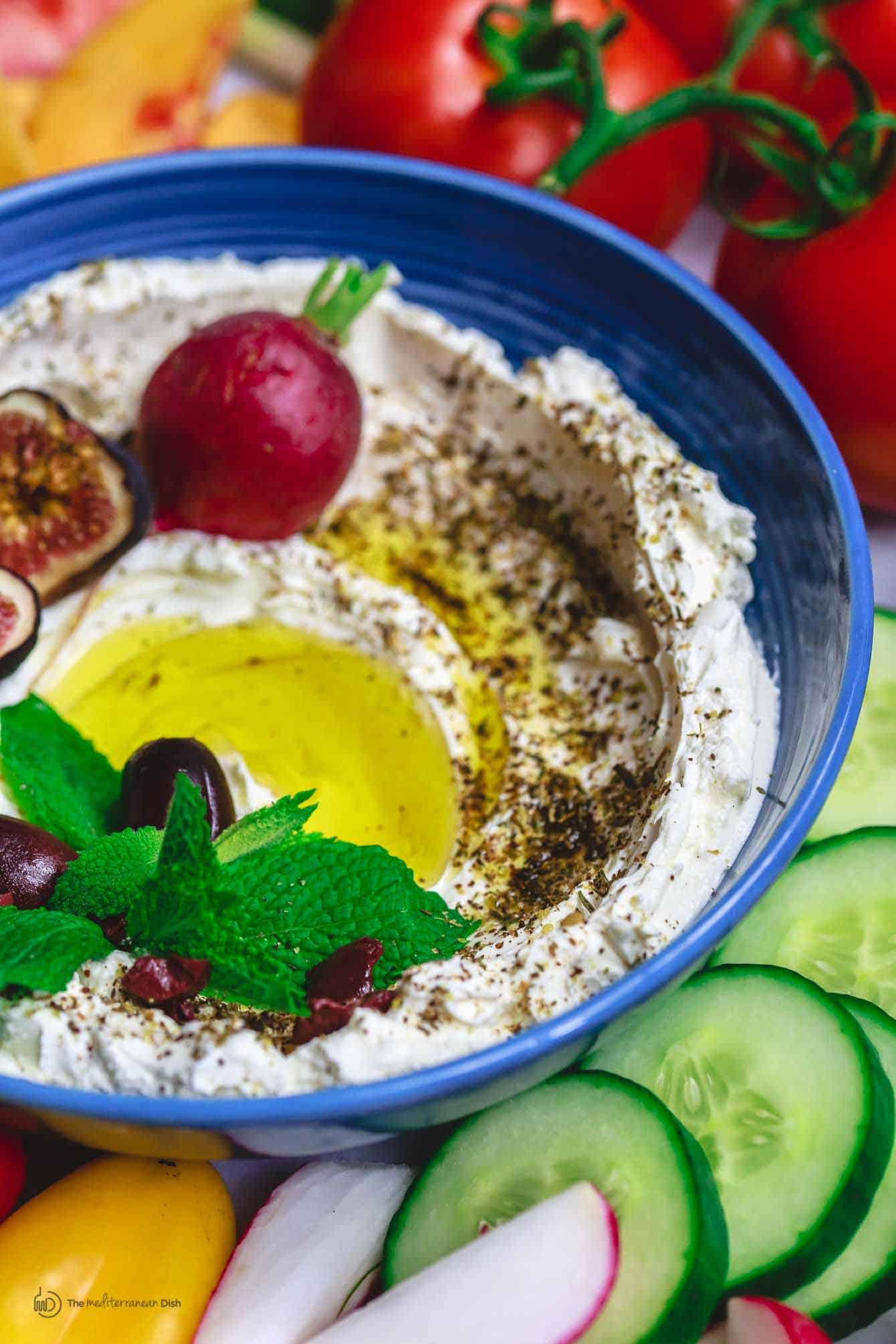 More Recipes to Try
Baba Ganoush (Roasted Eggplant Dip)