Take your artichoke dip from good to great with feta, olive oil, sun-dried tomatoes, and a bit of extra spice in this feta artichoke dip recipe!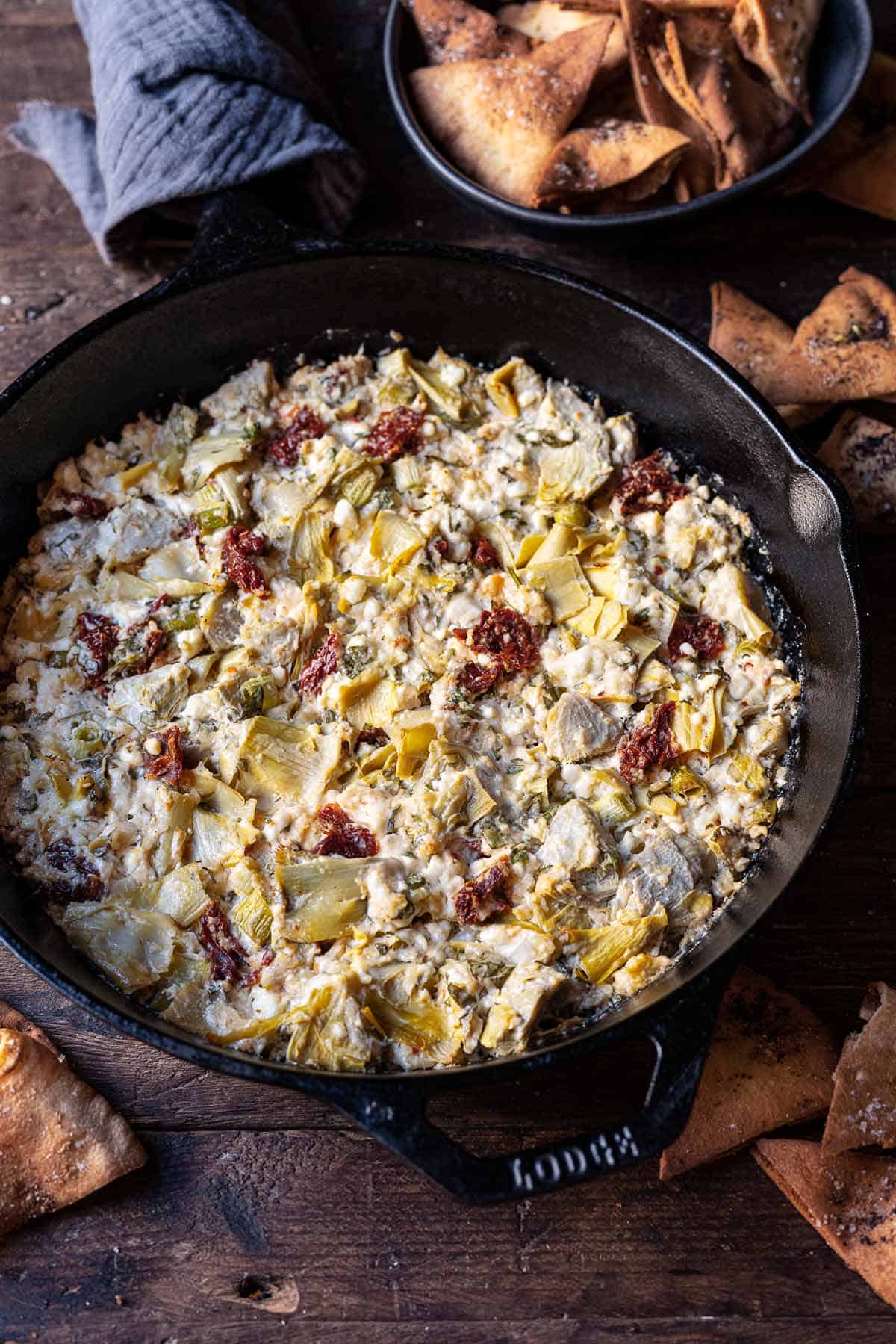 A classic, crowd-pleasing recipe, this artichoke dip with feta is made with canned artichoke hearts, creamy whole milk Greek yogurt, savory sun-dried tomatoes, and a dash of olive oil. Served warm with pita chips or crackers, it's the perfect easy snack or appetizer!

A staple in Mediterranean cooking, artichokes are a lovely addition to a variety of recipes like flatbread pizza, chicken pasta, and antipasto skewers! I even love to make roasted artichokes and serve them on their own! However, if you asked me my favorite way to use this vegetable, I'd have to say it's in this artichoke dip recipe!

More than your average feta artichoke dip, this version features a bold, chunky texture and a truly unique taste!

We start with a creamy feta and yogurt base and add the nutty flavor of canned artichoke hearts. Then, we elevate the dip even more with a good dose of sweet and tangy sun-dried tomatoes and a drizzle of olive oil for good measure. Yum! The end result is a quick and easy artichoke dip that's always a hit at holiday parties, family gatherings, and everything in between!
Table of Contents
Feta Artichoke Dip Ingredients
This artichoke dip features all the normal ingredients you expect to see. We just spruced it up with a few additions to make it extra tasty! Here's everything you'll need:
Artichoke hearts - Keep things easy with canned varieties. Just make sure they're roughly chopped and drained.
Feta - Use a block of creamy, full-fat feta.
Greek yogurt - Whole milk Greek yogurt will make this artichoke dip extra smooth and creamy. Use a plain, unflavored version for a delicious tangy taste.
Scallions - Include both the white and green parts for a sharp, spicy flavor.
Garlic - Everything tastes better with garlic! Use two fresh cloves.
Fresh parsley - Small but mighty, just a sprinkle helps lighten the dish, balancing out the savory ingredients and heaviness of the fats.
Sun-dried tomatoes - Bright sun-dried tomatoes take this dip from good to great with their beautiful color and sweet, tangy taste!
Extra virgin olive oil - Any olive oil will work in this artichoke dip recipe, but I love the rich, pungent flavor of our Early Harvest EVOO. It complements the bold ingredients perfectly!
Red pepper flakes or Aleppo pepper - Just a dash adds the perfect amount of heat. If you've never tried it, check out our Aleppo pepper here! Its spicy, slightly sweet, fruity taste pairs incredibly well with the sun-dried tomatoes for the best feta artichoke dip you'll ever taste!
How to Make Artichoke Dip
This artichoke dip with feta may taste gourmet, but it's really pretty easy to make. The only hard part is waiting for it to finish baking! I recommend brewing a cup of Arabic mint tea while you wait to help pass the time.
Break up the feta. Add the feta to a mixing bowl, and break it up into small pieces. I've found using the back of a fork or a potato masher is the easiest way to do this!
Combine the ingredients. Add the rest of the ingredients to the bowl of crumbled feta, adding a drizzle of olive oil and red pepper flakes on top. Then, stir everything up with a spoon until the ingredients are well combined.
Bake the artichoke dip. Transfer the mixture to a 10-inch cast iron skillet or an 8x8 square baking dish, and place it in the center rack of your heated oven. Now, all that's left to do is sip on your tea and wait for it to get hot and bubbly!
Serve. Carefully remove your dip from the oven, and serve it right away with a side of pita chips, crackers, or even veggie sticks!
Flavor Variations to Switch It Up!
Looking for ways to make this artichoke dip with feta even more flavorful? Try including some of our favorite mix-ins below, and feel free to experiment to make it your own!
Spinach: Want to add more nutrients? Mix in frozen, chopped spinach for extra greens and a bit more bulk.
Protein: Make this artichoke dip a complete meal by adding in finely chopped pre-cooked chicken for a boost of extra protein!
Garlic: Love garlic as much as we do? Feel free to go crazy with it, and add some more.
Mayonnaise: If you don't have Greek yogurt on hand, swap it out with mayonnaise to replicate the same creamy texture and tangy taste.
Parmesan: Make this dip even more indulgent with a sprinkle of freshly grated Parmesan on top.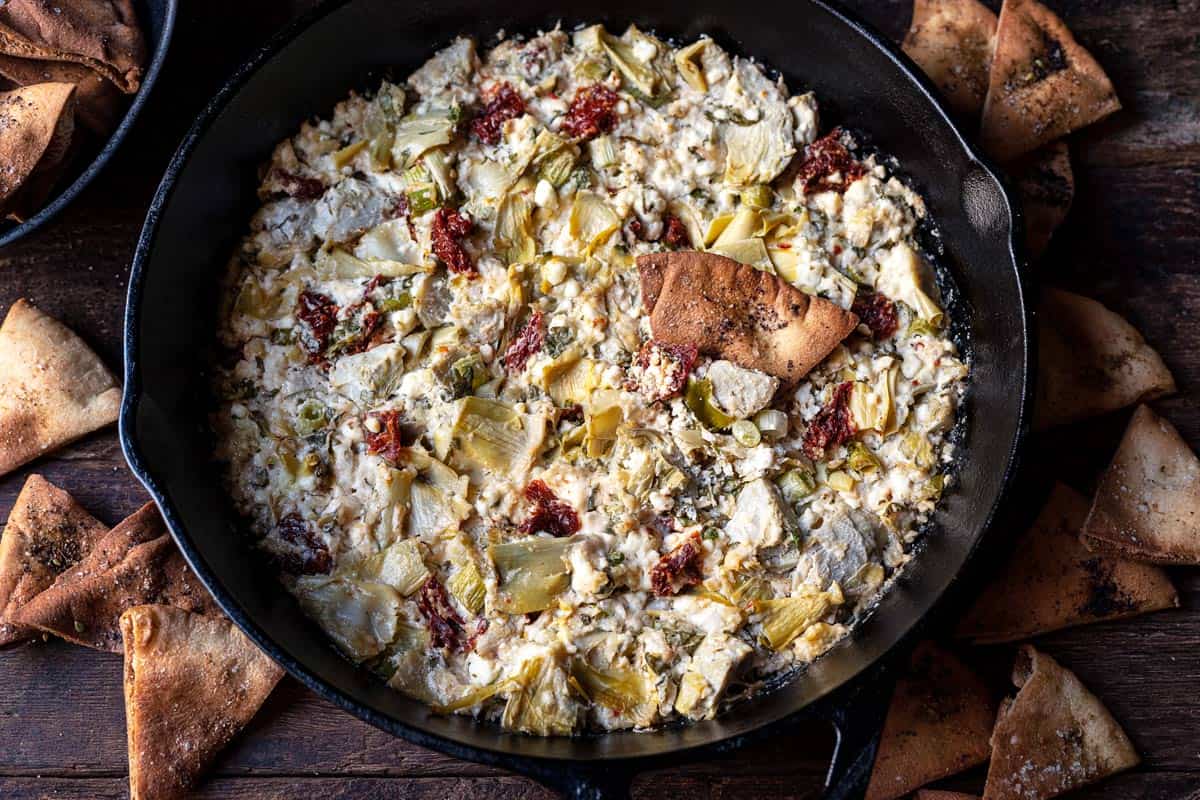 What to Serve with Artichoke Dip
Honestly, this artichoke dip with feta is so scrumptious, you'll want to eat it with nothing but a spoon! No judgment if you do. Of course, you could also use pita pockets, pita chips, your favorite crackers, or veggie sticks for dipping. That's all you'll need!
Or, if you're serving a crowd, make a mezze platter with sliced cucumbers, olives, grapes, Muhammara, hummus, and whatever else your heart desires.
You could also serve it as a warm appetizer to all your favorite main courses like Mediterranean grilled chicken thighs, baked cod, and leg of lamb. It makes for a show stopping meal no one can resist!
More Amazing Dip Recipes
Browse all Mediterranean recipes.

Visit Our Shop.
Try our Sun-Dried Tomatoes!
These all-natural, vine-ripened sun-dried tomato halves add just the right amount of sweet & tangy tomato goodness to your dishes. Take your artichoke dip to a whole new level.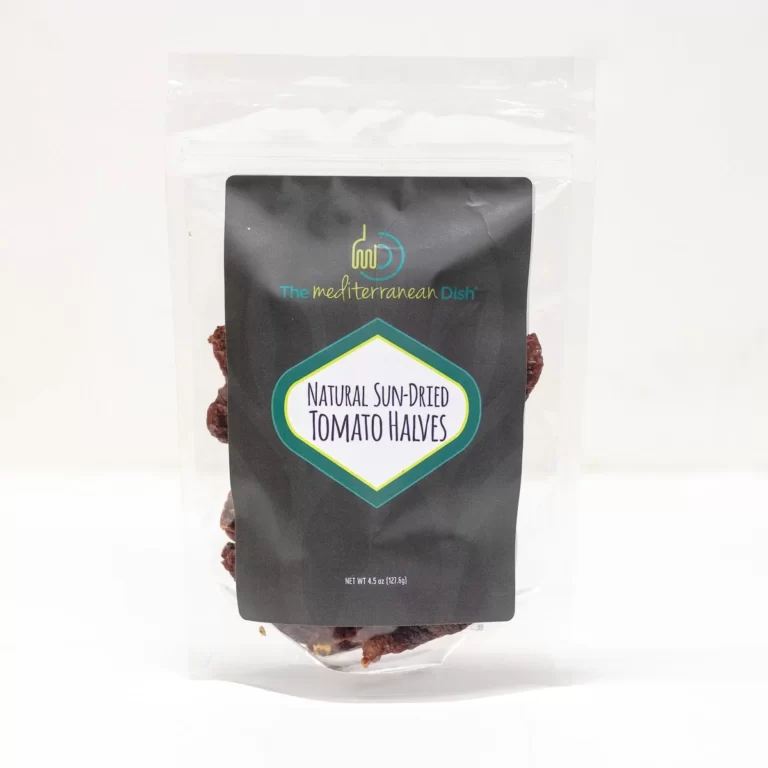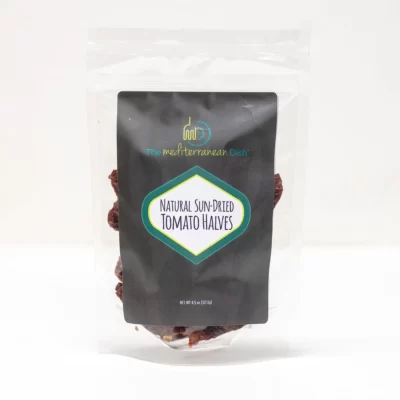 Artichoke Dip with Feta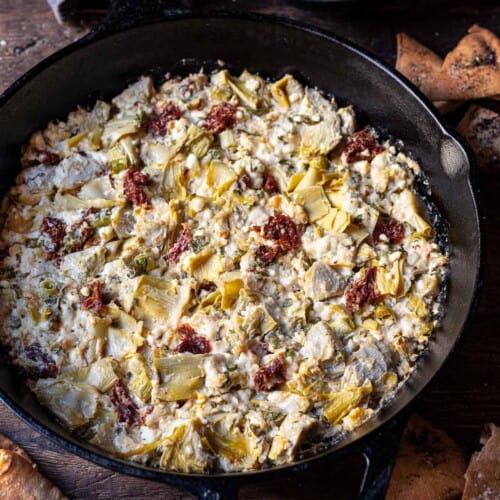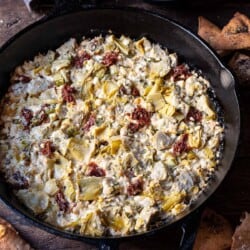 This scrumptious feta artichoke dip is made with canned artichoke hearts, Greek yogurt, sun-dried tomatoes, and a dash or extra spice. It's a warm, crowd-pleasing appetizer that's perfect served with pita chips or crackers.
Ingredients
1

(15-ounce) can artichoke hearts,

roughly chopped

7

ounces

block creamy feta cheese

½

cup

whole milk Greek yogurt

½

cup

grated Parmesan cheese

2

scallions,

trimmed and chopped (both white and green parts)

2

garlic cloves,

minced

½

cup

chopped fresh parsley

1

teaspoon

extra virgin olive oil

½

teaspoon

red pepper flakes

or Aleppo pepper
Instructions
Preheat the oven: Heat the oven to 375°F.

Smash the feta: In a medium mixing bowl, add the feta and break it up using the back of a fork or potato masher.

Add remaining ingredients: Add the chopped artichoke hearts, yogurt, chopped scallions, minced garlic, parsley, and chopped sun-dried tomatoes. Drizzle with a little extra virgin olive oil. Season with the red pepper flakes. Mix with a spoon until well combined.

Transfer: Transfer the mixture to a 10-inch cast iron skillet or an 8 x 8 square baking dish.

Bake: Bake on the center rack of your heated oven until the artichoke dip is hot and bubbly, about 20 minutes or so.

Serve: Serve warm with pita chips or crackers.
Nutrition
Calories:
129
kcal
Carbohydrates:
6.9
g
Protein:
7.8
g
Fat:
7.8
g
Saturated Fat:
4.4
g
Polyunsaturated Fat:
0.3
g
Monounsaturated Fat:
1.9
g
Trans Fat:
0.001
g
Cholesterol:
28.1
mg
Sodium:
601.4
mg
Potassium:
196.9
mg
Fiber:
1.5
g
Sugar:
2.2
g
Vitamin A:
572.2
IU
Vitamin C:
7.1
mg
Calcium:
204.3
mg
Iron:
0.8
mg