The perfect grilled chicken recipe, prepared Mediterranean-style! The secret is in the marinade with lots of great Mediterranean spices. The dill Greek yogurt sauce is a must-have! I like to serve this grilled chicken with a few Mediterranean sides and salads (see suggestions below!)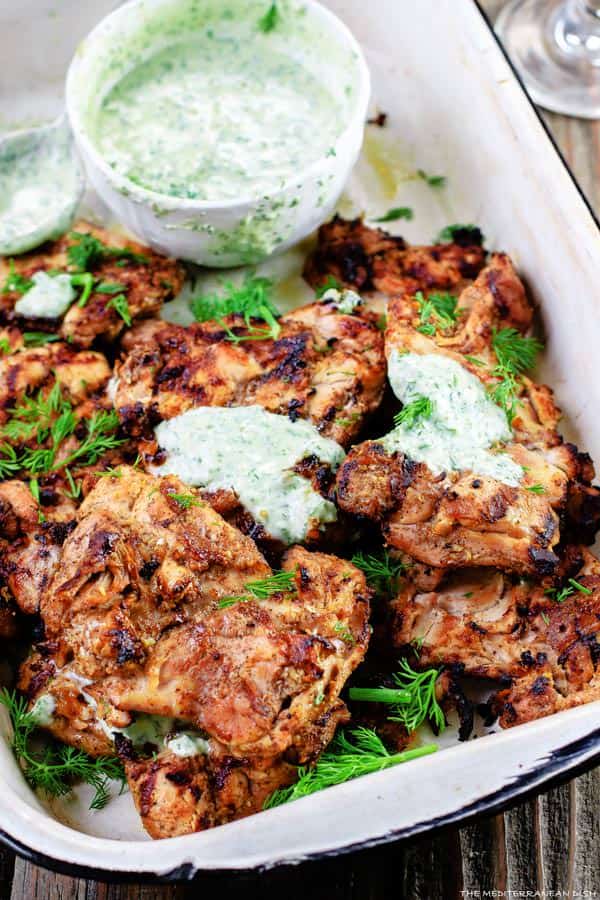 This time of the year, what mostly occupies my mind are things like the farmers market. The fresh bounty of green produce tucked under my arms. Warm-weather eats. And of course, the tantalizing aroma of this Mediterranean grilled chicken.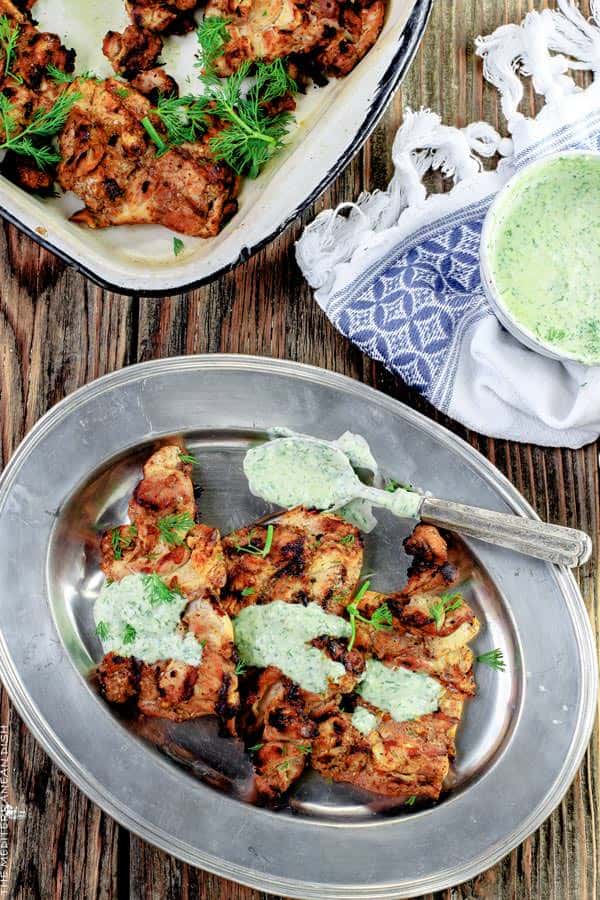 Why this Grilled Chicken Recipe works
I like to use boneless skinless chicken thighs in this recipe. It's a personal preference; and I feel that you simply can't go wrong with boneless thighs, they are cheaper and juicier than chicken breasts.
But the big secret is really in the spices!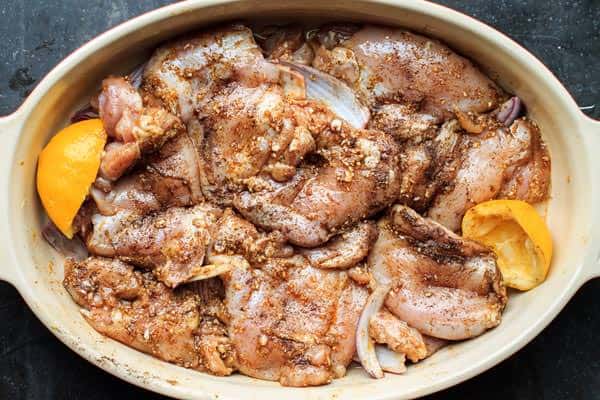 To give it flavor, I make a nice rub with lots of minced garlic and spices like allspice, nutmeg and cardamom. Then the spiced chicken thighs are placed in a large dish with lemon juice, olive oil and red onions. I prefer to let the chicken marinate in the fridge overnight, but if that is not possible, then for 2-4 hours or so before grilling.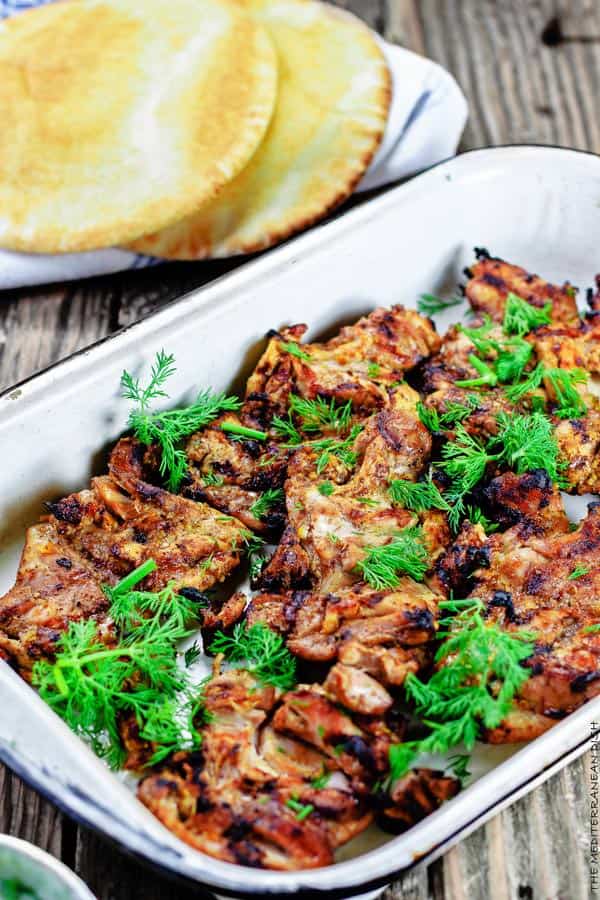 When I made this grilled chicken last week, I almost whipped up a side of Tzatziki sauce (which would have been excellent), but  I took a little detour and made this dill Greek yogurt dip or sauce on the side.
There are many easy savory Greek yogurt applications that I enjoy, this dill Greek yogurt sauce is certainly one of them. Two ingredient stars: dill and garlic! If you are garlic-shy or garlic-friendly,  you can certainly adjust the amount of garlic to your liking.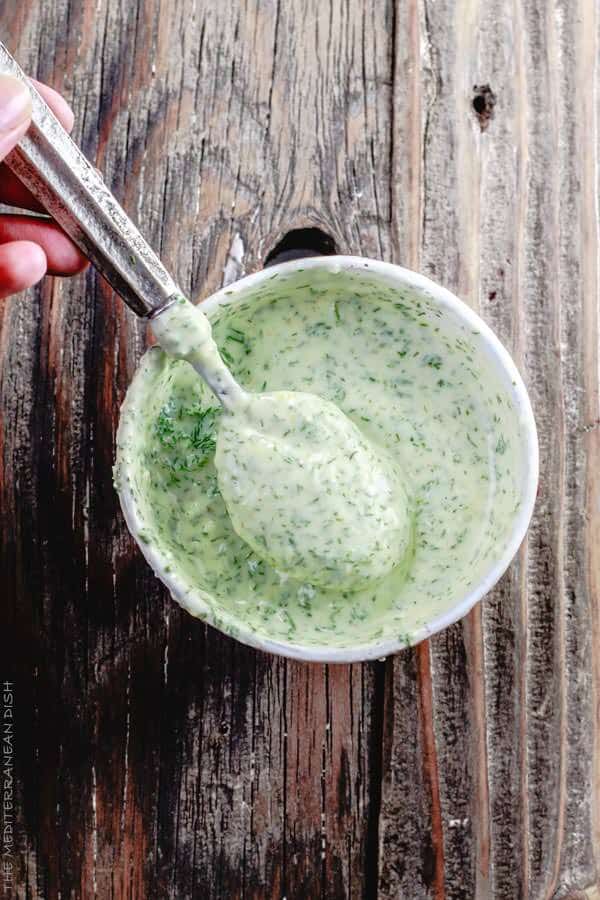 Every bite of this juicy, flavor-packed grilled chicken coupled with the dill yogurt sauce is absolute bliss! I hope you give it a try this weekend or sometime soon.
What else to serve with this Mediterranean Grilled Chicken?
There are many great sides and salads that compliment this grilled chicken recipe. Here are just a few ideas:  Greek potatoes; Mediterranean Potato Salad; Italian Roasted Vegetables;  Roasted Garlic Hummus; Balela Salad; Greek Salad; Watermelon Salad with Cucumber and Feta.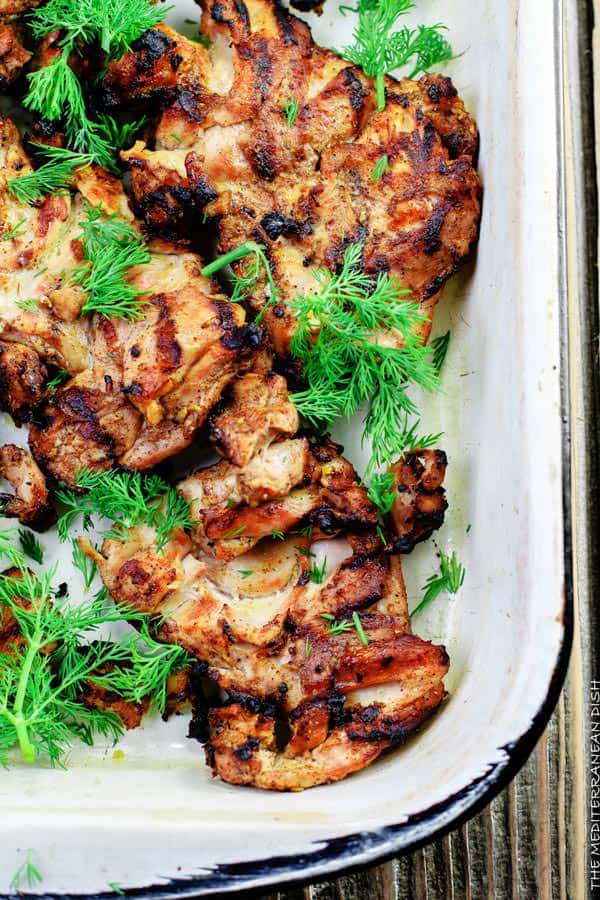 Watch How to Make this Mediterranean Grilled Chicken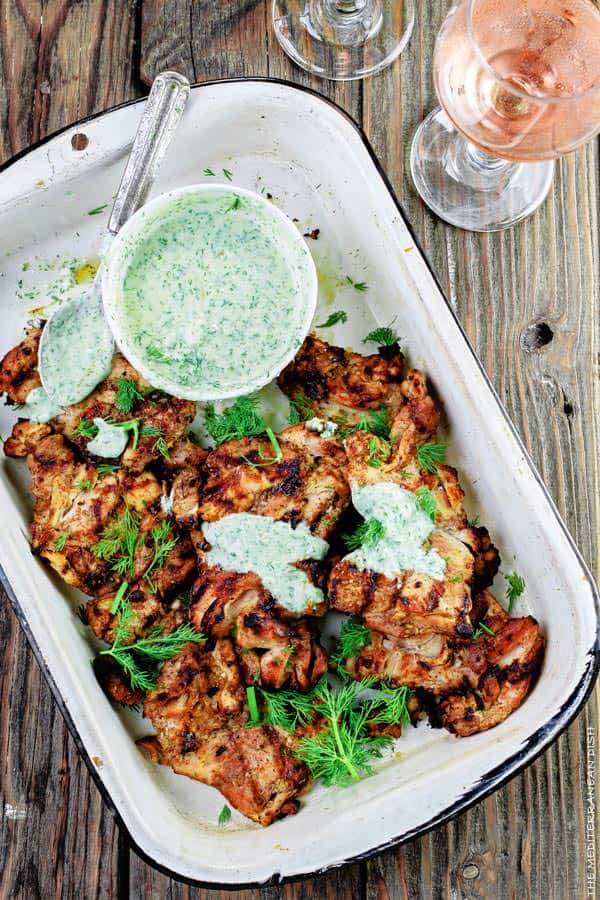 Print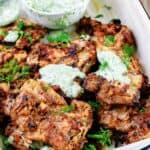 Mediterranean Grilled Chicken + Dill Greek Yogurt Sauce
---
Author:

Prep Time:

10 mins

Cook Time:

12 mins

Total Time:

22 minutes

Yield:

8

Category:

Entree

Cuisine:

Mediterranean
Ingredients
For the Dill Greek Yogurt Sauce:
1 garlic clove, minced
1 cup chopped fresh dill, stems removed
1 1/4 cup Greek yogurt
1 tbsp olive oil
Juice of 1/2 lemon or lime
Pinch cayenne pepper, optional
Salt, if needed
For the Grilled Chicken:
---
Instructions
First make the dill Greek yogurt sauce. Combine the minced garlic, fresh dill, yogurt, olive oil, lemon juice and cayenne pepper in a food processor. Run the food processor until all the ingredients are well blended and a smooth thick sauce or dip develops. Test and add salt if needed. Transfer to a small bowl or container, cover and refrigerate.
In a small bowl, mix together the minced garlic, spices and 3 tbsp olive oil. Pat the chicken thighs dry and rub each with the garlic-spice mixture.
Place the spiced chicken thighs in a large dish on a bed of sliced red onions with lemon juice and the remaining 2 tbsp olive oil. Cover and refrigerate for 2-4 hours or overnight.
When ready, heat a gas grill to medium-high. Place the chicken thighs on the grill. Cover for 5-6 minutes, then turn the chicken over and grill for another 5-6 minutes covered.
Serve with a side of the dill Greek yogurt dip you prepared earlier!
To complete this light meal, add Greek potatoes or pita bread and a salad like Fattoush Salad.
Notes
The dill Greek yogurt sauce will keep well overnight, but you may have to discard any extra moisture that shows up on top. Give it a quick stir before serving.
To be sure the chicken is done, your thermometer, testing the thickest part of the chicken, should register 165 degrees F.
You can use chicken breasts if you prefer, adjust the cooking time accordingly.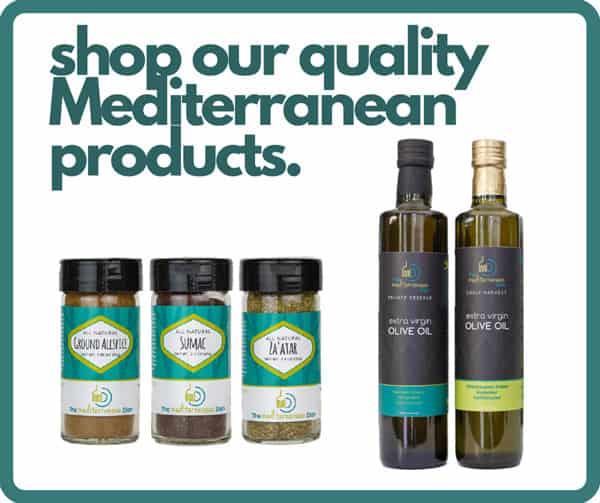 More Recipes to Try
Mediterranean Herbs and Tomato Salad