Crispy on the outside and fluffy and tender on the inside, these Crispy Smashed Potatoes, finished with a garlicky olive oil sauce, za'atar and fresh herbs, are a must-try! Great as a side or an appetizer served with a little tzatziki or spinach yogurt dip!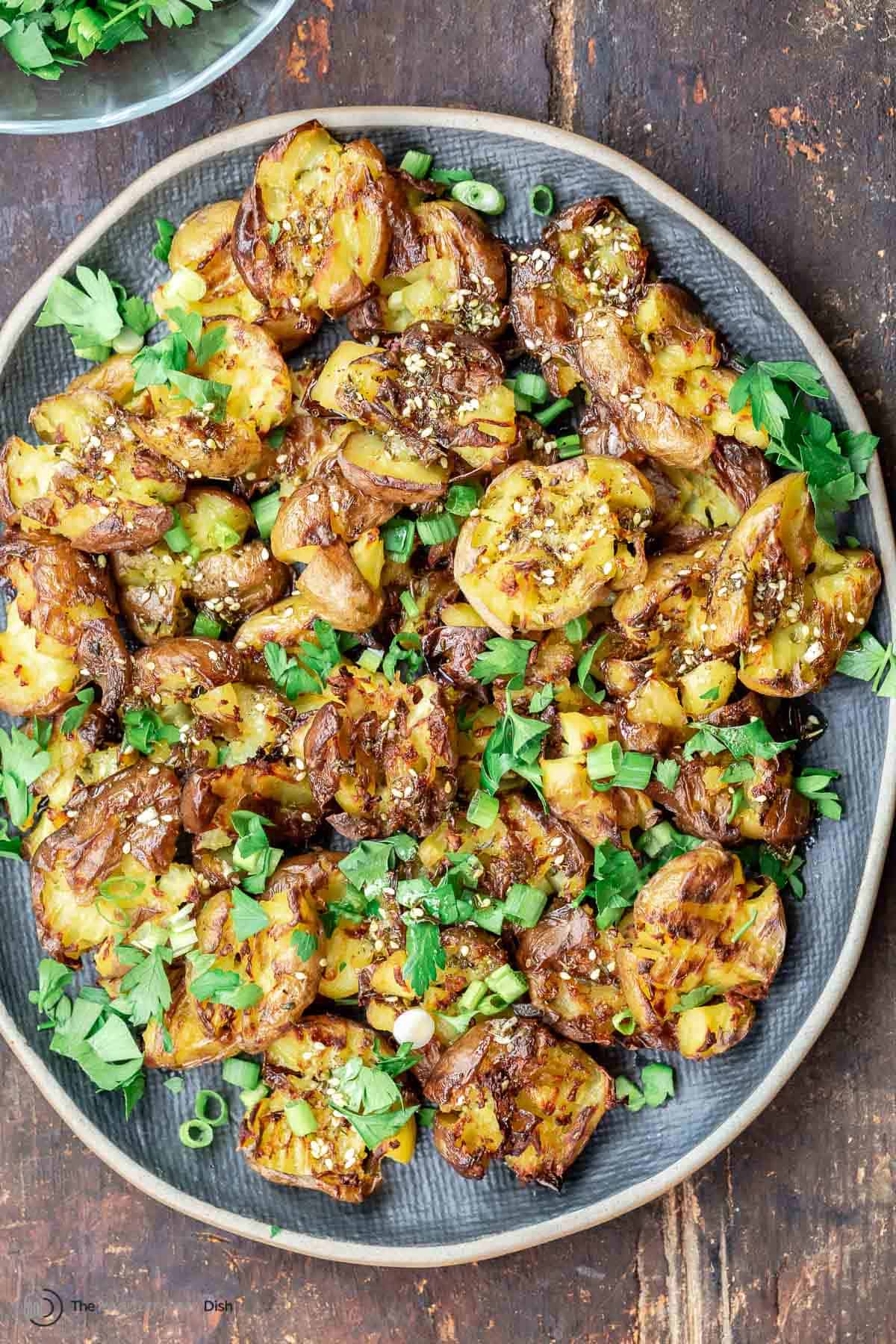 Baked smashed potatoes better than fries!
If you ever find yourself craving the savory crispiness of French fries but want something that's not deep fried...or maybe you're just looking for a unique potato recipe that delivers on the comfort and wow factors at once? This smashed potato recipe is your answer!
This smashed potato recipe is easy to make. Start by boiling baby potatoes until they are tender, allow them to steam dry, then gently smash them with the back of a fork and season with salt and a good drizzle of extra virgin olive oil and roast! Served immediately out of the oven, these potatoes are crispy on the inside and soft, fluffy on the inside--so delicious and comforting as the best French fries, sans all the frying!
If you serve these smashed potatoes as is with just a dash of salt, they are great! But if you want to take them up a couple notches, hit them up with my sauce of olive oil, fresh garlic, za'atar, and toasted sesame seeds. Finish with a sprinkle of fresh herbs.
Smashed potatoes vs. mashed potatoes
If you've not made them before, you might wonder what is the difference between mashed and smashed potatoes? The cooking process for both starts with boiling your potatoes. But where mashed potatoes are soft potatoes that have been whipped with milk into a creamy consistency, smashed potatoes are just mashed into patties and then roasted until crispy. There is also a difference in the type of potato selected--larger Yukon gold potatoes are great for mashing, but for this smashed potato recipe, I always use baby potatoes (smaller, golf ball-size potatoes).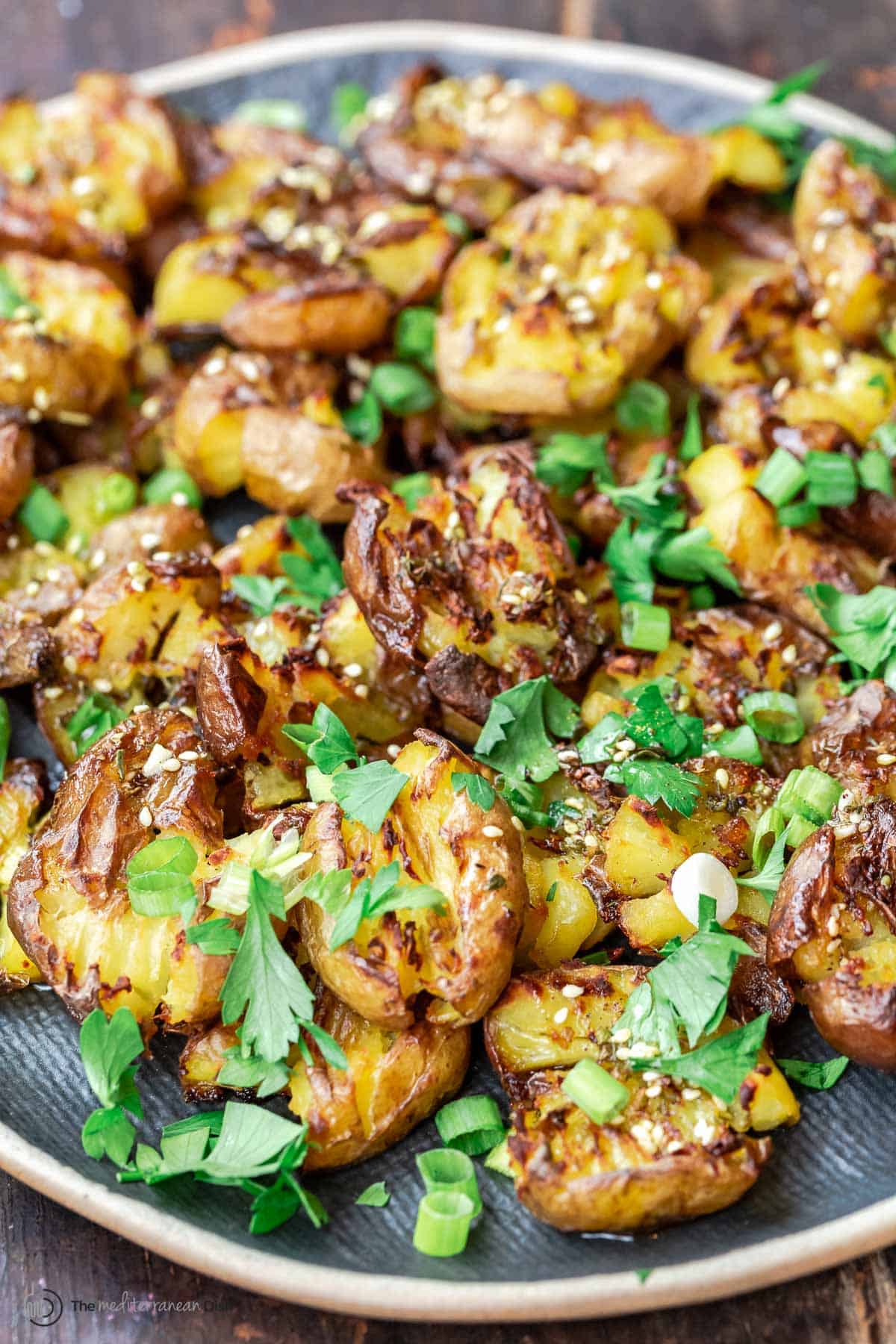 Secrets for the crispiest roast smashed potatoes!
Before we get to the recipe, let's answer this one key question: How do you get perfectly crispy skin on your potatoes while also maintaining a soft and creamy flesh? Here are a few important tips:
Before roasting, parboil the potatoes in alkaline water until just tender. Alkaline water is simply water with a bit of baking soda in it -- about ½ teaspoon of baking soda for a 2 quarts of water. While the potatoes cook and tenderize to creamy goodness on the inside, the alkaline water also helps break the exterior of potatoes to break down, creating much more of the starchy slurry that leads to an extra-crisp exterior. I use this method in my ultra-crispy patatas bravas recipe, and trust me, it's a game-changing step!
Let the potatoes steam dry well before roasting! I allow my potatoes to steam dry first in a colander, then once mashed, I spread them out a baking sheet and let them dry some more. Getting rid of the moisture will produce more crispy skin.
Use olive oil over butter. You need to toss the potatoes with some cooking fat before roasting. Butter will not give you crispy smashed potatoes, so if you really want a little butter for flavor, you can mix a little melted butter with olive oil. Personally, I only use good olive oil in this recipe and it provides both the flavor and texture I'm looking for.
When you smash the potatoes, go thinner for more crisp (but be sure to do this gently so the potatoes remain intact).
Ingredients you'll need to make this potato recipe


Here is what you'll need to make it:
Potatoes - Smaller baby potatoes (the size of a golf ball) are a good option here; they will come out crispier and you do not have to slice or cut them.
Kosher salt
Baking soda - Adding baking soda to the water when boiling the potatoes helps make them extra crispy.
Parsley
Za'atar - This earthy spice mixture includes sumac, thyme, and sesame seeds to add a robust flavor to this simple recipe.
Garlic
Green onions - Green onions are added before serving for a pop of color and flavor.
How to Make Smashed Potatoes
Keeping the tips above in mind, here is how to make this smashed potato dish (printer-friendly recipe with measurements is below):
Boil the potatoes. Season a pot of water with a good bit of salt (about 1 tablespoon), add ½ teaspoon baking soda and the baby potatoes. Return to a boil then simmer until the potatoes are just tender (you should be able to poke a fork though easily but the potatoes do not fall apart completely).



Drain. Drain the potatoes in a colander and let sit for 5 to 10 minutes to dry.
Smash the potatoes. Transfer the potatoes to a lightly oiled sheet pan in one single layer. Lightly mash each potato with the back of a fork or a potato masher, making sure to keep them in one piece.
Let them sit to steam dry! Again, allow the potatoes another 5 to 10 minutes on the sheet pan to dry.
Season with a good pinch of kosher salt and drizzle with olive oil.



Roast. Roast in the oven for 45 to 50 minutes. The potatoes should be golden brown, crispy and charred on the rough edges.



Make the garlic and olive oil sauce. While the potatoes are baking, combine about ¼ cup olive oil with parsley, za'atar, and fresh garlic.
Serve. When the potatoes are ready, transfer them to a serving plate and immediately drizzle with the olive oil sauce. Add the chopped green onions and serve!
Serving Suggestions
These crispy smashed potatoes are a great side dish for everything from chicken to burgers to kebabs. They're a lot like french fries, so maybe a great replacement when you want something a little fancier and not deep-fried.
You can also serve these smashed baby potatoes as an appetizer with a dipping sauce, like homemade Romesco sauce, toum, or even tahini!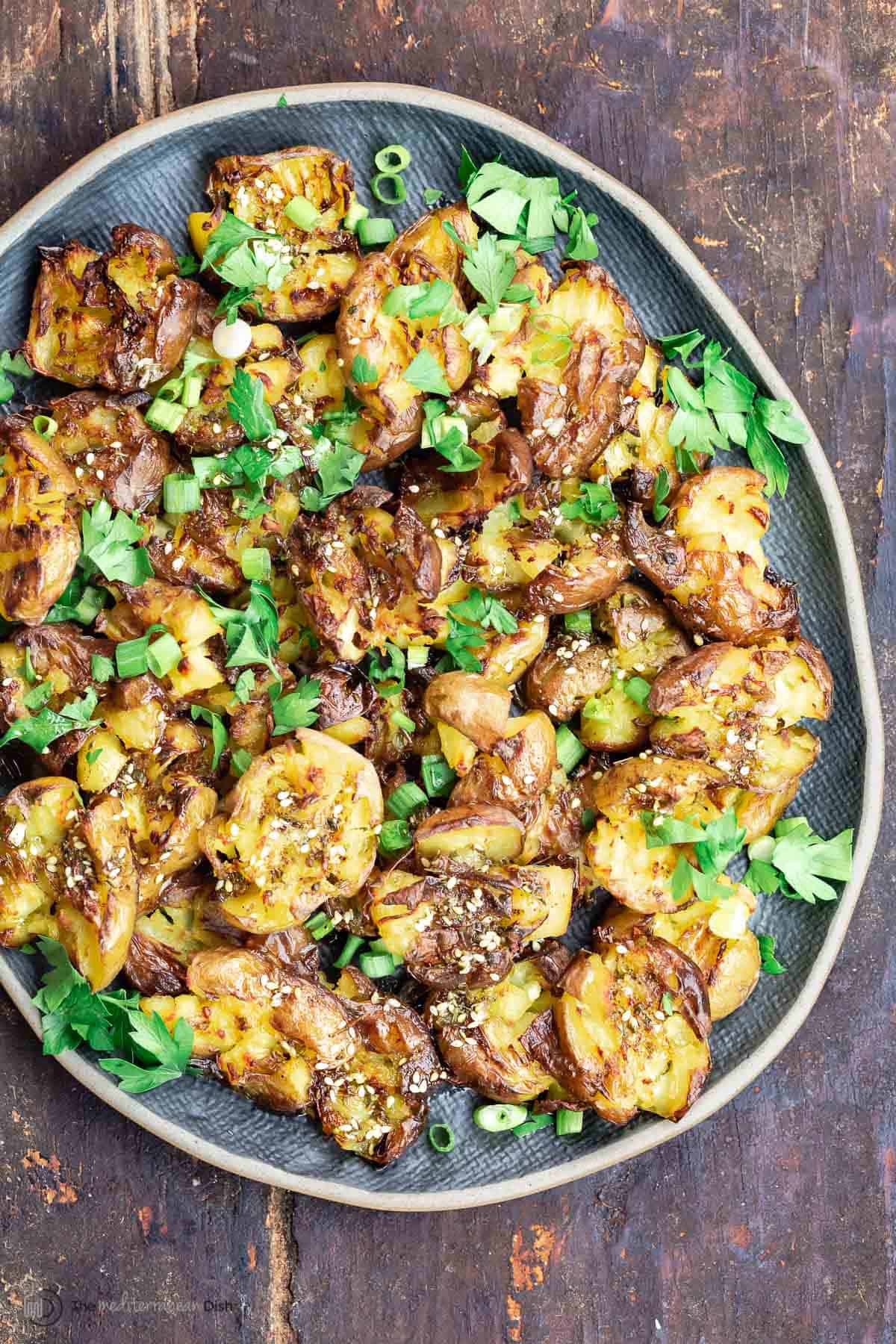 Leftovers and storage
While these smashed potatoes are definitely best enjoyed straight from the oven, leftovers can be stored in the fridge for up to 5 days. Reheat in the oven, keeping in mind that they may become crispier with the extra bake time.
More Easy Potato Recipes:

Browse more sides and small plates. Browse all Mediterranean recipes.
Visit Our Shop.
Crispy Smashed Potatoes with Garlic and Za'atar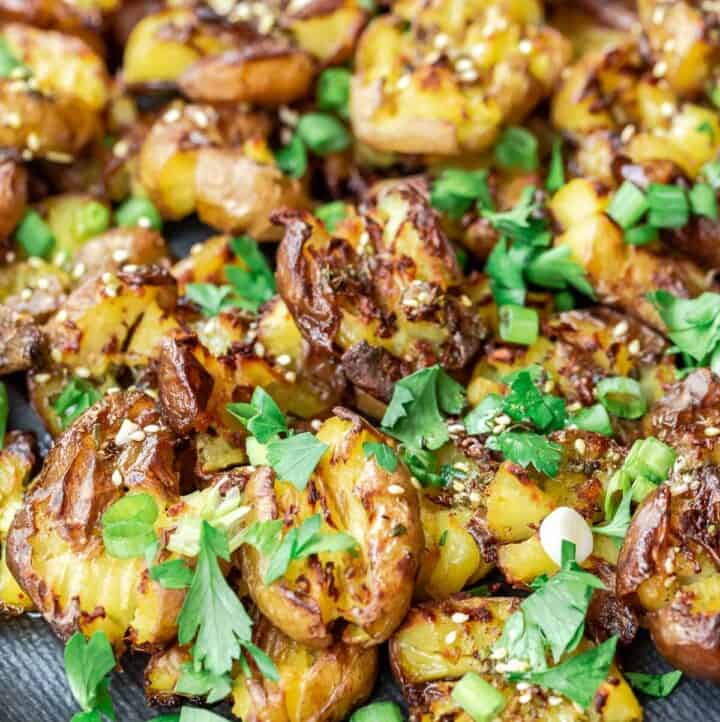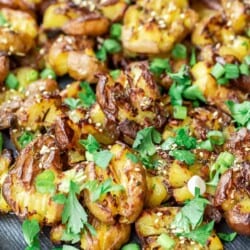 Crisp on the outside and soft and fluffy on the inside, these smashed potatoes are best served immediately with a good drizzle of garlicy olive oil, za'atar and herbs! Serve as a side dish to a protein or as an appetizer with your favorite dipping sauce (I like tzatziki with these)
Ingredients
2

pounds

baby potatoes

(or new potatoes)

kosher salt

½

teaspoon

baking soda

¼

cup

fresh parsley

(chopped)

2

teaspoons

za'atar

(more to your liking)

2

cloves

garlic

(minced)

2

green onions

(small, chopped)
Instructions
Heat the oven to 400 degrees F and adjust a rack in the center.

Boil the potatoes. Bring a large pot of water (about 2 quarts) to a boil. Season generously with kosher salt (about 1 tbsp), add the baking soda and potatoes. Stir. Let the water return to a boil, then reduce to a simmer, and cook until tender and you can easily insert a knife in the potatoes (about 10 to 15 minutes after the water had returned to a boil)

Drain. Using a colander, drain the potatoes and let them sit in the colander for 5 to 10 minutes to dry.

Smash and steam dry the potatoes. Arrange the potatoes on a large, lightly oiled sheet pan. Using the back of a fork or a potato masher, lightly smash the potatoes making sure to keep them in one piece. The thinner you smash them, the crispier they will be. Let the potatoes sit to dry for another 5 to 10 minutes.

Season the potatoes with a pinch of kosher salt and drizzle with extra virgin olive oil, making sure all the potatoes get some of the oil.

Roast. Roast on the middle rack of your heated oven for about 45 to 50 minutes or until the potatoes are golden brown and crispy (the rough edges will be charred).

Make the olive oil garlic sauce. While the potatoes are roasting, in a small mixing bowl, combine ¼ cup extra virgin olive oil with the parsley, za'atar, and garlic.

Season and serve. When the potatoes are ready, remove them from the oven and transfer to a serving platter. Drizzle the olive oil and za'atar mixture all over. And finish with the chopped green onions. Enjoy as soon as possible!
Notes
This recipe makes about 30 baby potatoes. The serving size here is 1 baby potato. For a side dish, budget about 5 baby potatoes per person.
For best crispiest results, allow the potatoes to dry well before raosting (don't skip the steps of draining in a colander and steam-drying on the sheet pan). Make sure the potatoes are all arranged on the sheet pan in one single layer (each potato needs to be touching the hot pan). And don't skimp on the olive oil.
For best flavor, season the potatoes with the olive oil and garlic sauce immediately when they get out of the oven.
Visit our Shop for quality Mediterranean ingredients including olive oils and seasonings used in today's recipe.
Nutrition
Serving:
1
baby potato
Calories:
39.4
kcal
Carbohydrates:
5.3
g
Protein:
0.6
g
Fat:
1.8
g
Saturated Fat:
0.3
g
Monounsaturated Fat:
1.3
g
Sodium:
19.9
mg
Potassium:
129.3
mg
Fiber:
0.7
g
Sugar:
0.3
g
Vitamin A:
51.5
IU
Vitamin C:
6.6
mg
Calcium:
6.3
mg
Iron:
0.4
mg