The best homemade tahini sauce recipe with garlic, lime juice and fresh parsley. A rich and flavor-packed sauce that can transform any sandwich or elevate your dinner.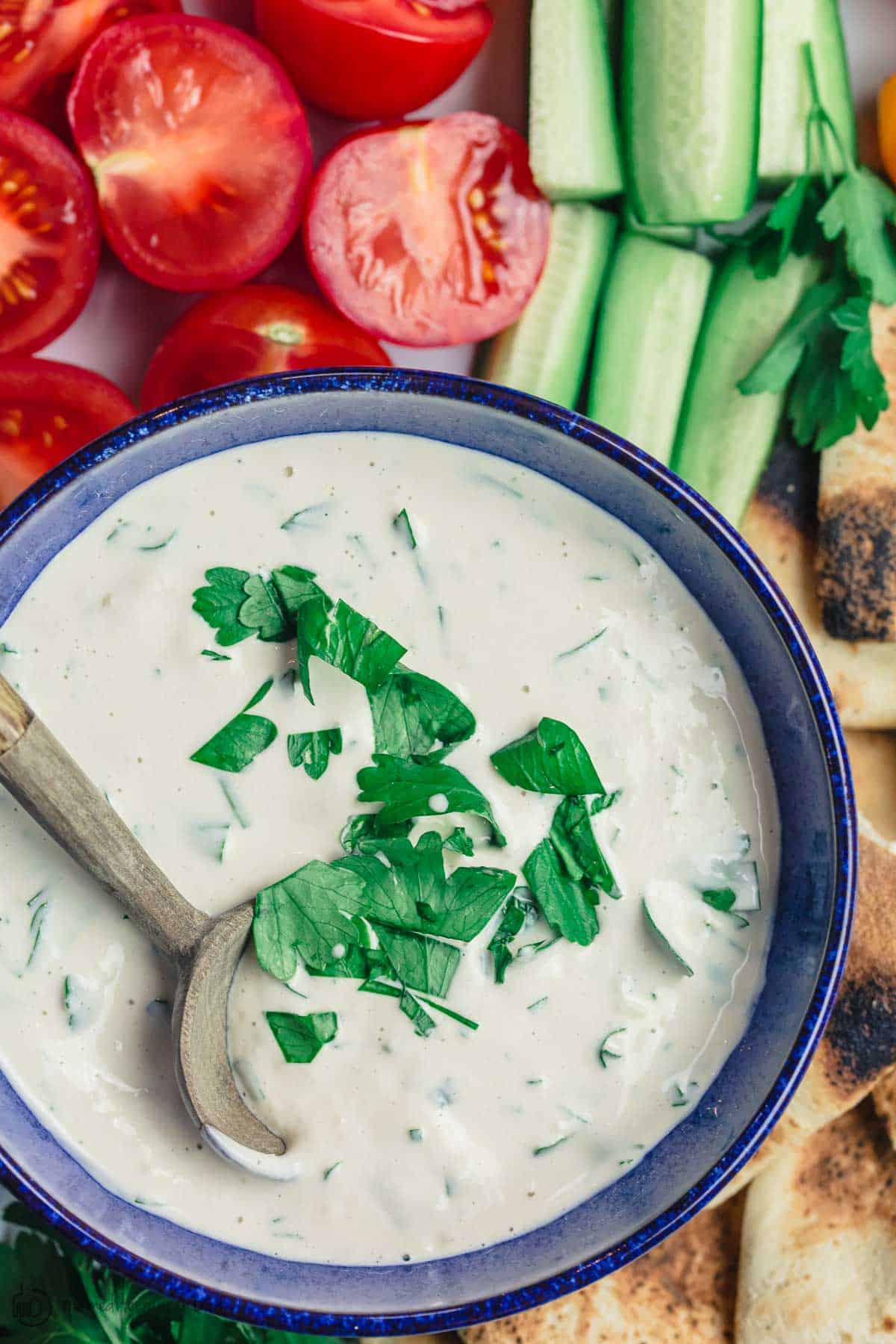 When I was writing about these tahini short bread cookies, I had a moment of panic. I realized we hadn't really covered tahini except as a side note to these chicken kabobs.
What is tahini?
Tahini–a brownish creamy paste made of toasted sesame seeds– is a staple of Middle Eastern and Eastern Mediterranean pantries.
Perhaps the most familiar use of the earthy sesame paste here in the United States is in dips like hummus.  But the classic, and purist application of tahini is in tahini sauce–a versatile condiment that makes a regular appearance on the Middle Eastern table. Think a bowl of basic tahini sauce accompanied with pita bread, for example. As a starter served with other mezze and salads; or even as a topping to your grilled shawarma or to jazz up sandwiches!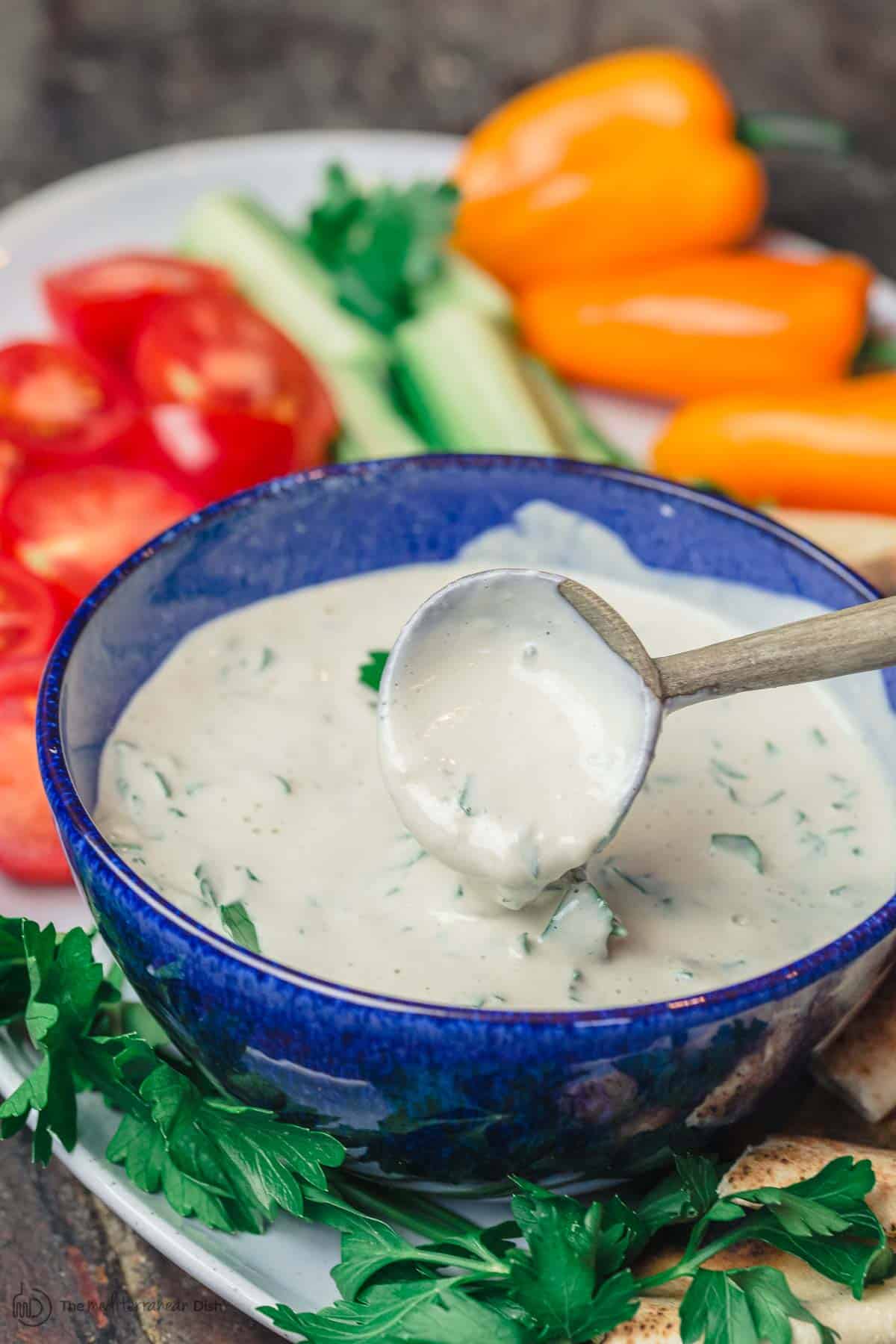 Today's tahini sauce recipe is one often served in Egypt's local restaurants where they call it tahini baqdoonis or tahini with parsley. The garlic and the tang of the lime juice balance out the warm, mellow sesame paste. You can certainly omit the parsley for a more basic tahini sauce, but I think it adds a pop of fresh flavor, waking everything up!  Also, fresh mint or dill can be used in place of the parsley.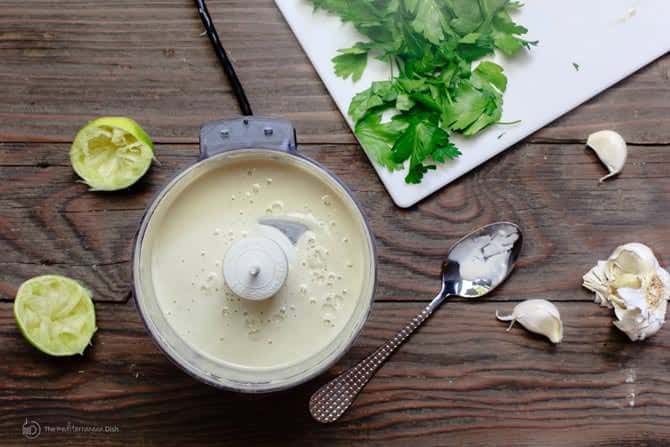 I love to smother fish in this tangy tahini sauce. It's also great drizzled on cauliflower or roasted vegetables. I'm certain we will reference more uses of this tahini sauce recipe soon!
Where to buy tahini paste?
By the way, you can find tahini paste at local health food stores and, of course, at Middle Eastern and Mediterranean grocers'. You can also find a variety of quality, organic tahini paste options here on Amazon.com.
Print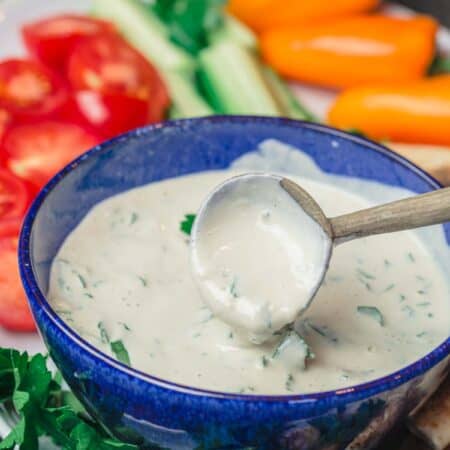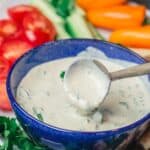 Tahini Sauce Recipe (How to Make Tahini)
---
Description
Tahini, a rich paste from roasted sesame seeds, makes the perfect sauce with a little lemon juice and lots of parsley. Tahini sauce can transform the most humble of sandwiches or meals, and is regularly used in Mediterranean and Middle Eastern cooking.
---
Scale
Ingredients
1

–

2

garlic cloves

1/2 tsp

salt

1/2 cup

tahini paste

1/2 cup

freshly squeezed lime juice

1/4 cup

cold water, more if needed

1 cup

freshly chopped parsley leaves, stems removed first (optional)
---
Instructions
Using a mortar and pastel, crush the garlic cloves with the salt into a paste.
Add the crushed garlic, tahini paste and lime juice to the bowl of a food processor and blend until smooth. It will be thick as it emulsifies. Add a little bit of water and blend again. Continue to add water until you reach the desired consistency. It should have a runny, salad dressing-like consistency. But if you prefer tahini more as a dip, simply use less water.
Transfer the tahini to a serving bowl, and if you like stir in fresh chopped parsley. Enjoy!
---
Notes
Make ahead instructions: sauce can be made ahead. Refrigerates well in a tight-lid container for two to three days.
Category:

Dips and Appetizers

Method:

Mix

Cuisine:

Middle Eastern/Mediterranean
Keywords: Tahini, Tahini Sauce, How to Make Tahini Sauce, Tahini Sauce Recipe
More recipes using tahini paste: 
Spicy Roasted Cauliflower and Tahini Dip
Tahini Short Bread Cookie Recipe
Middle Eastern Stuffed Eggplant