The BEST authentic tahini sauce recipe with garlic, lime juice and fresh parsley! Be sure to watch my video and grab my tips below. This rich, flavor-packed vegan sauce is popular throughout the Mediterranean and the Middle East, and it can elevate any meal from kabobs to falafel sandwiches and everything in between. Perfect served as part of mezze with some warm pita and fresh veggies too!
More Middle Eastern recipes to try: Baba Ghanoush; Mujadara (Lebanese Rice and Lentils); Fattoush Salad; Grilled Lamb Chops; Za'atar Chicken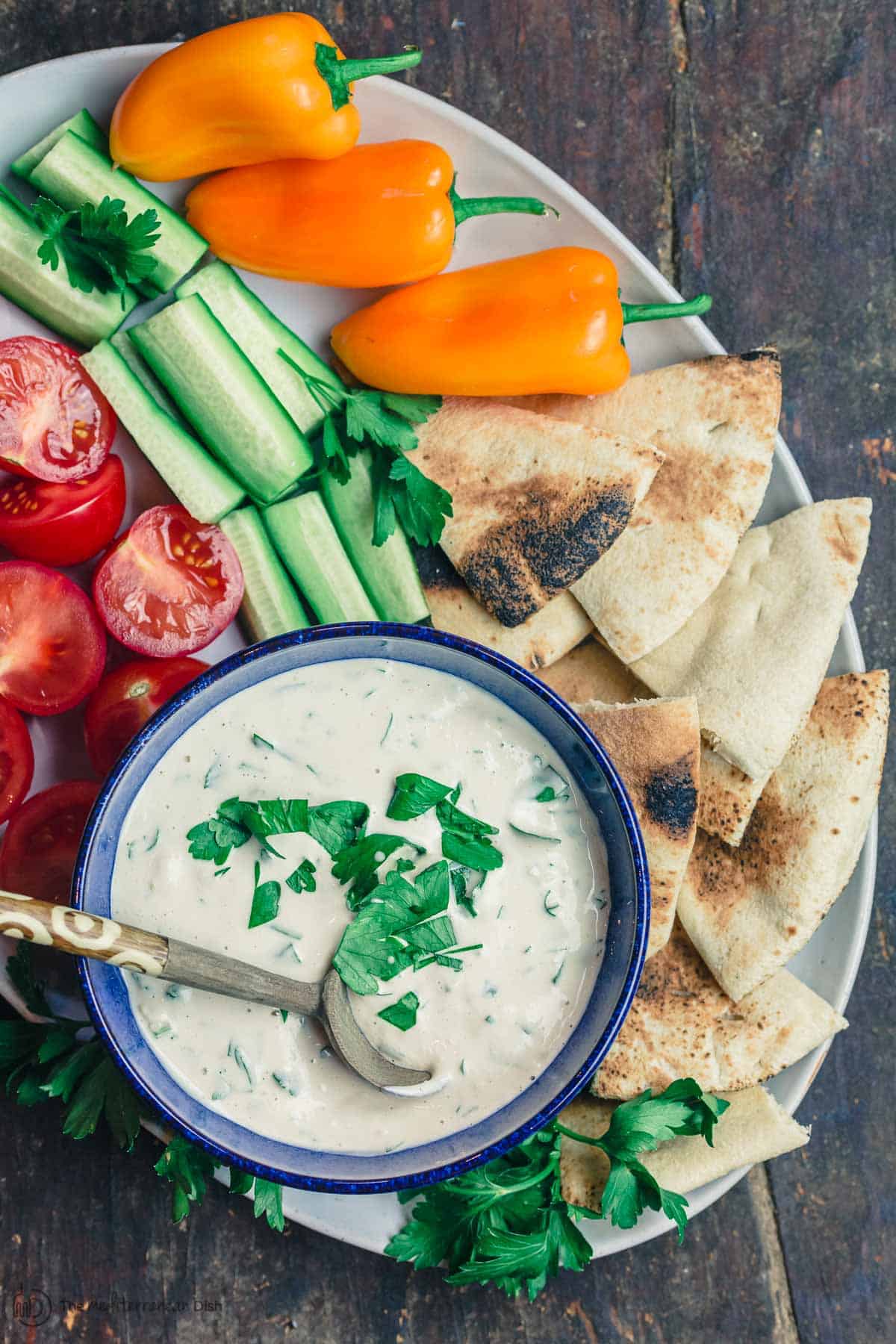 It used to be such an obscure and exotic ingredient to most North American Cooks, but it seems tahini is everywhere now. This humble Middle Eastern staple has made a splash in the health-food market, trendy restaurants, and in home kitchens--adding nutrition, irresistible creaminess and depth to many dishes. And this tahini fanatic does not mind one little bit!
What is tahini? Where to Find It? ETC...
Before we get to today's tahini sauce recipe, let's address a few questions you may have:
- What is tahini? Tahini (pronounced te-hi-ni or ta-hi-na) is a staple of Middle Eastern and Mediterranean Cooking. Tahini is a super creamy, rich vegan paste made by finely grinding roasted sesame seeds until buttery smooth. I've heard some referring to tahini as a "nut butter" of sorts. It's important to remember though that seeds--sesame, sunflower, poppy, and pumpkin--come from plant families that are not closely related to nut-producing trees.
- What does tahini taste like? Good tahini should be rich and luxurious and should taste mildly nutty and savory. Bad tahini paste, on the other hand, could taste bitter and chalky.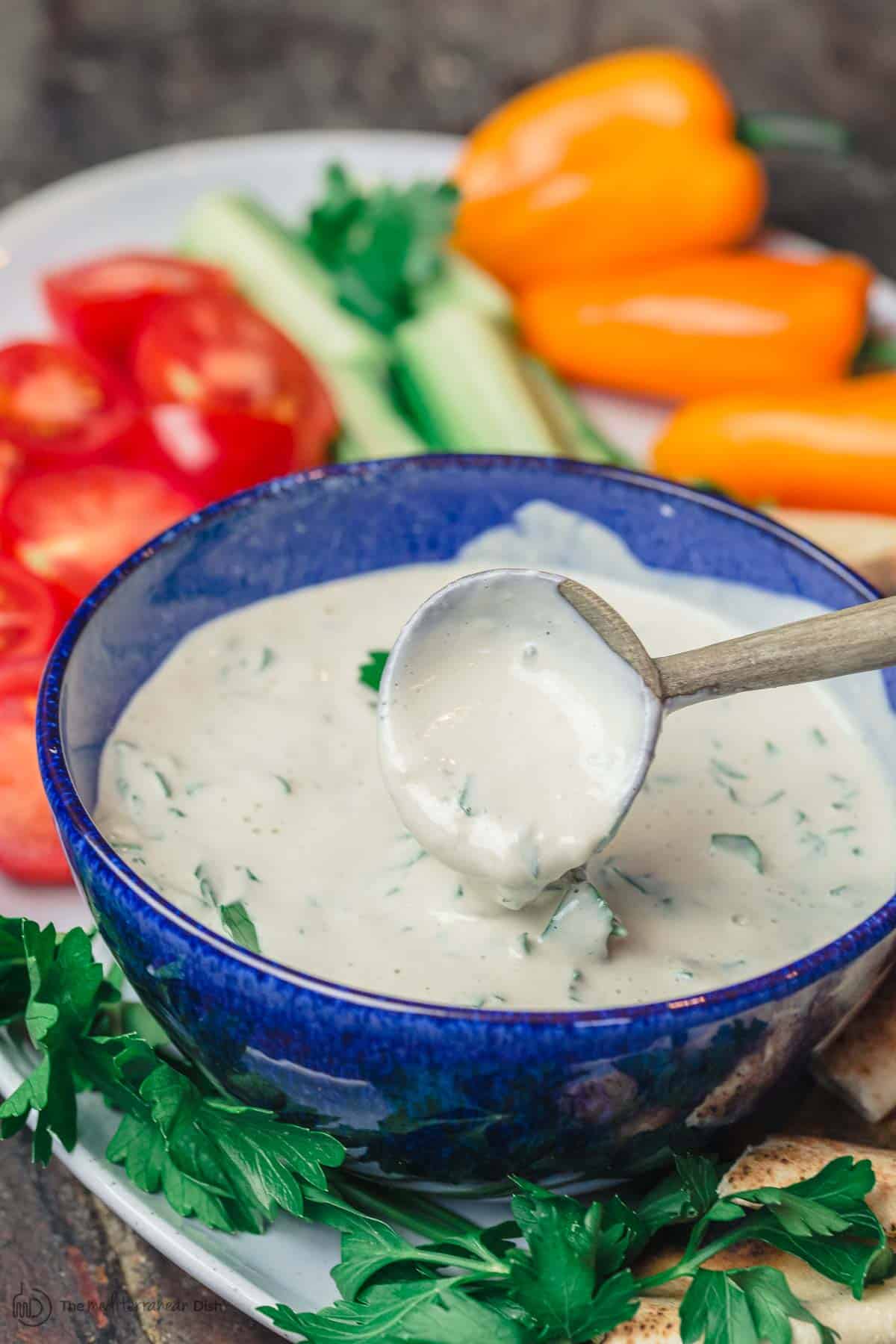 - Where to find tahini paste? I often get questions about where to buy tahini and which brands to use. You can find tahini paste at some specialty Mediterranean and Middle Eastern stores, but why go there when you can purchase it directly from us! We found the best tahini out there and decided to carry it in our store to make it easier for you to purchase. For a full guide to this incredible Mediterranean ingredient, check out our What Is Tahini article.
- How to Use tahini paste? Tahini is used in many things from the ever-popular classic hummus (a must-try!) to sweet desserts like these tahini brownies--quite possibly the best brownies I have ever tasted.
But today, we tackle a super important use of tahini: Tahini Sauce, known at my house as awesome sauce!
BEST Tahini Sauce!
Tahini sauce is popular throughout the Mediterranean and the Middle East. This simple, tangy, and flavor-packed sauce is made by blending rich, nutty tahini paste with citrus (lemon juice or lime juice), fresh garlic, and a little bit of water to aid the consistency.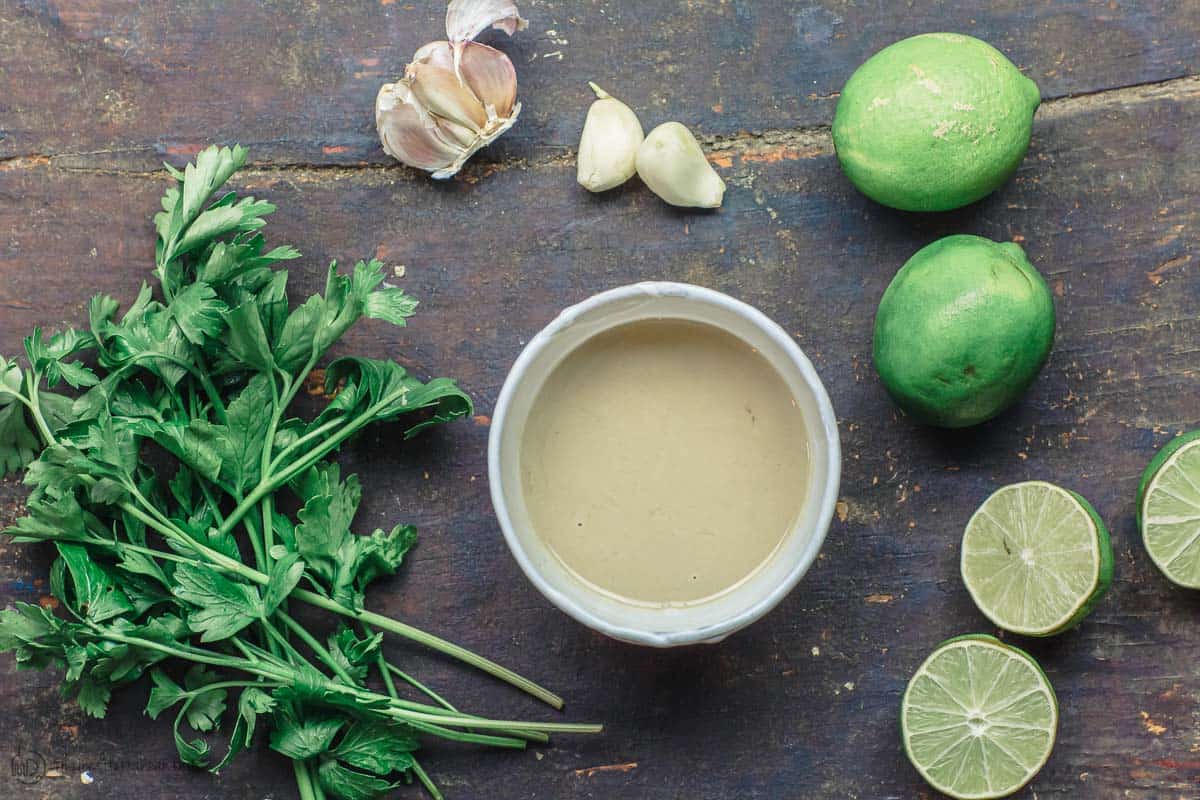 If you like your tahini sauce spicy, add a pinch of cayenne or a little mild aleppo pepper.
In this recipe, I add a large handful of fresh chopped parsley to make a popular Egyptian version of tahini sauce we call tahini bqaudoonis or tahini with parsley. Fresh mint or dill can be used in place of parsley, if you like.
You can make this easy tahini sauce ahead of time and save it in the fridge for 2 to 3 days or so.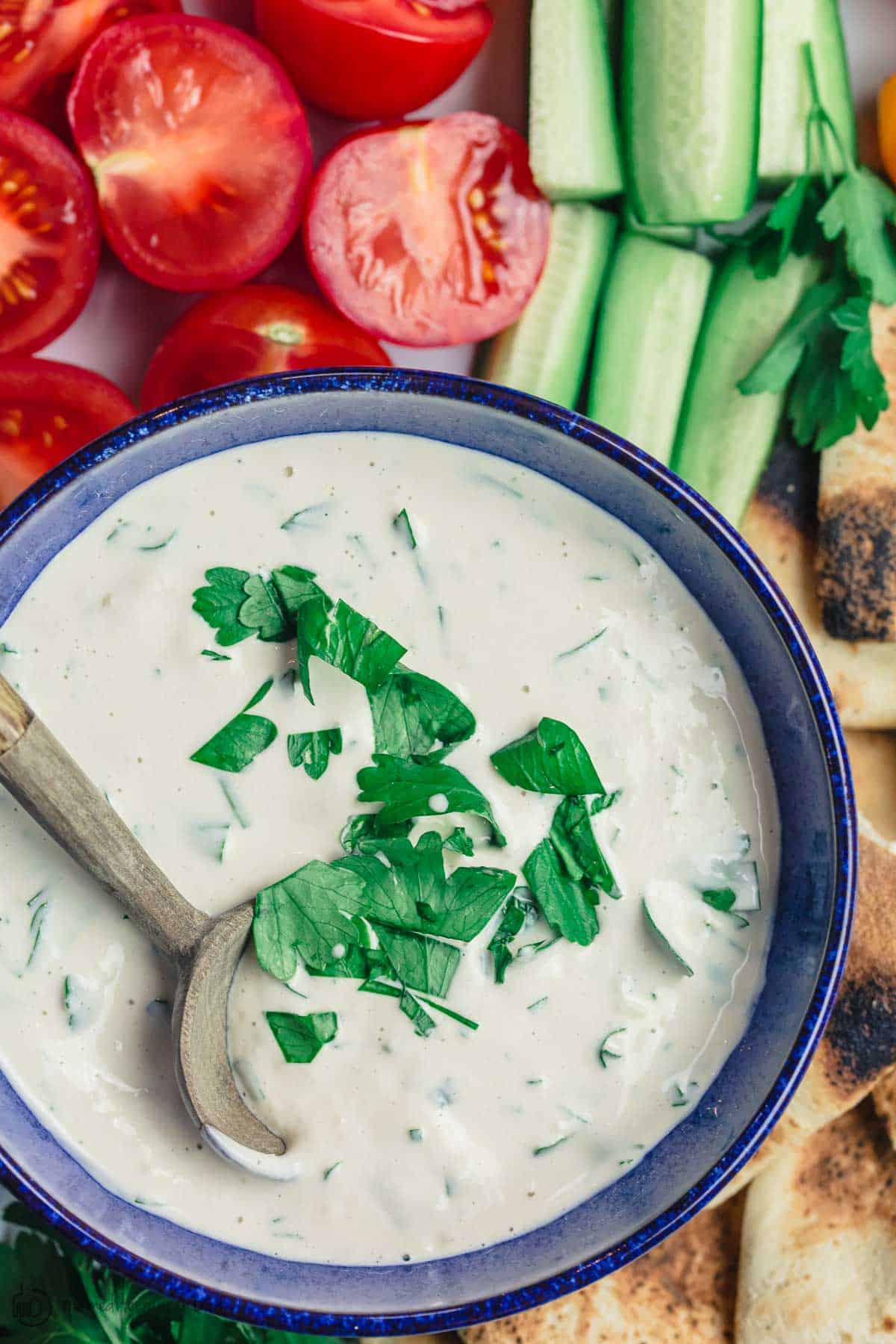 Step-By-Step for this Tahini Sauce Recipe
-Place crushed or minced garlic (with salt), tahini paste, and lime juice (or lemon juice to the bowl of a food processor. Blend.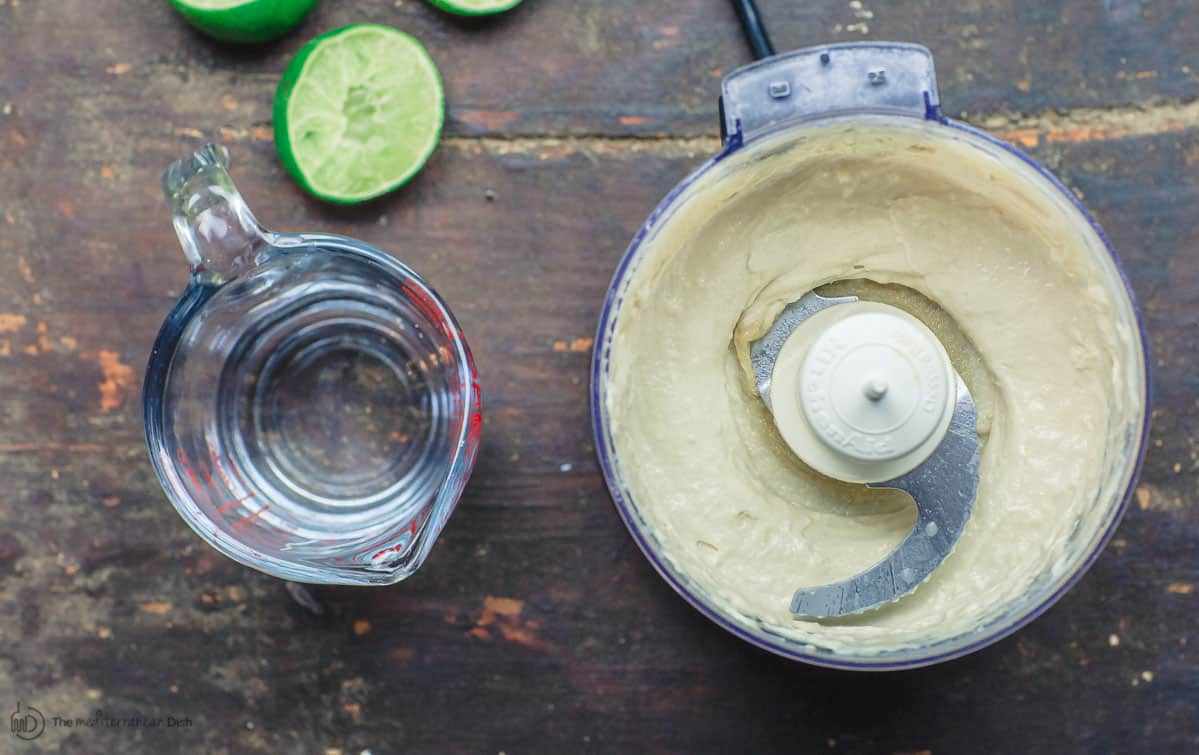 - Tahini sauce will first get thick as it emulsifies. Add a little bit of water at a time and blend again until you reach the desired consistency similar to salad dressing. Taste and adjust salt.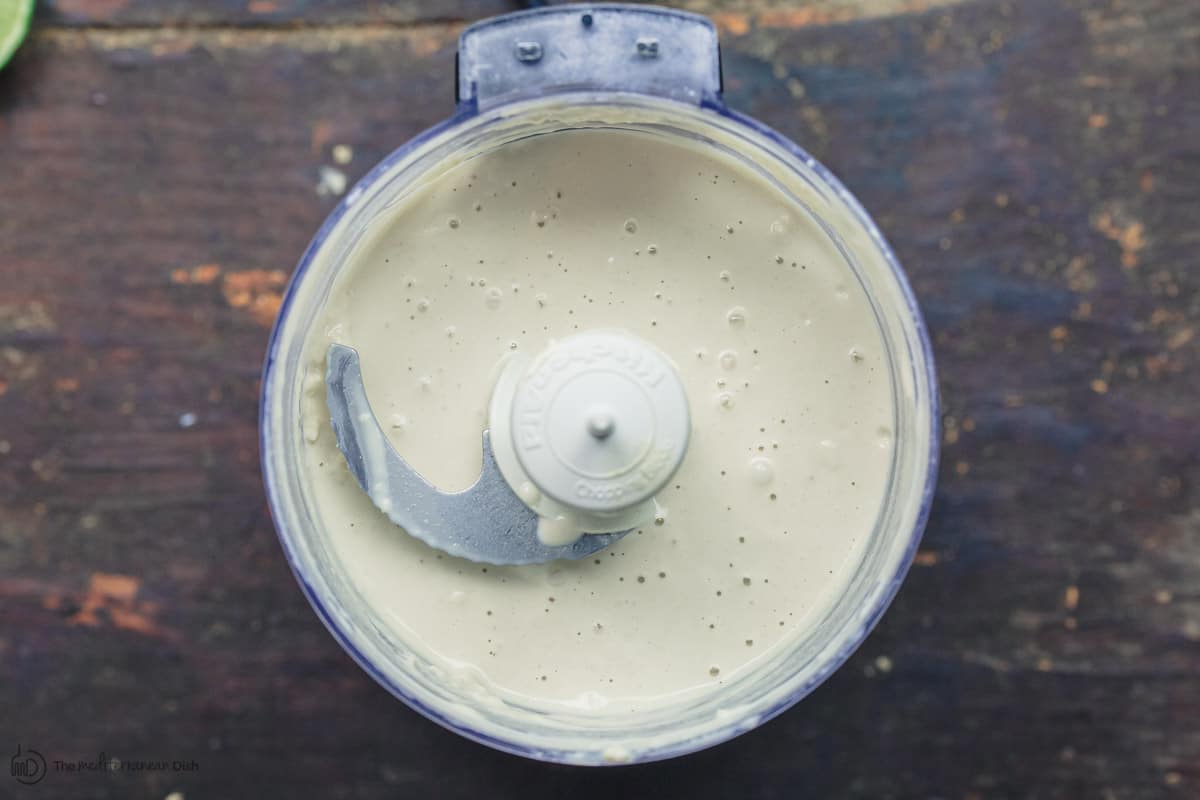 - Transfer to a serving bowl and stir in fresh parsley. Serve with warm pita and a side of veggies (more ideas below!)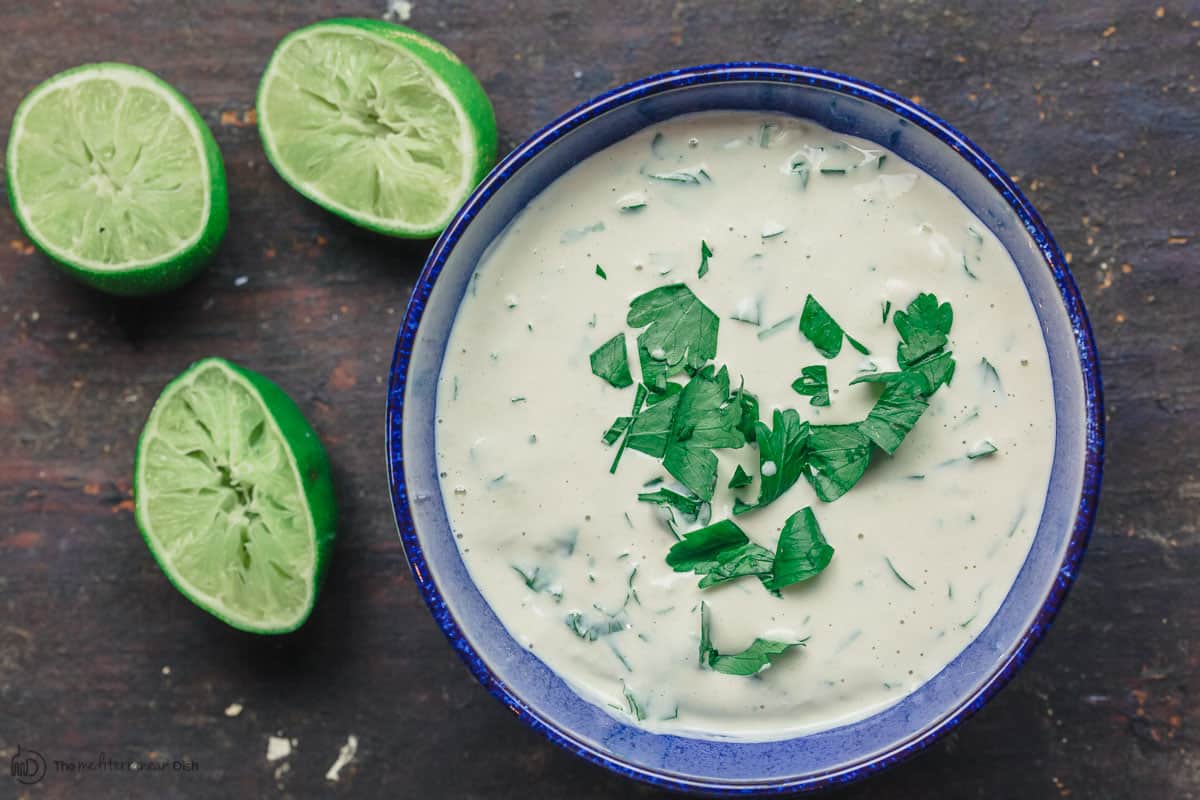 How to Serve Tahini Sauce?
There are so many ways to enjoy tahini sauce. I use it more often than I can count as part of a big mezze table; to jazz up sandwiches like falafel pitas or chicken shawarama; or to drizzle on top of grilled kabobs, roasted fish, or roasted cauliflower. I also serve it just with a few fresh veggies and some warm pita bread. The possibilities are endless!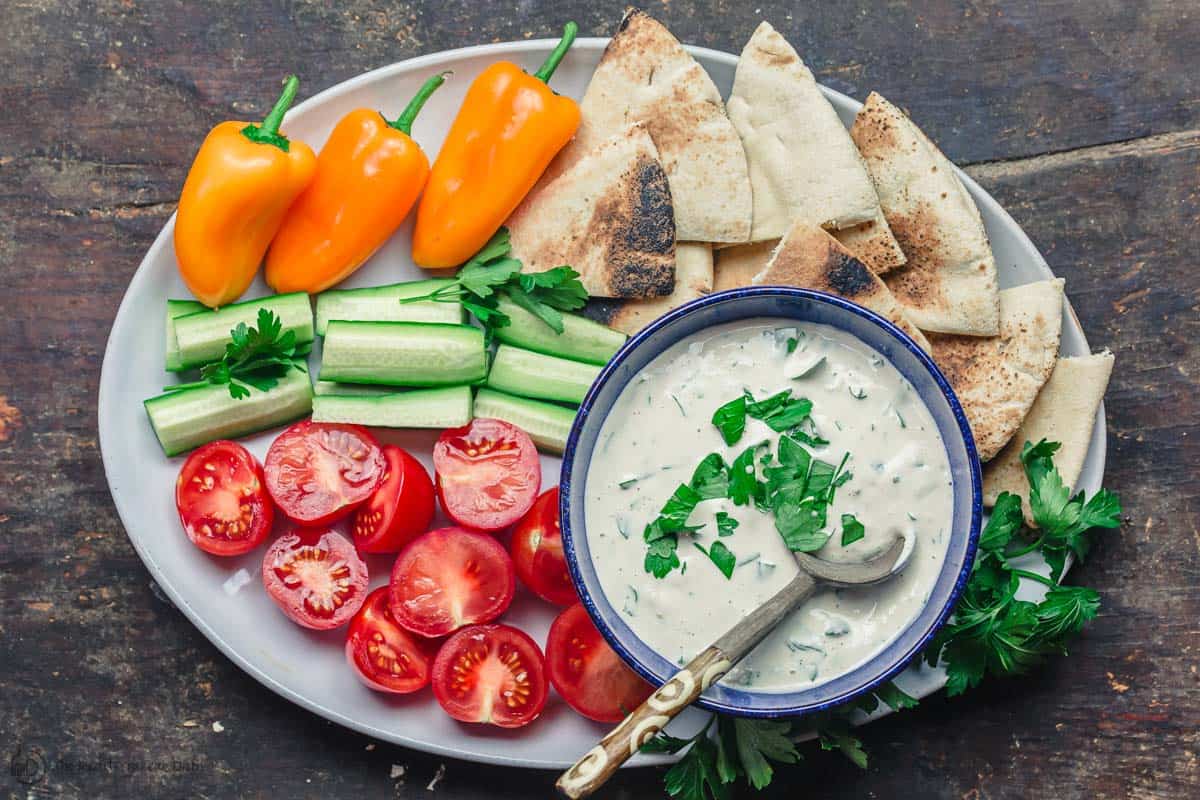 Watch the Video for How To Make Tahini Sauce
NEVER MISS A RECIPE! JOIN MY FREE E-MAIL LIST HERE TO RECEIVE NEW RECIPES, WEEKLY MEDITERRANEAN DINNER PLANS, AND MY FREE E-COOKBOOK WITH 15 HEALTHY RECIPES TO TRY!
SHOP OUR ONLINE STORE FOR QUALITY OLIVE OILS, ALL-NATURAL SPICES AND MORE.
Print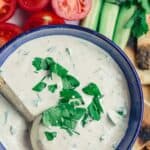 Tahini Sauce Recipe (How to Make Tahini)
---
---
1

-

2

garlic cloves

½ tsp

salt

¾ cup

tahini paste

½ cup

freshly squeezed lime juice (or lemon juice, if you prefer)

¼ cup

cold water, more if needed

1 cup

fresh chopped parsley leaves, stems removed first (optional)
---
Instructions
Using a mortar and pestle, crush the garlic cloves with the salt into a paste (or mince the garlic and season with salt.)
Add the crushed garlic, tahini paste and lime juice to the bowl of a food processor and blend (it will be thick as it emulsifies.) Add a little bit of water and blend again until you reach the desired consistency.
Transfer the tahini to a serving bowl, and if you like stir in fresh chopped parsley. Enjoy!
Notes
Cook's Tip: Use only a little bit of water at a time until you reach your desired consistency. Generally, tahini sauce should have a runny, salad dressing-like consistency. But, if you prefer tahini more as a dip, simply use less water.
Cook's Tip: Double this recipe if you're serving a large number of people, it will be consumed fast!
Make Ahead Tip: You can make this tahini sauce ahead of time, refrigerate in a tight-lid container for 2 to 3 days.
Prep Time:

10 mins

Category:

Dips and Appetizers

Method:

Mix

Cuisine:

Middle Eastern
Keywords: Tahini, Tahini Sauce, How to Make Tahini Sauce
*This post first appeared on The Mediterranean Dish in 2016. It has been recently updated with new information and media for readers' benefit. Enjoy!