This tutorial is all you need to make the BEST Mediterranean Grilled chicken kabobs! Chicken pieces, marinated Mediterranean-style with warm spices, garlic, citrus and excellent extra virgin olive oil, then skewered along with colorful veggies and grilled to perfection. These kabobs are easy to make, and you can grill them outdoors or on an indoor griddle. You can even broil them in the oven.  And I love to serve these kabobs with tahini sauce, warm pita, and some bright salads and sides (lots of ideas below!)
A few simple tips make all the difference, be sure to check those out and watch the video below for how to make this chicken kabob recipe at the bottom of this post.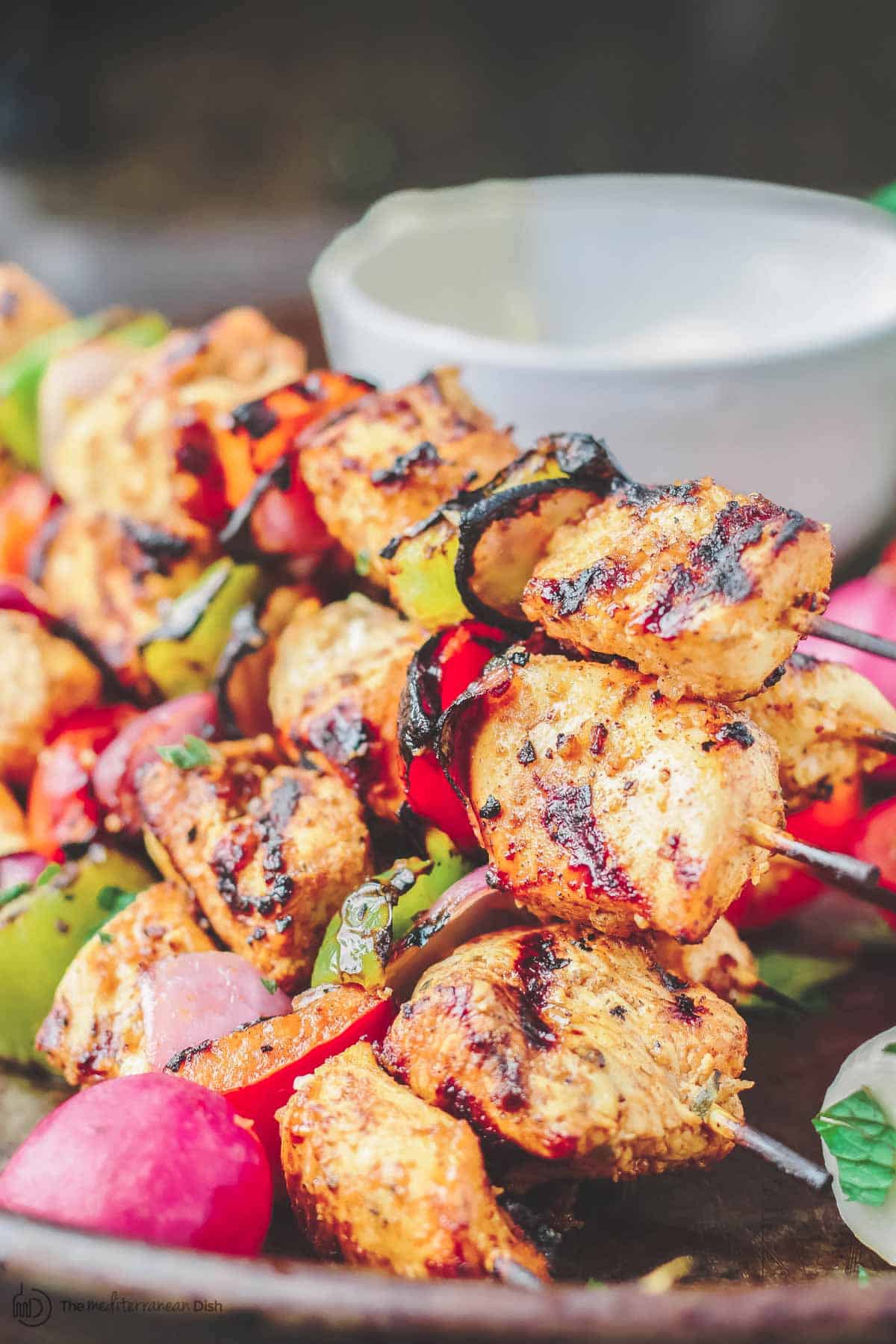 Food on a stick is such a glorious thing, and we do so much of it all summer long around here–from grilled shrimp skewers, to Greek souvlaki, Kofta Kebabs, and even antipasto skewers!
Today's Mediterranean grilled chicken kabobs are on my all-time-favorite list (although, if we're talking Middle Eastern flavors, I'm equally in love with chicken shawarma!)
These chicken kabobs are fairly easy to make. The gist: Well-marinated chicken pieces and colorful veggies, thread into skewers and grilled to perfection. You can grill them on an outdoor grill, indoor griddle, and you can even broil them in your oven. They'll take about 10 to 15 minutes in total, and the are absolutely divine!
For me, a generous drizzle of tahini sauce on top is a must! These chicken kabobs make a great entree, and I can think of a hundred sides and salads to serve along (check out the ideas below!)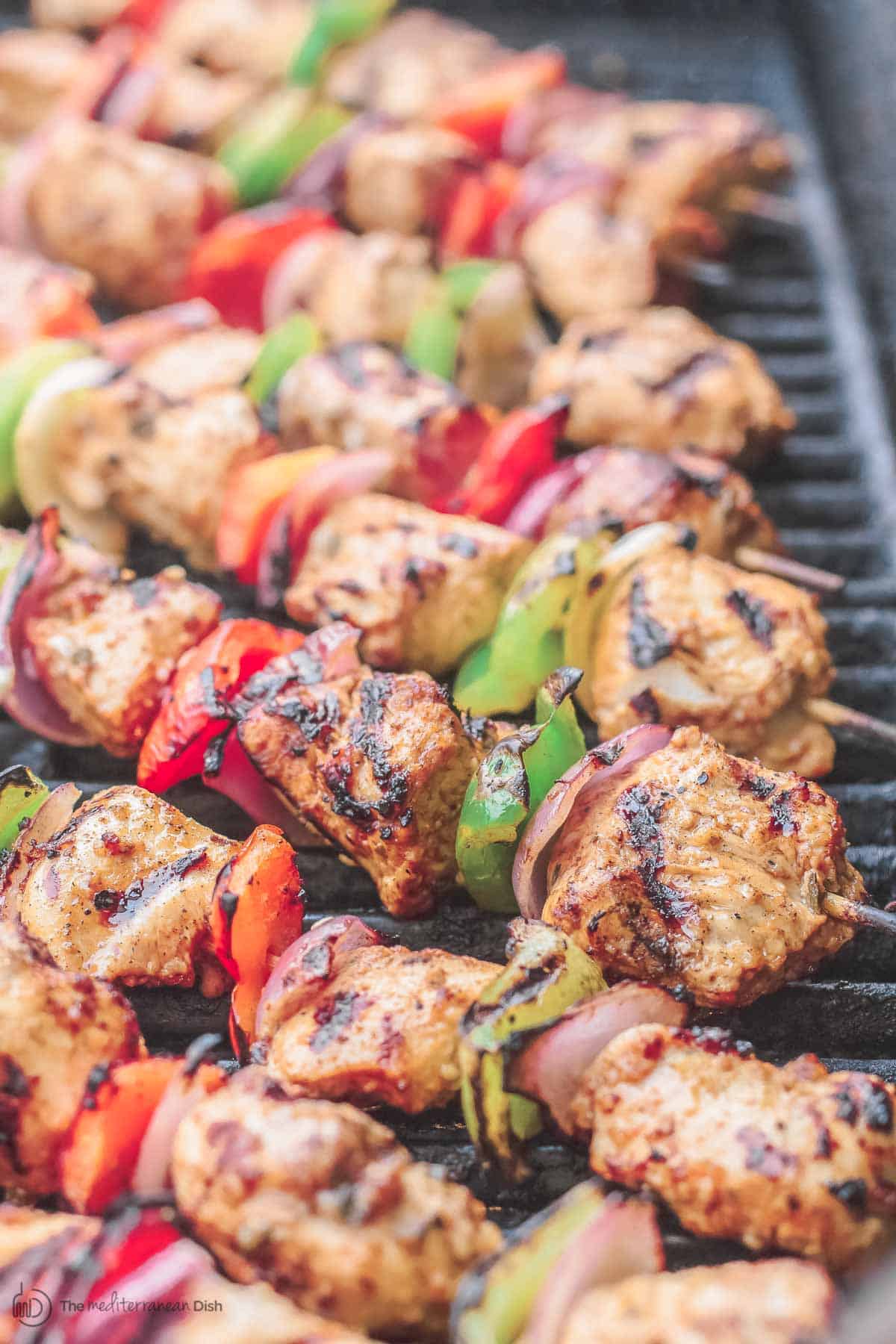 Three Tips for making grilled chicken kabobs
1) What kind of chicken to use? You'll want boneless, skinless chicken but you can use either chicken breasts like I did here or chicken thighs.
2) Cut chicken and veggies into larger pieces, this works better for grilling allowing things to cook well without getting too dry.
3) It's all about the marinade. If you want best flavor and tender, juicy chicken kabobs, allow a bit of time for marinating. Let's talk a bit more about the Mediterranean-style marinade that takes these chicken kabobs to a whole new level of delicious…
Mediterranean Chicken Kabobs Marinade
The secret to the best chicken kabobs is in the marinade. Our marinade combines some bold Mediterranean spices–paprika, thyme, nutmeg, and a hint of green cardamom–with onions, a generous dose of fresh garlic, citrus and Greek extra virgin olive oil. How Mediterranean can you get, right?!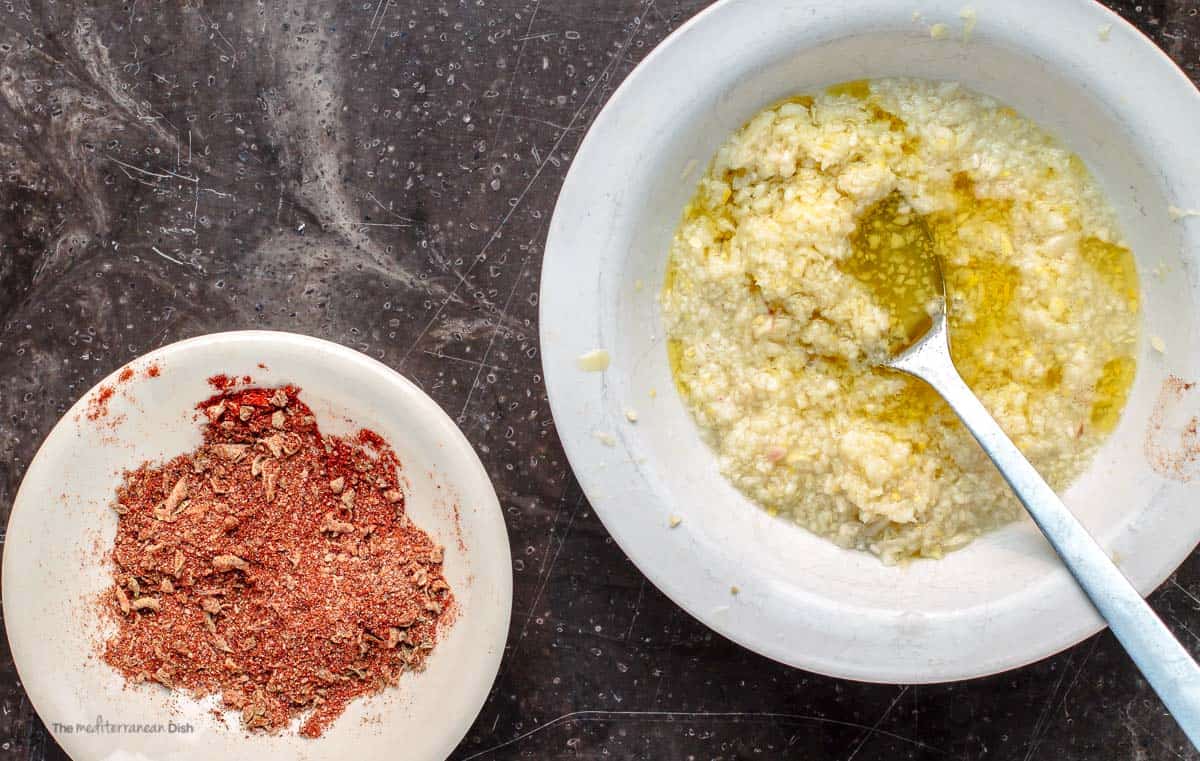 If you have the time, I highly recommend you let the chicken marinate for 2 to 4 hours (up to 8 hours refrigerated.) At the very least for 30 minutes to 1 hour. Time will allow the chicken to soak up as much flavor as possible, it also helps tenderize the chicken, particularly if you are using chicken breast like I am.
Grill, Griddle, or Broiler
Like I said earlier, you can grill these chicken kabobs outdoors, which is my preferred method. You can also grill them on an indoor griddle or grill pan. Whether you grill these outdoors or indoors, you would just need to heat the grill to medium-high (making sure to oil the surface) and grill for anywhere between 10 to 15 minutes, turning the skewers about until the chicken is fully cooked.
You can also broil the chicken kabobs in the oven. When you're ready, preheat the broiler. Lightly oil a sheet pan and arrange the skewers in a single layer on the pan.  Broil for 5 minutes, then flip the skewers and broil on the other side for 5 more minutes.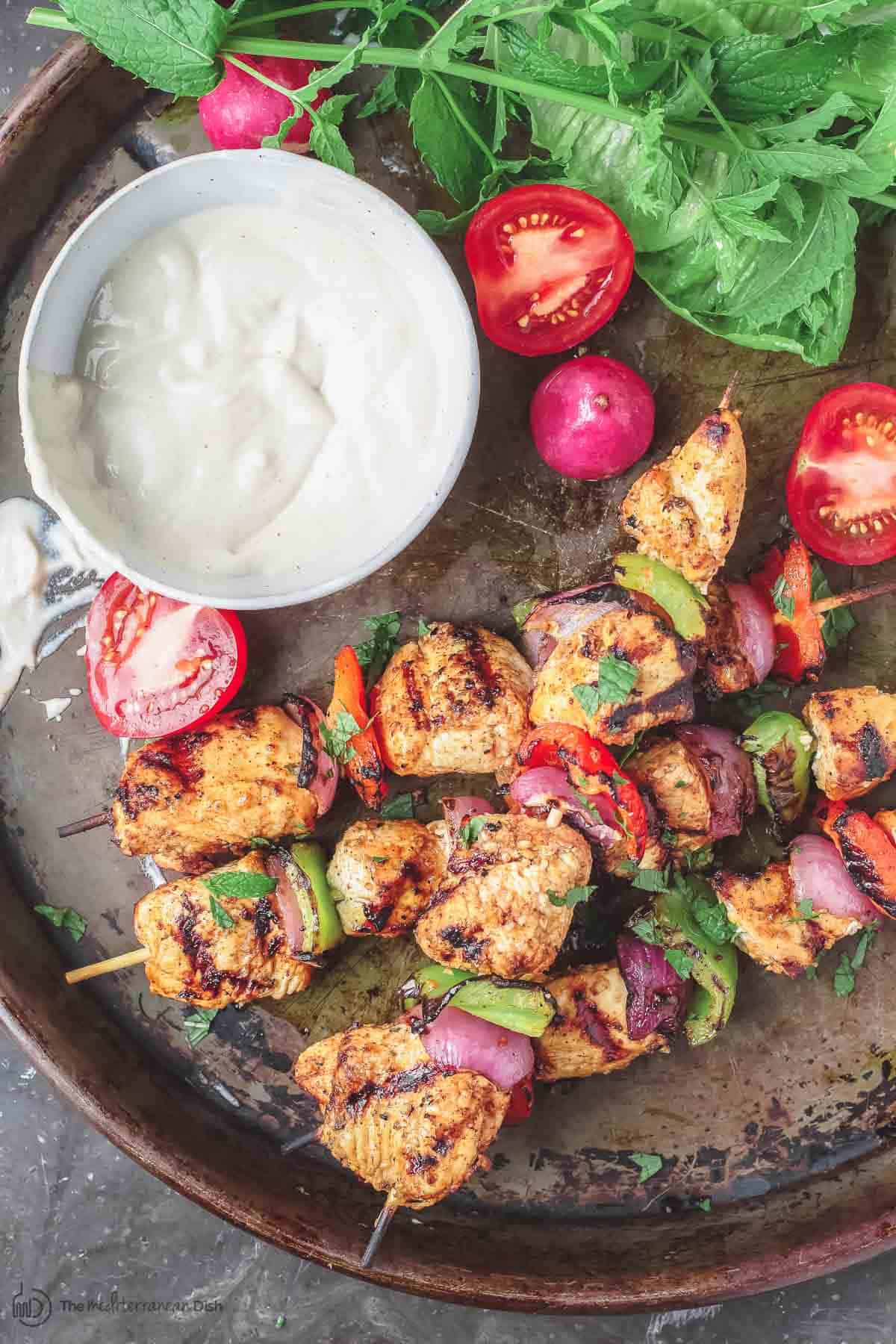 What to serve with these chicken kabobs?
Chicken kabobs are so fun to serve even with just a little tahini and some warm pita bread. But they can totally be the star of a big Mediterranean bbq, and I have a bunch of options for you to serve along:
– Salads: Tabouli, Mediterranean-Style Homemade Salsa; Mediterranean Watermelon Salad; Mediterranean Mustard Potato Salad; Greek bean salad; Chickpea Salad with Za'atar and Eggplant
– Sides: Mediterranean Grilled Vegetables; Asparagus with Mediterranean Salsa; Orzo with Zucchini and Chickpeas
– Dips and Such: Mezze platter;  Creamy Hummus; Baba Ganoush; Roasted Red Pepper Hummus
Watch the Video for How to Make this Chicken Kabob Recipe
NEVER MISS A RECIPE! JOIN MY FREE E-MAIL LIST HERE TO RECEIVE NEW RECIPES, WEEKLY MEDITERRANEAN DINNER PLANS, AND MY FREE E-COOKBOOK WITH 15 HEALTHY RECIPES TO TRY!
SHOP OUR ONLINE STORE FOR QUALITY OLIVE OILS, ALL-NATURAL SPICES AND MORE.
Print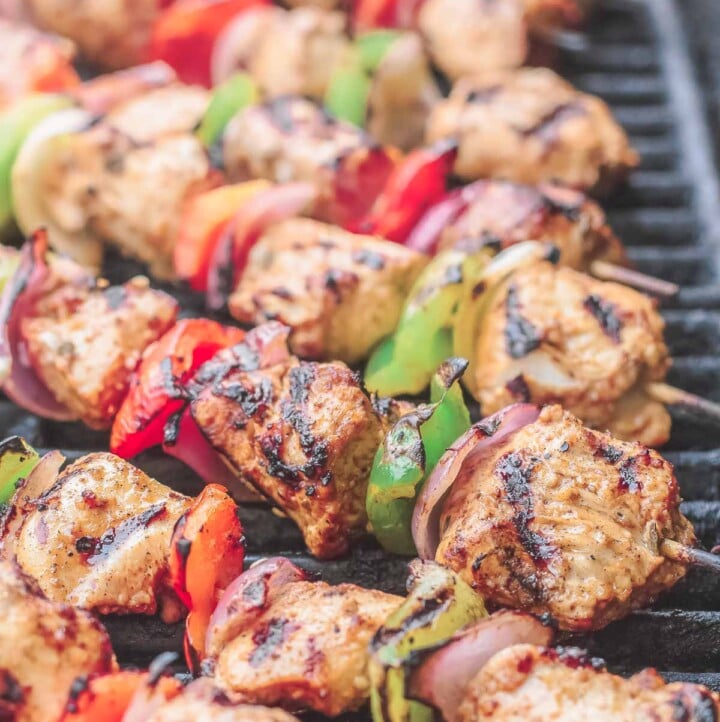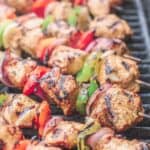 Mediterranean Grilled Chicken Kabobs
---
Author:

Suzy Karadsheh

Prep Time:

30 mins

Cook Time:

12 mins

Total Time:

42 minutes

Yield:

12

skewers

1

x
Description
Mediterranean Grilled chicken kabobs! Chicken pieces, marinated Mediterranean-style with warm spices, garlic, citrus and excellent extra virgin olive oil, then skewered along with colorful veggies and grilled to perfection. You can grill these kabobs or broil them in the oven (broiler instruction in notes.) Be sure to watch the video above! 
---
Scale
Ingredients
For the Chicken Kabobs
2 tsp

Spanish paprika

1 tsp

dried thyme

1 tsp

ground nutmeg

1/4 tsp

ground green cardamom
Salt and pepper

4

–

5

boneless skinless chicken breasts (

2

lb), cut into large cubes (

1

1/2-inch or so in thickness)

1

yellow onion, sliced

1/2 cup

Private Reserve Greek extra virgin olive oil

15

garlic cloves, minced

3

large limes, juice of

1

green bell pepper, cut into 1 1/2-inch pieces

1

red bell, cut into 1 1/2-inch pieces

1

red onion, cut into 1 1/2-inch pieces
For the Tahini
---
Instructions
Make tahini sauce according to this recipe. Store in fridge until ready to use.
In a small bowl, combine the paprika, thyme, nutmeg, cardamom, and a generous pinch of salt and pepper to make the spice mixture portion of the marinade. Generously coat the chicken with the spices.
Place the chicken cubes in a deep dish with the sliced yellow onions and olive oil. Combine the minced garlic and lemon juice and add them to the chicken dish. Toss the chicken making sure it is well coated. Cover and refrigerate for 2-4 hours (Longer if you have the time. See notes)
A few minutes before grilling, thread the chicken cubes, green peppers, red peppers and red onion onto wood skewers (skewers must be soaked in water for at least 1 hour before using).
Lightly oil and heat a gas grill or griddle to medium-high heat. When ready, grill the chicken kobabs  turning occasionally, for 10 to 15 minutes or until chicken is fully cooked and juices run dry (internal temperature should register 165 degrees F.)
Serve chicken kabobs with warm pita and tahini sauce with other bright sides and salads (see suggestions)
---
Notes
Cook's Tip: If you are using bamboo or wooden skewers, be sure to soak them in plenty of water for 1 hour.
Cook's Tips: Allow some time for marinating, 2 to 4 hours or up to 8 hours in the fridge will help the chicken soak up all the wonderful flavors as it tenderizes. But even just 1 hour of marinating will help.
Broiler Instructions: Preheat your oven broiler. Coat a sheet pan with a little oil. Arrange the skewers in a single layer on the sheet pan. Broil for 5 minutes, then flip the skewers and broil on the other side for 5 more minutes.
What to Serve Along? I've shared lots of ideas for dishes that work with chicken kabobs in the post, but here are a few: tabouli, chickpea salad, watermelon salad to grilled vegetables and Greek potatoes
Leftovers? You can refrigerate leftover chicken kabobs in tight-lid containers for 3 days.
Recommended for this Recipe: our Private Reserve Extra Virgin Olive Oil (from organically grown and processed Koroneiki olives!). Our all-natural nutmeg, cardamom, allspice, and paprika.
SAVE! Create your own 6-pack of our all-natural and organic spices; or try the Ultimate Mediterranean Spice Bundle.
Visit The Mediterranean Dish Shop for quality Mediterranean products!
Category:

Entree

Cuisine:

Mediterranean
Keywords: grilled chicken kabobs, mediterranean kabobs, chicken kabob marinade
*This post originally appeared on The Mediterranean Dish in 2015. It has been recently updated with new media and information for reader's benefit.