This recipe is all you need to make the BEST chicken kabobs with cubes of marinated chicken and colorful vegetables, skewered and grilled to perfection. The bold Mediterranean kabob marinade makes all the difference in giving you tender never-dry grilled kabobs that are packed with flavor!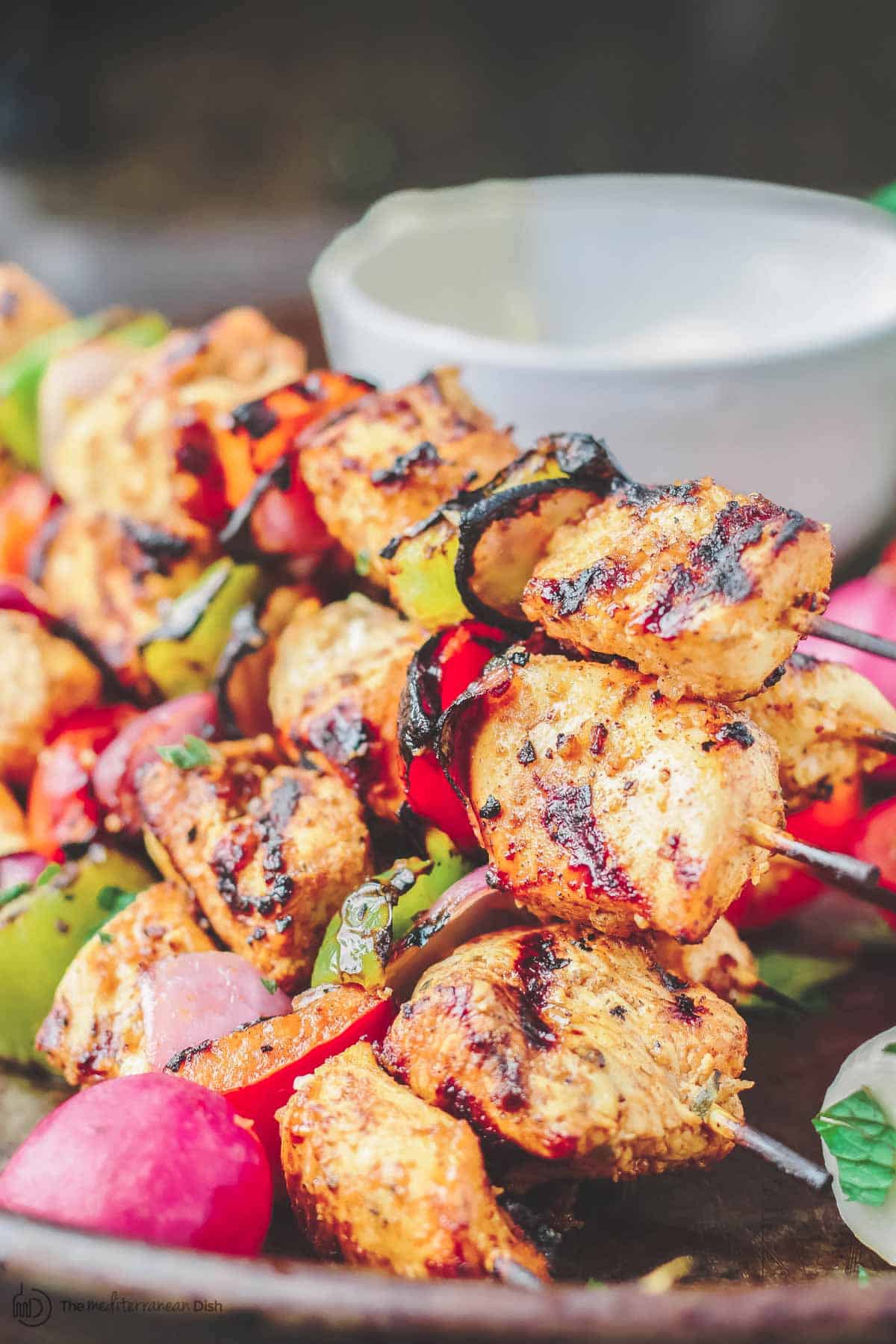 Kabobs all summer long!
During the hot summer months, my go-to meals often involve kabobs (or kebabs) on the grill with simple sides like potato salad or a breezy watermelon salad (the less cooking the better, right?)
Depending on the mood, it can be fish, meat, or something like today's Mediterranean grilled chicken kabobs made with tender marinated chicken pieces and colorful chunks of bell peppers and onions.
I like to marinate the chicken ahead of time to let the marinade do its magic to tenderize and flavor the chicken. And I'll chop up my salad or whip up a hummus or a side of toum garlic sauce earlier, so all that is left to do is to throw the chicken skewers on the grill!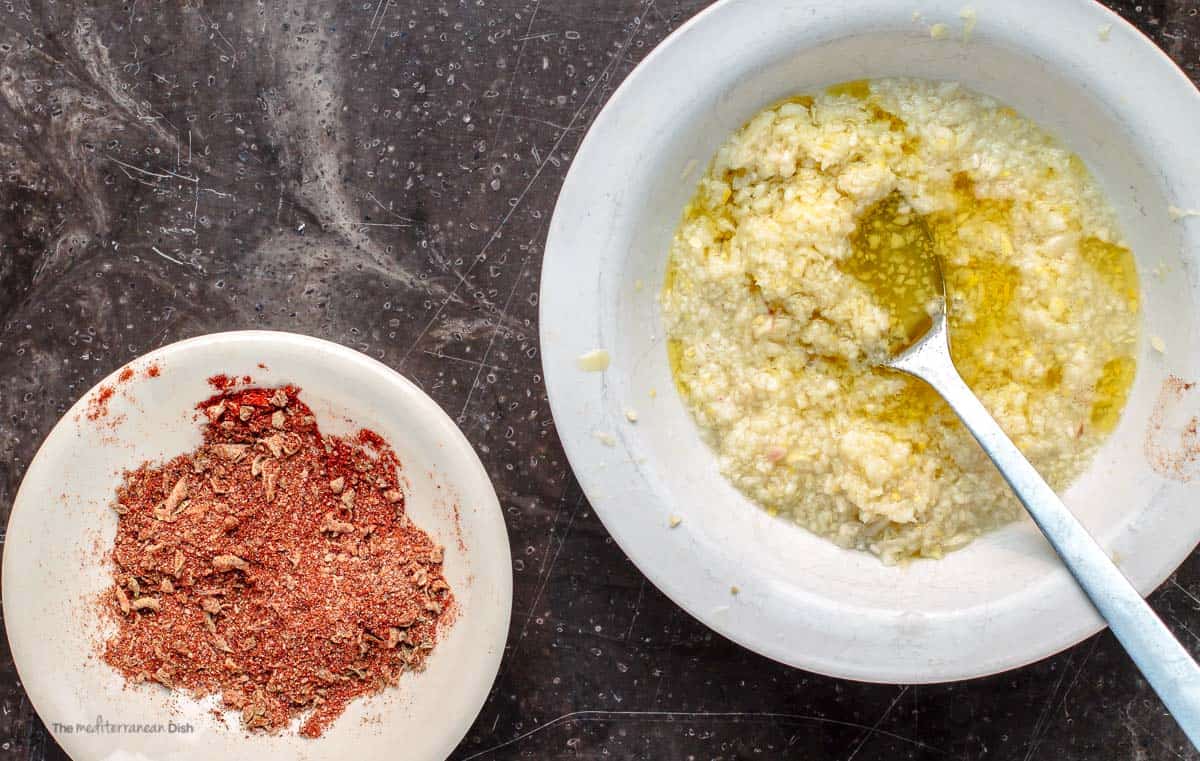 The BEST chicken kabob marinade
The secret to these juicy, flavor-packed chicken kebabs is in the marinade, made with fresh garlic, a few bold Mediterranean spices, citrus, and good olive oil. Here is what you need to make the best chicken kabob marinade:
Lemon juice: Juice of 3 lemons or lime to add a bright zesty flavor and balance the earthy spices.
Extra virgin olive oil: EVOO helps to transfer fat-soluble flavors into the chicken. Some flavors will not penetrate the meat without the help of a cooking fat. Be sure to use a good amount to balance the citrus.
Garlic: You'll need 15 cloves of garlic, minced. Yes, I said 15. You don't want to skimp on garlicky flavor here.
Spices: Spanish paprika, ground nutmeg, ground cardamom, and dried thyme. The herbs and spices add warming, earthy flavor and deep color.
Vegetables to use in chicken skewers or kebabs
There are loads of options for what vegetables to use in kabobs, just be sure to cut them into similar size pieces (1 ½-inch pieces is ideal). Here are the vegetables I used in my chicken skewers:
Red bell pepper
Green bell pepper
Red onion
But there are many other vegetables that will work in your kabobs. Here are a few more ideas: Some different options are:
Squash or zucchini - Cut into cubes
Mushrooms - White button mushrooms or baby bellas work well
Grape tomatoes - Keep them whole
Brussels sprouts - It helps to microwave Brussels sprouts for a few minutes before grilling to help soften them.
Sauce and topping ideas
With all the flavor going on in these grilled chicken kabobs, sauces and toppings are optional, but they are a great way to add complexity and even more color! Here are some ideas:
Sauces: Tahini sauce, whipped toum, and tzatziki are perfect if you want a creamy element for your chicken skewers.
Dips: If you like to dip your kabobs, try a humble plate of hummus or creamy whipped feta.
Fresh herbs: Chop up some fresh parsley or cilantro and sprinkle them over your kabobs for a peppery bite and some vivid color.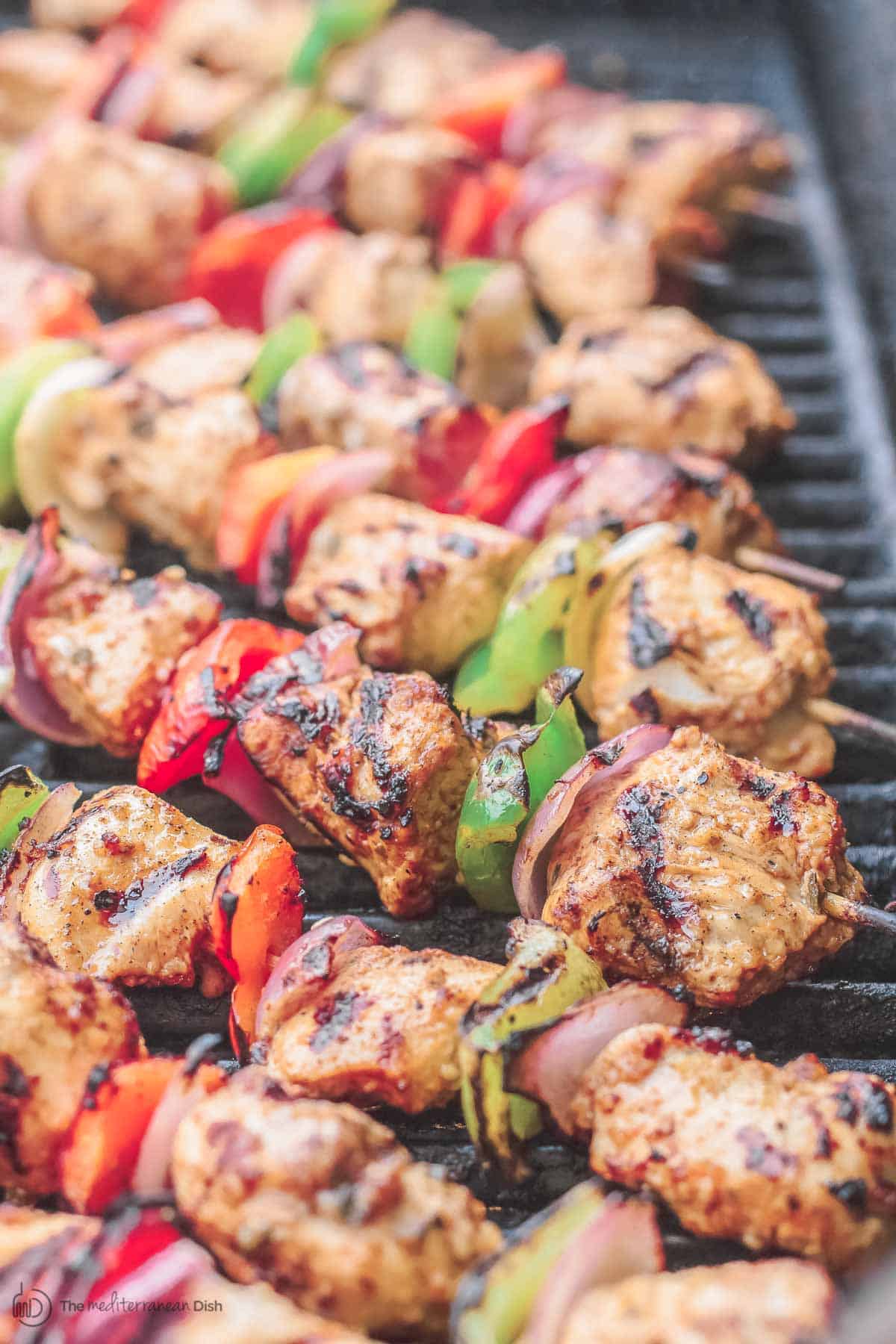 How long to marinate chicken?
If you have the time, I recommend you let the chicken marinate for 2 to 4 hours in the fridge. Time will allow the chicken to soak up as much flavor as possible, it will also helps tenderize the chicken. If you're too short on time, though, leave the chicken in the marinade for about 30 minutes or so while you heat up your grill or work on the fixings.
How to make chicken kabobs
Making amazing grilled chicken kebabs at home is as easy as marinating, skewering the chicken and vegetables, then grilling them for about 10 minutes or so. Here is the step-by-step for how to make these kabobs (the recipe with ingredient list is just below):
Make the chicken kabob marinade. In a small bowl, combine 2 teaspoons paprika, 1 teaspoon nutmeg, ¼ teaspoon cardamom, 1 teaspoon dried thyme, and a big pinch of kosher salt and pepper. Set aside for now. In another bowl, combine 15 cloves minced garlic, and the juice of 3 lemons. Set aside.
Marinate the chicken. Place the cubed chicken breasts in a large bowl and sprinkle the spice mixture on top. Toss until the chicken is well coated. Then add 1 sliced yellow onion, the lemon juice and garlic mixture, and ½ cup extra virgin olive oil. Give it a good mix, cover, and refrigerate for 2 to 4 hours. You can either leave the chicken and onions in the bowl, or transfer to a deep dish.



Soak the skewers (if using wooden skewers). About an hour before you're ready to make your chicken kabobs, soak the skewers in water. This will prevent them from catching fire on the grill. They'll need an hour to soak.
Prepare the vegetables. Cut 1 green pepper, 1 red pepper, and 1 red onion into 1 ½-inch pieces. (Don't forget to core the bell peppers.)



Assemble the chicken kebabs. A few minutes before you're ready to grill, it's time to put the kabobs together! Thread the chicken (1 cube), followed by 1 piece of bell pepper and 1 piece of onion. Follow this pattern of chicken and vegetables until the skewer is full, with about an inch left on either end. Don't crowd the skewer too much so that heat can move around all the skewer elements freely.



Grill the chicken skewers. Lightly oil a gas grill or griddle and heat to medium-high heat. Arrange the skewers on the grill and cook for 10 to 12 minutes (turning occasionally), or until the chicken is fully cooked. (Cooked chicken will have an internal temperature of 165 degrees F.)
Can you cook them in the oven instead?
If you don't have a grill or griddle, or the weather isn't great for cooking outside, you can even broil chicken skewers in the oven!
Start by marinating the chicken and threading it, along with your chosen vegetables, onto metal skewers. Lightly oil a sheet pan and arrange the skewers in a single layer on the pan. Broil for 5 minutes, then flip the skewers and broil on the other side for 5 more minutes or longer until the chicken is fully cooked through (internal temperature should be at 165 degrees F).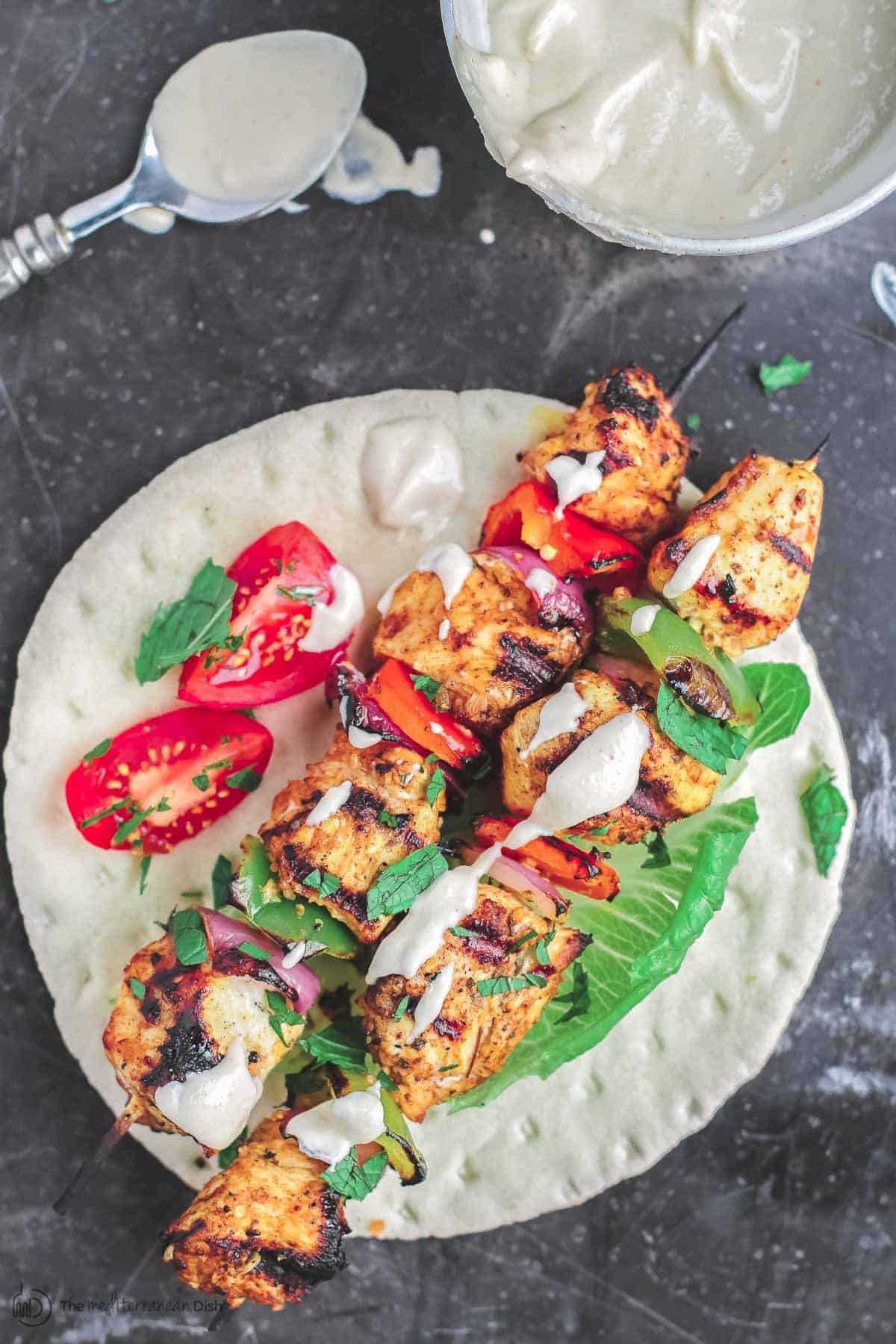 Why are my kebabs dry?
A common complaint when cooking chicken breast on the grill is that they tend to get dry, particularly when cut into small chunks for something like chicken skewers. Here are a few tips to help you avoid dry kebabs:
Cut the chicken to the proper size. Typically, for chicken breasts, 1 ½-inch pieces work best. Try to cut them all to the same size for even cooking. If you go for larger cubes, they will take longer to cook and may give you burnt exteriors and a raw center.
Marinate! Marinate! Especially if you're using chicken breast, giving it a bit of time in the tasty chicken kabob marinade infuses it with flavor while working to tenderize it. Ideally 2 to 4 hours, but even if you have just 30 minutes, that should help.
Don't thread the meat and vegetables too tightly on the skewer! Allow a little bit of room between the chicken and vegetables so that the heat can move about freely to cook everything more evenly.
What to serve with chicken kabobs?
These Mediterranean grilled chicken kabobs have your protein and veggies covered, so you can keep the sides simple! At my house, warm pita and hummus are essential with kebabs, but here are some salad and side options you can serve along
Leftovers and storage
Remove leftovers from the skewers and store them in an airtight container in the fridge for up to 4 days. To reheat, spread the chicken and vegetables on a baking sheet and warm in the oven at 350 degrees F until heated through.
You can also freeze grilled chicken kabobs for up to 3 months; remember to remove the skewers first.
More kabob recipes
Browse all Mediterranean recipes

Visit Our Shop
BEST Grilled Chicken Kabobs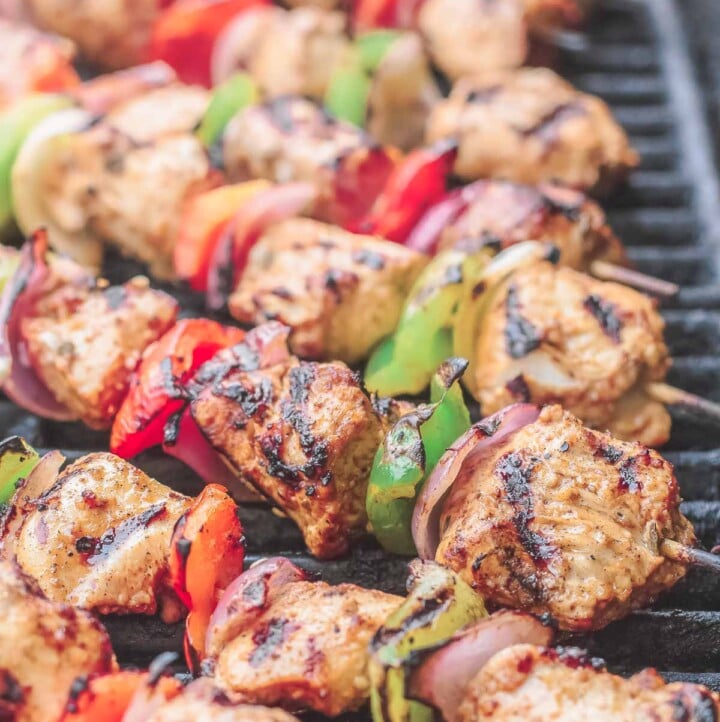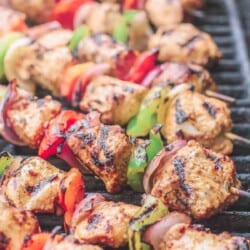 Juicy, tender, flavor-packed chicken kabobs! Chicken pieces, marinated Mediterranean-style with warm spices, garlic, citrus and extra virgin olive oil, then skewered along with colorful veggies and grilled to perfection. If you can, allow the chicken to sit in the marinade (refrigerated) for 2 to 4 hours. But if you're short on time, even 30 minutes will work wonders! You can also cook these chicken skewers in the oven (I share all the instructions!).
Equipment
12 skewers,

wooden, bamboo, or metal
Ingredients
For the Chicken Kabobs
2

teaspoon

Spanish paprika

1

teaspoon

dried thyme

1

teaspoon

ground nutmeg

¼

teaspoon

ground green cardamom

Salt and pepper

2

lb

boneless skinless chicken breasts,

cut into large cubes (1 ½-inch or so in thickness)

1

yellow onion,

sliced

½

cup

Extra virgin olive oil

15

garlic cloves,

minced

3

lemons or limes,

juice of

1

green bell pepper,

cut into 1 ½-inch pieces

1

red bell pepper,

cut into 1 ½-inch pieces

1

red onion,

cut into 1 ½-inch pieces
For the Tahini
Instructions
Make tahini sauce according to this recipe Store in fridge until ready to use.

In a small bowl, combine the paprika, thyme, nutmeg,cardamom, and a generous pinch of salt and pepper. Generously coat the chicken with the spices.

Place the chicken cubes in a deep dish with the sliced yellow onions. Combine the minced garlic and lemon juice and add them to the chicken dish. Add a generous drizzle of extra virgin olive oil. Toss the chicken to make sure it's well-coated. Cover and refrigerate for 2 to 4 hours (if you don't have the time to marinate, allow the chicken about 30 minutes or so at room temperature before grilling).

A few minutes before grilling, thread the chicken cubes, green peppers, red peppers and red onion onto wood skewers (skewers must be soaked in water for at least 1 hour before using).

Lightly oil and heat a gas grill or griddle to medium-high heat. When ready, grill the chicken kabobs, turning occasionally, for 10 to 12 minutes or until chicken is fully cooked and juices run dry (internal temperature should register 165 degrees F.)

Serve chicken kabobs with warm pita and tahini sauce with other bright sides and salads (see suggestions)
Notes
If you are using bamboo or wooden skewers, be sure to soak them in plenty of water for 1 hour.
Allow some time for marinating, 2 to 4 hours in the fridge will help the chicken soak up all the wonderful flavors as it tenderizes. But even just 30 minutes of marinating will help.
Oven instructions: Preheat your oven broiler. Coat a sheet pan with a little oil. Arrange the skewers in a single layer on the sheet pan. Broil for 5 minutes, then flip the skewers and broil on the other side for 5 more minutes.
Leftovers? You can refrigerate leftover chicken kabobs in tight-lid containers for 3 days.
Visit Our Shop for quality Mediterranean ingredients including extra virgin olive oils and spices (like the cardamom, nutmeg, and paprika used in this recipe).
Nutrition
Calories:
147.8
kcal
Carbohydrates:
6.1
g
Protein:
8.8
g
Fat:
10.2
g
Saturated Fat:
1.5
g
Cholesterol:
24.1
mg
Potassium:
244.1
mg
Fiber:
1.4
g
Vitamin A:
531
IU
Vitamin C:
28.5
mg
Calcium:
21
mg
Iron:
0.6
mg
*This post originally appeared on The Mediterranean Dish in 2015. It has been recently updated with new media and information for reader's benefit.