An all-star Mediterranean salad recipe that is quick and refreshing featuring three simple key ingredients: cucumbers, tomatoes, and parsley in a light lemony dressing!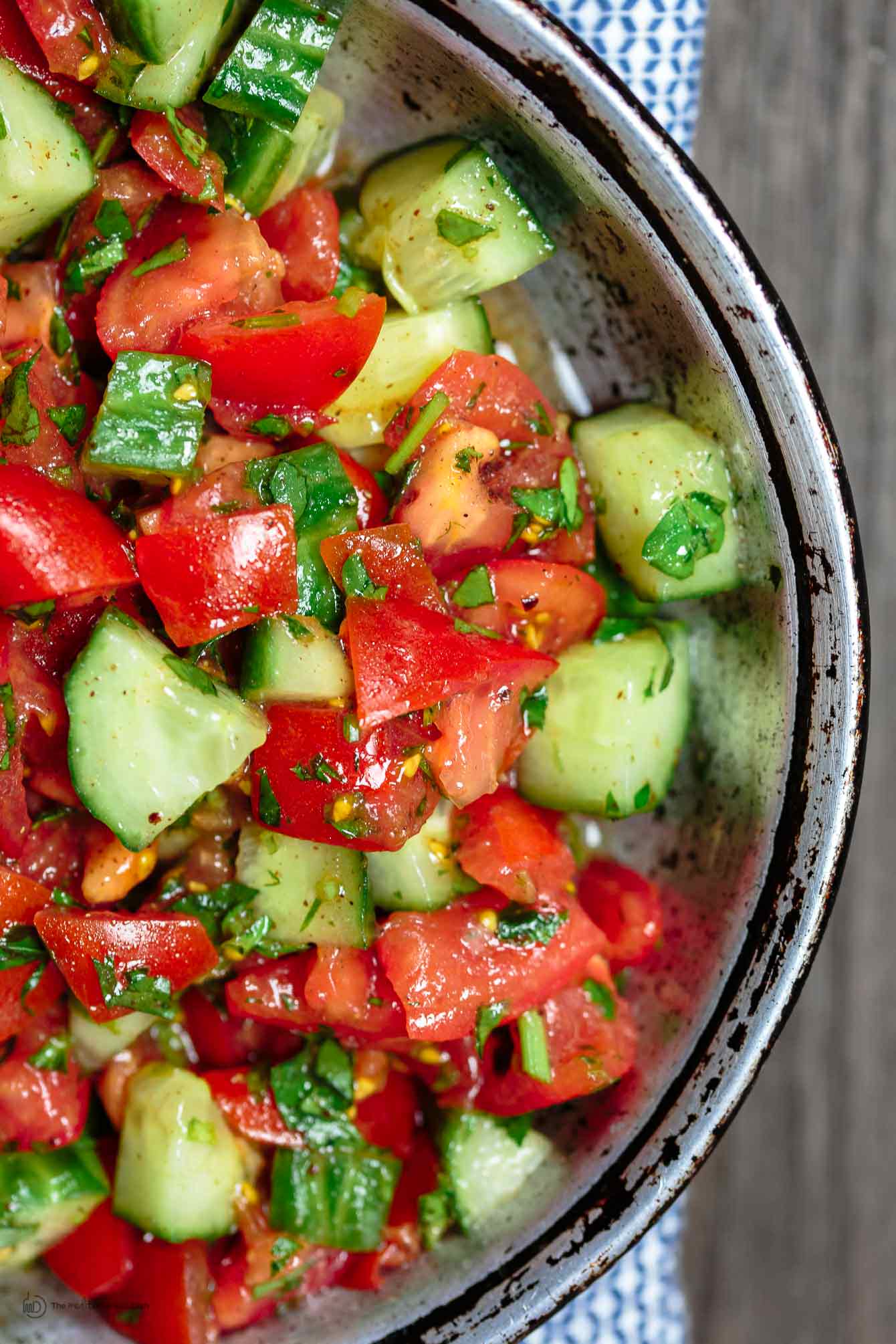 Mediterranean cucumber and tomato salad
Where I grew up, we call this simple Mediterranean salad recipe, Salata! It is an everyday salad made typically of three key ingredients: tomatoes, cucumbers, and parsley and seasoned simply with kosher salt, although I like to add sumac for a little tang and depth. The traditional Mediterranean salad dressing here is basically lemon juice (or lime juice) and a splash of good extra virgin olive oil.
This basic salad is also referred to as cucumber and tomato salad, and it is as traditional as they come--very representative of the regions agricultural roots. And it is the one from which other Mediterranean salads like fattoush, tabouli; or this Israeli couscous salad, derive inspiration.
How to make Mediterranean salad
This is one of the simplest cucumber and tomato salads you'll make. Here is how it goes:
Prepare the tomatoes, cucumber, and parsley. Dice 6 Roma tomatoes and one large English cucumbers into small cubes or pieces. Chop a good bunch of parsley, about ¾ or so. I like to use some of the stem which imparts great flavor. Combine everything in one large mixing bowl.
Add kosher salt. Season the salad with a good pinch of kosher salt and let it sit for about 5 minutes before adding the rest.
Add the dressing. The traditional Mediterranean salad dressing here is a good drizzle of quality extra virgin olive oil and a splash and juice of one lemon or at least 2 teaspoons of lemon juice. I like adding a good dash of sumac for depth and tang.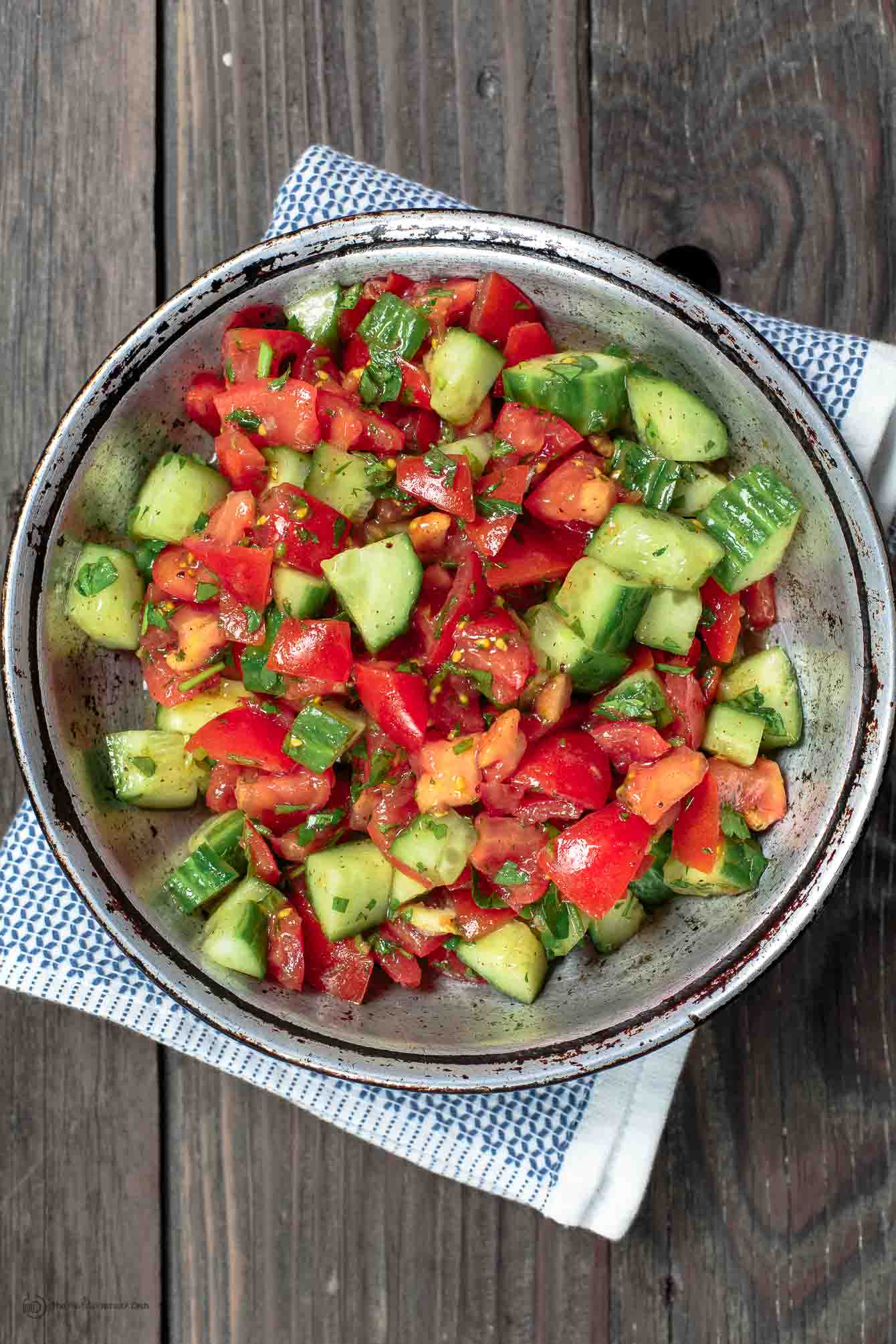 Tips for best results
This humble salad is truly more than the sum of its parts. Keep these tips in mind for best results:
Use the best produce you can find. Choose ripe tomatoes that fragrant, firm but have some give when you squeeze them. Use English cucumber, also known as hothouse cucumber, they are the longer cukes that you see in the grocery store wrapped tightly in plastic. English cucumbers are slightly sweeter, have thinner skin, and contain smaller, less noticeable seeds. You don't have to peel the cucumbers here. For the parsley, I like to use the Italian flat leaf parsley which is more flavorful.
Use a quality robots extra virgin olive oil. I like to use a bolder extra virgin olive oil that is robost and has a bit of a peppery finish to enhance the natural flavors of my tomatoes and cucumbers. For this salad, try this bold Greek Early Harvest extra virgin olive oil or this Spanish Hojiblanca extra virgin olive oil, which is fruity with medium intensity and notes of tomato and freshly cut grass.
Variations and ways to turn this salad into a little meal!
This basic Mediterranean salad has several variations throughout the Mediterranean and the Middle East, and you can change it up to your liking. Here are a few ideas:
Add chopped onions such as red onions, shallots, or green onions.
Add chickpeas or another bean of choice such as white beans or kidney beans. The beans will add some good plant-based proteins to turn this salad into a small meal without effort. Here is how to cook chickpeas from scratch, but you can also use canned beans, just be sure to rinse and drain them well before adding to your salad.
Use more fresh herbs! In addition to parsley, you can add some chopped fresh mint leaves or dill.
Toss in some feta cheese! Like I do with Greek salad and this herby tomato salad, I do sometimes add small pieces of feta cheese to this salad.
Make one cup of cooked couscous and toss it in this salad for a simple lunch. You'll want to adjust seasoning and olive oil.
Other Recipes to Try:
How to Make Traditional Creamy Hummus
Lebanese-Style Cinnamon Meatballs
One Pan Greek Chicken and Potatoes
This salad is featured in our 50+ Top Mediterranean diet recipes. You may also like Must-Try Fresh Tomato Recipes.
Browse all Mediterranean recipes.
3-Ingredient Mediterranean Salad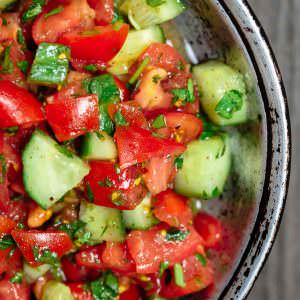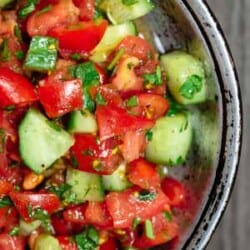 Easy all-star Mediterranean salad with three star ingredients: tomatoes, cucumbers, and parsley, seasoned simply and dressed in extra virgin olive oil and lemon juice! You'll love this everyday cucumber and tomato salad next to your favorite Mediterranean entrees. You can change it up by adding feta cheese, chickpeas, or even a cup of cooked couscous to turn it into a meal!
Instructions
In a large mixing bowl, place the diced tomatoes, cucumbers, and parsley. Season with kosher salt and toss. Set aside for 5 minutes or so.

Add the sumac, olive oil, and lemon juice. Give the salad a gentle toss. Enjoy!
Notes
For best flavor, set the salad aside for a few minutes before serving. This will give the flavors time to meld.
Visit Our Shop for quality Mediterranean ingredients, including extra virgin olive oil, spices and more!
Nutrition
Calories:
62.5
kcal
Carbohydrates:
4.8
g
Protein:
1
g
Fat:
4.9
g
Saturated Fat:
0.7
g
Polyunsaturated Fat:
0.6
g
Monounsaturated Fat:
3.4
g
Sodium:
7
mg
Potassium:
252.1
mg
Fiber:
1.2
g
Sugar:
2.6
g
Vitamin A:
991.2
IU
Vitamin C:
17.2
mg
Calcium:
22
mg
Iron:
0.7
mg