Tomato feta salad combines sweet tomatoes, fragrant herbs, and creamy feta cheese for an easy side dish that's perfectly simple and totally delicious. Make this tomato salad recipe in the summertime when the garden tomatoes are at their best.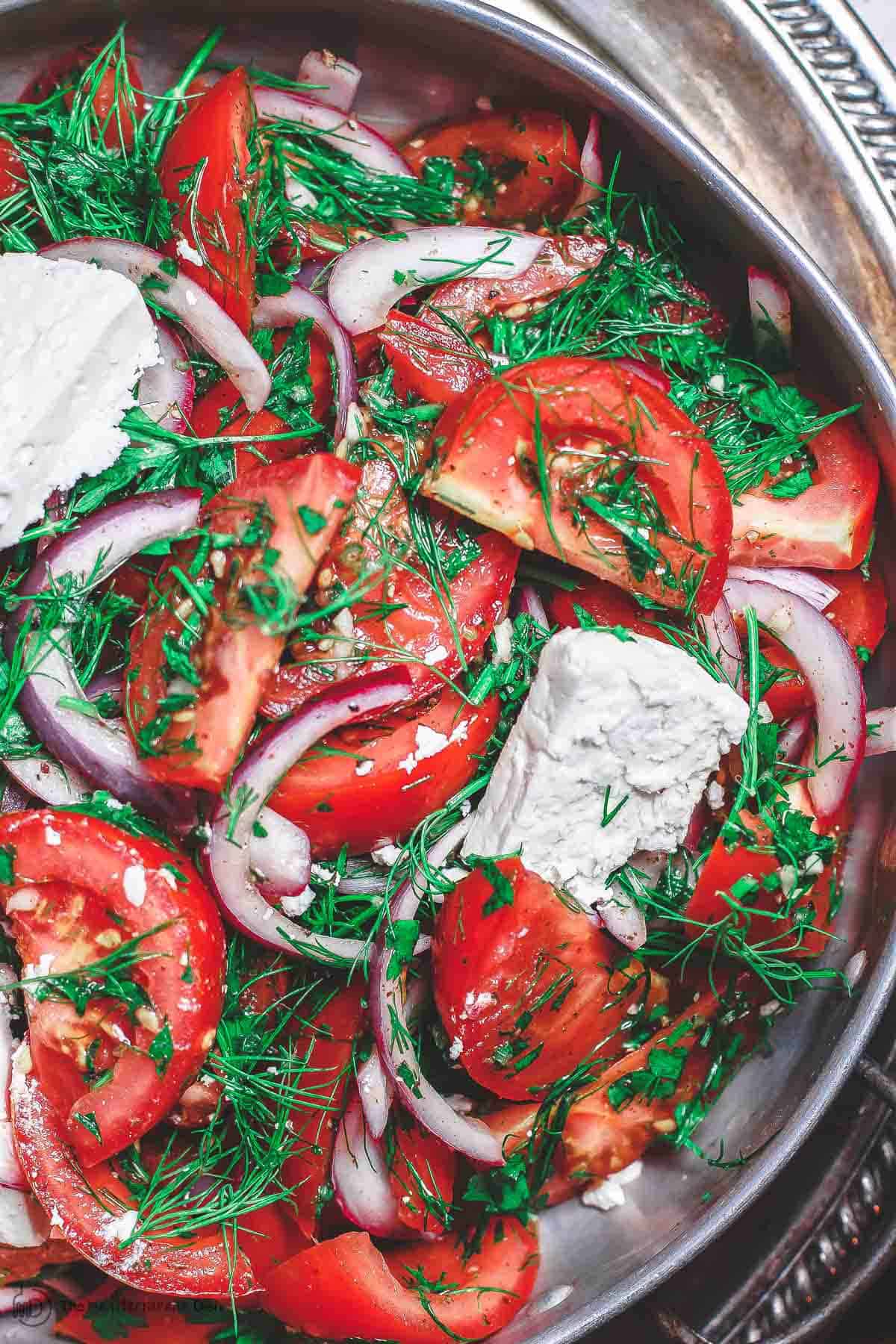 I love a tomato salad recipe that plays on the sweet, savory, juicy perfection of the ripe summer fruit. Similar to Caprese and Cucumber and Tomato salad this tomato feta salad lets the best of fresh garden tomatoes shine.
In addition to juicy, ripe tomatoes I add creamy feta cheese, bright fresh herbs and a sprinkling of sumac — a spice that adds lemon notes for a distinctly Mediterranean flair.
I like to serve tomato feta salad on a big platter in the center of my table with crusty bread, pita or focaccia on the side. The salad ingredients will release a flavorful, herbal liquid begging you to sop it up with good bread. I'm telling you it's almost as good as the salad. Almost!
Table of Contents
Tomato Feta Salad Ingredients
As simple as this tomato salad recipe is, it packs tons of flavor thanks to fresh herbs and a garlicky citrus dressing. I love to add big blocks of feta cheese for a creamy, salty finish (inspired by this traditional Greek salad). Here's what's in this tomato salad recipe:
Tomatoes. Grab heavy tomatoes at your farmers market or grocery store, that's how you know they will be juicy. If you have a garden, even better! Vine ripe, heirloom, Roma or a combination of the three can add color and flavor variety. Orange and yellow tomatoes tend to be less acidic. You could even throw in some halved cherry or grape tomatoes if you'd like.
Onion and garlic. Two big flavor makers here! They bring the savory element.
Fresh herbs. I used parsley and dill, but you could also throw in a bit of fresh mint or basil if you like.
Seasoning. Kosher salt, black pepper, and a big dash of tangy sumac. Sumac is a spice that's stocked in the typical Mediterranean pantry. You can leave it out, order it from our shop, or substitute with fresh lemon zest.
Citrusy dressing. Juice of 1 lemon and 2 teaspoons of white wine vinegar provide the citrus in the dressing. They add brightness, while lightly marinating the tomatoes and onions. (Citrus will also tame the intensity of onions while the salad sits for a few minutes). And then we have a generous amount of extra virgin olive oil, which is a major flavor component of this dish. Use a smooth olive oil that's full of personality but not too bitter, like our Early Harvest Greek Extra Virgin olive oil.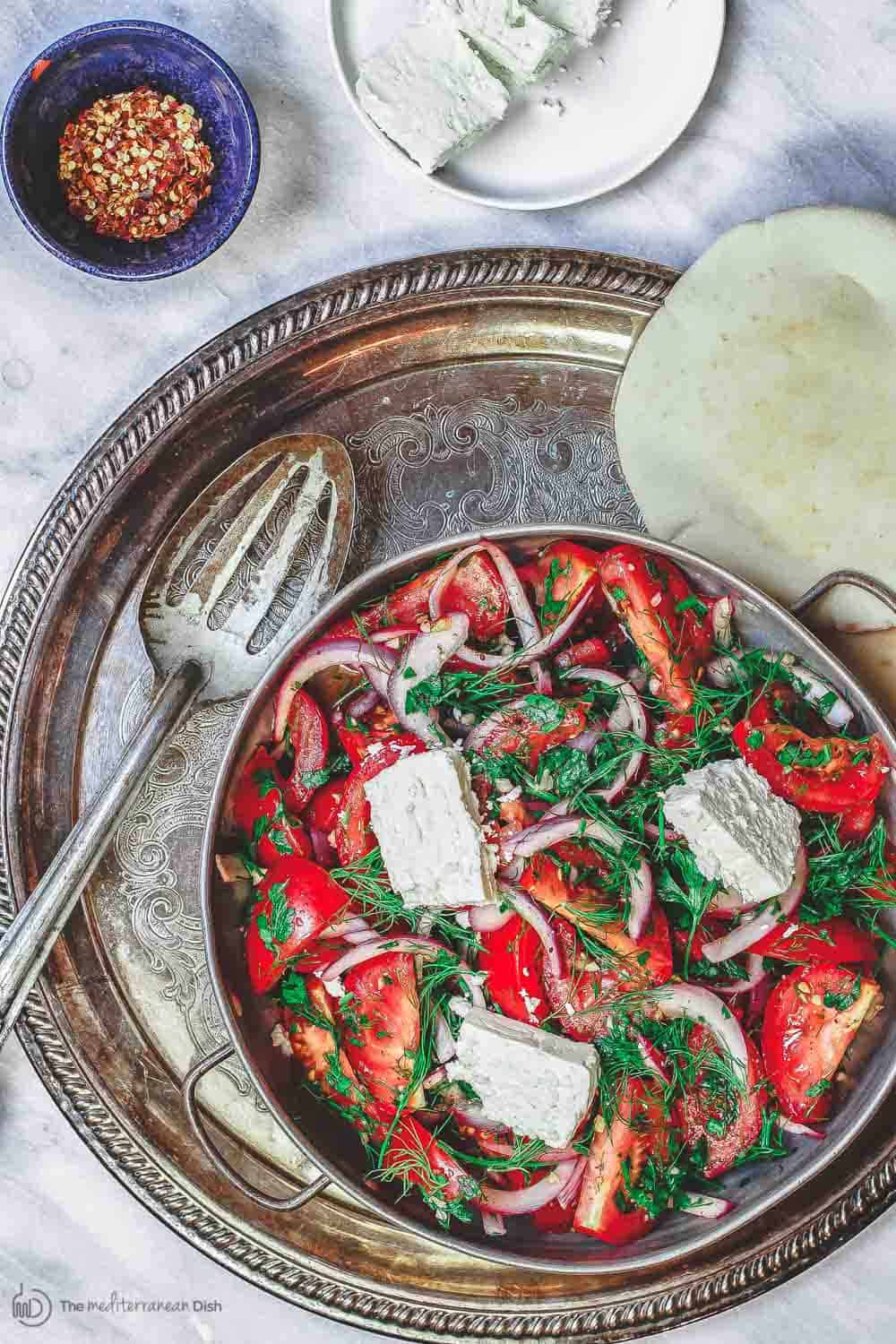 How to Make Tomato Feta Salad
I make this tomato feta salad the same way many home-cooked meals are thrown together on a sunny day near the Mediterranean Sea. There's no need to measure every last pinch, whisk the dressing separately, or really do much fussing. Simply grab a platter and get started:
Combine the fresh ingredients. Slice 6-7 ripe tomatoes into wedges. Thinly slice a medium red onion into half moons. Mince 3 garlic cloves (see our tips in our guide for how to mince garlic). Chop up enough parsley and dill to pack one cup of each. Throw all these pretty fruits and veggies into a large salad or mixing bowl and toss gently.
Season the salad. Sprinkle on 2 ½ teaspoons of sumac. Season with a generous pinch of salt and pepper. Next, add the juice of one lemon, 2 teaspoons of white wine vinegar and ⅓ cup of extra virgin olive oil. Toss to combine. Taste a tomato and add more salt or pepper to your liking (if it tastes a little flat, add more seasoning).
Serve. Transfer to a serving platter or bowl. Top with large pieces of feta cheese and grab some large serving spoons for the table.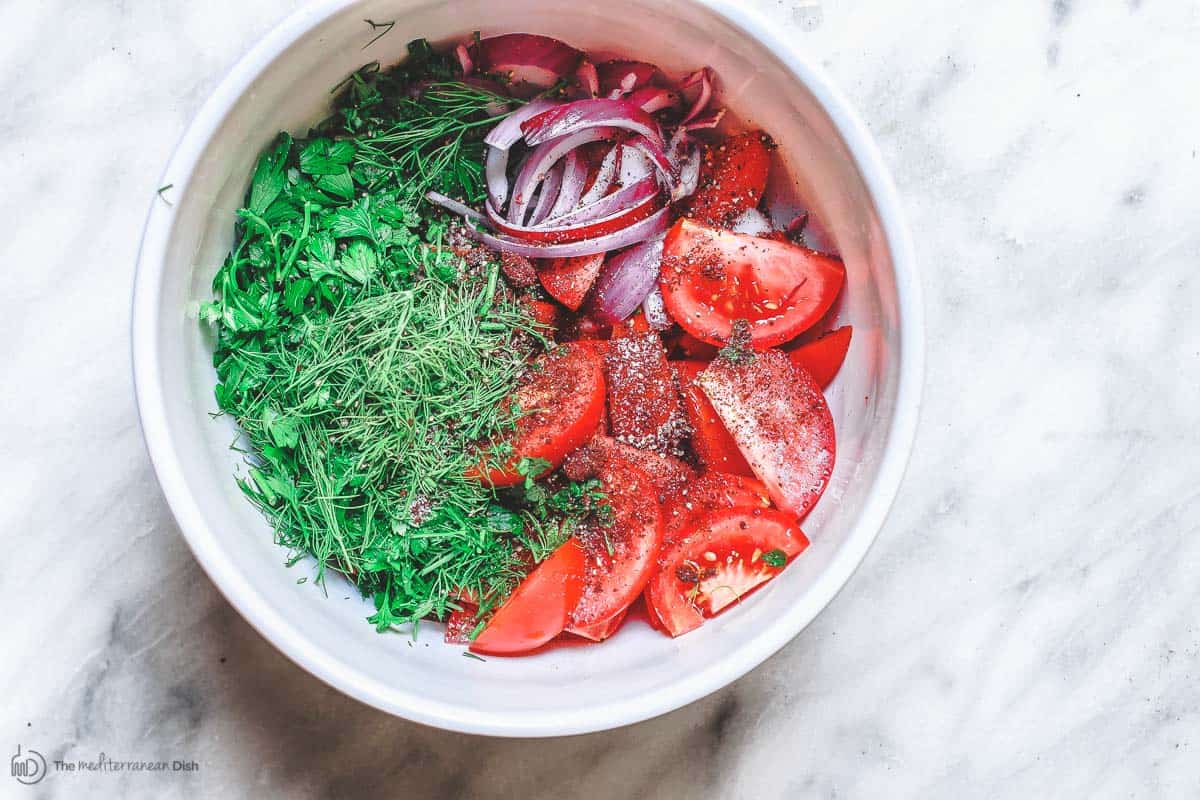 How to Find the Best Tomatoes
As the star ingredient, the tomatoes need to be very ripe and flavorful. Sadly, many packaged tomatoes, which are perfectly fine cooked or on sandwiches, just don't cut it in a raw tomato salad. Here are my handy tips for how to pick the best tomatoes, and how to store tomatoes:
Avoid buying tomatoes from a refrigerated case. The cold temperature damages tomatoes and stops ripening.
If you're making this salad within a few days of buying tomatoes, store them on your counter (not your fridge). The fridge tends to dull tomatoes' delicate flavor.
Look for tomatoes that are plump and heavy for their size. This is a good sign that they'll be juicy. Give them a very gentle squeeze to confirm they're still fairly firm but with some give. The skin should be smooth without bruises or deep, open cracks. Heirloom varieties, however, can be multi-colored, ridged, and have deep grooves and that's OK.
Smell the tomatoes where the stem was attached. It should be fragrant and should smell somewhat sweet and earthy.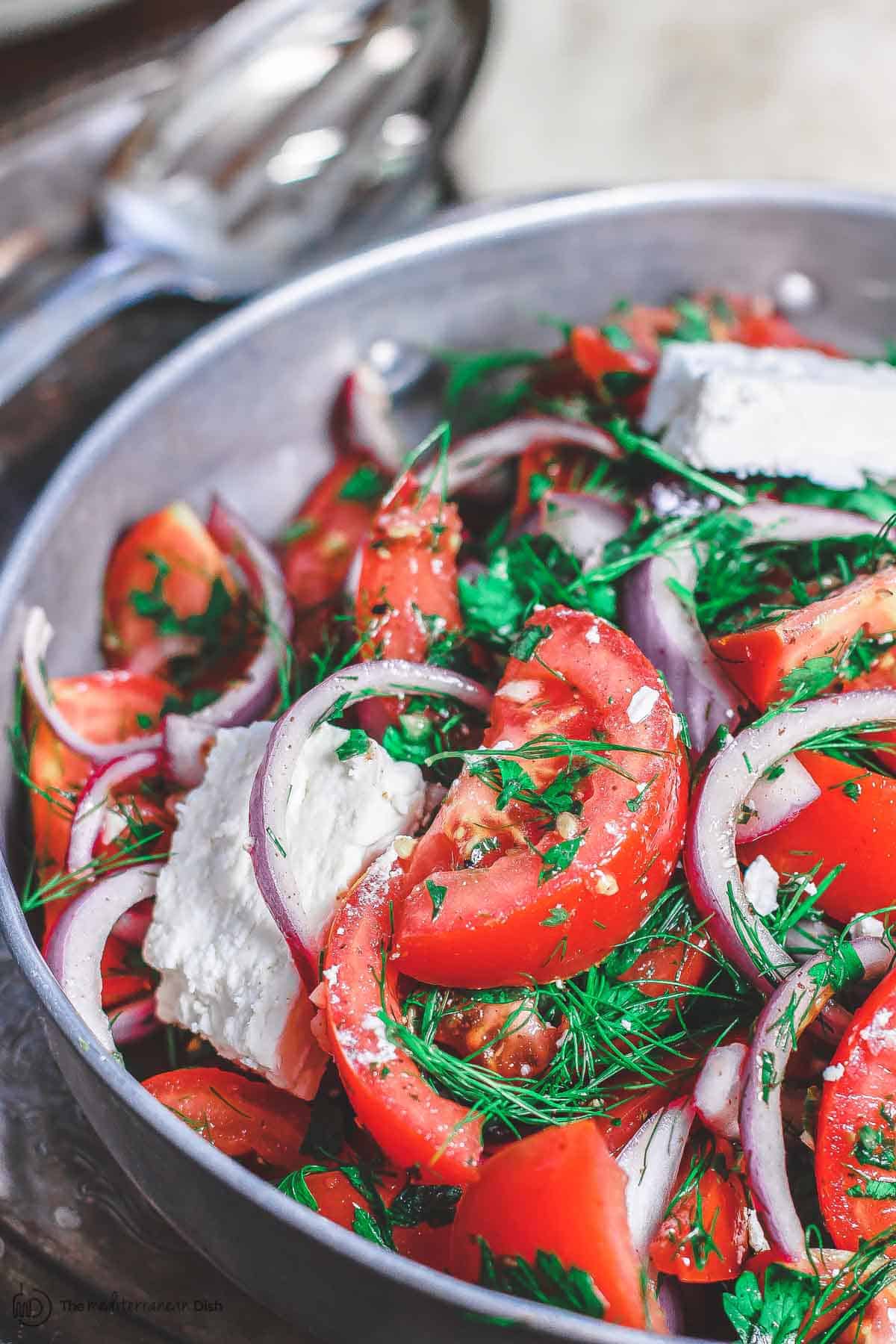 What to Serve with Tomato Feta Salad
Honestly, I could eat this for lunch all by myself, but sharing is a Mediterranean value so why not invite some friends over and have a party!
Fresh Tomato Recipes for Summer
Browse all Mediterranean Recipes.
Visit Our Shop.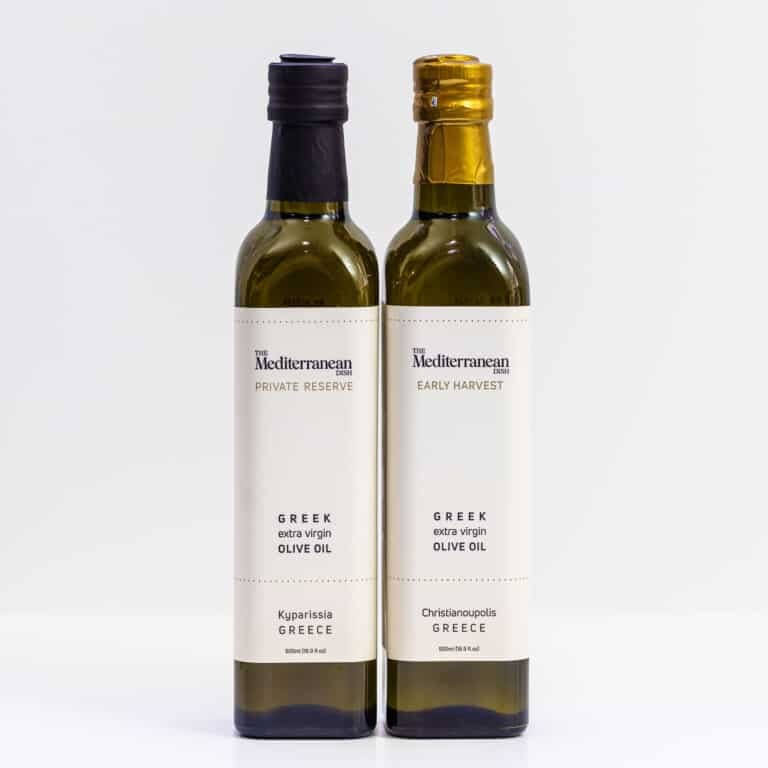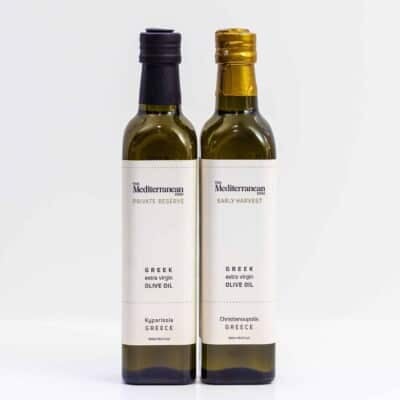 Tomato Feta Salad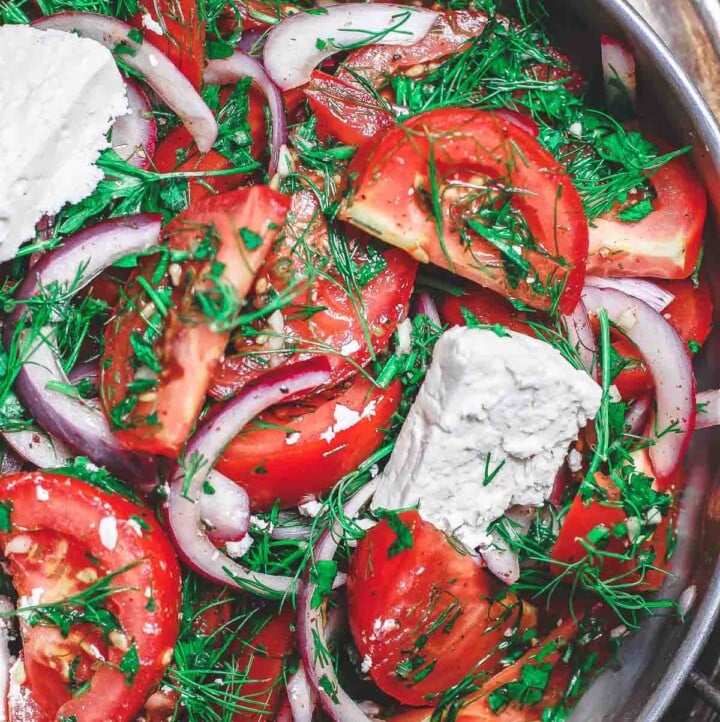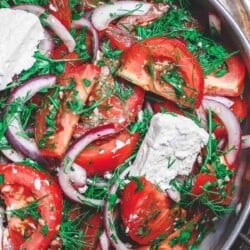 This tomato and feta salad comes together in minutes: no need to make a separate dressing. Simply toss with some good extra virgin olive oil, loads of fresh herbs, and a few easy seasonings and you're good to go. Serve with nice bread to take advantage of the tomatoes' fresh juices, which release and combine with all the aromatics in a very fortuitous way.
Ingredients
6 to 7

medium ripe tomatoes,

sliced into wedges (on-the-vine tomatoes or heirloom tomatoes preferred)

1

medium red onion,

halved, then thinly sliced

3

garlic cloves,

minced

1

packed cup

chopped fresh parsley leaves

1

packed cup

chopped fresh dill

2 ½

teaspoons

sumac

Kosher salt

Black pepper

1

lemon,

juiced

2

teaspoons

white wine vinegar

⅓

cup

extra virgin olive oil

Feta cheese,

to your liking
Instructions
Add the fresh ingredients. In a large salad or mixing bowl, gently toss together the tomatoes, onions, garlic, parsley, and dill.

Season the salad. Add the sumac and season with salt and pepper to taste. Add the lemon juice, white wine vinegar, and extra virgin olive oil. Toss to combine. Taste and adjust the seasoning to your liking.

Serve. Transfer to a serving platter or bowl. Top with large pieces of quality feta cheese. Enjoy!
Notes
Storage: Store leftovers in a tight-lid container in the fridge for 2 days, but this salad is best served fresh and eaten right away. (Tomatoes don't like the fridge.)
If you don't have sumac: Order this versatile spice from our shop, leave it off, or grate in fresh lemon zest in its place.

Visit

our shop

to browse quality Mediterranean ingredients including

olive oils

,

honey

,

jams

, and

spices

.
Nutrition
Calories:
143.5
kcal
Carbohydrates:
8.7
g
Protein:
1.6
g
Fat:
12.3
g
Saturated Fat:
1.7
g
Polyunsaturated Fat:
1.4
g
Monounsaturated Fat:
8.8
g
Sodium:
8.1
mg
Potassium:
352.1
mg
Fiber:
2.3
g
Sugar:
4.5
g
Vitamin A:
1056
IU
Vitamin C:
28.6
mg
Calcium:
24.7
mg
Iron:
0.6
mg
* This post originally appeared on The Mediterranean Dish in 2016 and has been recently updated with new information and media for readers benefit.