You'll love this flavor-packed tomato salad with feta, loads of fresh herbs, and a light citrus dressing. Enjoy this tomato feta salad as a side next to your favorite entree (lots of ideas below), but it's also perfect for a no-cook lunch with a little fresh pita bread. Tips & video below.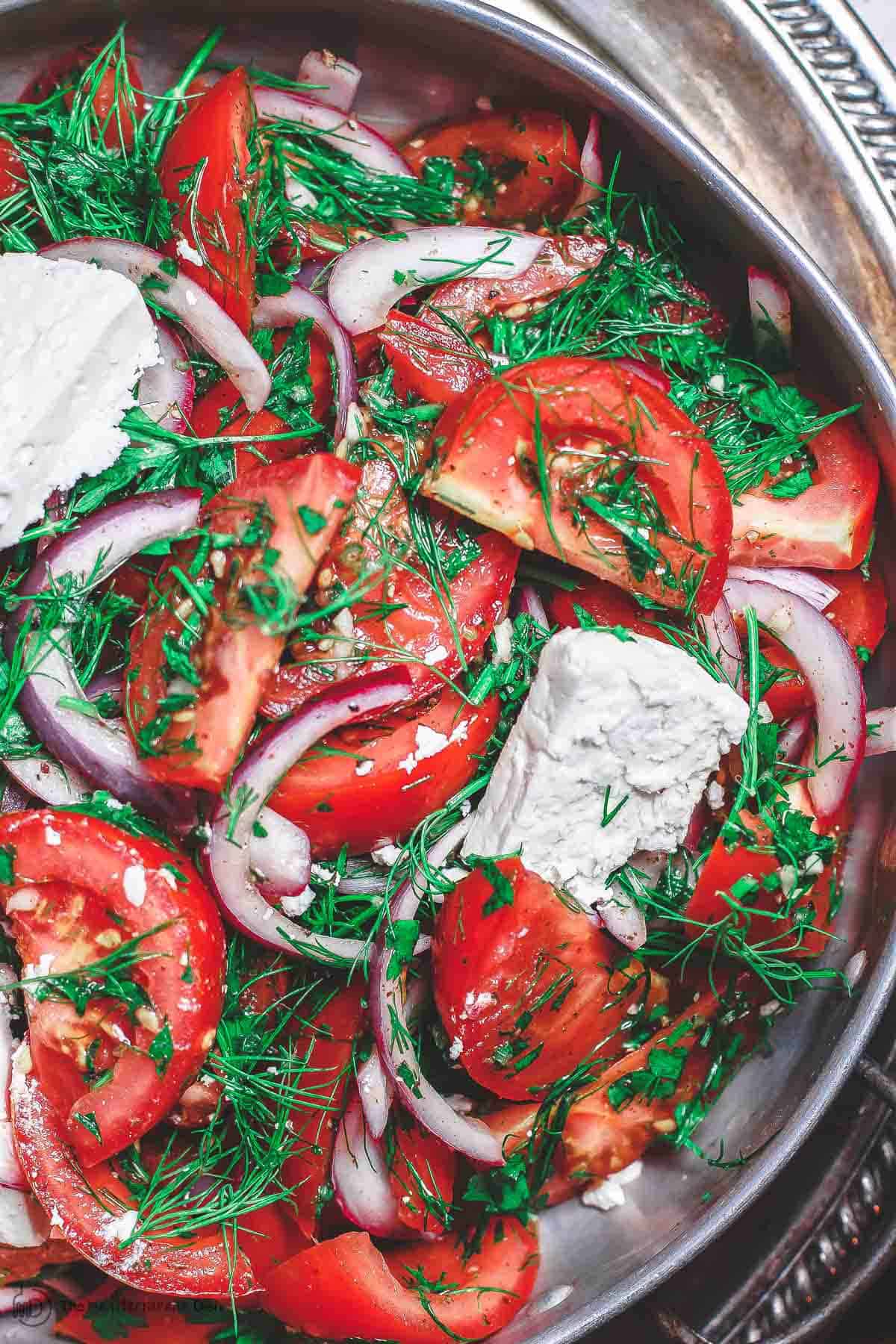 If you've been eating the Mediterranean diet for any amount of time, you know that tomatoes are an essential ingredient that we use on in many ways, from making a quick tomato appetizer, to quickly marinating them in citrus and olive oil, to a simple soup, to the best brunch skillet (hello shakshuka), or a layered moussaka casserole.
And during the hot months, when I can land those extra fragrant, plump, juicy tomatoes, I just can't help but use them raw in something summery like today's fresh tomato salad recipe.
What you'll need for tomato feta salad
As simple as this tomato salad recipe is, it packs tons of flavor thanks to fresh herbs and a light citrus dressing. I love to add big blocks of feta cheese for a creamy, salty finish (inspired by this traditional Greek salad). Here's what's in this tomato salad recipe:
Tomatoes. I use about 6 vine-ripe tomatoes here, and I've also used beautiful heirloom tomatoes as well. Roma tomatoes will also work here.
Onion and garlic. Two big flavor makers here! 1 red onion, thinly sliced and 2 to 3 garlic cloves minced.
Fresh herbs. I used parsley and dill, a cupful of each, chopped. You can also throw in a bit of fresh mint or basil, if you like.
Seasoning. Kosher salt, black pepper, and a big dash of tangy sumac.
Citrus Dressing. Juice of 1 lemon and 2 teaspoons of red wine vinegar provide the citrus in the dressing. They add brightness, while lightly marinating the tomatoes and onions (the citrus also tames the pungent onions a bit as the salad sits for a few minutes). And then we have a generous ⅓ cup of extra virgin olive oil (I used Early Harvest Greek Extra Virgin olive oil)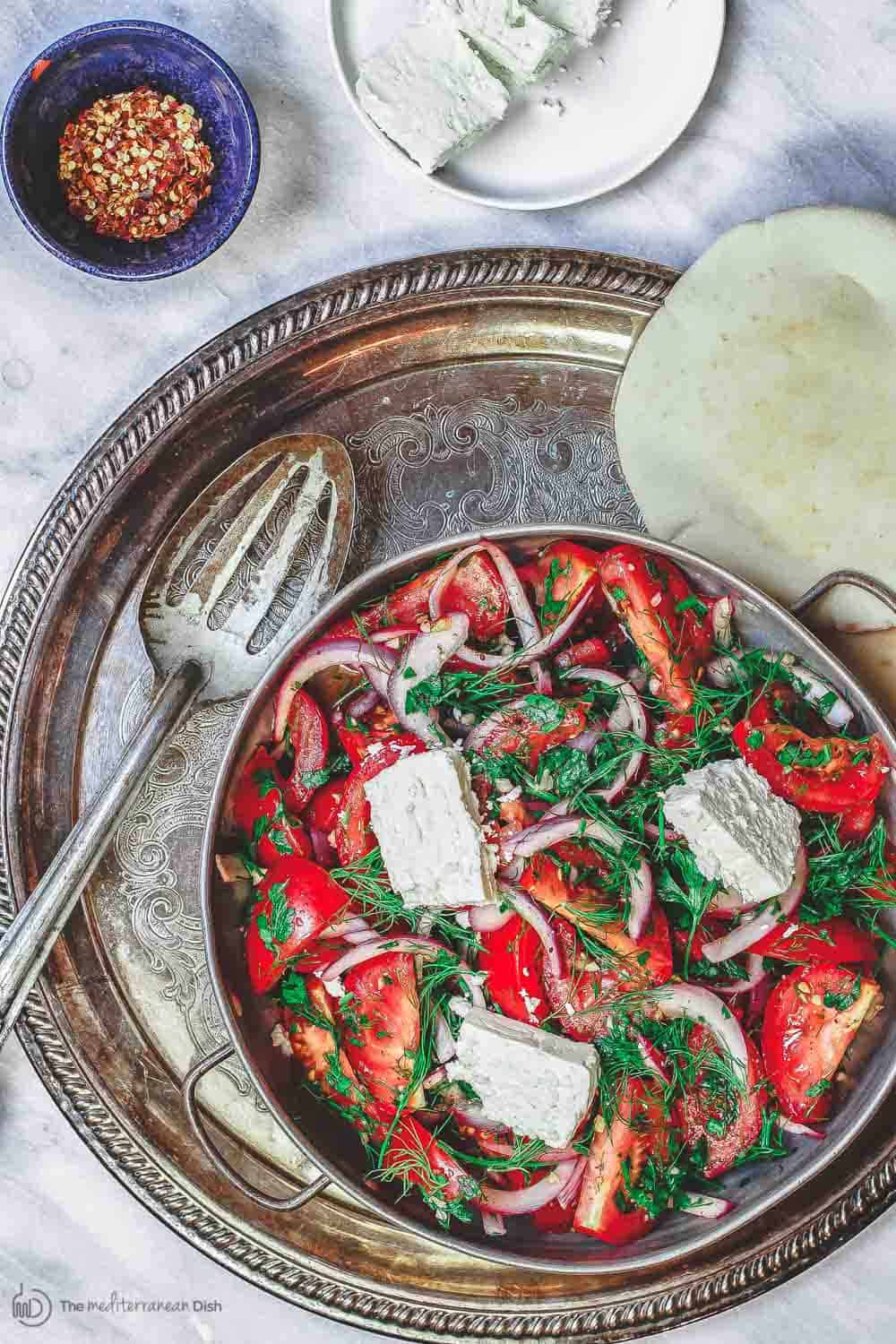 Although the fresh herbs here are important, the star ingredient in this tomato salad recipe is of course tomatoes.
The end result for this delicious tomato salad recipe will depend heavily on how good your tomatoes are. Not all of us have tomatoes growing in our gardens. I'm lucky enough to have a great farmer's market near me, but even when shopping at a grocery store, I try to choose the best tomatoes I can find.
Here are a few tips I follow for how to select the best tomatoes.
How to buy good tomatoes?
Avoid buying tomatoes from a refrigerated case. The cold temperature damages tomatoes and stops ripening.
Avoid packaged tomatoes. Tomatoes that are displayed loose are easier to evaluate.
Look for tomatoes that are plump and heavy for their size, and still fairly firm but with some give. Skin should be smooth without bruises or deep cracks.
Smell the tomatoes where the stem was attached. It should be fragrant and should smell somewhat sweet.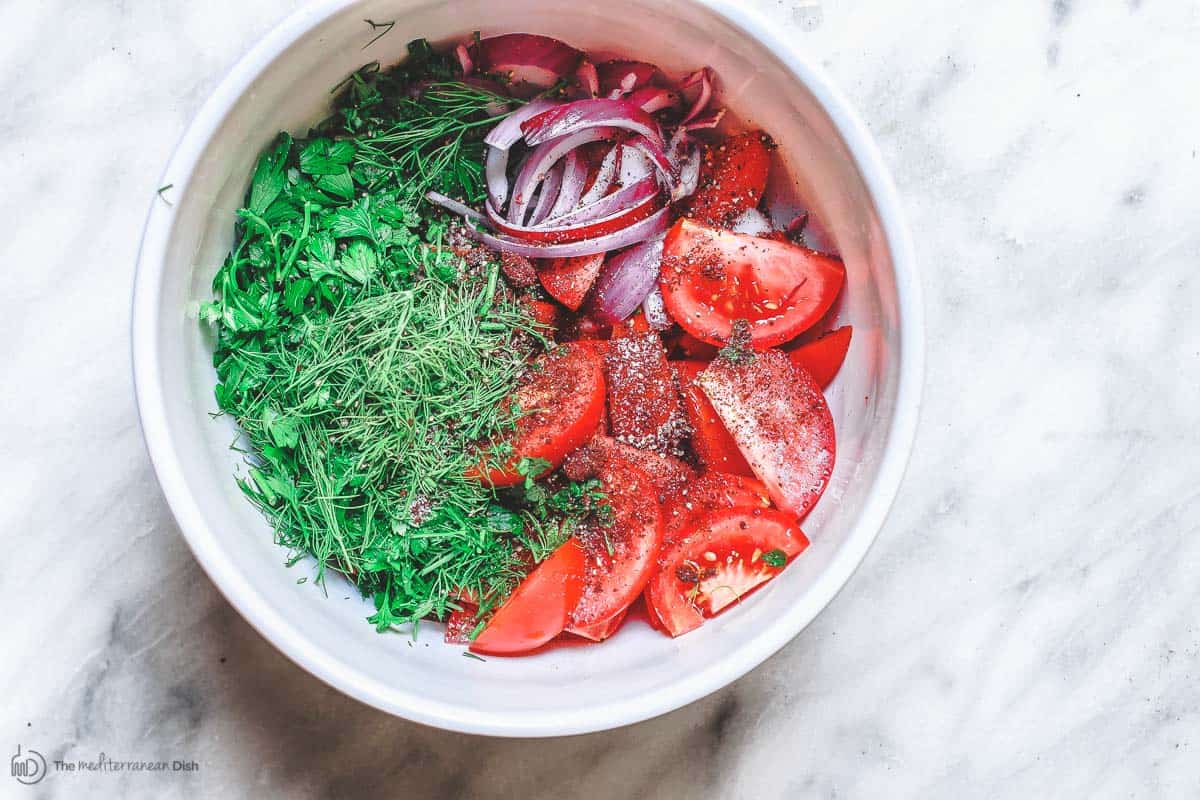 How to make tomato salad
(print-friendly recipe and video below)
Combine tomato wedges, onions, garlic, and fresh herbs in one large bowl.
Season with kosher salt, black pepper and 2 teaspoons of sumac
Add the dressing (juice of 1 lemon, 2 teaspoons white wine vinegar, and ⅓ cup extra virgin olive oil), and toss to combine.
Transfer to platter and add blocks of feta cheese on top (optional)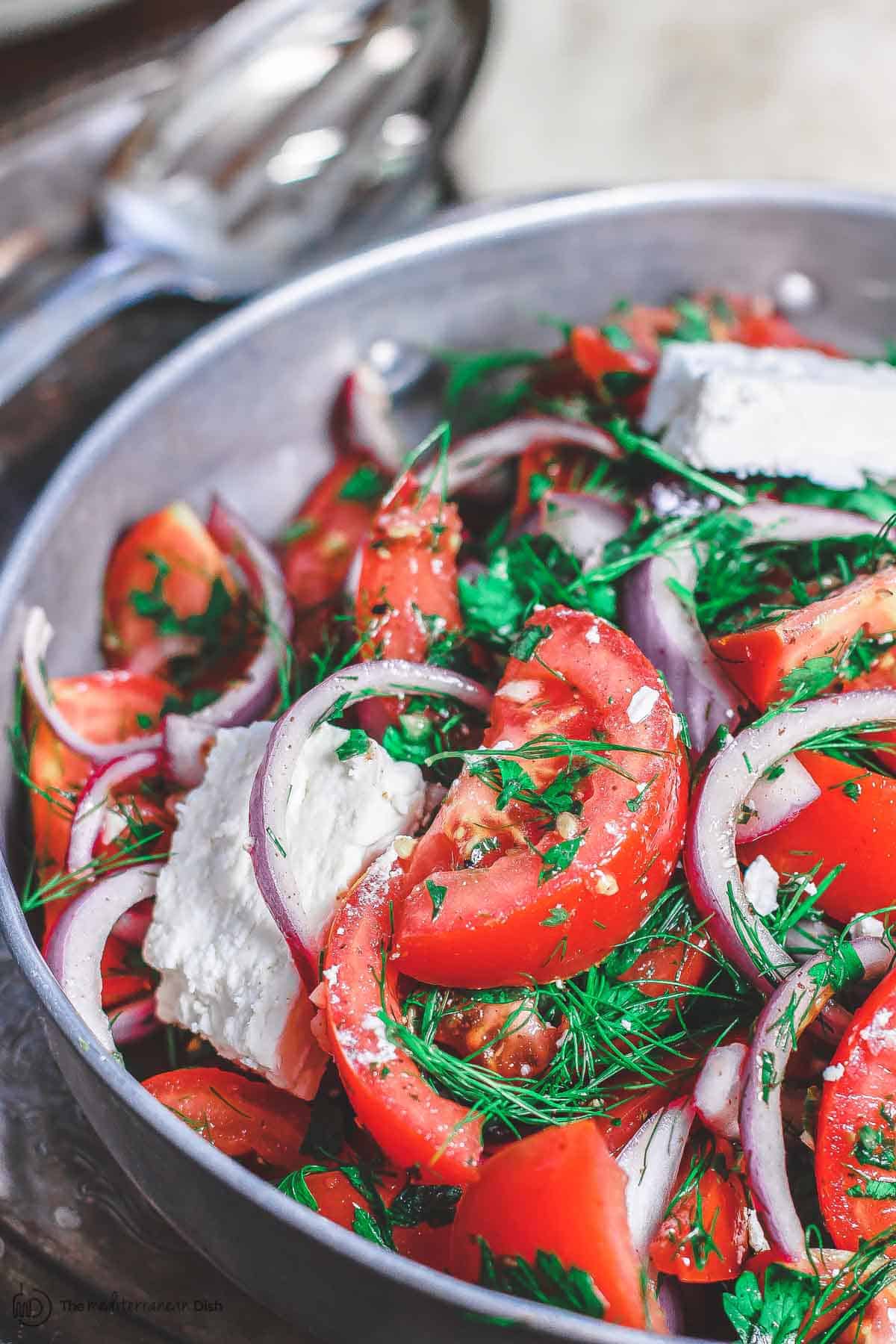 One last tip
The key to this fresh tomato salad recipe is to let it sit at room temperature for a few minutes before serving, this will give the salt a chance to draw out some of the tomato juices for a tasty marinated tomato salad (best to leave the feta out until you're ready to serve).
Serve it with
I can eat this salad as my entire meal, but it pairs well with many things from fish piccata, to grilled harissa chicken, souvlaki, lamb rack, or shawarma. And for a vegetarian meal, you can serve this tomato feta salad next to something like Spanakorizo (Greek Spinach Rice) or Mujadara.
More tomato recipes
Browse more tomato recipes or Mediterranean diet recipes. Browse all Mediterranean recipes.
Visit Our Shop for quality Mediterranean ingredients.
Mediterranean Tomato Salad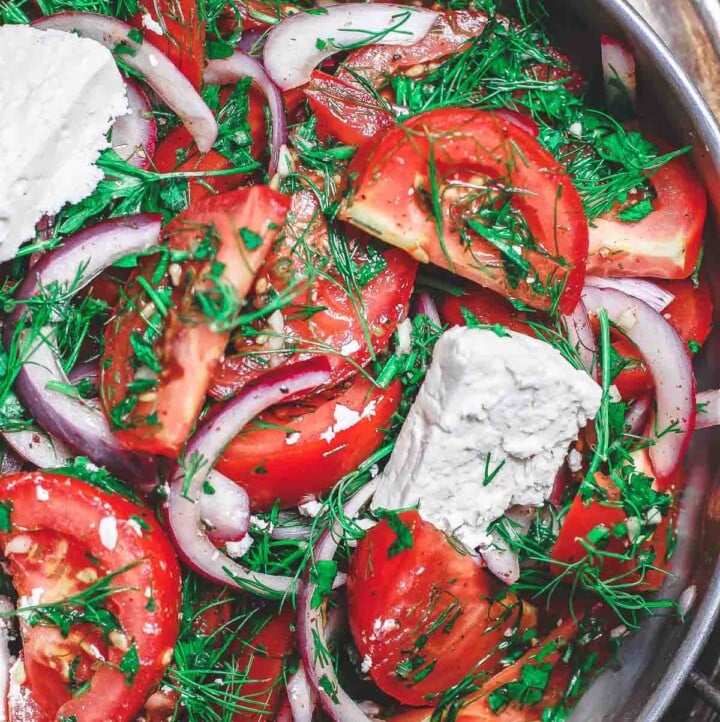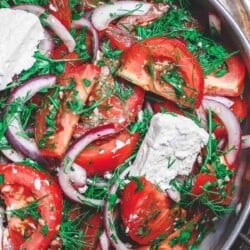 Simple Mediterranean tomato salad with feta, red onions, and fresh herbs, and finished with a bright citrus dressing of citrus and extra virgin olive oil.
Ingredients
6 to 7

medium ripe tomatoes,

sliced into wedges (on-the-vine tomatoes or heirloom tomatoes preferred)

1

medium red onion,

halved, then thinly sliced

3

garlic cloves,

minced

1

cup

packed chopped fresh parsley leaves,

chopped

1

cup

packed chopped fresh dill,

chopped

2 ½

teaspoon

ground sumac

Kosher salt,

to your liking

Black pepper,

to your liking

1

lemon,

juice of

2

teaspoon

white wine vinegar

⅓

cup

extra virgin olive oil

Feta cheese,

to your liking, optional
Instructions
In a large salad or mixing bowl, add the tomatoes, onions, fresh herbs and garlic.

Add sumac, kosher salt and a generous sprinkle of freshly ground pepper. Add lemon juice, white wine vinegar and extra virgin olive oil. Toss to combine. Taste and adjust seasoning to your liking.

Transfer to a serving platter or bowl. Top with large pieces of quality feta cheese (optional). Enjoy!
Notes
This recipe will serve 4 people as a lunch entree or 6 people as a small salad before dinner.
Storage: leftovers can be stored in a tight-lid container in the fridge for 2 days.
Visit Our Shop to browse quality Mediterranean ingredients including extra virgin olive oils and spices, including sumac, used in this recipe.
Nutrition
Calories:
128.3
kcal
Carbohydrates:
5.1
g
Protein:
1.1
g
Fat:
10.6
g
Saturated Fat:
1.7
g
Potassium:
170.8
mg
Fiber:
1.3
g
Sugar:
1.4
g
Vitamin A:
1447
IU
Vitamin C:
31.3
mg
Calcium:
41.7
mg
Iron:
1.4
mg
* This post originally appeared on The Mediterranean Dish in 2016 and has been recently updated with new information and media for readers benefit.