Learn how to make this rosemary focaccia bread recipe with an extra kick of flavor from roasted garlic. Once you master this crispy on the outside, chewy on the inside Italian bread you'll make it on repeat!

Making rosemary focaccia (fuh-kaa-chuh) bread is an immersive experience. Watching the dough transform from a sticky mass to a chewy, golden sheet of pillowy bread dotted with rosemary, roasted garlic, and olive oil is nothing short of miraculous.

For this Rosemary Focaccia with Roasted Garlic recipe I begin with an Italian pre-ferment or starter called a biga. It's not as fancy as it sounds — it's just a mixture of flour, water and a little yeast that sits overnight in the fridge. When used to make bread, bigas add flavor and texture.

Once the dough is made, just stretch it, then dimple it in a bath of olive oil to create its signature peaks and valleys – perfect for holding pockets of flavor. Add fresh rosemary, and roasted garlic then pop it in the oven. Once it's ready slice the focaccia in half and use it for sandwiches, cut strips and dip it into your favorite brothy poached eggs, soup, or stew, or enjoy it on it's own.
Once you've learned how to make focaccia you'll wonder what took so long!
Table of Contents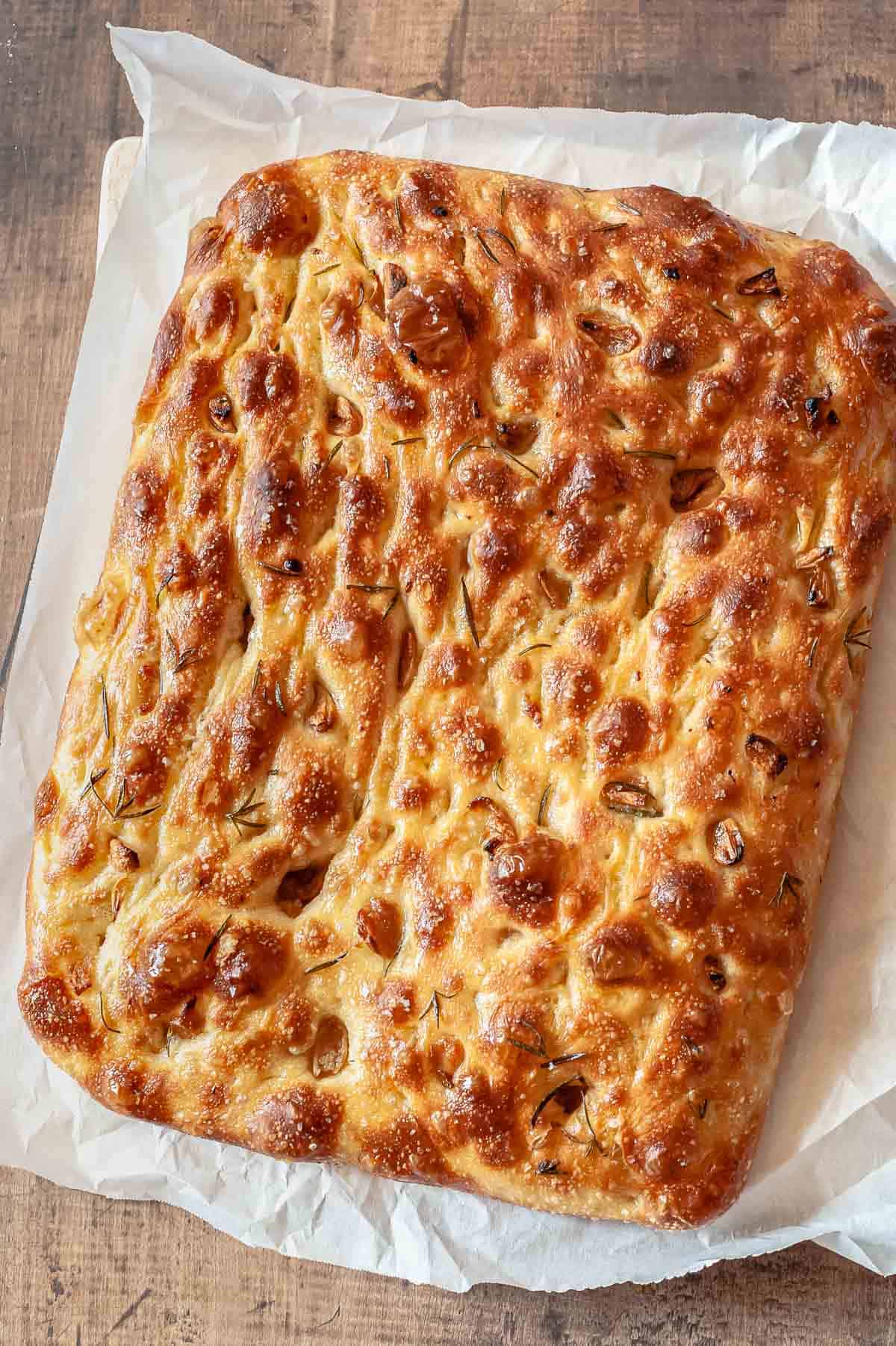 What is focaccia?
Focaccia is an Italian flatbread. It can be thick and pillowy or thin with chewy, crispy edges. I like mine somewhere in the middle. How to make focaccia is totally up to you! Use this recipe to make your focaccia thick or thin and dress it up with any flavor combo you can imagine.
For a thick focaccia: Bake it in a 9x13 cake pan.
For thin focaccia: Stretch it on a half-sheet jelly roll pan (Cookie sheet with sides).
What is biga?
Biga is a pre-ferment similar to a sourdough starter or a poolish. It is a combination of flour and water, with a touch of active dry yeast added to kick start everything. Then you let it sit overnight and up to 48 hours in the fridge.
A biga adds flavor and complexity to bread dough. It is commonly used in breads like focaccia that need an open, light and airy texture.
Once you get the hang of using a biga for bread baking you can use it in all kinds of bread. I first learned how to make it more than a decade ago when I was researching my book New Prairie Kitchen, and I have never looked back.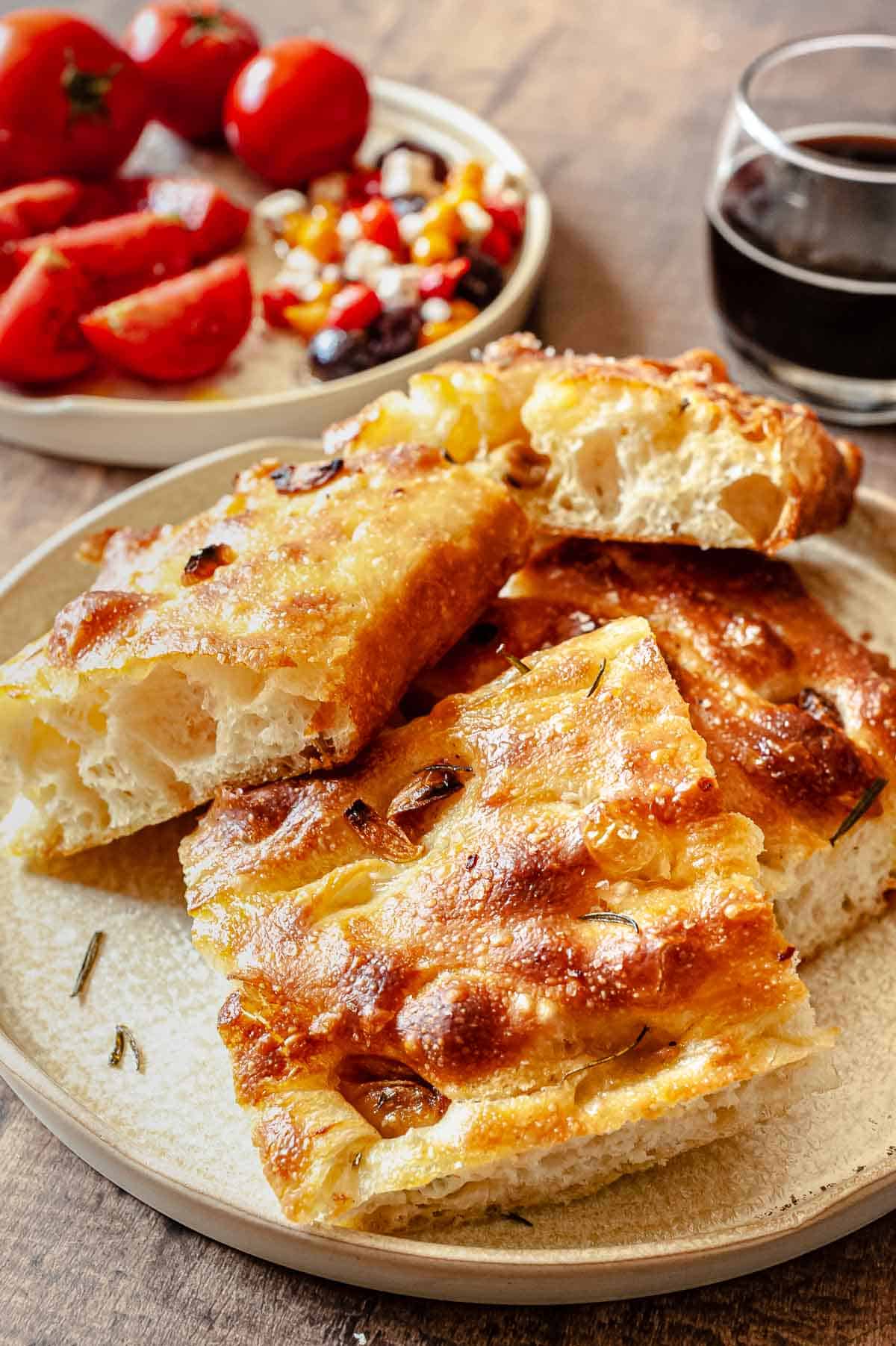 What does focaccia taste like?
Focaccia is chewy and loaded with olive oil. Some people equate it to pizza, because you can pile toppings on it, but I don't think that's an accurate description.
It has a thin chewy crust with crispy bits due to the olive oil and the inside is pillowy, light and almost melts in your mouth due to the air bubbles created during the stretching and dimpling process.
The woody herb rosemary is a perfect match when learning how to make focaccia bread because it's sturdy and adds both flavor and texture to the bread while not overpowering the olive oil.
What's in focaccia?
Like most breads the ingredients are pretty simple. That's the beauty of it. For this focaccia recipe we have:
Flour: I use bread flour because it has a higher protein content than all purpose flour, which allows the bread maintain a better structure, but if you have all purpose flour then it will work too.
Active Dry Yeast: I buy yeast in a jar because I bake a lot and I like measuring it out by the teaspoon. Make sure your yeast is fresh. If it's old it won't foam up and it won't help your bread rise.
Water: The temperature of water is important in when making focaccia. Too hot and it will kill the yeast. You want to keep the water around 90-100° F
Salt: I use Kosher salt in the dough and sprinkle the top with flaky sea salt just before serving, but that's totally optional.
Olive oil: Since this is an Italian recipe, why not try our Italian Nocellara EVOO, a medium-intensity oil with a slightly bitter, spicy finish.
Rosemary: Rosemary has to be one of my favorite herbs to use when making focaccia. It's fragrant, but woodsy and pairs well with so many combinations. I pair it here with roasted garlic but you could also use thyme, red onion, or mushrooms.
Roasted garlic: You can make roasted garlic one bulb at a time or if you're like The Mediterranean Dish crew you can make in bulk by roasted many bulbs. Store it in the fridge to add pops of flavor at anytime. Roasted garlic becomes spreadable and has a caramelized sweetness to it.

Roasting Garlic is Easy!
Use roasted garlic to add flavor to spreads, soups, breads and mashed potatoes!
Whether you need to roast a little or a lot of garlic we've got you covered! Our guide on How to Roast Garlic shows you three different ways to roast this powerhouse flavor booster so you never have to go without!
How to make focaccia
If you're new to bread baking, focaccia is one of the easiest breads for beginners. You don't knead it. It's forgiving if you forget about it, and if you run out of time or plans change, just pop the dough in the fridge and pick up where you left off tomorrow.
The time that goes into making focaccia is mostly inactive. It's during these slow rises and massaging of dough that the flavor develops. If you're going to make homemade focaccia, it might as well be the best homemade focaccia.
Rosemary focaccia is the perfect recipe for a Saturday afternoon of folding laundry. Put a load in, stretch the dough, transfer clothes to the dryer, stretch the dough, fold the laundry, stretch the dough. You get the idea.
Make the biga: Combine equal parts of flour and water by weight with a little yeast. Let it sit on the counter for about 90 minutes then transfer it to the fridge overnight and up to 2 days. When ready it will look bubbly.



Make the dough: Stir the biga into water and olive oil just to break it up a bit. Then add the flour, additional yeast and salt.



Stretch and fold the dough: During this stage the dough will start sticky then transform to smooth. Tuck your fingers under the dough and lift it up out of the bowl letting the dough droop down over the sides of your fingers and fold into the bowl. Do this 3 times each time you stretch the dough.



Dimple the dough: Once the dough has been stretched, place it on a parchment lined heavily oiled baking sheet. Turn it to coat. Then twice an hour over the next 1 to ½ hours dimple the dough by pressing just your fingertips into the dough. Gently moving it closer to the edges of the pan each time.



Add roasted garlic and rosemary: Before the final dimpling dot the top of the dough with roasted garlic cloves and rosemary. Season it with another drizzle of olive oil and flaky sea salt.
Bake the focaccia: It only takes about 20-30 minutes for focaccia to cook. So keep an eye on it. You want it to turn a deep golden brown.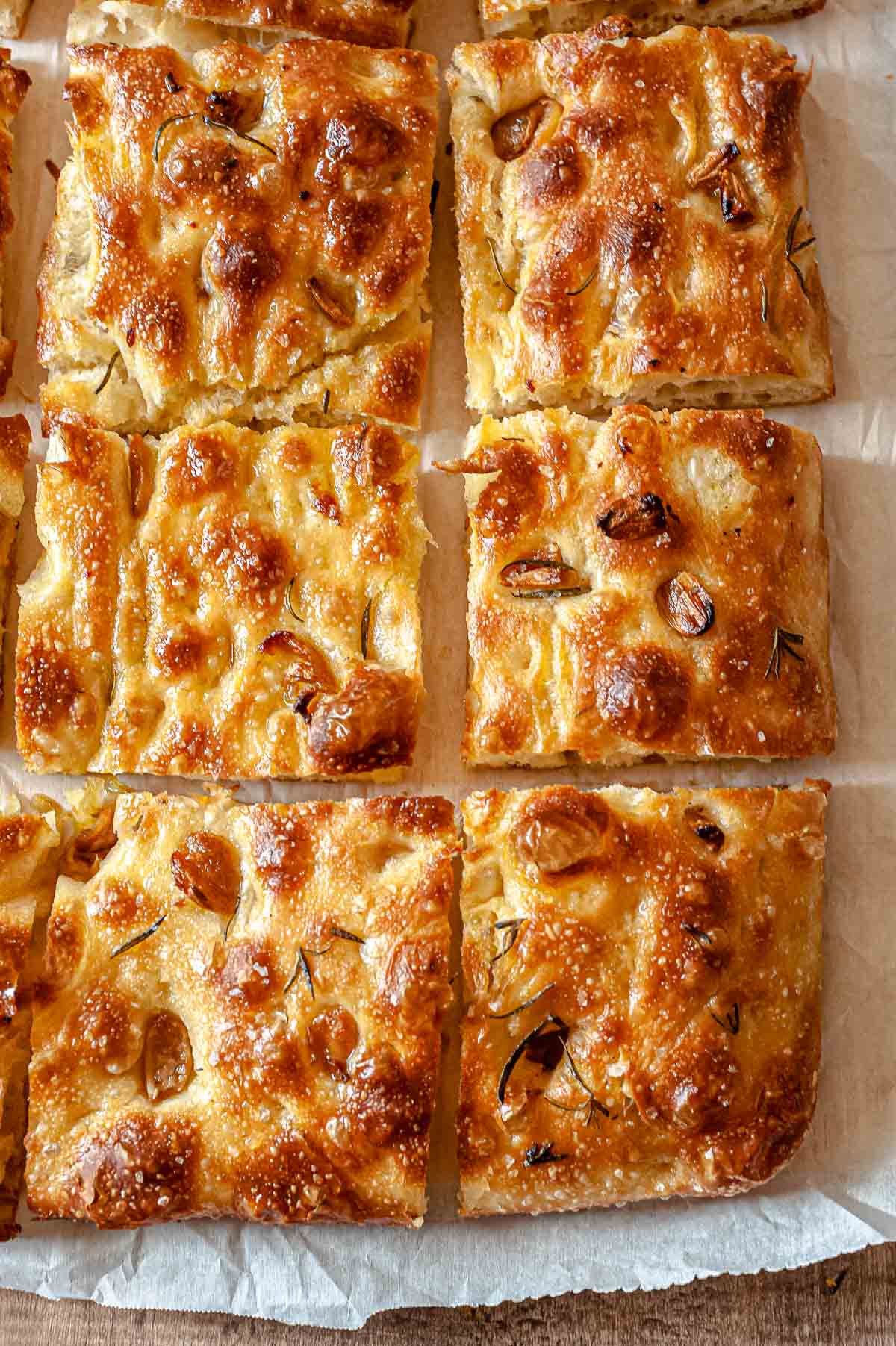 What to serve with focaccia?
I love the sweet caramelized flavors of roasted garlic. I don't think people use it enough.
When paired with rosemary it creates a savory, fragrant bread perfect for topping with eggplant caponata. Cut it into strips to add to a party platter of dips like this creamy whipped feta dip or dunk it into soups like this roasted tomato soup, ratatouille or sausage tortellini soup. It's a great vessel for taking full advantage of brothy and delicious dinners, like chicken puttanesca. Or, pair the sweet-and-savory roast garlic with another naturally savory and just so slightly sweet delight: scallop pasta!
I might even be known to grab a slice or two on my way out the door to pick my kids up from school. When it starts to get a little dry after a few days, turn it into croutons for your chicken caprese salad!
Ways to make this recipe your own
Consider this focaccia bread recipe your jumping off point for endless focaccia flavor combinations. Here are a few ideas to get you started:
Red onion, garlic and kalamata olives
Mushroom and onion
Grape tomatoes, thyme and basil
More bread recipes
Browse all Mediterranean recipes.

Visit Our Shop.
Recommended for this recipe:

Try our ItalianNocellara Italian Extra Virgin Olive Oil in your focaccia bread!
Produced from hand-picked and cold extracted Nocellara olives, this is an exquisite medium intensity oil with a mildly bitter and spicy finish.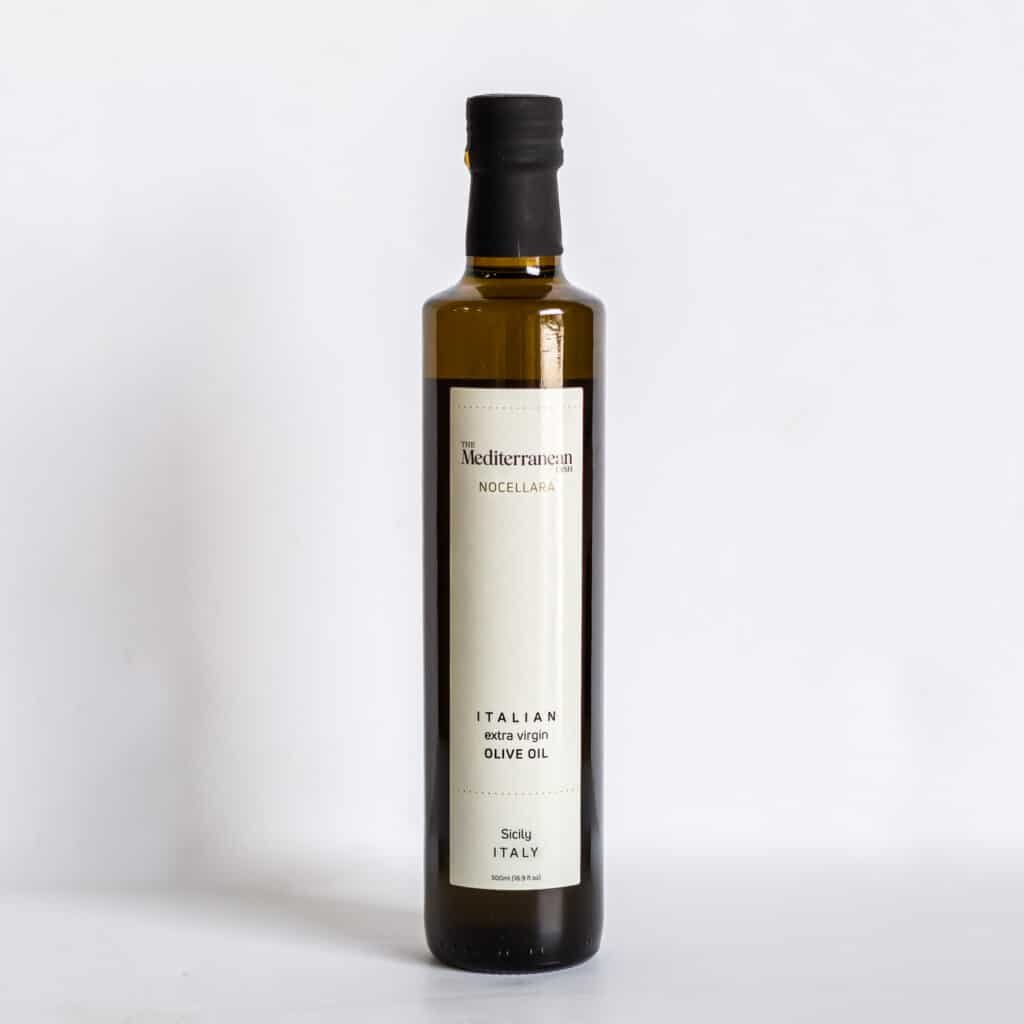 Roasted Garlic and Rosemary Focaccia Recipe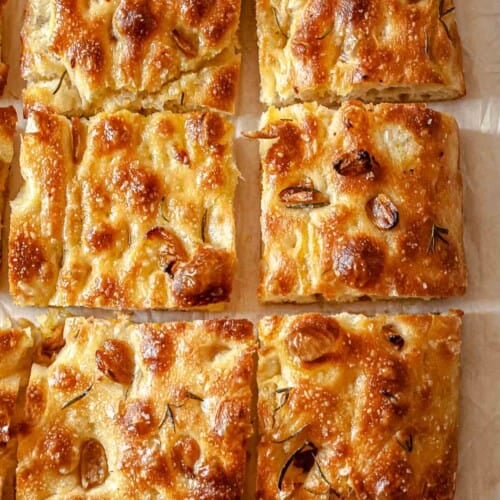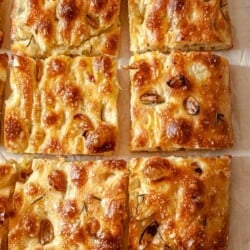 Learn how to make this rosemary focaccia bread recipe with an extra kick of flavor from roasted garlic. Once you master this crispy on the outside, chewy on the outside Italian bread you'll make it again and again! Don't worry about the time stretching or dimpling the dough. Focaccia is easy to make, and most of the time is inactive.
Ingredients
Biga
½

cup

(125g) warm water (80-90°F)

1

cup

(125g) bread flour

½

teaspoon

active dry yeast
Focaccia
All of the biga

1 ½

cups

(350g )warm water

¾

cup

olive oil,

divided, plus more for coating

3

cups

(375g) bread flour

2

teaspoons

kosher salt

½

teaspoon

active dry yeast

2

6-inch rosemary sprigs

1

large head garlic

¾

teaspoon

flaky sea salt,

divided
Instructions
Make the biga: In a medium bowl combine the water, flour and yeast. Cover the bowl with plastic wrap and let it sit at room temperature for 1 ½ to 2 hours. Then transfer it to the refrigerator overnight and up to 48 hours.

The next day make the dough: Remove the biga from the refrigerator. It will look fully hydrated, expanded and should be a little bubbly.

Into a large bowl add the water, all of the biga (235g), 3 tablespoons of olive oil and stir to combine. It's ok if it doesn't totally come together, you just want to break up the biga a bit.

Add the flour, salt, and yeast and stir with a wooden spoon until the flour is hydrated. You will have a sticky, bumpy, shaggy but homogeneous dough. Cover with plastic wrap and set it in a warm corner of your kitchen for 30 minutes.

Lift and fold the dough: Wet your hands to stretch and fold the dough. To do this, scoop your fingers down the sides of the bowl so they meet under the dough in the middle. Lift the dough up above the bowl. You should have dough spilling over the top of your index fingers and your pinky fingers reaching down toward the bowl in an upside down U-shape. Put one end down in the bowl, then the other so they overlap a bit. Lift and fold the dough over itself 3 times. Coming from different edges of the dough each time. Cover with plastic wrap. Repeat this process every 30 minutes for the next 2 ½ hours. You don't want to rush this as it helps develop the structure of the dough and builds flavor.

Transfer the dough to the baking sheet: Place a sheet of parchment paper in the bottom of a baking sheet for thinner focaccia or a 9x13 cake pan for thicker focaccia. Generously coat the parchment paper with ⅓ cup olive oil. Place the dough on the baking sheet or pan, and turn it over gently to coat.

Stretch and dimple the dough: Spread your fingers apart and bend them like you're trying to mimic the talons of a bird. Using the tips of your fingers gently insert them into the dough in multiple places, creating dimples and stretching the dough gently toward the edges of the pan. You will do this 3 to 4 times over the next 1 to 1 ½ hours.

Preheat the oven to 450°F.

Roast the garlic: While you rise and stretch the dough, roast the garlic. You will add the roasted garlic to the dough during the stretching process.

Using a sharp knife, slice the top ¼ to ½-inch off the top of the garlic bulb exposing the individual cloves. Remove any loose papery skins. Place the garlic cut side up in the center of a piece of foil large enough to envelope the bulb.

Drizzle the garlic with 1 tablespoon olive oil and sprinkle it with salt and pepper. Make sure the whole bulb is coated in the oil. Fold the foil around the garlic. Place it in a small baking dish or ramekin and pop it in the oven for 25-30 minutes. When it's ready the cloves will be soft, and creamy.

Add garlic and rosemary to the dough: Remove the garlic from the oven, open the foil and let it cool until it's easy to handle but still warm. Press on the uncut base of the bulb to squeeze the cloves out. Drop them onto the focaccia dough in different places.

Strip the rosemary sprigs of their needles and sprinkle them across the dough. Press the garlic and rosemary into the dough when you dimple and stretch it.

Add olive oil and dimple one more time: Before the final dimple, drizzle 3 tablespoons of olive oil over the bread and sprinkle with ½ teaspoon of flaky sea salt. Dimple it again.

When all is said and done the dough should be coated in oil, pretty close to the edges of the sheet pan, and have lots of bubbles and dimples.

Bake the focaccia: Place the sheet pan in the oven and bake for 18-20 minutes. When it's done it should be golden brown with darker brown bubbles. Remove from the oven.

Drizzle with more olive oil and sprinkle with a ¼ teaspoon flaky sea salt. Give it about 5 minutes to cool, then transfer it to a cutting board. It should be crisp on the outside, tender, slightly chewy and full of air pockets on the outside. Eat it as is or top it with my favorite, eggplant caponata.
Notes
Mix it up: Get creative with your additions. Use olives, try different herbs like time, basil or oregano. Top with grape tomatoes red onion or prosciutto.
I use bread flour because the higher protein content provides a stronger structure for the bread, but if you have all purpose flour on hand that will work too.
Recommended Olive Oil: I prefer our Nocellara Italian Extra Virgin Olive Oil, but our Spanish Hojiblanca Olive Oil with it's peppery finish is also delicious with focaccia.
Visit our store to browse our spices, olive oils and bundles!
Nutrition
Calories:
271.5
kcal
Carbohydrates:
30.5
g
Protein:
5
g
Fat:
14.2
g
Saturated Fat:
2
g
Polyunsaturated Fat:
1.7
g
Monounsaturated Fat:
9.9
g
Sodium:
536.3
mg
Potassium:
44.5
mg
Fiber:
1
g
Sugar:
0.1
g
Vitamin A:
5.7
IU
Vitamin C:
0.1
mg
Calcium:
8.4
mg
Iron:
0.5
mg