Eggs in Purgatory, or Uova in Purgatorio as it's called in Italy, is a breakfast made of eggs gently poached in a spicy tomato sauce. The egg yolks get nice and runny, oozing into the rich and garlicky spicy tomato broth. It's so satisfying and delicious you'd never guess it's made from just a few simple ingredients.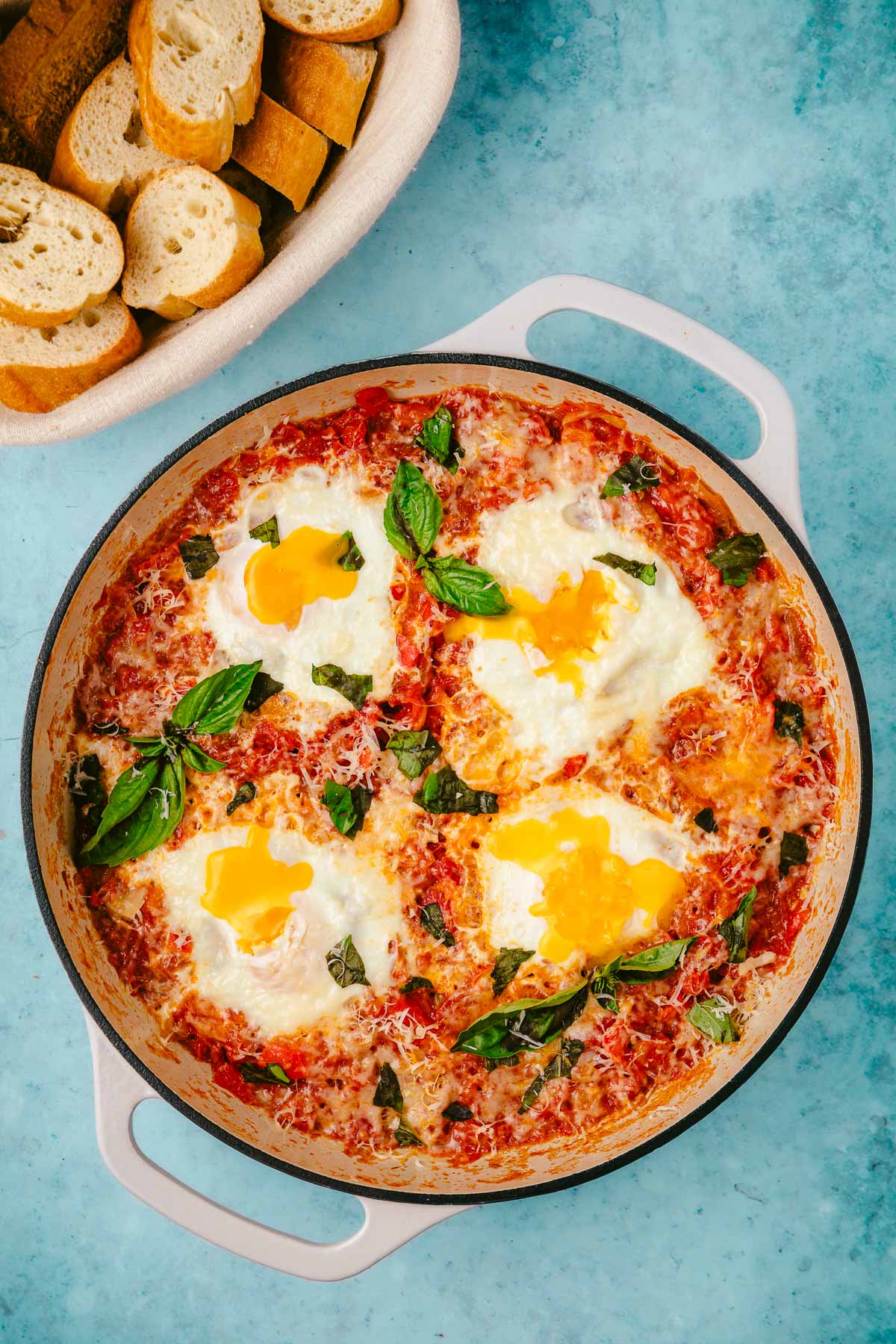 What is Eggs in Purgatory?
Eggs in Purgatory is often compared to Shakshuka, a similar brothy soft poached egg and aromatic tomato sauce dish. While similar to Middle Eastern Shakshuka, the way the sauce is seasoned is quite different. Instead of feta and mint, Italian flavors like fresh basil and Parmigiano-Reggiano take center stage.
This eggs in purgatory recipe is a classic example of "cucina povera," or the affectionate name given to "poor man's cuisine." Home cooks with few luxuries on hand made something amazingly delicious out of nothing. It's Italian culinary ingenuity at its best! The tomato sauce, flavored with onion and spiked with red pepper flakes, provides a soft bed for the eggs, which simmer gently until the whites are set and the yolk is still runny.
Eggs in Purgatory is an easy and versatile dish that makes a great centerpiece for brunch or lunch. Serve with crusty bread or homemade focaccia to soak up the flavorful sauce. Or, it can even be a quick and delicious weeknight supper, served with a side of crispy smashed potatoes.
Table of Contents
Why is it Called Eggs in Purgatory?
The catchy name refers both to the appearance and flavor of the eggs. The amorphous egg white encircling the yolks is said to evoke the souls of those in Purgatory. The red, spicy sauce represents the flames by which those doomed souls are surrounded. A somber take on such a delicious dish!
This recipe is most associated with Neapolitan cuisine—the Neapolitans are especially good at turning humble ingredients into fantastic meals. Still, you'll find similar versions in other parts of southern Italy, including Sicily.
Whereas, in Abruzzo, the region my family is from, we add diced sweet pepper to punch up the flavor. So, of course, I've included this addition to carry out my family's delicious traditions. Plus, it adds a nice pop of sweetness.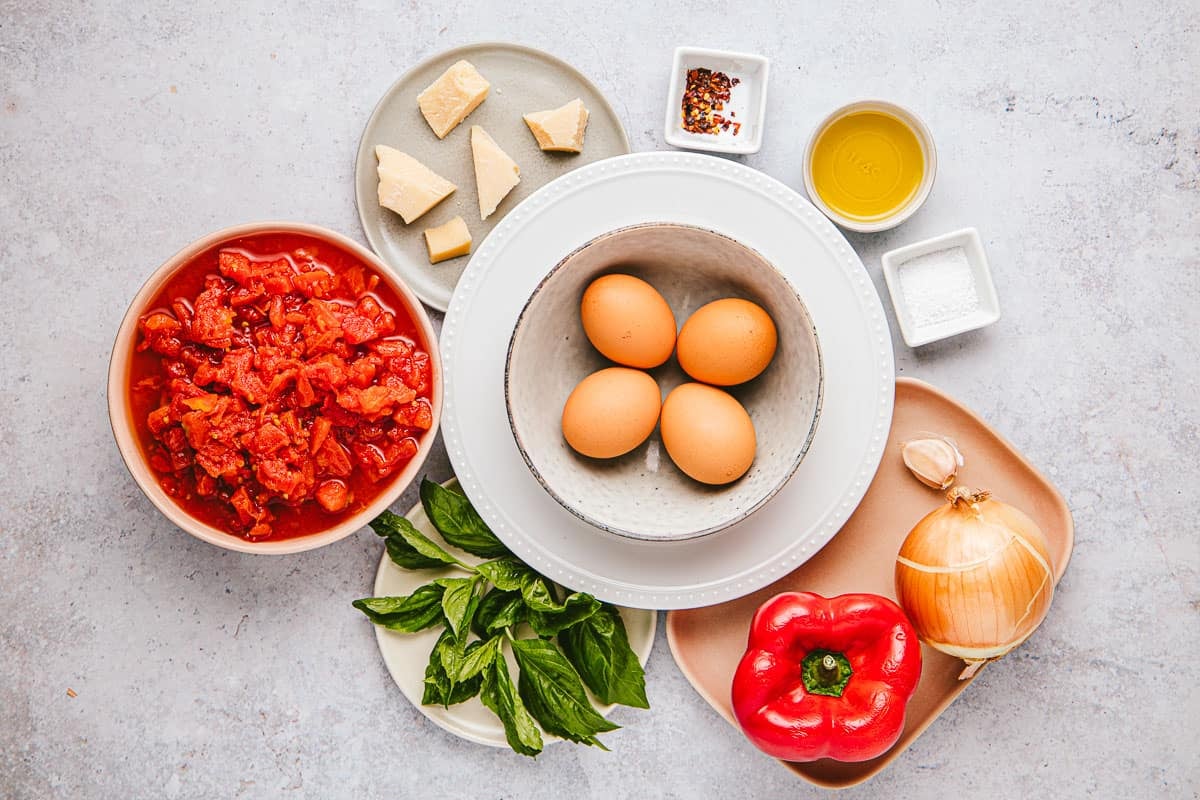 What You Need to Make Eggs in Purgatory
One reason this dish is so popular is because you can make it with just a handful of ingredients. And, most of this list is likely already in your pantry or fridge. It's one of those dinner-saving dishes that has come to my rescue over and over again. Here are the ingredients you need to make Eggs in Purgatory:
Extra-virgin olive oil: You need just 3 tablespoons to make Eggs in Purgatory. Use a high-quality oil that tastes fresh, like our Nocellara Italian EVOO.
Yellow onion and garlic: These two aromatics form the foundational flavor of the poaching sauce. Yellow onions boast more flavor. But, you can also substitute with white onions or shallot if that's what you have at your disposal.
Red pepper flakes: Without a generous pinch, it wouldn't be Eggs in Purgatory. Spice is what makes this dish pop!
Red bell pepper: Although this is optional, I always add it to my Eggs in Purgatory. The pepper gives the tomato sauce an extra layer of flavor and adds a touch of sweetness.
Finely chopped canned tomatoes: Canned tomatoes are convenient because there's no peeling, and they are available year-round. Use a brand that tastes fresh, and avoid canned tomatoes in heavy tomato paste, which lack that fresh taste. You can also use whole tomatoes. Just make sure you reduce them to a pulp using a potato masher. Or, you can squeeze the tomatoes with your hands (wear an apron!).
Eggs: Eggs are the shining stars of this recipe. Large eggs will be the most luxurious, but if you have small eggs they will work too. Keep an eye on smaller eggs, you will likely need to reduce the cook time so they simmer to soft-poached.
Fresh basil: Tossing in a few leaves of fresh basil at the end perfumes the entire dish. Plus, the leaves adds a pretty splash of color.
Parmigiano or Pecorino cheese: Cheese is optional. But, I can't resist sprinkling a handful of freshly grated parm or pecorino just before serving.
Salt: Fine salt amplifies the flavors in the whole dish.
Bread: Bread is also optional, but like cheese, I never skip it! It really is quite satisfying to have a vessel for soaking up all the flavorful tomato broth.
How to Make Eggs in Purgatory
Eggs in Purgatory need a big, luxurious bath to gently poach. A wide skillet is best. The sauce cooks down quickly, and there's plenty of room for poaching the eggs.
Make the tomato sauce: Add 3 tablespoons olive oil to a skillet. Add one small thinly sliced onion and a lightly crushed clove of garlic. Next, stir in a large pinch of red pepper flakes and one chopped red bell pepper, if using. Cook on medium-low to soften the onion and pepper, about 10 minutes. If the pepper isn't quite tender, cover the pan partially and cook 5 minutes longer to soften it further.
Add the tomatoes: Add 3 cups of chopped tomatoes and season everything with a healthy pinch of salt. Bring the tomatoes to a simmer. Cover partially and cook until the tomatoes have darkened in color and started to thicken about 15 minutes. Uncover and cook for another 5 minutes or so, until the sauce is nicely thickened.
Poach the eggs: Using the back of a spoon, make four wells in the sauce. Make sure they are wide enough to hold the eggs. When ready, crack an egg into each of the 4 wells and sprinkle tiny pinches of salt on top of each egg. Cover and cook at a gentle simmer over medium-low heat until the whites are set but the yolks are still tender, about 2-3 minutes.
Garnish and serve: Remove the pan from the heat. After the eggs are cooked, add the final touches. Simply, tear a few fresh basil leaves over the eggs and sauce. Sprinkle freshly grated Parmigiano or Pecorino cheese on top and serve right away.
Swaps and Substitutions
The simplicity of Eggs in Purgatory makes it a great dish to play around with—almost irresistible. Here are some ways you can change up Eggs in Purgatory and make your own signature family recipe:
Stir in more herbs. Add a pinch of dried oregano or a few sprigs of fresh marjoram to the aromatics. Or sprinkle some chopped fresh parsley on top of your eggs right before serving.
Add more vegetables. Although this isn't traditional, in summer try adding sautéd diced eggplant or zucchini with the onion and garlic. You could do this instead of or in addition to the pepper. A handful of baby spinach in the final minutes would also add a fresh and flavorful twist.
Add mozzarella: Sometimes I arrange thinly sliced mozzarella cheese around the eggs. The cheese melts as the eggs cook, almost like a pizza topping.
Swap in in ricotta salata. Instead of Parmigiano or Pecorino, try crumbling on a handful of ricotta salata. It's a salty, pressed version of ricotta that crumbles nicely and adds a tangy flavor.
Add a dollop of pesto. If fresh basil isn't available, add a few dollops of jarred or homemade pesto towards the end of cooking.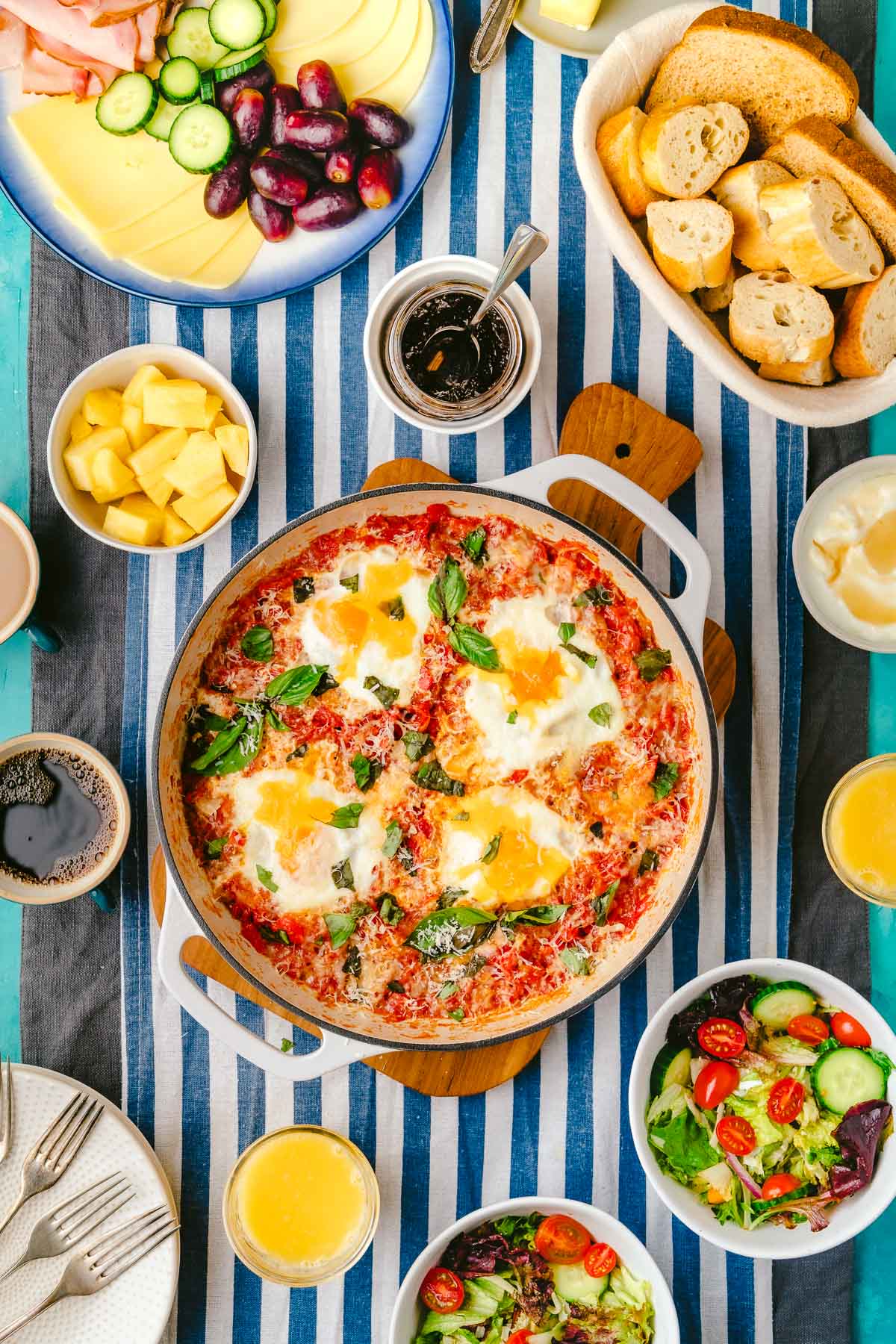 What to Serve with Eggs in Purgatory
Eggs in Purgatory is such a versatile dish. You can serve it for breakfast, brunch, lunch, or even a quick vegetarian dinner.
For brunch or lunch, serve Eggs in Purgatory with warm, thick slices of crusty Italian bread, such as ciabatta. Easy Antipasto Skewers would make for a nice welcome to the party. Or, for a lighter take, lemony Blanched Asparagus is a colorful and fresh side dish.
For an easy vegetarian dinner, Crispy Smashed Potatoes makes a quick, nutritious, and satisfying supper.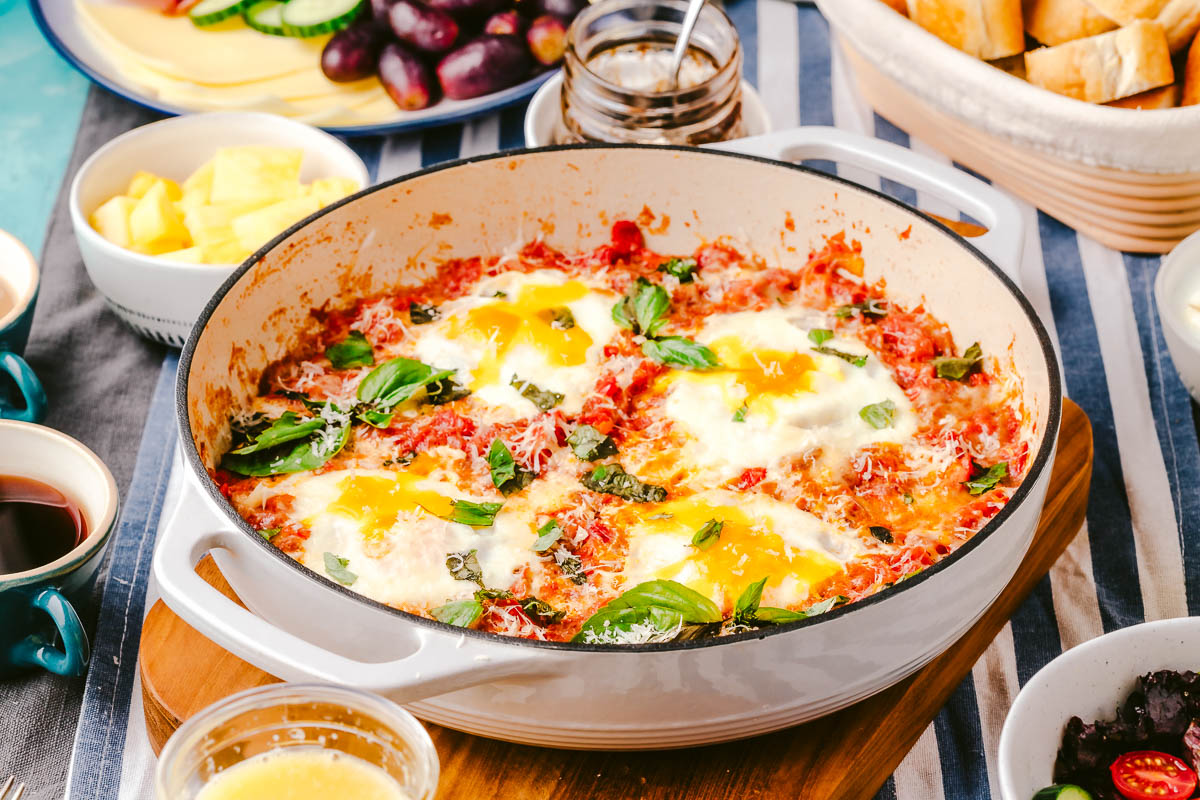 Make Breakfast Better with These Egg Recipes
Browse all Mediterranean recipes.

Visit Our Shop.
Italian Extra Virgin Olive Oil
From 100% Nocellara del Belice olive variety, cultivated in the ancient city of Agrigento, Sicily.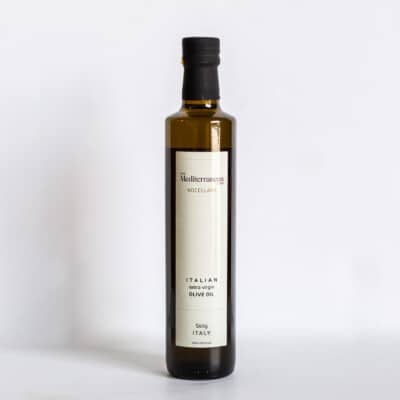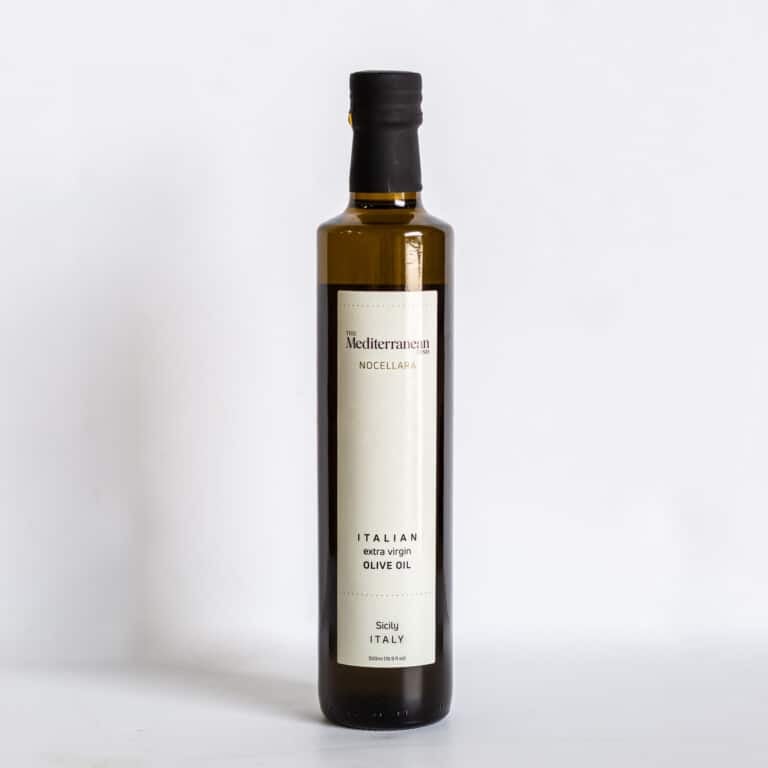 Eggs in Purgatory (Uova in Purgatorio)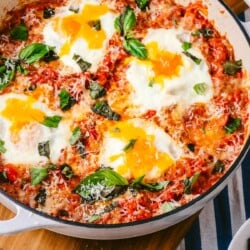 Red pepper spices up this easy dish of eggs gently poached in tomato sauce. Finish with fresh basil and a shower of Parmigiano-Reggiano cheese for a satisfying weeknight dinner.
Ingredients
3

tablespoons

extra-virgin olive oil

1

small yellow onion,

thinly sliced

1

garlic clove,

lightly crushed and peeled

Generous pinch red pepper flakes

1

red bell pepper (optional),

coarsely chopped

Fine salt

1

28 ounce can chopped tomatoes

4

large eggs

5-8

fresh basil leaves,

torn

3-4

tablespoons

freshly grated Parmigiano-Reggiano or Pecorino Romano

Crusty bread (optional),

for serving
Instructions
Make the base: In a large skillet or wide saucepan with a lid set over medium-low heat, stir together the olive oil, onion, garlic, red pepper flakes, and red bell pepper. Cook, stirring, until the onion and peppers are softened, about 10 minutes. If the bell pepper isn't quite tender, cover the pan partially and cook for another 5 minutes, until the pepper is softened but still holds its shape. Season with a generous pinch of salt.

Add the tomatoes: Stir in the tomatoes and bring to a simmer over medium heat. Lower the heat to medium-low, cover the skillet partially and simmer gently until the tomatoes have darkened in color and thickened, about 15 minutes. Uncover and cook another 5 minutes until the sauce is nicely thickened.

Poach the eggs: Use the back of a spoon to carve out 4 wide wells in the sauce, making homes for your eggs. Crack the eggs into the wells and season each with a sprinkle of salt. Cover the pan and cook gently until the whites are set and the yolk is still runny, about 2-3 minutes.

Serve: Remove from the heat and garnish with torn fresh basil leaves and cheese. Serve right away, with good bread on the side.
Notes
If you prefer firm yolks, leave the cover on for them to poach for an extra minute or so.
Make sure you use a pan with a lid: the eggs won't cook through if they're uncovered.
Visit our shop to browse quality Mediterranean ingredients including olive oils, honey, jams and spices.
Nutrition
Calories:
207.7
kcal
Carbohydrates:
9.2
g
Protein:
8.2
g
Fat:
15.9
g
Saturated Fat:
3.5
g
Polyunsaturated Fat:
2.1
g
Monounsaturated Fat:
9.6
g
Trans Fat:
0.02
g
Cholesterol:
167.6
mg
Sodium:
257.1
mg
Potassium:
364.6
mg
Fiber:
2.1
g
Sugar:
5.1
g
Vitamin A:
1331.8
IU
Vitamin C:
50
mg
Calcium:
107.1
mg
Iron:
2.1
mg