You'll love this easy blanched asparagus recipe, topped with a simple and bright Mediterranean-style tomato salsa with fresh herbs and citrus. You can serve this asparagus recipe at room temperature as a side or chilled as an appetizer or salad. Be sure to check out my tips and video below.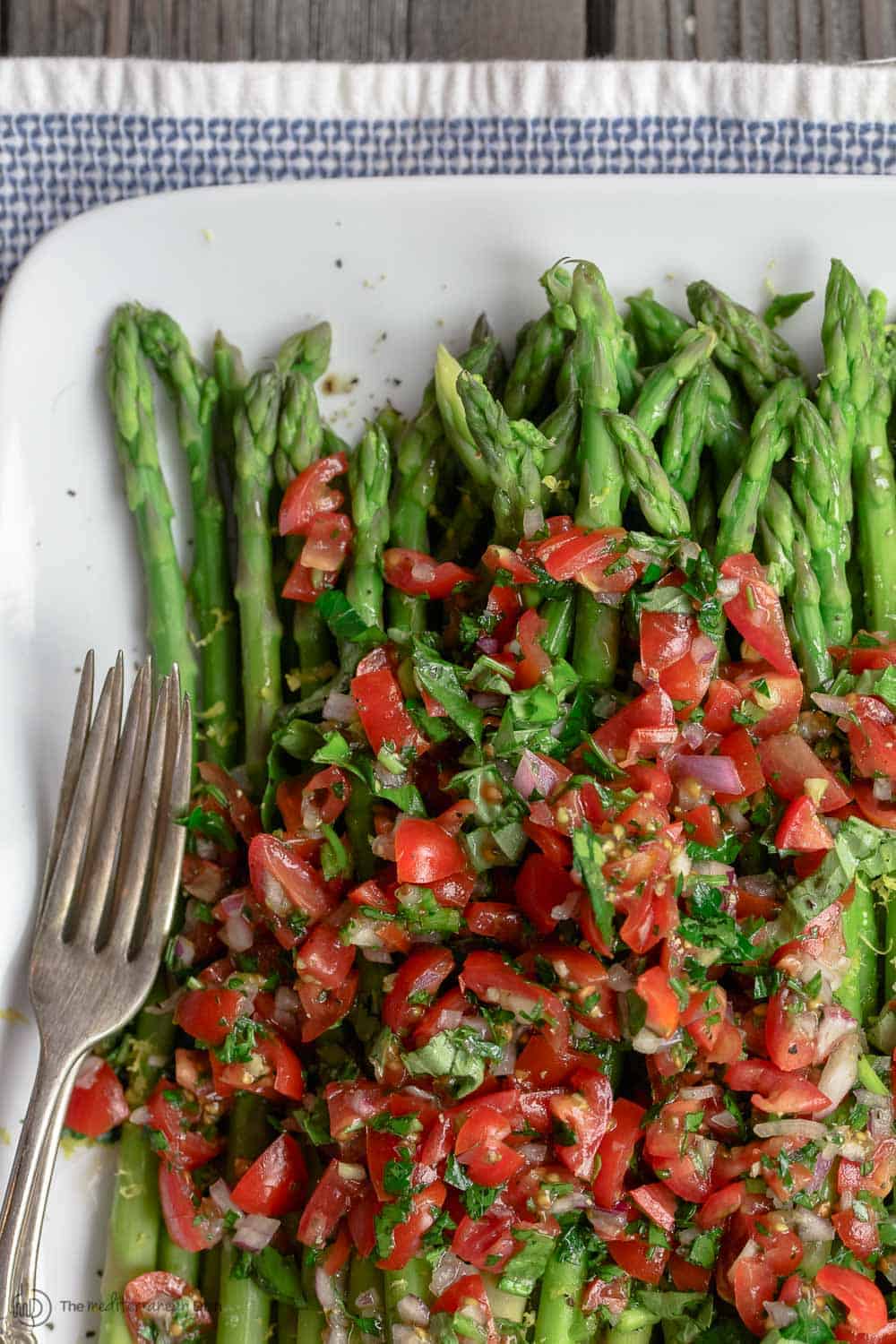 I'm a big fan of asparagus. It's filled with nutrition including fiber, folate, and vitamins C and K. And it's one ingredient that is versitale and makes a beautiful statement no matter how you prepare it--roasted, grilled, sauteed, or even blanched!
Personally, I've used it in a tasty roasted asparagus salad, and I've also sauteed it as part of a breakfast potato hash! And, I love adding it to something like Pasta Primavera. And even as I type, I'm thinking of making an asparagus soup soon!
Today's easy asparagus recipe features blanched asparagus spears topped with a Mediterranean-style salsa (a variation of this homemade salsa). It's a fun dish to make ahead because you can serve it chilled or at room temperature. And you'll love the fresh and bright flavors!
Because asparagus is basically the star of the show here, let's discuss just a few tips for how to select the best asparagus.
What to look for when buying asparagus?
Asparagus is fairly available year-round, but the best time to buy it is between February and June when it's in season. You'll find thin asparagus and some larger asparagus with thicker spears (these are cheaper and just as good as long as you trim the tough ends). Here's what you should look for when buying asparagus:
Long stems should be bright green in color and should feel nice and firm
The flowery-looking tips should be closed
Asparagus skin should be smooth
When you squeeze an asparagus bunch, it should give you a bit of a squeaky or rubbery sound
I like to use asparagus within a day or so of buying it. To store it, I simply place the asparagus upright (stem side down) in a mason jar with a bit of water and cover with loosely with a plastic bag before refrigerating. It stays nice and fresh that way.
Even though today's recipe calls for blanched asparagus (or boiled asparagus), you can also cook the asparagus a different way, if you like.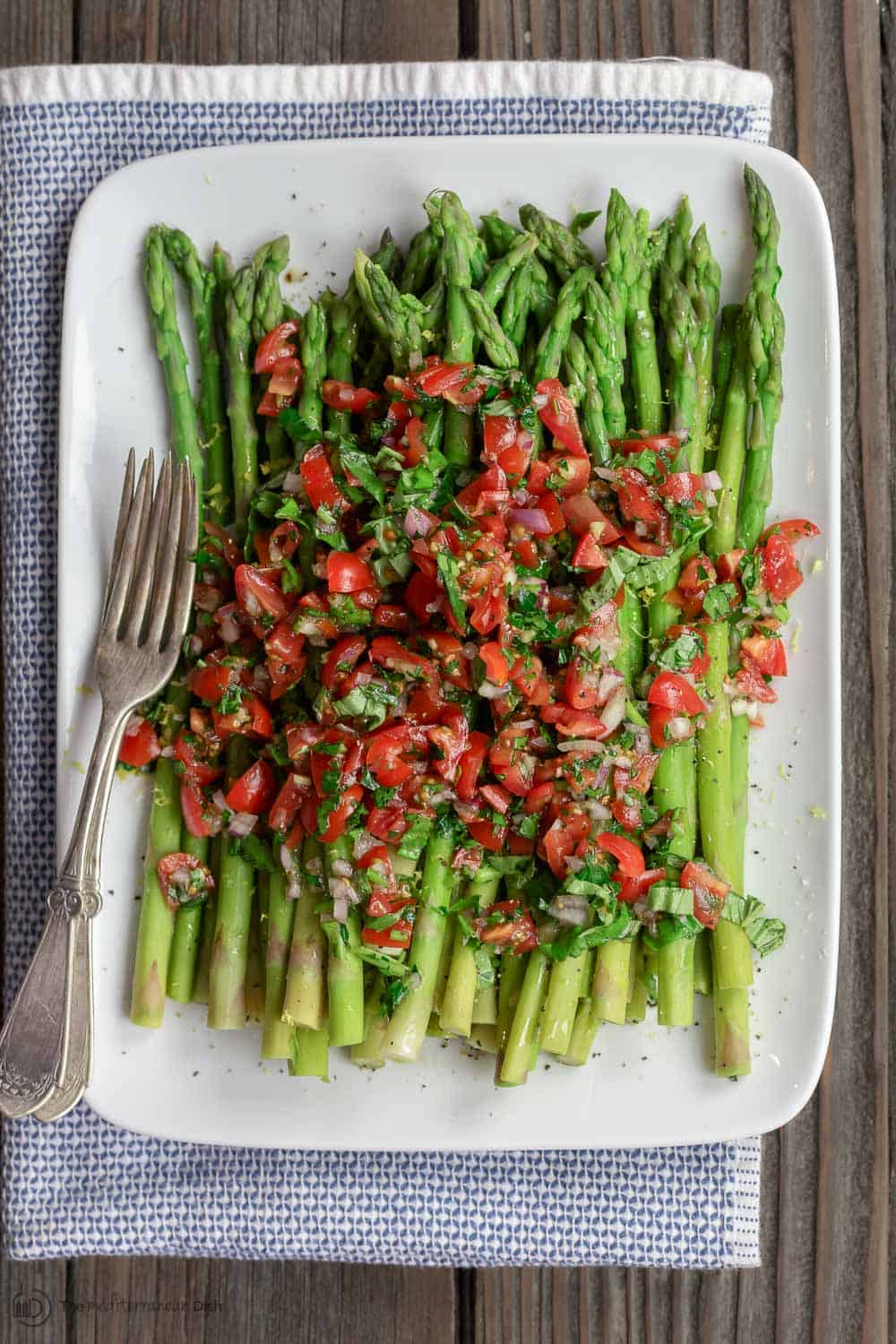 Three ways to cook asparagus
Regardless of which way you choose to cook your asparagus, be sure to first clean the asparagus by washing it well then trim the tough stalks.
Roasted Asparagus: you will simply coat the asparagus with extra virgin olive oil and kosher salt and pepper, then place it on a sheet pan and roast in a high-heated oven (about 400 degrees F) for about 10 minutes or so. Give the pan a shake occasionally for even roasting.
Sauteed Asparagus: when sauteing, I like to cut the asparagus into 2-inch pieces. From there, saute the spears over high heat in a pan with a bit of oil until lightly browned and tender (about 3 to 5 minutes). Season with kosher salt and pepper.
Boiled Asparagus or Blanched Asparagus: this is one of the most basic and easiest ways to cook asparagus and the method I prefer for this asparagus recipe because it produces beautiful bright green spears that are nice and succulent and make the perfect bed for my Mediterranean-style homemade salsa. Basically you cook the asparagus in boiling water briefly, then finish it in an ice bath for a quick minute.
How to Blanch Asparagus?
Trim the asparagus. Wash the asparagus, then trim the tough, woody ends either by using a knife to cut them or simply snap the end off (you want to end up with the top ¾ of tender spear).
Cook in Boiling water. Boil about 8 cups of water in a large pot and season with about 2 tablespoons of kosher salt. Drop the asparagus in and cook for about 3 to 4 minute or so.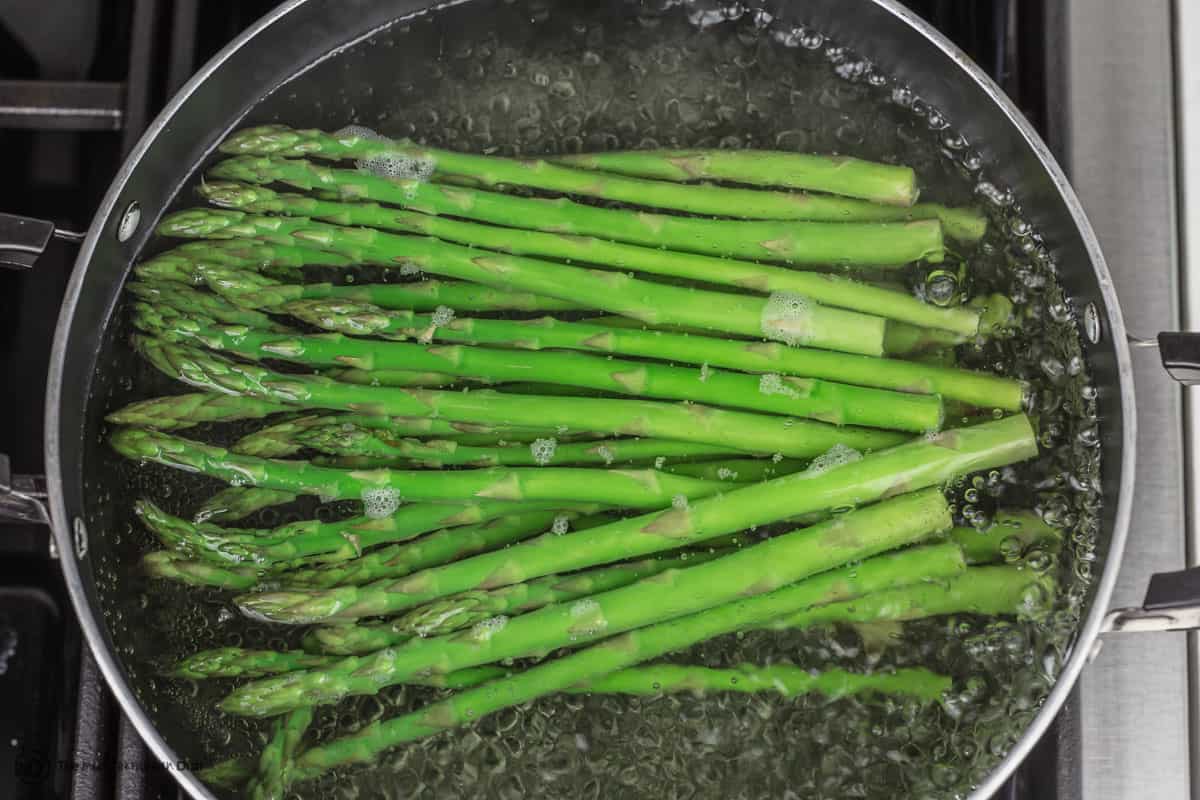 Shock the boiled asparagus in an ice bath. Have a bowl of ice water ready next to the cooking pot. As soon as the asparagus is ready, quickly transfer it to the bowl of ice water (I use my tongs to do this) and leave it for 1 minute. If you're wondering how to keep asparagus green when cooking, ice bath is your answer. This ice bath method is used often with green ingredients (I use it when I make this Greek green bean salad, for example) to stop the cooking process, and that's what preserve that bright green color.
The Salsa
Asparagus can be seasoned or jazzed up many different ways. In this asparagus recipe, I decided to top it with a fun Mediterranean-style salsa, and let me tell you, it is far more than a garnish here!
Sweet cherry tomatoes with shallots and fresh herbs like parsley and mint (or basil). Loads of flavor!
This easy asparagus recipe is truly the sum of its parts, so it is just as important to grab the best quality tomatoes and herbs you can find. And topping all that is excellent quality extra virgin olive oil.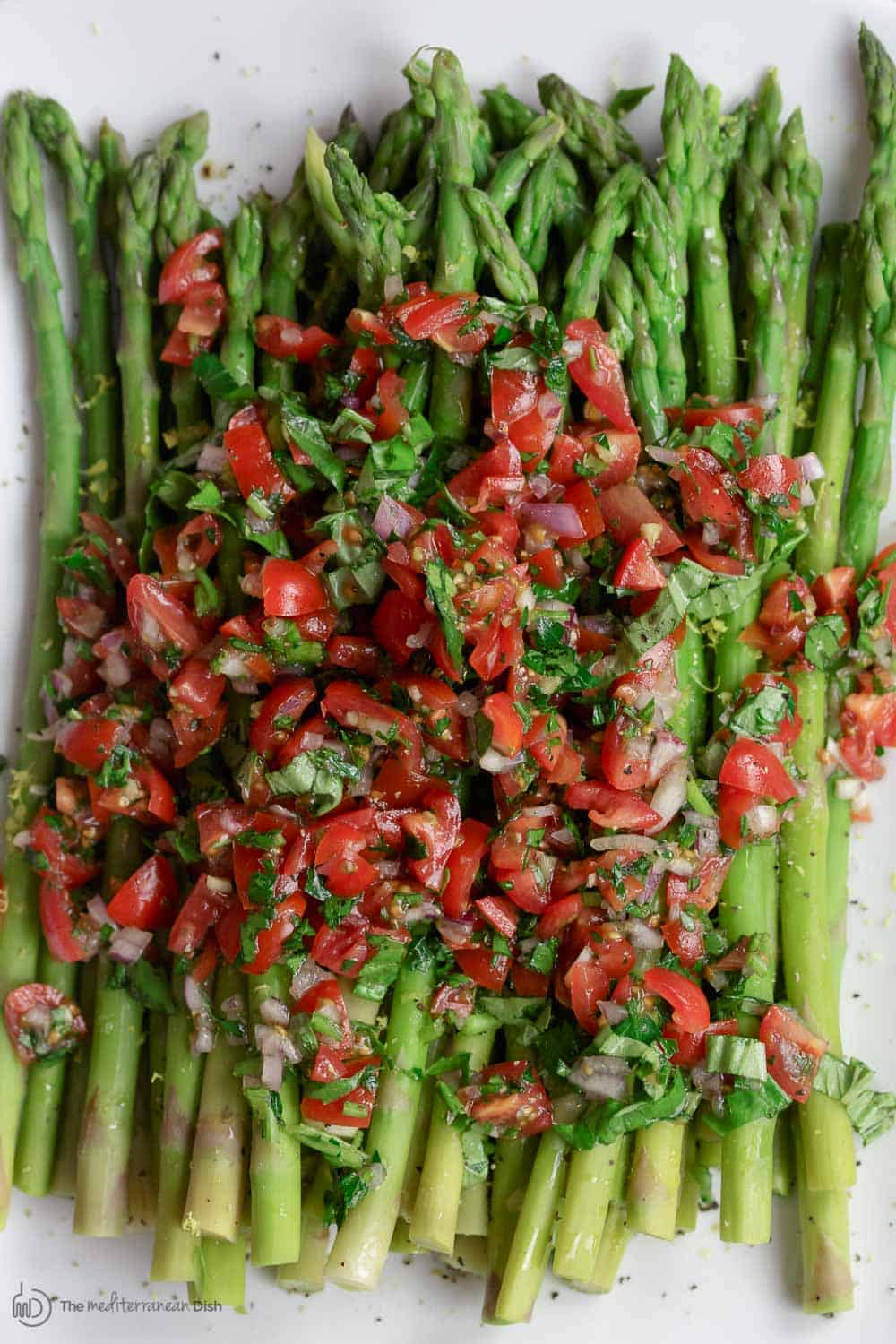 What goes well with asparagus?
I'd be happy to have this asparagus for lunch with nothing else at all! But it can make a great side next to some fish or your favorite meat. Here are a few options:
Craving more bright salads and sides? Try Stuffed Zucchini Boats, Mediterranean Watermelon Salad Or Tomato Panzanella Salad
You may also enjoy 50+ Top Mediterranean diet recipes. For all recipes, visit us here. JOIN MY FREE E-MAIL LIST HERE.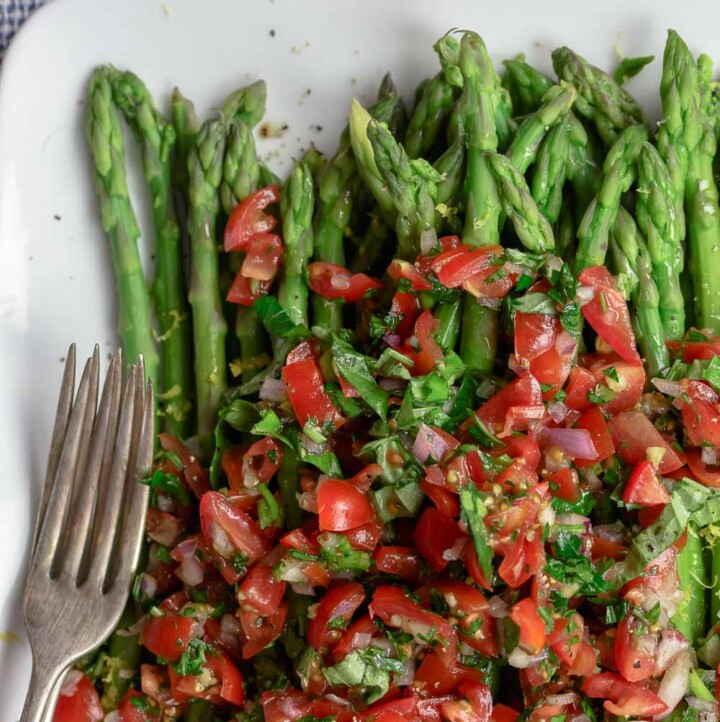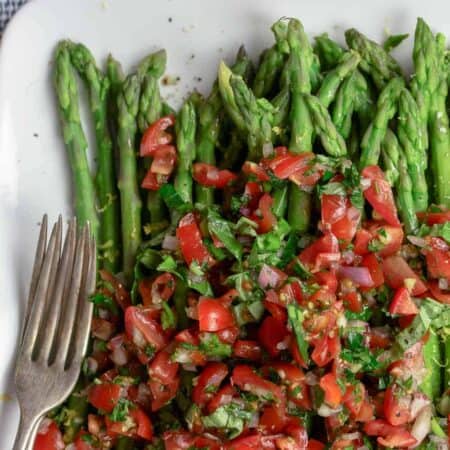 Blanched Asparagus Recipe with Mediterranean Salsa
Bright, simply blanched asparagus takes on a flavor-packed Mediterranean salsa with tomatoes, shallot and fresh herbs. Serve it as appetizer, salad, or side dish! Vegan. Gluten Free.
Ingredients
For the Mediterranean Salsa
12

oz

cherry tomatoes

chopped or halved (place in a small sieve over a bowl to drain a little)

1

shallot

finely chopped

1

garlic clove

finely chopped

½

cup

chopped fresh parsley leaves

¼

cup

chopped fresh mint leaves

or basil chiffonade, if you prefer

Salt and pepper

more for later

½

teaspoon

sumac

2 to 3

teaspoon

fresh lemon juice

Early Harvest Greek extra virgin olive oil

more for later
For Asparagus
1 ½

lb

Asparagus

tough ends trimmed (preferably baby asparagus if available)

Water

Zest of 1 lemon
Instructions
Make the Mediterranean salsa. In a mixing bowl, add the tomatoes, shallots, garlic and herbs. Season with salt, pepper, and sumac. Add lemon juice and a generous drizzle of extra virgin olive oil. Mix and set aside so flavors will meld nicely (or, if you prefer, cover and chill until ready to serve).

In a cooking pot or large saucepan, bring 8 cups of water, seasoned with 2 tablespoons of kosher salt, to a boil. Have a large bowl of ice water ready next to it (this is an ice bath for the blanched asparagus).

When water comes to a rolling boil, add the prepared asparagus. Boil until tender, 3 to 4 minutes (depending on thickness). Remove with tongs, or drain in a colander, and immediately transfer to the bowl of ice water for 1 minute to stop the cooking process. Drain; set aside to cool down a bit (or if you prefer to serve it as a salad, chill in the fridge for a bit).

When ready to serve, arrange the asparagus on a serving platter. Season with salt and pepper. Add a drizzle of good extra virgin olive oil and lemon zest. Top with the Mediterranean salsa. Enjoy!
Notes
Prepare ahead Instructions: you can serve this at room temperature or chilled. If you plan to prepare ahead and chill, you can do so a few hours or one night in advance. Store the Mediterranean salsa and asparagus separately in the fridge, in tight-lid containers until ready to serve.
Recommended for this Recipe: Early Harvest or Private Reserve Greek extra virgin olive oil; and from our spice collection, Sumac.
Visit our Online Shop to browse quality Mediterranean ingredients including extra virgin olive oils, all-natural and organic spices and more.
Nutrition
Calories:
40.2
kcal
Carbohydrates:
8.3
g
Protein:
3.4
g
Fat:
0.3
g
Saturated Fat:
0.1
g
Sodium:
12.5
mg
Potassium:
405
mg
Fiber:
3.3
g
Vitamin A:
1635.4
IU
Vitamin C:
27.9
mg
Calcium:
44.9
mg
Iron:
3.3
mg
This post has been recently updated with new information and media for readers' benefit. Enjoy!