Busy cooks, you'll love this tender, perfectly flaky baked lemon garlic salmon! It takes little prep and less than 20 minutes to cook! Salmon baked in foil is a smart technique that ensures perfectly cooked, moist salmon every single time. Plus, clean up is a breeze.
Be sure to read on for tips and watch the video below for how to make this garlic baked salmon recipe!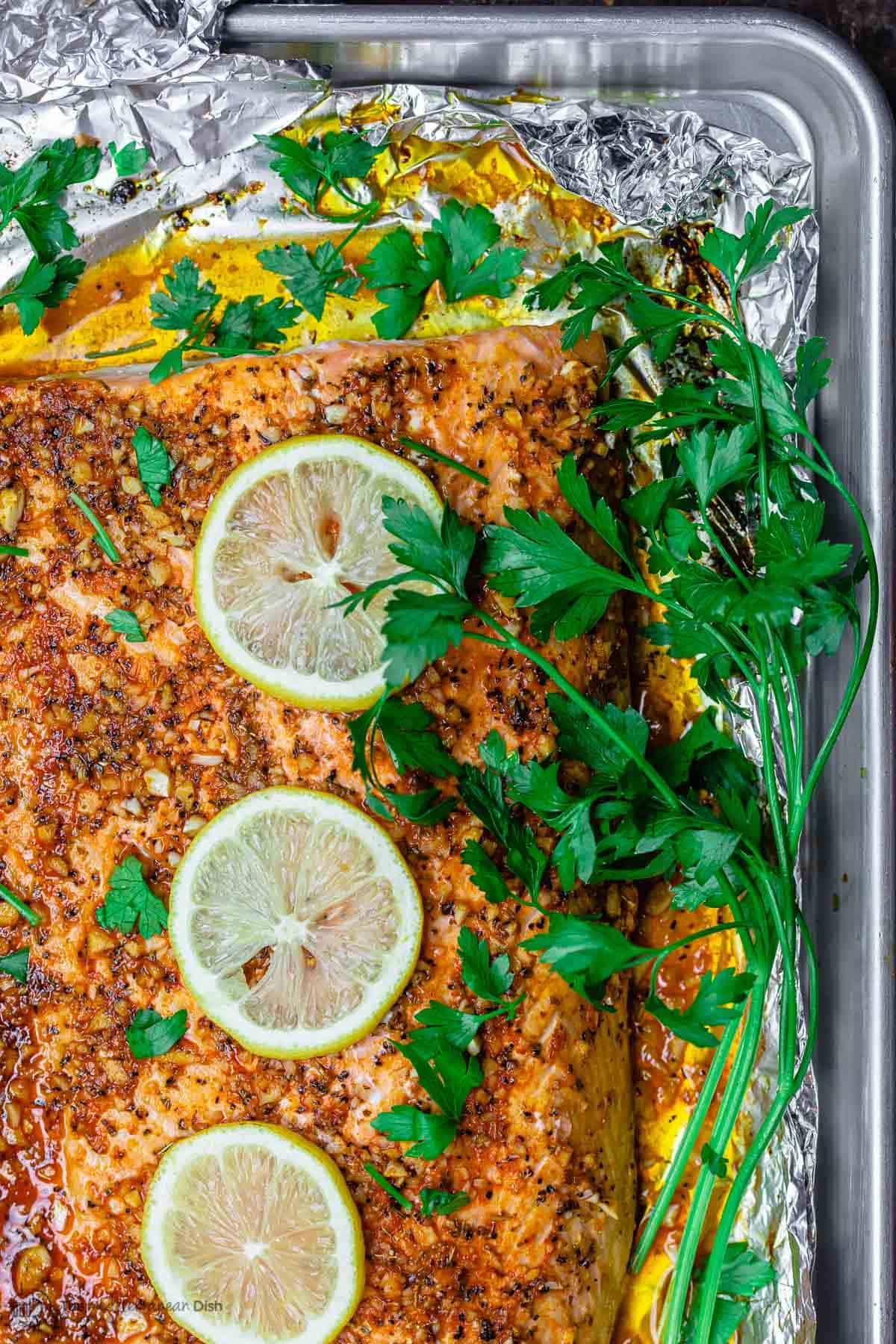 Aside from the fact that salmon is of the good-for-you Mediterranean diet foods, it is a beautiful, tasty fish that makes a "fancy" dinner in a snap. But many people are intimidated by the idea of cooking a large salmon fillet because it can easily turn out too dry or bland. Not the case here!
You'll love this flavor-packed lemon garlic salmon! It is tender, moist, and perfectly flaky. Best part, it's so easy to make, even for less experienced cooks.
Why this Lemon Garlic Salmon Recipe Works? Two Important Tips
Aside from the fact that this salmon dinner is super quick and easy, a couple of things make all the difference for me:
1- Loads of Flavor
Salmon is a hefty, fatty, robust fish, it can stand up to big bold flavors without being overwhelmed. In fact, salmon needs big bold flavors. That's where our tasty lemon-garlic sauce comes in!
This baked salmon recipe begins by making the simple lemon-garlic sauce. What's in it?
Lemon. Loads of it, actually. Juice of 2 large lemons + lemon zest (so much brightness!)
Lots of fresh garlic. Make sure the garlic is minced or finely chopped (no one wants to bite on a large piece of garlic!)
Quality extra virgin olive oil. Many recipes use melted butter, but you don't really need to. Extra virgin olive oil is all you need to finish this sauce, giving the salmon a healthier buttery finish. I used Early Harvest Greek extra virgin olive oil, which is rich with a peppery finish.
Spices & Herbs. A simple trio of dry oregano, paprika, and black pepper are whisked in the sauce for even more flavor
2- Tender and Perfectly Flaky
This smart technique for baked salmon in foil has been the one I recommend for new cooks or anyone who's not so sure about how to cook salmon in the oven.
Wrapping salmon in foil traps the steam and helps cook the fish well, while keeping it from drying out. The sauce also helps a great deal, because while it infuses the salmon with flavor, it also keeps it nice and moist.
How to Bake Lemon Garlic Salmon In Foil
This garlic baked salmon is as easy as 1, 2, 3
Step 1: Make the lemon-garlic sauce
In a small bowl or jar, mix together the lemon juice, olive oil, garlic, lemon zest and spices.
Step 2: Prepare Salmon
Prepare a baking sheet lined with a large piece of foil (foil needs to be large enough to wrap salmon). Brush the top of the foil with extra virgin olive oil. Pat salmon dry and season well with kosher salt, and place on the prepared pan.
Now, pour the tasty lemon-garlic sauce all over the salmon evenly. Add lemon slices (because never enough lemon when it comes to salmon)! Wrap the foil over and fold to secure shut at the top.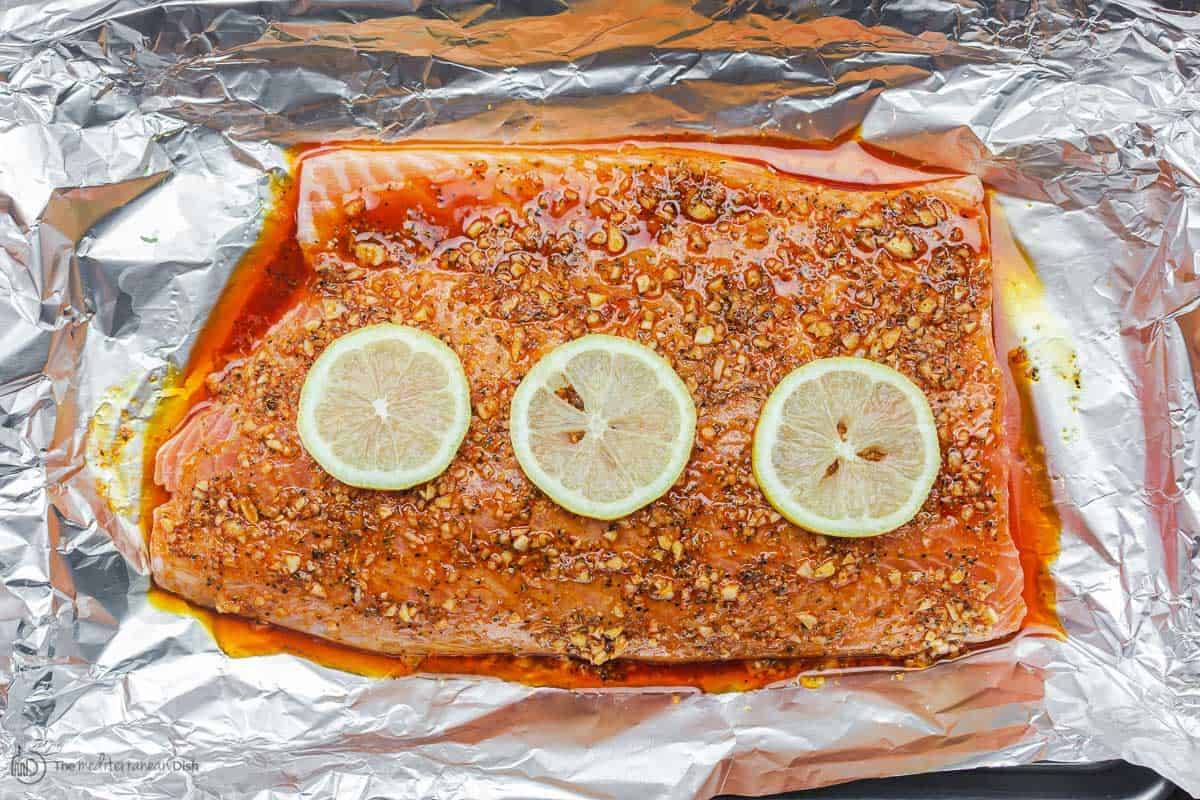 Step 3: Bake
Bake salmon (wrapped in foil) in a 375 degrees F heated-oven. Bake for 15 minutes or so, depending on thickness (if your salmon is 1 ½ inches or more in thickness, it may take a little bit longer.)
Remove from oven and uncover, then place under the broiler for a couple more minutes.
Garnish with a little fresh parsley. How tasty does this look?! I've got some ideas below for what to serve along!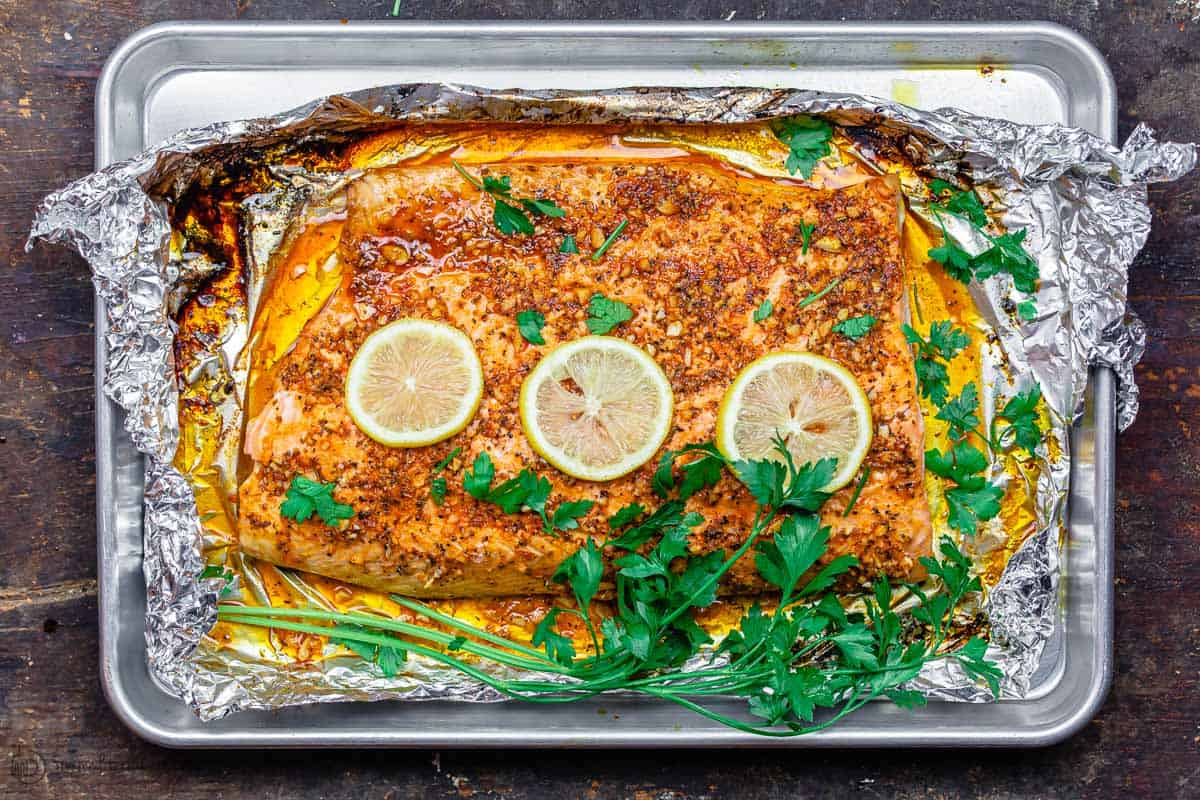 How Do I Know If Salmon is Ready?
Once you remove salmon from the oven, if it still appears underdone, you can wrap the foil over the top and let it rest briefly. Don't leave it too long, salmon can easily go from under-cooked to way over-cooked quickly.
When the salmon flakes easily with a fork, it's ready. If you like, you can use an instant read thermometer to check the fish for doneness. The USDA recommends a minimum internal temperature of 145°F, which should be measured at the thickest part of the fish fillet.
What to look for when buying a large salmon fillet?
Buying a large side of salmon--like 2 pounds as we have in this recipe that feeds a small crowd--can sound intimating, but it's actually pretty straightforward.
We've talked about this before in an earlier post, but when you're buying salmon, color and smell are basically your best indicators of quality. Look for salmon that has a vibrant pink hue and smells clean and not too fishy. It should not look dry or smell too funky.
When possible, opt for wild salmon. If that's not available, frozen or sustainably raised salmon are good options as well.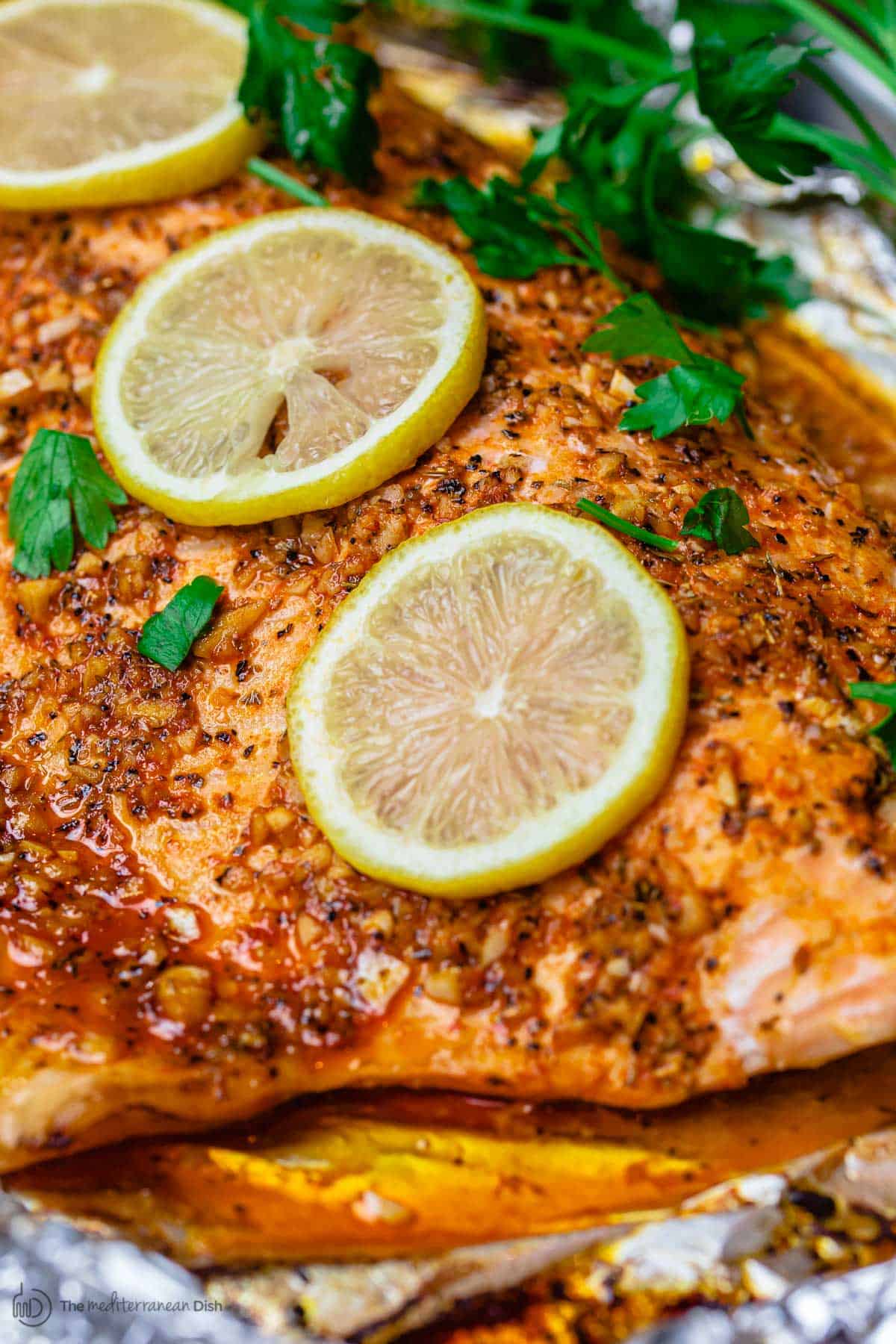 What to Serve with This Garlic Salmon?
If you're looking to complete this baked salmon dinner, start by adding a bold and simple salad like this easy Mediterranean tomato and cucumber salad or pea salad with feta and mint.
And as far as sides go, the possibilities are endless! If you're looking for something light and colorful, try Italian roasted vegetables or these Greek green beans with feta.
And for those who like a little something starchy, Greek lemon rice; herbed potatoes; or Greek roasted potatoes will do the trick.
One last tip, because this salmon cooks pretty quickly, be sure to have your sides and salads ready first before you put the salmon in the oven.
Watch The Video for How To Make this Baked Salmon Recipe:
Looking for more fish and seafood recipes? Check out more ideas here.
For more Mediterranean diet recipes, go here.
Hungry for More? Join my e-mail list HERE to receive new recipes and my weekly dinner plan!
SHOP OUR ONLINE SHOP FOR QUALITY OLIVE OILS, ALL-NATURAL SPICES AND MORE!
Print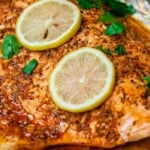 Baked Lemon Garlic Salmon Recipe
---
Description
This Lemon Garlic Salmon Recipe makes tender, perfectly flaky baked salmon while lemon garlic sauce with olive oil hits all the right flavor notes. It's Mediterranean Diet friendly and gluten free.
---
For Salmon:
2

lb salmon fillet
Kosher salt
Extra virgin olive oil (I used Early Harvest Greek extra virgin olive oil)

½

lemon, sliced into rounds
Parsley for garnish
For Lemon-Garlic Sauce:
Zest of

1

large lemon
Juice of

2

lemons

3 tbsp

extra virgin olive oil (I used Early Harvest Greek extra virgin olive oil)

5

garlic cloves, chopped

2 tsp

dry oregano

1 tsp

sweet paprika

½ tsp

black pepper
---
Instructions
Heat oven to 375 degrees F.
Make the lemon-garlic sauce. In a small bowl or measuring cup, mix together the lemon juice, lemon zest, extra virgin olive oil, garlic, oregano, paprika and black pepper. Give the sauce a good whisk.
Prepare a sheet pan lined with a large piece of foil (should be large enough to fold over salmon). Brush top of the foil with extra virgin olive oil.
Now, pat salmon dry and season well on both sides with kosher salt. Place it on the foiled sheetpan. Top with lemon garlic sauce (make sure to spread the sauce evenly.)
Fold foil over the salmon (seam-side up). Bake for 15 to 20 minutes until salmon is almost completely cooked through at the thickest part (cooking time will vary based on the thickness of your fish. If your salmon is thinner, check several minutes early to ensure your salmon does not overcook. If your piece is very thick, 1 ½ or more inches, it may take a bit longer.)
Carefully remove from oven and open foil to uncover the top of the salmon. Place under the broiler briefly, about 3 minutes or so. Watch closely as it broils to make sure it doesn't overcook and the garlic does not burn.)
Notes
Cook's Tip: Once you remove salmon from the oven, if it still appears underdone, you can wrap the foil back over the top and let it rest for a few minutes. Don't leave it too long, Salmon can easily go from under-cooked to way over-cooked quickly.
How do you know if Salmon is ready? When the salmon flakes easily with a fork, it's ready. If you like, you can use an instant read thermometer to check the fish for doneness. The USDA recommends a minimum internal temperature of 145°F, which should be measured at the thickest part of the fillet
Prep Time:

10 mins

Cook Time:

18 mins

Method:

Baked

Cuisine:

Mediterranean
Keywords: Lemon Garlic Salmon, Baked Salmon, Garlic Salmon, Baked Salmon in Foil