Weeknight dinners should be easy to make, utterly delicious and ready in minutes. This broiled salmon recipe fits the bill! Dinner in 15 minutes? Yes, please!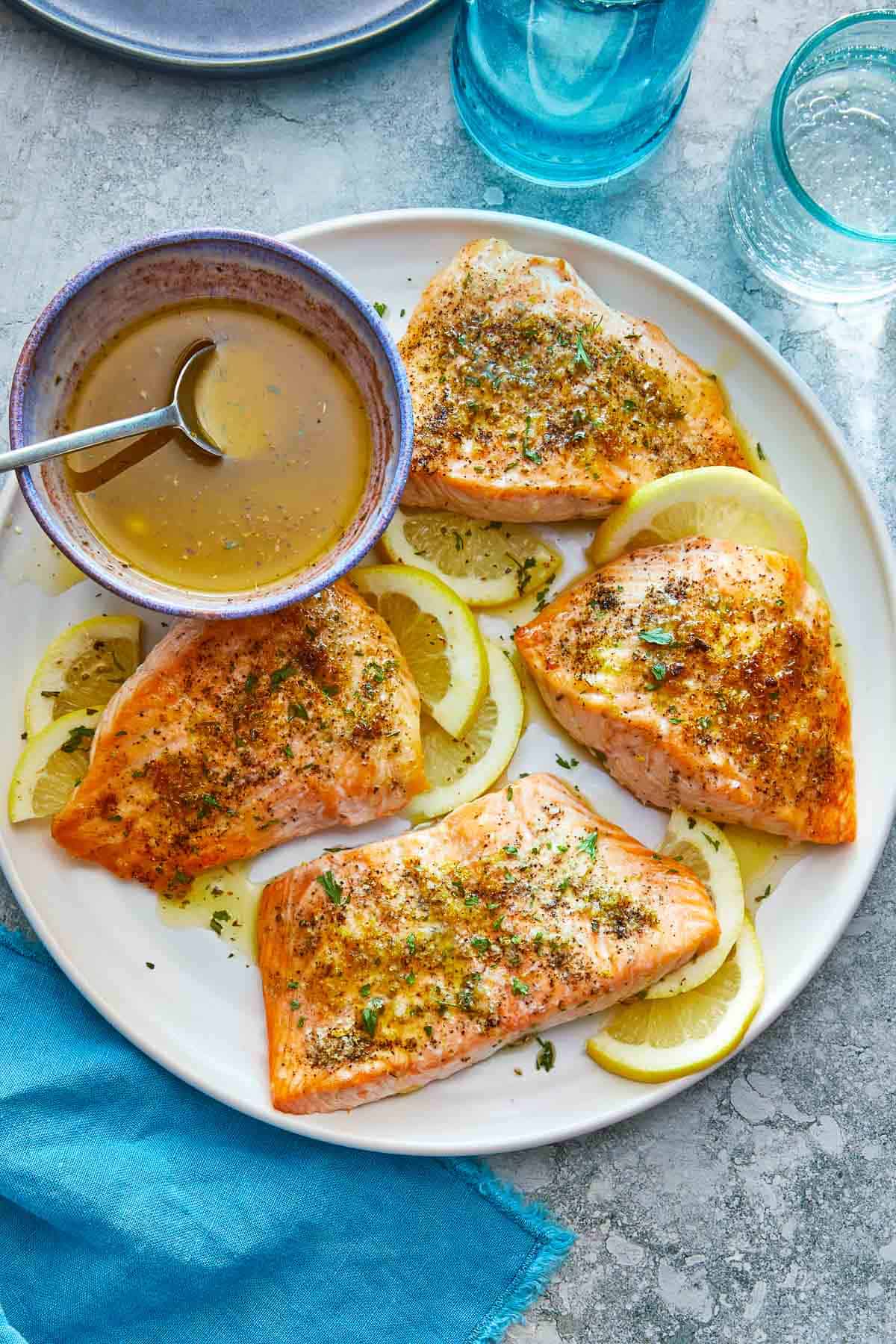 Broiled salmon is part of the weekly rotation at my house and for good reason. It's easy to make, comes together in minutes and perfect for weeknights with busy schedules.
For this recipe, just pick up skin-on salmon filets from the market and season them with salt, pepper and lemon zest, then pop the salmon under the broiler for 6 to 8 minutes. You can stop there, or make this Greek Ladolemono Dressing to pour over the top. Serve broiled with basmati rice and a Greek salad or Pea Salad.
If you're new to making fish this is a simple and easy starter recipe. Broiling salmon makes the top a little crispy but the flesh remains nice and tender. Life is busy. Let dinner be easy.
Table of Contents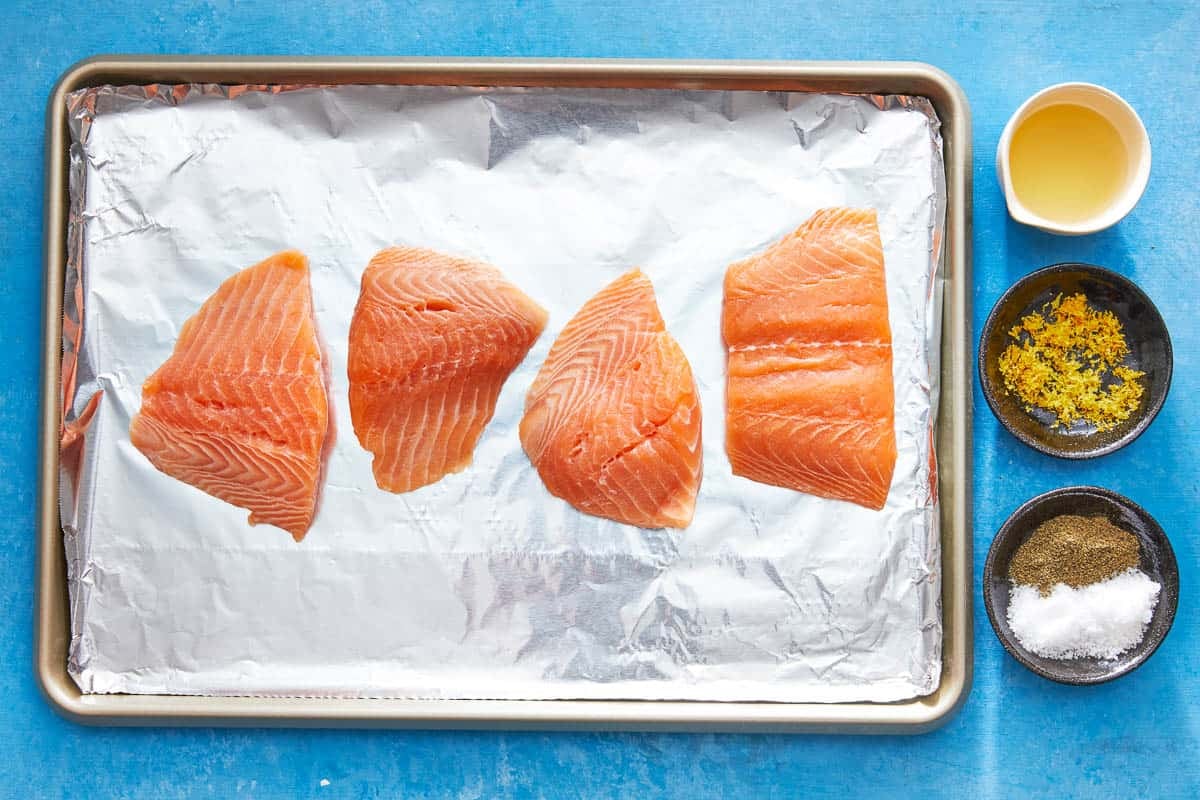 Ingredients in this Recipe
Salmon filets: I like to get filets that are all the same size — about 5 ounces each—for even cooking.
Lemon: A little lemon zest works wonders. Sometimes I don't even make the dressing, just lemon zest, salt and pepper. Easy peasy.
Kosher salt and pepper: A little salt enhances the flavor of everything around it and pepper adds a subtle, earthy heat.
Greek Ladolemono Dressing: You really only need a half batch of this dressing recipe made with lemon juice, oregano, garlic and olive for the salmon, but feel free to make a whole batch and keep leftovers in the fridge to pour over salads or marinate chicken.
How to Broil Salmon
Broiling salmon is the quickest and easiest way to cook fish. Everyone's broiler is a little different so keep a few things in mind when making this recipe.
Use a heavy baking sheet lined with foil. When the salmon is done the skin will stick to the foil and you can use a spatula to easily separate the skin from the flesh of the fish once it's cooked.
Set the broiler to high with the baking sheet about 6 inches below the broiler. If you're new at this then you might want to start with low and give it a few more minutes.
Rub the salmon filets with salt, pepper, and lemon zest.
Set the baking sheet under the broiler and when the fish flakes easily with a fork it's cooked through.
How do you know When Salmon is Cooked?
Learning how to broil salmon or cooking fish in general can take a little practice but there are a few things to look out for:
When you press on the fish it should easily flake and look a little translucent in the center.
Broiled salmon shouldn't look dry. If it does then you've probably cooked it a bit too long.
If you're seeing white stuff that's a protein in salmon called Albumin. If it seeps from the salmon filets it likely means you've overcooked it. If that happens, just learn from the experience, and next time move your oven rack down an inch to prevent aggressively overheating your fish. The salmon is still edible, but it will probably be a little dry.
How Long to Broil Salmon
The time needed to broil salmon depends entirely on how thick the filet is. When I buy salmon filets, I always buy skin on center cut filets that are about the same thickness and weigh between 4 and 5 ounces. It can take anywhere from 5 to 8 minutes to boil a salmon filet that size.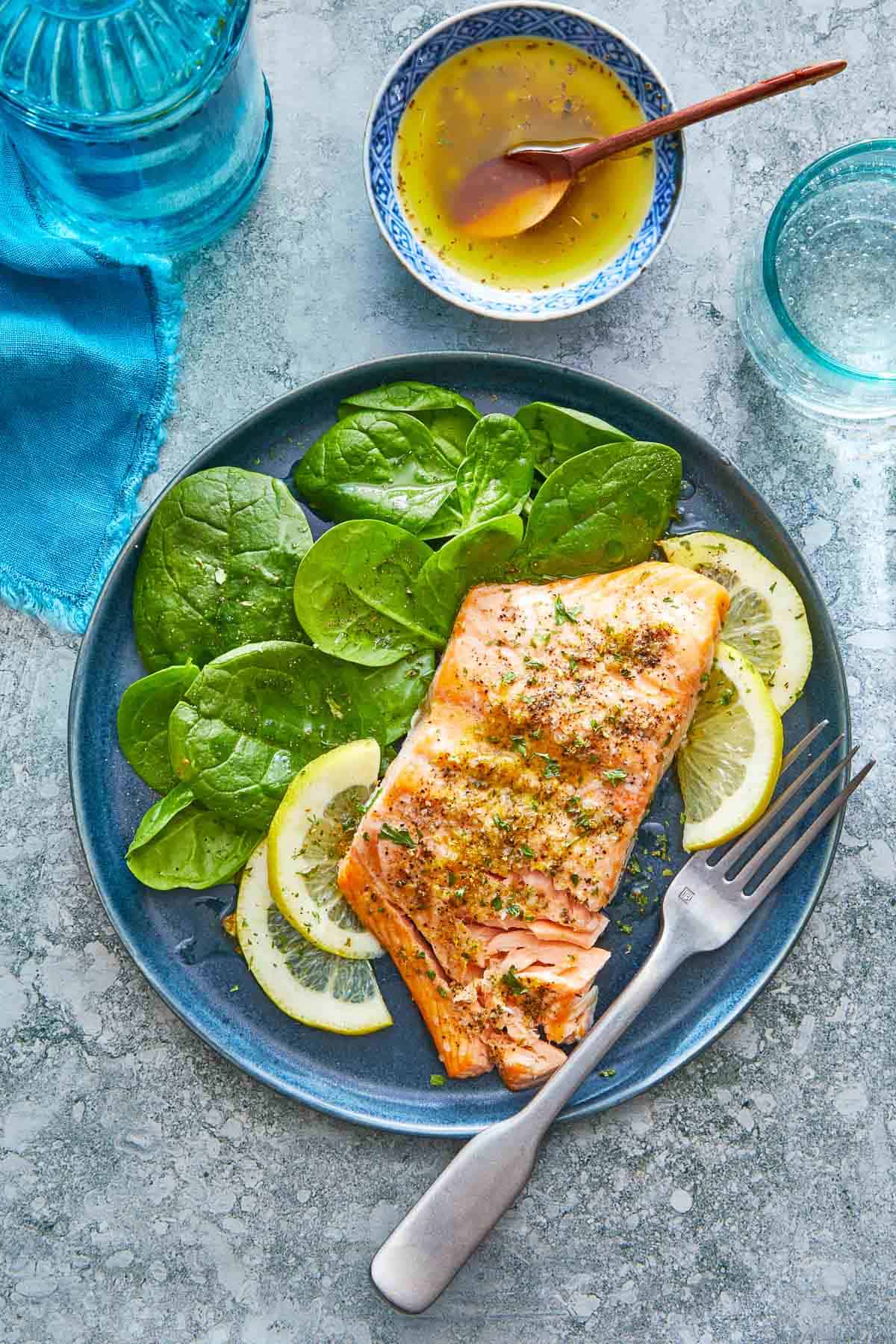 Make it a Meal
I make this recipe regularly for weeknight dinners at my house, but broiled salmon is an easy dinner party meal.
Keep the quick and easy vibe going and whip up a pitcher drink like white sangria or red sangria if you prefer. Serve with grilled vegetables and pearl couscous or stick with the citrus theme and serve radicchio salad or Greek lemon rice.
You can put up to 8 filets on a baking sheet. Prep everything before your guests arrive so you aren't stressed out when they show up. It's your party, you should enjoy it!
More Scrumptious Salmon Recipes
Browse all Mediterranean recipes.

Visit Our Shop.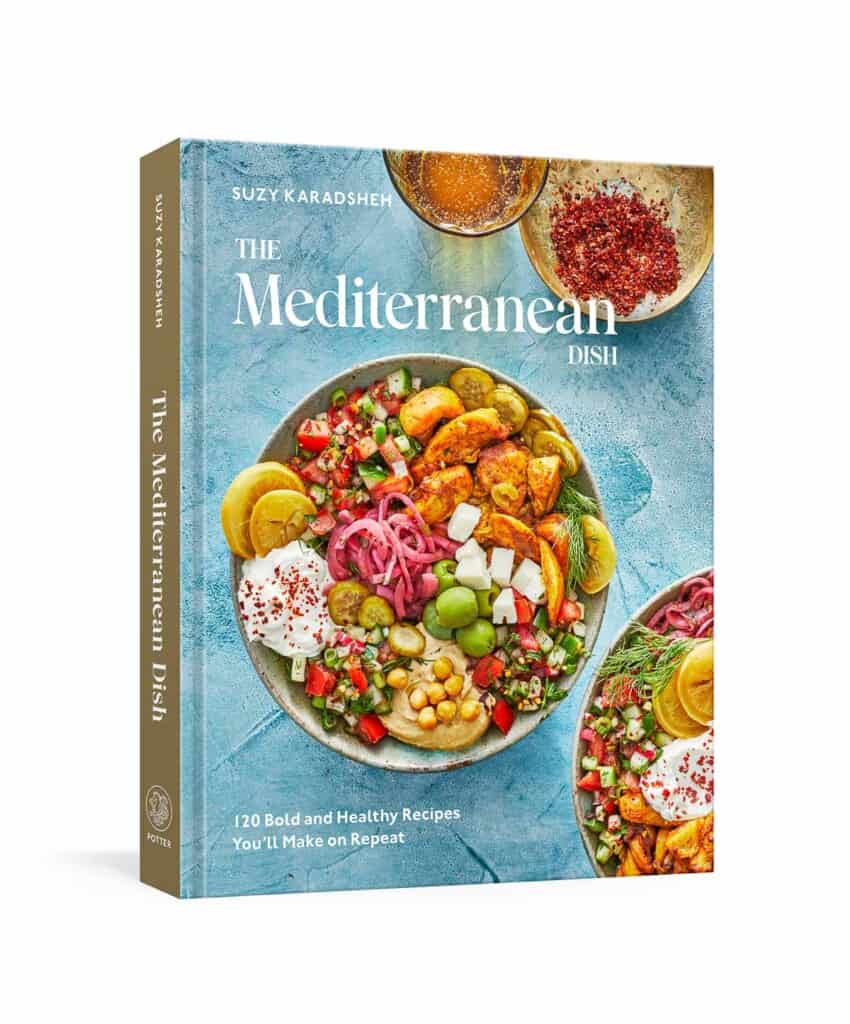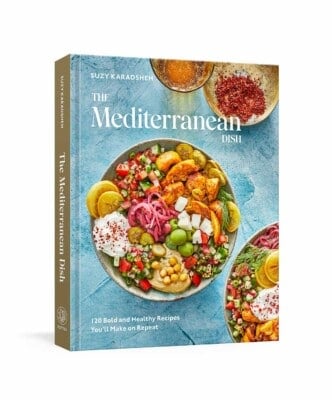 Easiest Broiled Salmon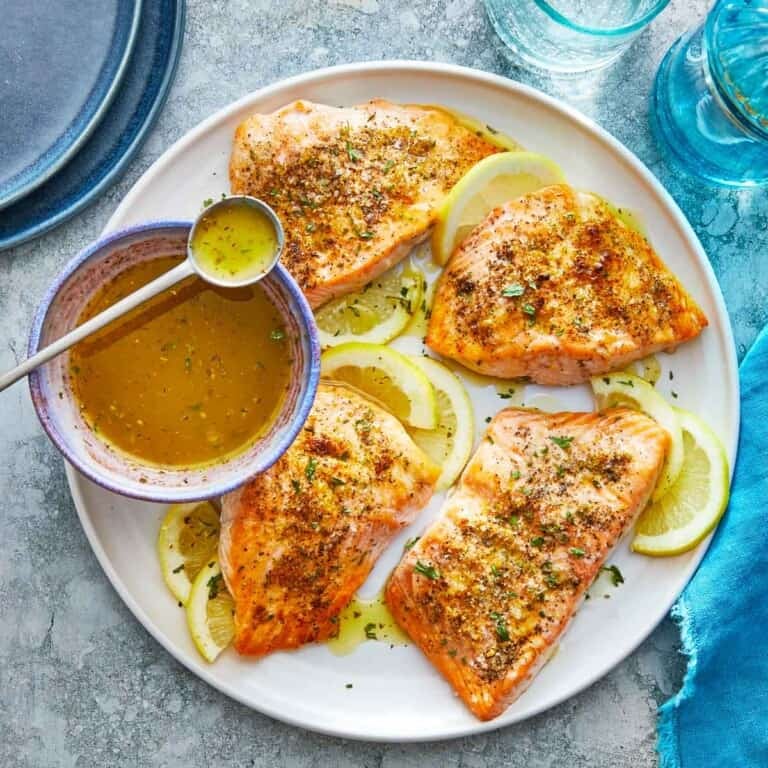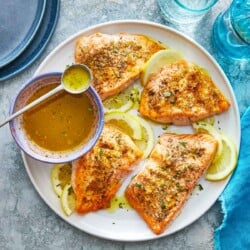 This broiled salmon recipe is finished with our lemony Greek ladolemono dressing. All you need to make it s olive oil, lemon juice, garlic, oregano, salt and pepper. Make the dressing while the salmon cooks!
Ingredients
4

(5 oz) salmon filets

Zest from 1 lemon

1

teaspoon

kosher salt

½

teaspoon

freshly ground black pepper

½

recipe for the

Greek Ladolemono Dressing
Instructions
Preheat the broiler: Place the oven rack about 6 inches from the upper heating element in your oven. Set the broiler to high.

Prepare the baking sheet: Line a baking sheet with foil.

Prepare the rub: In a small bowl combine lemon zest, salt, and black pepper. Rub together with your fingers to release the oils in the lemon zest.

Season the Salmon filets: Place the salmon fillets skin side down about 2 inches apart on the foil-lined baking sheet. Equally divide the lemon zest rub among the four filets, sprinkling it to coat each filet well, and gently press it into the flesh.

Place the filets in the oven: Place the salmon in the oven and broil for 5 to 6 minutes until the flesh is slightly crispy on top and opaque when flaked.

Make the ladolemono dressing: Whisk together ¼ cup fresh lemon juice, 1 teaspoon of oregano, 1 large minced garlic clove, ¾ teaspoon each of salt and black pepper. While whisking drizzle in ¾ cup olive oil.

Serve: Remove the salmon from the oven. Using a spatula gently slide it between the flesh and the skin. The skin should stick to the foil and you should be able to peel the flesh right off. Place the salmon on a platter, drizzle with the ladolemono dressing across the center of the salmon pieces and serve.
Notes
Visit our shop to browse quality Mediterranean ingredients including olive oils, honey, jams and spices.
Leftovers: I use our Greek ladolemono dressing to pour over the salmon. It makes more than you need for this recipe. Keep the extra in the fridge or use it to dress a simple salad of spinach and sliced tomatoes with feta.
Nutrition
Calories:
213.9
kcal
Carbohydrates:
0.4
g
Protein:
28.2
g
Fat:
9
g
Saturated Fat:
1.6
g
Polyunsaturated Fat:
3.6
g
Monounsaturated Fat:
3
g
Cholesterol:
78
mg
Sodium:
657.6
mg
Potassium:
703.1
mg
Fiber:
0.1
g
Sugar:
0.02
g
Vitamin A:
60.4
IU
Vitamin C:
0.2
mg
Calcium:
20.5
mg
Iron:
1.2
mg