This traditional Greek Salad recipe is the real deal! I'm sharing everything I learned from my visit to Greece. This salad is easy, made with 7 simple ingredients and a no-fuss dressing of good olive oil and a splash of vinegar. Learn how to make it and serve it the Greek way!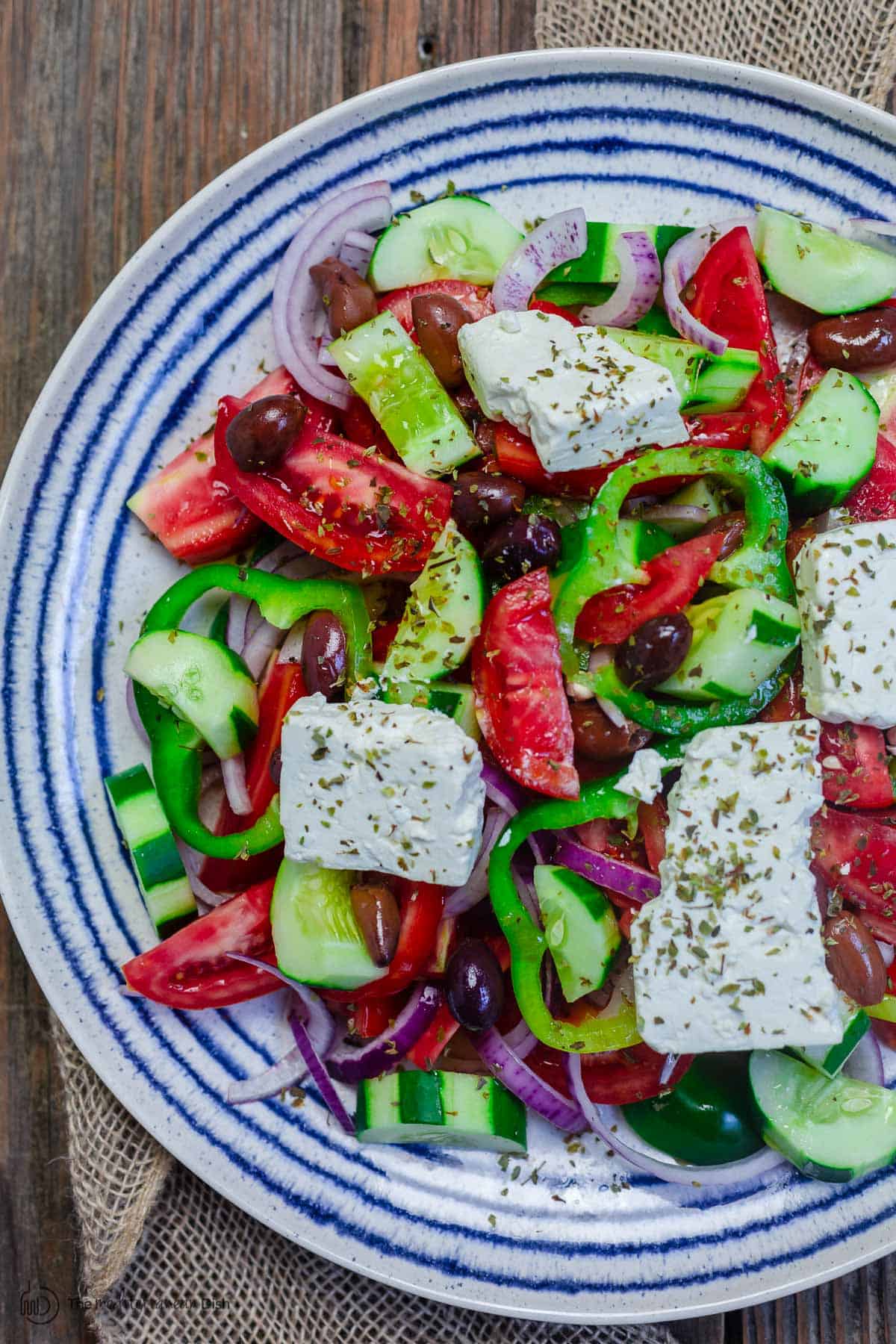 I was lucky enough to visit the Greek island of Patmos and Kos a few years ago. Every part of the trip was special, but I absolutely fell in love with the people, their local shops and hole-in-the-wall restaurants. I loved observing the Greek life and partaking of the simple, finger-licking Greek food.
In one of the small family-owned restaurants we visited, I enjoyed a fresh salad that opened my eyes to what a truly traditional and uncomplicated Greek salad should be! And, that's exactly what I have tried to re-create with this simple Greek salad recipe.
Horiatiki: Greek Village Salad
In Greece, Horiatiki or Greek village salad, is served most often from early spring to the early part of fall. And it's truly the best use of the season's quality produce including juicy tomatoes, cucumbers, green bell peppers, and onions.
Quality Greek kalamata olives and creamy feta cheese, made from sheep's milk, are a must in this salad. And the cheese is never crumbled, but served in large chunks or blocks crowning the beautiful fresh salad!
The dressing is as simple as they come, a splash of good extra virgin olive oil and citrus (a little red wine vinegar or lemon juice).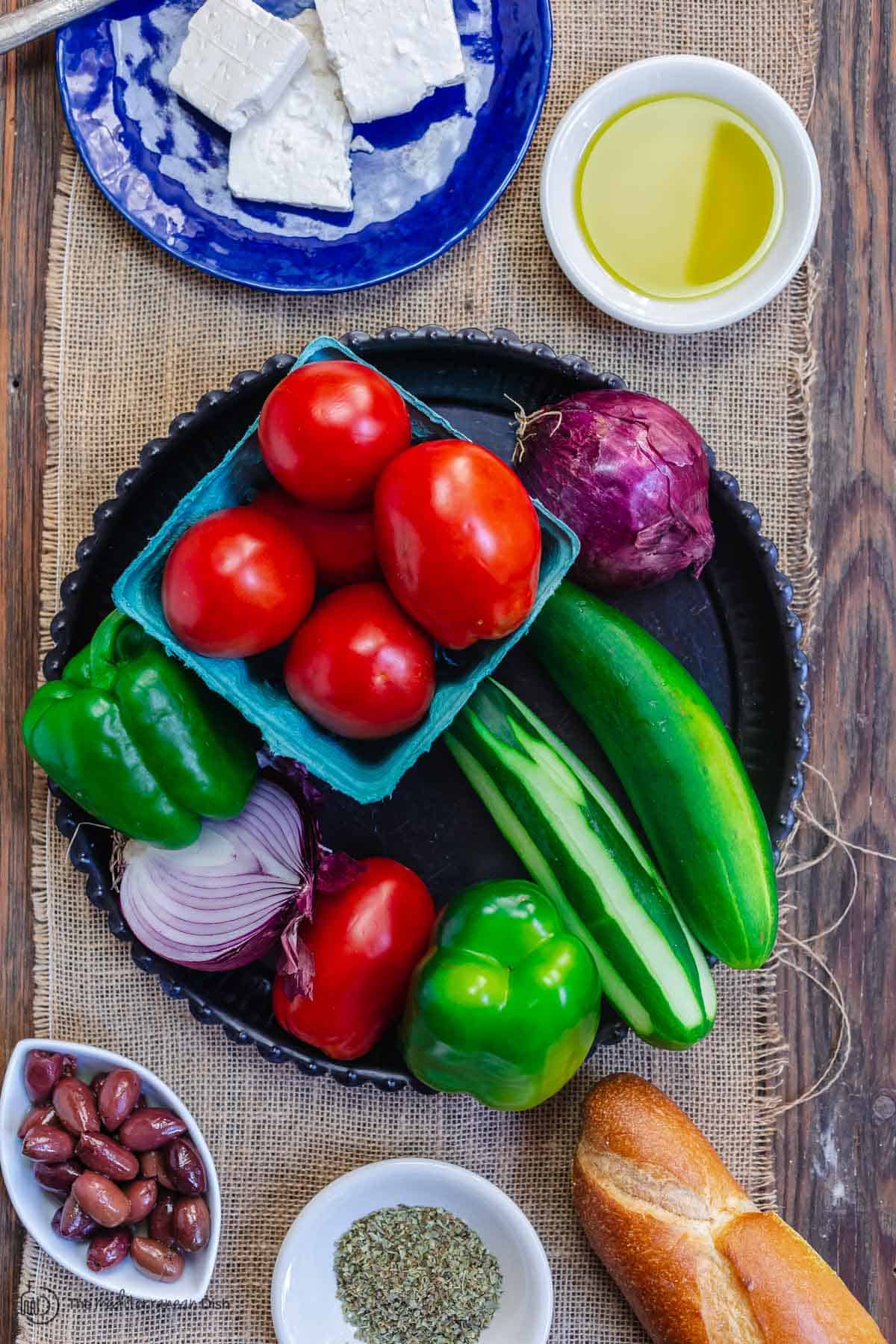 Greek salad ingredients
Horiatiki, the real deal traditional Greek salad consists of a few simple ingredients: tomatoes, cucumbers, bell peppers, red onions, olives, and blocks of creamy feta cheese. The vegetables are typically cut into large chunks, and there is no lettuce or other fillers added. A dash of kosher salt and dried oregano to season. And the dressing is typically a drizzle quality extra virgin olive oil and vinegar (I typically use red wine vinegar).
Ingredient notes
Tomatoes - Roma tomatoes or vine-ripe tomatoes will work well in this salad. Choose Perfect ripe tomatoes that are somewhat firm but yielding slightly to the touch.
Cucumbers- I prefer English cucumbers which are seedless and tend to be sweeter in taste. Choose firm, smooth-skinned cucumbers.
Onions- I like red onions in this salad. And if you want to take the edge off, soak your sliced onions in a solution of iced water mixed with vinegar for a bit before adding them to the salad (I do this in the video below).
Olives- Greek kalamata olives are the ones to use here, but black olives will work also.
Bell peppers- Green bell peppers are typically used. Choose firm and smooth looking green bell pepper. No other colored bell peppers are used in a traditional Greek salad.
Creamy feta cheese - If at all possible, use quality Greek feta made from sheep'a milk. Never crumble the feta, cut it into large chunks and add it on top of the salad.
Do not add lettuce or other leafy fillers.
Greek salad dressing
Like I mentioned earlier, horiatiki salad is simply seasoned with a dash of salt, and maybe some dried oregano. It is typically dressed with nothing more than good extra virgin olive oil and a splash of red wine vinegar. Very basic and elegant. But sometimes, if I have some ladolemono dressing in my fridge, I will use it on this salad instead.
I recommend a good tasting bold olive oil for this recipe like Greek Early Harvest EVOO or our Spanish hojiblanca EVOO, both have a slight peppery finish. But, if your tastebuds lean toward a milder-tasting olive oil, you might like to try our Italian Nocellara EVOO.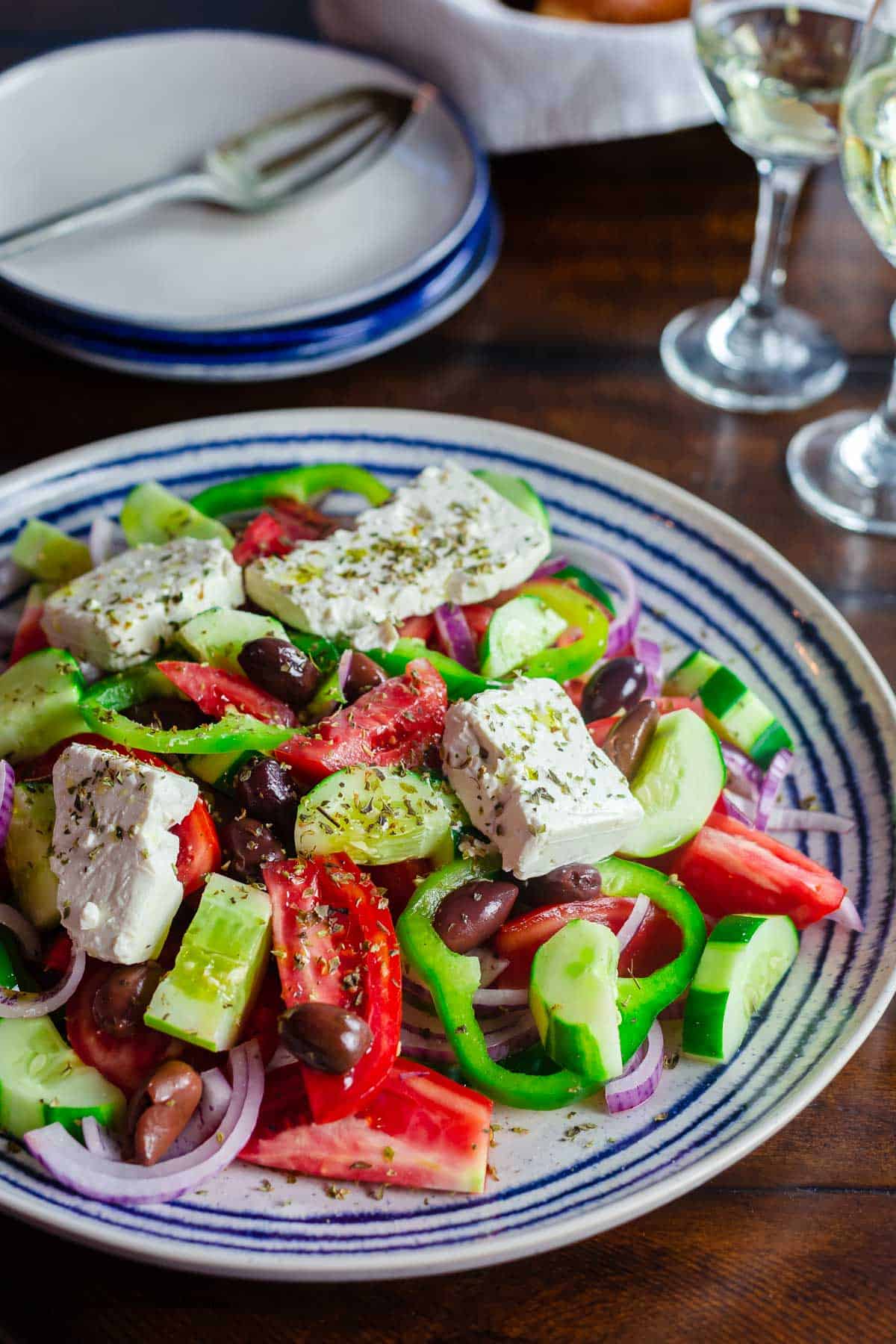 A few tips for how to make the best Horiatiki:
If you're wondering how to put this salad together, it could not be any simpler! Here are a few tips from my Greek friends on how to prepare and serve this salad:
Cut the vegetables into large slices or chunks. The base ingredients of tomatoes, cucumbers, bell peppers and onions are typically cut in large slices or chunks and served in a bowl (or in a small bowl for each individual).
Use pitted kalamata olives or black olives and assemble them on top of your vegetables.
Season with a dash of kosher salt and dried oregano. I like to finish with a bit more dried oregano at the end.
Drizzle with good extra virgin olive oil and a splash of red wine vinegar. OR, place bottles of oil and vinegar on the table so that each person can dress the salad to their liking.
Add blocks of feta (never crumbled feta) on top.
Serve immediately!
Serve it with
This vibrant salad full of color and flavor can easily work as a side dish to complement just about any entree you'll find on this site. If you're looking for a way to serve this salad as a snack or appetizer, try these easy Greek salad skewers.
Here are some ideas for serving Greek salad:
This salad is best enjoyed fresh. But if you have any leftovers, store it in a tight lid container in the fridge for up to 2 days.
More salad recipes to try:
Featured in this recipe
For all recipes, visit us here. And be sure to view our collection of Mediterranean diet recipes.
Join my free e-mail list.
Traditional Greek Salad Recipe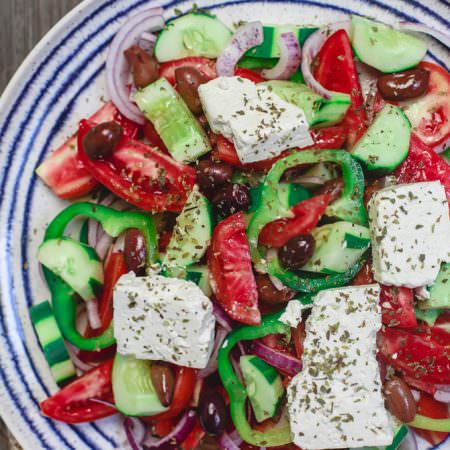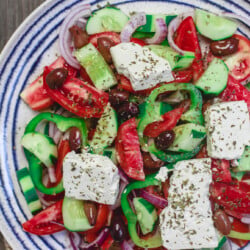 Simple traditional Greek Salad with ripe tomatoes, cucumbers, bell peppers, onions, olives and creamy feta cheese.
Ingredients
1

medium red onion

4

Medium juicy tomatoes

1

English cucumber (hot house cucumber)

partially peeled making a striped pattern

1

green bell pepper

cored

Greek pitted Kalamata olives

a handful to your liking

kosher salt

a pinch

4

tablespoon

quality extra virgin olive oil

I used Early Harvest Greek olive oil

1-2

tablespoon

red wine vinegar

Blocks of Greek feta cheese

do not crumble the feta, leave it in large pieces

½

tablespoon

dried oregano
Instructions
Cut the red onion in half and thinly slice into half moons. (If you want to take the edge off, place the sliced onions in a solution of iced water and vinegar for a bit before adding to the salad. I do this in the video).

Cut the tomatoes into wedges or large chunks (I sliced some into rounds and cut the rest in wedges).

Cut the partially peeled cucumber in half length-wise, then slice into thick halves (at least ½" in thickness)

Thinly slice the bell pepper into rings.

Place everything in a large salad dish. Add a good handful of pitted kalamata olives.

Season very lightly with kosher salt (just a pinch) and a bit of dried oregano.

Pour the olive oil and red wine vinegar all over the salad. Give everything a very gentle toss to mix (do NOT over mix, this salad is not meant to be handled too much).

Now add the the feta blocks on top and add a sprinkle more of dried oregano.
Notes
Leftovers? You can refrigerate leftovers for 2 nights or so.
Another dressing option: if you've made my ladolemono Greek Dressing (which is made of lemon juice and olive oil), you can use a few tablespoons on this salad.
Visit our shop to browse our olive oils, spices and more!
Nutrition
Calories:
102.9
kcal
Carbohydrates:
4.7
g
Protein:
0.7
g
Fat:
9.5
g
Saturated Fat:
1.3
g
Sodium:
2.8
mg
Potassium:
135
mg
Fiber:
1.1
g
Vitamin A:
125.9
IU
Vitamin C:
18.7
mg
Calcium:
20.9
mg
Iron:
0.5
mg
*This post appeared on The Mediterranean Dish in 2019 and has been recently updated with new information and media for readers benefit.