Today we stick with the classic. A truly traditional Greek salad recipe is meant to be of few ingredients. Uncomplicated and fresh; just as served on the islands and villages of Greece. Best part, this flavor-packed salad comes together in 10 minutes!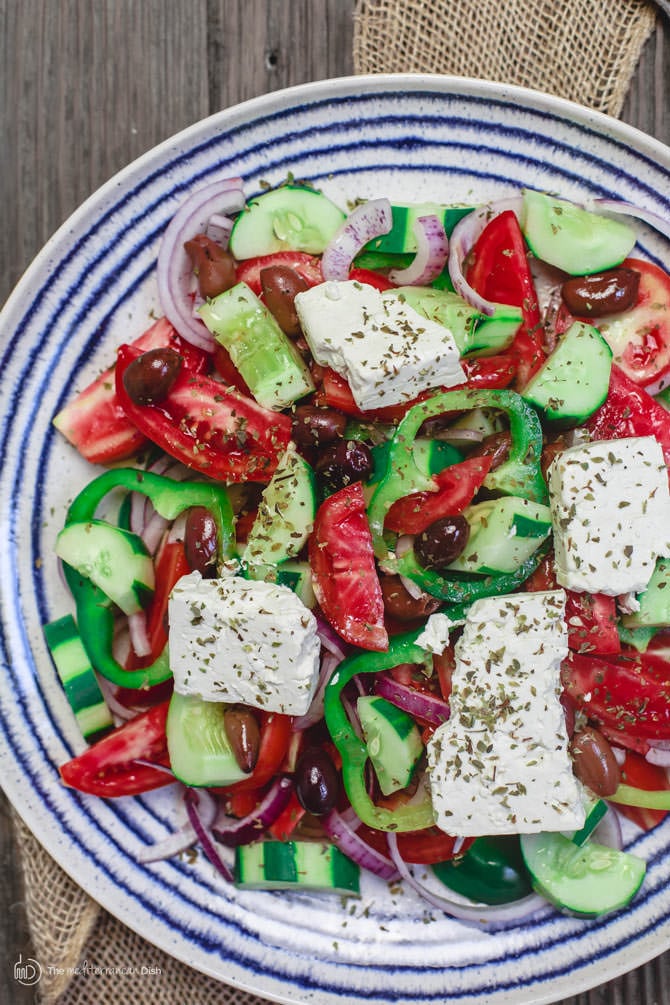 I was lucky enough to visit the Greek island of Patmos and Kos back in 2006. Our group spent a good bit of time doing the touristy things and taking in the mix of Greek, Roman, and Ottoman landmarks. But the part I favored most was our visits to the smaller, off-the-beaten-path places. In particular the local shops and restaurants. I loved observing the Greek life and partaking of the simple, finger-licking Greek food.
It was at a small family owned restaurant in Kos that my eyes were first opened to the refreshing, uncomplicated, truly traditional Greek salad. Not the first time I ever had a Greek salad, but it was my first time having  the real deal Horiatiki, or villagers' salad.
VIDEO TUTORIALS
See the video for How to make Traditional Greek Salad:
So, What goes in a traditional Greek salad?
Horiatiki, or traditional Greek salad, is served most often from early spring to the early part of fall. It features the season's quality juicy tomatoes, cucumbers, red onions, and green bell peppers. There are no red peppers, yellow peppers or any other pepper variety. And there is no lettuce, nor any other leafy greens or vegetables in traditional Greek salad. 
The seasoning is simple: a pinch of salt and dried oregano. And the dressing is a generous splash of olive oil. You may also add a little red wine vinegar.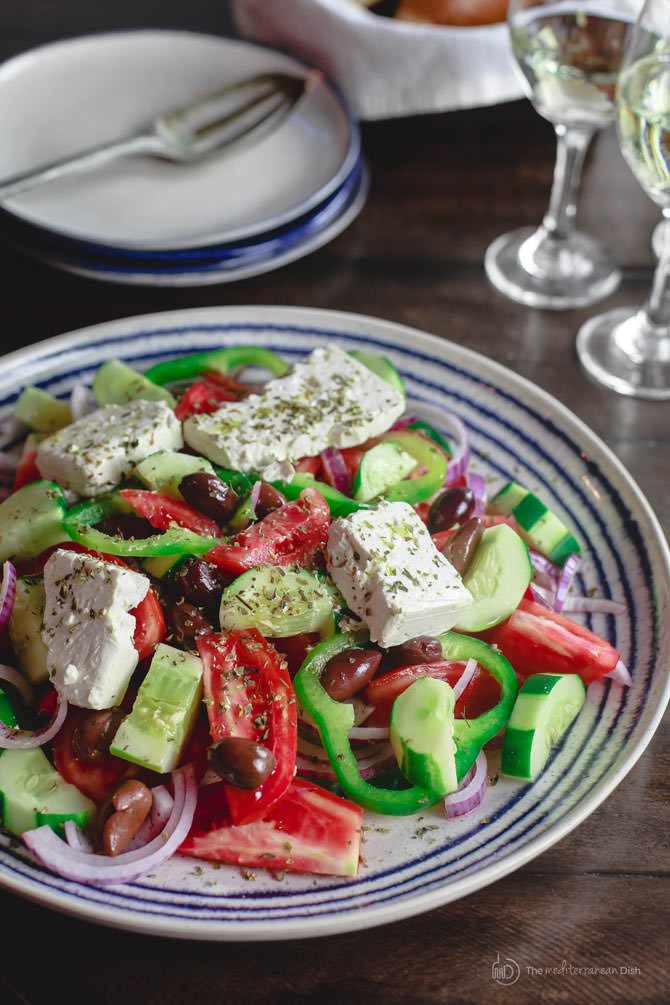 Quality Greek kalamata olives and creamy feta cheese, made from sheep'a milk, are a must in a traditional Greek salad. And the cheese is never crumbled, but served in large chunks or blocks crowning the salad.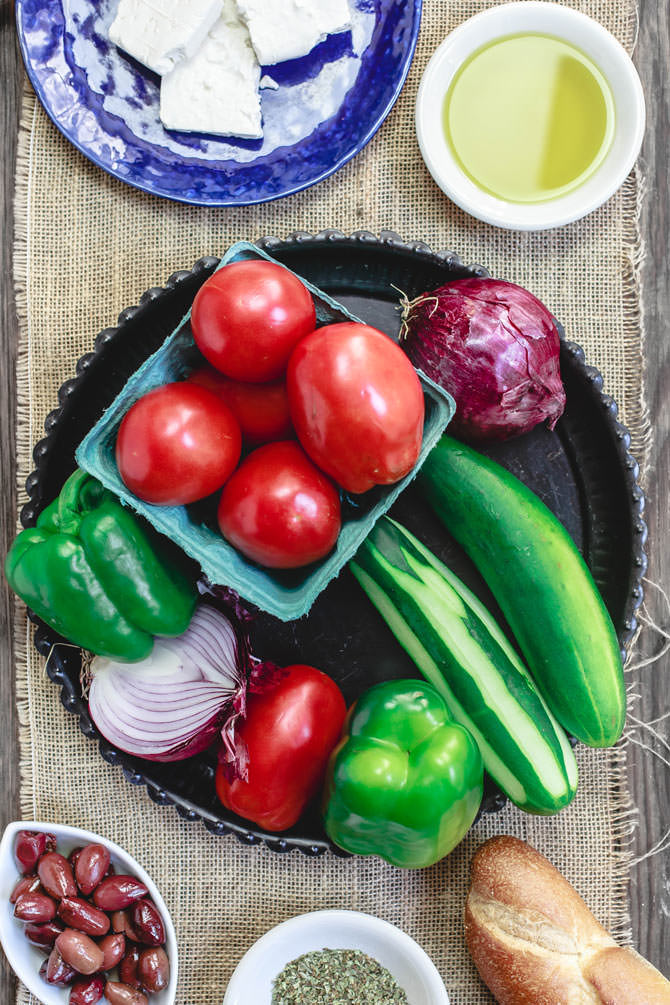 Simple.
Still there is no shortage of flavors in a traditional Greek salad. And the key to this salad is really in the quality of ingredients beginning with perfect ripe tomatoes. And be sure to serve this salad with your favorite crusty bread.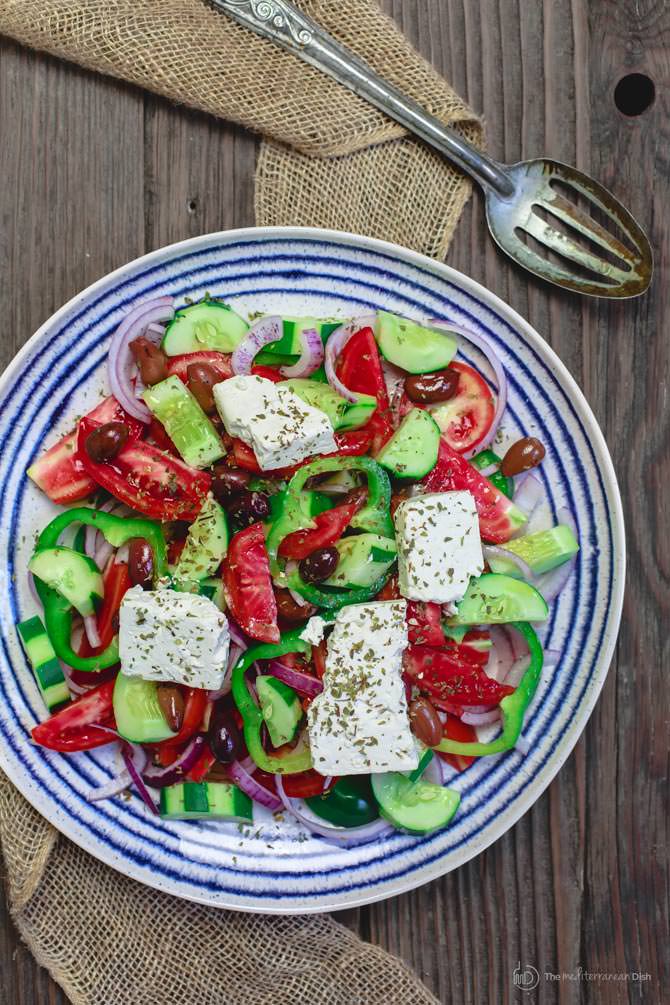 Print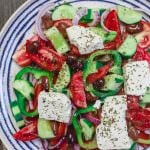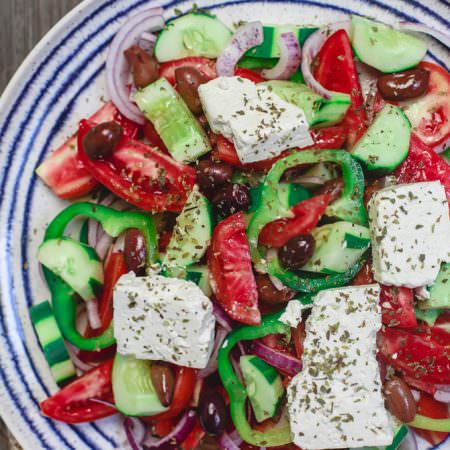 Traditional Greek Salad Recipe
---
Author:

Prep Time:

10 mins

Total Time:

10 mins

Yield:

4

Category:

Salad

Cuisine:

Greek
Ingredients
4 Medium juicy tomatoes, preferably organic tomatoes
1 Cucumber, or 3/4 English (hot house) cucumber preferred, partially peeled making a striped pattern
1 green bell pepper, cored
1 medium red onion
Greek pitted Kalamata olives
Salt, a pinch
1-2 tbsp red wine vinegar
8 oz or more creamy Greek feta cheese in blocks (do not crumble)
1/2 tbsp quality dried oregano
---
Instructions
Cut the tomatoes into wedges or large chunks (I sliced some and cut the rest in wedges).
Cut the partially peeled cucumber in half length-wise, then slice into thick halves (at least 1/2″ in thickness)
Thinly slice the bell pepper into rings.
Cut the red onion in half and thinly slice into half moons.
Place everything in a large salad dish. Add a good handful of the pitted kalamata olives.
Season very lightly with salt (just a pinch). Pour the olive oil and red wine vinegar.
Give everything a very gentle toss to mix; do NOT over mix, this salad is not meant to be handled too much.
Now add the the feta blocks on top. Sprinkle the dried oregano.
Serve with crusty bread!
Other Salad Recipes to Try:
Israeli Couscous Salad with Chickpeas and Artichokes