Pork souvlaki is a classic Greek dish consisting of grilled pork skewers that have been infused with a delicious garlicky, bright, and aromatic marinade. Considered one of the most iconic Greek street foods, it is fortunately easy to replicate at home!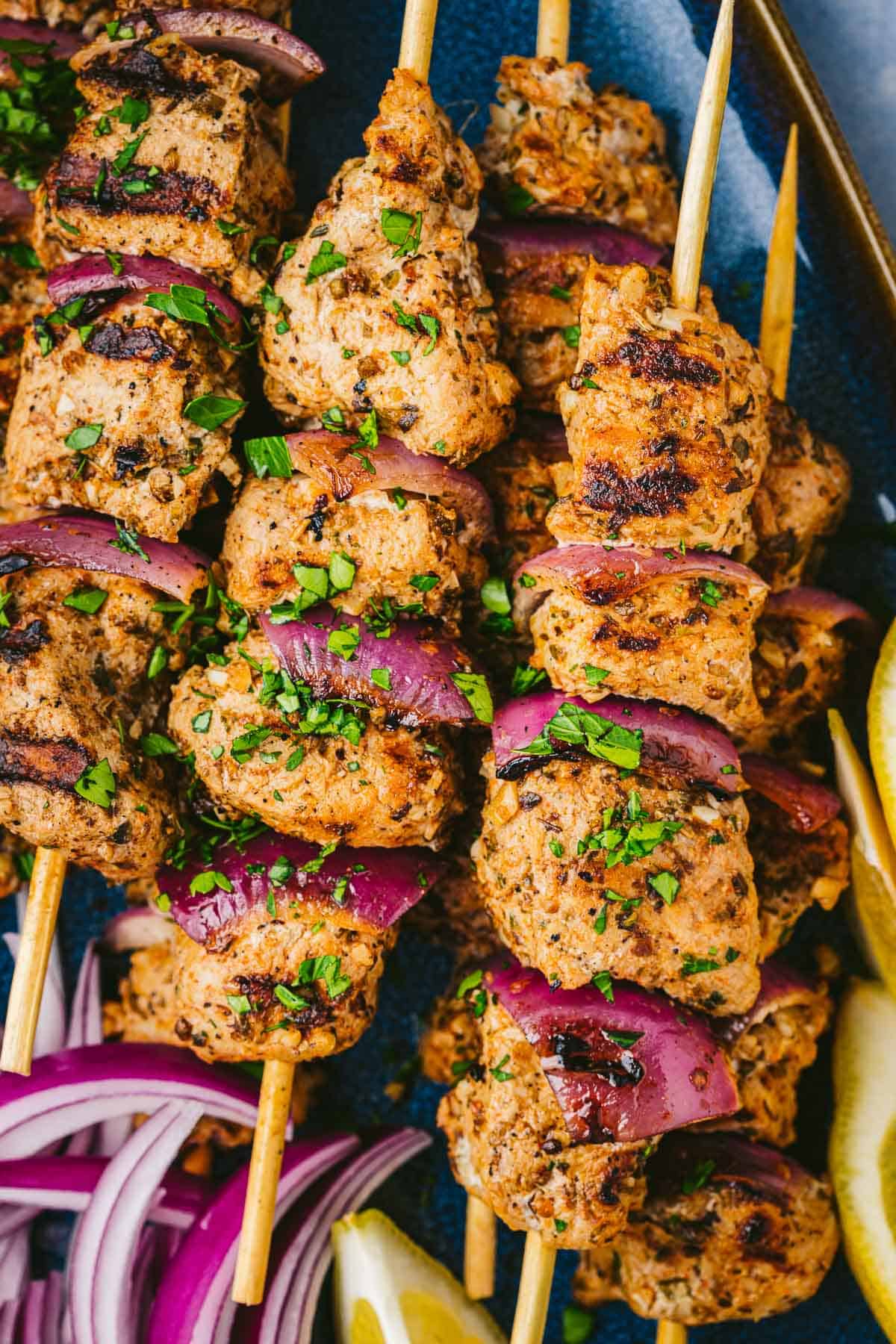 Pork souvlaki is often one of the first introductions to Greek cuisine for visitors from around the world. In Greece, it's usually served straight off the skewer with a drizzle of lemon and a few pieces of grilled bread. Or, it's wrapped inside a warm pita bread with several flavorful accompaniments, like Tzatziki and Greek Potatoes.

Enjoying delicious pork souvlaki does not require a trip to Greece (or even a local Greek restaurant). With just a few staple ingredients for a bold marinade and a lean cut of pork, you can easily prepare this delicious and healthy dish at home!

Preparation time for the Greek pork souvlaki is minimal and it mostly revolves around the flavorful marinade and cutting the pork tenderloin into bite-sized pieces. It's the same technique used in Middle Eastern-style steak Shish Kabobs. While the meat marinates, all we have to do is assemble a few favorite fixings and we are ready for a feast!
Table of Contents
What Does Souvlaki Mean?
Souvlaki comes from the Greek word souvla, which is a large metal skewer (spit). Souvlaki is the endearing diminutive of souvla, literally translated to "little skewer." The origins of this marinated pork date back to ancient Greece, when people cooked small pieces of meat on skewers over open fires during long journeys.

Souvlaki is traditionally made with pork, but other meats such as chicken, beef, or lamb can also be used. There is even a vegetarian option for souvlaki which features a variety of marinated vegetables, such as mushrooms, peppers, onions, eggplant and zucchini.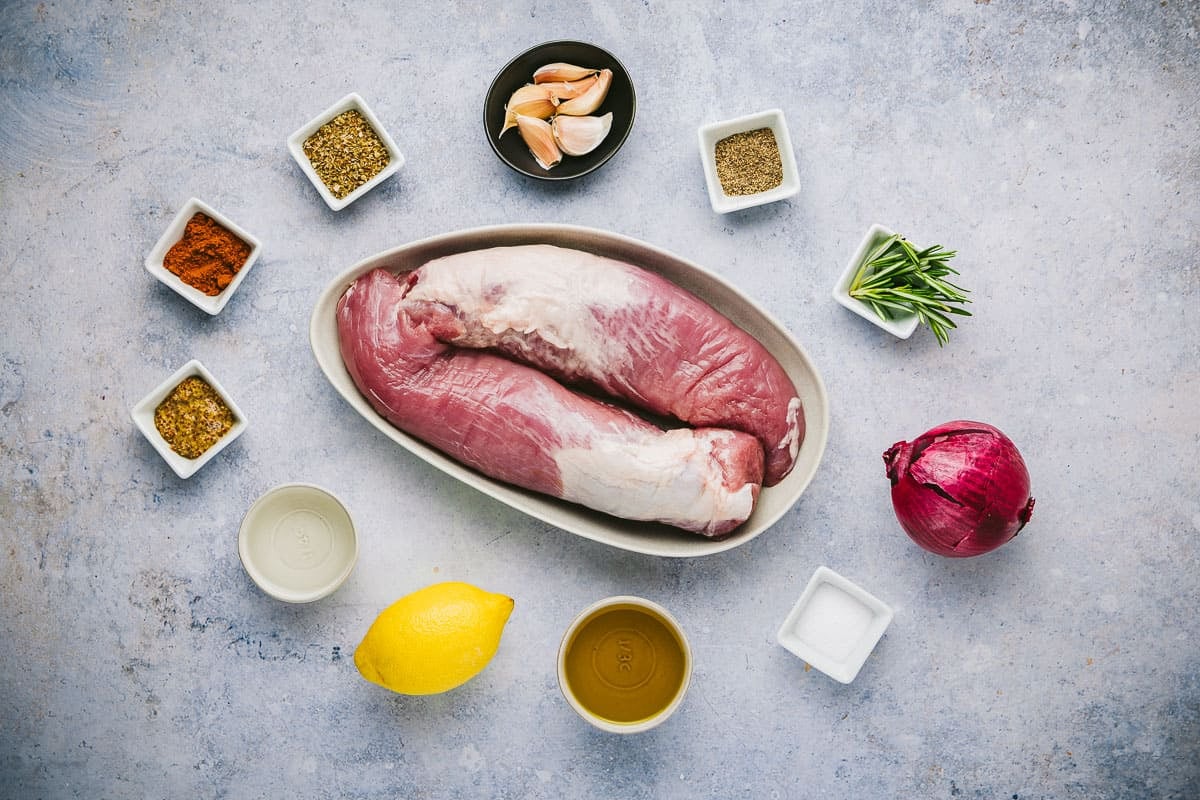 Pork Souvlaki Ingredients
The Greek pork souvlaki cooks beautifully on an outdoor grill, but you can also cook it indoors using a hot grill pan. The list of ingredients is short. And, besides the pork itself, they are all staples in most pantries.
Pork tenderloin: As is the case with nearly all simple recipes, the ingredients' quality is very important. Look for good quality pork tenderloin. If you do not want to deal with trimming the fat off the meat, ask your butcher to do it for you.
White vinegar: This is important for tenderizing the proteins in the meat.
Extra virgin olive oil: The olive oil infuses the meat with a lot of flavor. Use a good extra virgin olive oil for the marinade, like our Greek Private Reserve from the Hinaris Family Estate in Kyparissia, Greece. Do not substitute with bitter-tasting olive oil or vegetable seed oils.
Mustard: Use a bold, sharp Dijon.
Garlic: Garlic is a major component of the marinade. You can either mince it or, for a more intense garlic flavor, use a microplane to grate the garlic cloves.
Seasonings: Dried oregano–ideally from Greece–is a must for this recipe. Fresh rosemary adds an earthy flavor to the meat. And, sweet paprika gives it a nice color.
Salt and pepper: The quantities for both depend on personal preferences. It is important, however, not to add salt to the marinade. It is generally recommended to wait to salt pork until right before grilling because salt can draw out moisture from the meat, making it less juicy and tender. This is particularly true for lean cuts of pork like pork tenderloin, which can more easily become dry and tough.
Neutral oil: Coats the grill grates so the chicken doesn't stick. While you can use olive oil, it's more expensive and not necessary. Vegetable oil works well.
Lemon: A fresh squeeze of lemon in the final moments balances the savory flavor.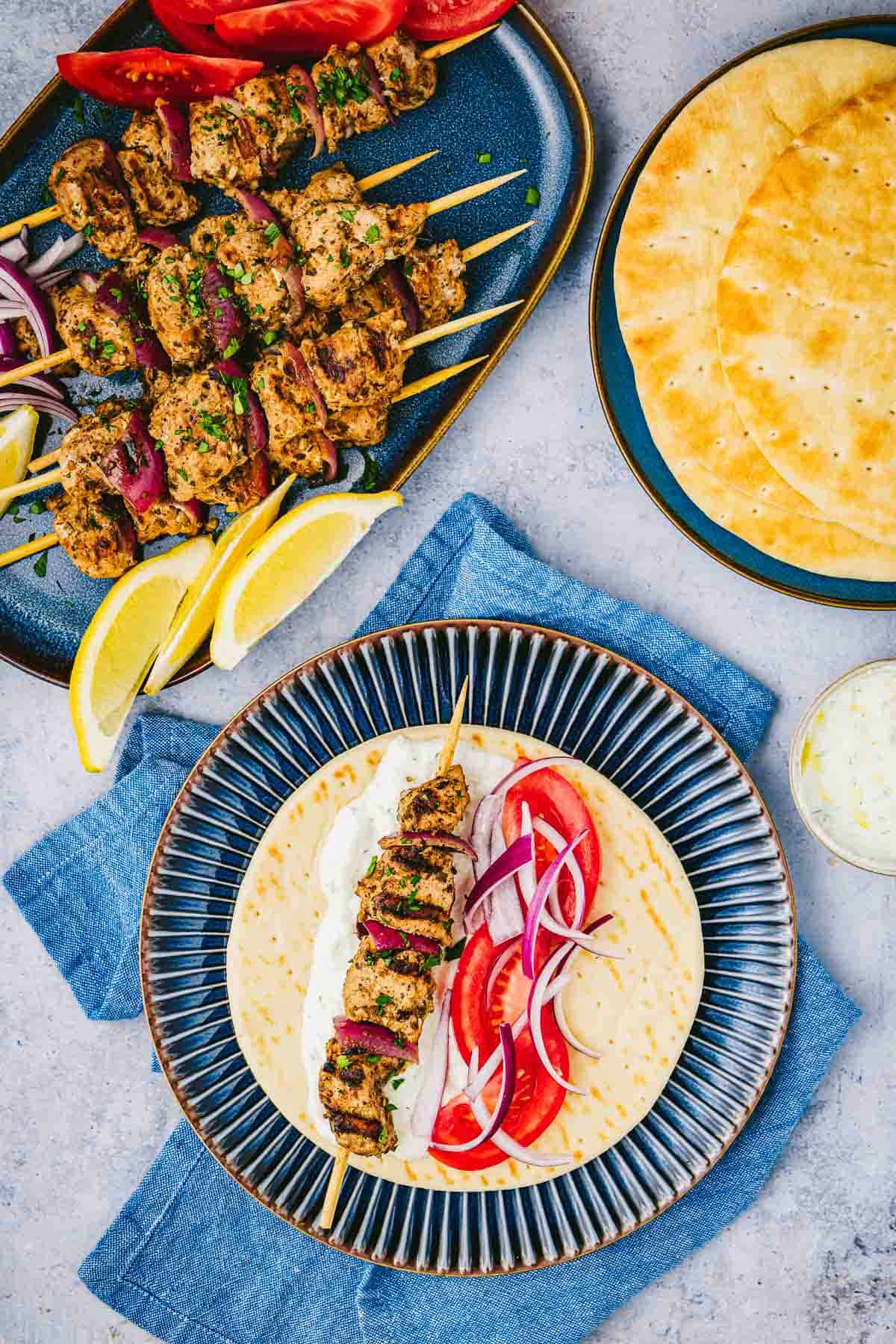 How to Make Pork Souvlaki
Making the pork souvlaki is foolproof. All you need to do is follow these simple steps:
Prepare the meat: Trim the silver lining and most visible fat from the tenderloin. Cut into bite-sized cubes, about 1-inch in size. To do this, use a knife to release a portion of the silverskin from the meat. Then, to get a better grip, use a paper towel to pull the silverskin away from the meat.
Make the marinade: In a large glass or ceramic bowl (or a Ziploc bag), whisk together 2 tablespoons of white wine vinegar, 5 tablespoons of olive oil, 5 minced garlic cloves, 1 teaspoon mustard, 2 teaspoons of oregano, 1 ½ teaspoons of rosemary, 1 teaspoon of sweet paprika, and ¾ teaspoon freshly ground black pepper.
Marinate the meat: Add the pork and toss to combine. Cover the bowl and refrigerate overnight, or for at least two hours. I usually do this step in the morning and allow it to sit for several hours in the marinade, until I cook it later in the day.
Get ready: Allow the meat to sit at room temperature for 30 minutes before grilling. This creates a more even temperature throughout the meat, which makes it easier to grill. If you're using wooden skewers, soak them in water for 30 minutes.
Skewer: Heat the grill over medium-high heat. Quarter a medium red onion and pull it apart into separate pieces. Thread the meat and onions onto the pre-soaked skewers.
Grill the skewers: When the grill is hot, lightly oil the grilling grate with vegetable oil. Season your pork souvlaki with 1 ½ teaspoons of sea salt and grill! Flip until you have a nice char and the internal temperature reads 145°F.
Rest: Remove the skewers from the grill and place them on a serving platter. Cover them loosely with foil and allow them to rest for 4-5 minutes.
Serve: Slice the lemon in half and squeeze on top. Enjoy!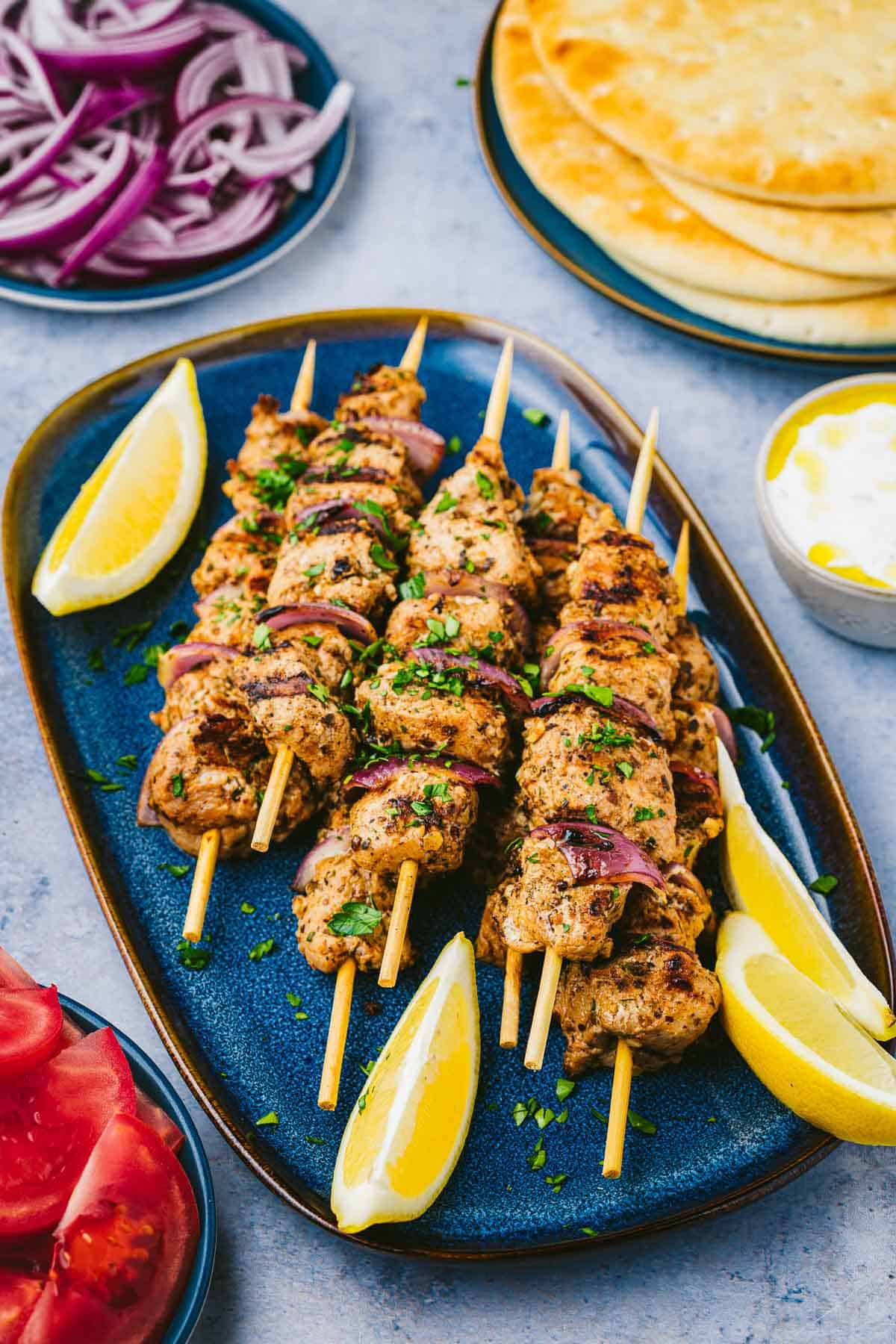 Tips: How To Make The Best Pork Souvlaki
This classic recipe comes together with very little culinary technique necessary! Here are a few extra tips before you get to it:
Make sure the meat is close to room temperature before grilling. If you use it straight from the refrigerator, it will require a different cooking time and it will be less likely to cook evenly.
Put the skewers on the grill so close that they are almost touching. This is important for juicy pork souvlaki.
To make sure you do not overcook your pork souvlaki, use an instant read thermometer to check the temperature. When it registers 145° F, the meat is ready!
When you remove the skewers from the grill, place some pita bread on the same spots to absorb some of the flavor of the grilled meat (and get slightly grilled too!)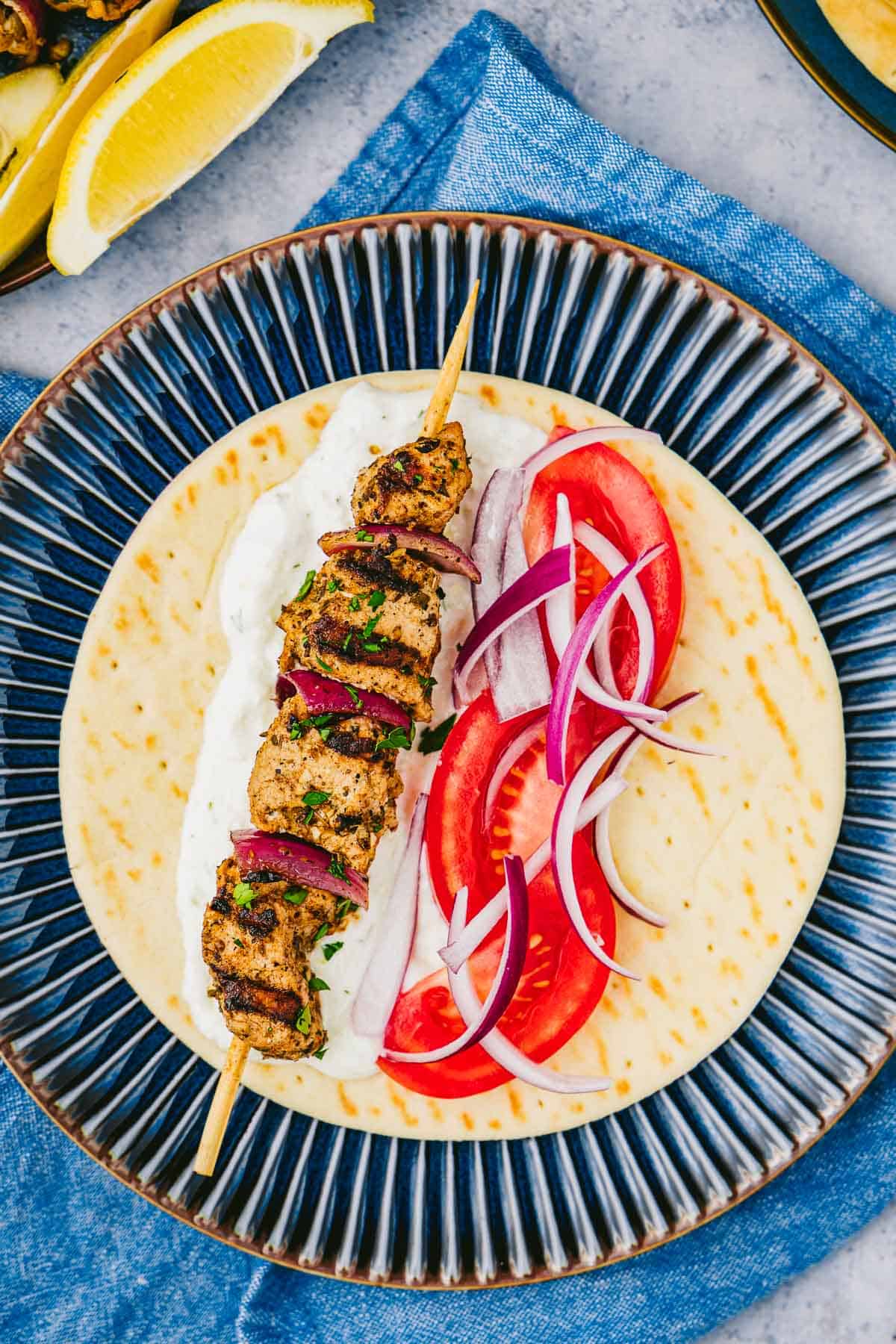 Three Ways to Serve Pork Souvlaki
There are three ways to serve the classic Greek pork souvlaki:
As a pita sandwich or a wrap: The most casual way of serving these delicious pork skewers is inside warm pita bread (with the skewer removed first). Top with tzatziki, tomato slices, thin red onion slivers, and a dash of paprika.
As part of a souvlaki platter: Lay out your flavorful pork skewers, with some warm pita chips (store-bought or homemade), creamy tzatziki, juicy tomatoes, homemade Greek fries, slivered red onions, and minced parsley. Everyone can help themselves using their favorite toppings.
As a dinner plate: At the Greek tavernas, you will often find this dish served with Greek fries topped with oregano and sea salt and a Greek salad on the side.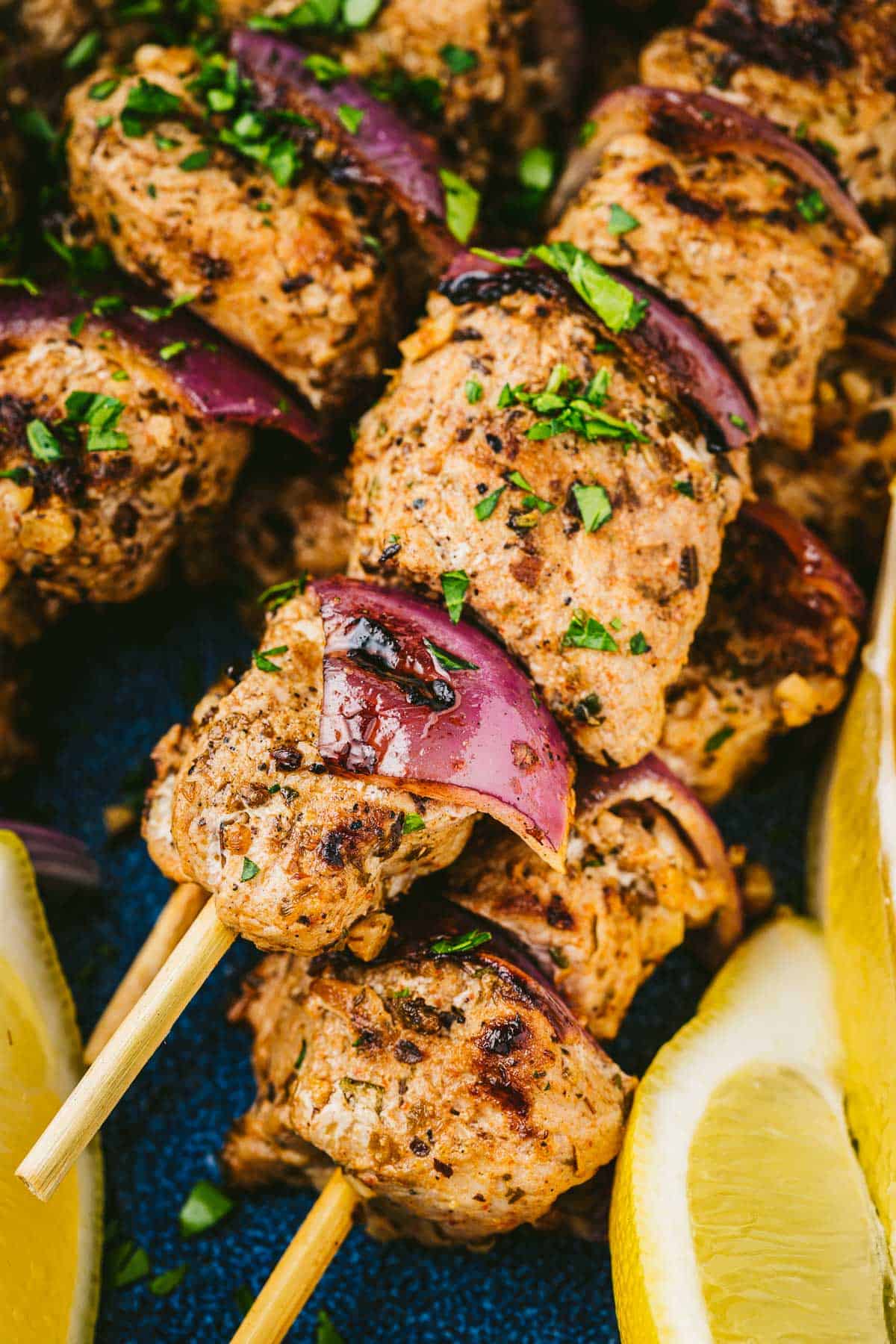 What to Serve with Pork Souvlaki
Pork souvlaki makes a wonderful main dish, especially for a large backyard gathering during barbeque season. Not only does it cook fast and it is virtually foolproof, it is also very easy to pair with several salads and side dishes.

A classic pairing is a peasant salad or a nice mixed green salad with a bright lemon vinaigrette. Additionally, traditional Greek salad, or an orzo salad with roasted seasonal vegetables, or, an aromatic rice pilaf would also go very well with the pork. If you want to go the extra step, a big pile of crispy Greek fries will make you the hero of the day!

No matter what you serve your souvlaki with, do not forget to make a big bowl of tzatziki, the classic yogurt, cucumber, and garlic spread. And of course, some delicious pita bread. Your guests are going to love this Greek pork souvlaki feast!
Browse all Mediterranean recipes.
Visit Our Shop
Bundle and Save!
Four of our best-selling signature olive oils, perfect for everyday use.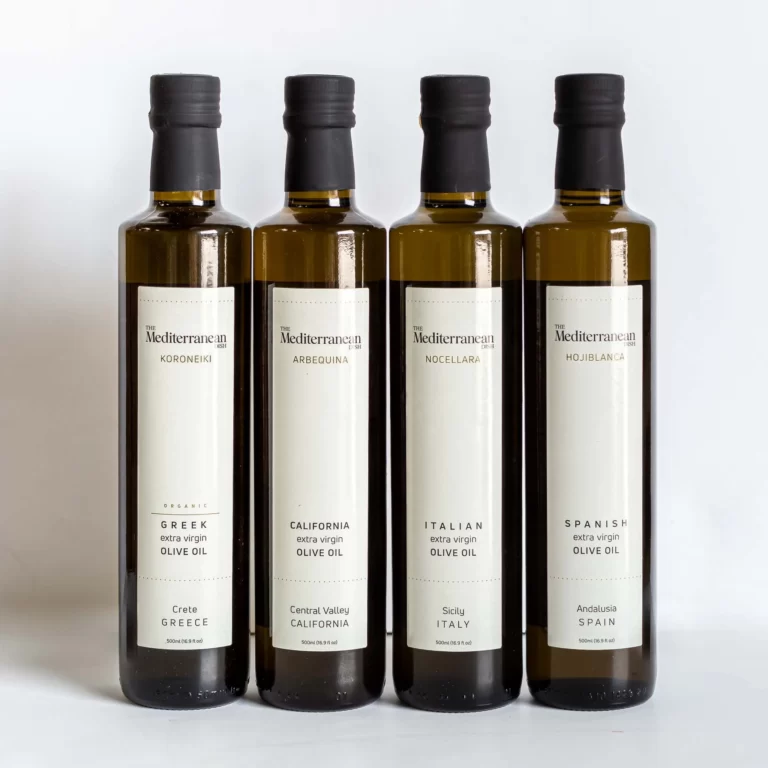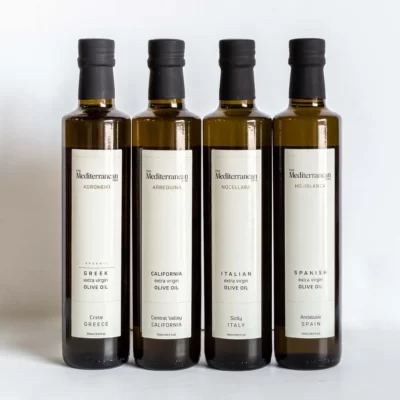 Greek Pork Souvlaki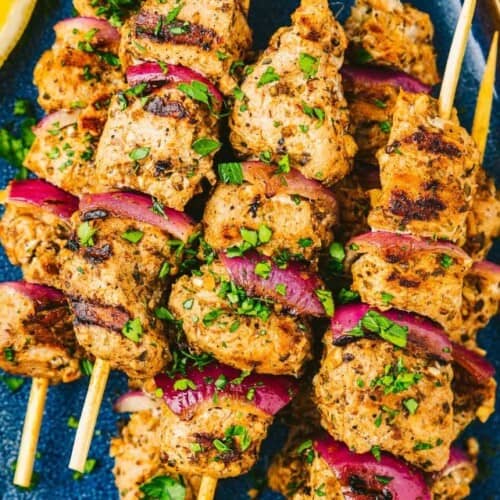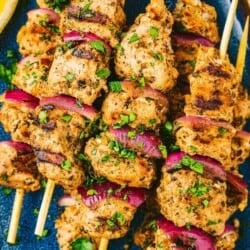 Pork souvlaki is a popular Greek dish made with pork skewers flavored with a bold Greek-style marinade and grilled until tender and juicy. Serve with warm pita bread and Tzatziki.
Ingredients
1 ½

pounds

pork tenderloin

3

tablespoons

white wine vinegar

5

tablespoons

extra virgin olive oil

6

medium garlic cloves,

minced

1

teaspoon Dijon mustard

2

teaspoons

dried oregano

1 ½

teaspoons

fresh rosemary,

minced

1

teaspoon

sweet paprika

¾

teaspoon

freshly ground black pepper

1 ½

teaspoons

sea salt

1

medium red onion

Neutral oil,

for grilling

1

medium lemon
Instructions
Prepare the tenderloin: Use paper towels to grab the silver skin and pull it away from the tenderloin. With a boning knife or small knife, trim off any remaining big pieces of fat. Slice the tenderloin first into medallions, about 1-inch thick. Then slice the medallions into bite-sized cubes, about 1-inch.

Make the marinade: In a large bowl or zip lock bag, combine the white wine vinegar, olive oil, garlic cloves, mustard, oregano, rosemary, paprika, and black pepper.

Marinate the pork: Add the pork and toss well to combine. Cover or seal and refrigerate for at least two hours. If you have the time, allow the meat to marinate overnight. (During that time the color of the meat will get lighter, because of the vinegar.)

Get ready: Remove the bowl from the refrigerator about 30 minutes before you are ready to grill. If you are using wooden skewers, soak them in water for 30-40 minutes so they do not burn on the grill. (If you are using metal skewers, skip that step.)

Skewer: Slice the onion into quarters and pull apart the layers. Thread the marinated pork through the skewers, alternating with red onion pieces. Depending on the size of the skewers you are using, the quantity of meat will be enough for 4 large or 6 smaller skewers.

Grill: Season the meat with the sea salt and brush everything with the remaining marinade. Grill for about 4 minutes per side, turning to ensure a nice color on all sides. When the meat is done it should have solid grill marks and an internal temperature of 145° F.

Rest: Remove the skewers from the grill and place them on a serving platter. Cover them loosely with foil and allow them to rest for 4-5 minutes.

Serve: Slice the lemon in half and squeeze on some fresh lemon juice. Serve.
Notes
Pork tenderloin gets dry and tough when it's overcooked. Remember: you only need to cook pork to 145°F and it will stay juicy.
You want to grill the meat quickly over relatively high heat. Make sure your grill is nice and hot to get a good sear. This will also prevent sticking!
Visit our shop to browse quality Mediterranean ingredients including olive oils, honey, jams and spices.
Nutrition
Calories:
391.7
kcal
Carbohydrates:
7.8
g
Protein:
36.2
g
Fat:
23.8
g
Saturated Fat:
4.5
g
Polyunsaturated Fat:
2.9
g
Monounsaturated Fat:
15.1
g
Trans Fat:
0.1
g
Cholesterol:
110.6
mg
Sodium:
967.6
mg
Potassium:
798.3
mg
Fiber:
2
g
Sugar:
2
g
Vitamin A:
276.9
IU
Vitamin C:
17.8
mg
Calcium:
52.1
mg
Iron:
2.6
mg