Everything you need to know to make the best shish kebab or steak kabobs! This easy recipe comes with the best marinade and a few important tips to follow. Don't forget to watch the video below!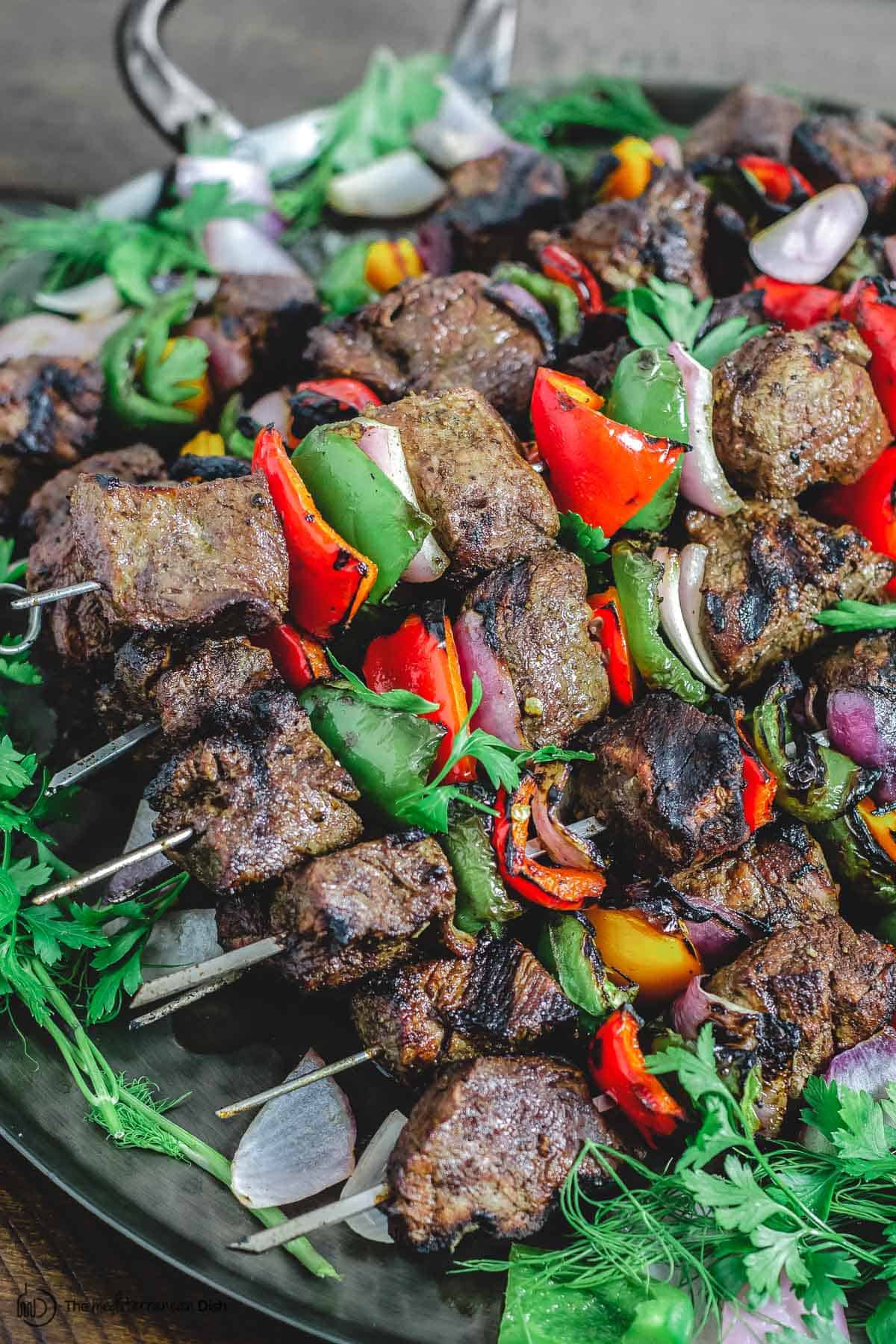 Souvlaki, brochette, satay, or kofta kebabs...If there is one thing that gets a universal "like," it's meat on a stick!
Kabobs are easy to prepare, fast-cooking, and open to awesome flavor possibilities.
And to me, steak kabobs, served next to a couple of bright salads and some baba ganoush or tzatziki, makes the perfect summer party!
What is the shish in shish kabob?
Shish kabob (or kebab, if you prefer), literally means "gobbets of meat roasted on a spit or skewers."
This awesome concept is Mediterranean in origin, the earliest mentions point to the Turks and Byzantine Greeks. The word shish means "sword" or "skewer."
We've already covered other skewerd meats like kofta and chicken kabobs here. But to be honest, I have struggled with beef kabobs for a while; they are the trickiest to get right. Lots of trial and error lead me to today's beef shish kabob recipe. And I learned that the key to the best beef kabob begins with selecting the right meat.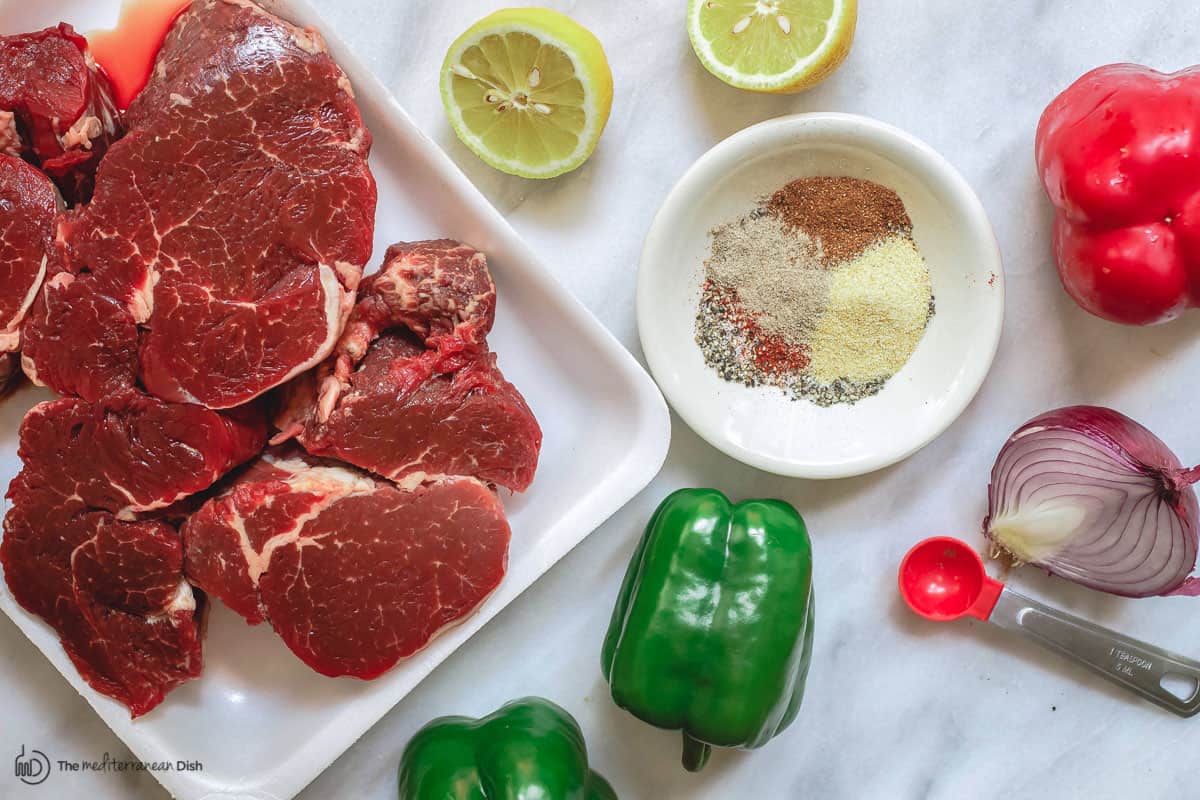 What meat is best for beef kabob?
Steak kabobs can be especially tricky because you need to select the right cut of meat. You want something tender and also flavorful. There are some choices out there, here is what I've learned:
Fillet mingon (or beef tenderloin)- this is the best cut for beef shish kabobs, it's a tender and leaner steak and will not require too much work. But, it is not as robust in flavor as other cuts of meat, that's why I still like to marinate it for a couple of hours in the fridge. The downside though is that it's fairly expensive (I do use this cut in this kebob recipe, and I try to get it on sale whenever I can).
Sirloin- In particular sirloin tip. This is less expensive and is a good option because of its big beefy flavor. If you allow it a few more hours in the marinade (refrigerated), you will have better results.
Chuck Steak- I avoid this cut of meat when it comes to kabobs. While it's a flavorful cut of meat, it can be way too tough and chewy for kabobs.
Beef kabobs marinade
There are so many ways to season beef kebabs, and no surprise here, I went for a Mediterranean-style marinade that relies on extra virgin olive oil and citrus from lemon juice and red wine.
But for best flavor, I first rub the meat in a mixture of spices:
These spices, along with garlic and onions deliver bold flavor and give the steak kabobs an appropriately Eastern Mediterranean scent.
You can change up the spice mixture to your liking. You can try something with more Greek flavors, using oregano or rosemary, for example.
How long to marinate steak kabob meat?
How long to marinate the meat will depend on the cut you choose; anywhere from 30 minutes to overnight.
For fillet mignon or beef tenderloin, you can do with 30 minutes of marinating time, but I like to go for at least a couple of hours in the fridge for more flavor.
For other tougher cuts of beef, I tend to go 4 hours or overnight, refrigerated.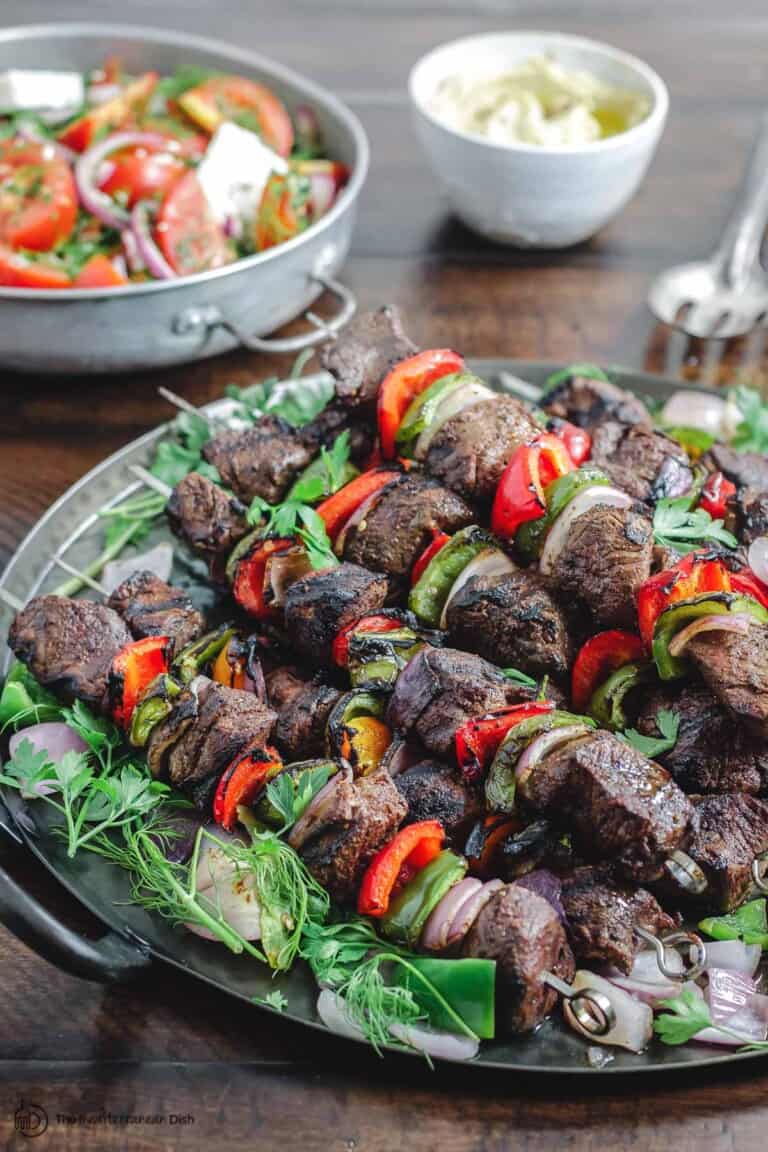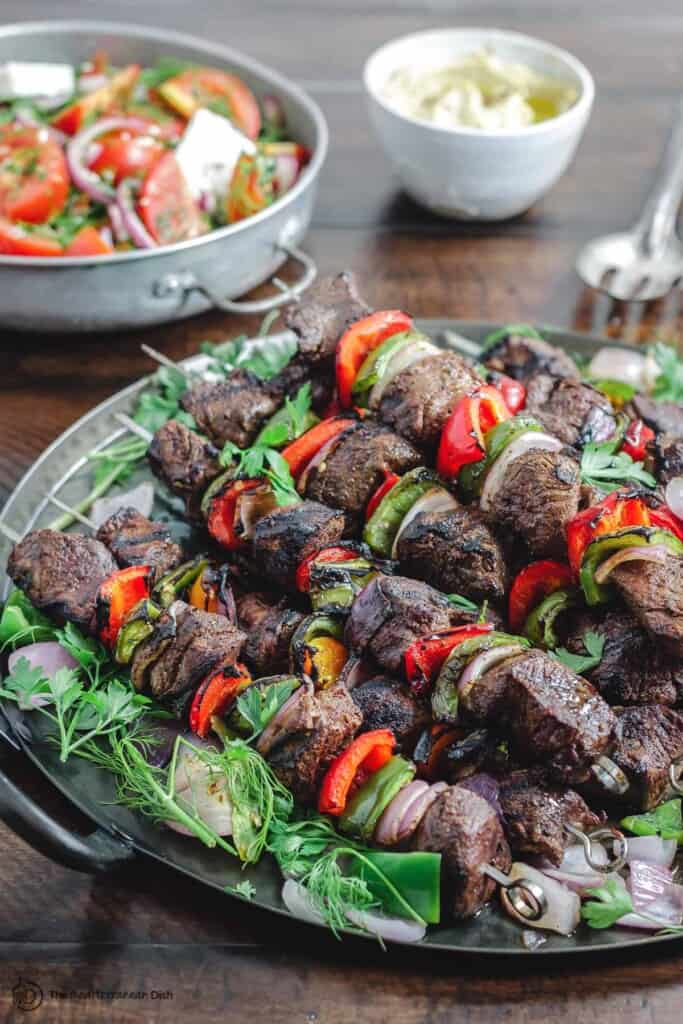 How to cook shish kabob?
It is so easy to overcook beef shish kabob, so we've learned!
But back to the choice of meat; as they say, tender meat, high heat! And make it quick!
Of course, grilling time will vary depending on choice of meat, size and thickness of the pieces, and how well you like your meat cooked.
I used fillet mingon here, cut into 1 ½-inch to 2-inch cubes. Because we like our kabobs medium, it took about 8 minutes in total to grill.
A few more grilling tips
Use bamboo skewers to avoid over-cooking. I used metal skewers in this post but have found that because metal transfers heat well, it can tend to overcook the meat. If you're new to cooking beef kebabs, bamboo/wooden skewers will give you more control here, just make sure you soak wooden skewers in water for at least 1 hour before using them.
Use double skewers if you need more control to help you turn the kabobs over the grill.
Keep some space between the meat pieces on the skewer, this will help them cook more evenly.
Paint the kabobs with more of the marinade as they cook. Don't discard the marinade so fast, use it to paint the kabobs as they're cooking for more flavor.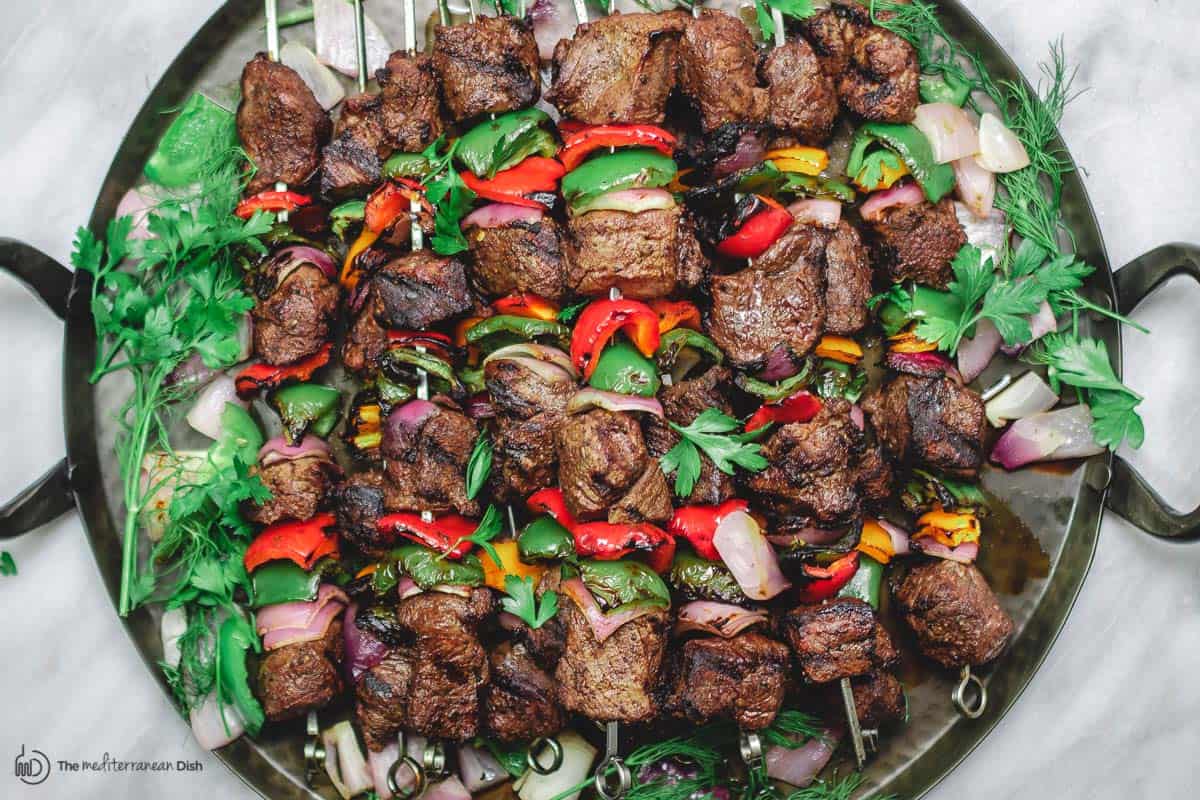 What to serve with beef shish kebab?
Beef shish kebabs are usually served with a number of mezze sides and salads. Here are some ideas:
This kabob recipe has become a new favorite in my family! And with all the options for sides and salads, it is so easy to turn this into a big feast for a crowd!
More kabob recipes to try
Browse more Middle Eastern Recipes. Browse all Mediterranean recipes.
Beef Shish Kebab Recipe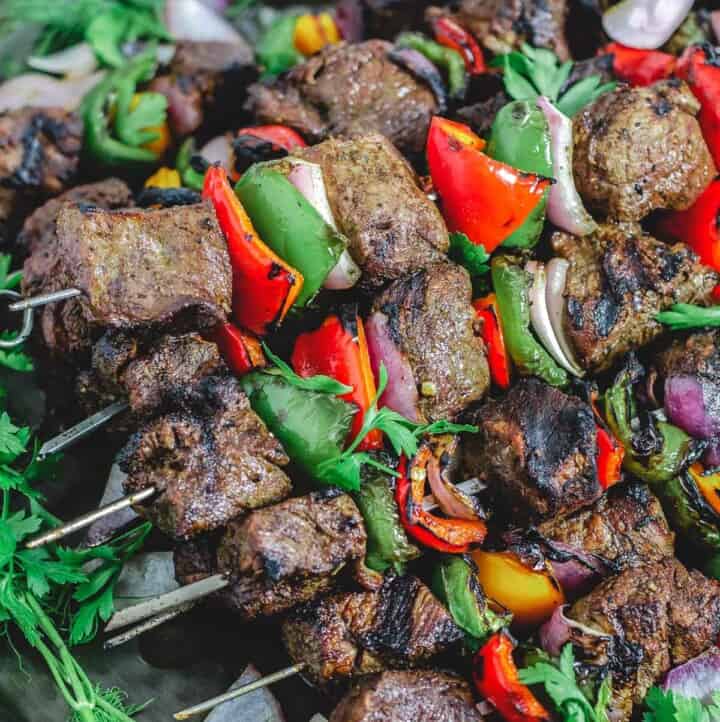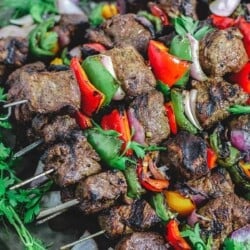 Ingredients
2 ½

teaspoon

garlic powder

1 ½

teaspoon

ground nutmeg

1 ½

teaspoon

ground green cardamom

1

teaspoon

allspice

1

teaspoon

paprika

Salt

Freshly ground black pepper

more for later

3

lb

Top sirloin steak OR beef tenderloin fillet

cut into 1 ½-inch cubes

1

large red onion

cut into pieces roughly the width of the meat

2

green bell peppers

cut into pieces roughly the width of the meat

2

red bell or orange bell peppers
For the marinade
1

large red onion

thinly sliced

2

lemons

juice of

1

cup

Extra Virgin Olive Oil

I used Private Reserve Greek extra virgin olive oil

1

cup

dry red wine
Instructions
Prepare up to 20 skewers. If using bamboo or wooden skewers, be sure to soak them in water for at least one hour before use.

Mix the spices: In a bowl, mix together the spices to make a spice rub for the cubed meat.

Season the meat cubes with the spices and combine well so that the meat is evenly covered.

Prepare the marinade and add the seasoned meat cubes. In a large and deep dish, combine the marinade ingredients of red onions, lemon juice, olive oil and red wine. Add the seasoned meat to the marinade, and work the meat into the marinade well with your hands. Cover and refrigerate for at least 30 minutes (preferably 2 to 4 hours or overnight depending on the kind of meat you are using).

Remove the meat from the fridge one hour before grilling.

Lightly oil the grates of a gas grill and heat for 10 minutes on high.

Thread the meat and vegetables on skewers. Thread the meat, onions, green peppers and red peppers onto the prepared skewers, alternating until you run out of meat (about 4 pieces of meat per skewer with the vegetables nestled in between as you see in the photos). Season with more freshly ground black pepper. (Do not discard the marinade yet)

Grill. Place the shish kabobs on the grill. Cook for 8 to 10 minutes, depending on how hot your grill is and how well-cooked you like your meat, turning occasionally. While the kabobs are grilling, paint the meat with some of the marinade a couple of times as you turn the skewers around.

Rest before serving. Remove from the heat and transfer to a serving platter. Allow 5 minutes for the kabobs to rest before serving. Enjoy!
Notes
Cook's Tip: If you have the time, allow the meat to marinate in the fridge for 2 to 4 hours or overnight if you're using a tougher cut of meat. I used beef tenderloin which is a tender cut of meat and does not require too much time in the marinate.
Visit our Online Shop to browse quality Mediterranean ingredients including olive oils and spices used in this recipe.
Nutrition
Calories:
273.7
kcal
Carbohydrates:
8.4
g
Protein:
31.2
g
Fat:
10.6
g
Saturated Fat:
3.4
g
Potassium:
649
mg
Fiber:
2.2
g
Sugar:
3.2
g
Vitamin A:
931.7
IU
Vitamin C:
62.6
mg
Calcium:
47.1
mg
Iron:
2.7
mg
This post first appeared on The Mediterranean Dish in 2016 and has been updated with new information and media for readers' benefit