You'll love this simple watermelon salad recipe with cucumbers, feta, and mint, all covered in a zesty honey and lime dressing. A summer favorite, this refreshing watermelon feta salad is the perfect dish for a crowd.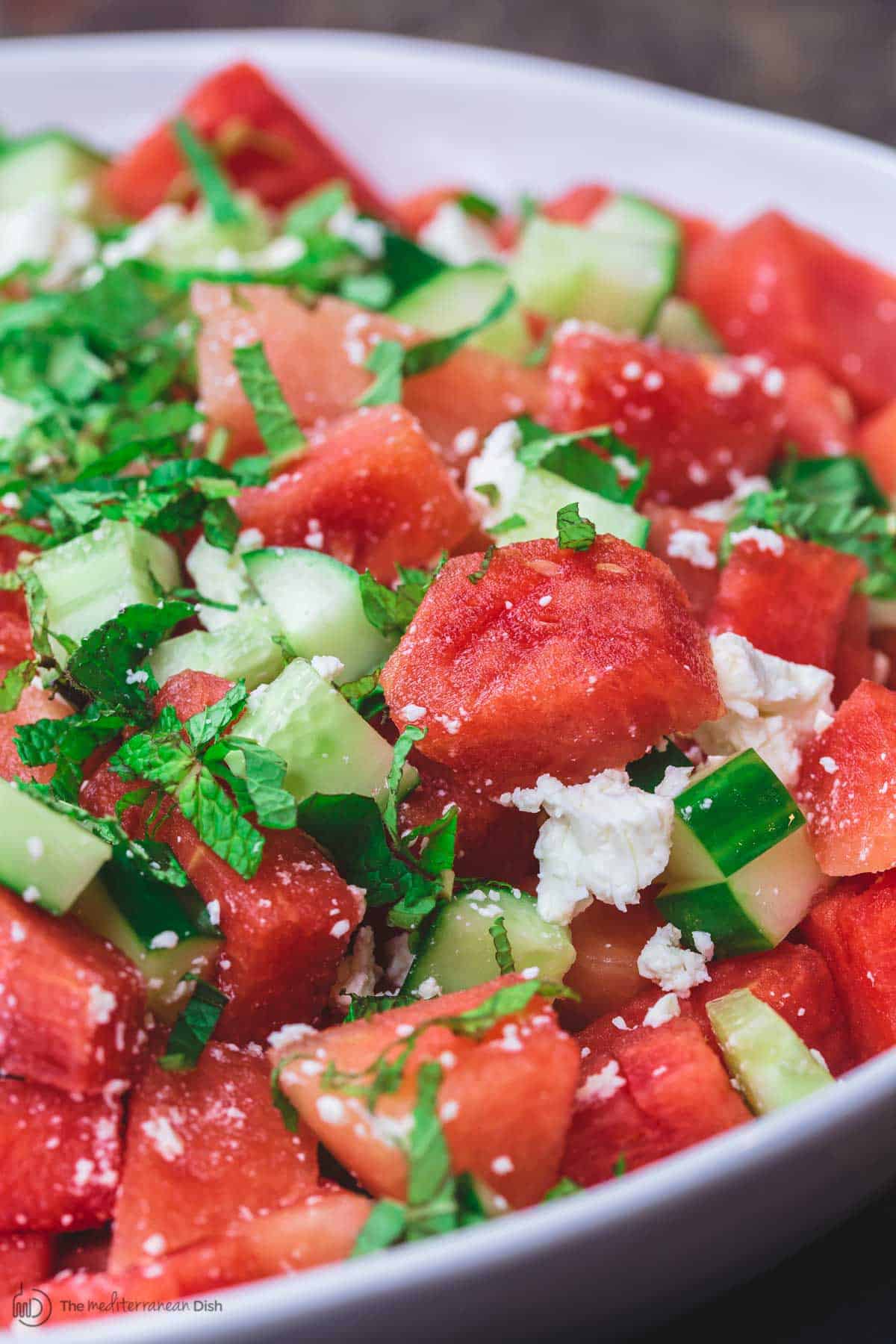 Growing up by the shores of the Mediterranean, my summers in Port Said, Egypt consisted of two things: the beach and watermelons. I remember spending long days on the sunny beach with my favorite snack in hand: slices of watermelon topped with crumbles of creamy feta.
I still love nothing more than the combination of salty feta over sweet, cool watermelon. And this watermelon salad with cucumbers, feta, and fresh herbs, is another level of delicious. I think of this watermelon feta salad as grown up version of my favorite snack, and the zesty honey-lime dressing sure brings everything together.
Every bite of this salad is as refreshing and packed with flavor as it looks. Try it once, and you'll have it all season long!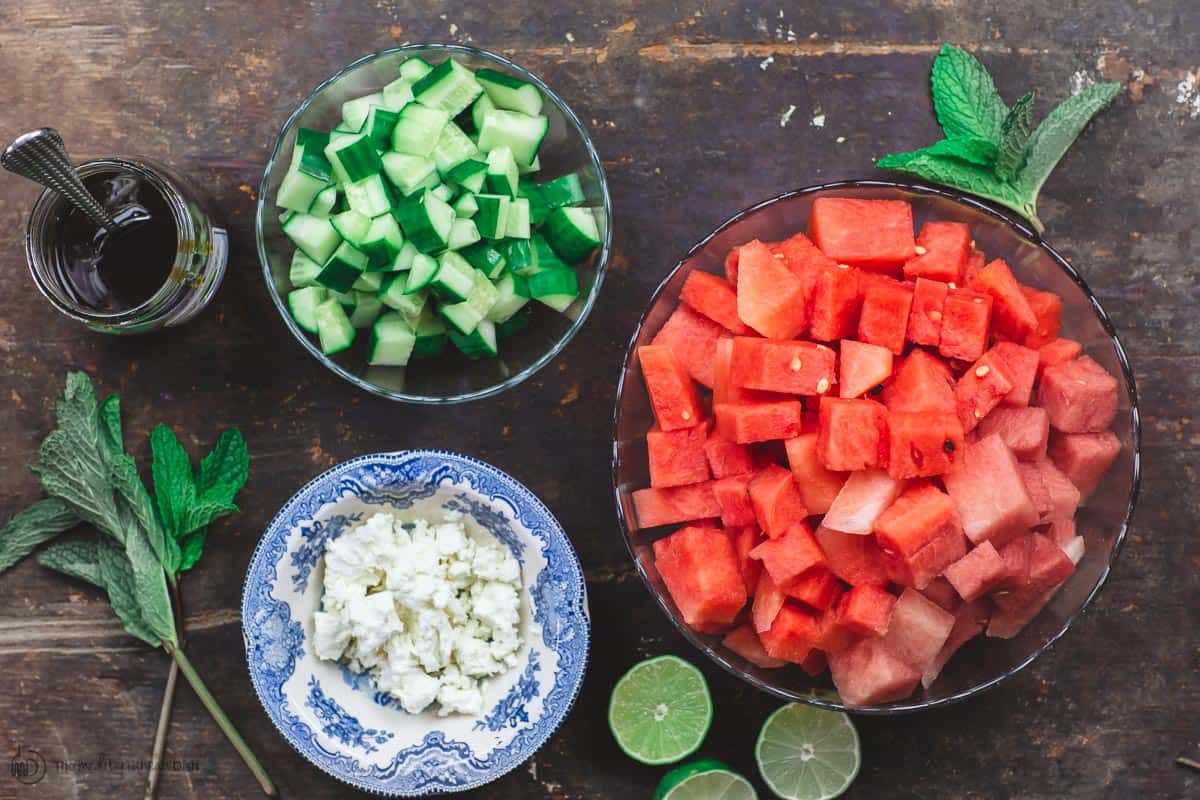 Watermelon salad recipe ingredients
This summer salad is the perfect combination of flavors. Juicy, fresh watermelon goes well with cool cucumbers, fresh herbs, and the rest of the savory ingredients in this salad. It's the perfect balance of sweet and salty. Here are the fresh ingredients you need and some notes on how to prepare them:
Watermelon. You can use 1 small watermelon or ½ a large watermelon. You'll need to peel and cut the watermelon into cubes (see tips for how to cut a watermelon in my easy tutorial), but you can also use a melon baller, if you're after a fancier look.
English cucumber or hot house cucumber. English cucumbers are sweeter and their skin is not took thick or waxy, so you don't need to peel them. If you end up using American slicing cucumbers, you'll want to peel and seed the cucumbers before slicing.
Mint and basil leaves. I used a good amount of herbs here, about 1 cup packed of each (or 15 leaves of mint and 15 leaves of fresh basil), roughly chopped or torn. Trust me, you need the punch of freshness from these herbs!
Creamy feta cheese. You'll need about ½ cup or more of creamy crumbled feta. I usually start with a small block of feta packed in the brine, and I don't mind crumbling it myself. Feta packed in the brine is more creamy and not as salty as dry, already crumbled feta (besides I always keep a block of feta on hand in case the mood strikes for a delicious baked feta appetizer).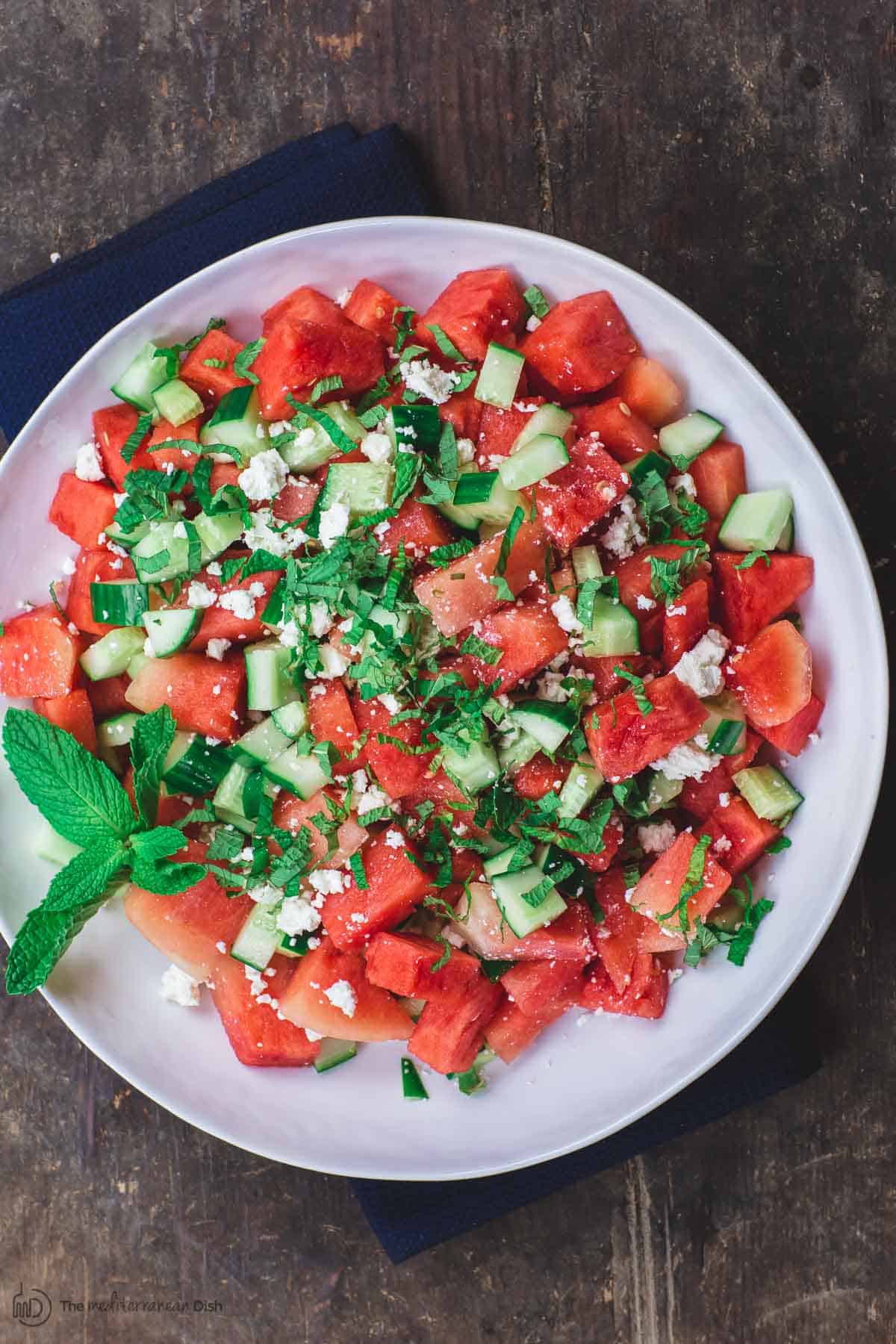 Dressing for watermelon feta salad
With juicy watermelons and cucumber, you may think the dressing is unnecessary. While this watermelon and feta salad is delicious without a dressing, a simple and bright dressing like I use here does bring it together and enhances the flavor. You only need 4 ingredients for the honey-lime dressing: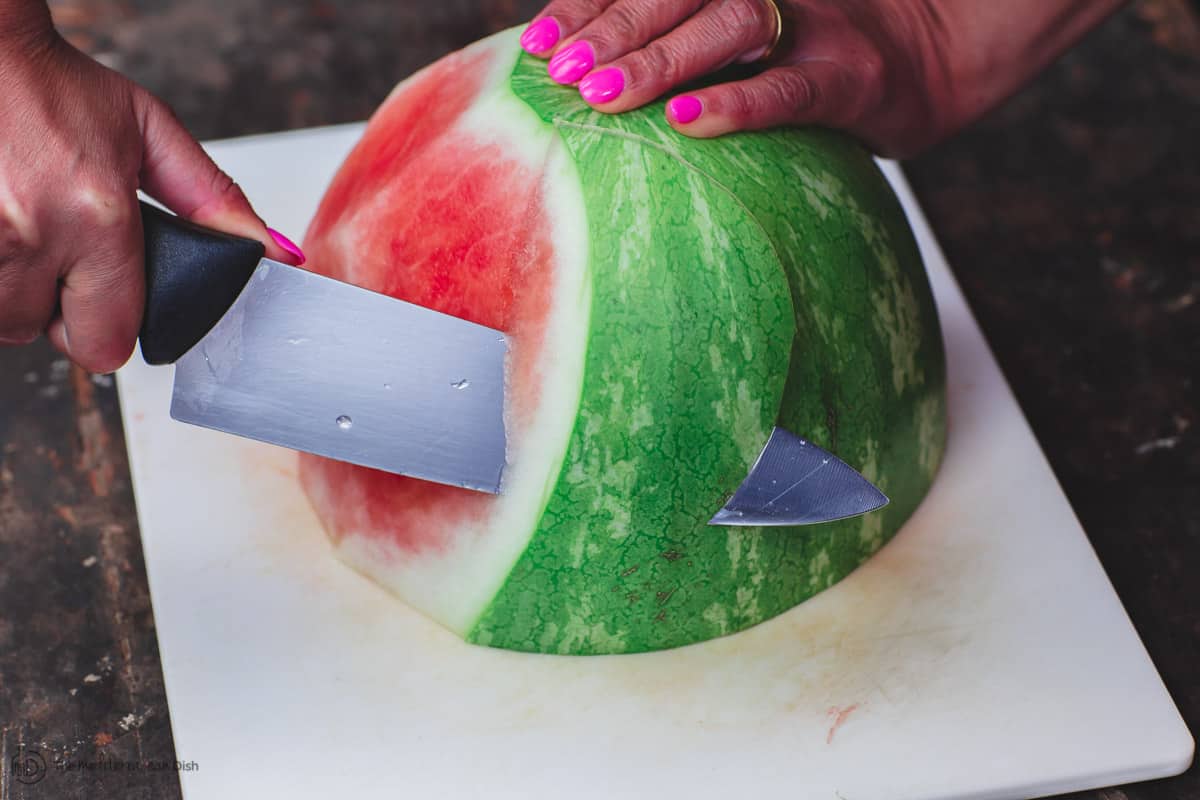 A few tips for how to make watermelon salad
To make this salad, you just add your watermelon cubes, cucumber, torn fresh herbs in a large salad bowl or platter. Pour the honey-lime dressing on top, then gently toss to combine. Finally, crumble your feta cheese and sprinkle it all over the salad.
Keep in mind that soon after watermelons are cut and dressed, the liquid slowly seeps out of the flesh, and along with it, the sweet flavor you associate with watermelon. So, this watermelon salad with cucumber is best prepared and enjoyed on the same day. But you can make the dressing up to 3 days in advance and keep it in a mason jar in the fridge.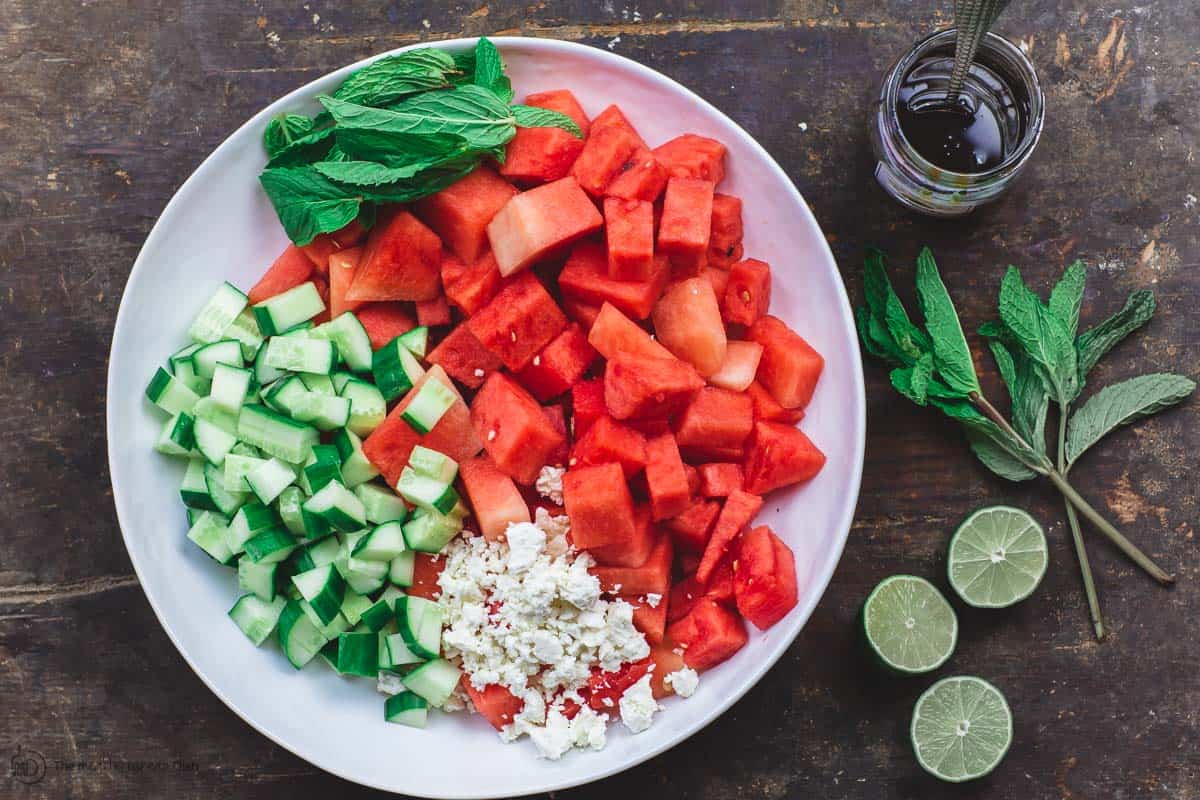 Variations
You can change up this Mediterranean watermelon salad to your liking. In addition to cucumbers, feta, and fresh herbs, here are a few more ingredients that go well with watermelon:
Shallots or red onions. Thinly sliced shallots will add a little punch.
Avocado. Dice up a creamy avocado to add a little indulgence and fat to this salad.
Hot peppers. You can slice up some jalapeno rings for added crunch and heat.
Red pepper flakes such as Aleppo-Style pepper. I love Aleppo-style pepper over watermelons and over mangos, it is not too spicy but adds enough of a kick with hints of sweetness. I highly recommend it!
Leftovers
We don't typically have much left of this refreshing salad, but you can keep leftover watermelon cucumber salad in the fridge in a tightly-closed glass container for up to 2 days. Drain excess liquid and test the salad before serving though.
Serve this watermelon cucumber salad with
This is the quintessential summer salad to serve next to any of your grilled meats, chicken skewers, or even fish. Great for sandwich night next to salmon burgers or even shawarma. And it's a good change from pasta salad (or in addition to) for a picnic.
More recipes and salads with fresh fruit
Visit Our Shop for quality Mediterranean ingredients
Mediterranean Watermelon Salad Recipe with Feta and Cucumber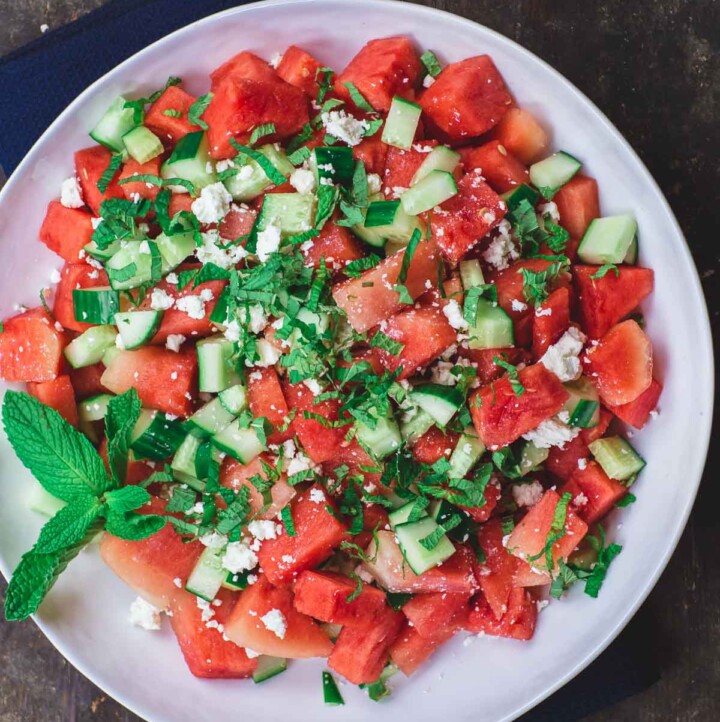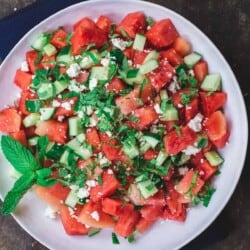 This simple and refreshing watermelon salad is made of sweet watermelon, cucumbers, creamy salty feta, fresh mint and basil. The lime-honey dressing brings this salad together, adding tang and a little extra punch. This salad is best prepared and served right away, but you can make the dressing up to 3 days in advance and save it in the fridge.
Ingredients
For the Honey-Lime Dressing
2

tablespoon

honey

2

tablespoon

lime juice

1 to 2

tablespoon

quality extra virgin olive oil

I used Greek Early Harvest

pinch

of salt
For the Watermelon Salad
½

watermelon

peeled, cut into cubes

1

English

or Hot House cucumber, cubed (about 2 cupfuls of cubed cucumbers)

15

fresh mint leaves

chopped

15

fresh basil leaves

chopped

½

cup

crumbled feta cheese

more to your liking
Instructions
Make the dressing. In a small bowl, whisk together the honey, lime juice, olive oil and pinch of salt. Set aside for a moment.

Make the Salad. In a large bowl or serving platter with sides, combine the watermelon, cucumbers, and fresh herbs.

Top the watermelon salad with the dressing and gently toss to combine. Top with the feta cheese and serve!
Notes
Variations: you can add shallots or red onions, avocado cubes, or hot peppers. You can also season the salad with a dash of Aleppo-style pepper flakes which adds a little bit of heat with sweet undertones.
Tips for Leftovers: Because this is a super watery salad, with watermelon and cucumber being the star ingredients, it is best to finish it on the same day you prepare it. However, if you have some leftovers, you can store in a tight-lid glass container for a night or two (test before serving.)
Visit Our Shop to browse quality Mediterranean ingredients including olive oils and spices!
Nutrition
Calories:
51.3
kcal
Carbohydrates:
7.5
g
Protein:
2.8
g
Fat:
1.6
g
Saturated Fat:
0.9
g
Monounsaturated Fat:
0.1
g
Cholesterol:
6.7
mg
Sodium:
112.8
mg
Potassium:
26.7
mg
Fiber:
0.3
g
Sugar:
6.3
g
Vitamin A:
161.5
IU
Vitamin C:
2.5
mg
Calcium:
9
mg
Iron:
0.2
mg
*This post has been recently updated with new information and media for readers' benefit.