You'll be making this easy watermelon sangria all summer long! With fresh watermelon, lime juice, and orange liqueur, this sangria recipe is perfectly sweet and refreshing. Best part? You can serve it immediately, if you don't have the time to chill it!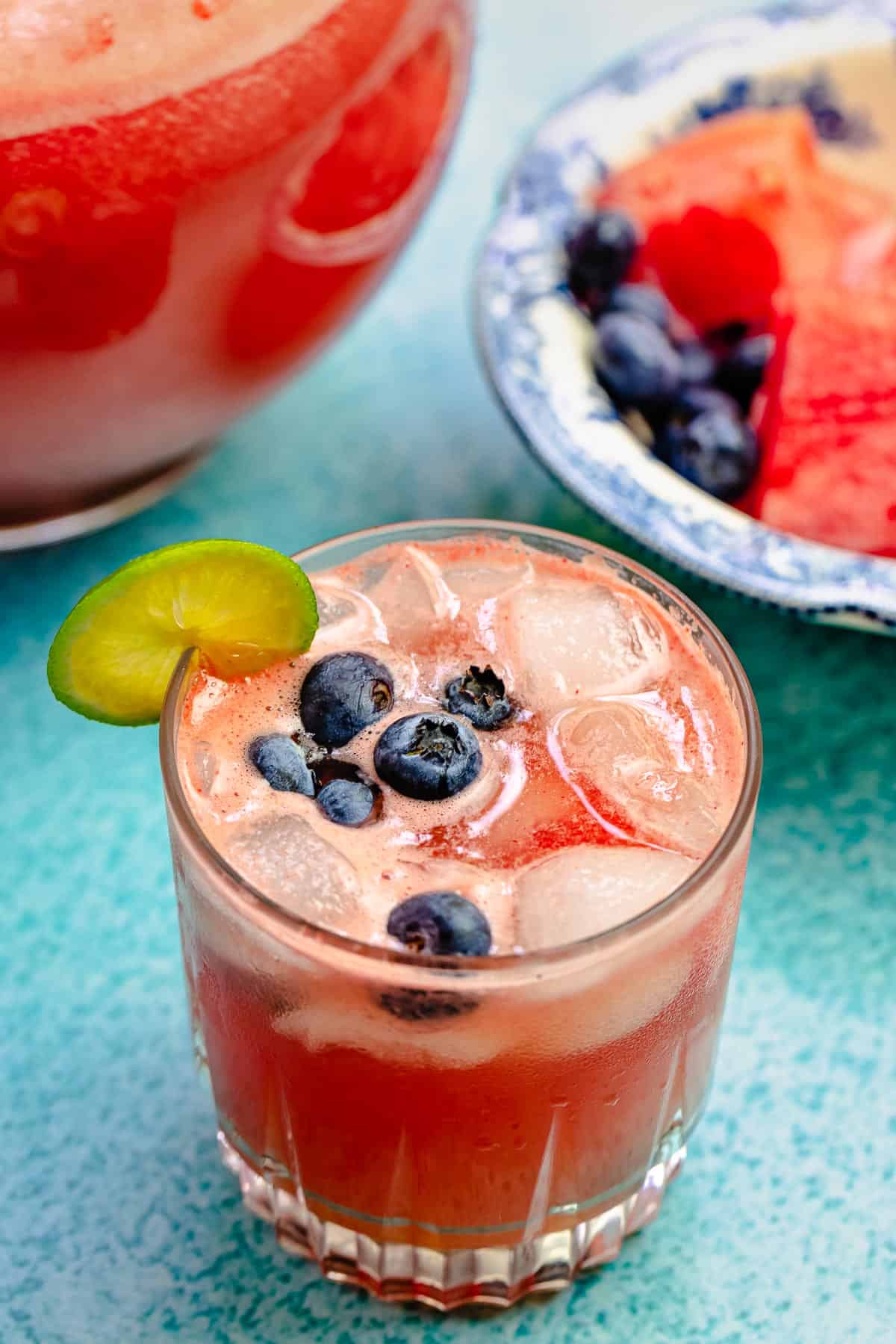 A summery sangria in 5 minutes!
Traditional Spanish sangria is usually made by macerating chunks of fresh fruit in a mixture of wine and brandy for long hours to give you a well-flavored, boozy punch.
No long hours of waiting here, this summery watermelon sangria is a quick one that you can make in minutes and serve immediately!
In this sangria recipe, fresh watermelon cubes are blended (or rather, liquified in a blender) with lime juice and good honey then strained and mixed with dry white wine and Grand Marnier orange liqueur. The flavors are a perfect balance of sweet and tangy–refreshing in the best way.
Plus, the liquified watermelon and lime juice mixture quickly infuses the wine with flavor, so you won't need to wait hours before serving it (although if you had the time to chill it in the fridge, that's never a bad idea)!

Cutting your watermelon ahead of time makes this sangria a breeze to make anytime! It takes about 5 minutes, start to finish!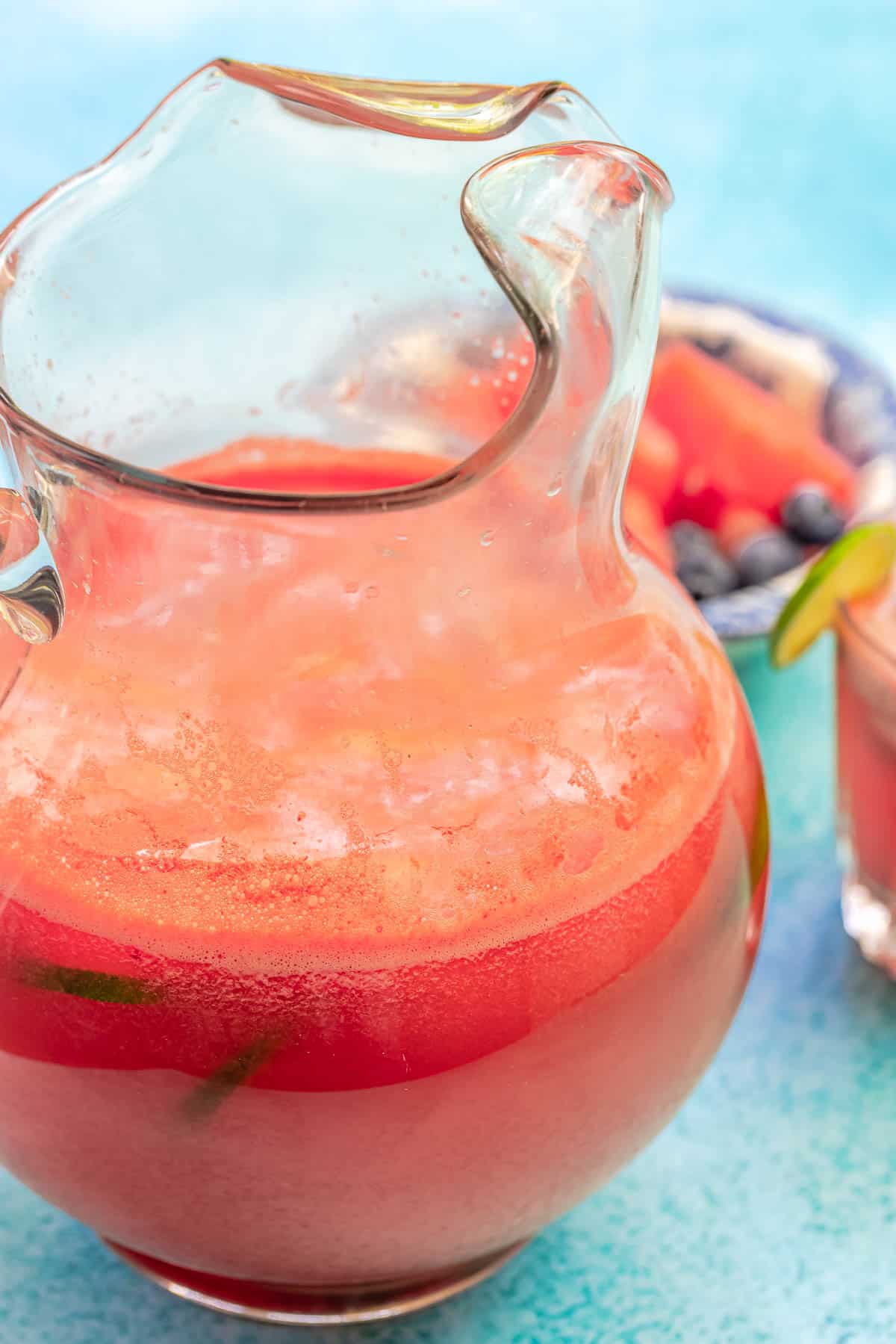 Watermelon sangria recipe ingredients
The star ingredients in this sangria recipe are, of course, fresh watermelon and dry white wine, along with a few simple ingredients. Here are some notes on the ingredients you need to make this refreshing drink:
Watermelon - You need 8 cups of cubed watermelon. Most of it gets blended along with the other ingredients, but save some for serving. Check out our guide, How To Pick A Watermelon, for all the tips to finding the juiciest, ripest watermelons at the store.
Limes - You'll need the juice of 4 limes, as well as 1 sliced lime for garnish.
White wine - Use a bottle of your favorite white wine; it does not have to be too expensive though. I recommend using a dry wine like pinot grigio, sauvignon blanc, or chardonnay. Avoid using sweeter white wines like moscato, unless you like your sangria very sweet.
Honey - Depending on how sweet you like your sangria, use ¼ to ½ cup of quality honey. (I use this Greek honey).
Grand Marnier or an orange-flavored liqueur with cognac. I like Grand Marnier here for a hint of citrus and warm sweetness; you can also use Cointreau or triple sec and a dash of cognac for a similar flavor.
Handful of fresh blueberries - This is optional, but a few blueberries add more color and some tart flavor to this watermelon sangria. They're mostly added for garnish and won't affect the flavor too much, so you can leave them out if you don't have any!
How to make watermelon sangria
Once you've gathered the ingredients for this refreshing drink, the only equipment you need are a blender, a strainer, and a pitcher. Here's how to make watermelon sangria in about 5 minutes:
Blend (liquify) the watermelon. Blend about 7 cups cubed watermelon, the juice of 4 limes, a little white wine, and ¼ to ½ cup honey. (Start with less honey and taste and increase the amount if you need to.)
Strain the watermelon juice mixture using a fine mesh strainer over the opening of a large pitcher. Use the back of the spoon to gently push the watermelon juice through the strainer. If there is any pulp left in the strainer, you can discard it.
Mix the sangria. To the same pitcher with the watermelon mixture, pour ½ cup Grand Marnier and the remainder of the bottle of wine and stir. Add the rest of the cubed watermelon (around a cup), 1 sliced lime, and a handful of blueberries.
Serve in glasses over ice. Garnish with a few blueberries and sliced limes.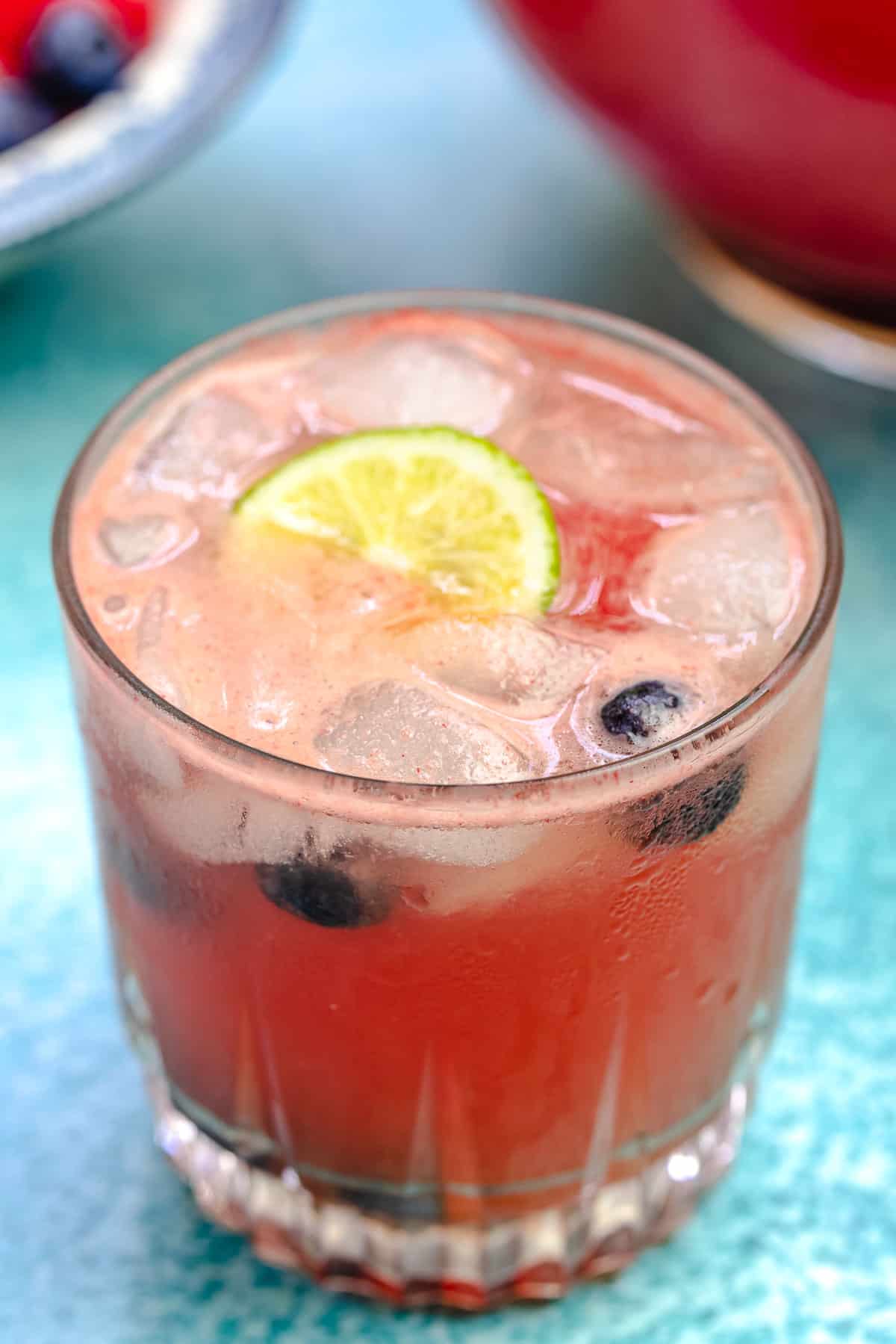 Appetizers to serve with your sangria
Watermelon sangria is the perfect warm-weather cocktail. Serve it with crudites or a summery burrata platter. Or, appetizers like Spanish gambas al ajillo, tomato bruschetta, citrus avocado dip, tuna empanadas, or shrimp ceviche. Or, go for a creamy whipped feta with a side of crispy pita chips.
If you'd like to stir up two batch cocktails to offer your guests some variety, try an Aperol Spritz or Rosé Lemonade.
Can you make watermelon sangria ahead of time?
You can make this sangria recipe ahead and chill it in the fridge for a few hours or overnight. Keep it in the refrigerator until you're ready to serve.
Try these refreshing drinks next
Browse all Mediterranean Recipes

Visit Our Shop
5-Minute Watermelon Sangria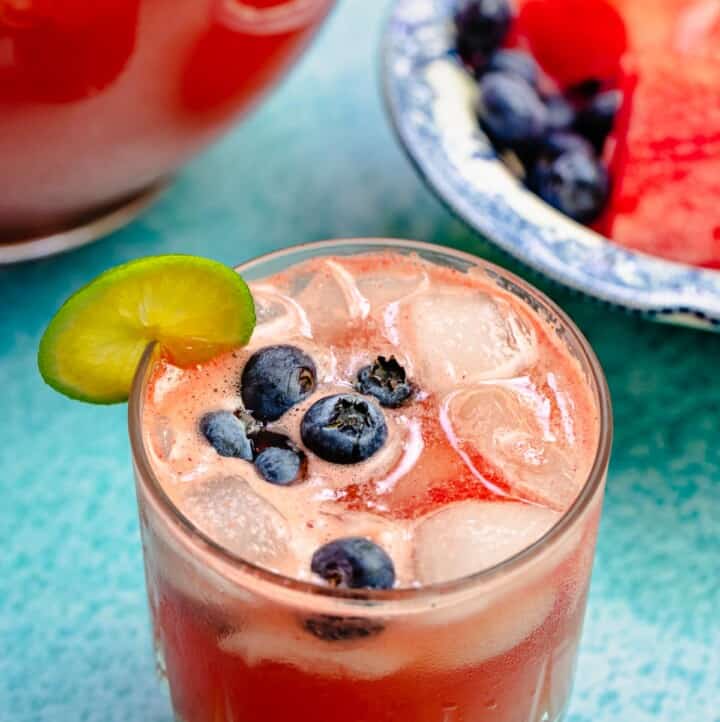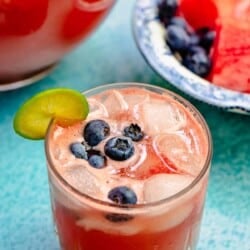 Sweet and refreshing watermelon sangria ready in just 5 minutes! And because we liquify the watermelon so it quickly mixes with the wine, and serve the sangria over ice, you don't need to chill it if you don't have time. Serve watermelon sangria alongside some sharing plates or appetizers like a burrata platter or tomato bruschetta.
Ingredients
8

cups

watermelon

cubed

Juice of 4 limes,

+ 1 lime sliced, for garnish

1

bottle

white wine of your choice,

I am using Pinot Grigio

¼ - ½

cup

honey

½

cup

of Grand Marnier

Handful of fresh blueberries
Instructions
Add most of the watermelon (reserve some for serving), lime, honey and a little wine to a blender and blend until the watermelon has liquified.

Strain into a pitcher.

Add Grand Marnier, the remainder of the wine, and mix.

Add the slices of lime, blueberries, and the rest of the watermelon cubes.

Pour into cups over ice and enjoy!
Nutrition
Calories:
260.3
kcal
Carbohydrates:
35.8
g
Protein:
1.4
g
Fat:
0.4
g
Saturated Fat:
0.1
g
Polyunsaturated Fat:
0.1
g
Monounsaturated Fat:
0.1
g
Sodium:
4.2
mg
Potassium:
240.2
mg
Fiber:
0.8
g
Sugar:
30.5
g
Vitamin A:
1153.2
IU
Vitamin C:
16.5
mg
Calcium:
15.2
mg
Iron:
0.6
mg