Sangria is an iconic pitcher drink you'll find on tables dotted throughout Spain. Flavorful and colorful, red wine sangria is easy to whip up for stress-free entertaining! Pick up some citrus and add this sangria recipe to your wine cocktail rotation today.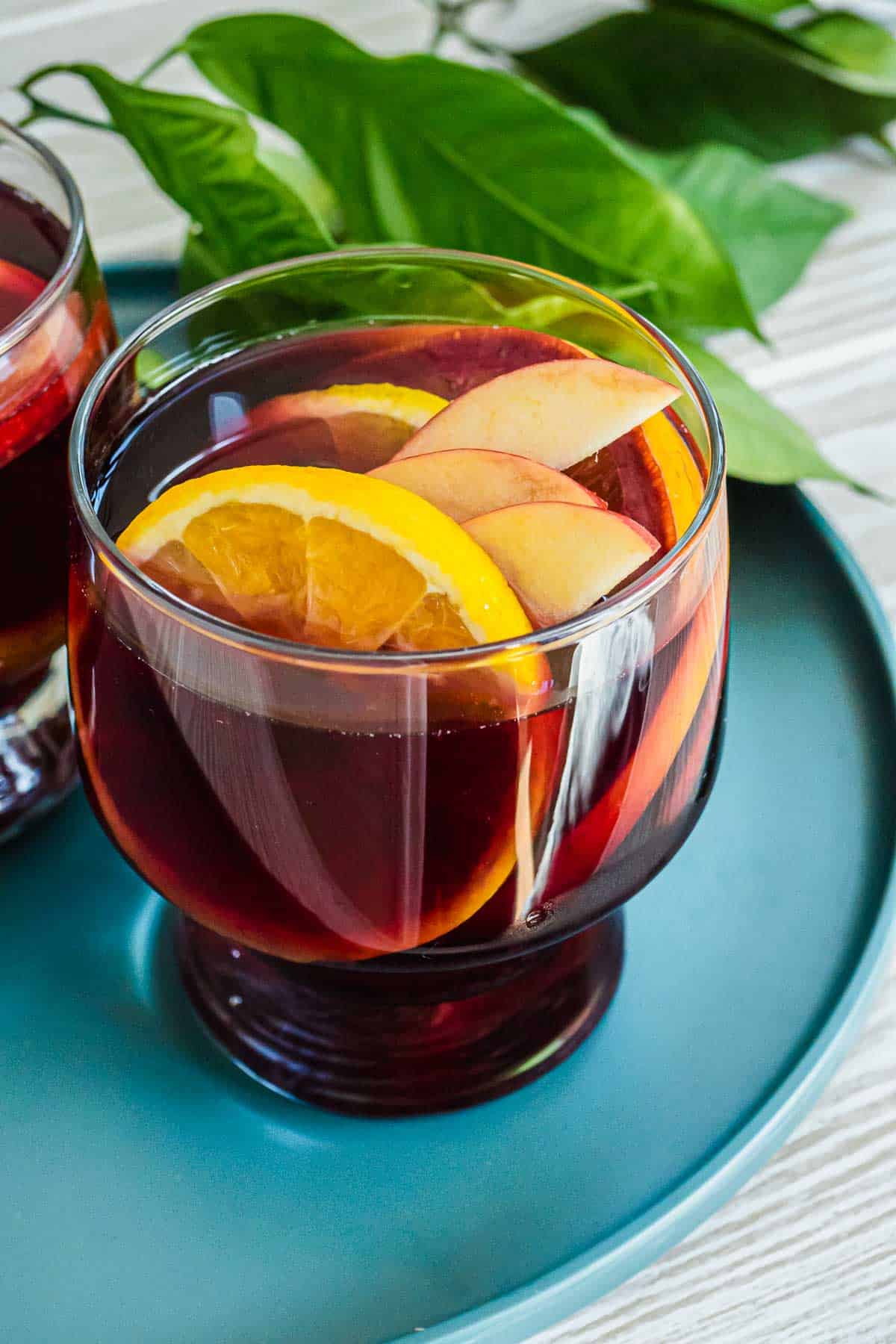 Sangria is a delicious anytime wine cocktail whether you're serving up an afternoon brunch of Spanish Tortillas and Orange Pomegranate Salad, making a simple dinner of Rice and Beans or Chorizo Pasta, or entertaining a group for the holidays. After all, Sangria is the original pitcher drink that's inspired so many more, from Agua De València to Rosé Lemonade! It is festive, and meant to be enjoyed with good company!
You can find both red and white sangria almost anywhere in both Spain and Portugal, but it's mostly considered a tourist drink. Whether you're drinking it as a tourist or a local, red sangria is easy-to-make with seasonal ingredients and wonderful to sip with friends. Sangria relies on just a handful of ingredients, is beautiful to serve, and takes only minutes to put together. What's not to love?
This red sangria recipe calls for red wine, brandy, lemons, oranges, cinnamon and star anise. The longer it sits the more flavorful your sangria will become.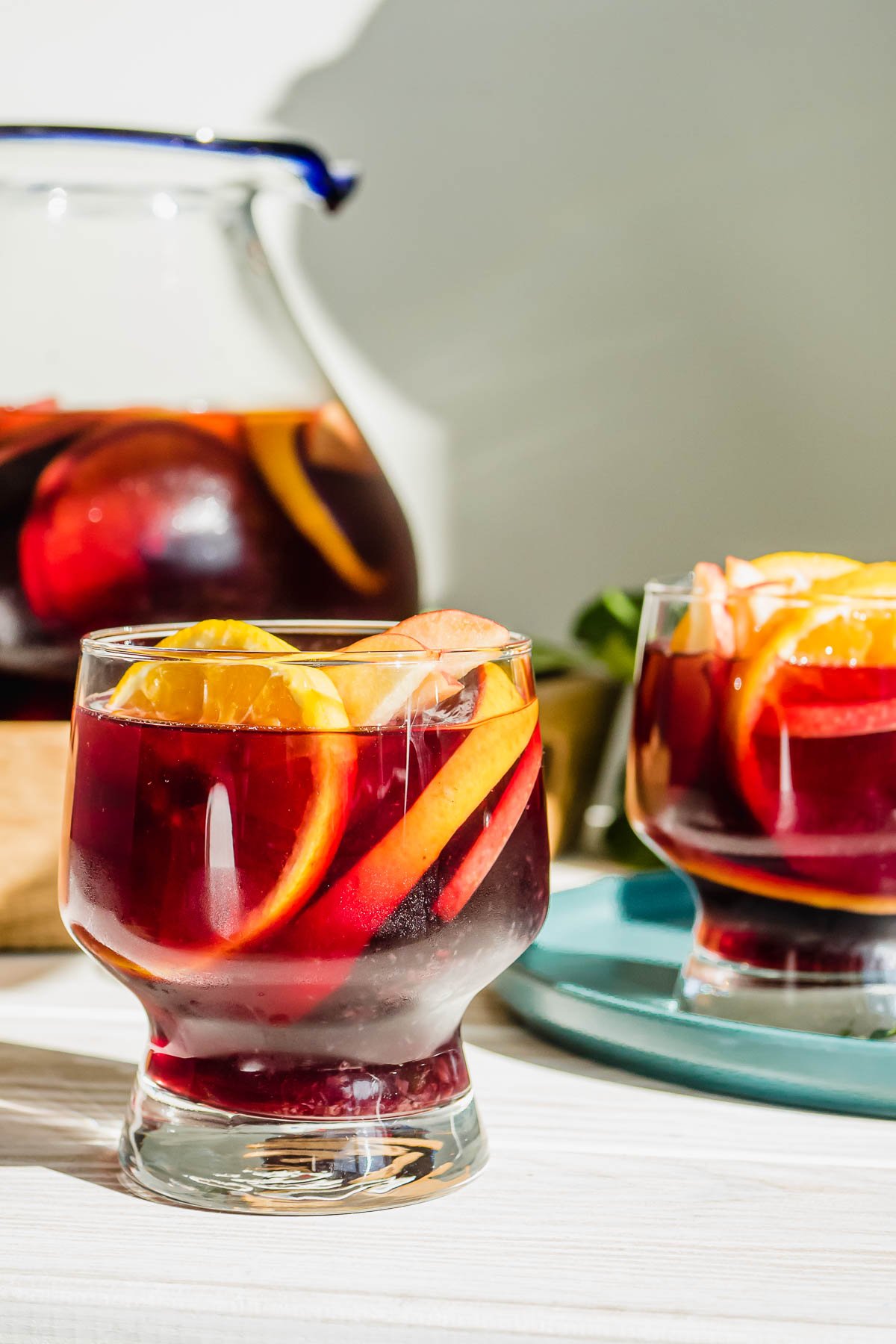 Table of Contents
What is Sangria?
Sangria can refer to a mix of wine, fruit, spices, sweetener, and any assortment of added liquor, sodas, or herbs — you name it.

The name "sangria" comes from the Spanish word for blood, sangre, referring to the color of the drink. Although early civilizations had been mixing wine with similar ingredients, it was in Spain that this particular style of drink became popularized as we know it today.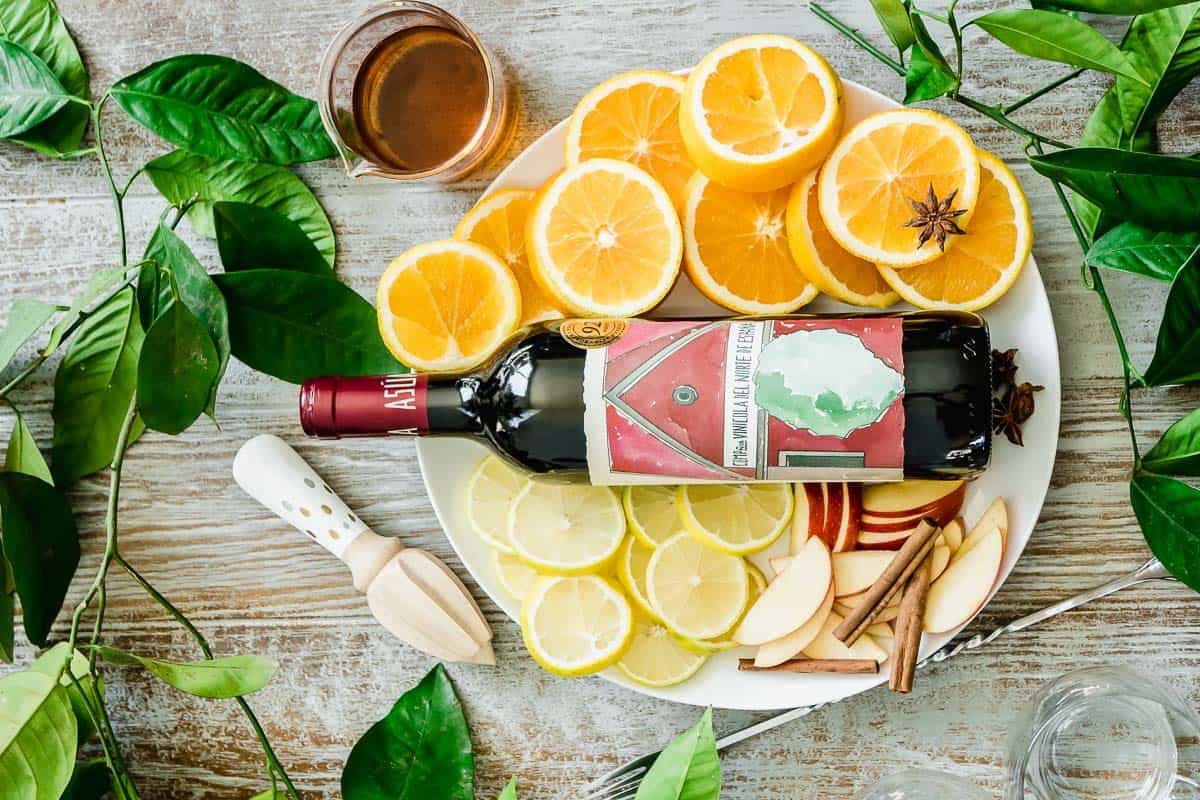 What is in Sangria?
Wine is the main ingredient in sangria and after that it's really up to you and your creativity. Add a little brandy to make it boozier and a little more complex, add sugar for a little sweetness, and play with the fruit, spice, and herb combinations.
Fruit: Traditionally, the fruit addition of a red wine Sangria would be sliced lemons and oranges, but, if you're entertaining in the fall, add green apple slices. If you're closer to spring, in-season berries like blackberries or strawberries work well too. In the winter a few cranberries give it a festive pop! In the summer almost anything goes, or you can switch things up all together and make this Easy Watermelon Sangria.
Sweetener: On its own, Sangria can be quite dry (meaning not sweet), so if you like your drinks a touch sweeter, you can optionally add in a liquid sweetener like simple syrup, or even lemonade to keep with a citrus profile. Just start out in small amounts at first, as you want the flavors from your fruit and wine to shine through. Orange curaçao also gives a sweet citrus flavor while increasing the amount of alcohol in the drink.
Spices, herbs, additional add-ins: Everyone loves baking spice flavors around the holidays, and that's another option you can entertain for changing up the recipe. A few cinnamon sticks and a stair anise or two, added into the pitcher, will infuse those warming spices throughout every glass. You can also add a sprig of fresh rosemary in the winter with apple and orange slices.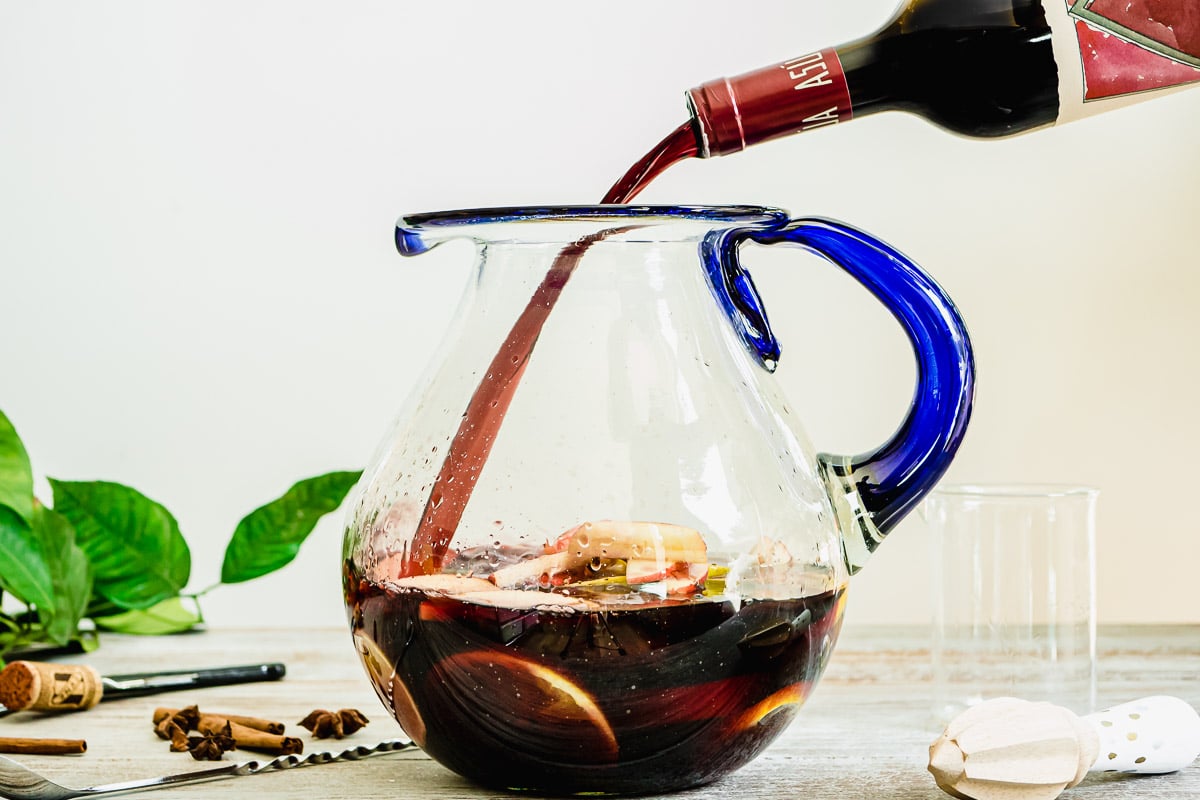 Best Wine for Red Sangria
In Spain, Sangria is traditionally made from Tempranillo, a type of red wine grape grown in several regions throughout Spain and Portugal. The most famous, and very often seen in Sangria recipes, is Rioja. This will serve as the main base of the drink.

If you can't find Rioja, or just want to try a different style of Spanish red wine, here are some other wine options:
Garnacha: this style is known to be quite a fruity red wine, and can be a more budget friendly
Navarra: similar to a Rioja, but lighter in body
Priorat: a rich, bold red wine
Sangria can be a pretty low ABV drink, so another optional, but still traditional, ingredient to add to the mix is brandy or vermouth. With a red wine sangria, I'd go with red, or sweet, vermouth.

If you can find it locally where you are, there are some delicious Spanish vermouths to try. I recommend Lustau's "Vermut Rojo." For a stronger kick, Liquor 43 from Spain gives your Sangria some vanilla and citrus flavors. Just remember that with every added liquor component, the strength of the drink will tick up!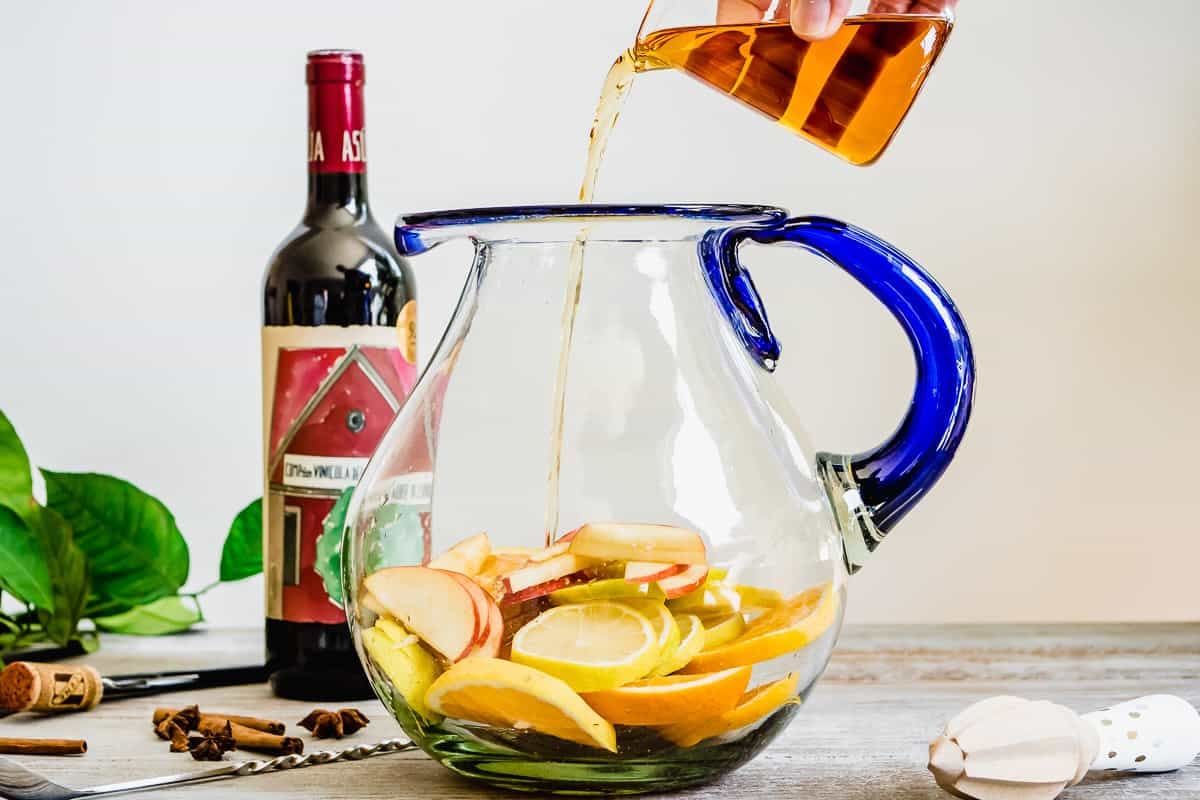 How to Make Sangria?

Sangria is made directly in the pitcher so feel free to skip the mixing bowls and glasses! Here's the quick and easy way to make sangria any way you like:
Add sliced fruit to the pitcher.
Pour in the wine, brandy and simple syrup.
Add the spices and stir.
Let it sit for at least 4 and up to 48 hours.
Can You Make Red Sangria Ahead of Time?
An important step in this recipe is time. Sangria can be super quick to mix up, but after that it needs some resting time for the flavors to properly mingle together and for a more complex and robust taste.
Mix Sangria the day before serving, and let it hang out in the fridge until about a half hour before you want to bring it to the table.
At the table, garnish the red wine sangria with a few additional sliced oranges and/or apples so not all the fruit is colored pink.
If you're busy and forget to make sangria the day before try and give it at least a 4 hour waiting period before serving.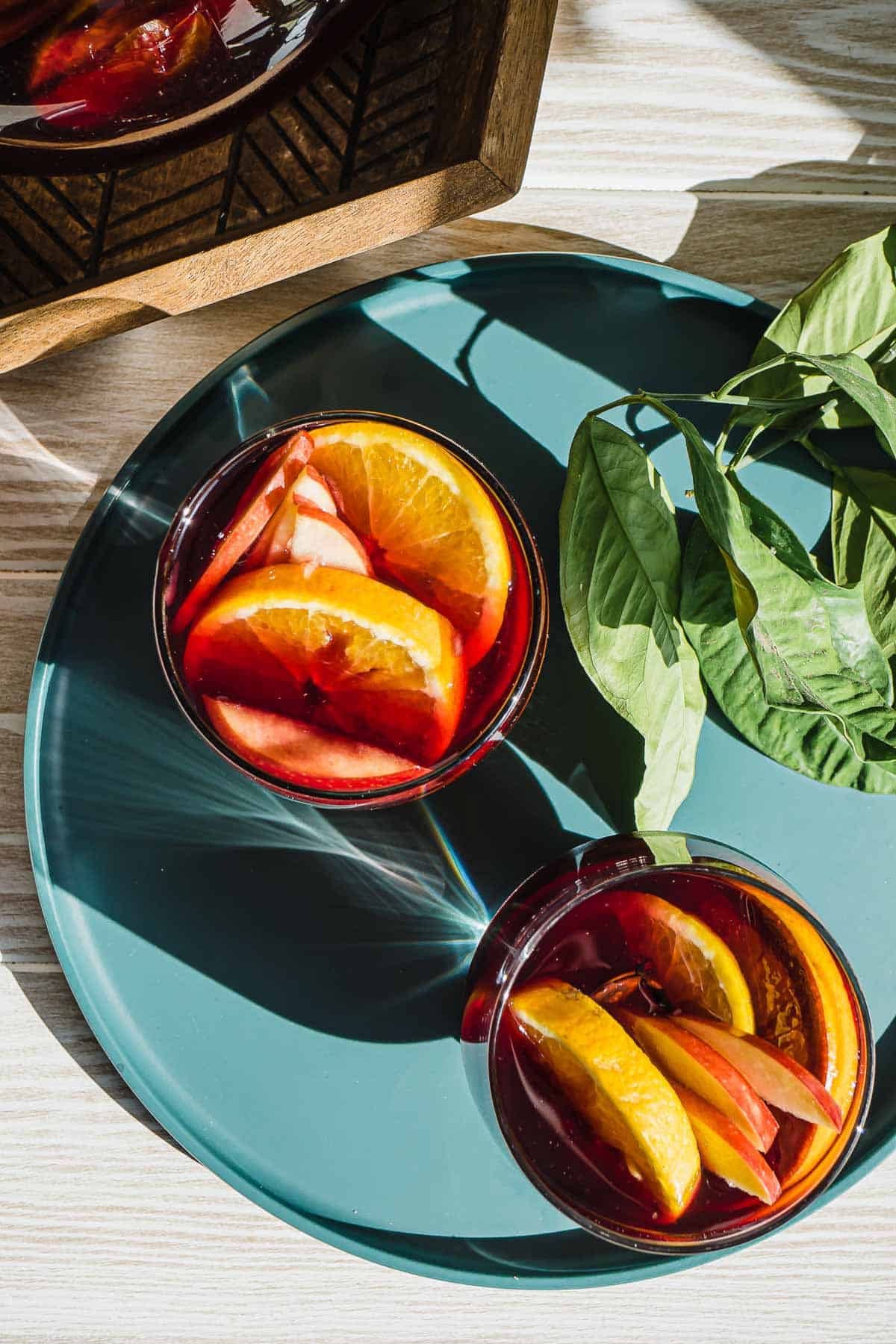 Tips for batching
Serving red sangria for a large number of guests? You can easily double or triple this pitcher drink recipe. For an easy way for guests to serve themselves, invest in a large punch bowl big enough to hold at least 3 bottles of wine plus the other ingredients (a two-gallon container should suffice).

If you don't have a punch bowl, just use a variety of pitchers set them out on a serving tray with extra fruit slices and glasses. You're guests can drink as they wish and snack on appetizers like Shrimp Ceviche and Pan Con Tomate while you mingle.
More Delicious Drink Recipes
Browse all Mediterranean recipes.

Visit Our Shop.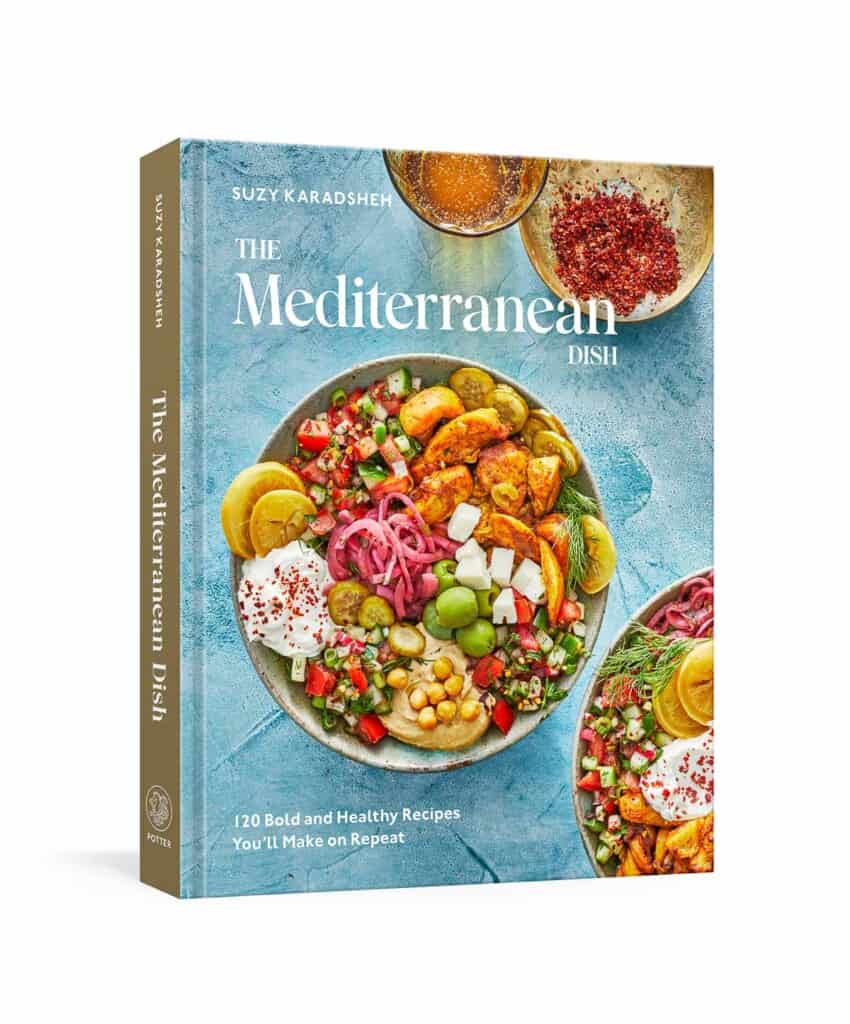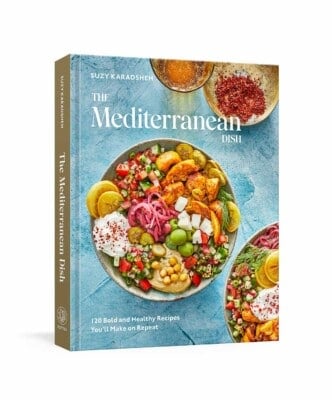 Red Sangria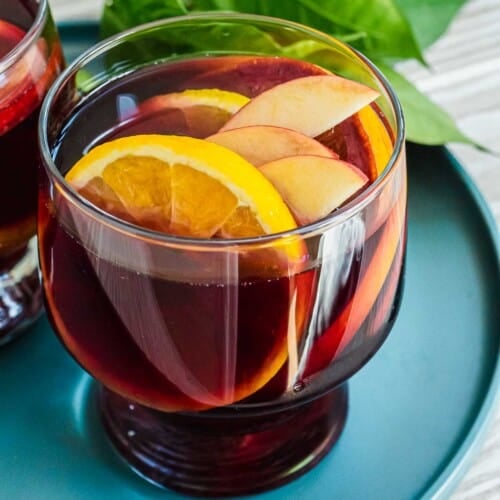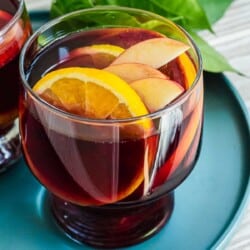 Flavorful sangria is a mix of wine, fruit, spices, sweetener and a never-ending number of possible add-ins. So easy whip up and make-ahead friendly. Plus, no need for the mixing bowls and glasses, you can make red sangria directly in the pitcher.
Ingredients
1

750ml bottle of Rioja red wine (see headnotes for other Spanish red wine options)

2

navel oranges,

sliced in ½-inch rounds

2

lemons,

sliced in ¼-inch rounds

1

tart apple,

such as Pink Lady or Granny Smith, sliced thin

½

cup

brandy

¼

cup

simple syrup,

optional

2

cinnamon sticks

2

star anise pods,

whole

additional sliced fruits for garnish
Instructions
In a large pitcher, place the oranges, lemons, and apples in the bottom. Pour the brandy and red wine over the fruit.

Stir in the simple syrup if using.

Add in the cinnamon sticks and star anise, and give everything one more stir.

Let the mixture sit, refrigerated, overnight, or for at least 4 hours.

When ready to serve, pour Sangria into glasses and garnish with additional oranges and apple slices. Salud!
Nutrition
Calories:
137.2
kcal
Carbohydrates:
24.8
g
Protein:
1
g
Fat:
0.3
g
Saturated Fat:
0.03
g
Polyunsaturated Fat:
0.1
g
Monounsaturated Fat:
0.1
g
Sodium:
10
mg
Potassium:
178.7
mg
Fiber:
3.4
g
Sugar:
18.3
g
Vitamin A:
144
IU
Vitamin C:
48.2
mg
Calcium:
46.9
mg
Iron:
1
mg