You can't go wrong with comforting potatoes, but Spanish patatas bravas takes fried potatoes to the next level, thanks to spicy red bravas sauce. I've got all the tips for these crispy-on-the-outside, fluffy-on-the-inside Spanish potatoes.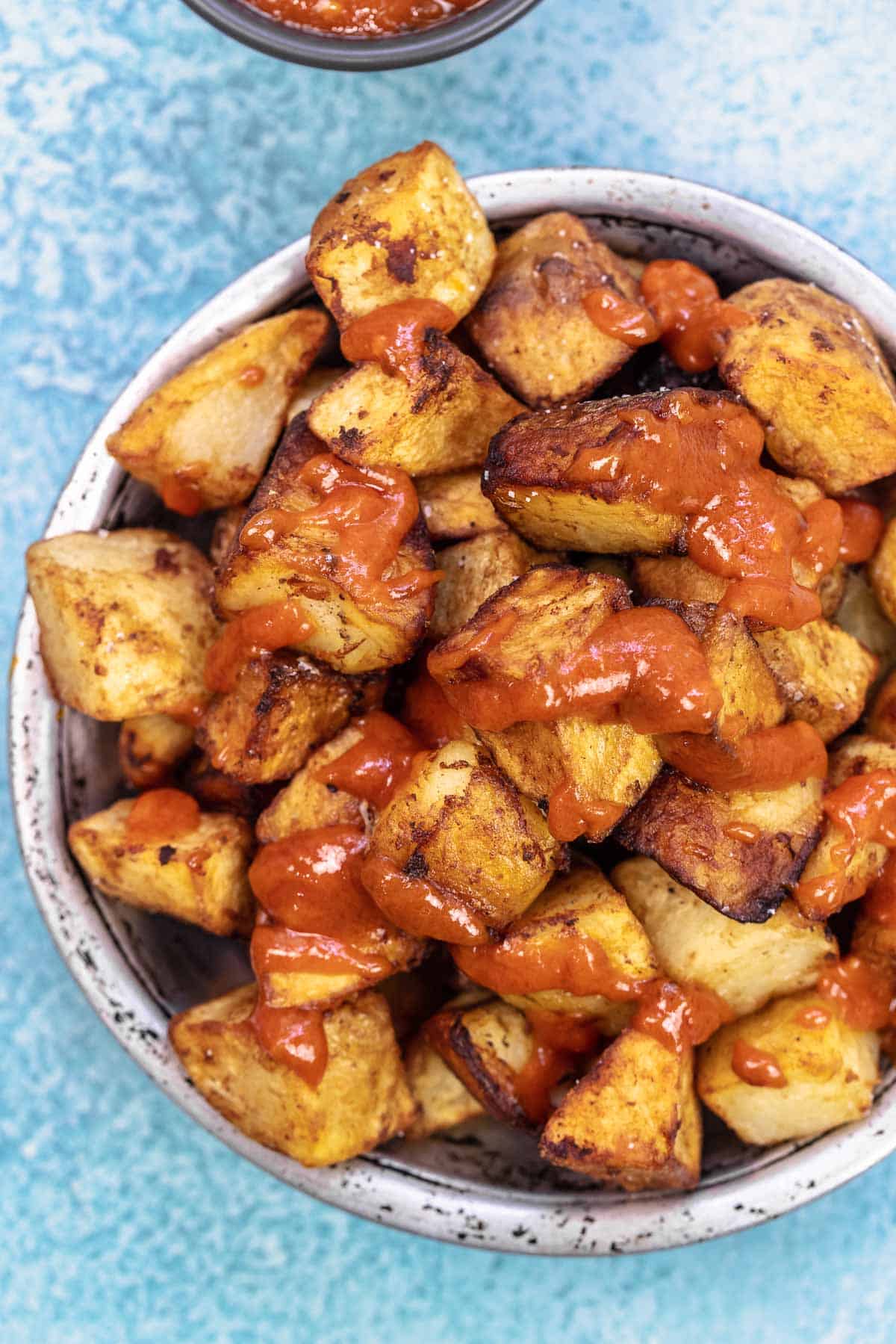 Few foods are more comforting — or more versatile — than the humble potato.
Patatas bravas, spicy Spanish potatoes, are no exception. Chunks of potato are fried in extra virgin olive oil until perfectly crisp on the outside, and tender on the inside. The potatoes are then drizzled or drenched (your call) in a vibrant, perfectly smoky bravas sauce. It's the perfect sharing snack to enjoy with friends and family, perhaps with a jug of sangria or a lemony cocktail.
Whether you're baking potato wedges, whipping them with garlic, or frying them like in today's recipe, potatoes are so easy to turn into whatever you need them to be. A main, a side, a snack, or a tapa — the potato can do it all!
Table of Contents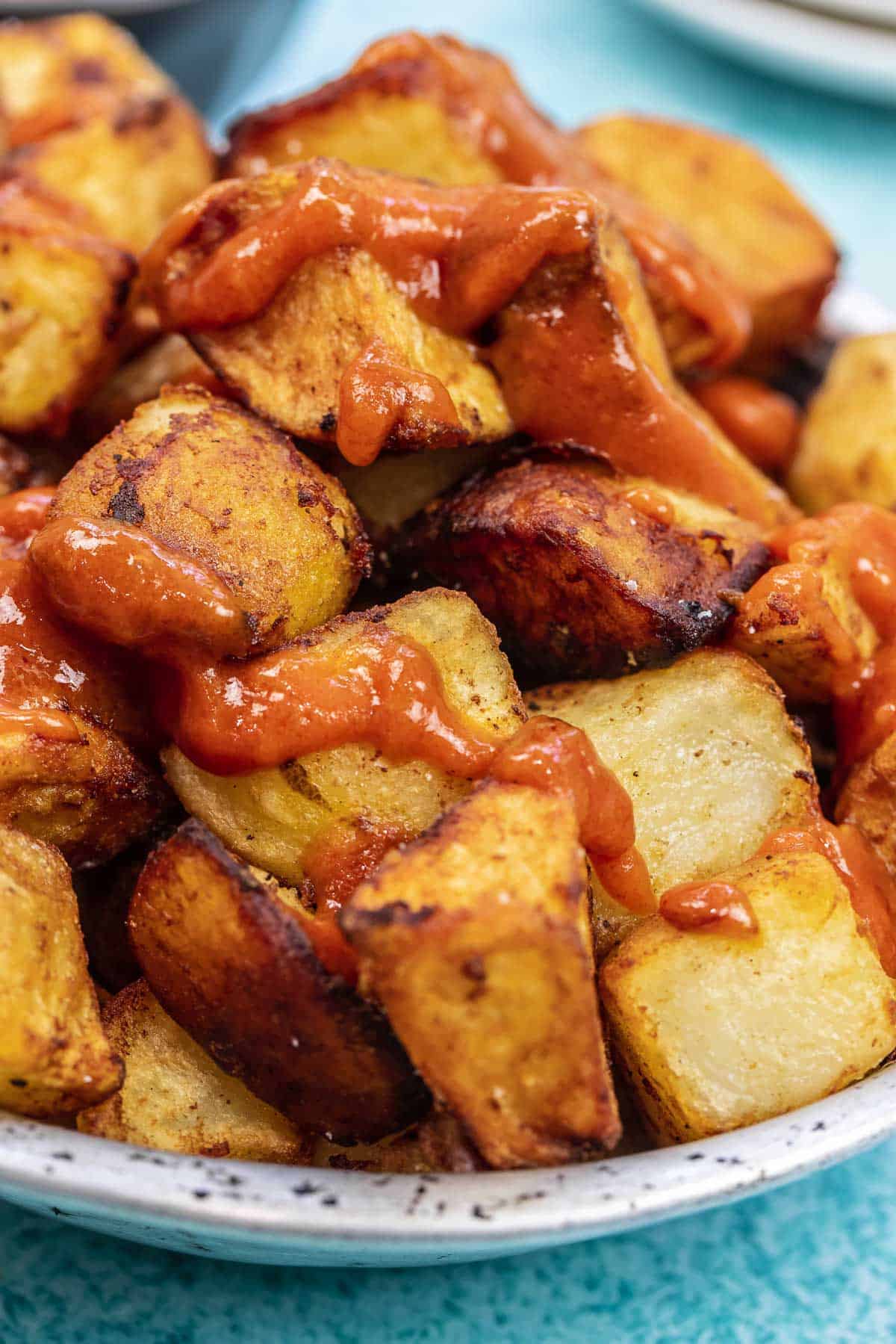 What is patatas bravas?
Patatas bravas is the most popular Spanish tapa, made of crispy fried potatoes that are tossed with salsa brava or bravas sauce.
It's really the sauce that gives these potatoes the delicious slightly spicy and smoky flavor and distinguishes them from any other fried potatoes you'll try. While many believe patatas bravas recipes were created in Barcelona, the origin of these potatoes is Madrid.

Throughout Spain, you are unlikely to find a tapas bar that doesn't serve patatas bravas. Some may include a garlic alioli or allioli (which are similar to aioli) in addition to the bravas sauce to cut the heat a bit. But in Madrid, patatas bravas are almost always served with just the perfect red salsa brava. And that's what I do in this recipe.
What is bravas sauce?
Bravas sauce, or salsa brava, is a slightly spicy red sauce traditionally served as part of patatas bravas. It is made with a few simple ingredients like extra virgin olive oil, smoked paprika, and a little tomato paste.

While it shouldn't be fiery hot, salsa brava should have a kick to it — but luckily it is easily adaptable to suit various palates, and you can adjust the heat levels as you see fit.
How to make patatas bravas
Patatas bravas is an easy tapa that still brings the wow factor. Here's how to make it:
Parboil the potatoes. Bring water to a boil in a medium saucepan, then add ¾ teaspoon baking soda. Being careful not to splash, add about 2 pounds of russet potatoes that have been peeled and cut into 2-inch chunks. Allow the potatoes to boil for only 1 or 2 minutes, then drain them well in a colander.



Allow the potatoes to cool. This is a vital step for crispy fried potatoes, so don't skip it! Move the potatoes from the colander to a large sheet pan and season with a good pinch of kosher salt. Toss and then spread the potatoes in a single layer. You can either set the potatoes aside on your counter or refrigerate them. Either way, the potatoes need to be completely dry and cool before you move on. I sometimes do this step a night in advance.



Fry the potatoes. Heat 1 cup of oil in a medium skillet over medium-high heat. Once the oil is hot and bubbles a little, add the rest of the potatoes. Don't overcrowd the skillet — work in batches if you need to. Cook for 20 to 25 minutes, until the potatoes are fully cooked (crisp on the outside, tender on the inside).

Make the bravas sauce. You can do this ahead of time, but if not, simply throw together a batch of salsa brava while the potatoes are frying. It doesn't take long.



Drain excess oil. Line a tray with paper towels and carefully transfer the fried potatoes. I like to use a slotted spoon to get as much oil out as possible. Once you've placed the potatoes on the paper towel, sprinkle more kosher salt on top.



Serve and enjoy! Transfer the potatoes to a large plate and drizzle with plenty of bravas sauce and aioli (if using). Serve immediately.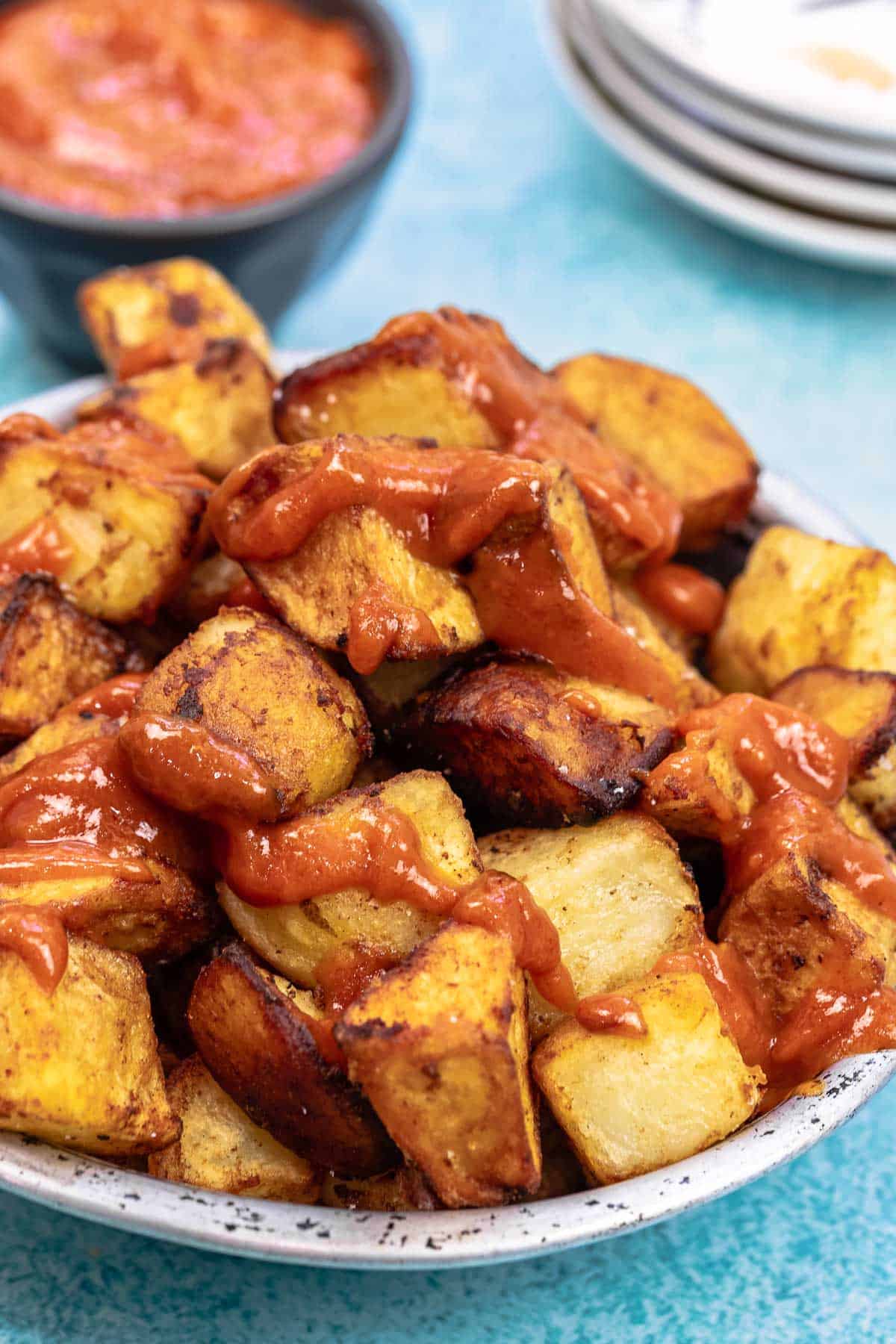 Tips for the best Spanish fried potatoes
You do not need to fry your potatoes twice in order to get them to be perfectly crispy. Try these tips for perfectly crispy homemade patatas bravas:
Choose potatoes that are high in starch such as russet potatoes. Starchy potatoes are high in starch and low in moisture. This makes them a wonderful candidate for frying, as low moisture creates crispy exteriors. I went with russet potatoes in this recipe, but Idaho or red potatoes would also work well. If you can't find any of those, opt for an all-purpose potato like Yukon gold potatoes, which are as starchy as they are moist. Note that you may lose out on some of the crispiness with an all-purpose potato, though.
Parboil the potatoes in alkaline water (meaning, water with baking soda in it). Boiling your potato cubes for about a minute or two in water with about ¾ teaspoon of baking soda will break down the pectin on the exterior of the potatoes so that starch from the potato is released. That starch is what will help us get a crispy layer on the potatoes when we fry them.
Salt before frying. After you parboil and drain the potatoes, toss them in some kosher salt to season them and to also give them a rougher surface for more crispiness.
Let the potatoes cool before frying them. To make sure you get rid of as much moisture as possible, spread the cubed parboiled potatoes on a sheet pan to dry, then let them sit until they have cooled completely, or pop them into the refrigerator to speed up the process.
Make ahead tip
You can cube and parboil the potatoes one night ahead. Salt them and spread them on a sheet pan then refrigerate overnight. When you're ready, just fry the potatoes and finish them with the sauce and serve immediately!
How to serve patatas bravas
Pile your hot crispy fried potatoes onto a plate and immediately drizzle a generous amount of bravas sauce on top. To add a cooling element, I sometimes also top the potatoes with some garlic aioli, but this is totally optional. If you have more bravas sauce, serve it in a small bowl to the side.
As a party appetizer, serve these fried spanish potatoes next to other Spanish tapas like Gambas Al Ajillo (Spanish Garlic Shrimp) or Pan Con Tomate (Spanish Tomato Bread), perhaps with a Spanish coffee drink like a Carajillo.
More potato recipes
Browse all Mediterranean recipes.

Visit Our Shop.
Want more heat in your bravas sauce?
Try our Hot Smoked Spanish Paprika!
One of the main draws of Patatas Bravas is the spicy red bravas sauce. You can change the heat depending on your palate, and to make it more spicy, I like to add Hot Smoked Spanish Paprika for an extra kick.
Patatas Bravas - Spanish Fried Potatoes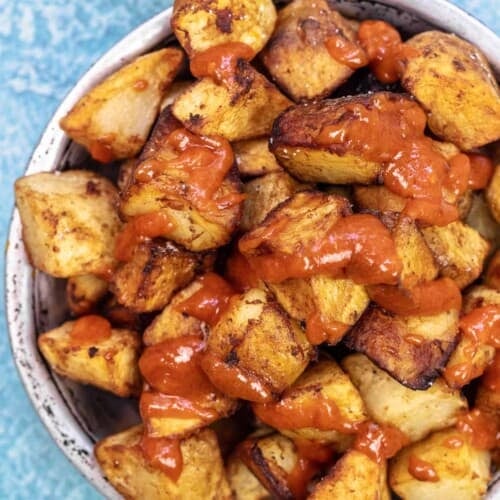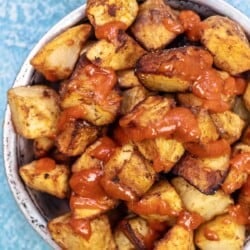 Patatas bravas, Spanish spicy potatoes, are a simple but delicious snack. Chunks of potato are fried until perfectly crispy on the outside, and tender on the inside, before being drenched with a vibrant red sauce. It's the perfect tapa to enjoy with friends and family, perhaps with a cocktail. Check out all my tips for the best fried potatoes!
Ingredients
¾

teaspoon

baking soda

4 to 5

Russet potatoes,

about 2 pounds, peeled and cut into large 2-inch chunks

Kosher salt

Extra virgin olive oil,

or a healthy natural cooking oil of your choice
To Serve:
1

Garlic aioli of your choice,

store-bought is fine, optional
Instructions
Fill a medium saucepan with water and bring it to a boil.

As soon as the water boils, add the baking soda (it will foam a little). Carefully add the potatoes and allow the water to come to a boil. Boil the potatoes for about 1 to 2 minutes (no longer). Drain the potatoes well in a colander.

Transfer the potatoes to a large sheet pan and season them well with kosher salt. Toss to make sure the salt is well distributed, then be sure to spread the potatoes in one single layer.

Set the potatoes aside or transfer to the fridge to cool completely (you can do this ahead of time and leave the potatoes in the fridge overnight, but it's important for them to cool completely).

In a medium skillet, heat 1 cup of the oil over medium-high heat. When the oil begins to bubble gently, add one piece of potato to test, if the oil around it bubbles a lot, it is ready. Add the rest of the potatoes and spread them out well. You may need to do this in batches so as to not crowd the pan. Cook in the oil, tossing occasionally and making sure the potatoes are well-coated in the oil, until they are golden brown on all sides, about 20 to 25 minutes. Watch them carefully, as they can go from perfectly cooked to burned in a short time.

While the potatoes are cooking, work on the bravas sauce (if you did not make it ahead of time).

Using a slotted spoon, transfer the potatoes to a tray lined with paper towels to drain excess oil. Immediately season with another pinch of kosher salt.

Finish with a good drizzle of bravas sauce and aioli of your choice (if using). Serve immediately with more bravas sauce to the side.
Nutrition
Calories:
271.3
kcal
Carbohydrates:
25.7
g
Protein:
3
g
Fat:
18.1
g
Saturated Fat:
2.5
g
Polyunsaturated Fat:
2
g
Monounsaturated Fat:
13.1
g
Sodium:
338.1
mg
Potassium:
592.4
mg
Fiber:
1.8
g
Vitamin A:
1.4
IU
Vitamin C:
8.1
mg
Calcium:
18.8
mg
Iron:
1.3
mg