Aioli, sometimes called garlic aioli, hails from the Provence region of Southern France but is now beloved the world over. It is a creamy, dairy-free condiment used to enliven everything from fresh vegetables and soups to sandwiches.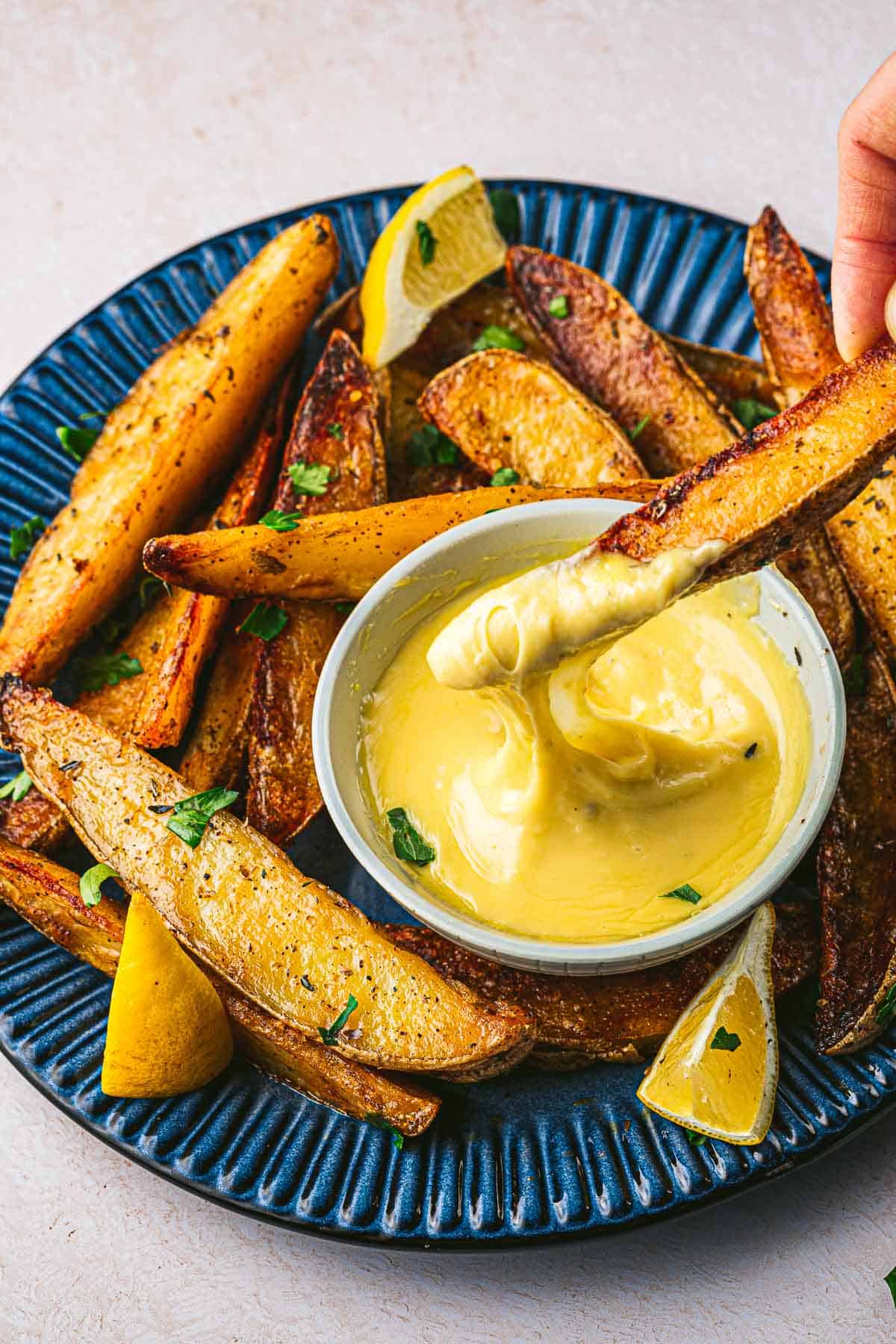 Aioli is similar to what we know as mayo, but with a bracing amount of fresh garlic—vampires beware! Garlic has always been part of this French condiment, so calling it "garlic aioli" is kind of redundant. They are, in fact, one in the same.
Commonly served as a dip with fresh or cooked vegetables, aioli is also stirred into soups and stews like Bourride, a Provencal fish stew. In the States, we often see it on restaurant menus served alongside fries or slathered on a hamburger. When used in moderation or to enhance other recipes, aioli offers a spectacular flavor boost, and it's easier to make than you might think.
This recipe will guide you through the steps for how to make aioli by hand. It's an easy but impressive skill to add to your cooking repertoire. I'm sure you'll soon come up with all sorts of creative riffs on it—even beyond those we share below!
Table of Contents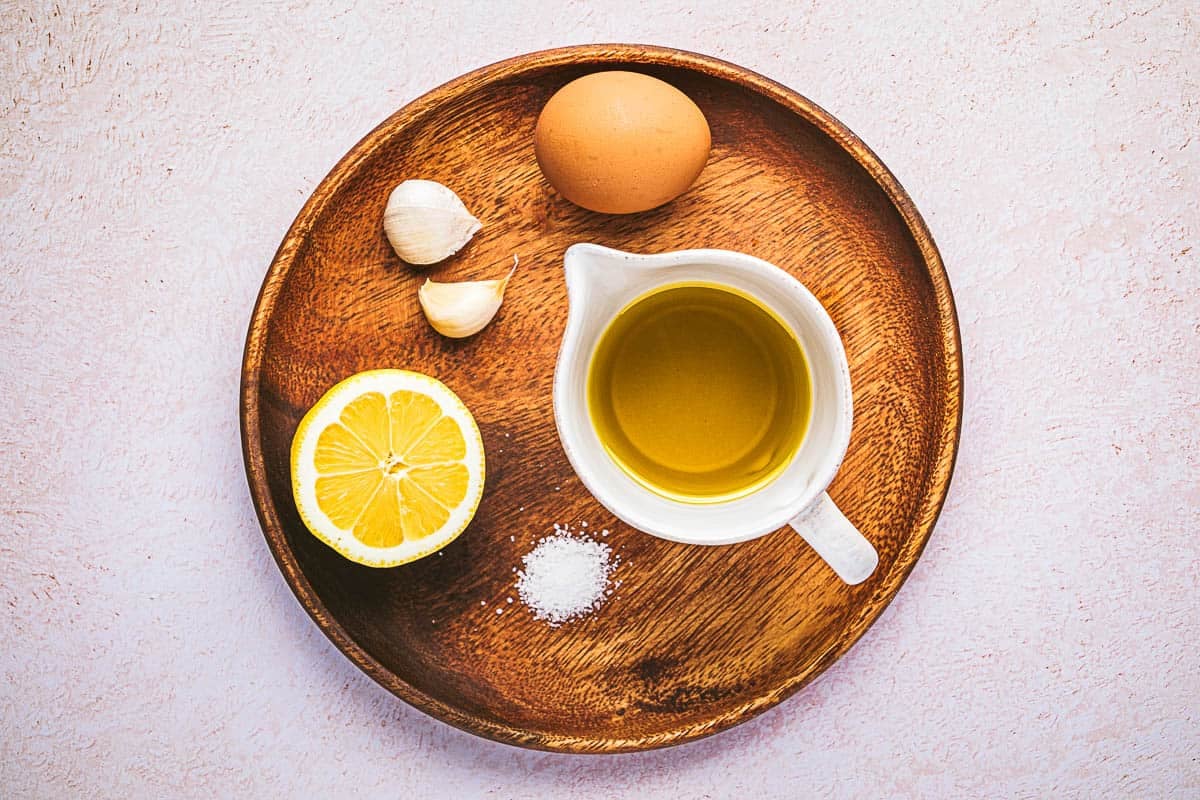 What You'll Need for this Aioli Recipe:
The ingredients you need for this recipe are likely already in your kitchen. Since the ingredients are few, it's important to make sure each is as fresh as possible.
Garlic: Garlic is the main event here. It's the reason some call it garlic aioli instead of just aioli. Because it's a key ingredient, use the freshest garlic you can find. Look for cloves that are firm and smooth, with no green "germ" in the center of the clove. If you do find a green sprout, remove it before grating the garlic. It can add an unpleasant bitterness.
Kosher salt: Known for its large crystals and clean taste, kosher salt is my go-to seasoning.
Egg yolk: An egg yolk gives aioli its thick, creamy richness. Because the yolk is not cooked, it's important to use the freshest egg you can find. I recommend purchasing eggs at the farmers market, if you are able—the richness of farm fresh eggs is unparalleled.
Extra virgin olive oil: A nutritious and flavorful alternative to neutral oil, which is often used in aioli recipes. I recommend a high-quality Italian olive oil like our Nocellara. Its mild, buttery taste and low bitterness won't overpower the other ingredients.
Lemon juice: A touch of acidity balances the richness of the egg and the oil. Use only freshly squeezed lemon juice here. Bottled brands have a stale flavor that will be noticeable (and not pleasant) in this recipe.
How to Make Aioli:
Making aioli is easier than you would think. It just takes some patience to get a nice emulsion between the oil and egg yolk. To make aioli from scratch, go slowly, whisk constantly, and follow these easy steps:
Get ready: Shape a damp kitchen towel into a ring on your counter. Nestle a medium mixing bowl in the center. (This will keep the bowl steady on the counter as you use both of your hands to assemble the aioli.) Measure out ½ cup extra-virgin olive oil into a glass measuring cup with a spout and set aside.
Season the egg yolk: Into the bowl, add 1 egg yolk and ¼ teaspoon of kosher salt. Use a microplane or the small side of a box grater to grate 2 garlic cloves into the bowl. You want to either grate or make a paste from the garlic so it fully incorporates into the emulsion. If you'd rather use a knife, smash the minced garlic with the side of the knife. Then, drag it across your cutting board to make a paste before adding it to the egg yolk.
Emulsify: Whisk the egg yolk mixture briefly to combine. Add olive oil a few drops at a time while whisking continuously. As the aioli begins to emulsify into the egg yolk, increase the oil to a steady stream. Keep whisking continuously.
Add the lemon juice: When all of the oil has been added, whisk to fully incorporate. Add 1 teaspoon of fresh lemon juice and whisk briskly to combine. Taste and add more salt and lemon juice, according to your preference.
Tips, Tricks, and Troubleshooting:
The most common pitfall people face when making aioli is that it breaks. This refers to the situation in which the oil and the egg yolk don't emulsify. The result is a grainy, greasy mess.
How to make aioli without breaking:
Slow down: While frustrating, the sauce breaking is most easily prevented by starting very slowly when first adding the oil. Whisk constantly, and begin with just a drop or two of oil at a time. Once it starts to take shape, gradually increase to a very thin stream. As your arms tire, it may be tempting to dump the remaining oil into your bowl. Resist this urge! Continue to add oil in a controlled, steady stream.
Temperature: Another cause of breaking is temperature. If your kitchen is too hot, it's more likely that the aioli will have trouble emulsifying. Avoid this by keeping all of your ingredients in the fridge until you're ready to make your aioli. If it's especially warm in your kitchen, place your tools in the fridge for a half hour before getting started.

A note on cold vs room temp yolks. It helps for the yolk and oil to be at the same temperature. That can mean making sure your yolk is at room temp, not right out of the fridge. Contrary to popular opinion, I find a cold yolk and oil to help with emulsification. I spent a summer in a busy cafe kitchen, where we made buckets of aioli for BLTs. The kitchen was so hot I struggled to keep my aioli from breaking, much to my extreme frustration! Eventually, we discovered it helps to keep everything very cold (including, sometimes, the food processor!).
How to fix broken aioli: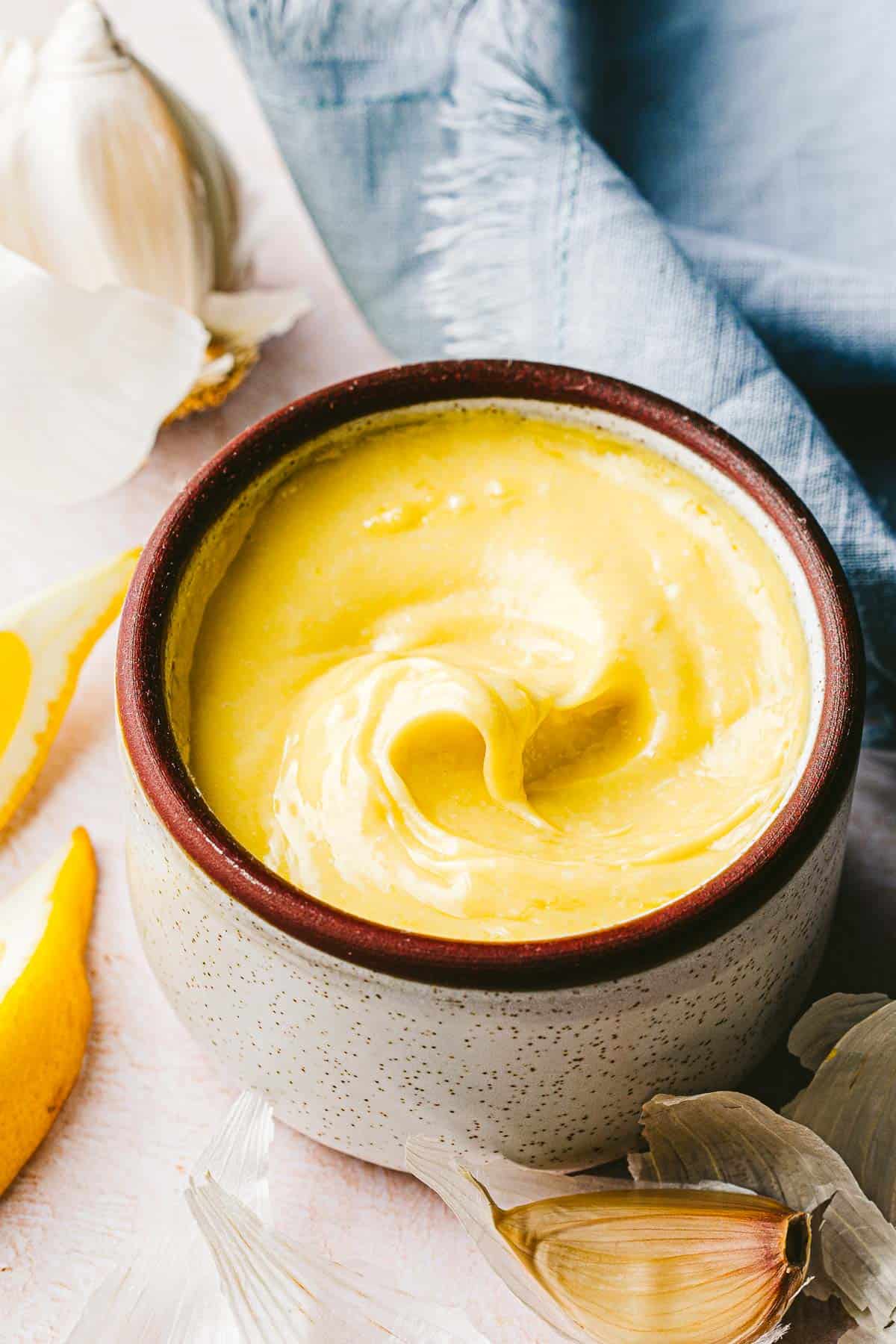 Oh no, the aioli broke! What now? Don't give up! Most of the time you can fix a broken aioli by vigorously whisking in one more egg yolk. If this doesn't work, try adding a teaspoon of ice water to the aioli and whisk until it comes together.
Can I make aioli in a blender/food processor instead of by hand? Yes, but with one very important modification. If you're using a machine to make your aioli, I do not recommend using extra virgin olive oil. Instead, look for olive oil labeled "refined" or "for cooking." When extra virgin olive oil is beaten at high speeds, the blades disperse the polyphenols normally coated by fatty acids. This can make their bitter flavor more prominent.
Get Creative: My Favorite Aioli Variations
Think of this recipe for aioli as a starting point. The addition of other ingredients can take this versatile condiment in so many different directions! Use this aioli recipe as a base for which to experiment with the seasonings and flavors you like. Some ideas for how to mix up this easy aioli recipe:
Make this Garlic Aioli into really garlicky aioli. I know, I know—aioli and garlic aioli are the same thing! But, you can add even more garlic. This recipe is mild by traditional aioli standards. You can add as many as 5 or 6 cloves of garlic to really up that spicy kick.
Sticking with the garlic theme, Roasted Garlic Aioli has a sweeter, softer garlic flavor. Make a paste out of 1 whole head of roasted garlic. Then, whisk it into the egg, along with ½ teaspoon of Dijon mustard.
For a green goddess aioli, blend half an avocado with ½ cup Greek yogurt. Blend in a few sprigs of fresh tarragon, chives, and parsley until bright green and smooth. Stir into the aioli and add more lemon juice to taste.
Try a smoky red pepper aioli by blending 1 roasted red pepper with ½ teaspoon of smoked paprika until smooth. Stir into the aioli and add salt to taste. This is great for dipping our Patatas Bravas into!
Make Thousand Island dressing by stirring in 2 tablespoons ketchup, 1 teaspoon apple cider vinegar, and 2 tablespoons sweet pickle relish.
Make ranch dressing by adding ¼ cup buttermilk and a few sprigs of fresh chives and parsley to the aioli.
Make a Caesar dressing by stirring in 1 finely chopped anchovy filet and ¼ cup finely shredded Parmesan.
Add 3 tablespoons of basil pesto or zhoug (spicy cilantro pesto) for an herbaceous kick to your sandwiches. You've essentially made Pesto Aioli and Cilantro Pesto Aioli!
Spice up your life by adding 2 tablespoons of sriracha.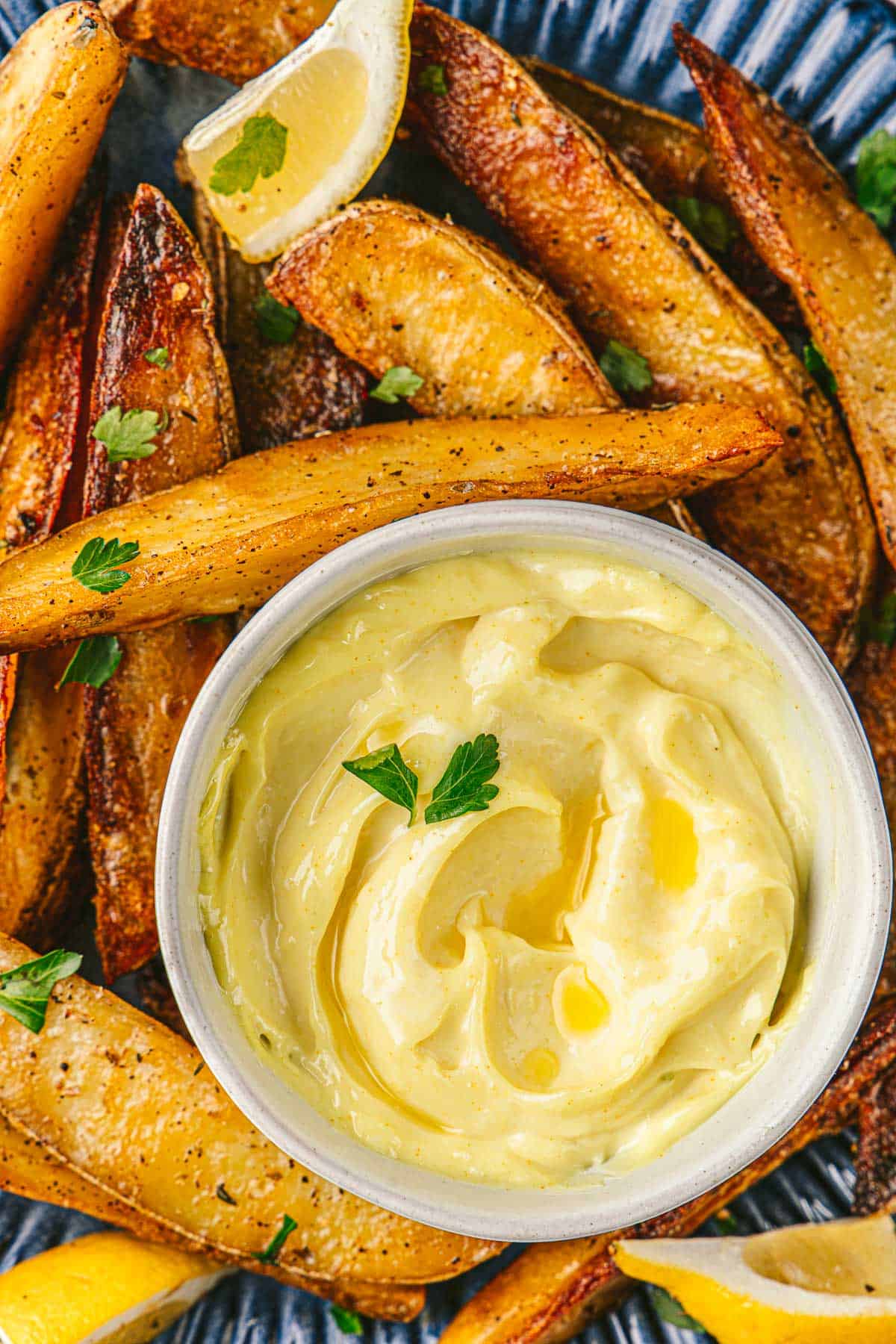 What to Serve with Aioli
The traditional Le Grand Aioli in Provencal cuisine is a delicious summer meal for a crowd. Simply whisk up a batch of handmade aioli and lay out a spread of seasonal vegetables. Try with crisp leaves of lettuce, boiled potatoes, blanched green beans, sliced cucumbers, cherry tomatoes and radishes for dipping.

Don't stop there! Add Shrimp Skewers and jammy boiled eggs to your platter. Be sure to have lots of cold rosé on-hand to wash down this feast!

Aioli is also a perfect sandwich spread. Its garlicky kick works just as well on a cold cut sandwich as it does on a salmon burger.

For the juiciest roasted chicken, coat a whole chicken in aioli instead of olive oil and roast until done. The fat in the aioli seals in the moisture of the chicken. The result is an incredibly tender, garlicky bird with shatteringly crispy skin.

Try dipping your French fries in garlic aioli, just like they do in Belgium!

Use aioli instead of store-bought mayonnaise to take your favorite tuna, chicken or pasta salad from basic to wow. You can even serve it alongside our mayo-less tuna and potato Salad, Italian potato salad, or Greek potato salad.

What's the secret to the best grilled cheese sandwiches? You guessed it—garlic aioli! Coat the outside of your grilled cheese with aioli instead of butter. The egg in the aioli will crisp the bread and the garlic will add a flavorful kick. Perfect for dipping into a bowl of our Easy Roasted Tomato Basil Soup!
More Condiments To Love
Browse all Mediterranean recipes.

Visit Our Shop.
Nocellara Olive Oil
Make this Aioli with extra smooth Italian extra virgin olive oil from 100% Nocellara del Belice olives.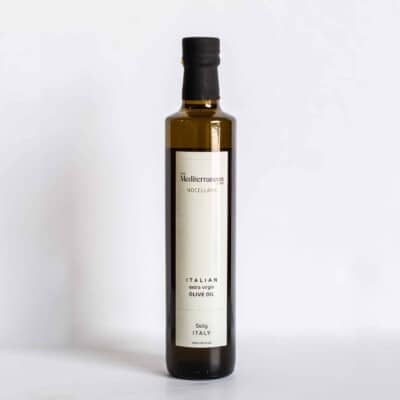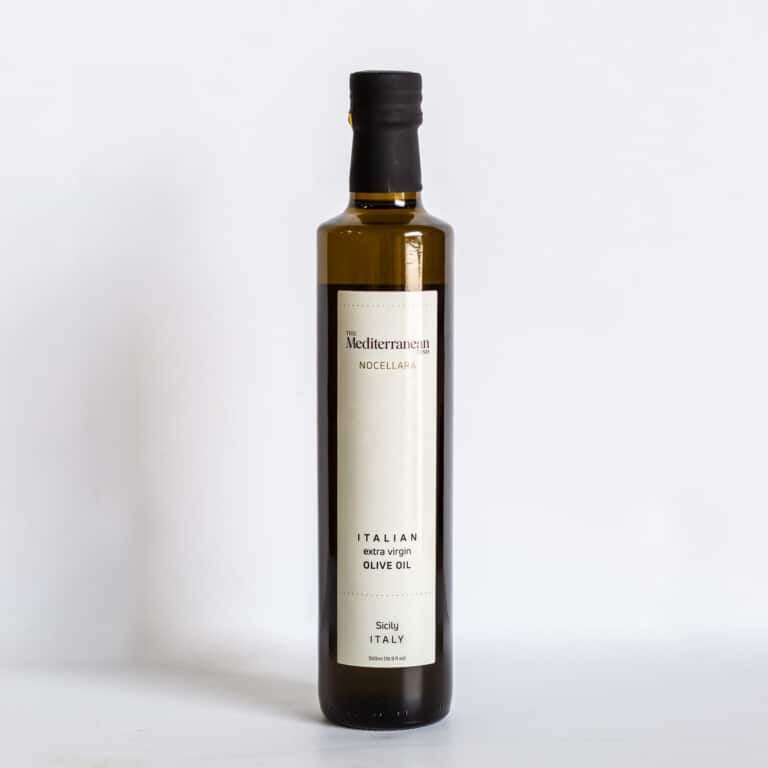 Aioli (Garlic Aioli)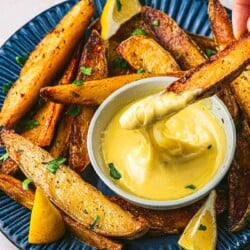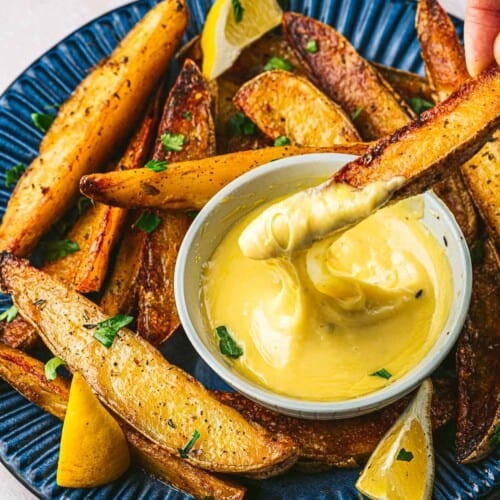 Homemade aioli with extra virgin olive oil, fresh garlic, and a touch of lemon is a versatile, punchy spread that's perfect for sandwiches, vegetable platters, and so much more.
Ingredients
2

cloves

garlic,

peeled

¼

teaspoon

kosher salt

1

egg yolk

½

cup

extra-virgin olive oil

1

teaspoon

fresh lemon juice
Instructions
Get ready: Wet a kitchen towel and wring out until just damp. Shape the towel into a ring on the counter and nestle a medium bowl in the center. Place the oil in a measuring cup with a spout and set aside.

Season the egg yolk: Using a microplane or the smallest side of a box grater or microplane, finely grate the garlic into the bowl. Add the kosher salt and egg yolk. Whisk briefly combine.

Add the oil: Whisking constantly, add the oil a few drops at a time. As the aioli starts to emulsify, increase the oil addition to a thin, steady stream, continuing to whisk at a brisk pace.

Finish the aioli: Once all oil has been added, whisk a few more times to ensure that the mixture is thoroughly emulsified. Whisk in lemon juice. Taste for salt and adjust accordingly.
Notes
Aioli, kept in a tightly sealed container, will keep for up to one week in the fridge.
If your sauce breaks, try vigorously whisking in 1 more egg yolk. If that doesn't work, try adding a splash or two of ice water and whisk with all your might!
Visit our shop to browse quality Mediterranean ingredients including olive oils, honey, jams and spices.
Nutrition
Calories:
127.8
kcal
Carbohydrates:
0.4
g
Protein:
0.4
g
Fat:
14.1
g
Saturated Fat:
2.1
g
Polyunsaturated Fat:
1.5
g
Monounsaturated Fat:
10.1
g
Cholesterol:
24.3
mg
Sodium:
74.2
mg
Potassium:
6.3
mg
Fiber:
0.02
g
Sugar:
0.04
g
Vitamin A:
32.6
IU
Vitamin C:
0.5
mg
Calcium:
4.5
mg
Iron:
0.1
mg