Zhoug is a lesser known Mediterranean sauce, but a must-try! Think spicy, fragrant, cilantro pesto...kinda.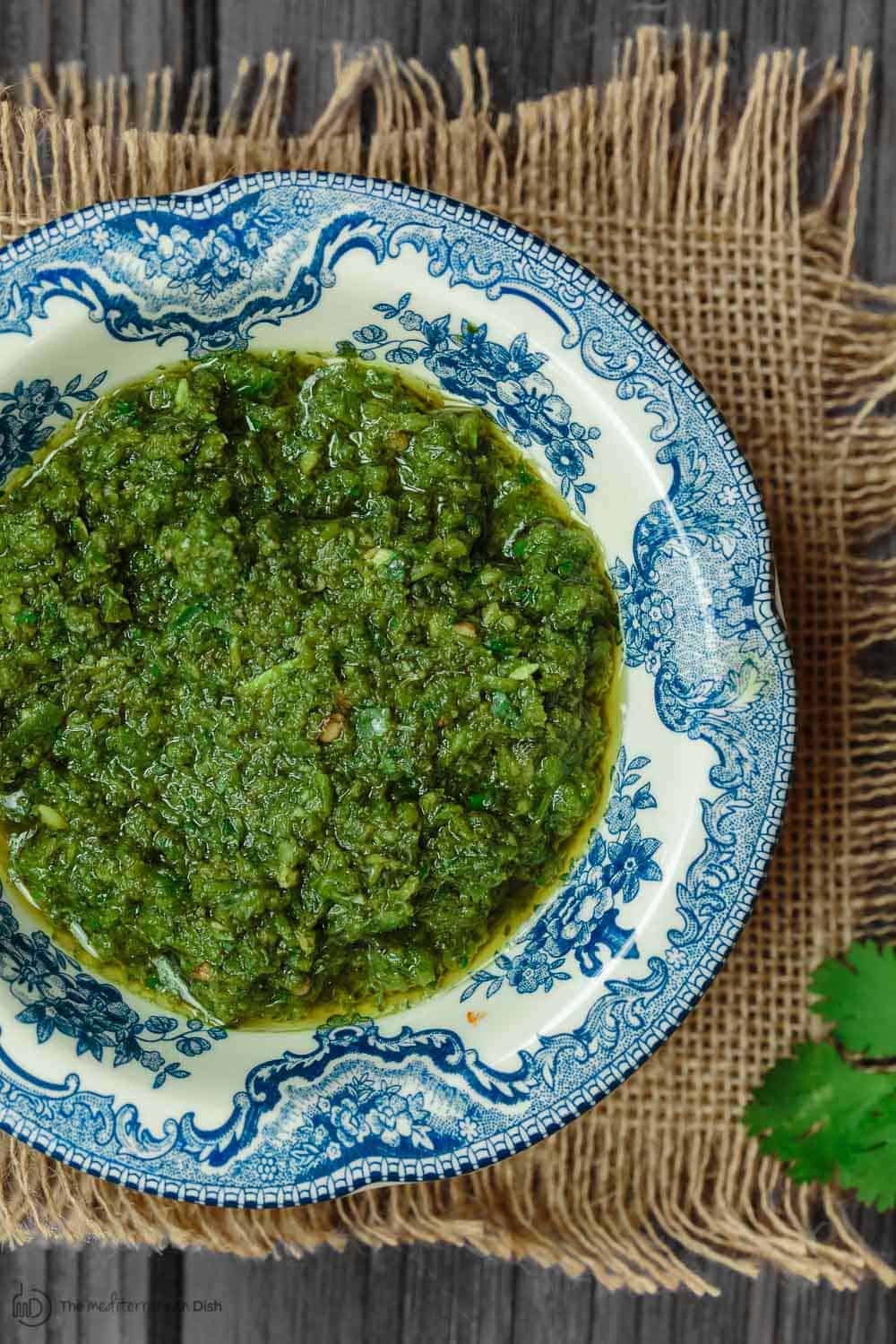 Mediterranean cooking is rich with all sorts of dips and sauces. Obviously hummus tops the list of dips (my current favorite being this roasted red pepper hummus) A drizzle of nutty tahini--creamy sauce from toasted sesame seeds--is a must atop kabobs. Creamy Greek Tzatziki spread on a sandwich...heavenly.
One sauce that's less known to us here in American is zhoug (also spelled zhug or skhug). This magic, herby, spicy green sauce originated in Yemen, but made its way to Israel in the late 1940's via Yemenite Jews.
What is Zhoug?
Zhoug is a fragrant paste of hot green chillis (I used jalapenos), lots of fresh cilantro, parsley, garlic and warm Middle Eastern spices. It is similar to chermoula, only zhoug is very cilantro forward and has a big spicy kick. It's also somewhat similar to my vegan green goddess dressing, minus the creamy tahini!
You can treat it as you would pesto: stir it into a soup or stew; toss it in a salad; or spread it over a labneh or cream cheese sandwich! It's also great with eggs! Remember my pesto eggs recipe? Just replace the pesto with zhoug!
Tips for best zhoug (spicy cilantro pesto)
As a simple sauce or pesto, Zhoug (or zhug) is truly the sum of its parts. So it's important to start with the freshest of ingredients here.
And as you would expect, this cilantro pesto makes a feature of olive oil. That's why, it's important to use quality extra virgin olive oil. My choice is our Early Harvest Greek EVOO. It's an exquisite, low-acidity oil (less than 0.35%) from organically grown and processed Koroeniki olives. Because Early Harvest has the aroma of green figs and fresh green herbs with hints of flat leaf parsley and thyme, it perfectly enhances this green sauce.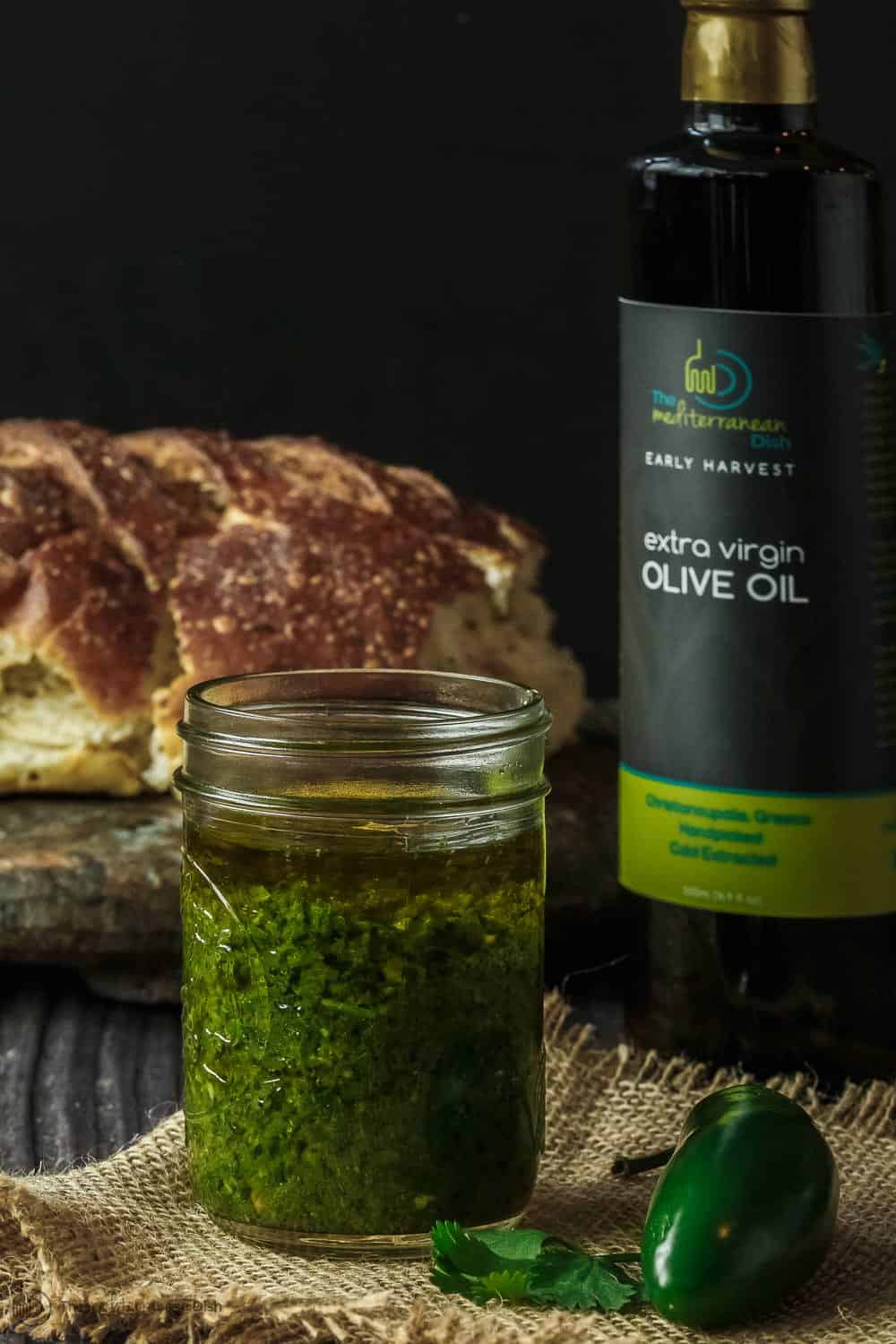 One important tip, this isn't meant to be just a green cilantro pesto, but a spicy pesto. It is particularly spicy on the first day you make it, but mellows quite a bit after a day or so. Make a day or two ahead.
To store, place the zhoug cilantro pesto in a sanitized mason jar and top with lots of extra virgin olive oil. The oil acts to seal the zhoug and helps take off a bit of the spicy edge. Cover and refrigerate; it'll keep well for three days or so.
How to Use Zhoug?
Zhoug is quite versatile. The owners of a local Middle Eastern joint in my area use it on falafel sandwiches, on top of creamy hummus, or stirred into a bowl of soup. It would do well with grilled meats, and I regularly drizzle it on top of omelets like this zucchini baked omelet or this Greek tomato omelet.
Print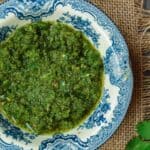 Zhoug: Spicy Cilantro Pesto Recipe
---
Description
Zhoug is a lesser known Mediterranean sauce, but a must-try! Think spicy, fragrant, cilantro pesto...kinda.
---
6

jalapeno peppers (or hot green chiles), sliced

2

garlic cloves
salt

1 cup

(packed) fresh cilantro leaves

½ cup

(packed) fresh parsley

½ tsp

ground cumin

½ tsp

ground coriander

½ tsp

ground green cardamom

⅓ cup

Early Harvest extra virgin olive oil

1

lemon, juice of
---
Instructions
In the bowl of a food processor fitted with a blade, add the jalapeno, garlic and salt. Coarsely chop.
Now add cilantro, parsley and spices. Run processor until a finer thick paste forms.
Transfer the cilantro paste to a bowl. Add the olive oil and lemon juice. Stir to combine. Enjoy!
Notes
To store place in a sanitized mason jar and top with lots of extra virgin olive oil. The oil acts to seal the zhoug and helps take off a bit of the spicy edge. Cover and refrigerate; it'll keep well for 3 days or so.
Recommended for this Recipe our Early Harvest extra virgin olive oil; all-natural and organic coriander, cumin, and all-natural cardamom.
SAVE! Try our Ultimate Mediterranean Spice Bundle; or create your own 6-pack or 3-pack of our all-natural or organic spices! VISIT OUR SHOP
Prep Time:

10 mins

Category:

Sauce/Dip

Method:

Counter top

Cuisine:

Mediterranean
Keywords: Zhoug, Spicy Cilantro Pesto, Zhoug Pesto,
More Recipes to Try
Mediterranean Grilled Lamb with Mint Pesto
Mediterranean Vegan Wraps with Cauliflower and Tahini