Fried boiled eggs, cooked in ghee until the whites are crispy and golden brown in color. We call these eggs "beid meza'lil," an iconic holiday egg recipe from Egypt. I love arranging them on a platter with a simple tomato and cucumber salad, olives, and blocks of creamy feta.
This post is sponsored by America's egg farming families, who are proud to provide safe, nutritious eggs for holiday celebrations. All opinions are my own.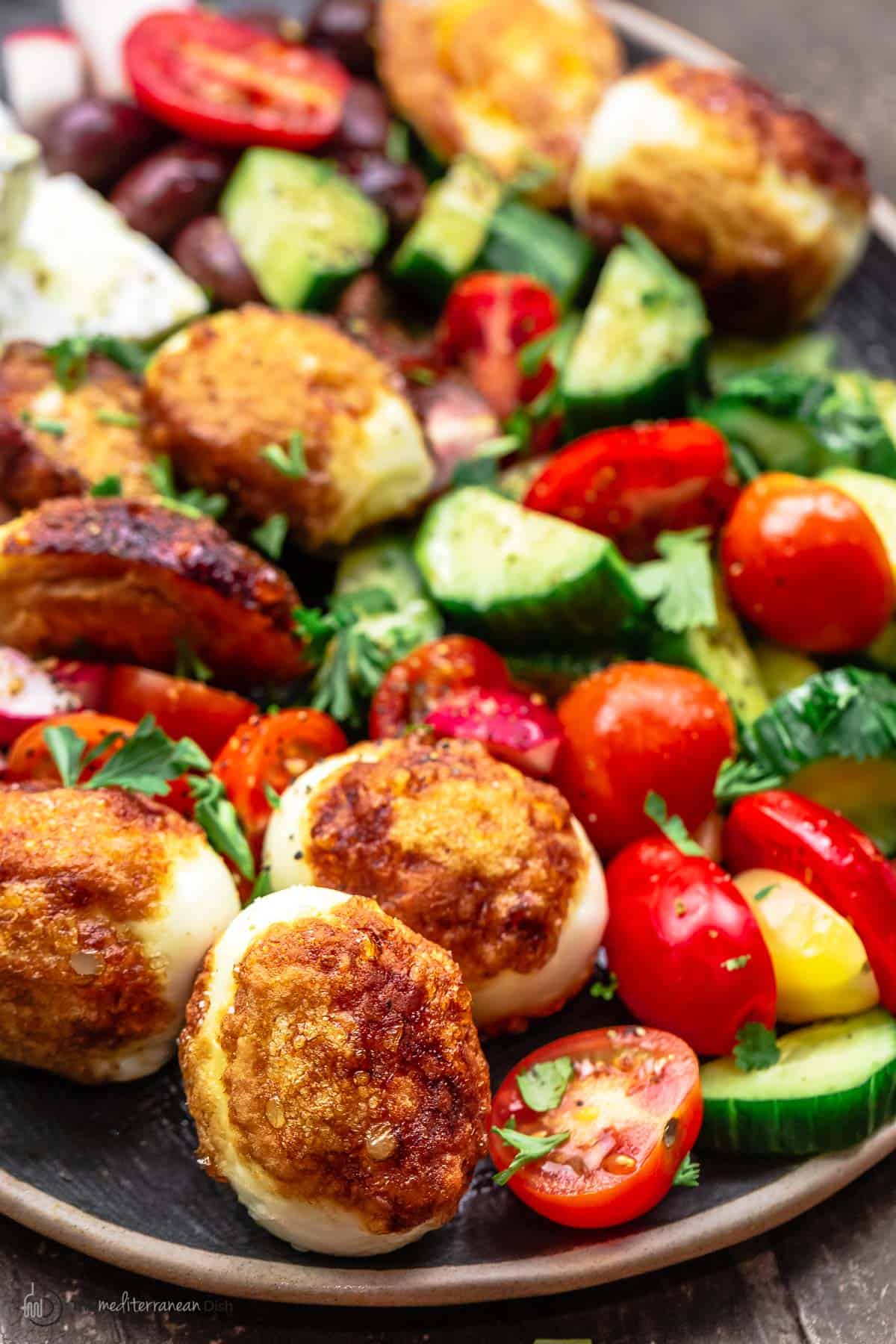 Humble eggs are a staple ingredient in every-day meals, from a satisfying egg casserole to feed a crowd to a quick egg salad sandwich for lunch. Not only are they versatile, but they are also nutritional powerhouses, with one egg containing 6 grams of high-quality protein and 8 essential nutrients, all for 70 calories!
Especially this time of the year, eggs make an appearance on the holiday table in dozens of special ways, from show-stopping desserts and spectacular brunch dishes, to drinks and cocktails.
This season, I am partnering with America's egg farming families to share favorite global holiday traditions featuring eggs! When they asked me, the egg recipe that immediately came to my mind is my Uncle Samy's iconic Egyptian fried boiled eggs, we call them beid meza'lil (or beid mezaghlil).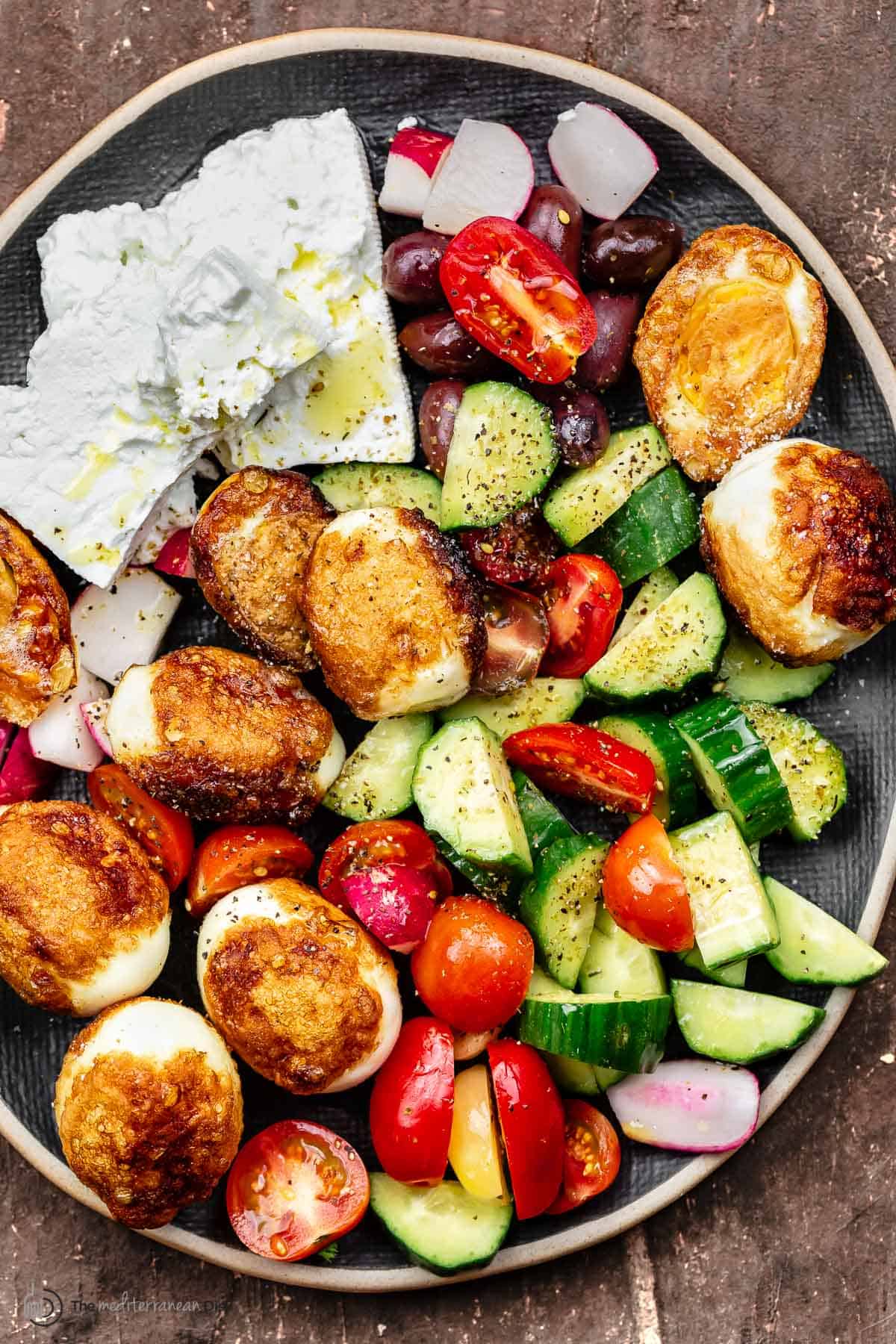 What is beid Meza'lil?
Beid meza'lil or beid mezaghlil are eggs that have been hard boiled then fried in ghee or butter until the whites turn crispy and golden brown in color.
As simple as these eggs are to make, they are an iconic Egyptian dish that is somewhat indulgent and is served particularly on holidays like Christmas and Easter. In my family, these Christmas eggs are my uncle Samy's speciality, and I'm excited to share his recipe with a little twist of my own.
By the way, you pronounce it be'id meza-gh-lil with emphasis on the GH where you make a light gargling noise like you're clearing your throat—fun to say, but even more fun to eat!
Before we get to this recipe, let me give you a little context for this little celebratory dish.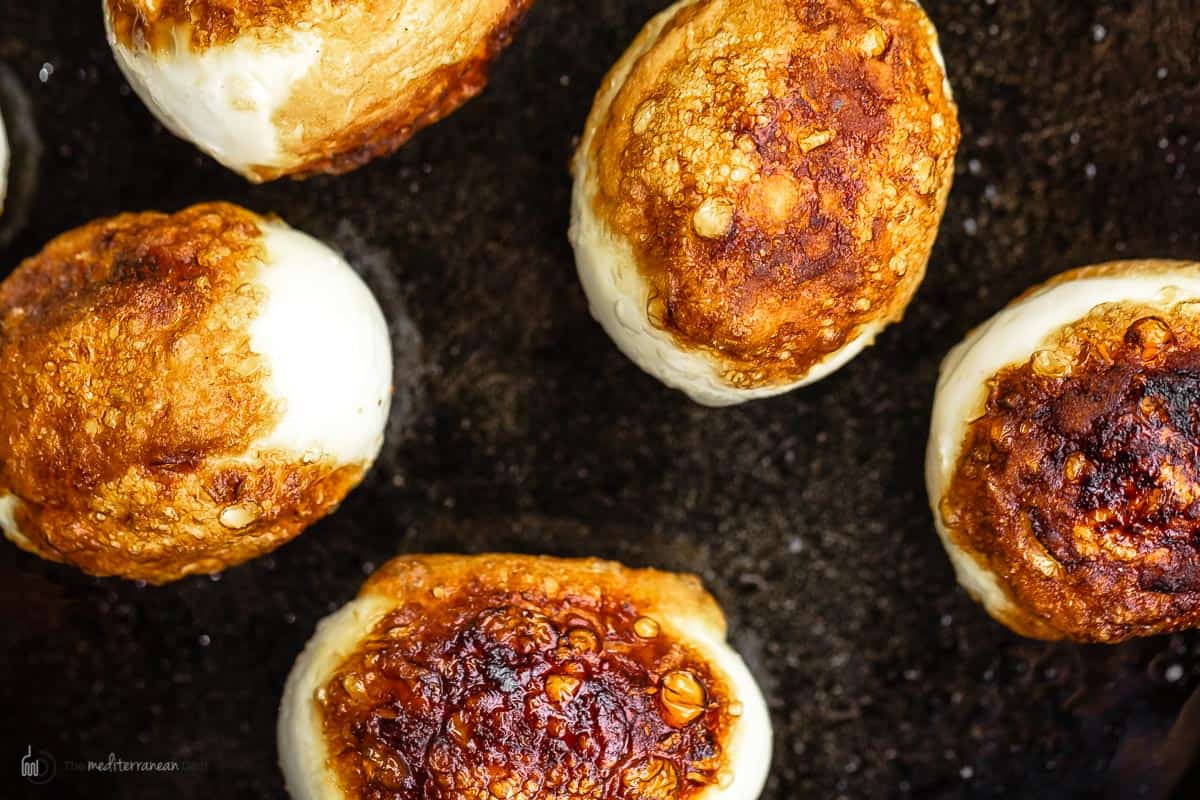 The Coptic Christmas Feast
Copts, that is Egypt's Christian community including my family, celebrate Christmas on January 7th, long after we've packed up our Christmas decorations here in the U.S.
In the 43 days leading up to Christmas, devout Orthodox Copts will observe The Nativity Fast, during which they abstain from all animal products. Together with their families and friends, they break the fast with a celebratory meal following the Christmas mass, which typically ends just after midnight on the eve of January 7.
Here in the West, we're all about tenderloin or turkey for the holidays. And yes, some Egyptian households will serve a bit of that too--with something like an elaborate rice pilaf as a side. However, on Christmas eve, the centerpiece of the Coptic Christmas table is traditionally Egyptian fatta, which is a big dish of tender meat (beef or lamb), heaped over a bed of rice and toasted pita chips, and drenched in a garlicy broth spiked with a touch of vinegar. Beid mez'alel, the iconic fried boiled eggs so shiny from having been cooked in ghee or butter, are typically served next to fatta. Other small dishes may also appear, but fatta and beid mez'alel are two constant parts of the Coptic feast. (Although beid meza'lel also shows up at Easter.)
When I moved from Egypt to Toronto as a high schooler, I lived in my aunt's home for a while. Among the meals I cherish from my time there is beid meza'lel prepared by my aunt Phoebe's husband Uncle Samy. He was born in the Coptic Orthodox faith and has kept the Egyptian church's traditions over the years. Although, in Toronto, we celebrated Christmas on December 25, Uncle Samy still gave us a big Coptic feast on January 6, serving the big family fatta and perfectly fried boiled eggs. I loved it!
I kept the recipe for these Egyptian fried boiled eggs very simple (how my Uncle Samy makes them), but I chose to serve them on a platter next to sliced fresh vegetables for a festive pop of color!
How to Make Beid Meza'lel (Egyptian fried boiled eggs:
This egg recipe is very simple and takes three basic steps:
First, hard-boil the eggs. Start with 6 eggs (more if you like) in a saucepan and cover them with water by at least 1 inch. Bring the water to a rolling boil, then turn the heat off and cover the saucepan. After 10 to 12 minutes or so, the eggs will be ready (the whites should be hard and the yolk should be bright yellow). Avoid over-cooking the egg so the yolk does not lose it's sunshine color and turn somewhat blue.


Peel the hard-boiled eggs. I find it easier to strain the eggs and then put them under running cold water, then peel as the water is running. Once peeled, gently dry the eggs with paper towels (you don't want water in the frying pan). Season with salt and pepper all over.

Fry the boiled eggs whole in ghee or butter. Heat up some ghee or butter (personally, I mix a little bit of ghee with extra virgin olive oil) in a non-stick skillet until shimmering. Add the boiled eggs to the heated butter and cook on all sides until the egg whites crisp up, turning a beautiful golden brown color. You'll want to carefully turn the eggs around in the skillet to get an even color on all sides (a wooden spoon or a pair of tongs should help). Do this carefully and keep a safe distance as the eggs will be popping in the skillet (a splatter guard is a good tool to use here).


How to Serve Them
These fried hard-boiled eggs are typically served whole, but you can also cut them in halves. Just don't slice or chop them up, the appeal is in the crispy whites.
I like to arrange the eggs on a platter next to fresh veggies or my easy Mediterranean tomato and cucumber salad, slabs of feta, and some olives. This is not the traditional way they're served, but I do like the added pop of color.
More Egg Recipes to Try:
Visit Our Shop to browse quality Mediterranean ingredients.
Egyptian fried boiled eggs Recipe (Bied Meza'lil)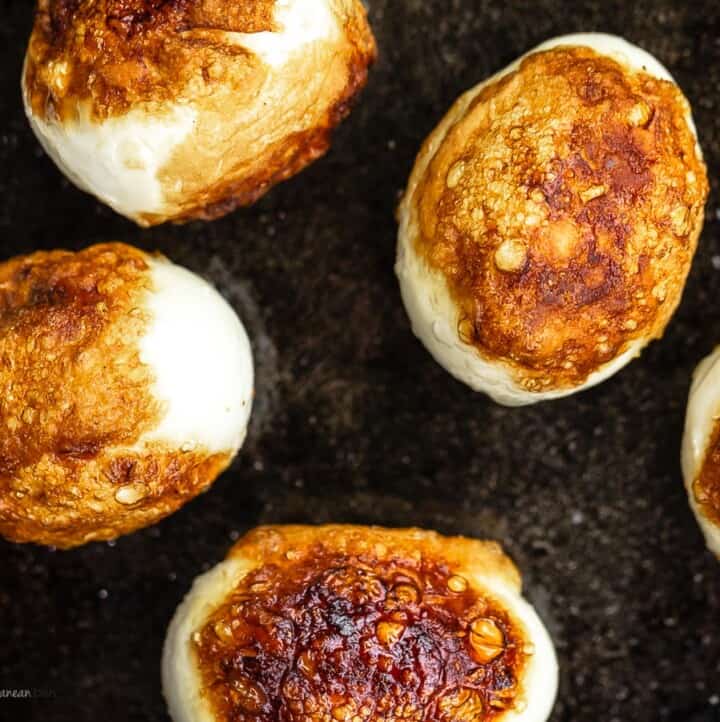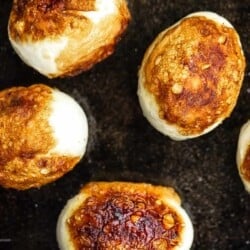 Hard boiled eggs, fried in ghee until the whites are crispy and golden brown. This simple beid meza'lil recipe is an iconic holiday egg recipe from Egypt. I am sharing my uncle Samy's recipe for these eggs but with a bit of my own twist on how I like to serve them.
Ingredients
6

large eggs,

more as needed

Kosher salt and black pepper

2

tablespoons

ghee or butter

1

tablespoon

Extra virgin olive oil,

optional
Instructions
Boil the eggs. Arrange the eggs in a saucepan large enough so that the eggs are in one single layer. Add water to cover the eggs by at least 1 inch. Add about ½ teaspoon salt and a splash of vinegar to the water. Bring the water to a rolling boil, then turn the heat off and cover the saucepan. Leave the eggs alone for 10 to 12 minutes, then drain.

Run the cooked eggs under cold water and peel them. Discard the peel. Season the eggs on all sides with kosher salt and black pepper.

In a large non-stick skillet heat the ghee and a little bit of extra virgin olive oil over medium-high heat until shimmering. Carefully add the boiled eggs (whole) to the pan and cook until the whites are crispy and golden brown on all sides. (Do this carefully and manage the heat as needed. To be safe, cover the top of your skillet with a splatter guard).

Using a slotted spoon, remove the eggs from the pan and serve them immediately. (If you like, arrange them on a platter with a simple tomato and cucumber salad or sliced veggies, a handful of olives, and slabs of feta).
Notes
Leftovers & Storage: Leftover fried boiled eggs will keep in the fridge for up to 2 days. Best eaten at room temperature or you can warm them up in a skillet.
Visit Our Shop for quality Mediterranean ingredients including olive oils and spices.
Nutrition
Calories:
127.3
kcal
Carbohydrates:
0.3
g
Protein:
5.5
g
Fat:
11.5
g
Saturated Fat:
4.8
g
Polyunsaturated Fat:
1.3
g
Monounsaturated Fat:
4.7
g
Trans Fat:
0.1
g
Cholesterol:
176.5
mg
Sodium:
256.4
mg
Potassium:
60.8
mg
Vitamin A:
237.6
IU
Calcium:
24.8
mg
Iron:
0.8
mg
(footer)