Shakshuka is a simple dish made of gently poached eggs in a delicious chunky tomato and bell pepper sauce. Said to have originated in Tunisia, this breakfast recipe is popular in many parts of North Africa and the Middle East. It is so satisfying, you can serve it for breakfast, lunch, or dinner. Read through for important tips and watch the video for how to make shakshuka!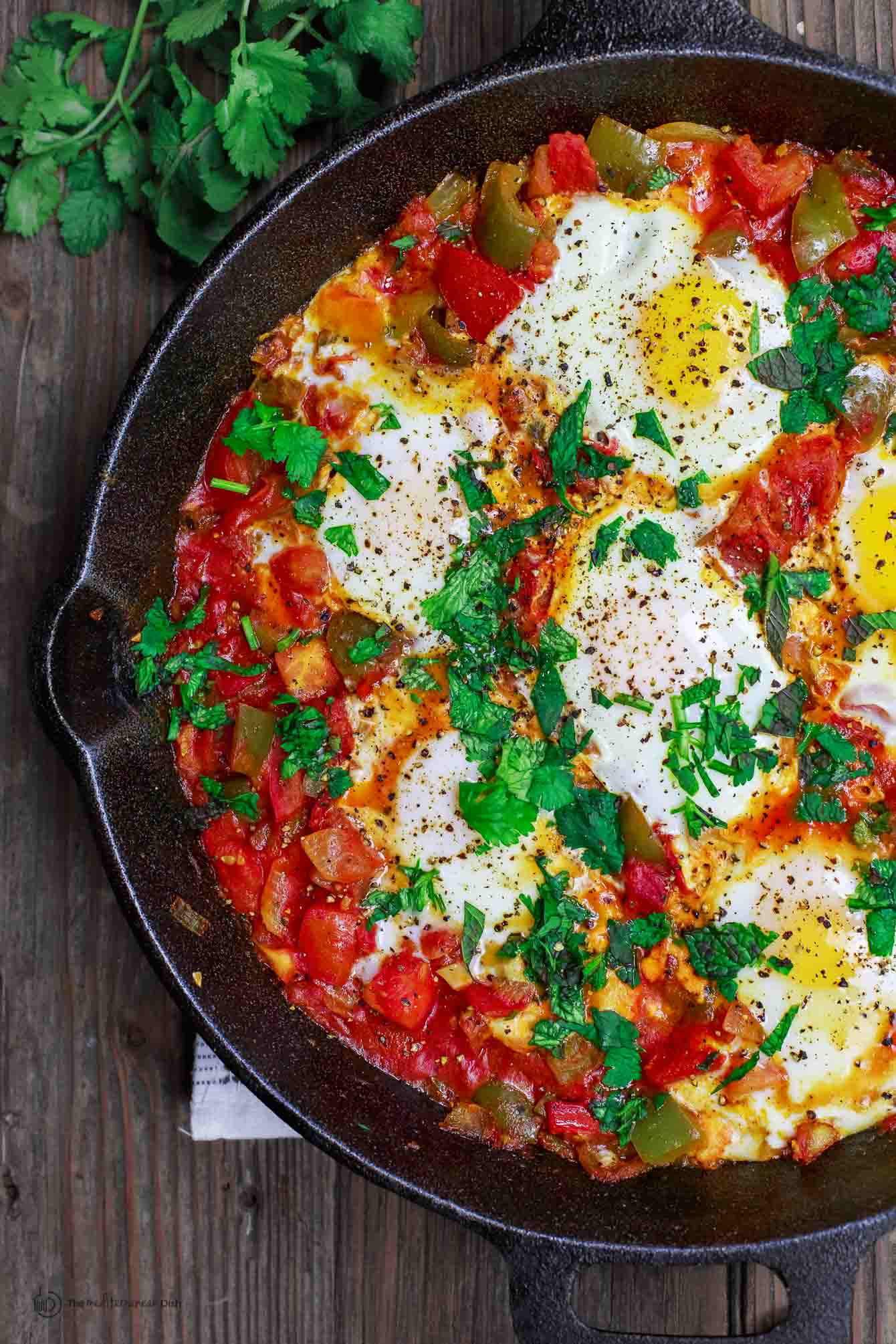 What is shakshuka?
A North African dish, said to have originated in Tunisia, shakshuka, ponounced Shak-SHOO-kah, is made of soft cooked eggs, gently poached or braised in a delicious chunky tomato and bell pepper sauce. The seasoning can vary from one recipe to another, but you'll often find warm spices like cumin, paprika, and crushed red pepper flakes for some heat. (If you're familiar with the popular Southern Italian dish known as eggs in purgatory, then this idea of cooking eggs in tomato sauce is not new to you!)
Many think of this dish an Israeli breakfast food because it is quite popular in places like Tel Aviv, but these eggs in tomato sauce are something you'll find in many parts of North Africa and the Middle East. Fun fact, the origins of the word shakshuka comes from the Arabic for "all mixed up" or "shaken."
Growing up in Egypt, my favorite was from a Cairo restaurant near the Nile called Felfela, where they served shakshuka eggs mild or spicy, with or without meat (often small chunks of beef or lamb), with a stack of warm pita bread. And it's often listed as a breakfast (or dinner) food next to things like falafel and ful muddamas.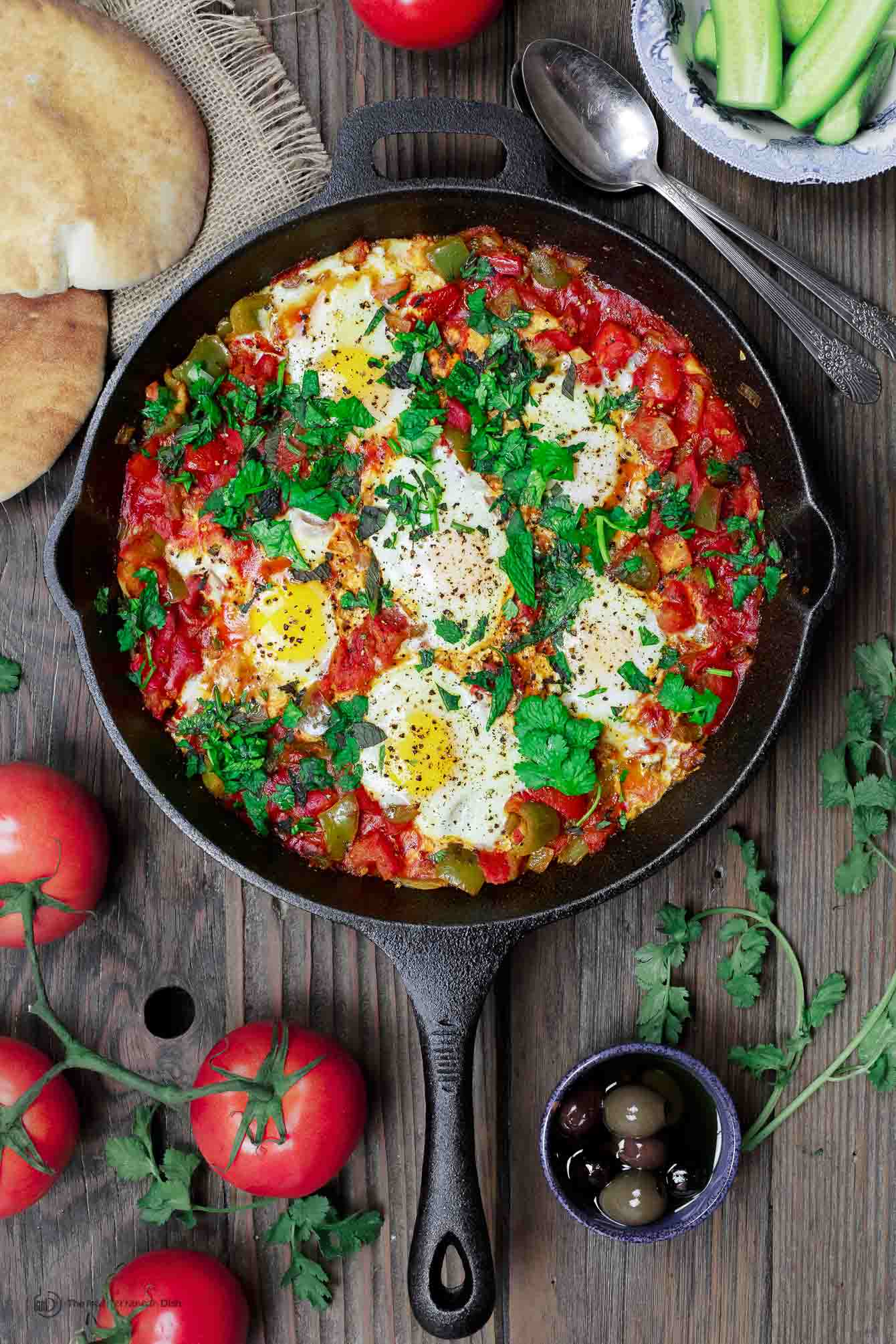 Shakshuka
This easy shakshuka recipe is something I make often for Sunday brunch, although I'm not shy to serve it for dinner as well. There are two main components to this recipe: The chunky tomato sauce and the eggs.
The sauce starts with a sofrito of chopped onions, green bell peppers, and garlic, seasoned with North African flavors including cumin, coriander, paprika and a dash or red pepper flakes (you can omit the red peppers if you don't eat spicy food). Whenever possible, I like using fresh ripe tomatoes when making shakshuka (the softer tomatoes will do great here). But when tomatoes are not in season, I am okay using a can of whole plum tomatoes or canned diced tomatoes.
Once the sauce is ready, you'll simply nestle the eggs in it and allow them to gently cook in the simmering sauce until the whites settle. The eggs are meant to be runny, but if you don't like them that way, it's fine to cook them to your liking.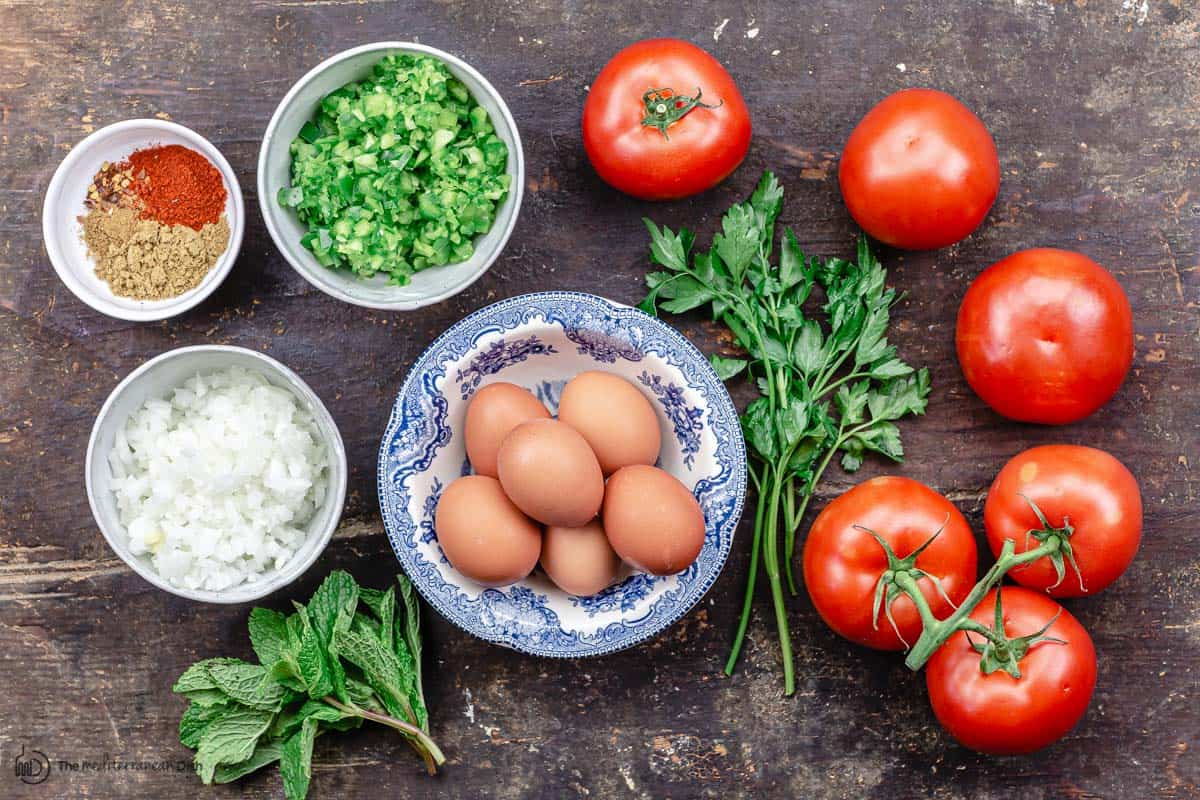 Ingredients: what you'll need to make shakshuka
Vegetables: 1 large chopped onion, 1 to 2 green bell peppers, and 2 minced garlic cloves. These three ingredients (plus spices) creates a sofrito to start the chunky sauce.
Spices: coriander, cumin, paprika-- a trio of warm North African flavors. If you like spicy shakshuka (some call it eggs in purgatory), add a pinch of red pepper flakes or cayenne pepper.
Tomatoes: In this recipe, I use 6 fresh medium-sized tomatoes and about ½ cup of tomato sauce, this combination gives me the texture and flavor I'm looking for. It helps if your fresh tomatoes are soft and almost overripe. If tomatoes are not in season, you can replace them with 1 28-ounce can of whole tomatoes or 6 cups canned chopped tomatoes with their juices. If you use the canned tomato alternative, you can omit the tomato sauce.
Eggs: 6 large raw eggs
Garnish: This is totally optional, but for me a handful of fresh chopped parsley and mint just before serving adds freshness and a pop of color. And if you love your shakshuka with feta, then add a sprinkle of creamy feta cheese just before serving.
How to Make Shakshuka
The print friendly recipe with measurements is just below, but here is a quick tutorial with a few photos to help you along. This recipe basically has two main steps:
Make the shakshuka tomato sauce. Start by sauteing chopped onions, bell peppers, and garlic with a little bit of extra virgin olive oil in a large, heavy skillet or pan (with a lid). Season with kosher salt and coriander, paprika, cumin, and crushed pepper flakes. Cook for at least 5 minutes, stirring, until the veggies are tender, then add fresh diced tomatoes (I used 6 vine ripe tomatoes) and ½ cup of tomato sauce. (Or, if you don't have fresh tomatoes, you can use canned a large 28-ounce of canned whole tomatoes or 6 cups of canned diced tomatoes). Bring the tomatoes to a boil, then cover and let simmer for about 15 minutes, then uncover and cook a few more minutes until your sauce has thickened.



Add the eggs and cook. When the sauce is ready, use the back of a spoon and make some holes in the sauce. Crack your eggs and nestle each egg in one of the holes you created. Cover the skillet and allow the eggs to simmer in the sauce over medium-low heat until the egg whites have settled (as I said earlier, the eggs are supposed to be soft and somewhat runny. If you like your eggs hard, you can let them cook a bit longer).



Serve immediately! Once the eggs are ready, garnish with parsley and serve immediately!
What to serve with Shakshuka?
There is no right or wrong way to serve this tasty dish, but in my opinion, bread such as pita or a crusty loaf (or even challah) is essential. (I've been known to even use up extra garlic bread to dunk in the chunky tomato sauce). You can serve shakshuka with other dishes. Here are a few ideas:
Shakshuka with meat
If you want to incorporate meat in this shakshuka recipe, you'll use ½ pound of ground or small diced meat, lamb or beef are common options. Cook the meat first in a bit of extra virgin olive oil until fully browned, and season with kosher salt, black pepper, and if you like, a dash of allspice. From there, add the onions, garlic, and bell peppers and make the shakshuka sauce by following the recipe.
Or, if you have some leftover meat from a leg of lamb or lamb rack chops, give them a new life by serving them over shakshuka.
More egg recipes to try:
Browse more breakfast recipes. Browse all Mediterranean recipes.
Visit Our Shop
Easy Shakshuka Recipe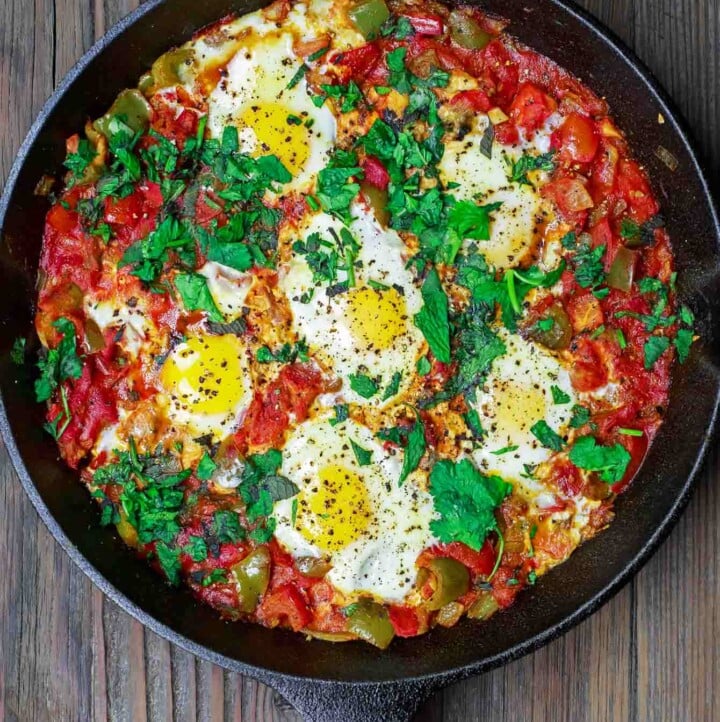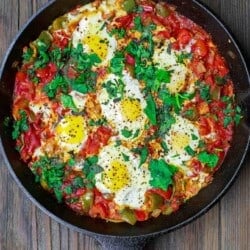 Easy shakshuka made with eggs that are gently poached in a simmering mixture of tomatoes, bell peppers, onions, and garlic. A few warm spices and some fresh herbs complete this satisfying one-skillet dish!
Ingredients
1

large yellow onion

chopped

2

green peppers

chopped

2

garlic cloves,

chopped

1

teaspoon ground coriander

1

teaspoon

sweet paprika

½

teaspoon

ground cumin

Pinch

red pepper flakes

optional

Salt and pepper

6

medium tomatoes,

chopped (about 6 cups chopped tomatoes)

½

cup

tomato sauce

6

large eggs

¼

cup

chopped fresh parsley leaves

¼

cup

chopped fresh mint leaves
Instructions
Heat 3 tablespoon olive oil in a large cast iron skillet. Add the onions, green peppers, garlic, spices, pinch salt and pepper. Cook, stirring occasionally, until the vegetables have softened, about 5 minutes.

Add the tomatoes and tomato sauce. Cover and let simmer for about 15 minutes. Uncover and cook a bit longer to allow the mixture to reduce and thicken. Taste and adjust the seasoning to your liking.

Using a wooden spoon, make 6 indentations, or "wells," in the tomato mixture (make sure the indentations are spaced out). Gently crack an egg into each indention.

Reduce the heat, cover the skillet, and cook on low until the egg whites are set.
Notes
Make Ahead Tip: You can prepare the shakshuka tomato sauce one night in advance. Let cool completely, then store in the fridge in a tight lid glass container. When you are ready the next day, warm up the sauce in a skillet and add the eggs and follow the recipe from step #3 on.
Leftovers Storage: Leftovers will keep for 1 to 2 days if stored properly in the fridge in tight-lid glass containers. Warm up over medium heat, adding a little more liquid to the shakshuka sauce if needed.
To add meat: If you want to add meat, cook about ½ ground beef or ground lamb in some extra virgin olive oil. Season well with salt and pepper. Once fully cooked, remove the meat from the skillet, wipe the skillet well and follow steps #1 and #2 to make the shakshuka sauce, only this time, add the cooked ground meat to the skillet to simmer with the tomatoes for 15 minutes or so before adding the eggs.
Visit Our Shop to browse quality Mediterranean ingredients including olive oils and all-natural and organic spices used in this recipe.
Nutrition
Calories:
111
kcal
Carbohydrates:
10.9
g
Protein:
7.7
g
Fat:
4.7
g
Saturated Fat:
1.5
g
Monounsaturated Fat:
1.7
g
Trans Fat:
0.1
g
Cholesterol:
163.7
mg
Sodium:
170
mg
Potassium:
550.3
mg
Fiber:
3.2
g
Sugar:
5.9
g
Vitamin A:
1954.4
IU
Vitamin C:
55.8
mg
Calcium:
61.3
mg
Iron:
1.9
mg
*This post originally appeared on The Mediterranean Dish in 2017 and has recently been updated with new information and media for readers' benefit. Enjoy!