Tender, perfectly roasted rack of lamb is elegant, yet easy to prepare. You'll love this lamb covered in a nutty, flavor-packed pistachio crust. And it cooks in the oven in just 20 minutes or so.
Serve with Greek potatoes and a bright salad for the perfect dinner. Step-by-step pictures and tips below!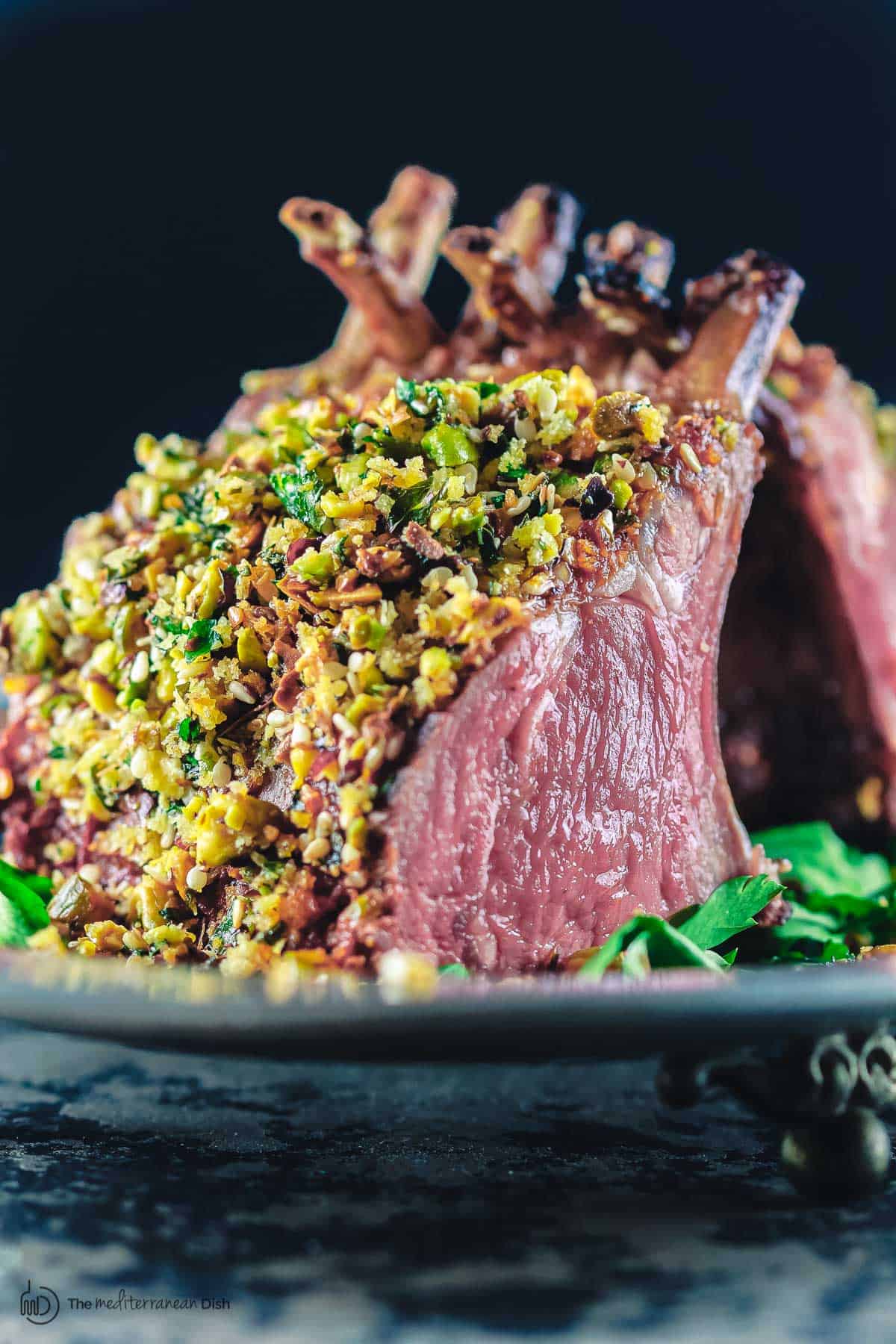 I once heard someone describe rack of lamb this way: "Rack is the finest part of the lamb. It is to lamb what prime rib is to beef."
Couldn't agree more!
The rack is the most luxurious cuts of lamb. It is tender, full of flavor, and makes an elegant centerpiece on the dinner table. And thankfully, it's fairly easy to cook.
If you're not familiar, rack of lamb comes from the rib cage part of the lamb. Each rack comes with 8 ribs or chops. If I'm grilling or going for a quick seared lamb, I'll often divide a lamb rack into individual chops (my girls call them lamb lollipops).
But today is all about the gorgeous whole roasted rack of lamb coated with herb pistachio crust. With very little effort, the crust lends savory, nutty flavor and beautiful texture, taking this lamb dinner to a new level of special.
This recipe has three main steps, and the racks will cook in about 20 minutes in your oven. So it's feasible to do on a weeknight if you want.
Let me give you a quick idea of how it goes, and be sure to check out the step-by-step photos and tips below!
Three Steps to this Roast Rack of Lamb Recipe
First: season and sear lamb in a bit of extra virgin olive oil to develop a little color and flavor.
Second: cover the lamb rack with a little tangy Dijon mustard and a mixture of fresh herbs and crushed nutty pistachios. This is the fancy bit, but so unexpectedly easy to do. The Dijon mustard (or you can use harissa paste, if you want a kick) acts as the binder to hold the herb and pistachio crust.
Third: pop in the oven to bake for about 20 minutes or so.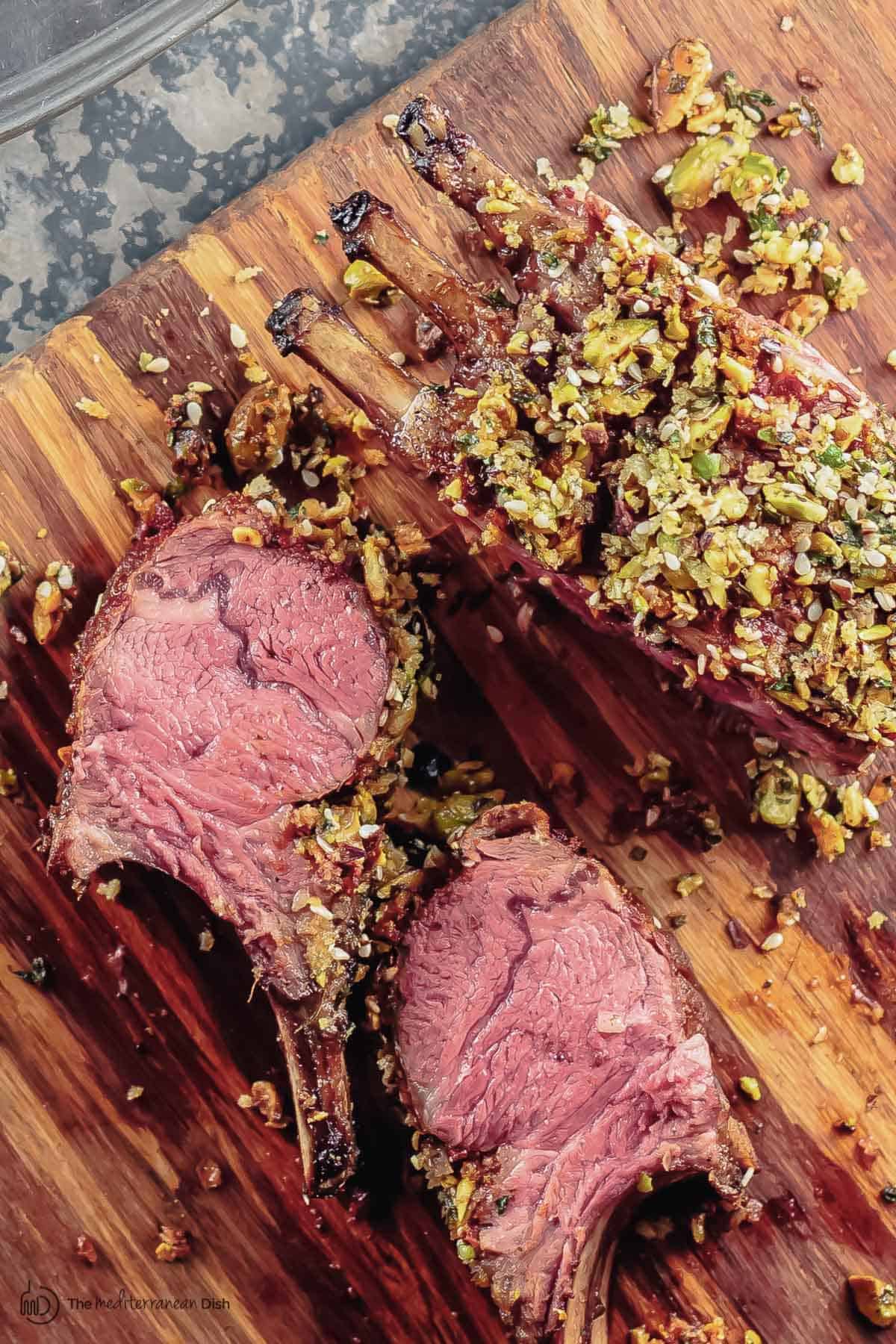 Ingredients
You can think of this roast rack of lamb recipe as having 3 main components: lamb rack, herb pistachio crust, and the paste or "glue" holding them together.
Rack of Lamb: I use 2 lamb racks here, each will have 8 ribs or chops. You can safely count on 2 ribs per person, but I often budget 3 per person.
First, the lamb racks get a light dusting of kosher salt and black pepper to taste, then a quick sear in extra virgin olive oil. Then comes the crust.
Herb Pistachio Crust
The only thing that makes roasted rack of lamb better is this nutty crust with pistachios and fresh herbs. It is a stunning green color from the pistachios and gives the lamb a great crunchy texture. Here's what's in it:
Chopped pistachios, panko crumbs, sesame seeds – these make up the crunchy part of the crust. Pistachios are mild and nutty, panko breadcrumbs get super crisp in the oven giving awesome texture, and sesame seeds add nutty and earthy flavor.
Herbs – fresh thyme, parsley, and dried mint flakes are also added to the crust mixture as well.
Dijon mixture (the "glue" holding the crust)
Dijon mustard, crushed garlic, unsalted butter, and lemon juice – these bold, tangy flavors are mixed together into a paste. Before adding the herb pistachio crust, this mixture is spread on the lamb to act a flavorful glue for the crust mixture.
How to Cook Rack of Lamb in the Oven: step-by-step
Step 1: Season and Sear Rack of Lamb
Season both racks with kosher salt and black pepper. And with a sharp knife, make small slits (about 1/4-inch) between the ribs (this helps you cut through later). Brown in a little bit of extra virgin olive oil over medium-high heat.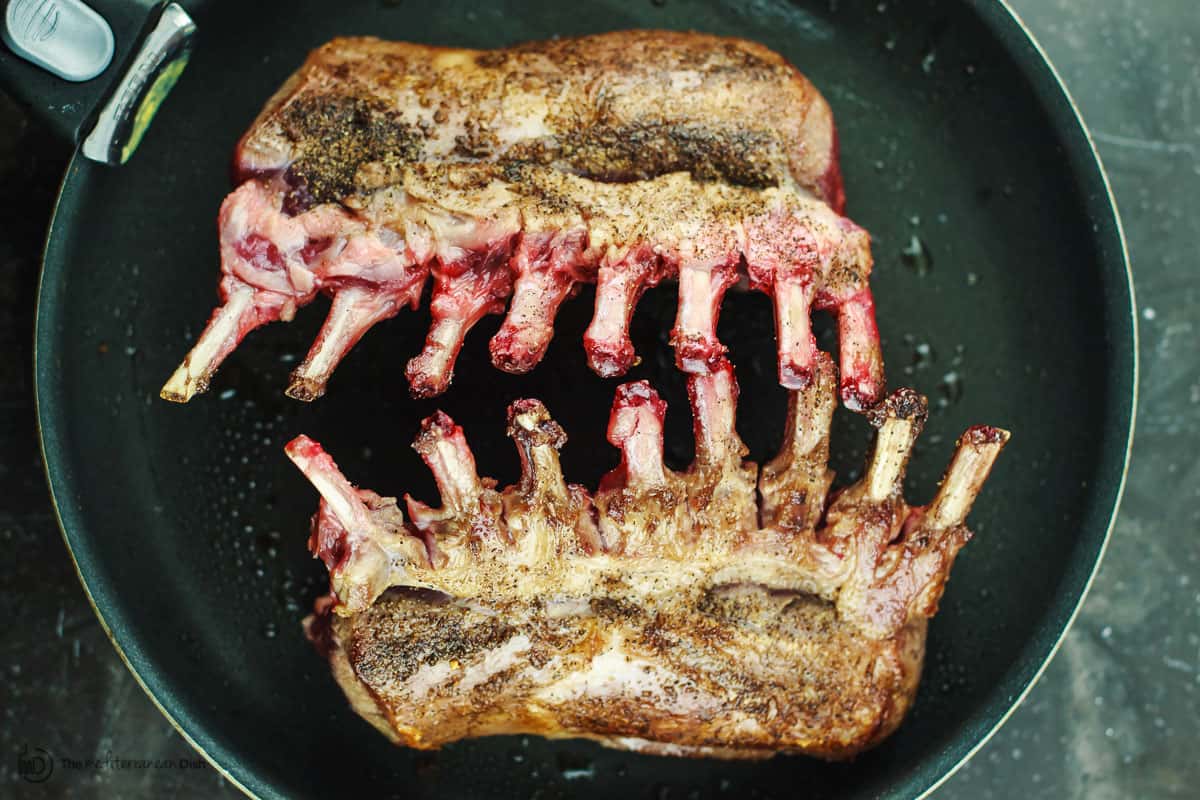 Step 2: Coat with Pistachio Crust
Combine mustard, garlic, butter and lemon juice together. And in a separate bowl, combine pistachios, panko, sesame seeds, thyme, parsley and mint flakes.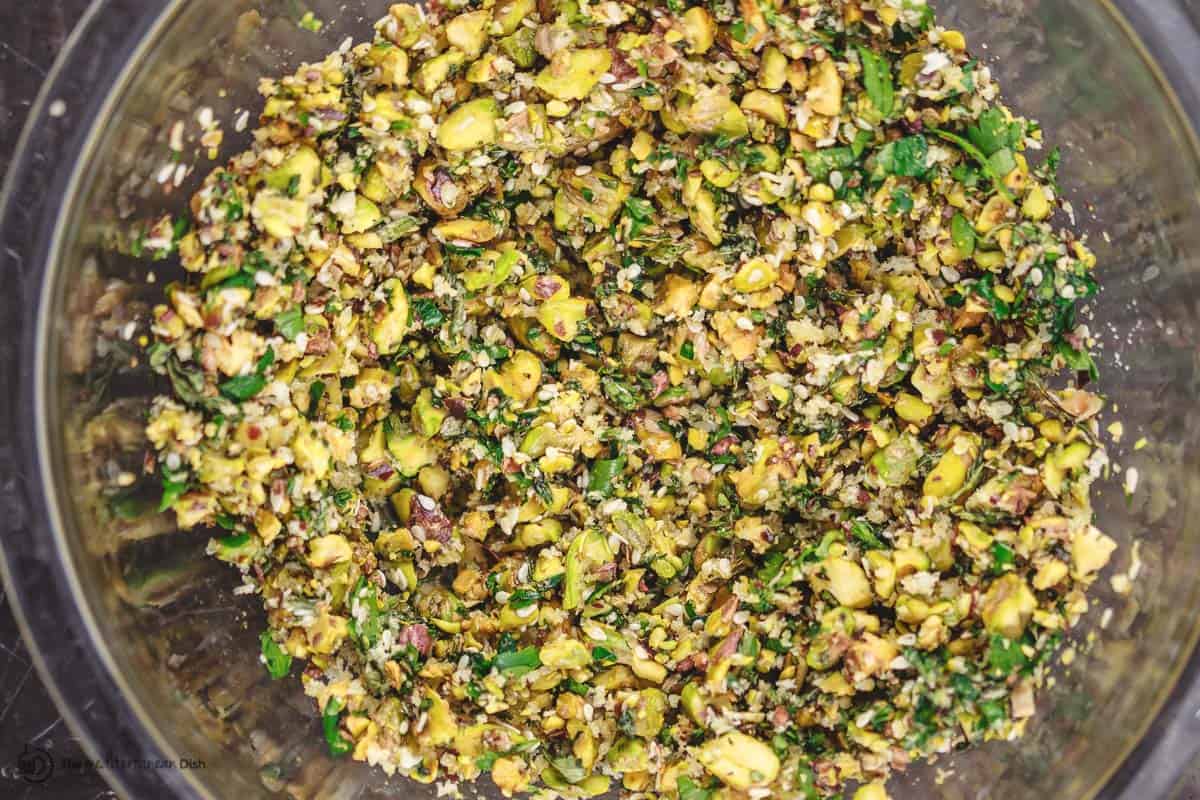 Place the lamb racks on a baking sheet, meaty side facing up. Spread the mustard mixture over the lamb racks (top only). Press a generous amount onto the lamb to fully cover the top. I find it is best to do this with your bare hands!
Tip – clean away and crust that falls onto the baking sheet. The excess crumbs will burn on the sheet while cooking.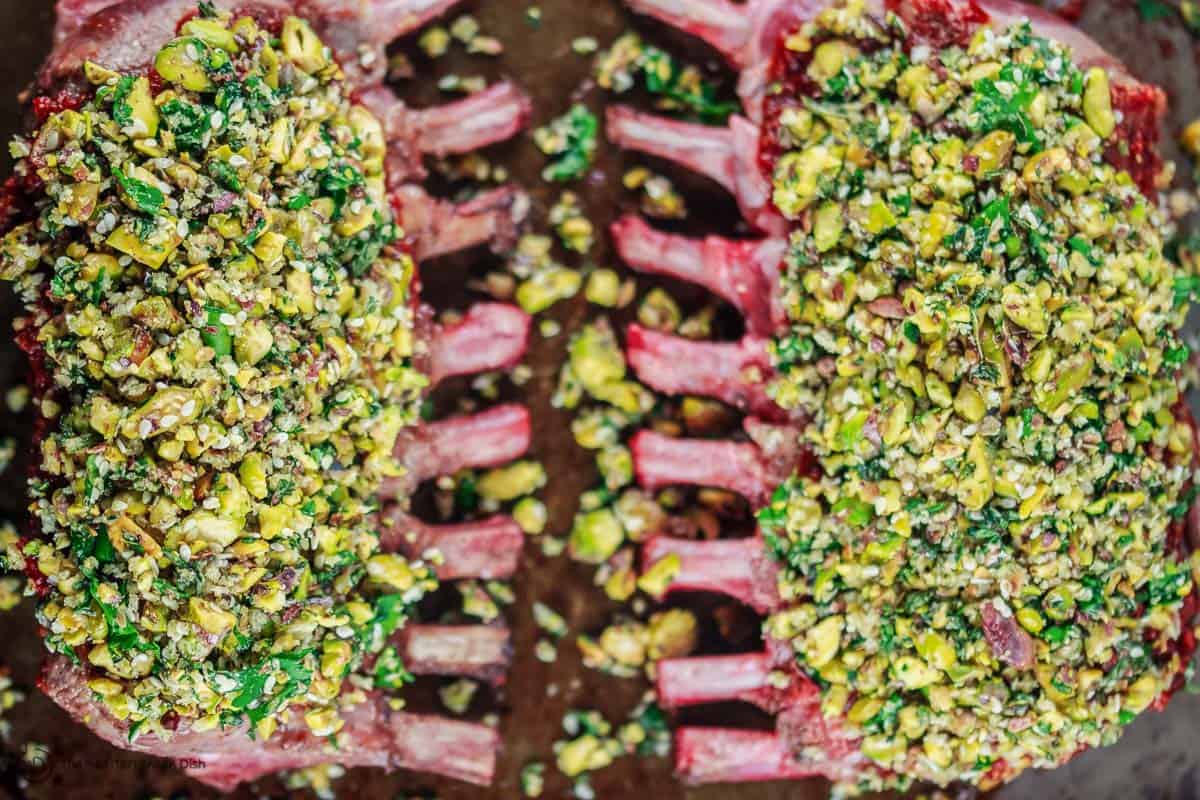 Step 3: Roast
Roast at 400 degrees F for approximately 20 minutes (about 10 minutes per rack). Use an instant read thermometer to determine if the lamb racks are done to your preference (internal temperature should register 125 degrees F for rare and 135 degrees F for medium rare).
Let the lamb racks rest for 5 minutes before cutting through between the ribs.
Questions & Tips
1. Don't skip searing the meat. This step is helpful in this particularly recipe because we do add the layer of pistachio crust on top. Searing the meat first in a hot pan helps brown the meat and create another layer of flavor before the crust is added. It will also helps lock in all the meat juices to keep the lamb tender and juicy.
2. Roast to 5 degrees below the final temp you want. Roast rack of lamb is typically served rare (internal temperature of 125 degrees F). Medium rare is fine as well (internal temperature should register 135 degrees F). Cooking times will vary depending on the size of your racks and what doneness you're going for. To avoid overcooking the lamb, roast to 5 degrees below the final temp you want because while the meat is resting, the carry over cooking will bring the temperature up.
3. Allow cooked lamb to rest before serving. As with any meat, allow roasted lamb rack to rest for a minimum of 5 minutes before serving. This helps the juices redistribute in the rack for a great tender bite.
4. How many people will this recipe serve? One rack can be divided into 8 lamb ribs or chops. You can count on 2 to 3 lamb chops per person. In this recipe, I used 2 racks of lamb, which yields 16 lamb chops and can serve 6 to 8 people.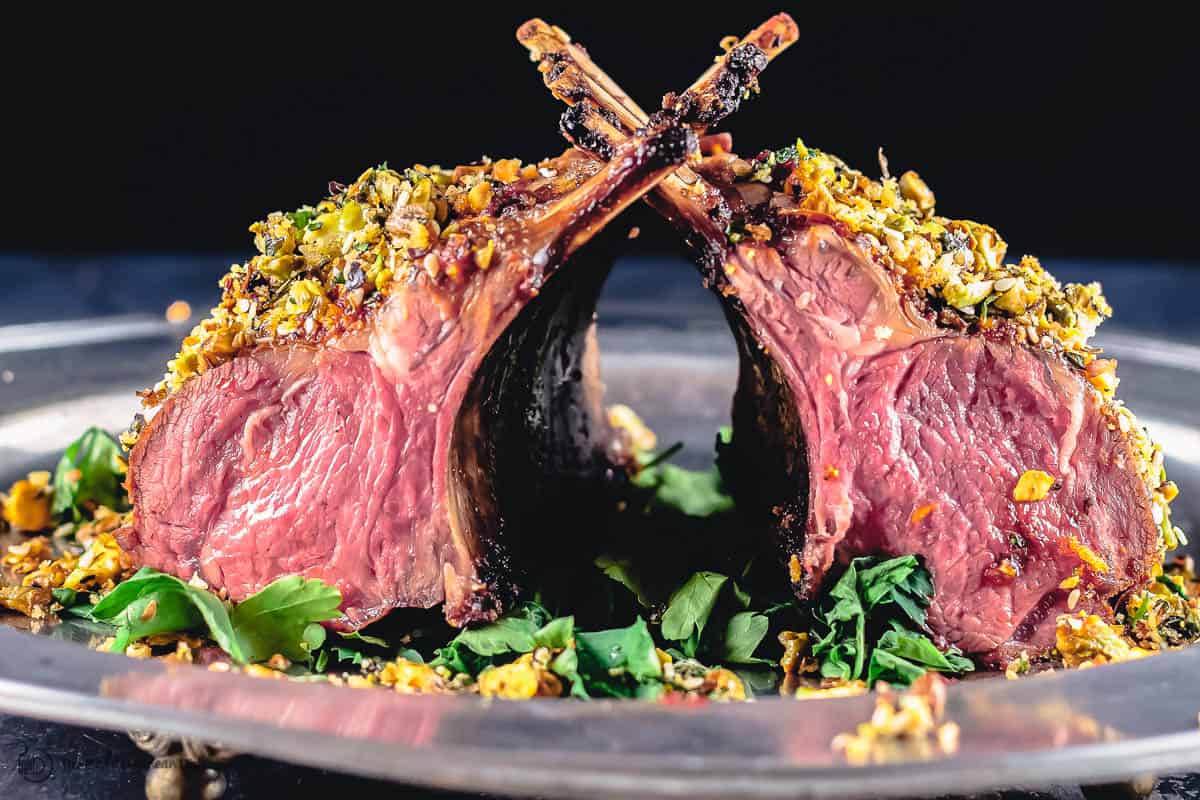 Leftovers and Storage
If you have leftovers, you can store them in the fridge in an airtight container for up to 3 days. '
Leftover cooked lamb rack is best served at room temperature, in my opinion. Divide the rack into chops and serve on top of a large salad!
If you want to reheat, cover the lamb with foil and put a bit of broth or water in the bottom of the baking sheet to help keep the meat moist. Place in a medium-heated oven until warmed through.
What to serve along
Whenever I serve lamb, I often add a side of Greek potatoes. And with a beautiful lamb like this one, you can go for sides as simple as plain couscous. But here are some ideas:
Salads: Mediterranean tomato and cucumber salad, carrot salad, balela salad, pearl couscous salad
Sides: Grilled vegetables, skillet zucchini, crispy brussels sprouts, roasted eggplant
Browse my collection of lamb recipes! For all recipes, visit us here. And be sure to view our collection of Mediterranean diet recipes.
NEVER MISS A RECIPE! JOIN MY FREE E-MAIL LIST HERE.
SHOP OUR ONLINE STORE FOR QUALITY OLIVE OILS, ALL-NATURAL SPICES AND MORE.
Print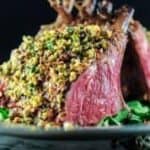 Roast Rack of Lamb with Pistachio Crust
---
Author:

Suzy Karadsheh

Prep Time:

15 mins

Cook Time:

25 mins

Total Time:

40 minutes

Yield:

serves

6

1

x
Description
Tender, perfectly roasted rack of lamb is elegant, yet easy to prepare. You'll love this lamb rack covered in a nutty, flavor-packed pistachio crust. And it cooks in the oven in just 20 minutes or so.
---
Scale
Ingredients
2

racks of lamb (

8

ribs in each rack)
Salt and pepper
For the Pistachio Crust
1

to

2

tbsp Dijon mustard

1/2 tsp

crushed garlic (garlic paste)

1/2 tbsp

unsalted butter, softened

1/2 tsp

lemon juice

2/3 cup

pistachios, shelled, chopped

2 tbsp

Panko bread crumbs

1 tbsp

sesame seeds

1/2 tbsp

chopped fresh thyme

1 tbsp

chopped fresh parsley leaves

1 tbsp

dried mint flakes
---
Instructions
Preheat the oven to 400 degrees F.
Season rack of lamb with salt and pepper on both sides, and make 1/4 inch slits between the ribs but leave the racks of lamb intact.
Heat 2 tbsp of olive oil in a nonstick pan or skillet on medium-high until shimmering but not smoking. Add each lamb rack and brown. Transfer lamb racks from the pan and place on a lightly oiled baking sheet, top side up (which is the meaty side with the fat layer).
In a small bowl, stir the mustard, crushed garlic, softened butter and lemon juice. In a separate bowl, combine the chopped pistachios, panko, sesame seeds, thyme, parsley and mint flakes.
With a spoon, spread an equal amount of the mustard mixture on each lamb rack (top side only). Now, carefully press a generous amount of the pistachio mixture to cover the top. Clean any crumbs off the baking sheet.
Place the baking sheet in the 400 degrees F heated-oven. Roast for 20 minutes (10 minutes per rack of lamb). Remove from heat, and carefully transfer the lamb racks to a cutting board. Let rest for 5 minutes before carving.
When ready, carve each lamb rack into two portions, allowing 4 ribs per person. Serve with roasted Greek potatoes and a simple 3-ingredient Mediterranean salad to make great additions to this meal. Enjoy!
---
Notes
Cook's Tip: Use an instant read thermometer to determine if lamb is done to your liking. Typically, roast rack of lamb should be cooked to rare (internal temperature reaching 125 degrees F) and for medium-rare, internal temperature should read 135 degrees F). To avoid overcooking, take the lamb out about 5 degrees before it reaches the temperature you are looking for. As it sits briefly, the temperature will rise.
Serving Size Tip: each rack of lamb will have 8 ribs or chops. You can count on 2 to 3 lamb chops per person (6 to 8 people).
Visit our online shop to browse quality Mediterranean ingredients including extra virgin olive oils and spices
Category:

Entree

Method:

Baked

Cuisine:

Mediterranean
Keywords: Rack of lamb, lamb rack, roast rack of lamb
*This post first appeared on The Mediterranean Dish in 2015 and has been recently updated with new information and media for readers' benefit. Enjoy!