Tzatziki is a creamy Greek yogurt sauce with cucumbers and fresh garlic. It is the perfect accompaniment to many Mediterranean dishes. Or simply use it as a dip with warm pita and your favorite vegetables! Comes together in 15 minutes.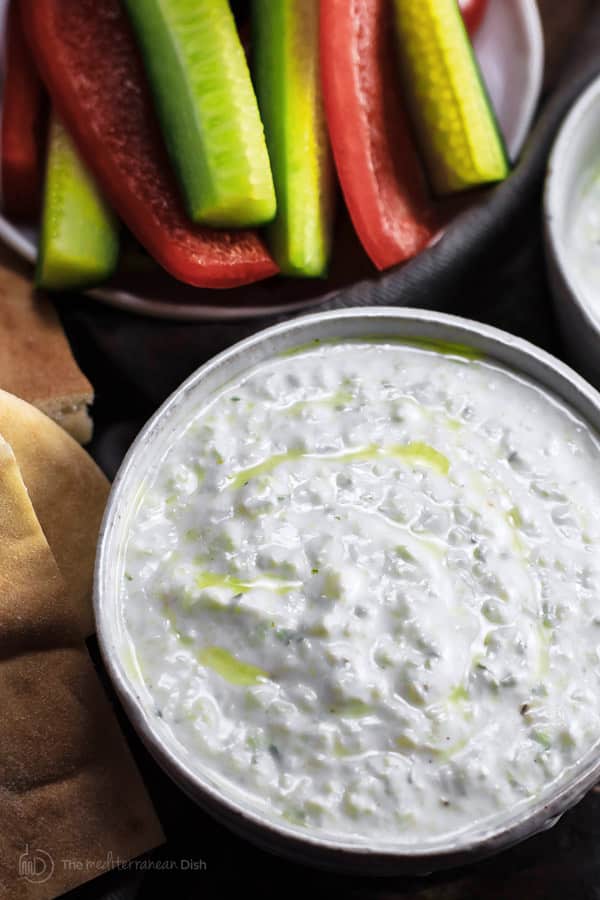 A few months back, my friend Cheryl Sternman Rule sent me a copy of her gorgeous book Yogurt Culture. And as the subtitle of the book states, Cheryl takes a detailed global look at how to make, bake, sip, and chill the world's creamiest healthiest food! 300 pages worth of wonderful recipes utilizing yogurt with original stories weaved in between.
And of course, one recipe that immediately drew my attention is the Greek Tzatziki sauce recipe.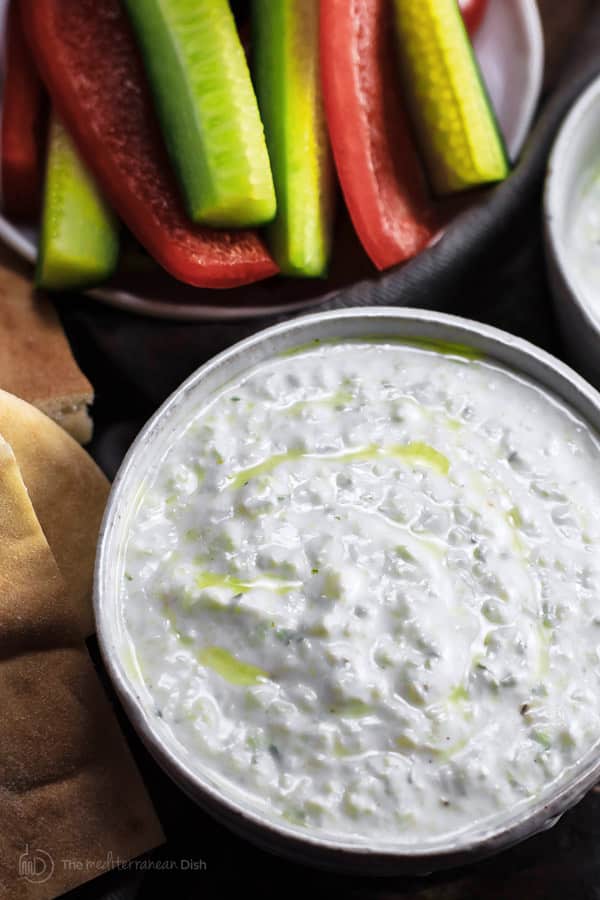 Now, Cheryl's Tzatziki sauce recipe came from the Greek island of Paros, where Stella Leonetti serves it regularly in her restaurant Rafeletti. It's an intense and creamy tzatziki with three star ingredients: Greek yogurt; English (seedless) cucumbers; and garlic (lots and lots of garlic).
I've made a few tweaks to the recipe to fit our own needs.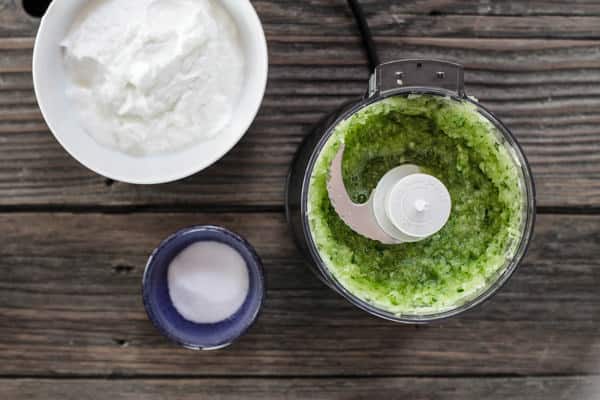 How to use Tzatziki Sauce
Tzatziki sauce is so versatile, there are so many ways to enjoy it. For an easy appetizer or snack, I  love to serve Tzatziki with warm bread and sliced vegetables. But it makes a perfect topping for Mediterranean-style baked potato; or next to stuffed snapper or pan-seared trout; lamb chops; chicken souvlaki; shawarma and more! I also use it simply as a sandwich spread.
It's best to store homemade tzatziki in the fridge in a tightly-covered container, and use within 2 to 3 days.

Print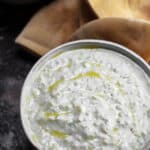 Tzatziki Sauce Recipe
---
Author:

Prep Time:

15 mins

Total Time:

15 mins

Yield:

3 cups sauce

Category:

Dips and Appetizers

Cuisine:

Greek
Description
Creamy Greek Tztaziki Sauce. A versitle Greek yogurt and cucumber sauce to serve along with veggies and pita, spread on sandwiches, or add it next to grilled fish, meat or poultry!
---
Ingredients
3/4 English cucumber, partially peeled (striped) and sliced
1 tsp kosher salt, divided
4 to 5 garlic cloves, peeled, finely grated or minced (you can use less if you prefer)
1 tsp white vinegar
1 tbsp Early Harvest  Greek Extra Virgin Olive Oil
2 cups Greek yogurt (I used organic fat free Greek yogurt, but you can use 2% or whole milk Greek yogurt, if you like)
1/4 tsp ground white pepper
Warm pita bread for serving
Sliced vegetables for serving
---
Instructions
Prep the cucumber. In a food processor, grate the cucumbers. Toss with 1/2 tsp kosher salt. Transfer to a fine mesh strainer over a deep bowl to drain. Spoon the grated cucumber into a cheese cloth or a double thickness napkin and squeeze dry. Set aside briefly.
In one large mixing bowl, place the garlic with remaining 1/2 tsp salt, white vinegar, and extra virgin olive oil. Mix to combine.
Combine and chill. Add the grated cucumber to the large bowl with the garlic mixture. Stir in the yogurt and white pepper. Combine thoroughly. Cover tightly and refrigerate for a couple of hours.
When ready to serve, stir the tzatziki sauce to refresh and transfer to serving bowl, drizzle with more extra virgin olive oil, if you like. Add a side of warm pita bread and your favorite vegetables. (also see suggestions in the post above for more ways to use tztaziki.) Enjoy!
Notes
This recipe is adapted from Yogurt Culture.  It is my quick version, and it's been cut down to suit a smaller family.
Recipe tips: this is very garlicy dip, if you prefer, start with a smaller amount of garlic and incorporate more as needed. It's best to store tzatziki in the fridge in a tightly-covered container, and use within 2 to 3 days.
Recommended for this Recipe: Early Harvest Greek extra virgin olive oil. SAVE! Try our Greek Olive Oil Bundle. 
Keywords: Greek Tztaziki Sauce, Tztaxiki Sauce, Tzatziki Sauce Recipe

More Recipes to Try:
Koftedes: Greek-Style Meatballs
One Pot Greek Chicken and Orzo
Easy Carobnara with Roasted Tomatoes and Prosciutto
Asparagus with Mediterranean Salsa