Learn how to make tzatziki sauce in 10 minutes or less! This authentic tzatziki recipe, made with cucumber, yogurt, and garlic, comes straight from the Greek island of Paros, and a few tips make all the difference. You'll love how easy and versatile this Greek sauce is, you can serve it with some pita chips and fresh veggies or use it over your gyros, kebabs, with fish, or to dip your fries, or to jazz up some mean dinner bowls! So many possibilities!
Tzatziki recipe that will make yiayia smile!
Of all the Greek recipes on this site, including Greek salad and the ever-so-comforting moussaka, tzatziki sauce is the one I go to most often. And if you have not tried this creamy Greek yogurt sauce before, you are in for a treat!
A few years ago, I came across a real-deal, authentic tzatziki sauce recipe from the Greek island of Paros where Stella Leonetti served it regularly in her restaurant called Rafeletti. My friend Cheryl Sternman Rule featured it in her book Yogurt Culture, and I stayed pretty close to the original recipe, except I've pared it down for a smaller crowd.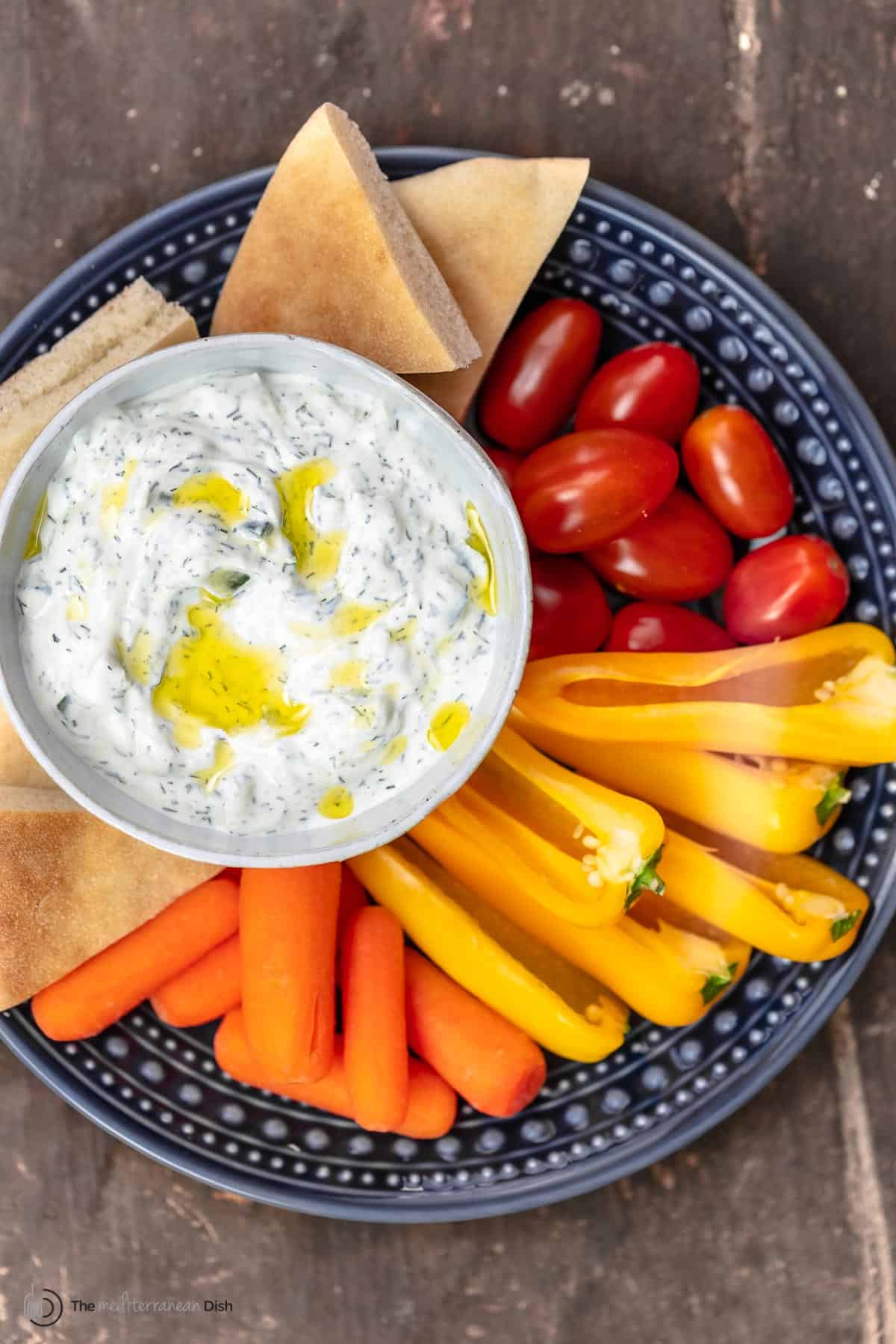 What is tzatziki?
Tzatziki is a creamy cucumber yogurt dip (or sauce) made from simple ingredients including strained yogurt (or Greek yogurt), cucumbers, garlic, and sometimes fresh herbs such as dill or mint. Traditionally, it is made from strained sheep or goat's milk yogurt, but a full-fat Greek yogurt works just fine in this dip.
This recipe takes about 10 minutes or less to make, and it starts with grated cucumbers, which you need to drain very well, and mix with the yogurt, garlic, and herbs, if using. Some might think of this dip as something similar to sour cream, but if you're wondering what tzatziki tastes like, it is slightly tangy, garlicky, and cool due to the use of cucumber and fresh herbs. And once you learn how to make it, you'll be using it in all sorts of ways to elevate your meals or to simply serve as part of a mezze spread!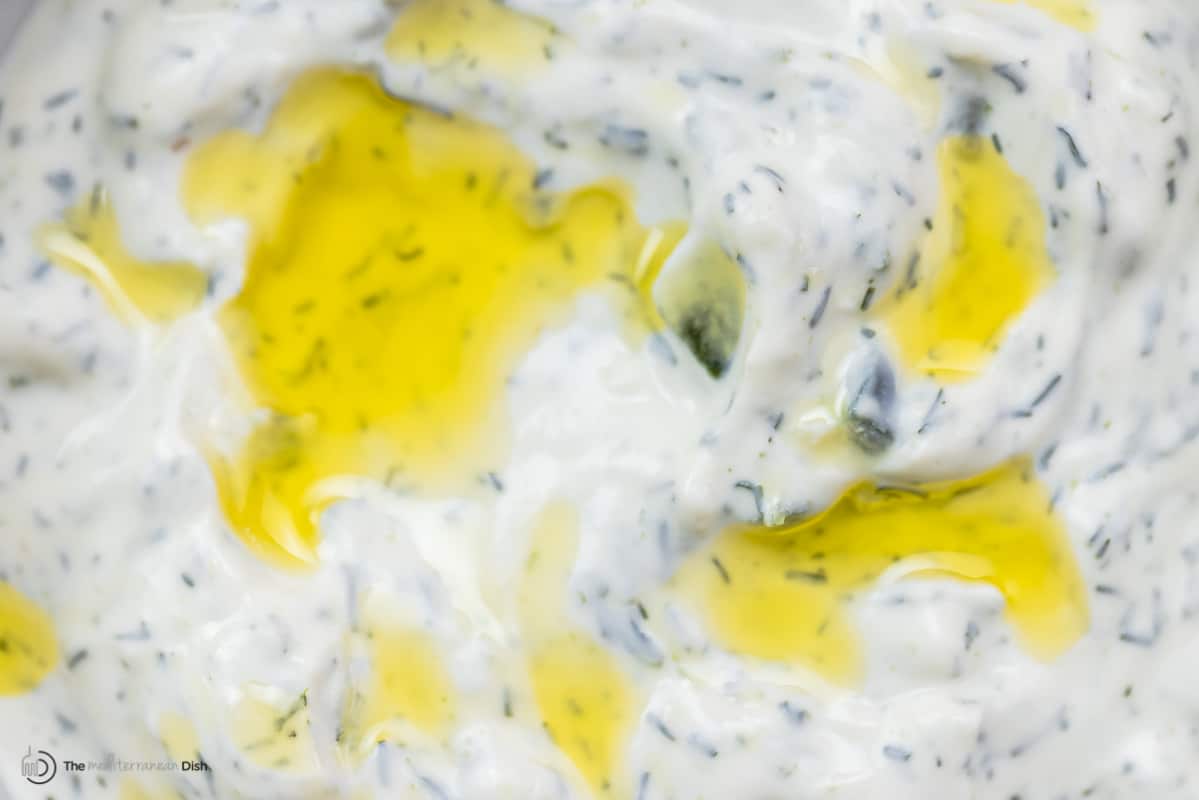 Tzatziki sauce ingredients and important notes
A few notes on what you need to make this recipe:
English cucumber- I like to use English cucumbers here because they are seedless and tend to be sweeter, plus the skin is thin, so you don't have to fully peel them. If you end up using regular cucumbers with the waxy skin, be sure to peel them completely, and you'll want to discard the large seeds which would make the dip too runny.
Kosher salt
Garlic-4 to 5 garlic cloves, minced. If you want a milder-tasting cucumber yogurt sauce, start with 1 or 2 garlic cloves, minced.
Distilled white vinegar- about 1 teaspoon is all you need here. It does enhance the flavor and brightens the dip.
Plain Greek Yogurt- 2 cups plain full-fat or reduced fat Greek yogurt. Do not use regular plain yogurt as the dip will be too runny. The yogurt you need here must be strained yogurt.
Ground white or black pepper (optional)
Chopped fresh dill or mint (optional)
How to make tzatziki sauce
Here's the step-by-step tutorial for how to make this tzatziki recipe (print-friendly version & video just below):
Grate the cucumbers. You can use a box grater or do as I do and use a food processor for a shortcut. Add a pinch of salt with the sliced cucumbers in the food processor and run the processor until the cucumber is finely chopped.



Drain the grated cucumbers (VERY IMPORTANT). Once grated, transfer the cucumbers to a clean cheesecloth (or a heavy napkin) and squeeze out all the liquid.



Mix the sauce. In a large bowl, combine the grated or minced garlic with the white vinegar and a little olive oil and mix. Add the drained cucumber mixture to a large bowl, greek yogurt, kosher salt, a pinch of white black pepper, and chopped dill or mint (if using). Stir to combine.


Refrigerate for 30 minutes and up to two hours before serving or serve immediately, if you can't wait, with fresh veggies and pita or chips! Drizzle a little olive oil on top.
What do you eat with tzatziki?
Creamy cucumber tzatziki is one of the most versatile dips you can make! At the very least, serve it with some carrots, bell peppers, and other fresh veggies of your choice, but you can use it in many more ways with everything from the obvious gyros to pan-seared salmon, lamb rack, all sorts of kebabs including vegetable skewers, or even to top your baked potato! I love adding it to dinner bowls with keftedes (meatballs) and a salad!
Leftovers and storage
best to store it in the fridge in a tightly-covered glass container. Use it within 2 to 4 days.
Similar dip recipes you may like:
Hungry for more? Check out my Greek Recipes Collection
Visit Our Shop to browse my favorite ingredients for Mediterranean cooking
Tzatziki Sauce Recipe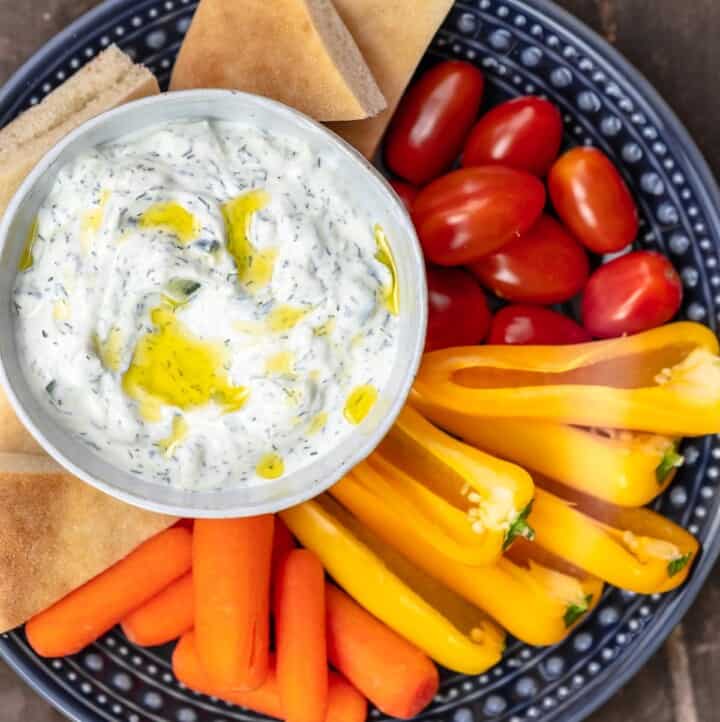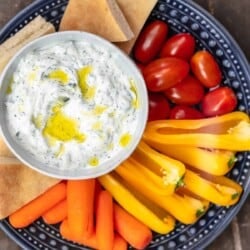 Creamy Greek Tztaziki Sauce recipe with cucumber, yogurt, and garlic. Add a tablespoon or two of fresh dill or mint, if you like. Do not skip draining the cucumbers or your yogurt dip will be too watery. And for best texture, cover and refrigerate anywhere from 30 minutes to 2 hours before serving. This versatile cucumber yogurt sauce can be used in many ways, be sure to read my post for all the ideas!
Ingredients
¾

English cucumber,

partially peeled (striped)

1

teaspoon

kosher salt

divided

4 to 5

garlic cloves,

peeled, finely grated or minced (you start with 1 to 2 garlic cloves, if you don't want it to be too strong)

1

teaspoon

white vinegar

1

tablespoon

Early Harvest Greek Extra Virgin Olive Oil

2

cups

plain Greek yogurt

Handful of chopped fresh dill or mint (optional)

¼

teaspoon

ground white pepper

Warm pita bread for serving

Sliced vegetables for serving
Instructions
Use a box grater to manually grate the cucumbers or you can use a small food processor to finely chop the cucumbers as I do in this recipe. Toss the grated cucumbers with ½ teaspoon kosher salt. Spoon the grated cucumber into a cheese cloth or a double thickness napkin and squeeze dry. (There will be a lot of liquid).

In one large mixing bowl, place the garlic with remaining ½ teaspoon salt, white vinegar, and extra virgin olive oil. Mix to combine.

Add the grated cucumber to the bowl with the garlic mixture. Stir in the yogurt, and a pinch of white or black pepper, and the fresh herbs (if using. I did not use fresh herbs in the video). Stir to combine well.

Cover and refrigerate for a bit (anywhere from 30 minutes to a couple hours before serving). This will help thicken the sauce and give it the best texture, while allowing the flavors to meld.

When ready to serve, stir the tzatziki sauce to refresh and transfer to serving bowl, drizzle with more extra virgin olive oil, if you like. Serve with your favorite veggies, pita chips or wedges (be sure to read the post for more ideas on how to use this sauce)!
Notes
This recipe makes a generous 2 cups of sauce (or up to 32 tablespoons). The serving size is based on 1 tablespoon.
This recipe is adapted from Yogurt Culture. It is my quick version, and it's been cut down to suit a smaller family.
This is very garlicy dip, if you prefer, start with a smaller amount of garlic and incorporate more as needed.
To Store: It's best to store tzatziki in the fridge in a tightly-covered glass container. Use within 4 days.
Visit our shop to browse quality Mediterranean ingredients including olive oils.
Nutrition
Calories:
16.3
kcal
Carbohydrates:
1
g
Protein:
1.5
g
Fat:
0.7
g
Saturated Fat:
0.2
g
Polyunsaturated Fat:
0.1
g
Monounsaturated Fat:
0.3
g
Cholesterol:
0.8
mg
Sodium:
78.7
mg
Potassium:
11.9
mg
Fiber:
0.1
g
Sugar:
0.7
g
Vitamin A:
15.6
IU
Vitamin C:
0.3
mg
Calcium:
18.4
mg
Iron:
0.1
mg
*This post first appeared on The Mediterranean Dish in 2016 and has been updated with new information and media for readers' benefit.