Melitzanosalata is a simple, rustic Greek eggplant dip made with roasted, perfectly smoky eggplant with garlic, parsley, red onions, lemon juice and extra virgin olive oil. It's the perfect appetizer with pita or your favorite bread; or serve it next to grilled meats or even fish. Be sure to check out my tips for best results!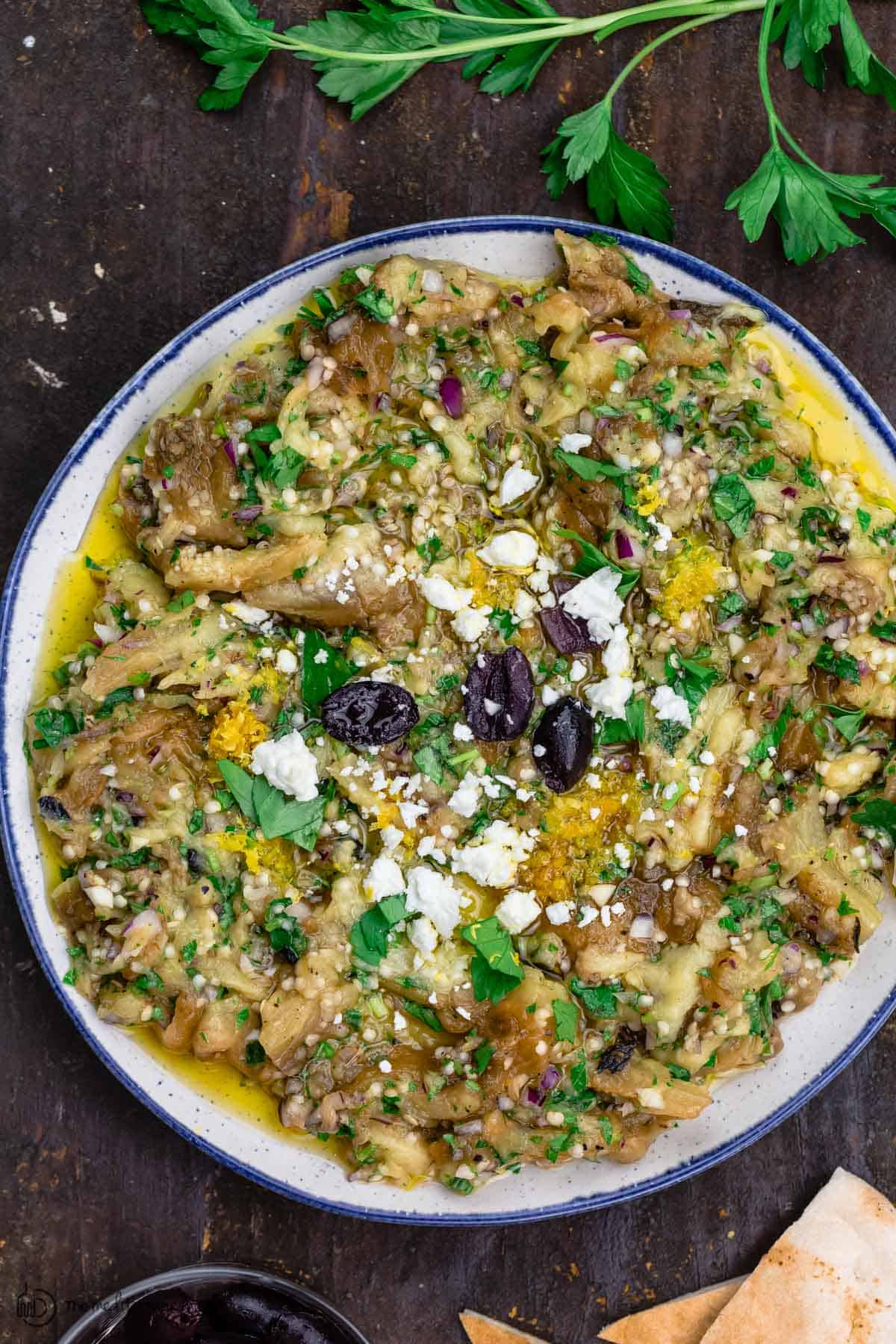 When I shared my baba ganoush recipe earlier, a reader reached out via Instagram asking if I had one for melitzanosalata, an equally delicious eggplant dip from Greece. I love it when good folks remind me of tasty things that should absolutely have a spot here on the blog!
What is Melitzanosalata?
Let's break it down. Melitzanosalata, pronounced meh-lee-tza-no-sah-LAH-ta, comes from two words: melitzana, which means eggplant, and salata, which means salad.
So, it literally means eggplant salad.
But for all practical purposes, it functions as an eggplant dip that's often enjoyed as part of mezze with a side of warm pita bread or your favorite crusty bread. Personally, I think it's the perfect accompaniment to grilled things from lamb burgers to souvlaki, grilled fish, or even shrimp kabobs.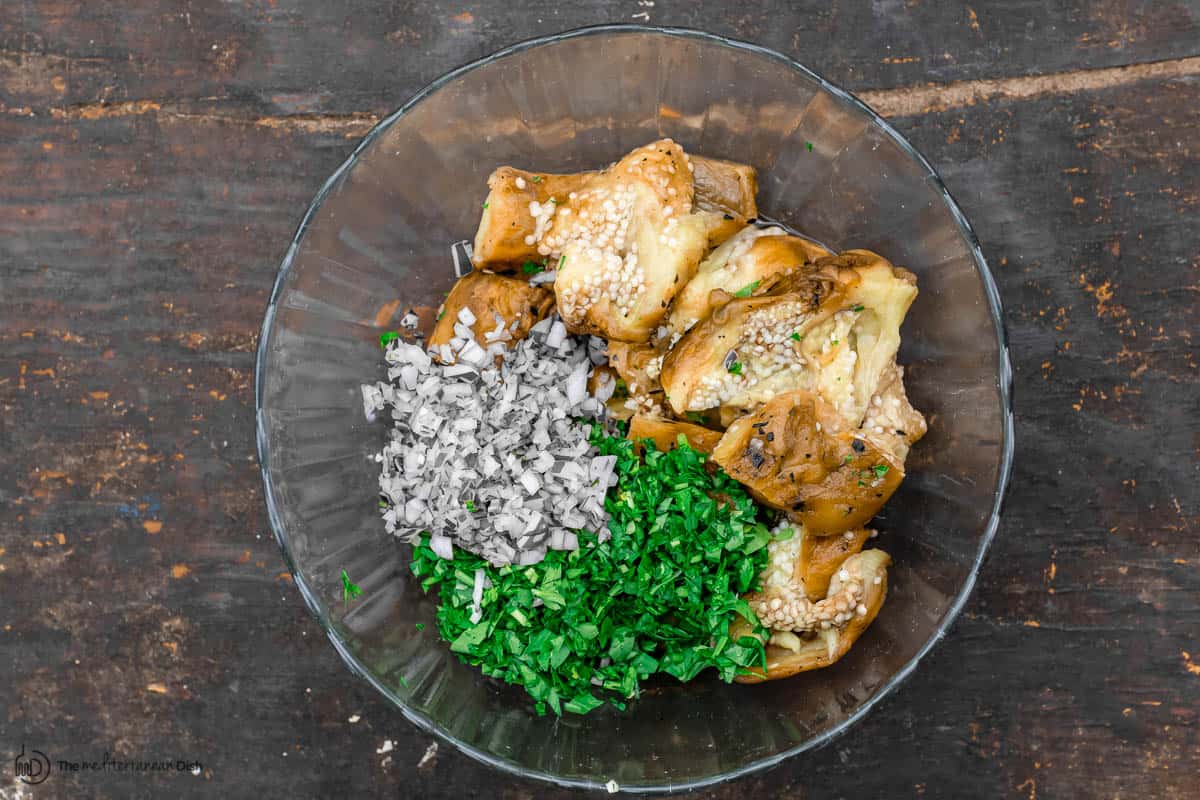 What's in it?
The star ingredient in melitzanonsalata is eggplant, roasted over open fire until perfectly charred, then mixed in with garlic, fresh parsley, lemon juice, and olive oil. And in this recipe, I also use finely chopped red onions.
Seasonings may vary slightly from one recipe to another, but I like to add a pinch of ground cumin and some crushed red pepper flakes for a little heat.
Garnish is totally optional, but a sprinkle of creamy feta and some briny kalmata olives take this melizanosalata recipe to a new level of delicious!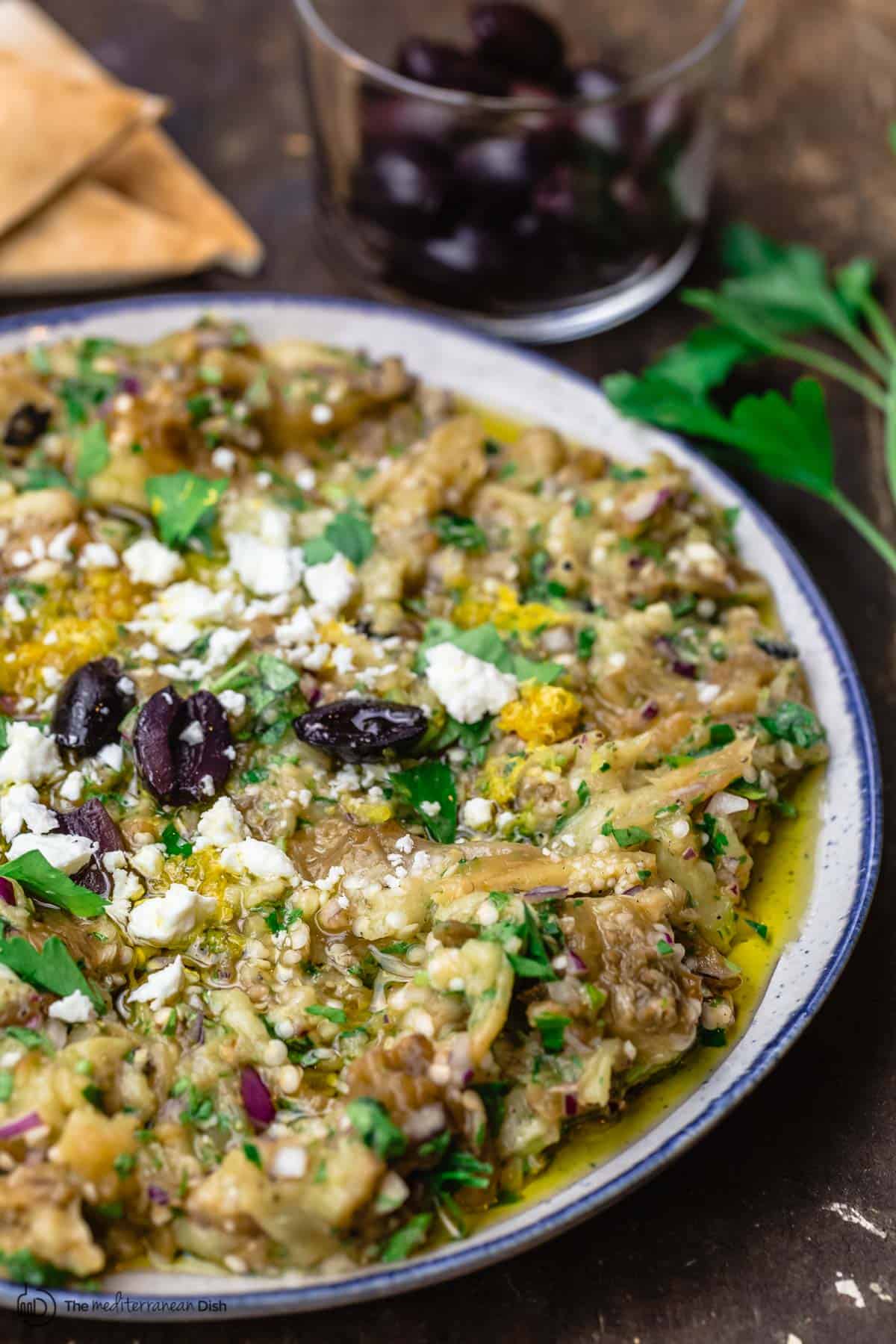 A few important tips
Roast the eggplant over open fire. If you want the authentic, smoky taste of melitzanosalata, you'll want to cook your eggplant over high heat on a gas burner or grill. You can also put the whole eggplant under the broiler. This will take anywhere from 10 to 20 minutes, and you'll want to use a pair of tongs to help you turn the eggplant every few minutes to make sure it is cooked and perfectly charred on all sides (the eggplant should be very soft and the skin should be flaky). But, you can bake the eggplant if that's what you prefer (see recipe notes).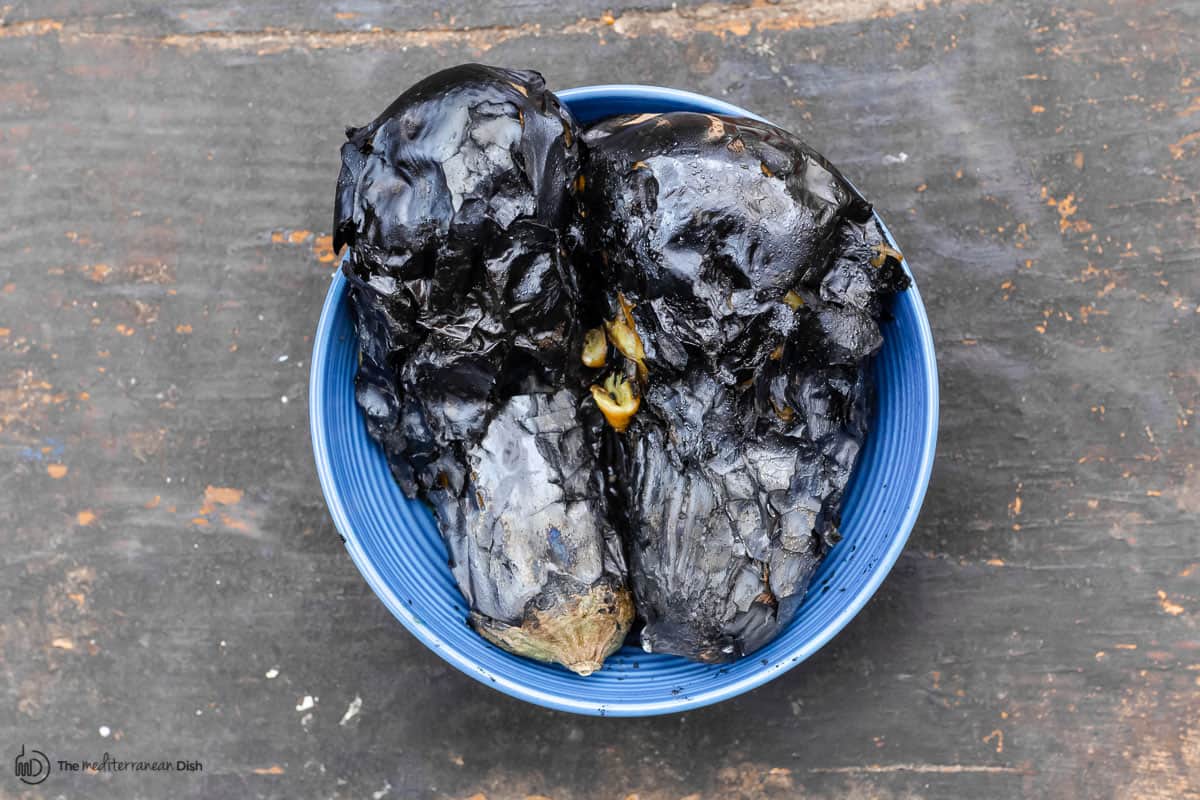 Drain the eggplant well. Eggplant has a good bit of water in it. Before you put together this eggplant dip, it's important to drain the cooked eggplant (no one likes a watery dip). Chop the eggplant and place it in a colander over a bowl and leave it for a few minutes.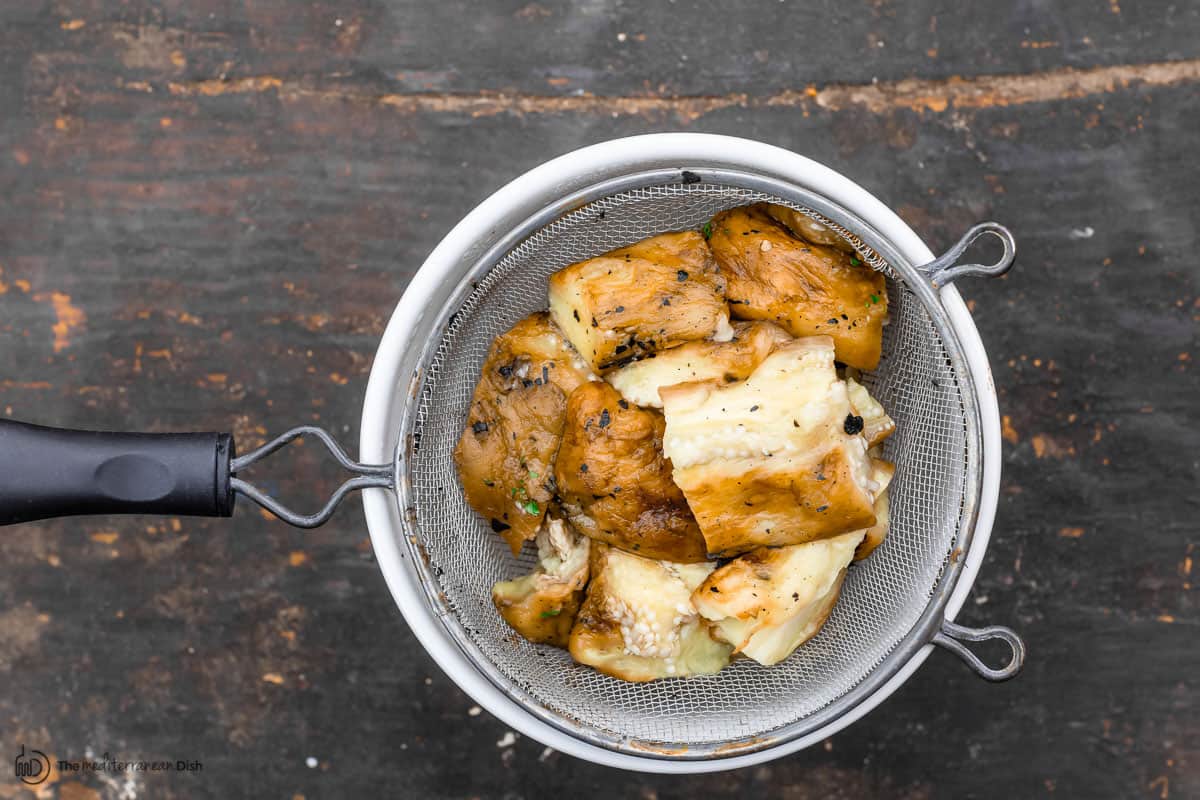 How much garlic to use? I've seen some recipes calling for something like 4 garlic cloves. I'm a garlic lover myself, but I thought one raw garlic clove is a good amount (remember, if you save any leftovers in the fridge for the next day, that garlic will be quite strong).
Should I use a blender or food processor? If you're looking for a smoother eggplant dip, you can blitz the eggplant and remaining ingredients together in a food processor (don't overdo it though). I much prefer to simply mix everything in a bowl, using my fork to break up any large eggplant chunks.
Chill the melitzanosalata for a few minutes before serving. Once you make the dip, cover and chill it for a few minutes before serving (I shoot for 30 minutes when I have the time, but even 10 to 15 minutes helps the texture and allows the flavors to meld.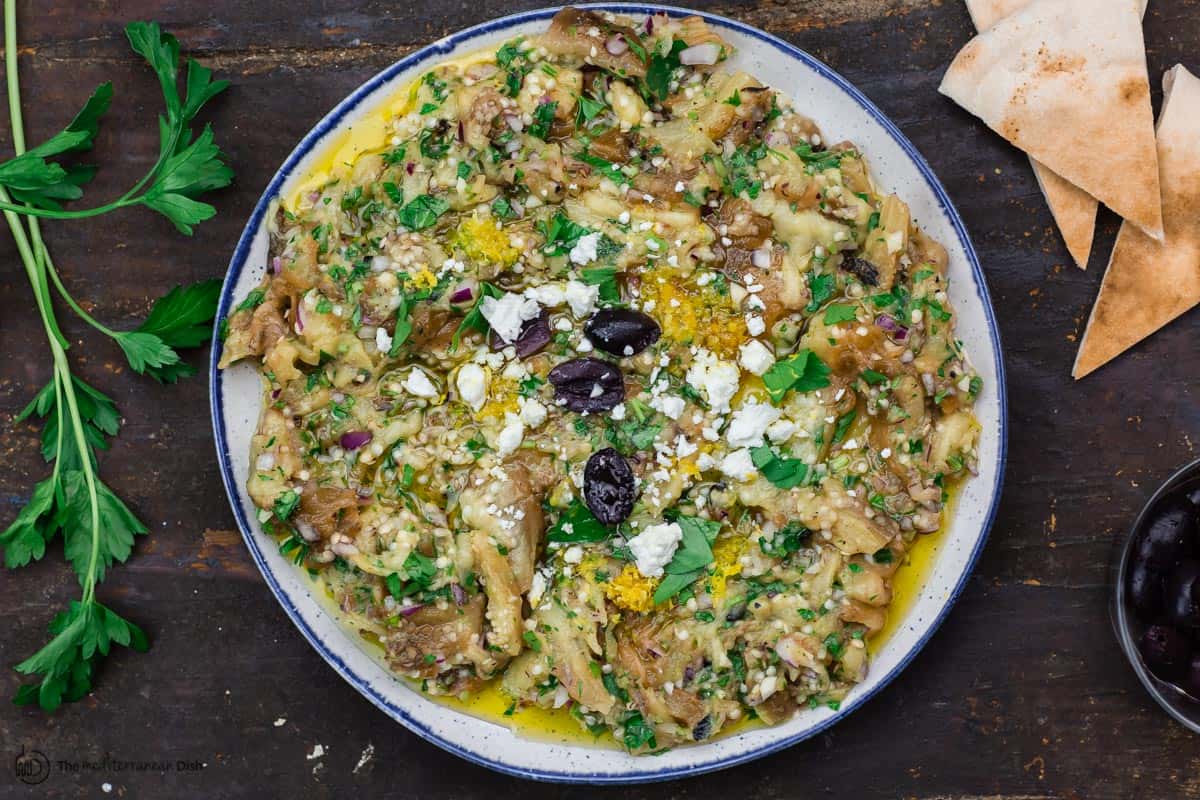 Craving more? Check out our collection of Greek recipes, the Baked Feta and Skordalia are two more Greek dips that we love!
For all recipes, visit us here. JOIN MY FREE E-MAIL LIST.
Melitzanosalata Recipe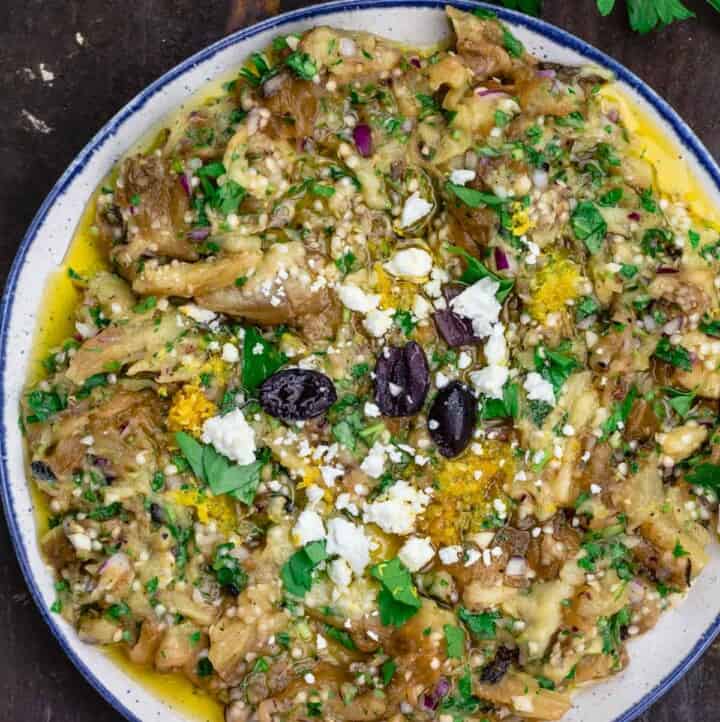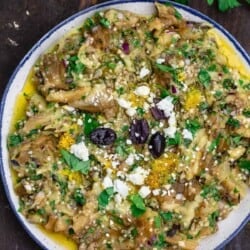 Simple and delicious Greek eggplant dip with smoky eggplant, garlic, parsley, lemon juice and extra virgin olive oil. The perfect appetizer with a bit of warm pita bread or serve it next to grilled meats or even fish.
Ingredients
2

large eggplants

1 to 2

large garlic cloves

minced

¼

red onion finely chopped

about ⅓ cup, more for garnish

1

cup

chopped fresh parsley

packed, more for garnish

Kosher salt and black pepper

½

teaspoon

each ground cumin and crushed red pepper flakes, more to your liking

(optional)

1

lemon

zested and juiced

¼

cup

extra virgin olive oil

more for later

A few pitted kalamata olives

sliced, for garnish (optional)

Feta cheese

a sprinkle for garnish (optional)
Instructions
Keep the eggplant whole and pierce with a fork in a few places.

Smoke the eggplant. Place the eggplant over a gas flame, grill or under a broiler, and cook, turning around using a pair of tongs, until the skin is fully charred, and the eggplant is quite tender.

Cool and drain eggplant. Place the eggplant in a bowl and set aside until cool enough to handle (a bowl is helpful because the eggplant will release some juices). Peel the charred skins off and discard. Cut the eggplant into chunks and place in a colander to get rid of any remaining excess juices (about 10 more minutes).

At this point, if you have the time, it's a good idea to cover and chill the eggplant dip in the fridge for a few brief minutes.

Transfer the eggplant dip to a serving plate and spread. Drizzle extra virgin olive oil. Arrange Garnish with lemon zest, parsley, red onions, olives, a sprinkle of feta. Serve with crusty bread or pita bread.
Notes
To bake the eggplant instead, pierce the eggplant with a fork in a few places and place it on a baking sheet. Bake in a 400 degree F heated-oven for about 1 hour or until the skin is charred and the eggplant is quite tender (you should still turn it around every so often using some tongs).
For a smoother eggplant dip, you can use a food processor to blitz the eggplant together with the rest of the ingredients. Don't overdo it though or you'll end up with a watery mess. I much prefer mixing everything by hand in a mixing bowl as listed in the recipe.
Leftovers & storage: place any remaining dip in a tight-lid glass container and refrigerate for up to 2 nights (just remember, as the flavors meld overnight, the eggplant dip will turn more garlicy).
Visit our shop to browse quality Mediterranean ingredients including extra virgin olive oils and spices used in this recipe.
Nutrition
Calories:
129.8
kcal
Carbohydrates:
12
g
Protein:
2.1
g
Fat:
9.5
g
Saturated Fat:
1.3
g
Polyunsaturated Fat:
1.1
g
Monounsaturated Fat:
6.6
g
Sodium:
106.6
mg
Potassium:
441.6
mg
Fiber:
5.5
g
Sugar:
6.1
g
Vitamin A:
883.7
IU
Vitamin C:
26.7
mg
Calcium:
35.9
mg
Iron:
1.3
mg