Do something different on burger night...go Greek! These Greek lamb burgers are juicy, flavorful and super easy to make. The secret is in the meat mixture, combining aromatics with spices like oregano, earthy cumin, and paprika, plus a generous dose of fresh mint and parsley. Unexpected, yet super homey and familiar! You'll love every bite! Be sure to grab my tips below. And if you want to turn this simple dinner into an epic Mediterranean picnic, I've got all sorts of sides and salad ideas at the bottom of this post.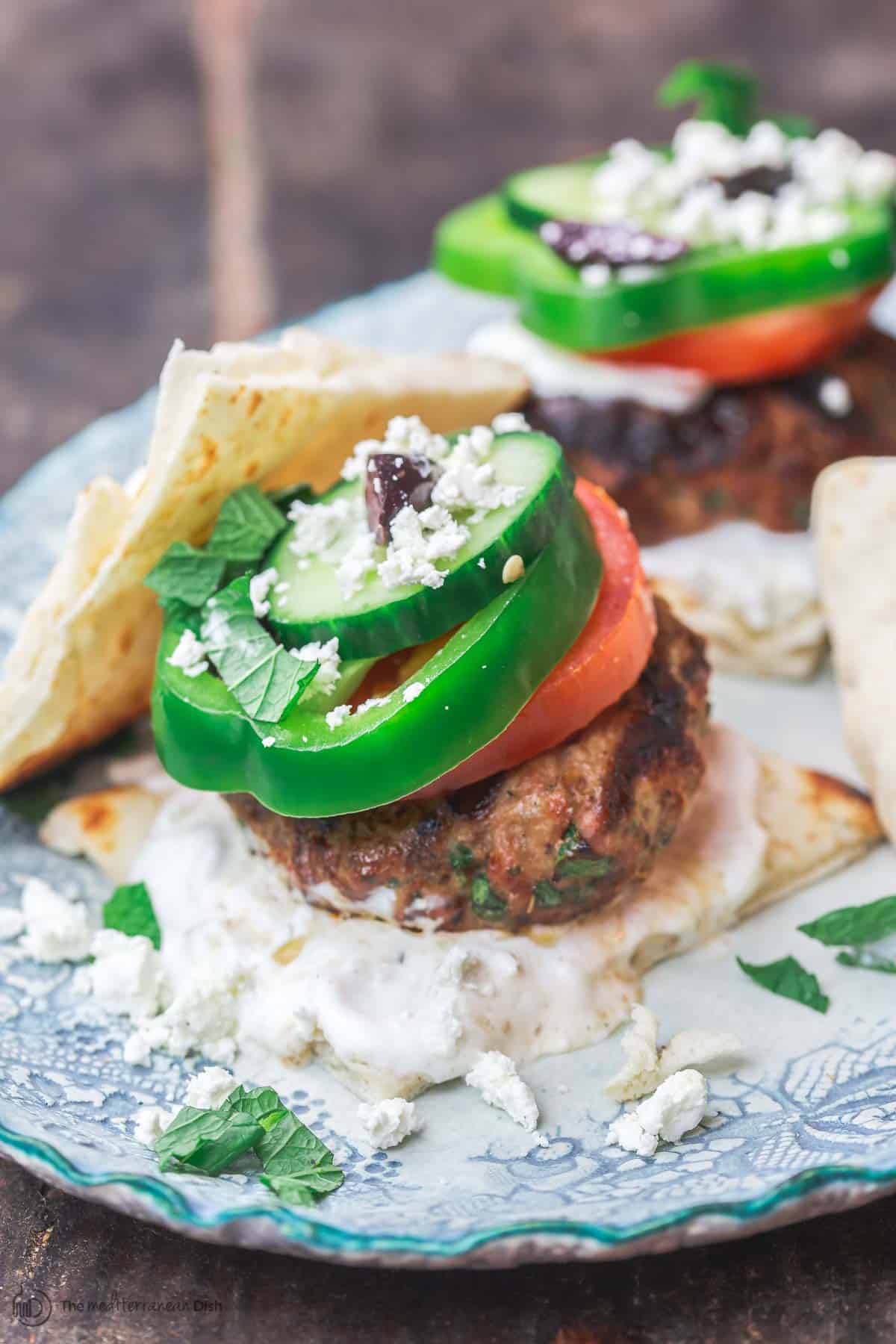 Ground meat is generally underrated in the gourmet dinner category, but ask any Greek yiayia about it, and you'll get a list of tasty dinners from lemony keftedes, to Soutzokakia (saucy baked meatballs), and beautiful baked gemista stuffed tomatoes.
But today's Greek creation is a take on something homey and familiar: burgers. This lamb burger recipe is something almost anyone can make, but the flavorful Greek twist takes it to another level of addictive! It may just become a regular on your dinner rotation.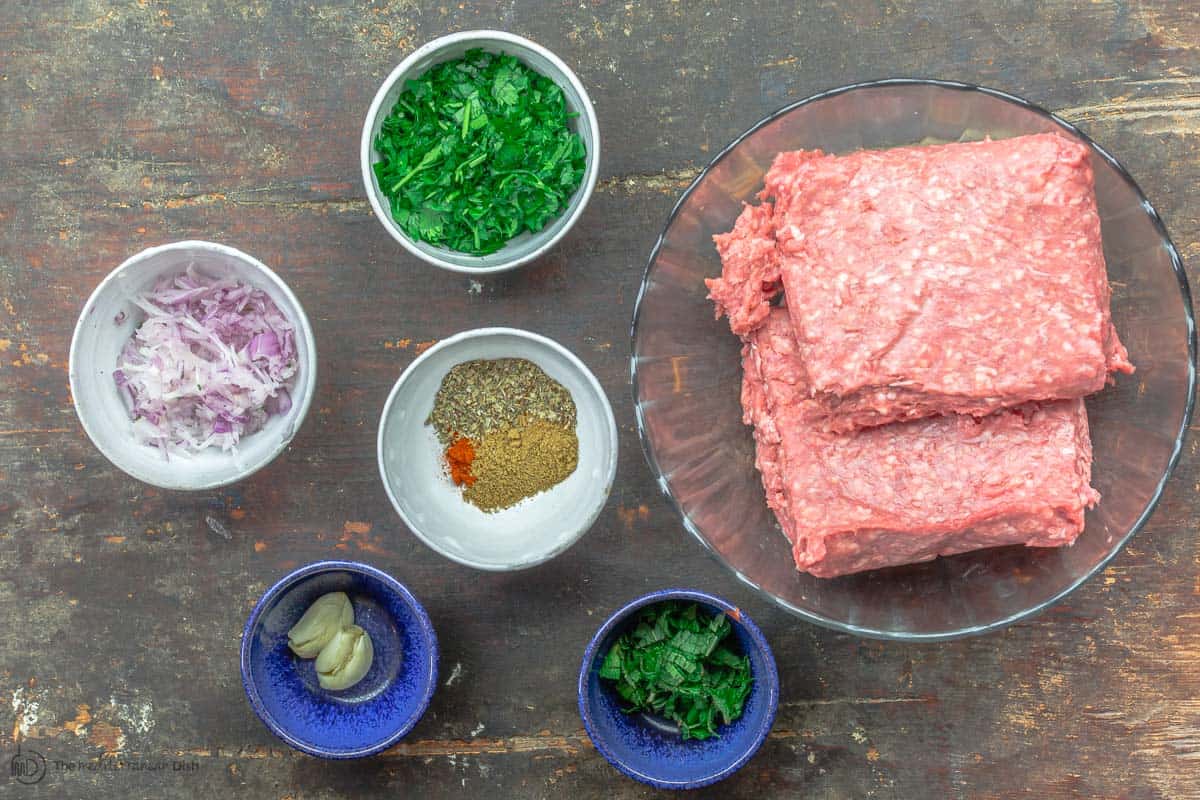 How to Make a Mean Lamb Burger, Greek-style?
Known as Biftekia, Greek burgers are typically made of a flavor-packed mixture of ground meat, aromatics, spices, and fresh herbs.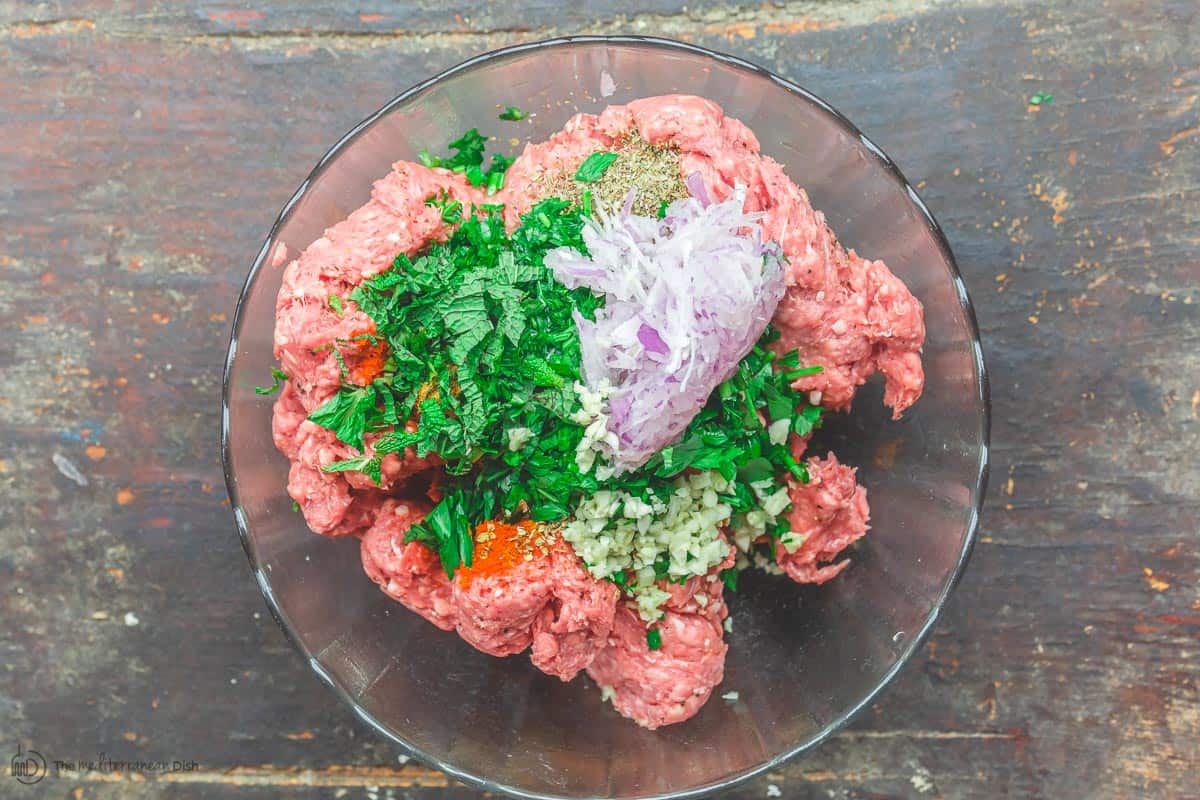 Obviously, the base of our Greek lamb burgers here is lamb, but you can use a combination of lamb and beef (equal amounts), or you can also use beef or beef and pork. From there, we build our meat mixture with bold tantalizing flavors starting with grated onions, minced garlic, and a healthy dose of fresh mint and parsley. (Mmmm nothing like a minted Greek burger!)
And for the spices, dried oregano, combined with earthy cumin, and paprika. If you like to add a bit of spicy kick, then include a little cayenne pepper in the mix.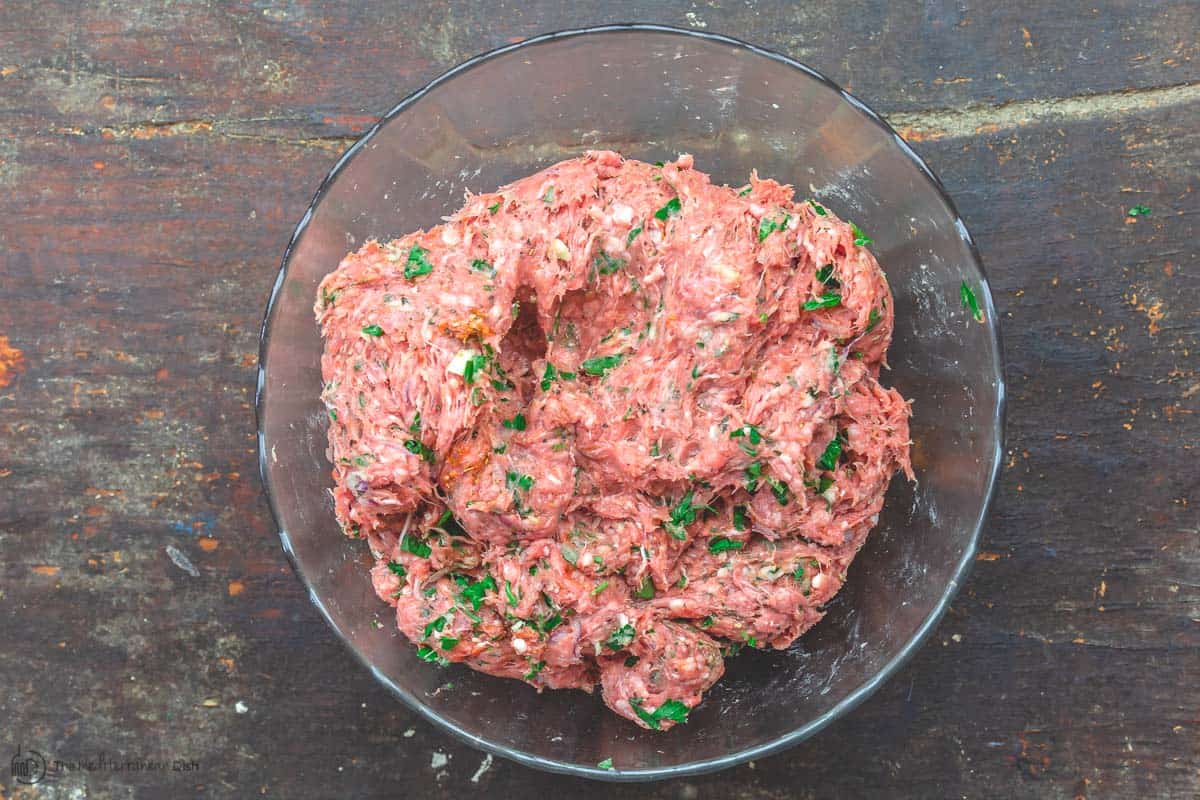 Once everything is in your mixing bowl, the key is to work the meat mixture well enough until everything is fully combined (but don't overwork the meat). Then we form some mean, flavor-bomb patties to throw on the grill until cooked to desired doneness.
3 Tips for Perfectly Grilled Burgers
My husband is the grill master in the family, he has a dozen tips for grilling the perfect burger, but these three are essential...
1) You'll see in the pictures that we have a little dent in the middle of our lamb burger patties. As all grill masters know, the meat will contract and kinda swell right in the center. The little thumb print dent in the middle helps the burger patties keep their flat shape and cook more evenly.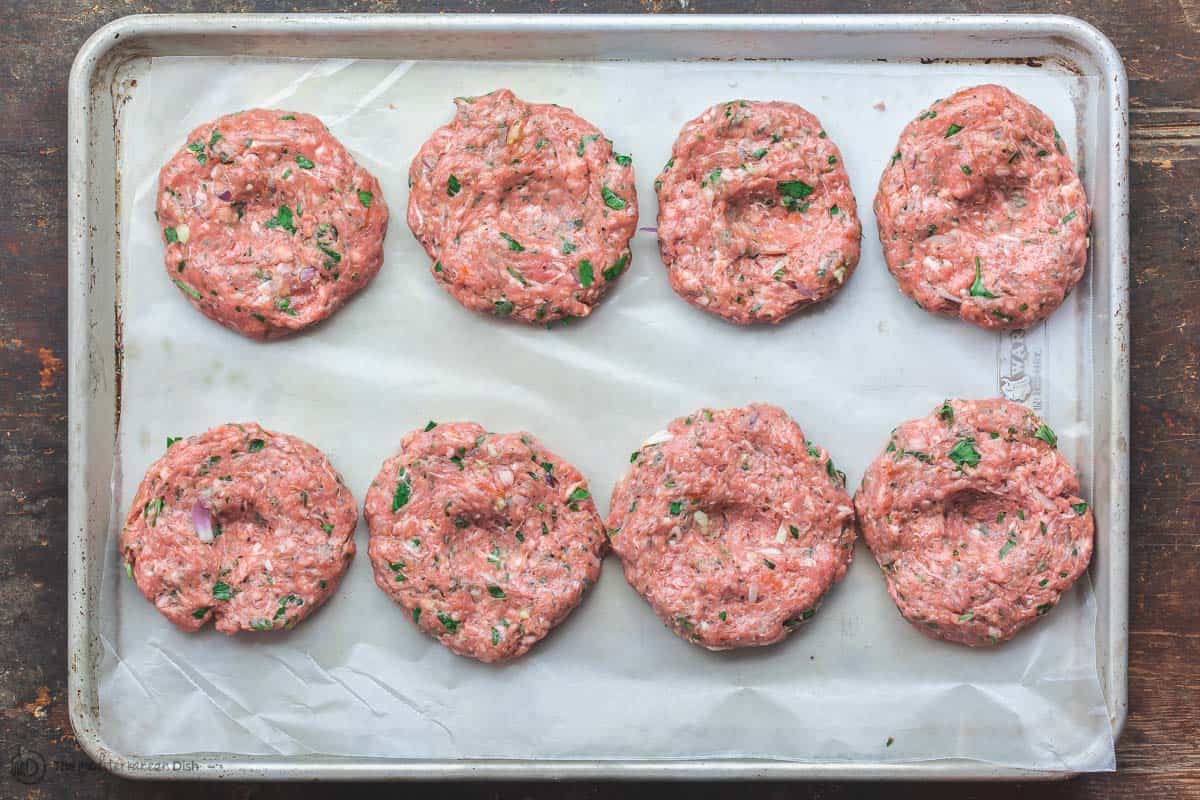 2) Keep the lamb burger patties chilled while the grill is heating. This helps the meat stay together and keeps the burgers nice and juicy.
3) Do not fuss with the burgers too much. Just as you do with any burgers, do not keep pressing on the burger as it cooks, and only flip once as instructed. The more fussing you do, the tougher the burgers. (If grilling outdoors is not feasible, you can cook these lamb burgers right in a hot, oiled cast iron skillet. 4 to 5 minutes on each side or so, flipping once.)
How to serve Greek Lamb Burgers?
For burger night at my house, I like to put together a little buffet of Greek items and toppings that everyone can use to assemble their lamb burgers. The usual suspects include:
Pita--Okay, so I'll say we use pita here in place of buns, not because buns are evil, but to keep in line with the Greek theme. But, I have also found that thin pita bread allows the lamb burgers to truly shine, rather than being buried between too thick slices of bread. Granted, these are messier to eat than your typical bunned burger. Use whatever bread you like, though.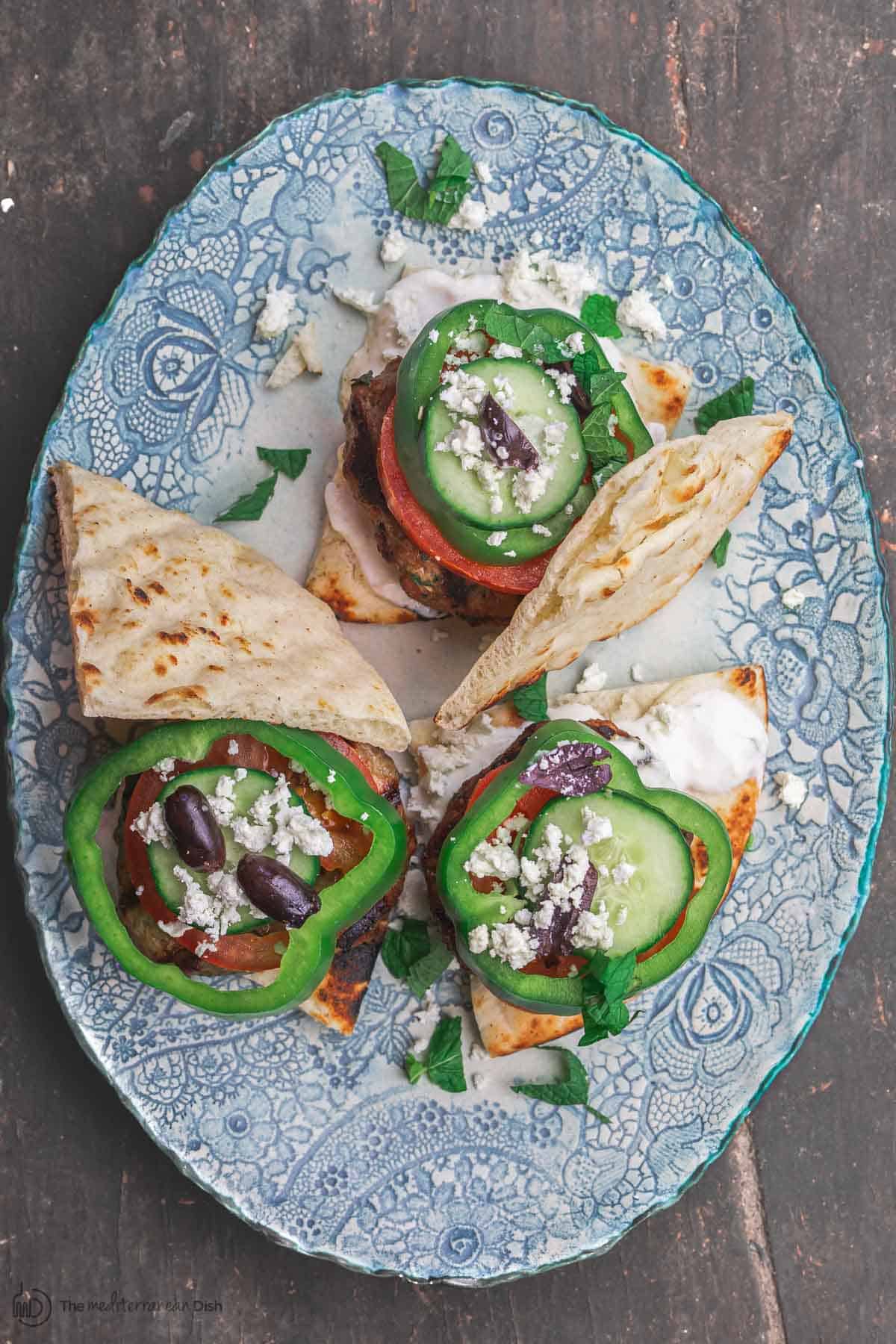 Fresh garden veggies--tomatoes, cucumbers, red onions, and green peppers. Arugula can be great to add as well, if you like a little peppery touch.
Tztaziki Sauce--for me, Mediterranean-style burgers like these lamb burgers or salmon burgers make so much more sense with a nice drizzle of tztaziki sauce rather than your typical ketchup. Homemade tzatziki sauce is super easy to make, find my recipe and tutorial here.
More Greek Favorites--if you're into kalamata olives and feta cheese, then add a sprinkle on your lamb burgers. In fact, some biftekia Greek burger recipes like call for stuffing the patties with large pieces of feta cheese. I felt that would be too much for my taste, but a little sprinkle of salty feta on top is just right.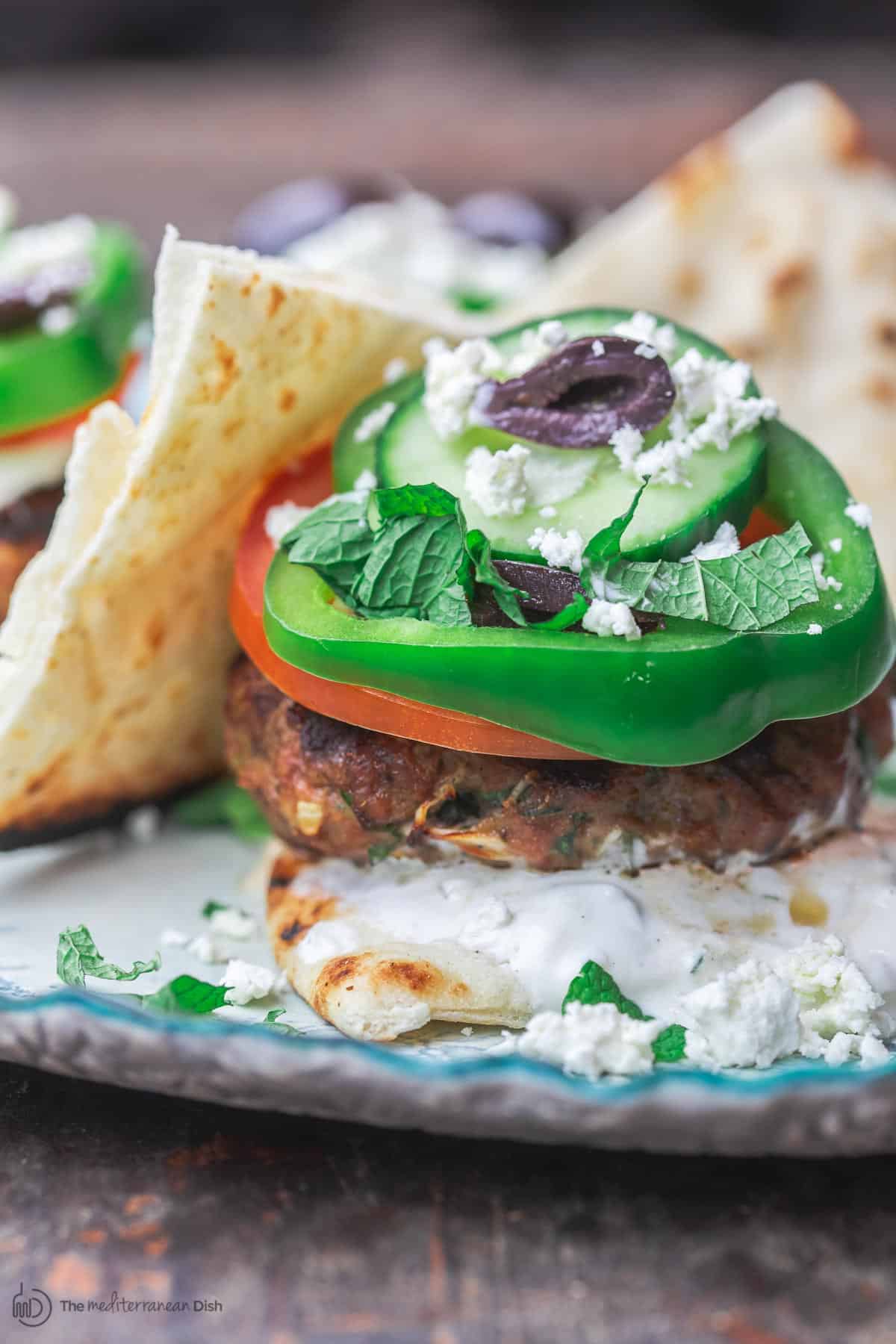 Sides and Salads to go with this Lamb Burger Recipe
These loaded lamb burgers don't require a whole lot else to serve along, but if you're looking to turn this simple meal to an epic Mediterranean-style BBQ, here are a few ideas for sides and salads:
Salads-- Traditional Greek Salad; Balela; Mediterranean Watermelon Salad; Mediterranean avocado salad
Dips and Salsas--aside from Tztaziki, you can add a side of Melitzanosalata, or roasted red pepper hummus
Sides-- Mediterranean-style mustard potato salad; Mediterranean grilled vegetables; roasted vegetable barley; Greek green beans with olives and feta
SHOP OUR ONLINE STORE FOR QUALITY OLIVE OILS, ALL-NATURAL SPICES AND MORE.
Print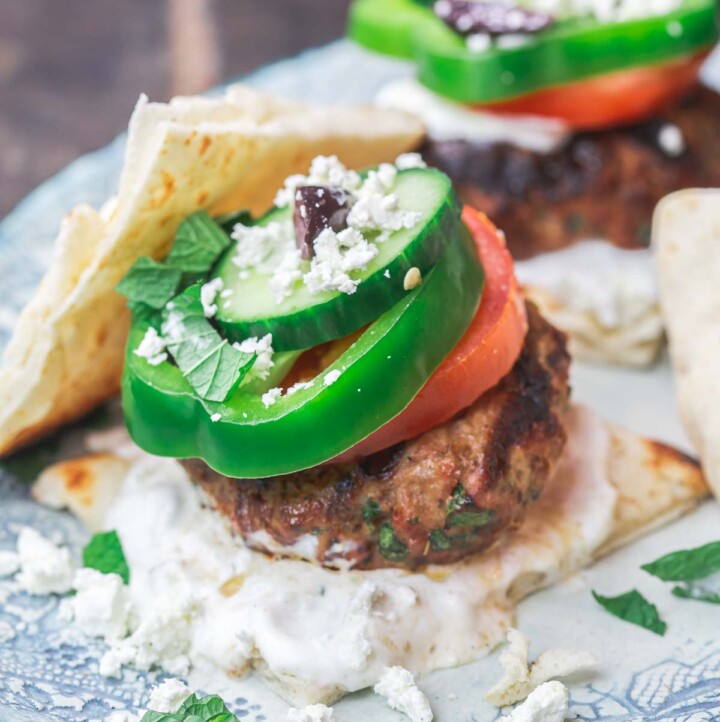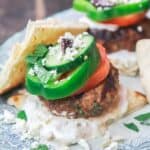 Greek Lamb Burgers
---
Description
Do something different on burger night...go Greek! These Greek lamb burgers are juicy, flavorful and super easy to make. The secret is in the meat mixture, combining aromatics with spices like oregano, earthy cumin, and paprika, plus a generous does of fresh mint and parsley. Unexpected, yet super homey and familiar! Looking for sides and salads to serve along? Check the post above.
---
2

lb ground lamb Or a combination of lamb and beef (see cook's tip #1)

1

small red onion, grated

2

garlic cloves, minced

1 cup

chopped fresh parsley

10

mint leaves, chopped

2 ½ tsp

dry oregano

2 tsp

ground cumin

½ tsp

paprika

½ tsp

cayenne pepper, optional
Kosher salt and black pepper
Extra virgin olive oil (I used Private Reserve Greek extra virgin olive oil)
To Serve:
Warm Greek pita bread or buns
Sliced tomatoes
Sliced Green bell pepper
Sliced cucumbers
Sliced red onions
Pitted Kalamata olives, sliced
Crumbled feta
---
Instructions
Heat an outdoor gas grill or an indoor griddle to medium (if working with an indoor griddle or skillet, you can just heat it once you prepare the meat mixture).
Add the ground lamb (or mix of lamb and beef) to a mixing bowl. Add grated onions, garlic, fresh herbs, oregano, cumin, paprika and cayenne. Season with kosher salt and pepper. Add a generous drizzle of extra virgin olive oil, and mix until everything is well combined.
Divide the meat mixture into 8 equal balls. Using both hands, work meat into smooth spheres, then lightly press to form into patties. Arrange the patties on a large tray or dish, and with the tip of your thumb, press lightly to form a shallow, somewhat wide, depression into the center of each patty. (see cook's tip #2 below) Cover and refrigerate, if you have the time.
Lightly oil the grill grates (or indoor griddle) and arrange the burger patties on top. Grill over medium heat, covered, for 3 to 5 minutes on each side, turning once midway through cooking (internal temperature for a medium burger should register 160 degrees F. Adjust cooking time according to your desired doneness.)
Allow the lamb burgers to rest for 5 to 10 minutes before serving. Serve in pita pockets (or buns), with tztaziki sauce, tomatoes, cucumbers, peppers, onions. If you like add kalamata olives and a sprinkle of feta.
Notes
Cook's Tip #1: You can use a mixture of l lb ground lamb and 1 lb ground beef, if you are not sure about an all-lamb burger. And you can certainly make these with beef instead if that is your strong preference.
Cook's Tip #2: The meat will contract and push up in the center as the patties cook; making a little depressing in the middle of each patty helps to keep the burgers hold their flat shape and cook evenly.
Cook's Tip 3#: You can cut this recipe in ½ to serve 4 people or less. You can also double or triple it to serve more people.
Skillet Cooking Instructions: If you want to cook these lamb burgers indoors on skillet. Heat an oiled cast iron skillet. Cook on one side over medium-high heat until browned (about 5 minutes), then turn over and cook on the other side until browned, another 5 to 6 minutes or to your desired doneness.
Visit our Online Store to check out our Greek extra virgin olive oils and our all-natural and organic spices for Mediterranean cooking!
Prep Time:

20 mins

Cook Time:

10 mins

Category:

Entree

Method:

Grilled

Cuisine:

Greek
Keywords: Lamb Burgers, Greek Burgers, Lamb Burger Recipe