Crispy on the outside, tender on the inside oven fries. These Greek fries are baked in extra virgin olive oil and finished with flavors like garlic, oregano and feta. Add a side of homemade Tzatziki for dipping!
Read through for some important tips!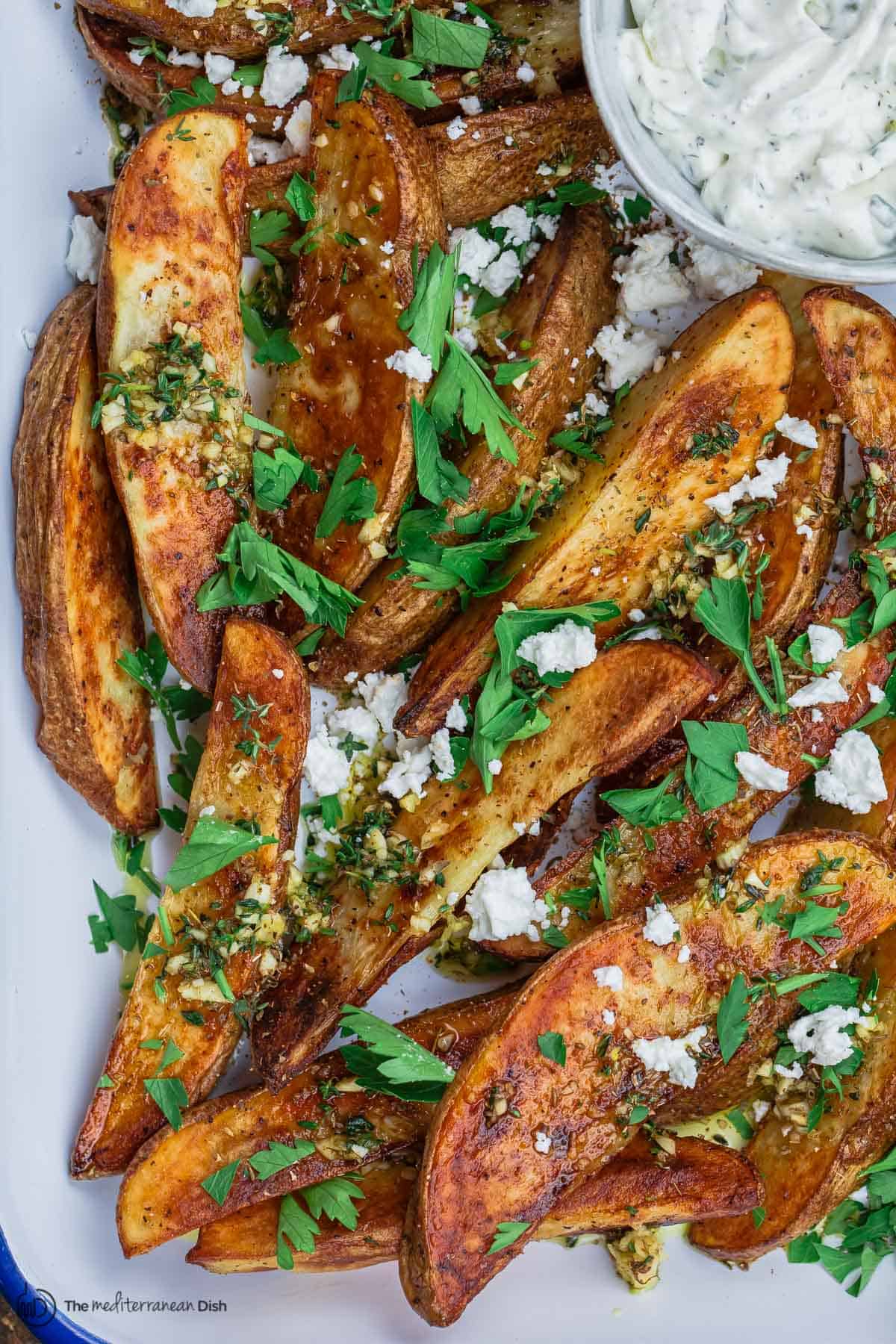 Patates Tiganites are the Greek version of fries. They're not thin like the French fries you'd get at an American restaurant. They're hand-cut potatoes (thicker sticks) typically fried in about 3 inches or so of extra virgin olive oil.
Mom-and-pop Greek restaurants will serve these olive oil fried potatoes on a platter as an appetizer for sharing or even in your gyro wrap! And at home, they might be served as a snack, side, or as part of a small meal next to Greek salad and eggs! Or, serve them alongside salmon burgers for a Mediterranean-style twist on the classic burger and fries.
Baked Greek Fries
This recipe is obviously not the traditional patates tiganites, but these oven fries take on some of the same characteristics.
Crispy potato wedges, tossed in extra virgin olive oil and baked until golden and crispy on the outside and tender on the inside.
Amp up the flavor!
These simple potato wedges are delicious without much else or with a little bit of crumbled feta and a side of homemade tzatziki sauce for dipping.
But if you want to take things a couple notches up, drizzle the hot Greek fries with a special sauce of extra virgin olive oil, oregano, fresh thyme, garlic, and a pinch of cayenne. So good!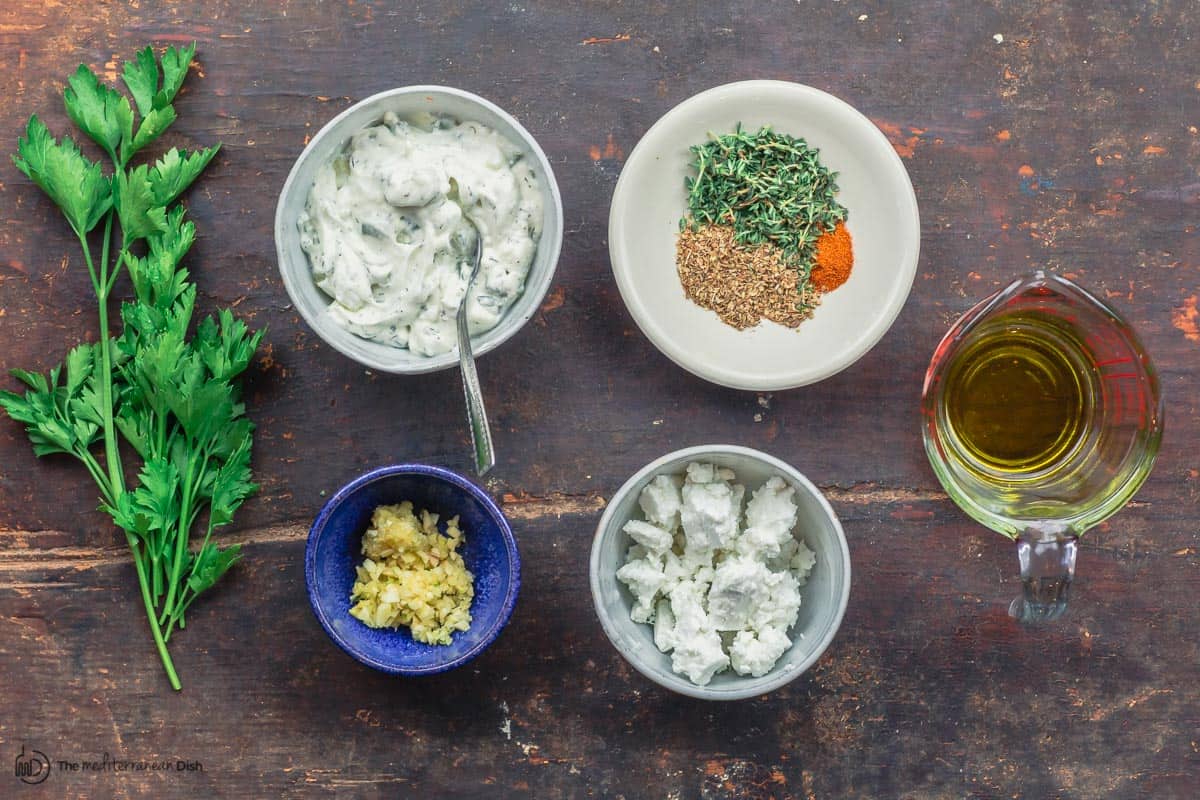 Tips for Crispy Oven Fries
Cut into wedges that are even in size. In order for the baked potato wedges to give you the best results, try to have them all be similar in size (thinner wedges will do better for you, but not too thin).
Soak the potato wedges in hot water for 10 minutes. Don't skip this part! Soaking the potatoes in hot water will get rid of the starch which helps keep them from sticking to the pan AND helps them become nice and crispy on the outside.
Arrange the potatoes in one layer on your an oiled sheet pan. All the fries need to be touching the pan surface while baking, so be sure you have a large enough sheet pan (or use two) in order to spread them all nicely. Should you use parchment paper? Personally, I think these Greek fries benefit from touching the pan directly, but if you must, you can use parchment paper.
Flavor the Greek fries immediately while they're hot! As soon as you take them out of the oven and transfer them to a serving dish, immediately hit them up with your garlic-herb sauce. This will give you best flavor.
Serve immediately! Fries are best when they're nice and hot.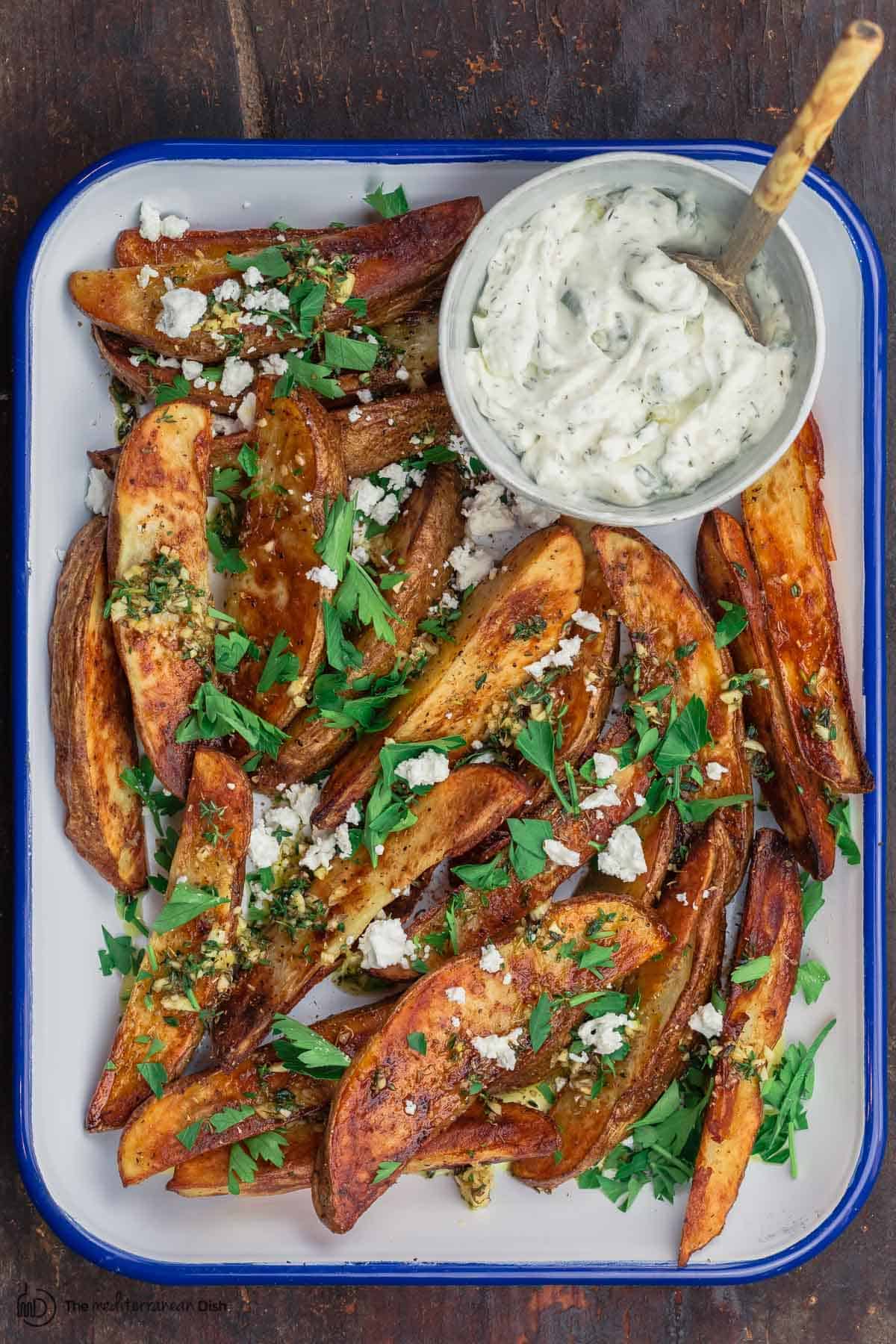 Serve them with
I made these the other day and the family loved them with honey mustard salmon. But if you ask me, these Greek fries are perfect next to Greek wings; grilled fish; or chicken kofta. Heck, they're great for a fish-n-chips dinner with these salmon fish sticks!
More potato recipes to try:
You may also enjoy 50+ Top Mediterranean diet recipes. For all recipes, visit us here. JOIN MY FREE E-MAIL LIST HERE.
Greek Oven Fries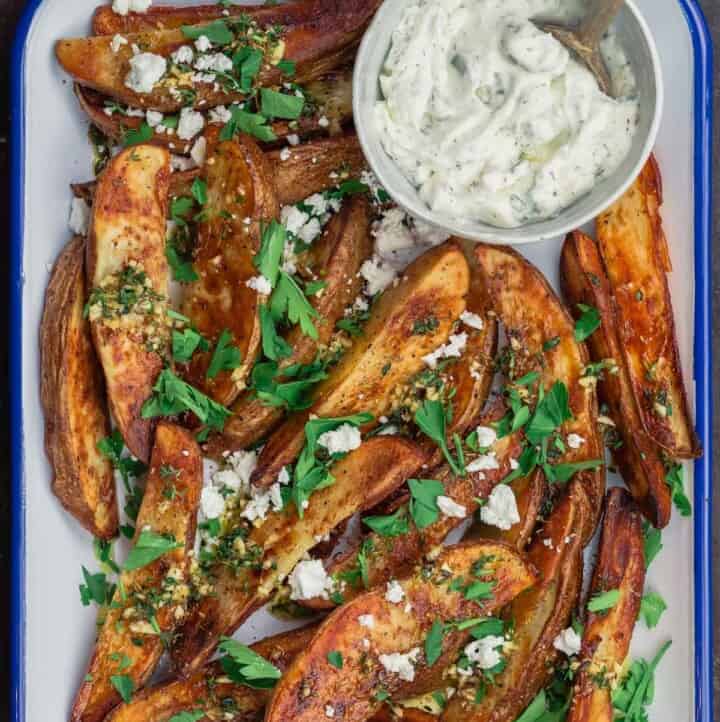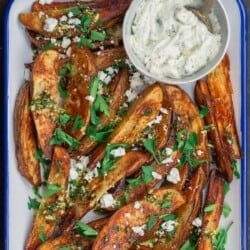 Easy oven baked fries with olive oil, finished with garlic and fresh herbs. Great served with Tzatziki sauce.
Ingredients
3

large russet potatoes

scrubbed clean and cut into wedges ( 6 to 8 wedges per potato)

Salt and black pepper

Extra virgin olive oil I used Private Reserve Greek EVOO

3 to 4

garlic cloves

minced

1

tablespoon

fresh thyme leaves

1

teaspoon

dry oregano

½

teaspoon

cayenne pepper

optional

Crumbled feta cheese

to your liking

Fresh parsley

a handful to your liking

Tzatziki sauce

Use Homemade Tzatziki Sauce Recipe
Instructions
Heat the oven to 400 degrees F.

Place the potato wedges in a large bowl and cover with hot water for 10 minutes. Drain and spread the wedges on a large, clean towel and pat very dry. Dry the large bowl to use again.

Return the potato wedges back to the dry bowl. Season generously with Kosher salt and black pepper. Drizzle about 3 tablespoons of extra virgin olive oil. Toss to combine, making sure all the potatoes are well-coated.

Arrange the potatoes in a single layer on a large, lightly oiled sheet pan (non-stick if possible). If you don't have a sheet pan that is large enough, use two pans.

Bake for 35 to 45 minutes, turning the potato wedges over after the first 20 minutes of baking. When the potatoes are crisp on the outside and tender on the inside, they are ready. Remove from the oven and carefully arrange the potatoes on a serving dish.

If using tzatziki sauce for dipping, prepare it according to this recipe, while the potatoes are baking.
Notes
Cook's Tip: Do not skip soaking the potato wedges in hot water, this helps get rid of the starch so that they potatoes don't stick to the pan. Still, lightly oil your pan for extra measure.
Cook's Tip: If you like your oven fries spicy, coat them with a bit more cayenne pepper before baking.
Storage: leftovers can be stored in the fridge in a tight-lid container for 3 to 4 days. You can warm them up in a medium-heated oven or enjoy them at room temperature.
Nutrition information does not include Tzatziki sauce, you can find that here.
Visit our Online Shop to browse quality Mediterranean ingredients including extra virgin olive oils and all-natural and organic spices and more.
Nutrition
Calories:
132
kcal
Carbohydrates:
30.2
g
Protein:
3.7
g
Fat:
0.2
g
Saturated Fat:
0.1
g
Potassium:
685.8
mg
Fiber:
2.3
g
Vitamin A:
176.8
IU
Vitamin C:
12.6
mg
Calcium:
31.9
mg
Iron:
1.7
mg