Easy baked sweet potato fries made the Mediterranean way!  Sweet potato wedges tossed in olive oil and covered in za'atar spice, paprika, cayenne. Baked to perfection! Vegan. Gluten Free.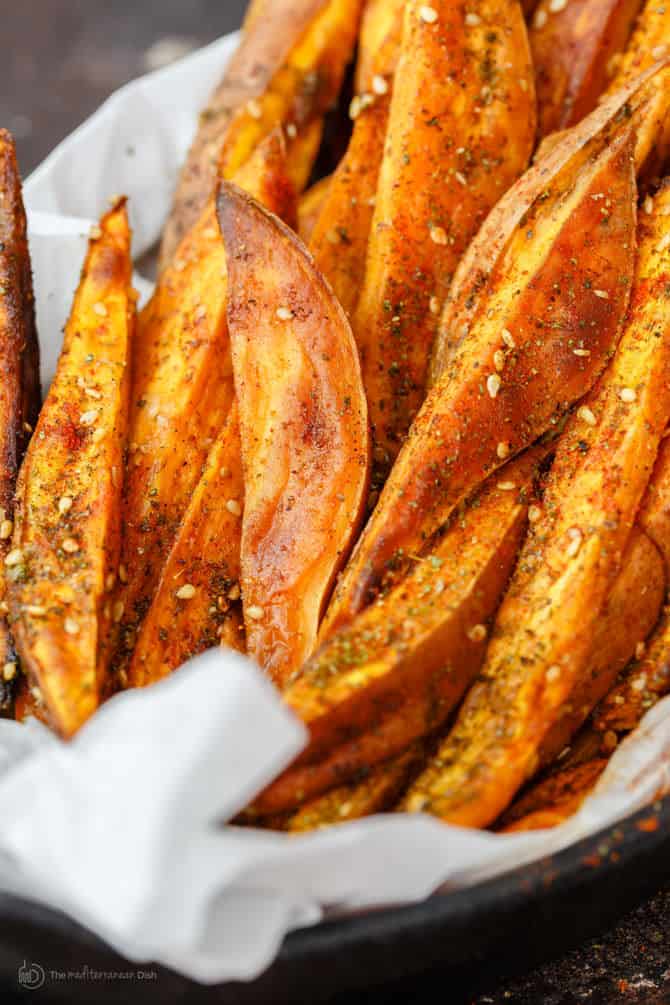 Lately, indulgences have most often presented themselves in the form of a simple basket of sweet potato fries.
But as the name of the recipe demands, these here are baked sweet potato fries. The kind you can indulge in without being too caloric-ally indebted.
VIDEO TUTORIALS
I like to cut the sweet potatoes in wedges or thick batons, they're just that much more hearty. Besides, I can bake them a little bit longer for more crisp! Then I simply toss the sweet potato wedges in some olive oil with a pinch of salt and a generous embellishment of sweet paprika and za'tar (pronounced Zah-tahr). Add cayenne, if you like an extra kick.
Za'atar is a  Middle Eastern spice of mainly wild thyme and sesame seeds. And in my opinion, there are so few dishes that could not be improved with a dash of za'atar.
Here, it's earthy, slightly tangy flavor is a great contrast to the soft, mellowed sweetness of the sweet potatoes. I make sure to sprinkle some more za'atar to encrust the sweet potato fries as they come out of the oven!
Comfort at its best!
And so help you if you choose to serve these flavor-packed sweet potato fries with a side of homemade tahini sauce at your next game day party! You'll have a problem getting rid of the guests!
Print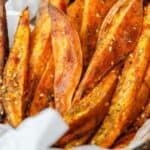 Baked Sweet Potato Fries with Za'atar and Tahini
---
Author:

Prep Time:

10 mins

Cook Time:

40 mins

Total Time:

50 minutes

Yield:

4-6
Ingredients
1 Tahini sauce per this recipe
3 medium sweet potatoes, scrubbed clean and cut into wedges or thick battons (1/2 inch thick or so)
Salt
2 tsp za'atar spice, more for later
1 1/2 tsp sweet paprika, more for later
1 tsp cayenne pepper, more for later (optional)
Olive oil
---
Instructions
Preheat the oven to 425 degrees F.
Make the tahini sauce according to recipe. Cover and refrigerate for now.
Toss the sweet potato wedges in a large baking sheet with a pinch of salt, the paprika , cayenne (if using), za'atar, and 2-3 tbsp olive oil.
Bake in the hot oven for 40-45 minutes, or until cooked through. Sprinkle with more of the za'atar and spices to your liking. Serve hot with the tahini sauce. Enjoy!
More Recipes to Try
Mediterranean Chickpea Salad with Za'atar and Fried Eggplant
Za'atar Roasted Chicken Breast
Recommended for this Recipe: Large baking sheet; Za'atar Spice