Simple pan fried halloumi in olive oil makes a great appetizer in 5 minutes or less! Expert tips for how to cook halloumi perfectly, and how to serve it for a fun and elevated appetizer!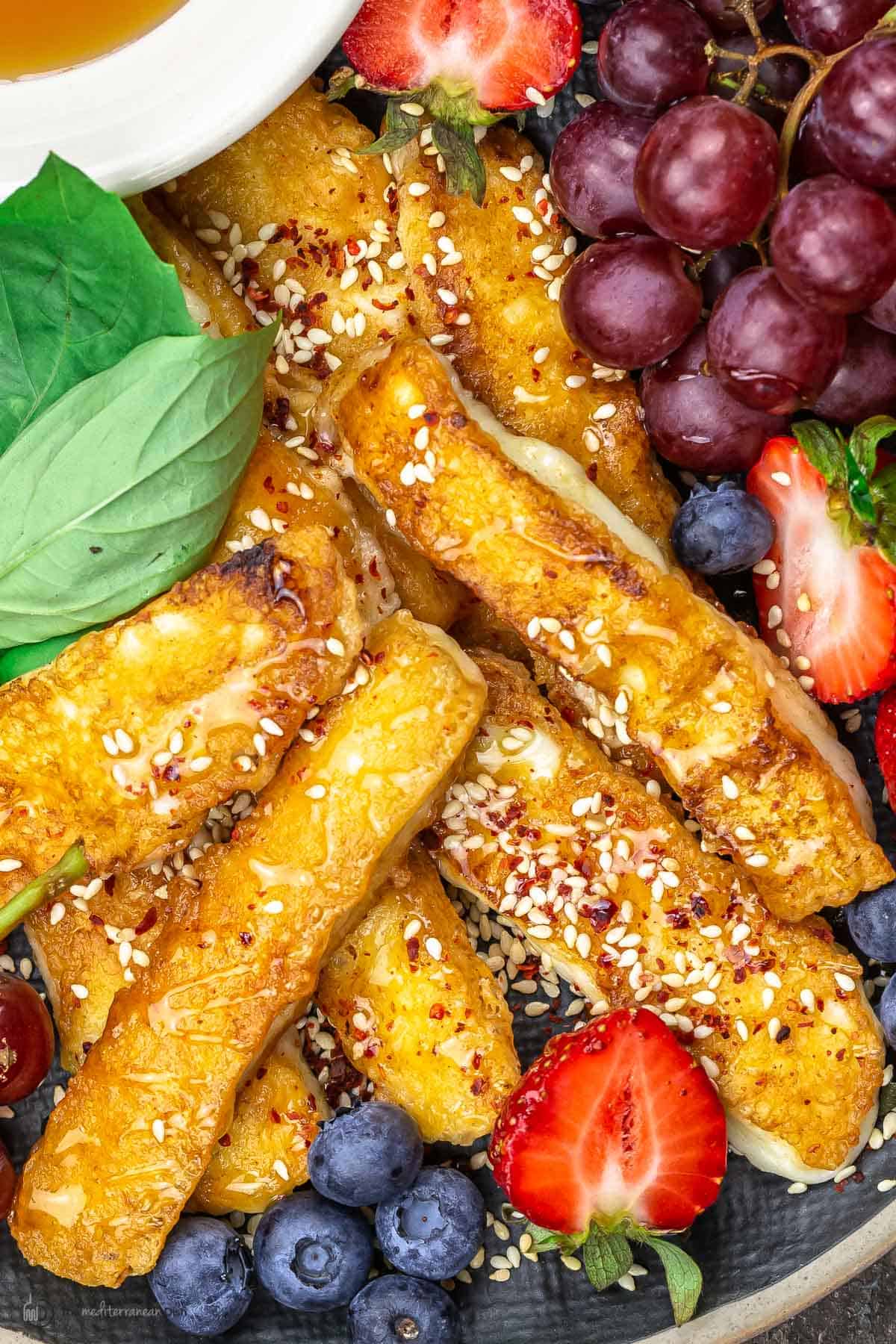 What is halloumi?
Halloumi is a white, semi-hard, salty cheese, traditionally made from goat or sheep's milk or a combination of both. When eaten raw, halloumi, an unripened cheese, has a bit of rubbery, squeaky texture. But because of its high melting point, it is the perfect cheese for grilling or frying. And with a little bit of heat, halloumi becomes soft and savory--an indulgent treat everyone should try at least once in their life!
Halloumi comes from the Mediterranean island of Cyprus, and it is popular in parts of the Eastern Mediterranean and the Middle East where, like labneh or baked feta, it is often served as mezze or as part of a savory Mediterranean breakfast.
How to cook halloumi
Halloumi can take heat, so it is a versatile cheese that can be cooked in different ways, including baked, grilled, or fried. Each method is fairly easy to follow:
Baked Halloumi. To bake it, put your block or thick slabs or slices of cheese in a baking dish. Drizzle with olive oil and your favorite herbs, if desired, and bake for 10 to 15 minutes in a medium-heated oven until soft. You might even stick it under the broiler briefly for extra crispy exterior.
Grilled Halloumi. Cut the block of halloumi into cubes, then thread them on a skewer. Brush with olive oil and herbs, if desired, and grill over medium high heat for 5 to 10 minutes, turning frequently. Personally, I like grilled halloumi skewers next to vegetable kabobs for a fun side dish.
Fried Halloumi. This is the quickest method and, when done right, yields amazing results in 5 minutes or less. You can fry halloumi in a nonstick pan with nothing else added, we call this "dry fry." Or, my preferred method, pan fry halloumi sticks or slices in a bit of good olive oil over medium to medium-high heat. This is the method I followed with today's halloumi fries, and I'll walk you through this idea some more below...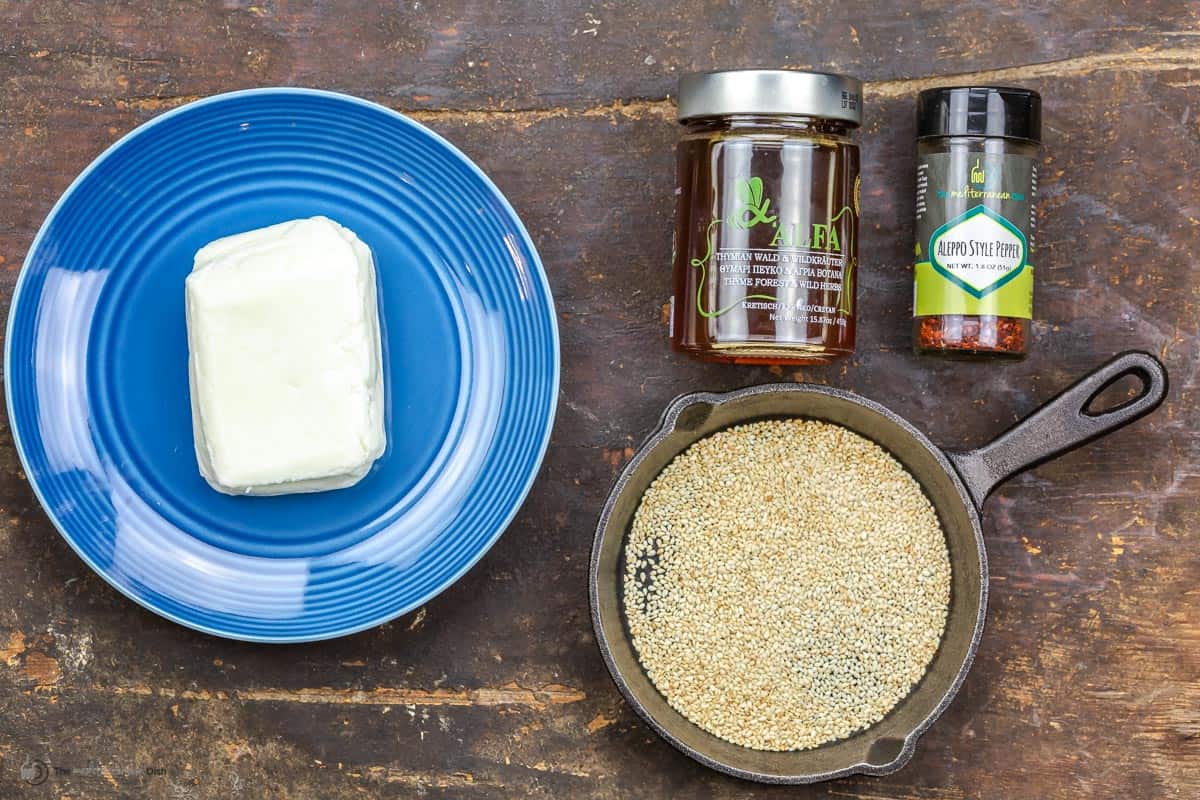 Sweet and salty halloumi fries!
In today's recipe, I simply sliced my block of sturdy cheese into thick sticks or "fries," which are cooked briefly in extra virgin olive oil and finished with warmed honey and sesame seeds. You'll end up with the perfect sweet and salty snack in less than 5 minutes! Great as is or with fruit.
Think of these halloumi fries as a bit of a Mediterranean twist on mozzarella sticks! But unlike other recipes, this method does not require panko or the use of any batter. Appropriately heated olive oil is all you need to help the cheese crisp on outside, creating a beautiful golden crust while also imparting flavor.
What you'll need to make this recipe
Like another one of my favorite quick appetizers, baked brie, these halloumi fries are made with just a few very simple ingredients! And really, beyond the cheese and the olive oil, the rest is optional. Here is what I use:
Extra virgin olive oil - Though you can dry fry halloumi, I prefer cooking it in olive oil. For this recipe, I like to use an olive oil with a rich, robust flavor and a peppery finish like our Spanish Hojiblanca EVOO or Greek Early Harvest EVOO--something that will stand up to the saltiness of the cheese and elevate its flavor.
Halloumi Cheese - If you can't find it in the fridge section of your grocery store (near feta and mozzarella), you can find it online here. Cut the brick of sturdy cheese into ½-inch wide sticks.
Honey - Honey is drizzled over the halloumi and used as a dip to enhance and balance the saltiness of the cheese. I love using this Greek honey when cooking.
Seasonings- toasted Sesame Seeds and Red pepper flakes - You can use your favorite variety of red pepper flakes. I personally like to use Aleppo pepper.
Optional: fruit of your choice to serve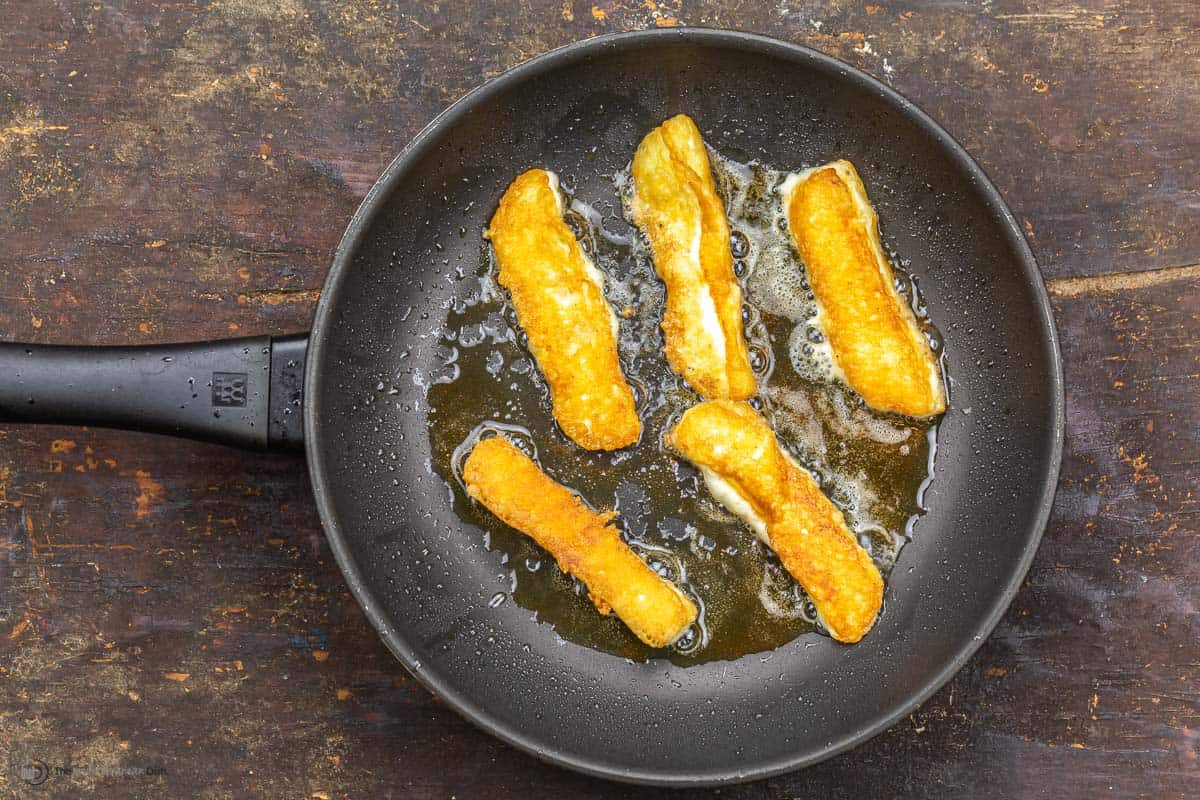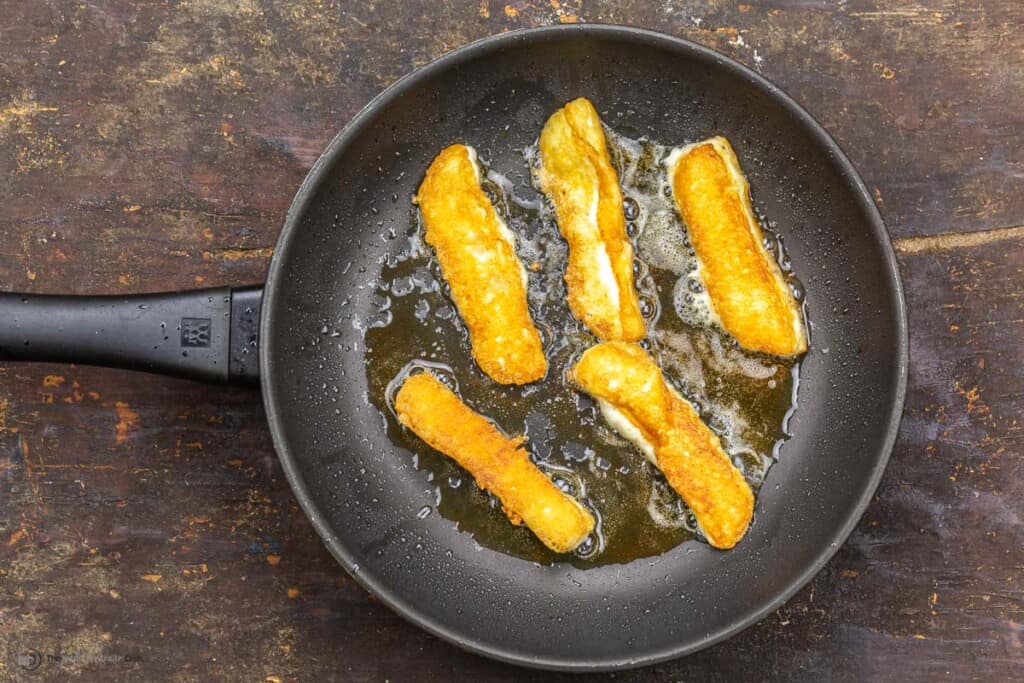 How to make fried halloumi
Like I mentioned earlier, even though you do not need oil to cook or fry halloumi, given its fat content, I do love fried halloumi in a little bit of extra virgin olive oil. I think good EVOO enhances the flavor and takes this cheese to a new level of delicious! I love the beautiful golden crust that forms on the surface of the cheese.
Pat Dry and Slice the halloumi brick into ½-wide sticks
Fry. Heat a little olive oil in a pan and arrange the halloumi sticks in one single layer. Cook on each side for 1 to 2 minute over medium-high heat, managing the heat down as needed, until all sides have crisped and turned a nice golden brown.
Garnish and Serve immediately! Once fried, you can drizzle a bit of warmed honey all over the cheese and serve immediately. I like to add sesame seeds and fruit next to the cheese to make a nice appetizer platter.
Important tips
Here are some things you should know before cooking halloumi for the first time:
Use a non-stick pan. This is especially important if you are frying the cheese in a dry pan without oil.
Make sure the oil is well warmed. If you do use some olive oil to fry halloumi, allow the oil to warm through until it is shimmering so that, as soon as the cheese hits the pan, it will crisp well on the outside.
Use a splatter guard. The cheese will sizzle as it cooks and the oil may splatter, so for your safety, I recommend using a splatter guard on the pan while cooking halloumi.
Serve as soon as possible. As halloumi cools, it becomes rubbery so it is essential to enjoy your halloumi fries while still warm and soft.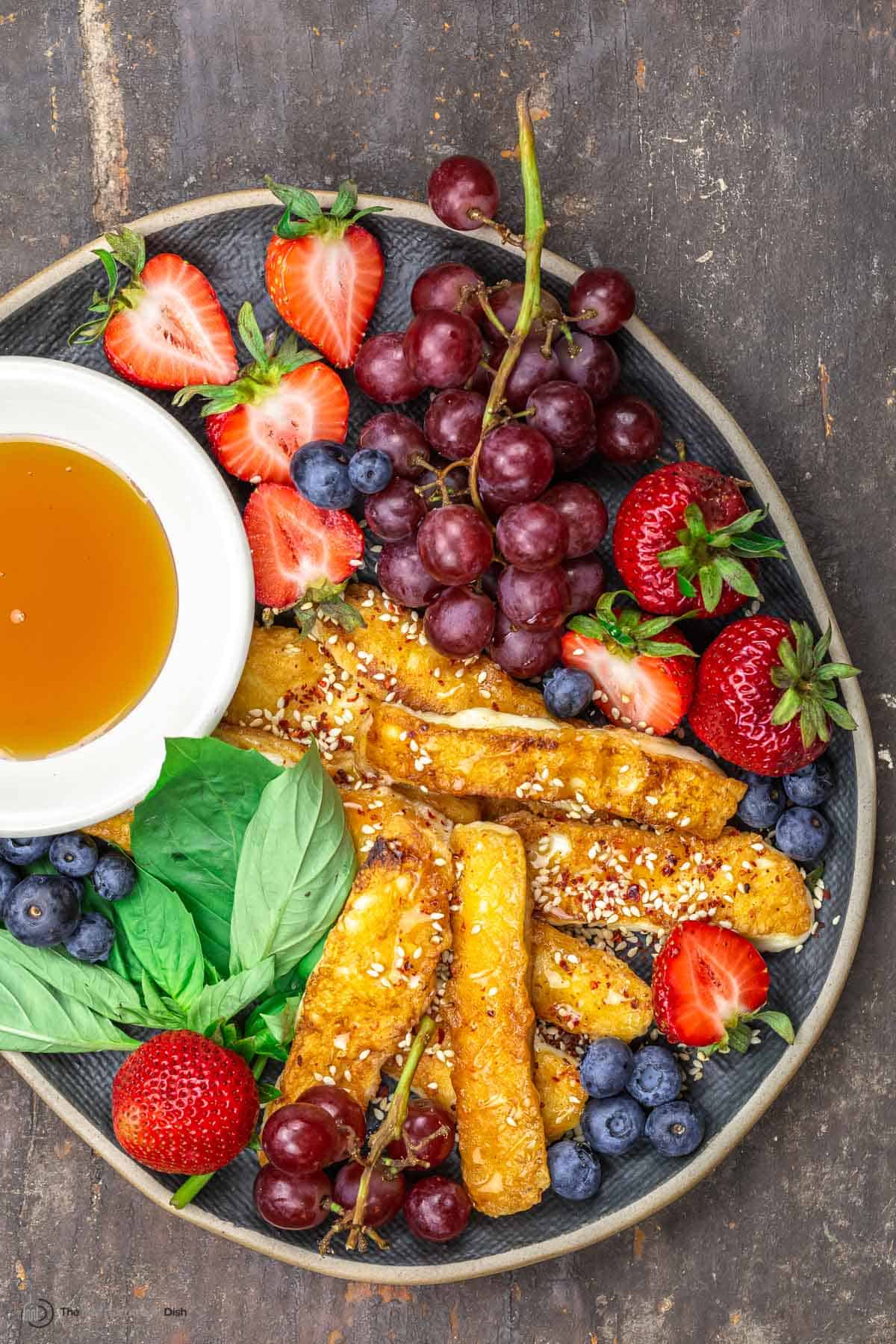 Ways to serve it
There are endless ways to serve this delicious cheese. You can serve it as is for a quick and indulgent appetizer or as part of your cheese plate or mezze platter. I am a fan of sweet and salty, so I'll always opt for a drizzle of honey on top of my halloumi fries and fresh fruit like grapes, berries, or figs next to it.
You can also serve fried halloumi as part of a delicious salad like my earlier roasted asparagus and tomato salad or Roasted Vegetable Salad.
And as I mentioned earlier, in parts of the Middle East, it is not uncommon to see fried halloumi as part of a savory breakfast or brunch--seasoned with za'atar, and served with warm pita and fresh vegetables or even a tangy tomato and cucumber salad next to it.
Leftovers?
Halloumi fries are best enjoyed immediately. Unfortunately, this is a recipe where you don't really want leftovers, as halloumi turns rubbery after it cools. Reheating it typically does not yield good results. If you do end up with leftovers, try chopping it up and adding it to a salad to enjoy cold.
You may also like these Mediterranean recipes:
Browse all Mediterranean recipes.
Visit Our Shop for quality Mediterranean ingredients.
Easy Fried Halloumi Recipe with Warmed Honey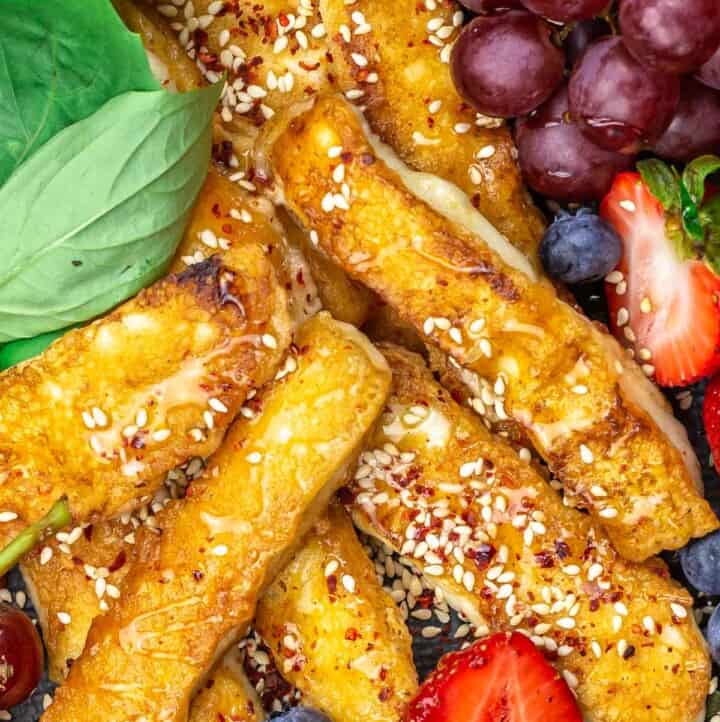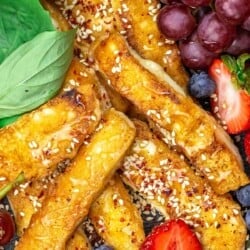 Pan fried halloumi in olive oil makes a great appetizer in 5 minutes or less! Serve halloumi fries, drizzled with warmed honey and toasted sesame seed for a sweet and salty combo! Add your fruit of choice to serve along (I like grapes, figs, or berries). More serving ideas below
Ingredients
8

ounces

Halloumi cheese,

pat dry and cut into ½-inch sticks

¼

cup

honey

2

tablespoons

toasted sesame seeds

crushed red pepper flakes

(I used Aleppo pepper)
Instructions
In a non-stick pan, heat 2 tablespoons extra virgin olive oil over medium-high heat.

When the oil is hot and shimmering, add the halloumi sticks in one single layer, making sure not to crowd the pan. Cook for 1 to 2 minute on one side, until a golden brown crust forms. Using a pair of tongs, turn over and cook for another 1 to 2 minutes watching for that beautiful crust to form.

Meanwhile, warm your honey either in a skillet or put your tightly-closed jar in warm water to help the honey loosen a bit.

Transfer the fried halloumi to a serving plate and sprinkle with sesame seeds and a dash of red chili flakes or Aleppo pepper. Drizzle with the warmed honey all over (serve unused honey in a small bowl to the side).

If you like, arrange some fruit such as grapes, figs, or berries on the same platter around the cheese. Serve immediately!
Nutrition
Calories:
178.8
kcal
Carbohydrates:
12.6
g
Protein:
8.8
g
Fat:
10.8
g
Saturated Fat:
6.6
g
Monounsaturated Fat:
-4.1
g
Sodium:
454.5
mg
Potassium:
19.8
mg
Fiber:
0.4
g
Sugar:
11.8
g
Vitamin A:
0.2
IU
Vitamin C:
0.1
mg
Calcium:
404.8
mg
Iron:
0.5
mg