Got 15 minutes? Make this show-stopping baked brie recipe with jam and nuts! Serve this warm, runny-centered brie cheese, loaded with beautiful toppings, and watch it disappear. One of the easiest appetizers you'll make. Add your favorite crackers, or make it the centerpiece of an amazing cheese board!
Be sure to read on for important tips and watch my video for how to bake brie below!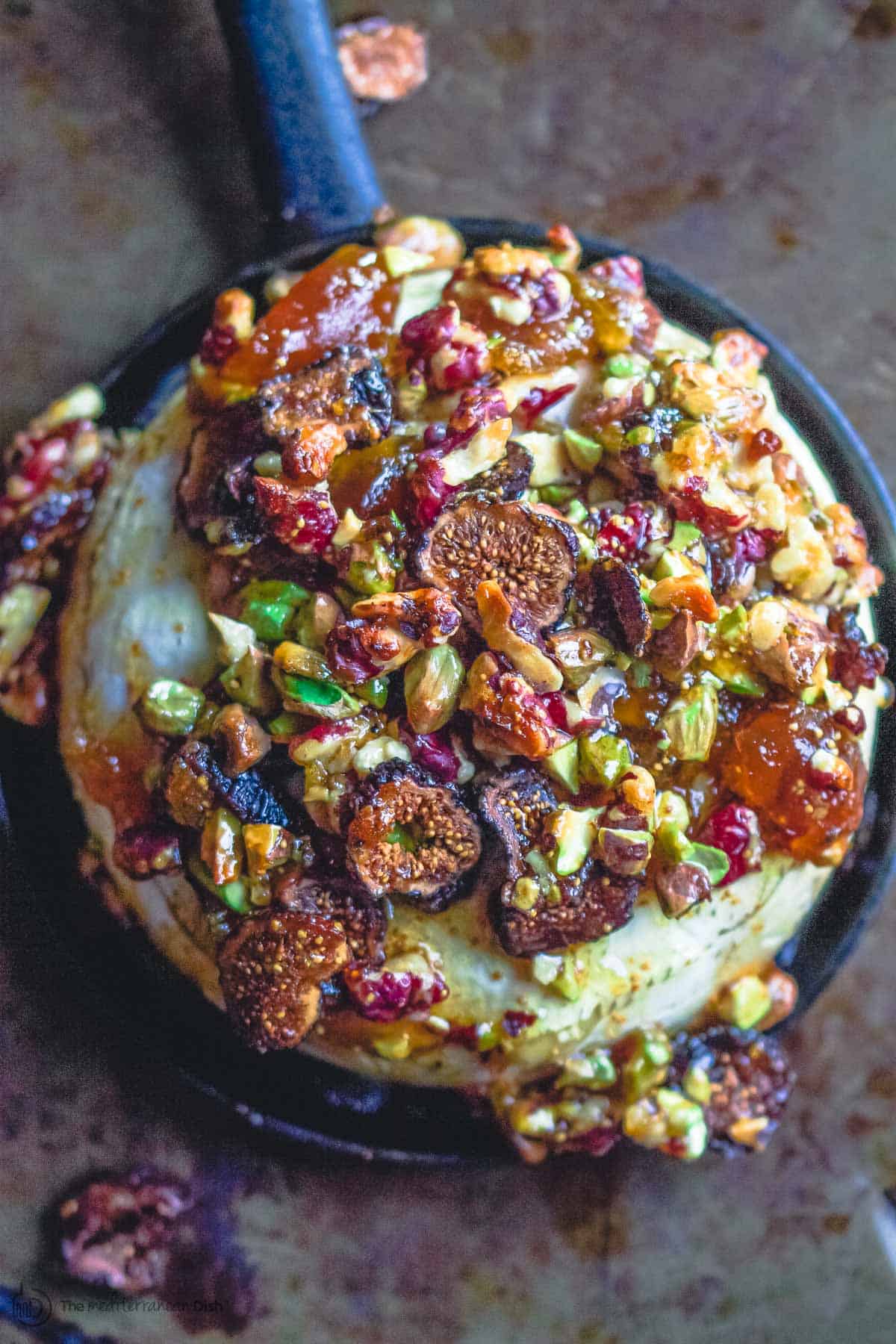 One mistake people make when it comes to cheese is that they don't let it come to room temperature before serving. At room temperature, the aromatics and complex flavors of cheese are much more realized. So much tastier!
This goes for brie as well. Room-temperature brie is soft and creamy, perfect with your favorite crusty bread, crostini, or even homemade pita chips. Not much else is needed.
So if you're wondering, are you supposed to bake brie? The answer is no, you don't have to. But if you decide to, that's a great way to amp up the delicious goo-factor!
Even though it's a mild cheese, melty baked brie delivers a unique intensity of flavor--not at all overwhelming, but pleasantly complex. Highly recommend!
How do you heat up brie cheese?
This is literally one of the easiest appetizers you'll make. To bake your brie, heat your oven to a medium heat (somewhere between 350 and 375 degrees F) and bake in a small oven-safe dish for about 10 minutes or so; it helps to spread a bit of honey or jam on the rind of the cheese before baking.
But if you're ready to take it a few notches up, add dried fruit and nuts on top. You'll love the contrast of texture and flavors in today's easy baked brie appetizer!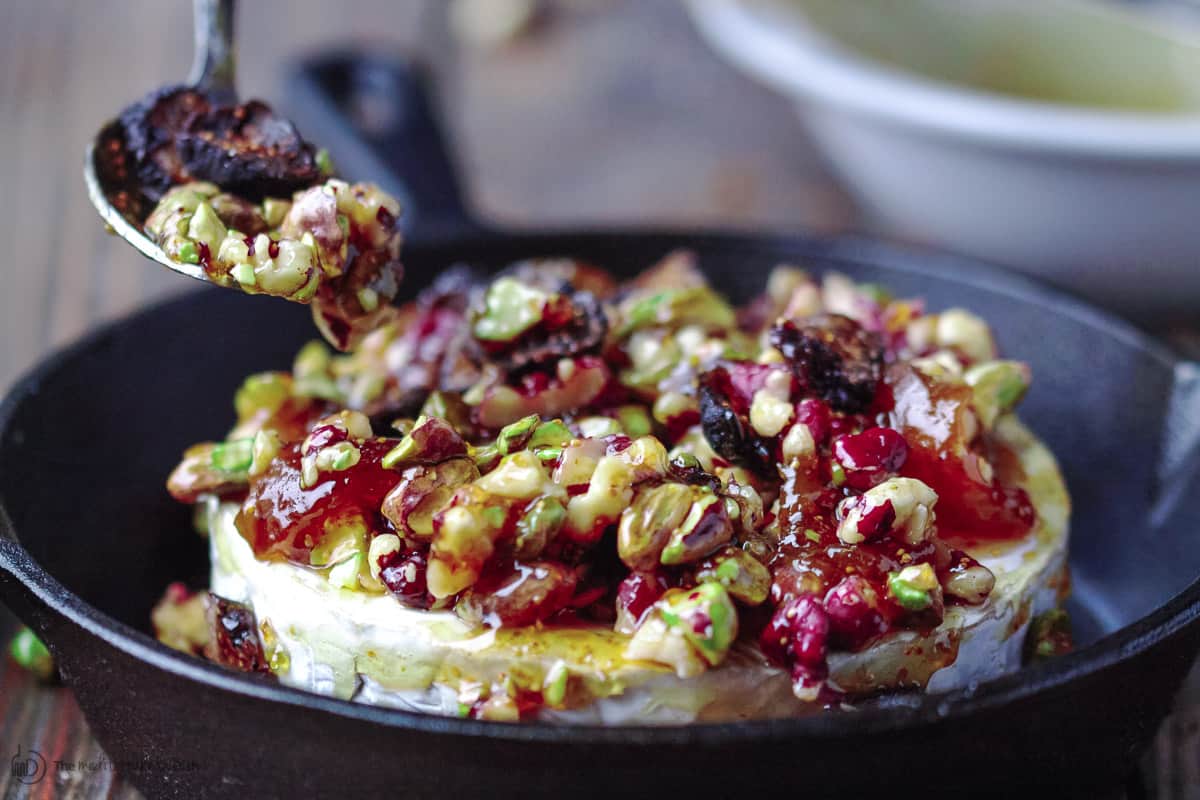 Do you take the rind off the brie?
Brie rind (or skin) is edible, and it actually does add nuance and complexity of flavor. In this baked brie recipe, I do not remove the rind because I need the surface to spread my jam and to add my beautiful nuts and toppings on top. It does help keep the wheel of cheese somewhat together, and once you take it out of the oven and slice into it, all the gooey deliciousness oozes out like a nice surprise!
Many people consider the rind the best tasting part of brie cheese. The French disapprove of removing the rind, just a little fun fact.
But, if you were doing a baked brie wrapped in puff pastry, then removing the top rind will help the crust stick to the melted cheese and stay together for a better presentation.
A few more tips & questions
1- Use a brie wheel not a wedge
While a wedge of brie will work here, I think a wheel (or round) gives you a bit more of a grand presentation and allows you to load on more of the beautiful toppings.
But, you don't need to spend the time or money on buying a brie wheel from an expensive cheese shop. Use what you find at your local grocery store; I often buy mine at places like Whole Foods or Costco.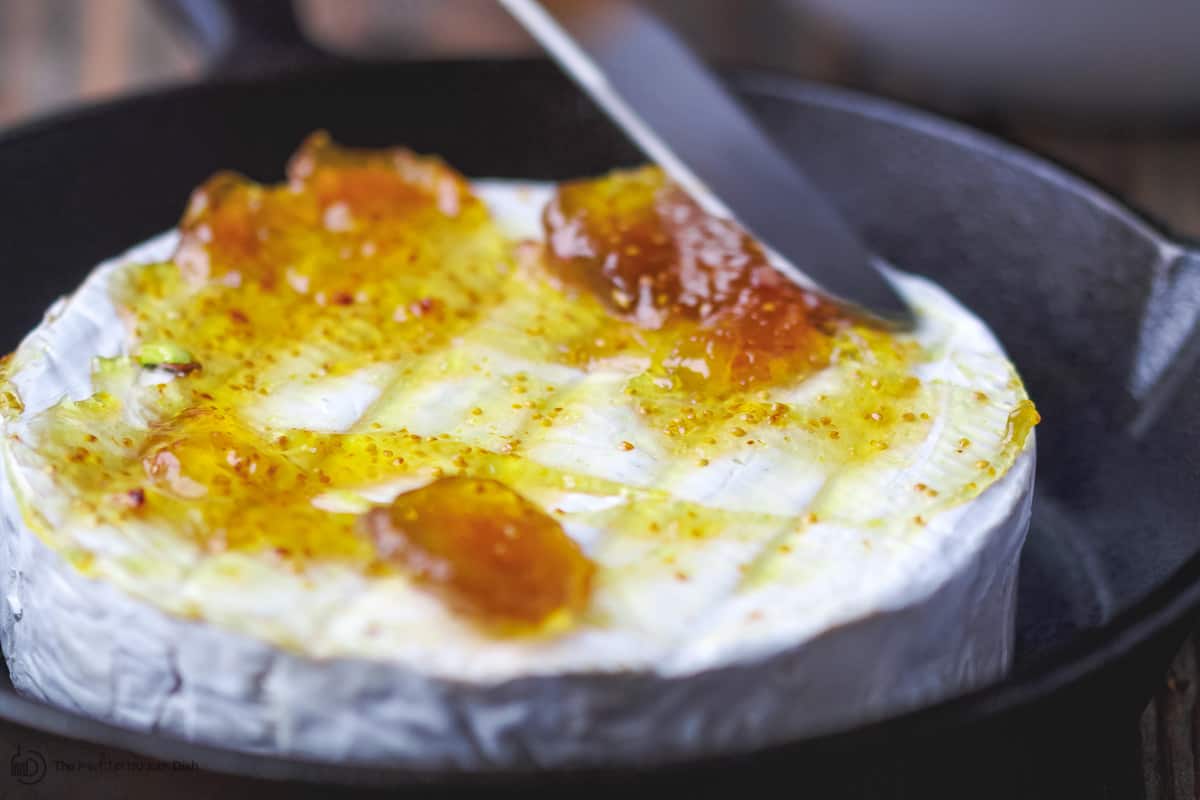 2- Keep it simple or get creative with your brie toppings
I love to play with texture and flavor, and I often change things up. For my toppings this time, I used fig jam, shelled pistachios, walnuts and sliced dry figs.
In place of fig jam, feel free to use honey or orange marmalade. Try different nuts like pecans or hazelnut. Use a different dried fruit like raisins or apricots (but be sure to cut up or slice the dried fruit if they're big).
Tip: Mix the nuts and dried fruit with a bit of the jam (or honey) to coat them before baking. This prevents them from drying up in the oven.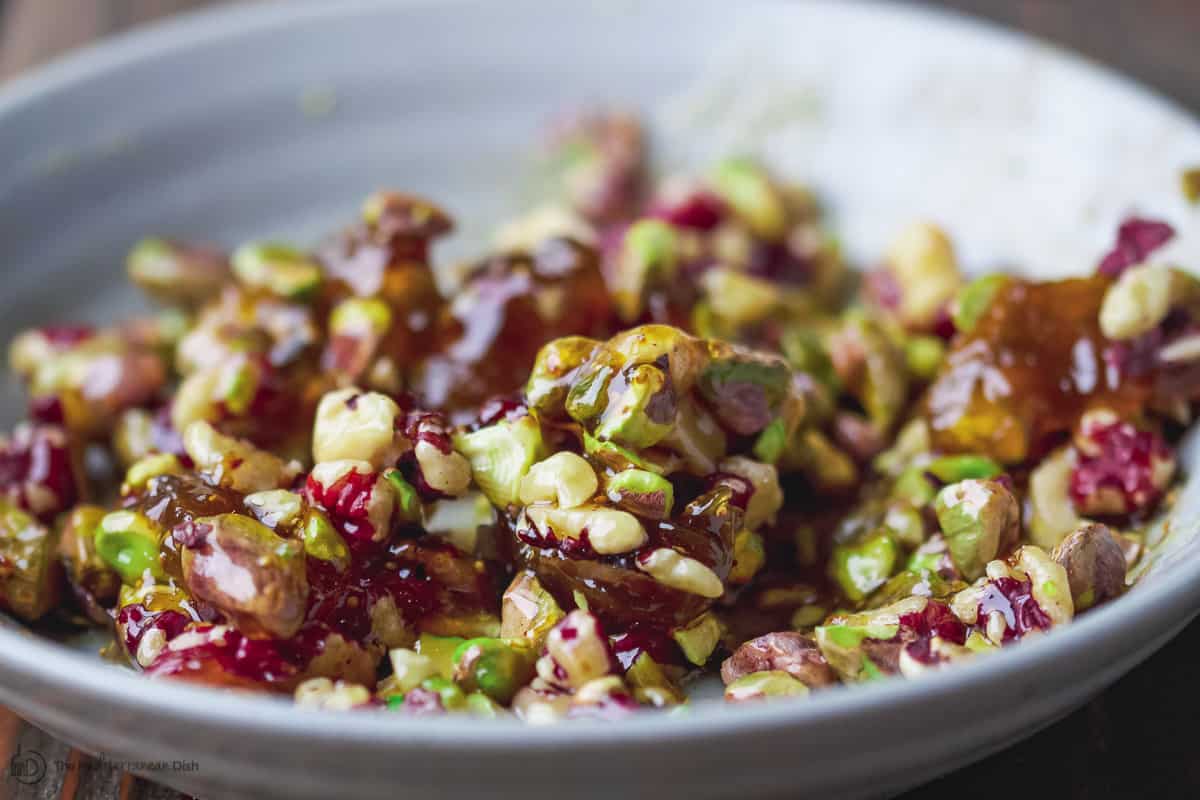 3. Don't over-cook your brie cheese
I've heard that over-cooking brie can cause it to re-harden quickly, so I do watch my brie wheel as it bakes, and once I see it's edges collapsing just enough--maybe some goo starts to peek a little--I know it's done.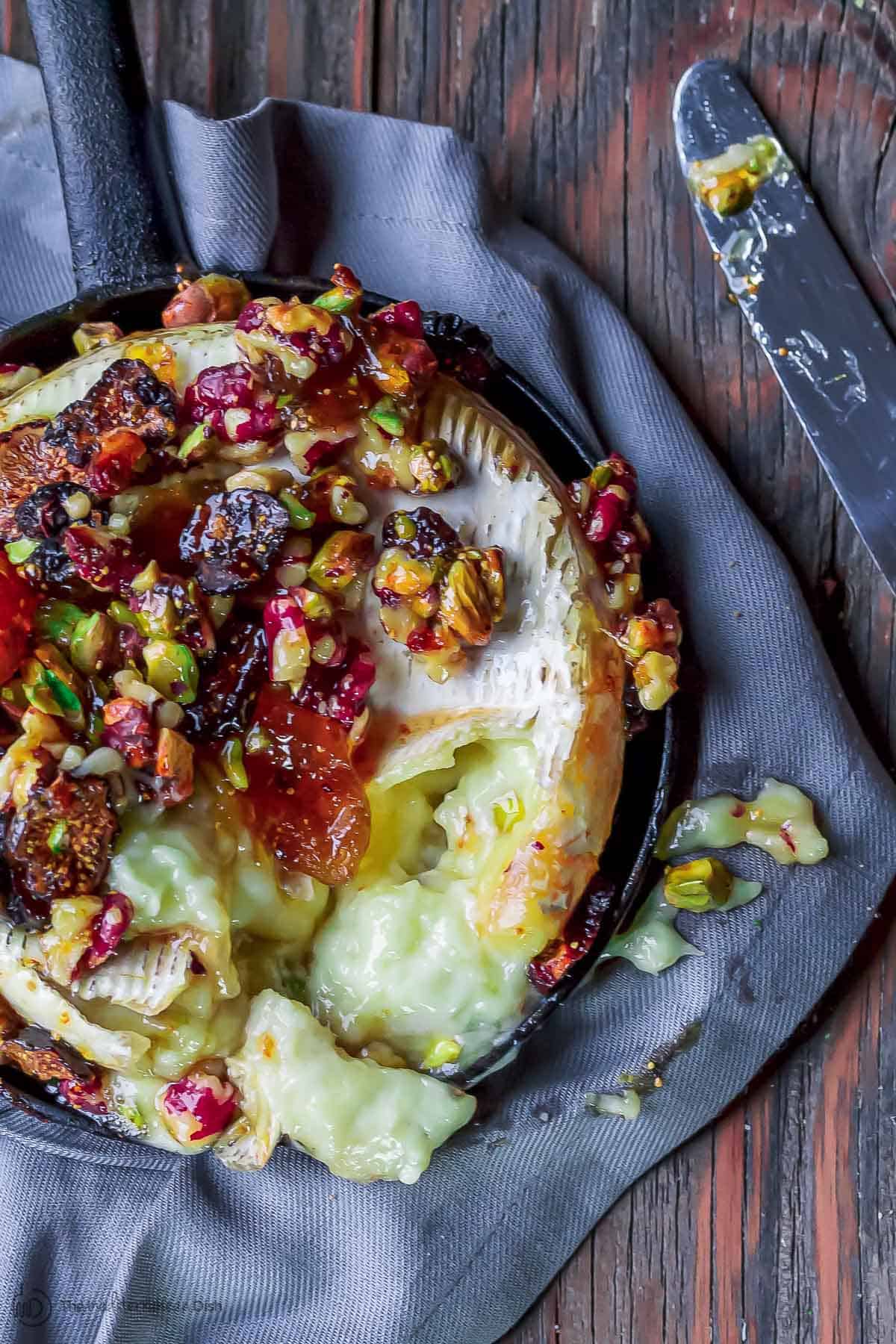 4- Let the melty cheese sit 5 minutes before slicing
Once baked, let brie sit for 5 minutes before slicing so it settles nicely and so it's not scorching hot that it would hurt your guests.
How to serve it
Baked brie is most enjoyed warm out of the oven. I often prepare the brie with all the toppings, but will place it in the oven just before company arrives.
To serve, you can simply place the baked brie on a small board with crackers. But if you want to take things up to the next level, add this baked brie as the centerpiece to a larger cheese board like this one here.
Looking for more easy appetizers?
Baba Ganoush: Mediterranean Eggplant Dip
Hungry for More? Join my e-mail list HERE to receive new recipes and my weekly dinner plan!
SHOP OUR ONLINE SHOP FOR QUALITY OLIVE OILS, ALL-NATURAL SPICES AND MORE!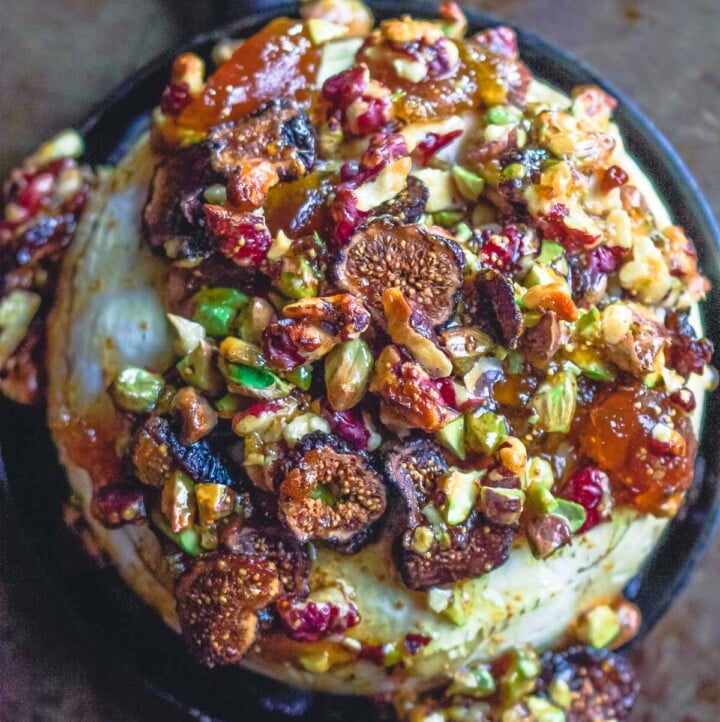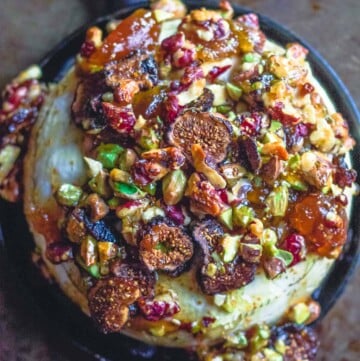 Baked Brie Recipe with Jam and Nuts
Got 15-minutes? Make this show-stopping baked brie recipe with jam and nuts! Serve it with crackers or make it the centerpiece of a larger cheese board!
Ingredients
3

tablespoon

fig jam or honey

divided

¼

cup

to ⅓ cup dried mission figs

sliced

¼

cup

to ⅓ cup shelled pistachios

roughly chopped

¼

cup

to ⅓ cup walnut hearts

roughly chopped

13-

oz

round French brie
Instructions
Preheat the oven to 375 degrees F.

Place the fig jam in a microwave-safe dish. Microwave for 30 seconds to soften.

In a small bowl, combine the sliced dried figs with the nuts. Add half of the fig jam and mix well to coat the nut mixture.

Place the round of brie in a small cast iron skillet or oven-safe dish. Using a small knife, coat the brie with the remainder of the jam or honey.

Top the brie with the fig and nut mixture.

Place the dish or skillet on top of a baking sheet (this will make it easier to handle and will also catch any melted cheese). Bake on the middle rack of your heated oven for 10 to 15 minutes or until the brie softens.

Remove from the oven and let the brie sit for 3 to 5 minutes or so. Serve warm with your favorite crackers!
Notes
Pro-Tip: It's best to keep the brie rind (skin) on for this recipe, brie rind is perfectly edible and it holds everything well together. And you do not need an expensive brie wheel from your local grocery store. This recipe works just as well as what you'd buy at an expensive cheese store
Change up the toppings to your liking. If fig jam is not available to you, you can use honey, apricot jam, or orange marmalade. I like walnut hearts and pistachios here, but you can also change those up using pecans, almonds, or other nuts you like. Same with the dried figs, other dry fruit like apricots, cranberries or raisins will work.
Pro-Tip for Safe Handling: Always place the dish holding the brie on top of a sheet pan or baking sheet. This will help you easily remove the baked brie from the warm oven, and it will also catch any falling toppings/nuts or oozing cheese.
Important: let baked brie sit for 5 minutes or so, do not serve scorching hot brie.
To serve: you can add this baked brie as the centerpiece of a larger cheese board like this one. to settle before slicing or pocking at it.
Nutrition
Calories:
225.6
kcal
Carbohydrates:
8.4
g
Protein:
11.1
g
Saturated Fat:
8.5
g
Potassium:
157.2
mg
Fiber:
1.2
g
Vitamin A:
288.7
IU
Vitamin C:
0.7
mg
Calcium:
99.9
mg
Iron:
0.6
mg
*This post first appeared on The Mediterranean Dish in 2015 and been updated with new information for readers' benefit. Enjoy!