Here is a quick guide for how to assemble a beautiful crudités platter with little effort. This party platter is loaded with vegetables and Mediterranean favorites, it is the perfect make-ahead appetizer for a crowd!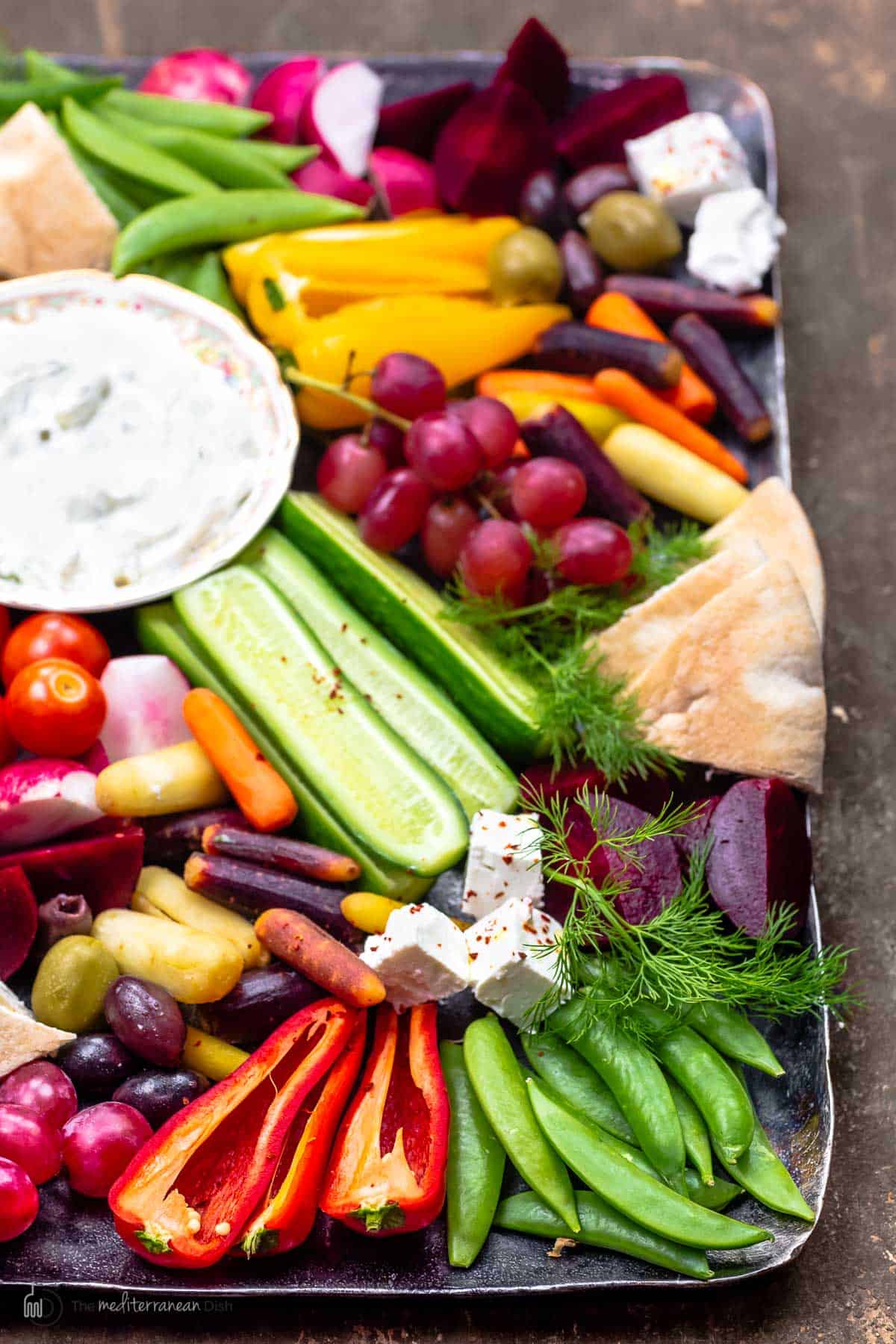 Crudités
French crudités, pronounced kroo-dee-teh, are simply raw vegetables (sliced or whole), arranged neatly on a platter or board, and typically served with a sauce for dipping.
But for something so basic, a vegetable crudité platter can be the show-stopping star of your next party. And I always like to use beautiful fresh veggies on my appetizer table to balance heftier dishes like baked brie, shrimp fra diavolo, or bites of crispy smashed potatoes or Greek keftedes (meatballs).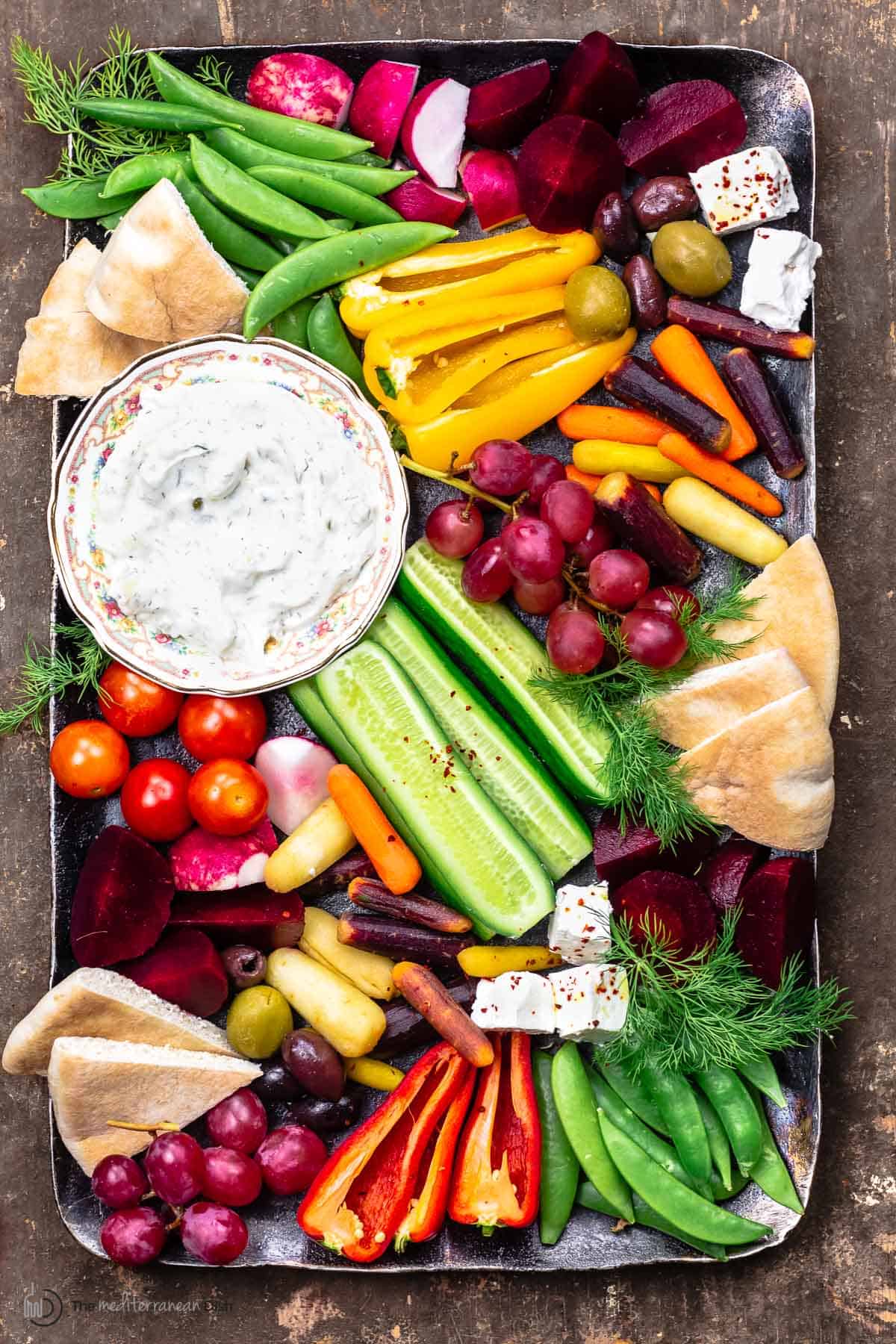 An elegant crudite platter is not hard to put together, and the key is to really allow the veggies to shine. I put together a quick guide for how to make the ultimate crudités platter. Use it as a frame of reference and change things up to make use of what you have on hand! Here we go...
What goes on a crudités platter?
The perfect crudités platter focuses first and foremost on the vegetables. From there, you can add a sauce for dipping and a few accompaniments to complete your veggie platter. Here is my list of crudité essentials to get you started:
Raw Vegetables. Use what's in season and aim for variety in texture, color, and flavor. And include at least 4 to 5 vegetables. Snap peas, mini bell peppers, carrots (rainbow carrots of different colors), cucumbers, cherry tomatoes, and peppery radishes, smaller leaves of romaine or radiccho lettuce are some of my go-tos. You can also add broccoli florets, asparagus, or fresh string beans (all three can be blanched quickly then submerged in an ice bath to bring out the color).
Dip. For a veggie platter, I like to use a yogurt-based dip like tzatziki or this walnut spinach yogurt dip. But if you have room on your board or platter, you can add one more dip such as hummus (or roasted red pepper hummus) or baba ganoush (the smoky eggplant dip makes a fun and unexpected addition).
Olives and other marinated vegetables. Add in salty, briny olives and other marinated vegetables like pickles, artichoke hearts, or even sliced preserved lemons, if you have them, to instantly elevate your vegetable grazing board. I also like to add steamed or roasted beets.
Cheese? Totally optional, but if you're adding cheese as part of your crudites spread, then baby mozzarella or blocks of feta are great options. If you want to step it up a little more, marinated feta is the way to go (and it takes very little time)
Fruit such as grapes. It's nice to have something like grapes, figs, or apple slices as a sweet palate cleanser on your crudite platter. Don't go overboard on this, just tuck in some fruit where you see gaps.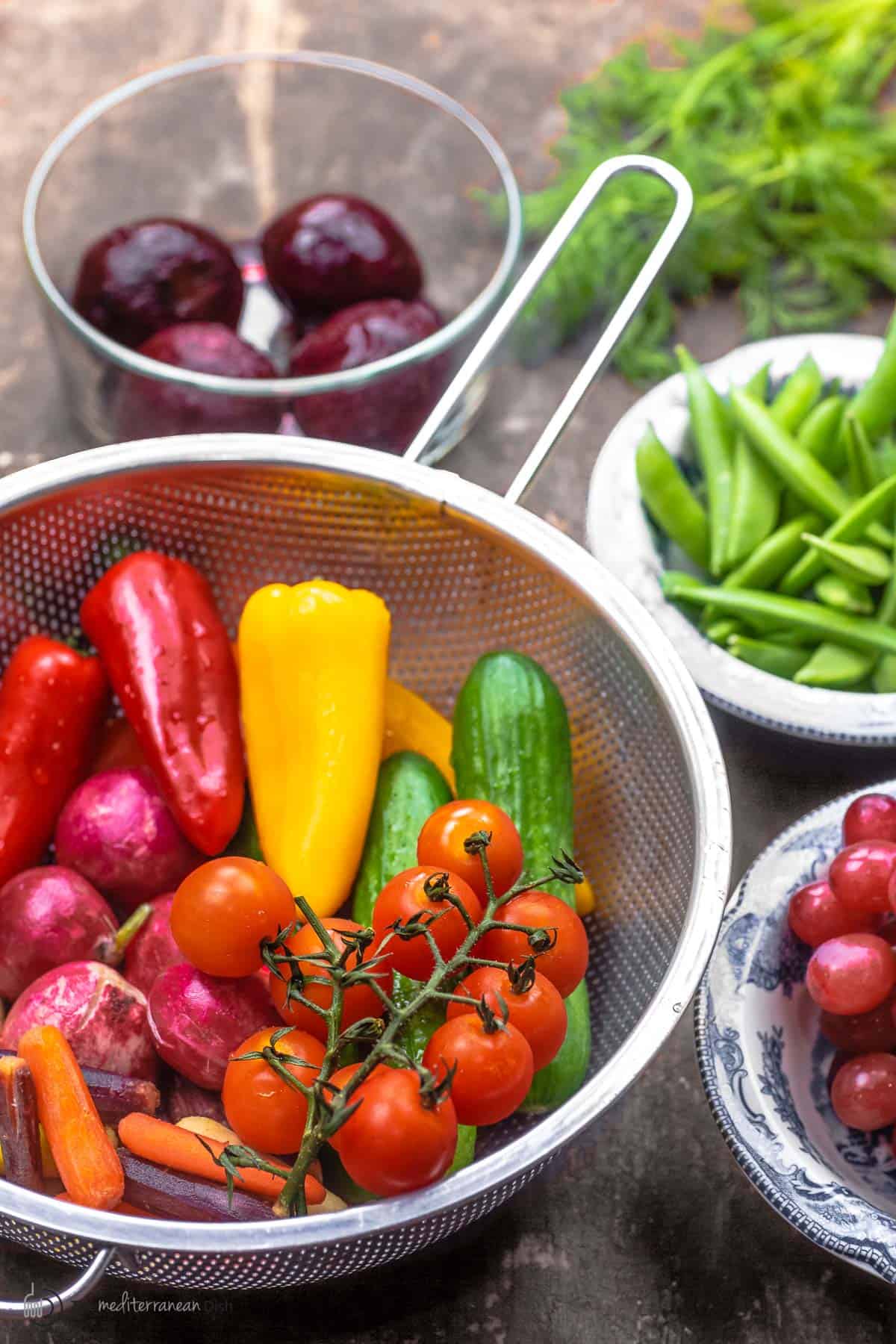 What about crackers or bread?
Unlike cheese boards, a crudite platter does not typically include crackers. But you'll see I've taken some liberty and tucked in a few pita wedges just to fill in gapes and to please my Mediterranean palate (I simply can't have a dip without a slice of pita).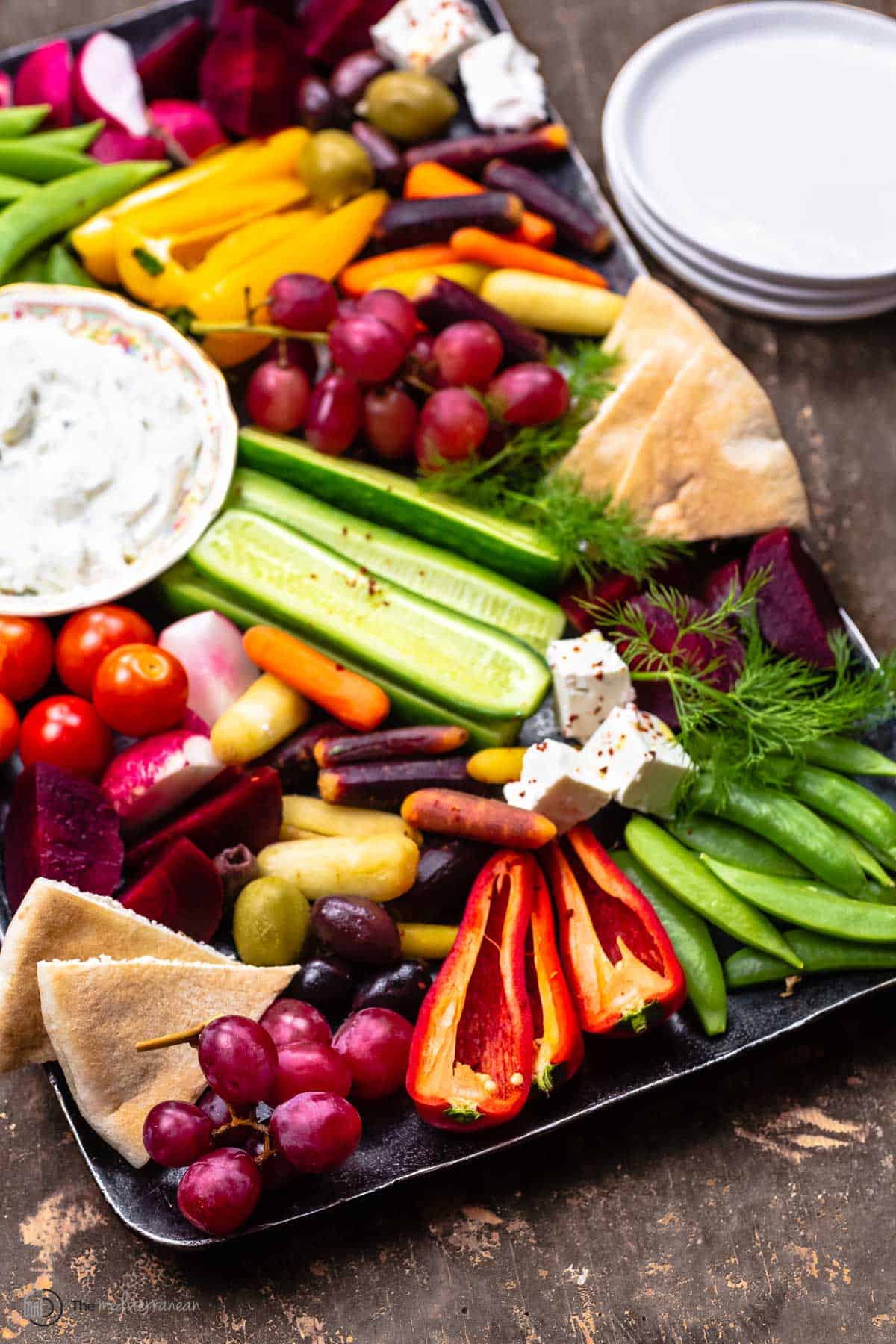 Crudités make-ahead tips
If you're hosting a larger crowd and looking for ways to prepare your vegetable platter ahead of time, keep these few simple tips in mind:
Make your dips one night ahead. Some dips like tzatziki or hummus will last several days, but I like to make them one night ahead so that they are still as fresh and delicious. Be sure to store your dip in a tightly-closed container in the fridge.
Slice your vegetables 2 hours ahead. To keep your veggies super crispy and fresh looking, it's best to slice them a little closer to party time. Wash and dry them well, then slice your veggies and keep them in the fridge in zip-top bags until you're ready to assemble the platter.
More party platters:
Visit Our Shop to browse quality Mediterranean ingredients
Simple Crudités Platter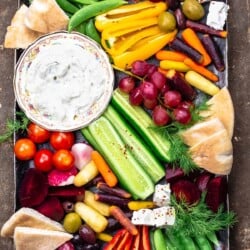 Use at least 4 to 5 fresh vegetables to make your crudite platter. Aim for seasonal vegetables with a variety of color and texture. Add a dip such as tzatziki, olives or other marinated vegetables. If you like add a cheese such as marinated feta. And for a palette cleanser, include grapes, sliced apples, or another fruit of choice.
Ingredients
Vegetables
Snap peas

Cherry tomatoes

Baby bell peppers,

(sliced in half, seeds removed)

Carrots,

(or rainbow carrots)

Radishes,

(quartered)

Cucumbers,

(sliced in rounds or short spears)

Cooked beets,

(quarters)
Dip (select one or two)
Tzatziki,

use this recipe or a quality store-bought option

Walnut Spinach Yogurt Dip,

use this recipe or a quality store-bought option

Roasted Red Pepper Hummus,

use this recipe or a quality store-bought option
Olives or other marinated vegetables (choose one or two)
Olives,

(pitted kalamata olives or green olives)

Marinated artichoke hearts

Pickles

Pickled or marinated mushrooms
Other
Cheese,

(such as blocks of marinated feta or baby mozzarella)

Pita wedges,

(optional)
Instructions
On a large platter or board, place a small bowl of tzatziki sauce or other dip of your choice on one side. If using two dips, arrange the two bowls on opposite sides of your platter.

Arrange the vegetables on the platter, filling in the spaces around the dip (bowl). For a beautiful platter, separate veggies of like colors and use ones that are different in color and texture near each other.

Fill any gaps on your platter with the remaining ingredients including olives, grapes, cheese (feta or baby mozzarella) and wedges of pita.
Notes
Make-ahead tips: You can make your dip one night ahead and save it in the fridge in a tight-lid container. Wash and dry your veggies and slice them about 2 hours before you're ready to assemble the platter, and save the vegetables in the fridge in zip-top bags.
Visit Our Shop to browse quality Mediterranean ingredients, including olive oils and spices.
Nutrition
Calories:
48.5
kcal
Carbohydrates:
5.6
g
Protein:
1.5
g
Fat:
2.6
g
Saturated Fat:
0.5
g
Polyunsaturated Fat:
0.1
g
Monounsaturated Fat:
0.6
g
Cholesterol:
2
mg
Sodium:
156.2
mg
Potassium:
204.3
mg
Fiber:
1.6
g
Sugar:
3.1
g
Vitamin A:
2772.3
IU
Vitamin C:
26.5
mg
Calcium:
38.2
mg
Iron:
0.6
mg