This roasted red pepper hummus recipe stays true to Mediterranean flavors. An un-fussy, rustic dip…packed with flavor, and a bit on the punchy side.  Makes the perfect intro to any dinner party! 
Hummus makes the opening of nearly every dinner at my house; so it's no secret how much I appreciate it.
Of course, there is my lengthy ode-to-the-mighty-traditional-hummus, where I share tips and tricks to making the creamiest traditional hummus…from scratch! If you're a "hummus purist," you'll definitely want to check this tutorial out.
VIDEO TUTORIALS
But this quick roasted red pepper hummus is an equally delightful dip that I've been making more frequently.
Watch how to make this roasted red pepper hummus:

I started with a bare-bones type recipe– red peppers; chickpeas; and
tahini
.
But then I imagined a punchier version, so I added a roasted jalapeno pepper. A pinch of sumac and sweet paprika, while not entirely necessary, do take this roasted red pepper hummus recipe to a new level of delicious. Maybe it's just me, but I think they do make the dip just that much more earthy and satisfying.
In a pinch, I use canned chickpeas for this roasted red pepper hummus recipe. And you'll notice, I don't do the work of removing the skins here. In fact, the skins remain on both the chickpeas and the roasted peppers. The result is not meant to be the most ethereally smooth hummus, but rather a rustic, "kicky" dip.
All that's needed is warm pita bread to swoop through. I have occasionally packed this hummus and a heaping portion of this Mediterranean chickpea salad in one lovely pita pocket for dinner!
Print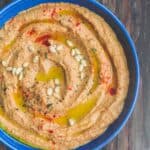 Roasted Red Pepper Hummus Recipe
---
Author:

Prep Time:

5 mins

Cook Time:

25 mins

Total Time:

30 minutes

Yield:

6

Category:

Appetizer

Cuisine:

Mediterranean Recipe
Description
Simple and delicious roasted red pepper hummus recipe. This recipe stays true to Mediterranean flavors. But adds jalapeno pepper for an extra kick. A must-try!
---
Ingredients
1 red bell pepper, seeded, and cut in 1″ strips
1 jalapeno pepper, sliced in half length wise (optional)
2 cups cooked chickpeas, or 1 16-oz can chickpeas, drianed, and rinsed
3-4 garlic cloves, chopped
5 tbsp tahini
2 tsp sumac
1 tsp paprika
1 lemon, juice of
2 tbsp toasted pine nuts, optional.
Olive oil
Salt
---
Instructions
Preheat oven to 425 degrees F.
Place the red bell pepper strips and jalapeno in a small baking dish or cast iron pan. Drizzle generously with olive oil. Bake in the 425 degrees F heated oven for 25 minutes or until tender.
Remove from the oven and let cool completely.
In the large bowl of afood processor, add the roasted peppers and all the remaining ingredients except the toasted pine nuts. Add 2 tbsp extra virgin olive oil. Run the processor until you reach the desired creamy paste consistency. Test and add more salt if needed. Run the processor again to combine.
Transfer to a serving bowl. Top with a little more extra virgin olive oil and the toasted pine nuts. Add a pinch of paprika or sumac for garnish, if you like. Serve with warm pita bread and sliced veggies for dipping! Enjoy!
Step-by-step photos for roasted red pepper Hummus Recipe
Begin by roasting the sliced red pepper and jalapeno. Add the peppers and a generous drizzle of olive oil to cast iron skillet or oven-safe pan. Bake in a 425 degrees F heated oven for 25 minutes or so until softened. If the skin is slightly charred, that's a good thing! Set the pepper aside to cool completely.
Once completely cooled, put the roasted peppers and cooked or canned chickpeas and all the remaining ingredients (except the pine nuts) in the large bowl of a food processor. Run the processor to blend until you reach the desired creamy consistency. But remember, we left all the skins on the chickpeas and the peppers, so this is more of a rustic hummus than it is an extra smooth one.

Taste the hummus and see if you need to add any salt. Then transfer to a serving dish and top with olive oil and pine nuts…maybe a touch of paprika or sumac for good looks! Enjoy with pita bread and veggies.

Similar Recipes to Try:
How to make the creamiest hummus (from scratch)
Muhammara (Roasted Red Pepper Dip) 
Baba Ganoush (Roasted Eggplant Dip)
Disclaimer: This post may contain affiliate links. As an Amazon affiliate, I receive a small credit when you make an Amazon purchase within 24 hours of clicking a link provided here. If you are looking for a specific product, feel free to browse Amazon via this link. Thank you!