These are the best Moroccan meatballs you will make at home! Traditionally called kefta, these easy, skillet meatballs, pack tons of flavor from aromatics and warm Moroccan spices. Serve them in pita pockets with minty carrot salad, olives, and other fresh items, for the perfect casual dinner! Or, use them as a little party appetizer! Be sure to check out all my tips and watch the video below.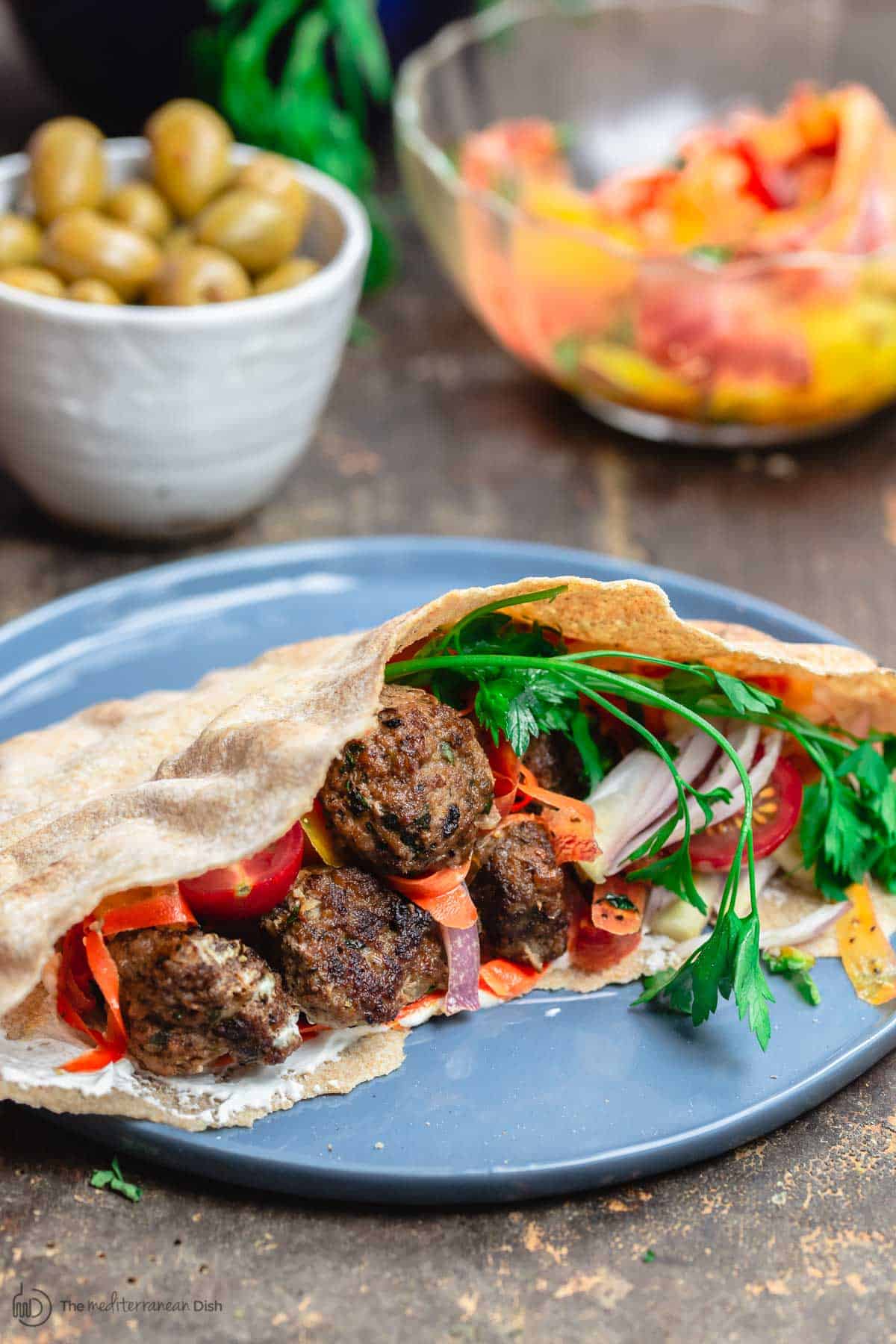 I get super excited about meatballs--inexpensive, easy, and there are just so many ways to dress them up! Start with ground meat--which acts as a canvas for whatever seasoning you like--add flavors of choice, form into bite size balls and cook!
In the short life of this blog, we've done Greek meatballs two ways--lemony keftede meatballs, and these saucy over-sized meatballs that are perfect over rice. Ah, and other favorites like Turkish-style baked meatballs, and of course, Lebanese cinnamon braised meatballs. Endless possibilities!
Today, I'm going for a bit of a North African vibe with these homemade Moroccan meatballs. These perfectly seasoned little meatballs are a nod to street food from Marrakesh; you'll the fresh and fun items to serve alongside, including a shaved carrot salad I spotted in Jamie Oliver's Food Escapes.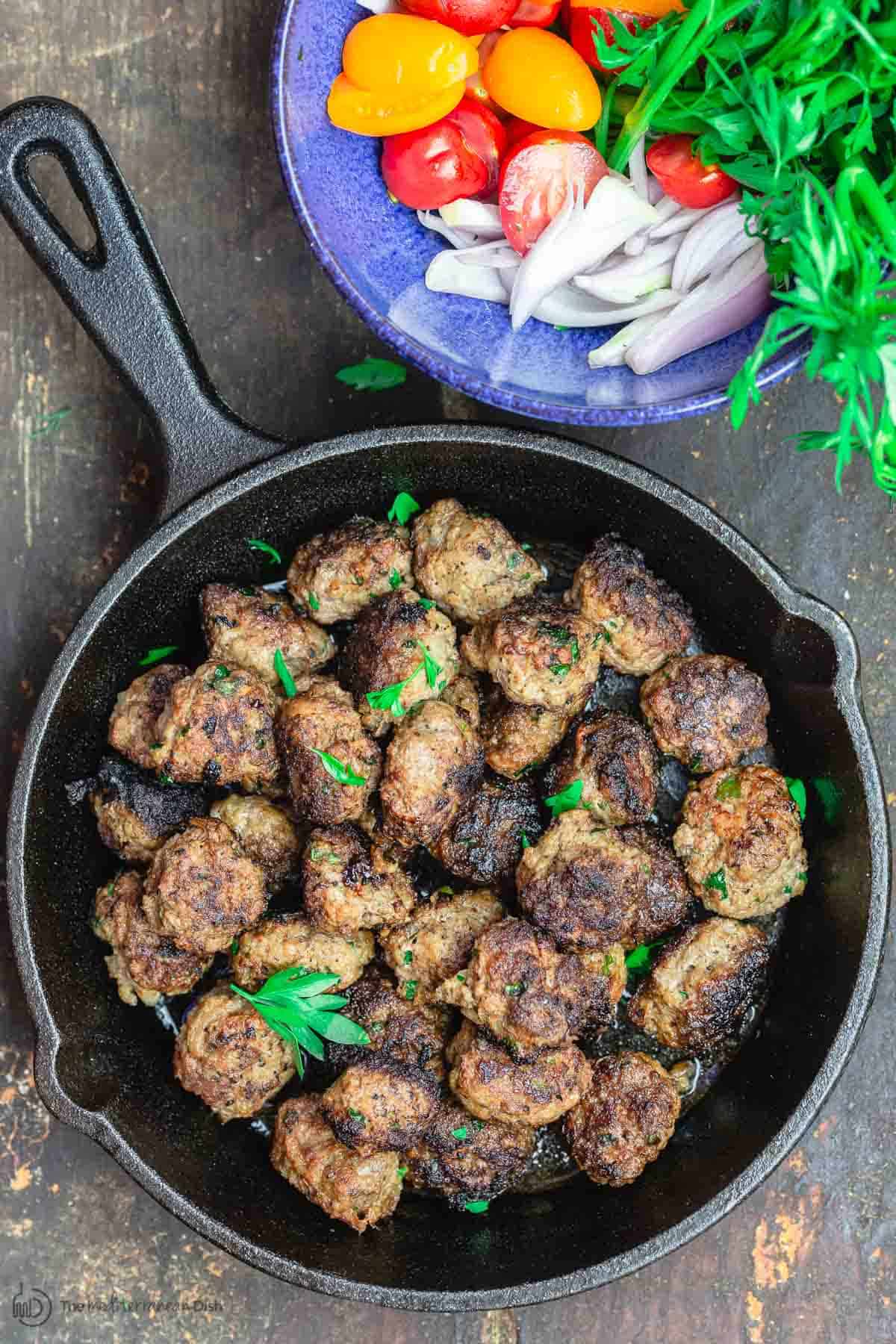 Moroccan Meatballs
Let's get to the gist of these Moroccan meatballs. These are easy skillet meatballs, formed into smaller bite-sized pieces and simply grilled in your cast iron skillet or pan. They take like 7 minutes or so to cook!
But, take one bite, and the Moroccan flavors hit your taste buds in the best way possible! The meatball mixture incorporates: grated onions, garlic, fresh cilantro (you can use parsley, if you must), a hint of ground ginger and cayenne, and the star spice blend: Ras El Hanout. All the flavor!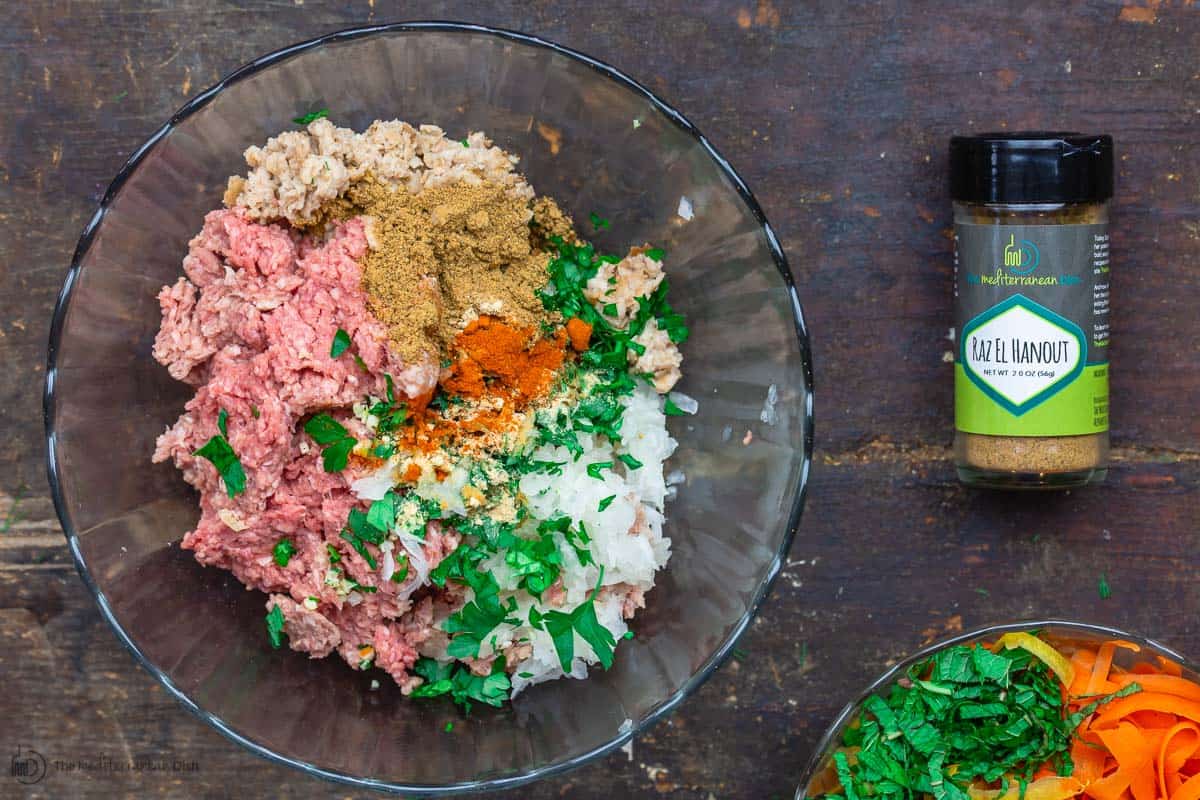 Spices for Moroccan Meatballs
Ras El Hanout is one of my new personal favorites. It's a complex North African spice blend combining warm flavors like cinnamon, turmeric, cloves, allspice, cardamom, ginger, mace, nutmeg, and a touch of cayenne. If you live in the USA, check out our online store for all-natural Ras El Hanout here.
Ras El Hanout is hard to replicate, so try to use it. However, if you need to, an alternative spice mixture could be: ¾ teaspoon each cumin, coriander, paprika, and ½ teaspoon allspice and ½ teaspoon ground ginger.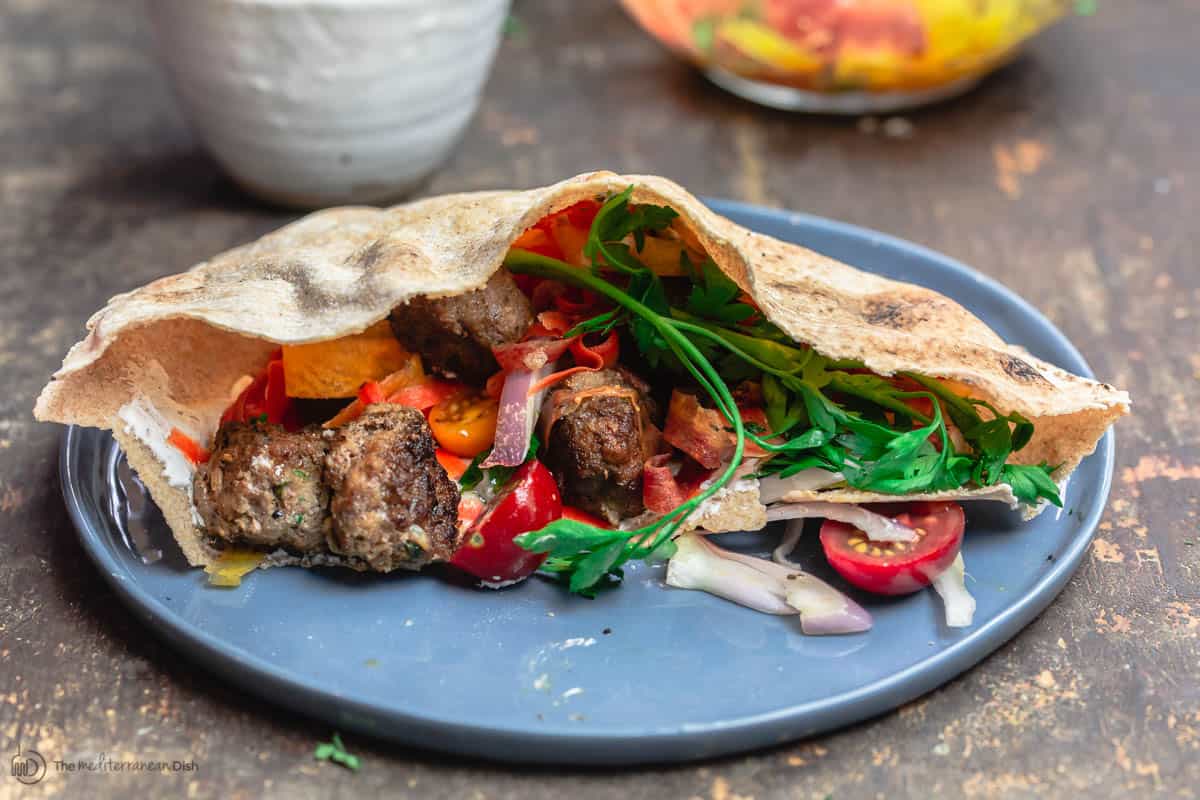 A Few Tips for These Skillet Meatballs
1- These meatballs are meant to be small bite-sized pieces to be picked up by hand an appetizer or stuffed in pita pockets (more on this later.)
2-If you have the time, it's good to form the meat mixture into small balls, arrange them on a tray, and cover and refrigerate for 30 minutes or so. This just helps them keep their shape. However, if you're working quickly and using already chilled meat, you can skip this part.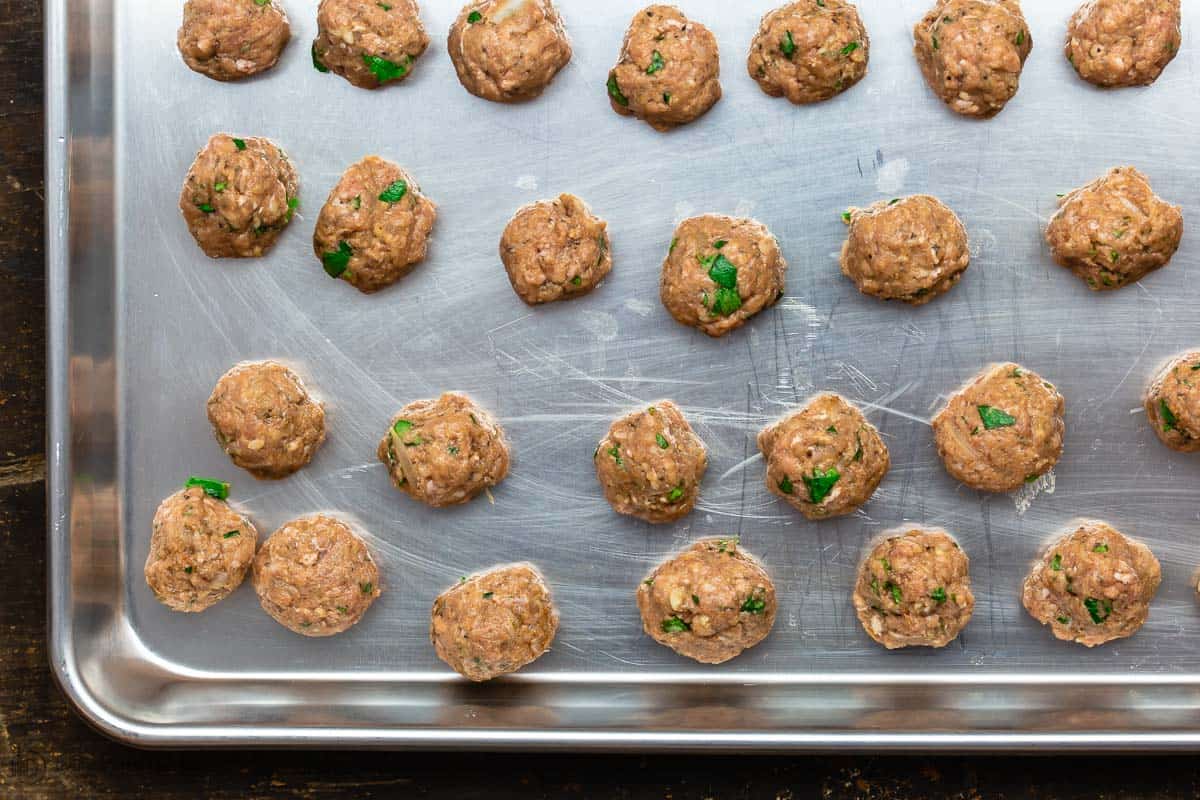 3- These small meatballs are meant to be grilled, not fried and are meant to have a bit of a nice char. That's why, all you need is a drizzle of extra virgin olive oil right on the meatballs before they hit the pan. Now, you may need to add a little more extra virgin olive oil to the skillet to make sure the meatballs don't stick.
4- This recipe will yield between 25 to 35 meatballs, depending on size. Served in pita pockets as dinner, it should serve 4 or 5 people. But, if serving as an appetizer along with other items, it should serve a larger crowd (1o or so).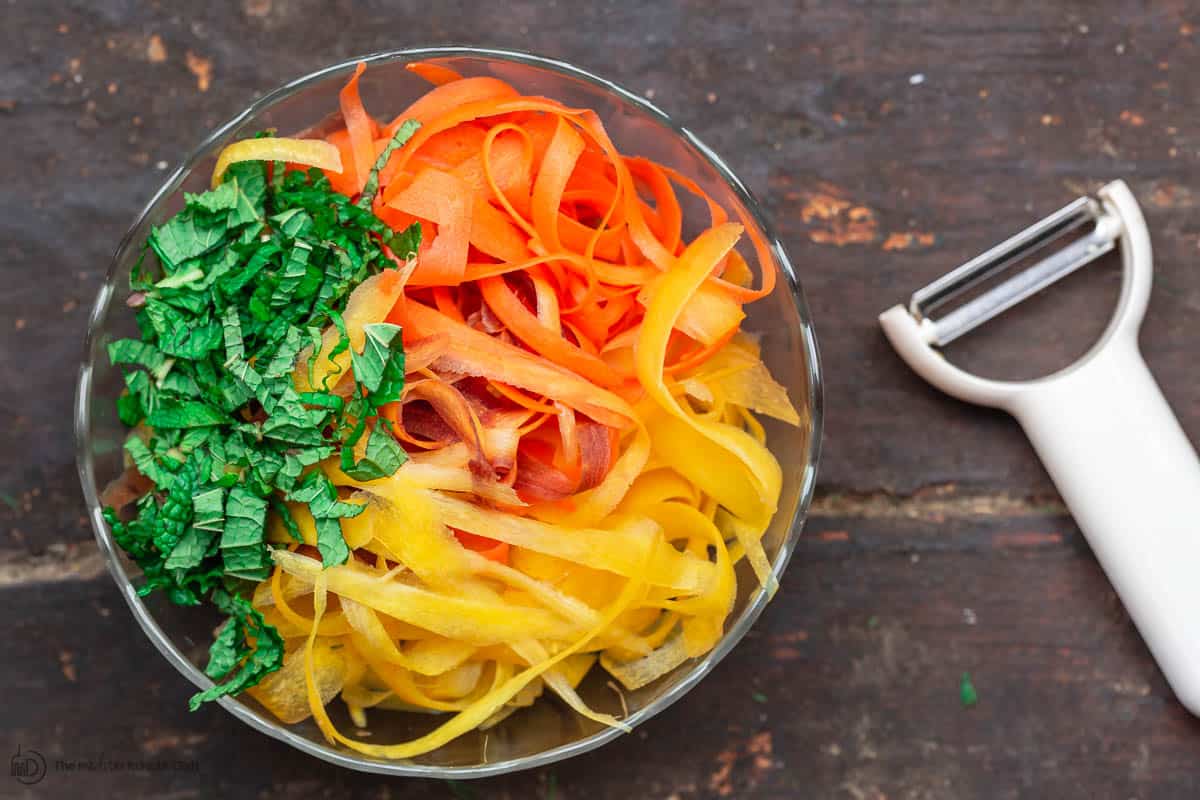 How to Serve Moroccan Meatballs
This is meant to be casual and inviting, and there is no right or wrong way to serve these skillet meatballs.
You can leave them in the skillet and serve them as an appetizer along with other items. Or, if you want to serve them for dinner, you can load them up in pita pockets, as they do on the streets of Marrakesh. Add olives, sliced cherry tomatoes, onions, fresh parsley. I like a bit of cool Tzatziki sauce (personal preference) or plain Greek yogurt.
If you're up to it, make the simple shaved carrot salad as well. It's just a combination of ribboned carrots with a little orange juice, olive oil, and fresh mint.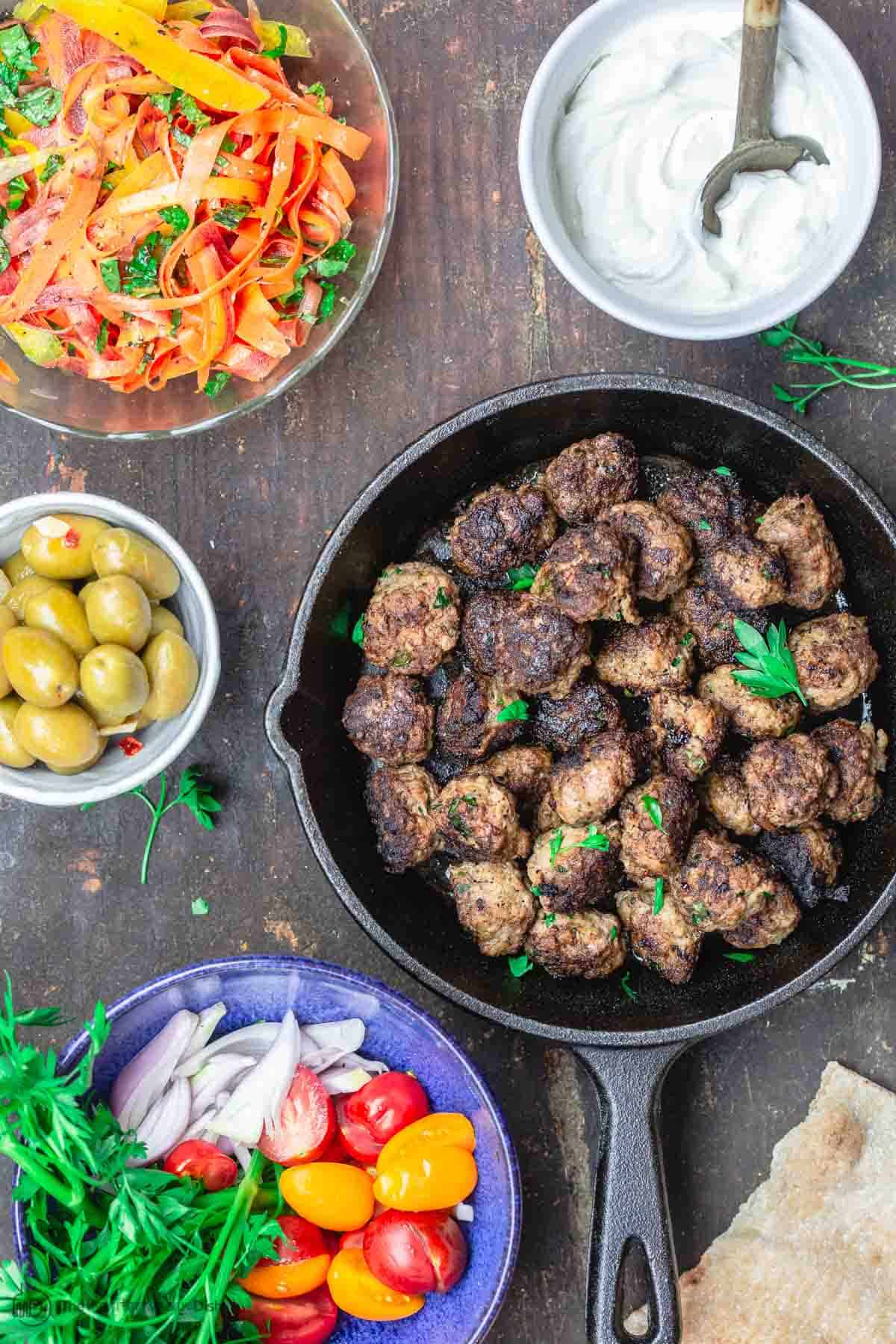 Watch the Video to See How I Make These Moroccan Meatballs and a couple ways to serve them:
Print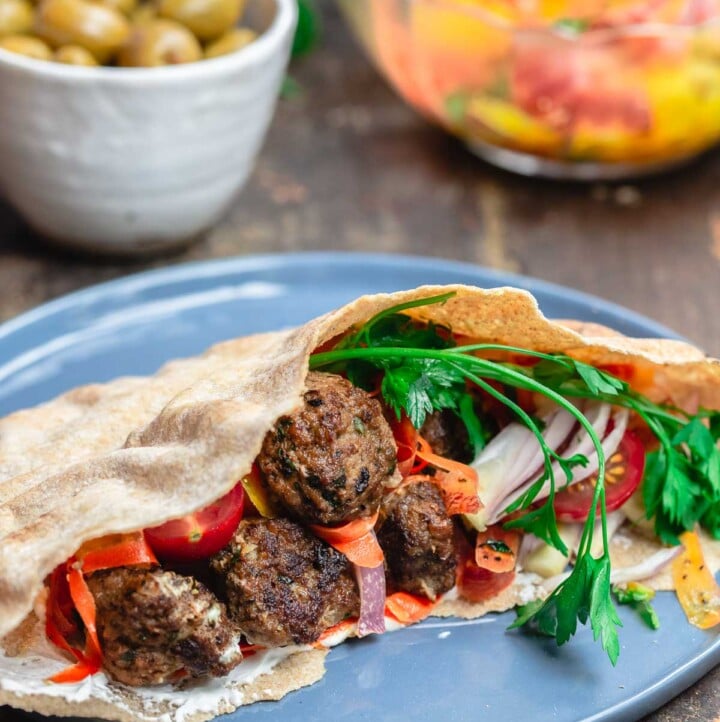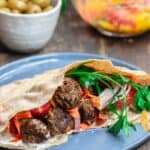 BEST Moroccan Meatballs
---
Author:

Suzy Karadsheh

Total Time:

37 minutes

Yield:

30

small meatballs

1

x
Description
These are the best Moroccan meatballs you will make at home Easy, bite-size skillet meatballs, grilled with just a little bit of extra virgin olive oil. But the draw is in big flavors from aromatics and warm Moroccan spices. Serve these meatballs in pita pockets with minty carrot salad, olives, and other fresh items. Or, use them as a little party appetizer.
---
For Morrocan Kefta Meatballs
1

small slice of bread, toasted and soaked in water or milk until soft

1 ¼

lb lean ground beef or ground lamb (or a mixture of beef and lamb)

1

small red onion, grated

2

garlic cloves, minced
Small handful fresh cilantro, chopped

2 ½

to

3

tsp Ras El Hanout spice blend (about

5

to

6

g)

½ tsp

ground ginger (about .

87 g

)

½ tsp

cayenne, more if you enjoy spicy (about .

88 g

)
Salt and pepper

3 tbsp

(about

42

ml) extra virgin olive oil (I used Private Reserve Greek extra virgin olive oil.)
For Shaved Carrot Salad
4

carrots, peeled (I used rainbow carrots of different colors, but any carrots work here)

3 tbsp

(about

48

ml) orange juice
Extra virgin olive oil (I used Private Reserve Greek extra virgin olive oil)
Salt and pepper
Handful fresh mint leaves, torn (about 5 or 6 large leaves)
Option for Other Sides to Serve
Cherry tomatoes, halved
shallots or onions, thinly sliced
Fresh parsley
Marinated olives
Tztaziki Sauce or plain Greek yogurt
Pita pockets or flatbread of your choice
---
Instructions
Make the shaved carrot salad first. Using a peeler, go ahead and peel the carrots into ribbons (or you can slice the carrots very thin sticks.) Place carrots and the remaining carrot salad ingredients into a bowl. Toss by hand to combine. Set aside or in the fridge for now.
If making other fresh sides to serve along, prepare those as well and save in the fridge. Toss the cherry tomatoes and onions with a little olive oil and lemon juice, if you like, and season with salt and pepper. Save in the fridge.
If using, prepare Tzatziki sauce per this recipe; plain Greek yogurt is fine too. Save in fridge for later.
Prepare meatball mixture. Squeeze any liquid out of the bread and place in a large mixing bowl. Add the meat, onions, garlic, cilantro, Ras El Hanout, ground ginger, and cayenne. Sprinkle a generous pinch of kosher salt and black pepper. Using clean hands, mix/knead until meat mixture is well combined.
Divide the meat mixture into small meatballs (mine were about 1 tablespoon each). The size here is relative, but they're meant to be small bite-sized meatballs. Arrange the meatballs on a tray and cover. Refrigerate for 30 minutes (if you really don't have the time, you can skip this part. See notes.)
When you're ready, heat a cast iron skillet (or a frying skillet) over medium heat. Drizzle the meatballs with some extra virgin olive oil and cook in your hot skillet over medium heat for about 7 minutes or so, turning occasionally, until cooked through and charred. Do this in batches if needed.
Serve meatballs hot in pita pockets. Add the carrot salad and other prepared toppings in. Or, leave meatballs in skillet with the shaved carrot salad and other items on the side, let everyone decide how they'd like to enjoy them!
Notes
Cook's Note: If you have the time, it's good to refrigerate the uncooked meatballs for about 30 minutes or so. This just helps them keep their shape. However, if you're working quickly and using already chilled meat, you can probably skip this part.
Cook's Note: These small meatballs are meant to be grilled, not fried. That's why, they are simply drizzled with a little bit of extra virgin olive oil before cooking in cast iron skillet or pan. Now, you may need to add a little more extra virgin olive oil to the skillet to make sure the meatballs don't stick. Once they hit the skillet, make sure the one side gets a nice "crust" before turning over, this will also help them stay nice and intact.
Cook's Note: This recipe will yield between 25 to 35 meatballs, depending on size. Served in pita pockets as dinner, it should serve 4 or 5 people. But, if serving as an appetizer along with other items, it should serve a larger crowd (1o or so).
Ras El Hanout is a complex North African spice blend combining warm flavors like cinnamon, turmeric, cloves, allspice, cardamom, ginger, mace, nutmeg, and a touch of cayenne. Find, all-natural Ras El Hanout here at our online shop.
Alternative Spice mixture: Ras El Hanout is hard to replicate, so it is best if you use it. However, other variations of Moroccan meatballs call for a mixture of ¾ teaspoon each cumin, coriander, paprika, and ½ teaspoon each allspice, ground ginger, and cayenne.
Visit our online store to browse our extra virgin olive oils, all-natural and organic spices, and more
Part of this recipe is adapted from Jamie Oliver's Food Escapes
Prep Time:

30 mins

Cook Time:

7 mins

Category:

Meat and Poultry

Method:

Skillet

Cuisine:

Moroccan
Keywords: Moroccan Meatballs, Skillet Meatballs, Grilled Meatballs, Easy Meatball Recipe