Creamy feta cheese doused in extra virgin olive oil with lemon zest, fresh herbs, and spicy chiles! This marinated feta makes the perfect crowd-pleasing appetizer in just 5 minutes!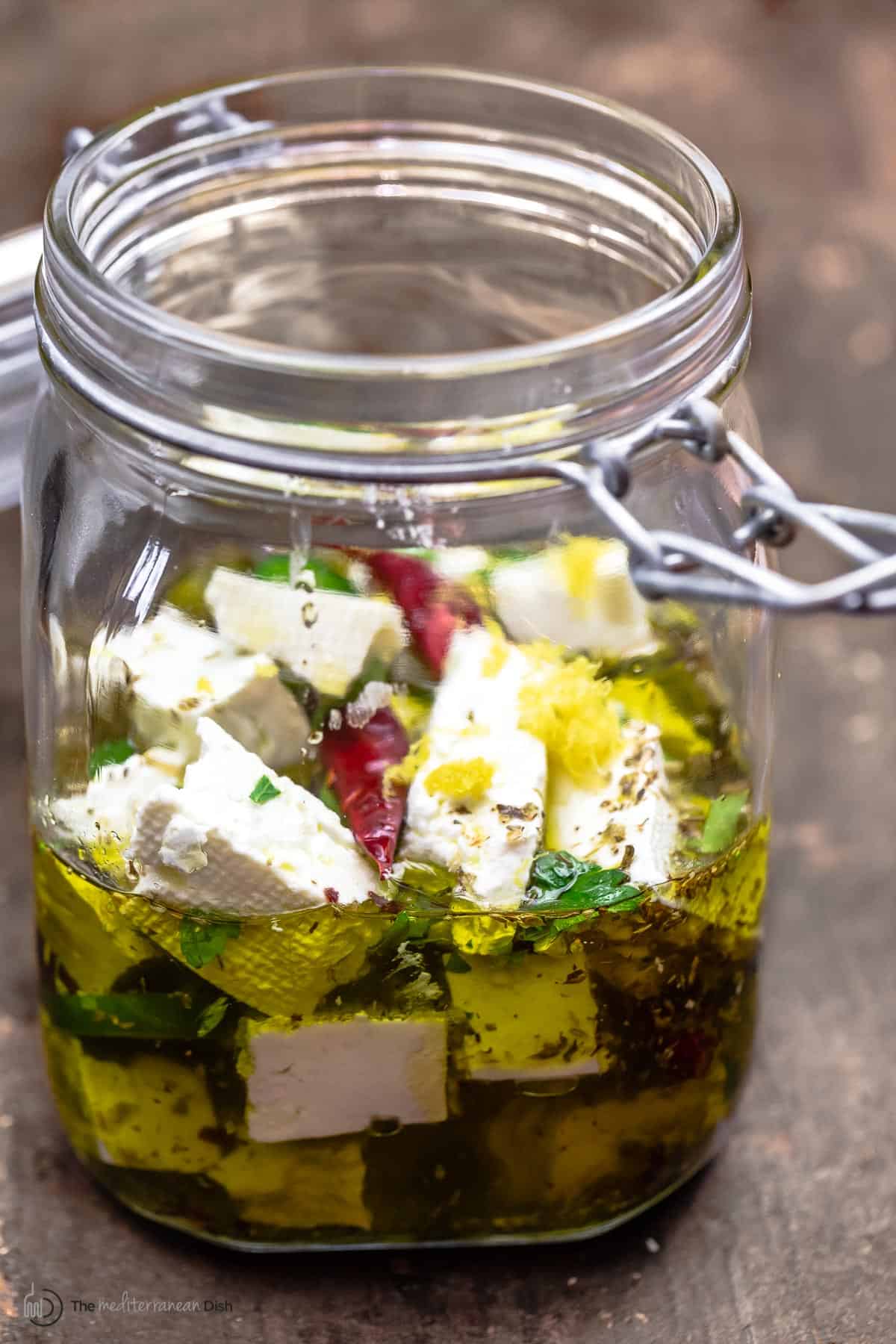 In my book, there are very few meals that can't be improved with a small amount of tangy feta cheese. I keep a block of brined feta in my fridge at all times to use in things like Greek shrimp, spinach frittata, zucchini feta skewers, or in a Mediterranean-style grilled cheese sandwich.
And when in doubt, it's marinated feta, a winning appetizer to make in 5 minutes and serve with pita chips! Or you can spoon it on top of all things from fish to chicken for added flavor.
Marinated feta – the easiest appetizer you'll ever make!
As if feta could be improved, marinated feta is another level of delicious, and it is one of those unexpected Mediterranean delights that will keep you coming back for more!

This simple feta recipe begins with a creamy, tangy block of high-quality feta cheese, cut up into cubes and combined with a good bit of good extra virgin olive oil, herbs, a little lemon zest, and spicy peppers (I used a combination of fresh sliced jalapeños and dried red chiles). Save it in a mason jar in your fridge, you'll be reaching for it often!
What kind of feta cheese to use for marinated feta?
The best feta for this recipe is a block of creamy Greek feta stored in the brine—so much more creamy than the squeaky dry varieties. Feta is a salty, semi-hard cheese that tends to be tangy in varying degrees. Greek feta is traditionally made with sheep's milk, but it can have up to 30% goat's milk as well.
Alternatively, you can use French or Bulgarian white cheese as well, which taste similar to feta, with some key differences. French white cheese is milder than feta, and Bulgarian white cheese tends to be saltier and creamier. But if you decide to marinate either of these cheese varieties instead of feta, you'll still get show-stopping flavor!
Let's be clear on one thing: Crumbled feta is significantly drier than whole blocks, and will not work in this recipe – the main goal is cubed marinated feta with a creamy, luscious texture dosed in good EVOO and a few flavor makers.
Ingredients to make this marinated feta recipe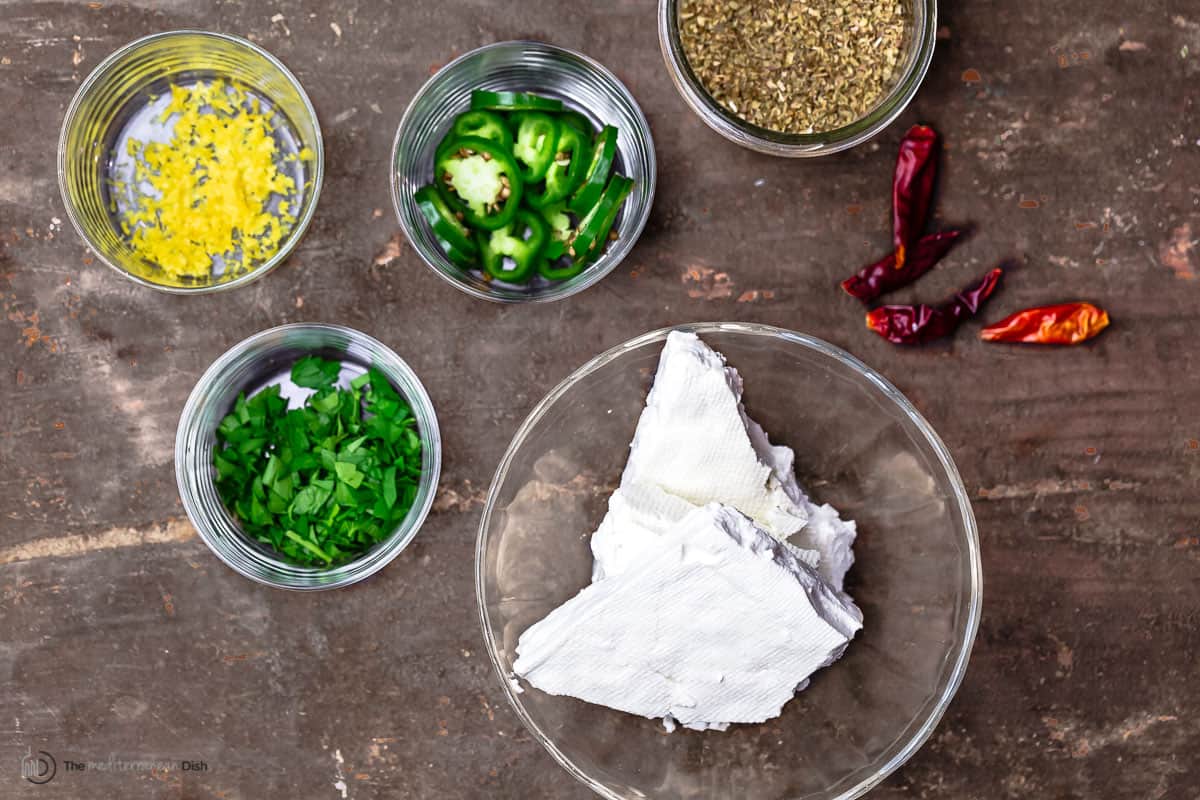 Here's what you'll need to make marinated feta:
Creamy feta in the brine – Find high-quality feta cheese in the brine for the best flavor possible
Extra virgin olive oil – Using good EVOO is important to avoid bitterness that can sometimes come through in certain olive oils
Thinly sliced jalapeño
A few dry red chilies – You can also use a dash of crushed red pepper flakes instead
Dried oregano
Fresh chopped parsley
Lemon zest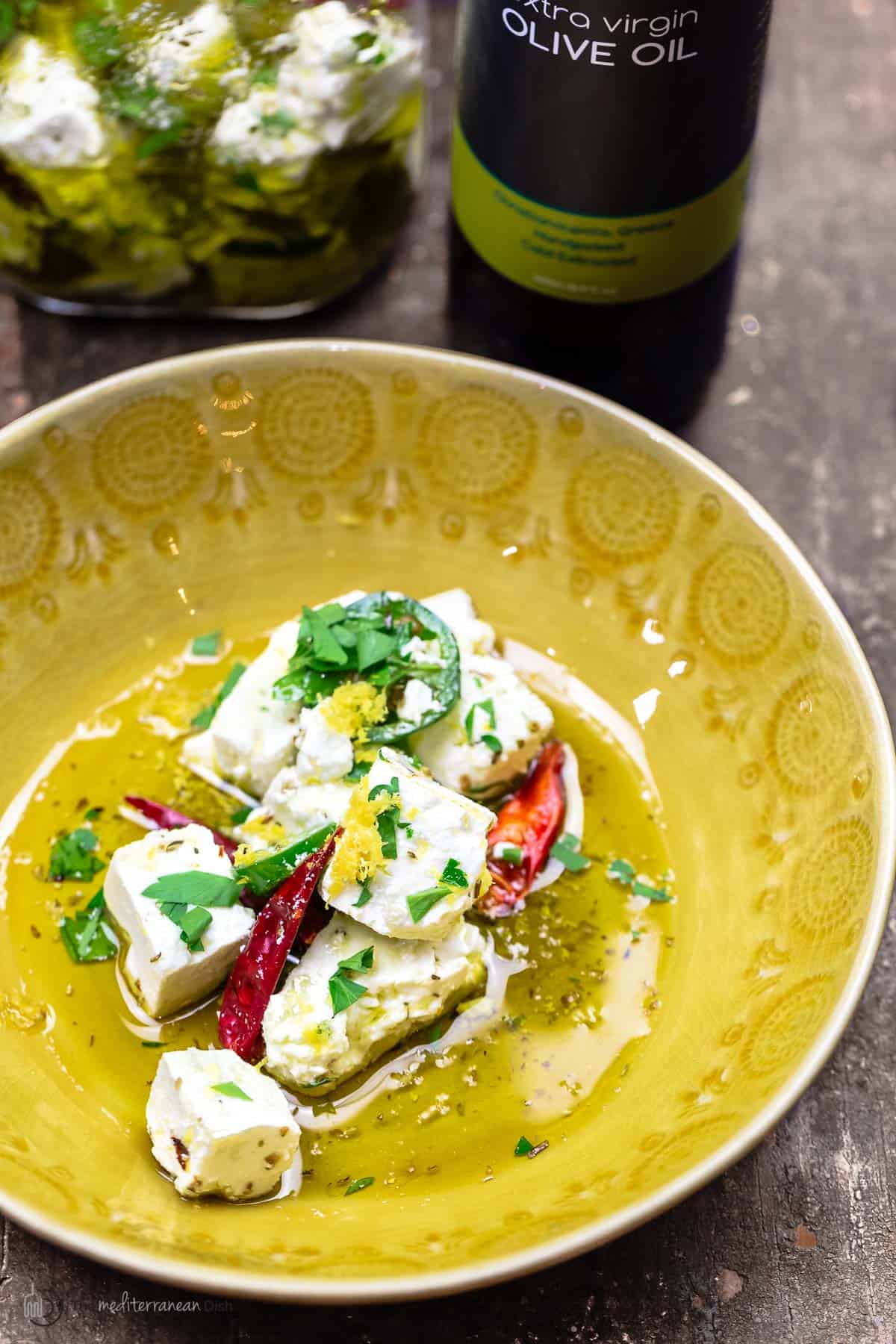 How to make marinated feta
To make this quick recipe, prepare a mason jar with a tight lid to seal to store your marinated feta. Here's how to make this marinated cheese recipe (printer-friendly recipe below):
Slice or cube the feta. Slice feta into thick slices or cubes and place them in a mason jar.
Combine the feta with olive oil, dried herbs and chile pepper. Mix about ½ cup good extra virgin olive oil with lemon zest, dried oregano and fresh parsley, sliced jalapeño, and dry chiles (if you can't handle spicy food, you can omit the chiles). Pour the olive oil mixture over the feta. If needed, top with more olive oil to cover the feta completely.
Allow it to marinate. Seal the jar tightly and store in the fridge for 24 hours before using. This allows the flavors to meld. (I know it is hard to wait, and if you must serve it, just leave it room temp for 30 minutes or so).
Serve at room temperature. Take the marinated feta out of the fridge about an hour before serving so it can reach room temperature.
Serve it with
Marinated feta makes a simple appetizer or a rich condiment. Serve it with toasted bread or scoop it onto pita chips. You could also cut the feta into bite-sized blocks and poke a toothpick into them! Marinated feta is also a quick way to add the wow factor to a traditional Greek salad, or to take your mezze platter to the next level.
You can also use marinated feta as a condiment to spoon over your salads, fish, or grilled chicken.
How long will marinated feta keep?
Marinating feta in quality olive oil helps it last in the fridge for a good two to three weeks or so, if stored properly. Seal the jar tightly after each use. Also ensure that the top of the cheese is always covered with olive oil. Once you've eaten all the marinated feta, keep the leftover oil to use as a salad dressing or marinade.
Other feta cheese recipes you may enjoy
Hungry for more? Here are all our Mediterranean Recipes!
Marinated Feta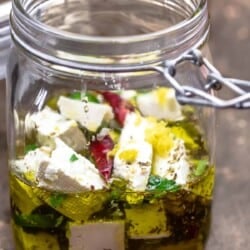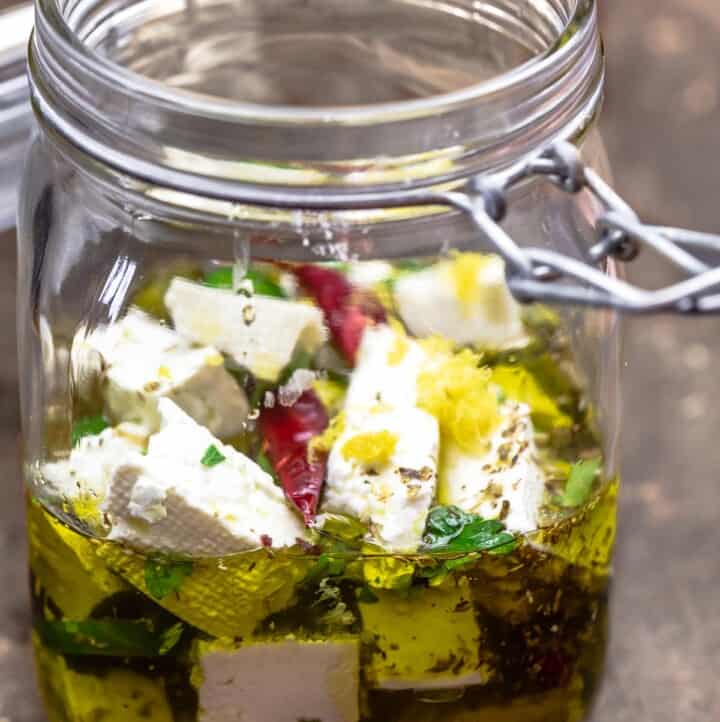 Make this delicious marinated feta in just 5 minutes to serve as an appetizer with homemade pita chips, or use it over your salads, chicken, or fish! Robust feta cheese is balanced beautifully with tangy lemon zest, earthy herbs, and subtly spicy jalapeño and dried chilies.
Ingredients
8

ounces

creamy feta in the brine

1

jalapeño,

thinly sliced

3 to 4

dry chilies

1 to 2

teaspoon

dried oregano

2 to 3

tablespoons

chopped parsley

Zest of 1 lemon
Instructions
Slice the feta into thick cubes and place them in a mason jar.

In a small bowl, combine ½ cup extra virgin olive oil with the jalapeño, dry chiles, oregano, parsley and lemon zest.

Pour the olive oil mixture over the feta. If needed, pour more olive oil to cover the feta by at least ½ inch.

For best flavor, cover the lid tightly and store in the fridge for 1 day before using.

Bring to room temperature before serving with toasted bread or pita chips.
Notes
What kind of feta to use? It is best to use a block of Greek feta that has been stored in the brine. Avoid using crumbled feta, which tends to be too dry.
What kind of olive oil to use? For this recipe, I recommend a quality olive oil that is rich in flavor with a bit of a peppery finish such as our Greek Early Havest or Spanish Hojiblanca EVOO
Storage: Marinated feta should last in the fridge for 2 to 3 weeks or so, if stored properly in a tight-lid jar with the top of the cheese is always covered with olive oil.
Save the leftover olive oil! Even if you finish the feta, the remaining flavored olive oil is great to use in marinades or salad dressings.
Visit Our Shop for quality Mediterranean ingredients including extra virgin olive oils and spices.
Nutrition
Calories:
102.6
kcal
Carbohydrates:
2.2
g
Protein:
5.5
g
Saturated Fat:
5.7
g
Monounsaturated Fat:
1.8
g
Cholesterol:
33.6
mg
Sodium:
423
mg
Potassium:
45.5
mg
Fiber:
0.3
g
Sugar:
1.8
g
Vitamin A:
368.9
IU
Vitamin C:
4.6
mg
Calcium:
193.9
mg
Iron:
0.5
mg