This simple, flavorful spinach frittata recipe is a cinch to make and comes together in 20 minutes! Perfect for a healthy weekend brunch or a quick and easy weeknight dinner! Add my lazy Mediterranean salad for a quick and satisfying meal.
Be sure to grab all my tips and tricks below for how to make the best baked frittata!
Accidental Spinach Frittata
This spinach feta frittata takes on a Greek twist from the tasty spanakopita flavors–spinach, parsley, and feta cheese–in a simple, rustic Italian frittata, loosely meaning "fried."
How it came together was a happy accident.
A couple of weeks ago, I made spanakopita for a large party. Instead of a typical spanakopita casserole, I decided to roll the phyllo sheets into little spring rolls for an appetizer (they looked like the ones here) Somehow, I ran out of phyllo with plenty of filling to spare!
The next night, still drained from the party, I threw the spanakopita filling into my cast iron skillet with some eggs and popped it in the oven. Viola! A lovely, puffy spinach frittata was born.
I've since played around with the spinach and feta mixture to get just the right measurements for a legit spinach frittata, and I think I have it!
Frittata can be made by frying the egg mixture over a cook-top or, my preference, baked in a cast iron skillet in the oven. Cooking frittata on a stovetop has a couple of tricky steps that are completely avoided by baking in the oven.
Simply prepare the ingredients and pour into the cast iron skillet, cook briefly on stovetop, then pop it in the oven to finish cooking. That's it! No mess. No flipping or turning. Anyone can do it!
Baked Frittata Vs. Quiche
Frittata and quiche may be similar, but there are some differences.
Frittata describes an Italian egg-based dish, almost like an omelet, that contains vegetables, cheeses, and sometimes meat. Unlike quiche, a frittata does not have a crust and can be baked or fried.
Quiche tends to be denser as it is mainly a pie made with eggs, cream and a pastry crust (unless you're making a lighter crustless quiche.) In my opinion, frittatas are easier to make and turn out much fluffier. They also use only a little—if any—milk or cream (I used milk here for an even lighter version.)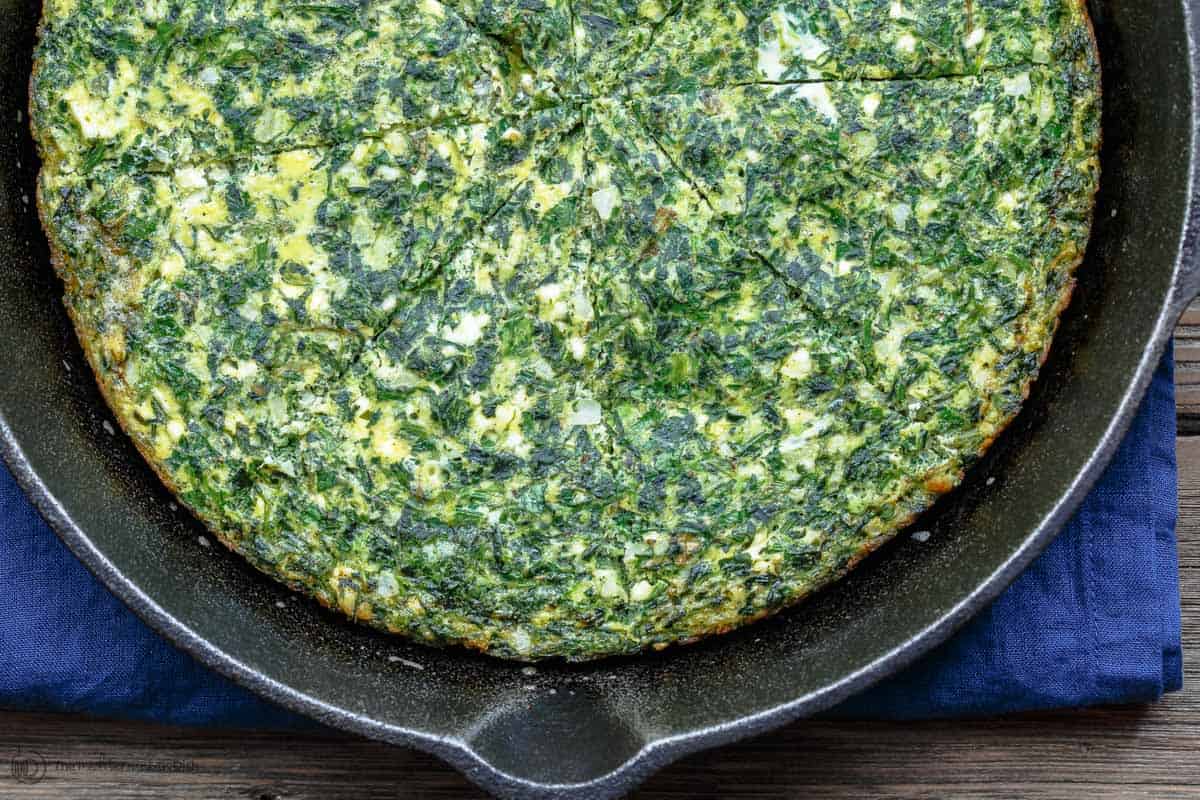 Ingredients for this Healthy Baked Spinach Frittata
Making a healthy and delicious spinach frittata starts with using quality ingredients. Here's what you need to make it:
Eggs
The star of a frittata is obviously eggs. I'm a big fan of eggs for breakfast, lunch or dinner because their an affordable nutritious food, containing zero carbs, no sugar, and a great deal of protein (an egg has 6 grams of high-quality protein.) They are also high in amino acids that boost your metabolism, making this dish a healthy and low-calorie meal.
This recipe requires 8 eggs, and I try to use organic, free-range eggs when I can.
Frozen Spinach
For me, frozen spinach is a big time saver. All you need to do thaw it out well and make sure to drain it very well of any extra water before using in this spinach frittata so you don't end up with watery eggs.
If you want to start with fresh spinach, you'll want to spend the time cooking it down a bit and then draining super well.
Feta Cheese
Use quality creamy feta cheese that you truly enjoy. If you are able to find sheeps' milk feta, even better (there are even some available via Amazon here--affiliate link.) Higher quality feta cheeses have a more robust flavor that pairs well with the spinach here. If you don't enjoy feta, you can also use goat cheese in this recipe. A different flavor profile, but will still work.
Fresh Herbs
With feta being a key ingredient in this feta spinach frittata, you already have a great flavor base. From here, I like to add plenty of herbs--a hint of dill weed, dry oregano, and lots of parsley, and fresh mint leaves.
Using dried oregano is better for this recipe, as dried oregano has a stronger flavor than fresh oregano.
Other Flavor Makers
You'll find that I also use some onions, garlic and a hint of paprika in this spinach frittata recipe. These all play up the flavor, making the frittata irresistible!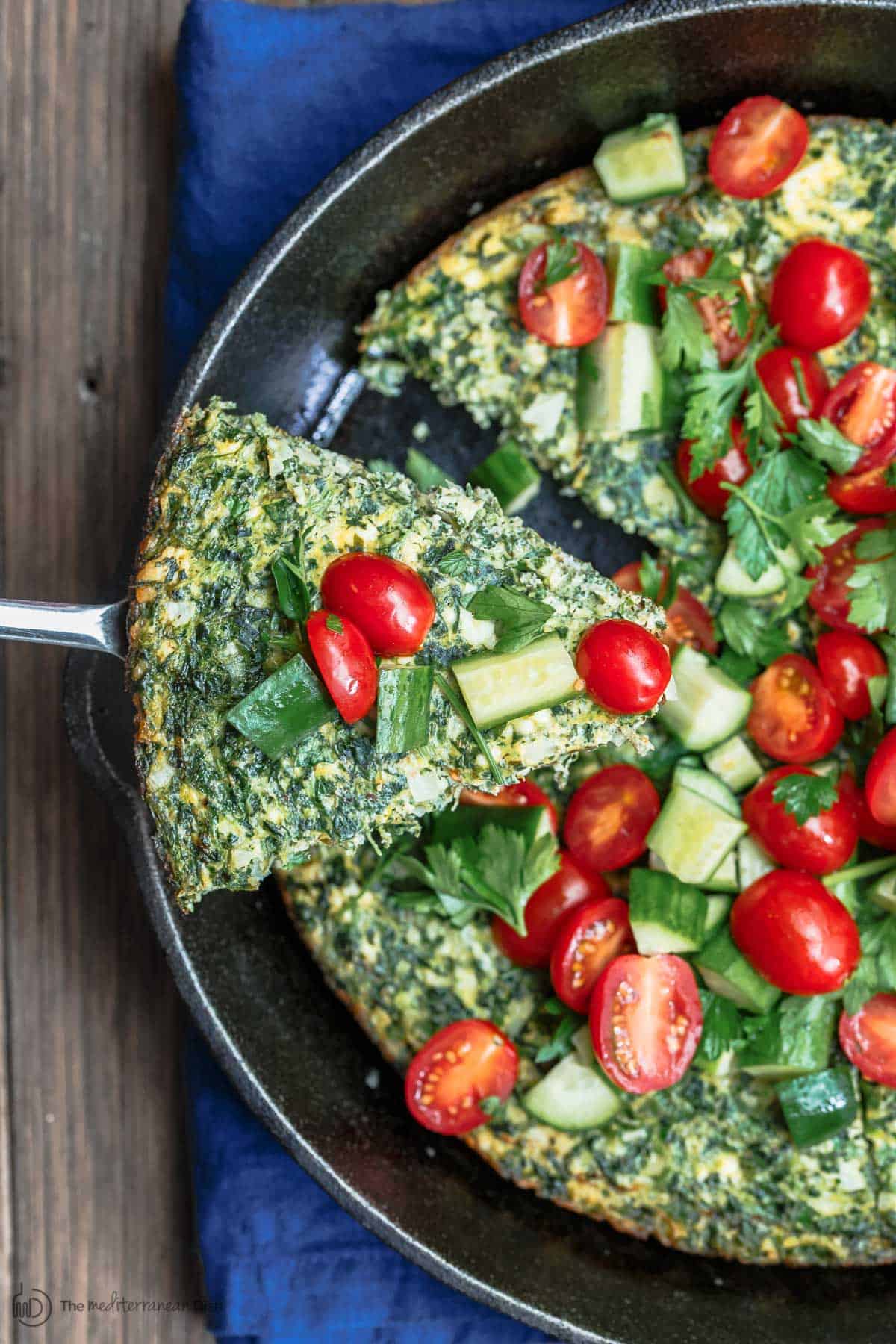 Tips for How To Make the BEST Baked Spinach Feta Frittata
Making the best spinach frittata is as simple as 1, 2, 3. And I've included a few tips for a foolproof result. Here we go:
1) Prepare the eggs for the fluffiest spinach frittata ever.
Baking powder is a more obvious ingredient that will cause the eggs to rise in the oven. However, salt is a lesser obvious rising agent. Not only does salt season the spinach frittata, it helps break down the egg white for even more puffiness. You don't need much salt here because we are adding feta cheese later.
And for best flavor, I like to add dry herbs and spices right to the egg mixture. Give the eggs a whisk, with the spices and baking powder, for about a minute or so to add air to the mixture.
2) Add the mix-ins for the frittata
To the whisked egg mixture, stir in the mix-ins...Creamy feta, spinach, finely chopped onions, garlic, and loads of fresh herbs. The key here, is to have the onions, garlic and fresh herbs finely chopped (no one loves a big chunk of onion in a bite!)
Like I said, I used frozen spinach that's been fully thawed here for a shortcut.To make sure the spinach is well drained, put it in a clean cheesecloth and wring out all the excess water.
3) Preheat the oven-safe pan (I used a cast iron skillet) and bake
A key tip here, before adding in your spinach frittata mixture to the cast iron skillet (or oven-safe skillet) coat the skillet with a bit of extra virgin olive oil and heat on stovetop first. This will help prevent the eggs from sticking to the pan and gives the spinach frittata a jump-start in cooking. It also creates a nice crust layer at the bottom of the pan that makes it a cinch to remove from the pan and serve.
Once you pour the frittata mixture into the prepared skillet, give the skillet a gentle shake to make sure everything is distributed evenly. Cook over medium-high heat for about 4 minutes or so to allow the bottom to settle, transfer to heated oven to finish baking (another 8 minutes or so till the eggs are cooked through.)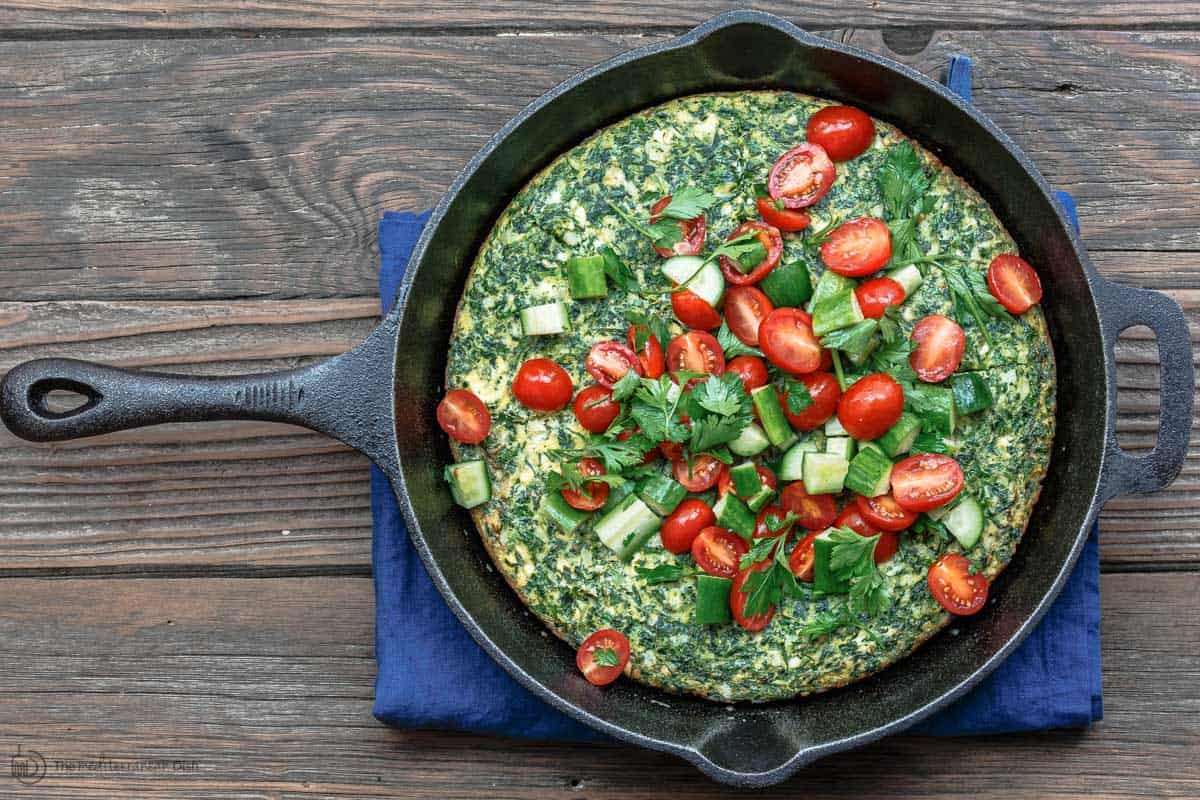 How Do I Know When My Baked Frittata Is Cooked?
When your baked frittata is cooked through, the edges pull away from the pan slightly. Sticking a knife into the center of the pan will come out clean. And finally, the edges should be a nice golden brown.
Can I prepare this Frittata ahead of time?
This spinach feta frittata can be made ahead of time. There are a couple of options here for you:
1. Simply do all the prep for the spinach and feta mixture. Store in the fridge in a tightly closed container. When ready, follow the recipe by adding the spinach and feta mixture into the egg mixture and bake.
2. You can also make the entire spinach frittata and bake it in the oven. Once baked, let it cool completely, then slice and wrap each piece to freeze individually. You can reheat from frozen in a skillet or in your microwave for a few seconds.
What to Serve with Spinach Frittata
Frittata makes a great dish to serve for brunch, Mother's Day breakfast, winter holiday breakfasts, and even as appetizers for parties! And honestly, I've served it for a quick dinner on a couple of busy nights.
Although this recipe is fabulous on its own, I like to serve it with my lazy Mediterranean salad or Greek Salad, and a side of my Middle Eastern skillet potatoes. If I'm serving a crowd for brunch, this frittata is a good option next to my epic Mediterranean brunch board.
Looking for more breakfast-type recipes? Check out our list of Mediterranean breakfast dishes.
SHOP OUR ONLINE SHOP FOR QUALITY OLIVE OILS, ALL-NATURAL SPICES AND MORE!
Print
Feta and Spinach Frittata Recipe
---
8

eggs

¼ cup

milk

1 tsp

dried oregano

½ tsp

dill weed

½ tsp

black pepper

½ tsp

paprika

¼ tsp

baking powder (optional)
pinch salt

6 oz

frozen chopped spinach, thawed and completely drained (wring any water out of spinach)

½ cup

finely chopped yellow onion

1 cup

chopped fresh parsley

3 tbsp

chopped fresh mint leaves

3

garlic cloves, minced

3

to

4

oz crumbled feta cheese
Extra virgin olive oil (I used Private Reserve Greek extra virgin olive oil)
To Serve Along
---
Instructions
Preheat oven to 375 degrees F.
In a large bowl, whisk together eggs, spices, baking powder, and pinch of salt.
Add spinach and all remaining ingredients to the egg mixture. Mix well to combine.
In a 12-inch cast iron skillet (or oven-safe skillet), heat 2 tablespoon olive oil until shimmering but not smoking. Pour in the egg mixture. Give the skillet a gentle shake to allow the egg mixture to spread well. Cook on medium-high heat for about 4 minutes or so allowing the bottom of the eggs to settle. Transfer to heated oven to finish cooking (bake for 8 minutes or until eggs are cooked through and the top is firm and no longer runny.)
Serve with 3-Ingredient Mediterranean Salad. Enjoy!
Notes
Cook's Tip: Be sure to remove any excess water from the thawed spinach so you don't end up with runny eggs. Place spinach in a cheesecloth or clean kitchen towel, and twist to wring out the water.
Cook's Tip: Make sure to coat the skillet with enough olive oil and heat briefly over stovetop before adding the frittata mixture. This helps avoid the eggs sticking to the skillet and also creates a nice crust on the bottom.
Visit our shop to browse quality Greek extra virgin olive oils and all-natural and organic spices!
Prep Time:

10 mins

Cook Time:

12 mins

Category:

Breakfast

Method:

Baked

Cuisine:

Mediterranean
Keywords: frittata, spinach frittata, baked frittata
* This post first appeared on The Mediterranean Dish in June 2018 and has since been updated with new information and media for users' benefit. Enjoy!